India is renowned for its centuries-old alternative therapies and wellness treatments to rejuvenate the mind, body, and soul. The country has many wellness centers which offer the best of Indian wellness traditions such as yoga and Ayurveda. Travelers from all over the world come to India to restore their health in India's wellness retreats. There are many retreats spread out all over the country, so you can choose any location you want to, to enjoy the magnificent scenery of that region as well.
In this wellness tourism guide, we present some of the best wellness resorts in India. If you are planning to rank your resort at the top, reach out to the World's Leading and Most Awarded #1 Wellness Tourism & Resort Consultancy & Marketing Firm.
Experience the best wellness retreats in India:
Guide to Best Wellness Resorts and Wellness Retreats in India by Dr Prem – Location, Features and Exclusive Offerings
Niraamaya Wellness Retreat, Kumarakom, Kerala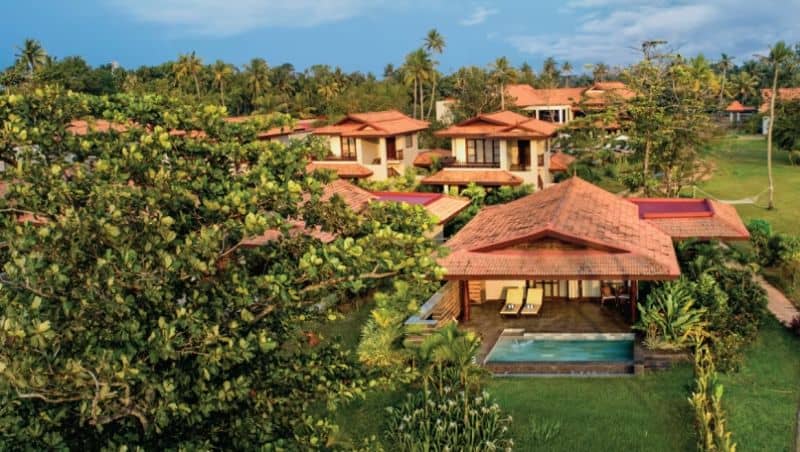 Image Source : niraamaya.com
A pleasant wellness experience is summed up by warm hospitality, time-tested Ayurvedic therapies, comfy lodging, and delectable wellness food at Niraamaya Wellness Retreat, Kumarakom. This 8-acre facility, which is situated on the shores of the stunning lake Vembanad, can rank among the best wellness resorts in the world. 27 opulent cottages surrounded with stunning natural views, a sizable tropical garden, and tranquil water bodies create a perfect environment for well-being.  A splendid yoga and meditation centertakes you to the world of bliss calming your mind. The resort's NABH-certified Ayurveda center includes 10 rooms specifically designated for treatment and offers a variety of Ayurvedic therapies. Other attractive features include two restaurants serving regional and international cuisine, a sizable outdoor pool, a top-notch spa featuring traditional wellness practices from Kerala, a performance deck, and a meeting center.
Coconut Lagoon, Vembanad Lake, Kerala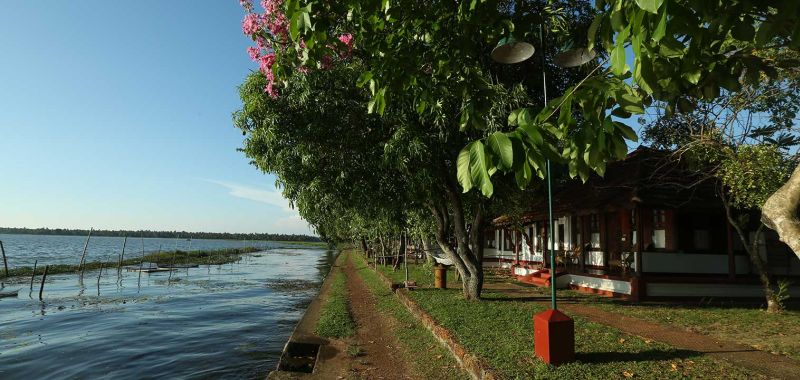 Image Source : cghearth.com
This famous wellness resort in India, a property of CGH Earth, Coconut Lagoon is located on the banks of the gorgeous Vembanad Lake, the greatest lake in Kerala. Lush greenery, surrounding waterbodies, and the quiet sailing of houseboats on the lake create a fascinating ambience for wellness vacation. Lake Front Private Pool Villas, Heritage Mansions, and Heritage Bungalows equipped with modern amenities offer an amazing stay. The incrediblebuilding architecture reminds you of the ancient interior décor of the region that fits so well with the resort's wellness philosophy. Coconut Lagoon offers the best opportunity for mind-body healing amid nature. The resort's Ayurvedic facility offers a gamut of Ayurvedic treatments under the supervision of certified Ayurvedic physicians. Enjoy a sunset cruise, canoe ride, and kayaking. Getsome unique gastronomic experiences in the floating tea shop, Vembanad Grill, and Rusting Dining among paddy fields.
Vishram Village, Varkala, Kerala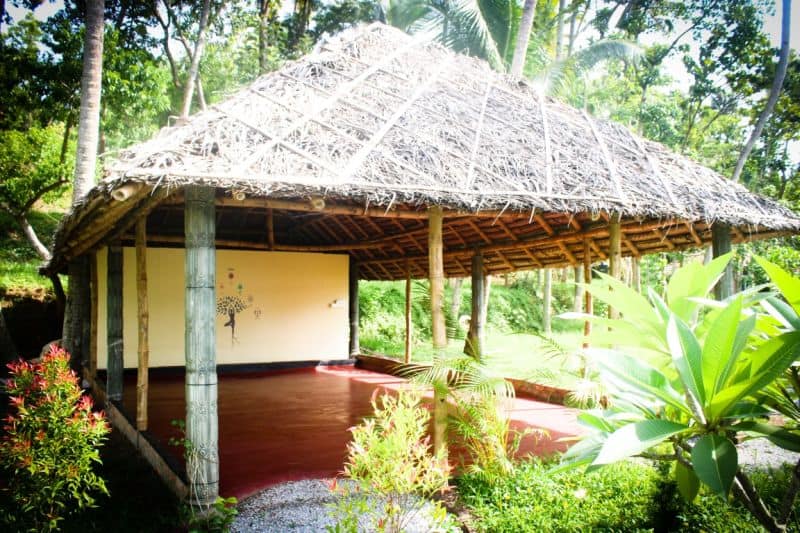 Image Source : vishramvillage.com
Vishram Village, a quaint wellness destination located along the Lake Varkala, is a much-desired Resting Space' to restore your mind-body balance. This popular wellness resort of India houses luxurious 1 and 2 BHK cottages where you can spend hours of relaxation amid the splendid view of the lake and nearby Kapil Beach. Curated mind-body programs to reduce stress and tension arehosted in a specially designed wellness space. Other mind-blowing immersive experiences are Ayurvedic Treatment packages, Yoga Therapy, delicious gourmet, and explorative site-seeing excursions. A few days in Vishram Village Wellness Resort puts you on the path to holistic wellness.
Ayurvedagram Heritage Wellness Center, Bengaluru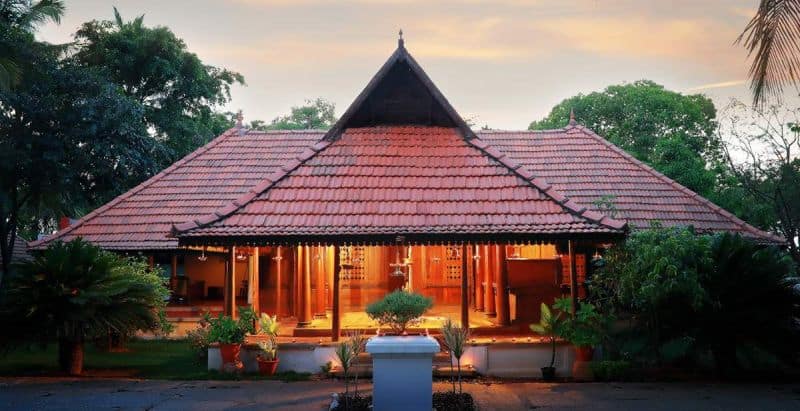 Image Source : ayurvedagram.com
Located on the outskirts of Bengaluru, this is considered to be one of the best wellness retreats in India. This center treats arthritis, diabetes, depression, impotence and infertility, psoriasis, spondylosis, hair fall, hypertension and hyperacidity, constipation, respiratory and skin disorders, and ulcers. Ayurveda, Pranayama, and Yoga with a vegetarian cuisine are used to treat maladies in a gentle manner. They have many packages according to patient's needs, who are housed in a charming wooden cottage. 
Jindal Naturecure Institute, Bengaluru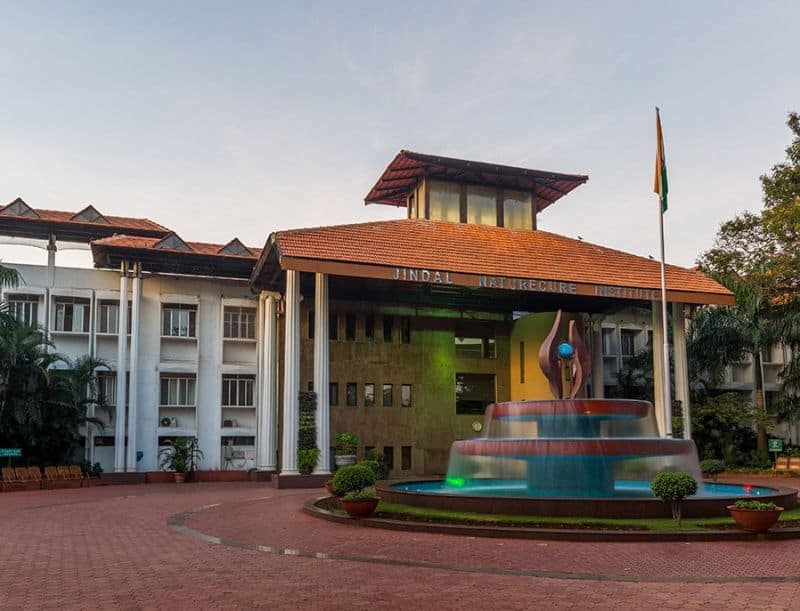 Image Source : jindalnaturecure.in
Jindal Naturecure Institute JNI in Bengaluru is a leading naturopathy hospital aimed at prevention and cure of diseases through natural detoxification. Founded by Dr. Sitaram Jindal, theinstitute has been pioneering drugless therapy in India based on holistic treatments like Naturopathy, Diet, Yoga, Physiotherapy, and Acupuncture.The objective is to provide cure at a minimal cost to reduce the massive healthcare expenses caused by drugs and their side effects. Set amid tranquil nature, this unique wellness resort in India has facilities suiting everybody's budget.
Somatheeram Ayurveda Resort, Kerala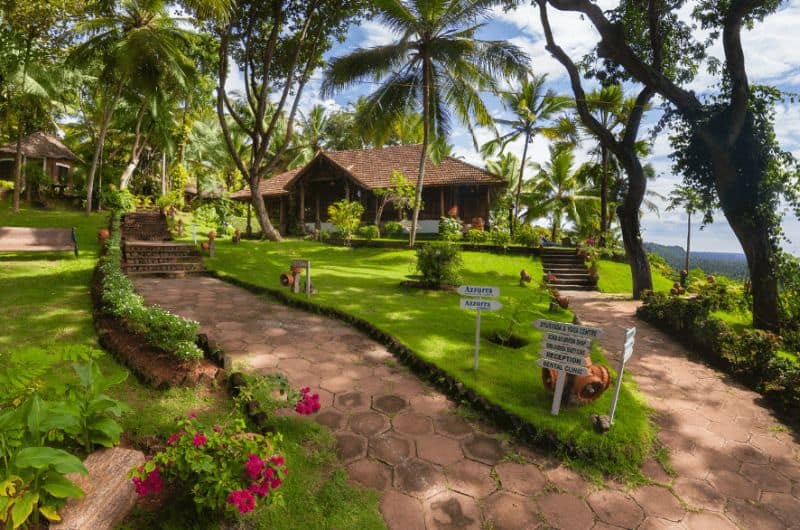 Image Source : somatheeram.net
This award-winning Ayurveda Hospital located in a serene beachfront location of Kerala amid tropical gardens is one of the most popular wellness resorts in India. Traditional Ayurvedic treatments and yoga in a blissful environment are perfect to reboot your stressed mind and body. This is considered as the world' first Ayurvedic Hospital in a resort ambience that sees high footfalls of global patients and wellness enthusiasts. Just 9 km away from the internationally famous Kovalam Beach, this wellness resort offers rejuvenation therapy, Panchakarma, stress management, anti-aging, yoga and meditation programs. The resort produces its own medicines for various treatments from local herbs.
Ashiyana: Yoga and Spa Village, Goa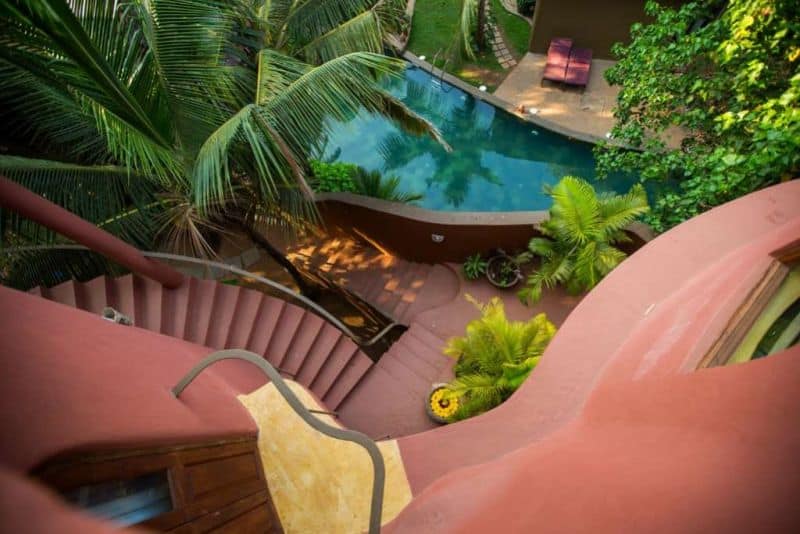 Image Source : ashiyana.com
Ashiyana, (meaning 'Home') is one such wellness resort in India that has marvelously blended modernity with ancient therapeutic systems. Visitors looking for fun, sun, sand, and wellbeing can opt for several wellness programs tailor made to their needs. Wellbeing Holidays and Wellness Retreats offer yoga, psychotherapy, immune-boosting diet programs, Panchakarma, fitness plans, online Yoga training, comprehensive spa treatments, and great workcation packages for digital nomads. You just don't experience wellness here but carry it back home.
Soukya Holistic Health Center, Bengaluru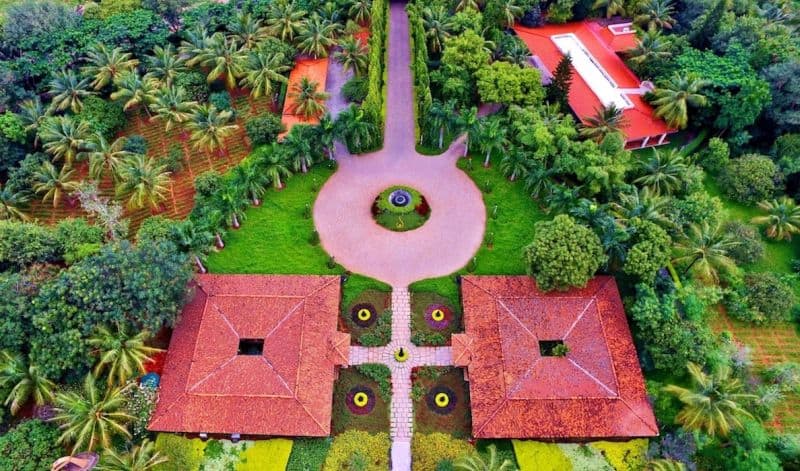 Image Source : soukya.com
Health is not just the absence of illness.With this philosophy at its core, Soukya Holistic Health Center puts emphasis on prevention, timely intervention, and curative programs. Wellness programs of this resort tailormade to individual needs cover Ayurveda, Panchakarma, Naturopathy, Yoga, and Homeopathy. The 30-acre organic farm offers a great ambience for holistic wellness restoring mind-body-spirit balance. Visited by esteemed guests like Prince Charles, Archbishop Nobel Laureate Desmond Tutu, Classical dancer Mallika Sarabhai, Dr. Issac Mathai's Soukya International Holistic Center continues to be in the limelight among all wellness resorts.
Leela Palace, Udaipur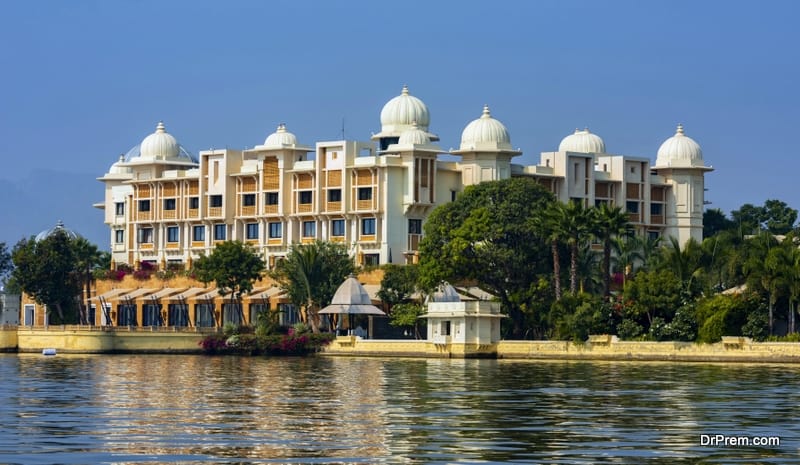 Luxury gets wedded with wellness in Leela Palace, the 5-star wellness tourism destination in India located on the banks of Pichola Lake in Udaipur, Rajasthan. The land of ancient warrior Rajputs, this is counted as one of the top wellness resorts where guests are spoilt for choice in various experiences be it wellness treatments, ceremonial rituals, meetings, celebrations, cuisine, art, and all. Amazing curated Leela experiences tailormade for individual needs make this one of the favorite destinations of discerning travelers.
Soul and Surf, Kerala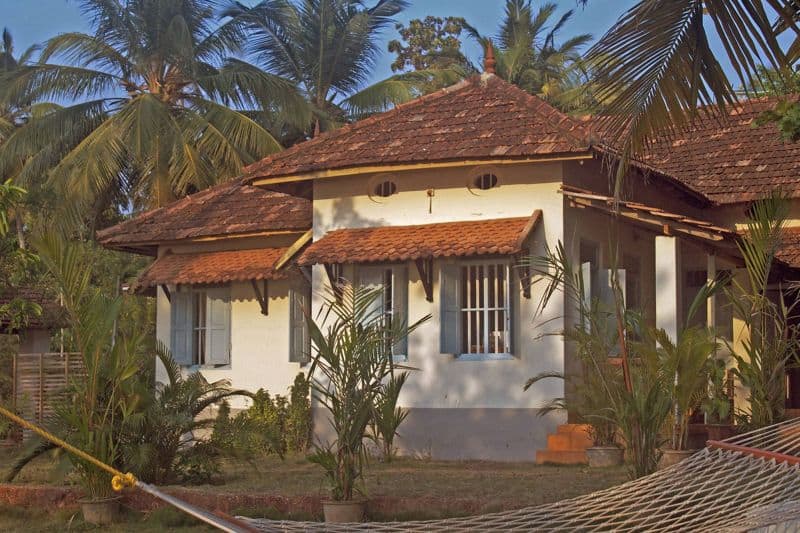 Image Source : soulandsurf.com
A beach wellness vacation amid lush gardens, 150-year-old-traditional accommodation, and a bouquet of wellness therapies make Soul and Surf in Varakaladifferent from other popular wellness resorts in India. An ideal wellness escape, this resort provides all modern amenities including a Wi-Fi connection, and guided Yoga and meditation sessions but is not a full-blown starred accommodation. If you are looking for a genuine wellness vacation grounded in nature, Soul and Surf will be the best choice.
Shreyas Yoga Retreat, Bengaluru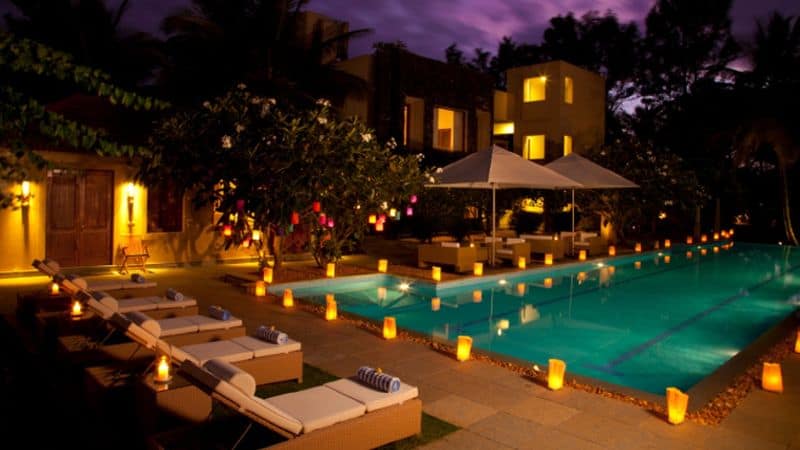 Image Source : shreyasretreat.com
When Wellness is a journey to rediscover self and reconnect, Shreyas Yoga Retreat is the best wellness destination for you. Its signature offerings like Yoga Retreat, Ayurveda Rejuvenation, Yoga Retreat, Ayurveda Panchakarma, Detox, Naturopathy, Silent Retreat, Anti-ageing, Weight Management, and other life improvement programs set the right approach to holistic wellness. True to their philosophy, "Atithi Devo Bhava" meaning Guests are equal to Gods", Shreyas Retreat offers unparalleled personalized attention to every need of their guests helping them to get to their desired path of wellbeing.
Heal Farm, Uttarakhand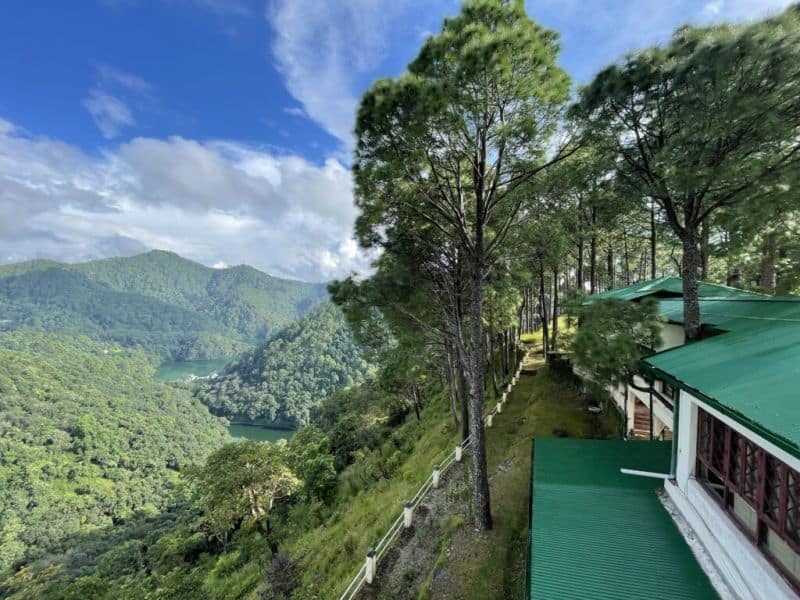 Image Source : heal.farm
If you are looking for a lifechanging experience in a wellness vacation, Heal Farm could be the best pick for you. Counted among the top wellness resorts in India,you enjoy different experiences like Retreat in Simplicity, Retreat in Luxury, and Non-residential experiences. Sound Healing, Awareness in Action, and Being with nature are some of the popular day experiences you can enjoy in this unique wellness resort. The resort vibrates the philosophy of the founder believing in to be one with nature as the prime component of wellness.
Mercure Goa Devaaya Retreat, Goa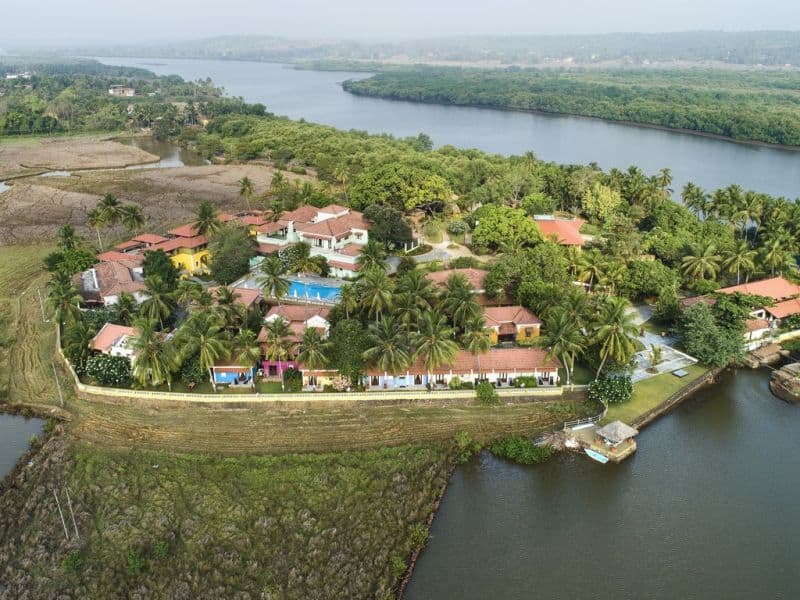 Image Source : ahstatic.com
This amazing wellness resort in India located on the Island of Love at Divaris best for travelers seeking local and authentic experiences. Decked with Indo-Portuguese-styled 56 luxurious villas and suites, the resort creates one of the best unwinding experiences in a breathtaking waterfront landscape in Goa.The resort's under-one-roof Ayurveda, Naturopathy and Yoga centeroffers the best therapies and programs to restore your wellbeing. Riverside restaurants and multinational cuisines along with local heritage tours complete your wellness vacation experience that you perhaps have been longing for. 
Indus Valley Ayurvedic Center, Mysuru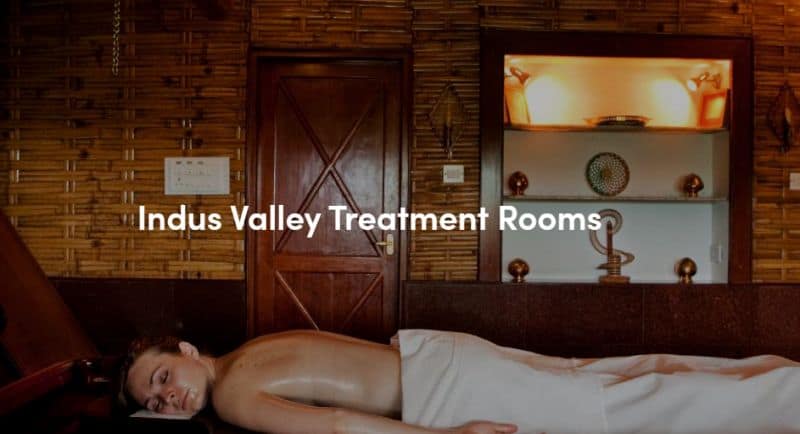 Image Source : ayurindus.com
Certified as the #1 Ayurvedic center in India by Assocham, Indus Valley Ayurvedic Center is a quaint wellness resort in India within a short drive from the city. The nature-wrapped center takes off your stress and tiredness as you step in. You get an unrestricted view of greenery and plantation. Set at the foot of the Chamundi Hills, this is purely an Ayurvedic Treatment Center offering a range of Ayurvedic treatments. Modern amenities, accommodations, and recreational facilities are beautifully designed without spoiling the traditional local rustic vibe.Whether it is a standard room, deluxe cottages or premium villas, you can choose from a range of Ayurvedic Treatment packages to revitalize your body and mind. 
Svatma, Tamilnadu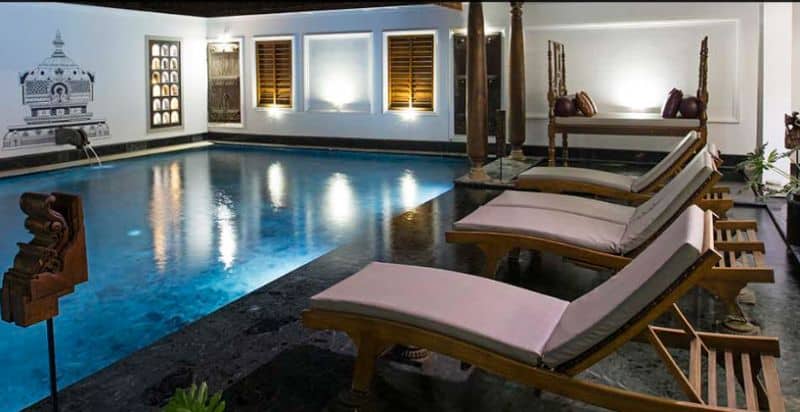 Image Source : svatma.in
Wellness experience in Svatma is a curated journey to rediscovery of soul and spirit with unleashed indulgence in luxury and nature. With all the comforts and amenities around, you get the feel of richfulness and wholesomeness in your life. This top wellness resort of India takes you to a higher level of wellbeing in its Sound Spa, Soukyam Spa and Treatment Center, and Arogyam Fitness Center. Guests are pampered with authentic wellness treatments and guided local tours unravelling unique experiences one after another. Corporate teams can enjoy special wellness packages with healthy food, relaxing spa, and corporate wellness workshops to reinforce team building efforts in a unique way.
The Oberoi Sukhvilas Spa Resort, Chandigarh
Image Source : oberoihotels.com
It is not unlikely to find one of the top wellness resorts in India in this sprawling city dotted with parks and gardens. This 35-acre landscaped luxury wellness resort touching the borders of the Siswan forest offers truly relaxing and rejuvenating experiences even to the most demanding travelers.  The design of the 60-roomed resort, its world class spa, orange orchards, and the small flock of fowls and turkeys add to the wellness experiences. Hydrotherapy pools, aromatic steam rooms, infrared sauna, and Ayurvedic Therapies are some of the great wellness offerings. Exciting outdoor wellness activities include birdwatching, Forest Bathing, Biking, Morning Yoga, Archery, and Badminton.
Amanbagh, Rajasthan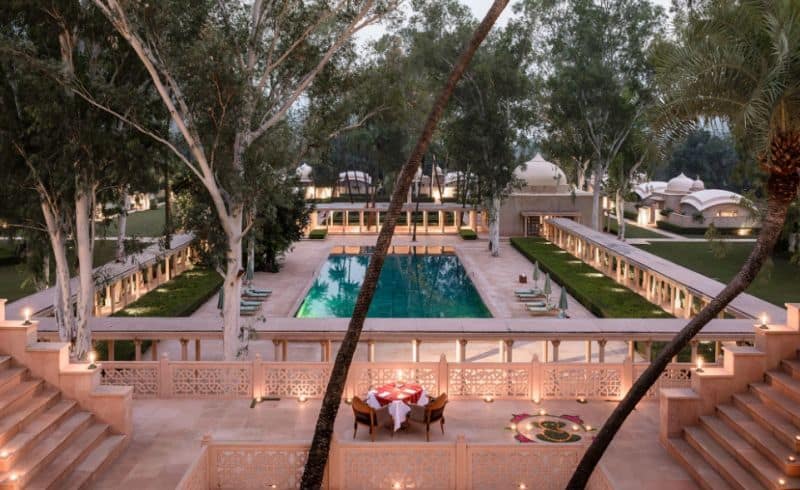 Image Source : aman.com
Amid the lushness of Aravalli in Alwar district of Rajasthan stands this top wellness resort in India. Just a 6-hour drive from Delhi, Amanbagh Resort offers a luxurious wellness and healing lifestyle. Awe-inspiring suites offering breathtaking sunset viewsgradually unfold the beauty of Rajasthan. Signature wellness immersions of Yoga and Mindfulness, Detox and Cleansing, Ayurvedic Treatments,Ayurshala Immersion and unique outdoor exploration experiences revitalize your physical, emotional, social, and intellectual wellness. You are free to carve your journey to wellness.
Kumarakom Lake Resort, Kerala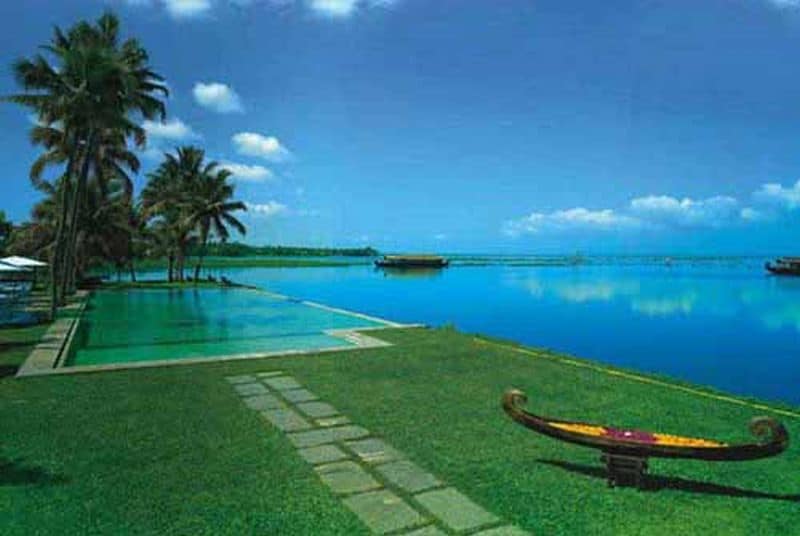 Image Source : kumarakomlakeresort.in
Located near Lake Vembanad, Kumarakom Lake Resort is one of the most popular luxury wellness heritage resort and spas in India.Featured as one of the "most Luxurious Holiday Destinations in the world by BBC1", the resort had the honor of hosting Prince Charles' 65th birthday. A 2-hour drive from Kochi International Airport, visitors enter a spectacular landscape of 25 acres amidemerald backwaters. Four times World Travel Award winner Kumarakom Lake Resort houses presidential suites, luxury villas with private pools and rejuvenating Ayurvedic Spas and Multi gym facilities. The traditional touch of Keralite lifestyle amid luxury is much lauded by wellness enthusiasts seeking authentic immersive experiences.
Aahana – The Corbett Wilderness, Nainital

Image Source :  aahanaresort.com
This award-winning wellness resort of India follows the philosophy "where luxury meets responsibility".  This uber luxury resort over a sprawling 13.5 acres at the southern edge of the Corbett Tiger Reserve is suitable for guests looking for immersive wellness experiences both outdoors and indoors. Voted consecutively for 5 years in the exclusive list of "Travelers Choice Top 25 Resorts", Aahana'sbespoke experiences include Bird Watching,thrilling Jeep Safaris, andexploring hill destinations. Fusion wellness treatments with Ayurveda, Naturopathy, Yoga, and western spa treatments are other delightful wellness experiences making Aahana stand out among the rest.
Hilton Shillim Estate Retreat & Spa, Maharashtra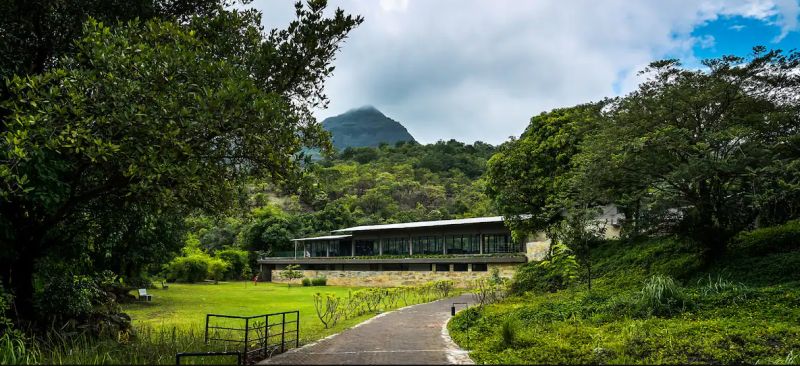 Image Source : hilton.com
Nestled amid the verdant valleys of Sahyadri, Hilton Shillim Estate Retreat and Spa offers real sensory experiences that make the core of a popular wellness resort.The awe-inspiring 17 treatment suites of the inhouse wellness spa has bagged several awards and is hailed as one of the best not only in India but also in Asia. Apart from the breathtaking views and guided mind-body sessions, Shillim wellness programs include conservation walks, star gazing, and cooking lessons. Other top attractions are meditation cave, relaxation center, hi-end salon, yoga pavilion. Wellness spa therapies include hydrotherapy, acupressure, Reiki, Pranic Healing, and Detox baths.
RaasDevigarh, Udaipur Rajasthan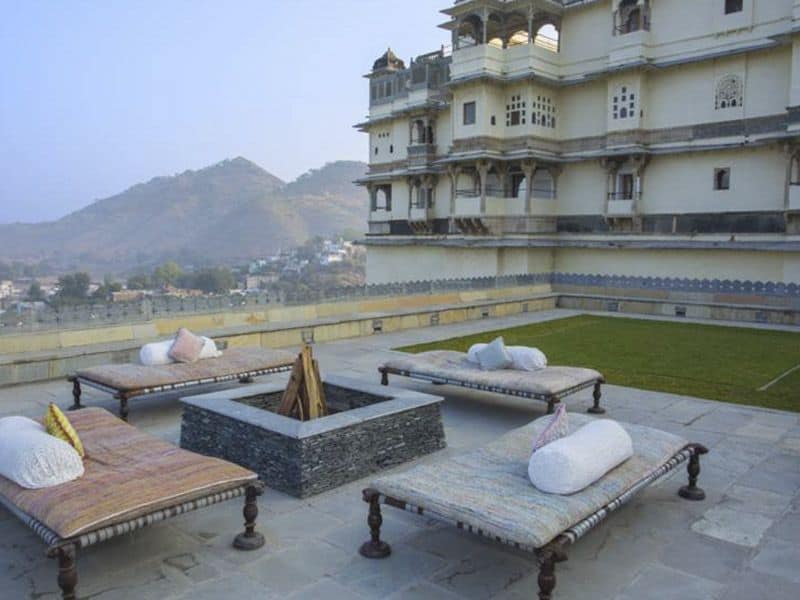 Image Source : raashotels
Nestled amid the Aravalli Range, this stunning 18th-century palace just 45 mins drive from Udaipur has made its place among top wellness resorts in India. With responsibility and eco-consciousness at its core, Raas Devigarh offers some great immersive wellness experiences characteristic of this desert region of India. Its collaboration with Ma Earth has some delightful spa experiences with a holistic approach to mind body wellness. Its wide range of outdoor wellness experiences include extensiveexploration ofmajestic Udaipur and local villages and curated Heritage Walks.Ayurvedic therapies, alternative treatments, Yoga, Meditation, and Ayurveda-infused cuisine are among other wellness offerings.
Isola Di Cocco,Poovar, Kerala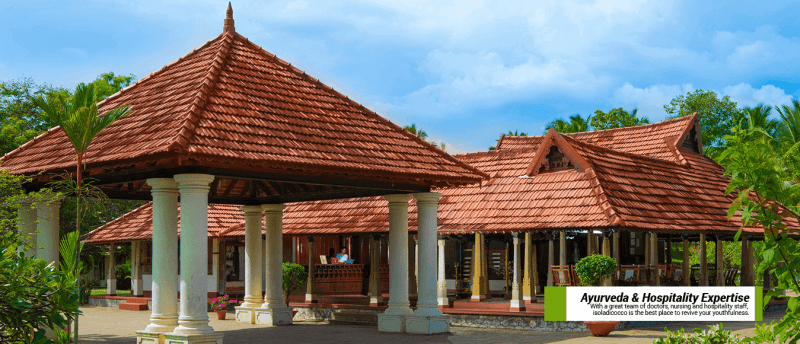 Image Source : isoladicocco.com
Located on the banks of Poovar in the southwestern tip of India, Isola Di Cocco alternately called The Island of Coconuts is an Ayurvedic Wellness Resort where wellness flows spontaneously.This renowned wellness destination in India is projected as one of the "50 Must See Destinations in the World" by the National Geographic Traveller Magazine. Whether you plunge into the swimming pool, take a walk on the tranquil beach, go for backwater cruise or enjoy healthy cuisine, you soak into wellness bliss. With Ayurvedic Packages offering Panchakarma, Beauty care, and various Mind Body relaxation programs, your wellbeing gets a massive uplift.
Dharana Retreat, Shillim, Maharashtra

Image Source : dharanaretreat.com
Dharana Wellness Retreat is known for scientific and evidence-based approach towards holistic wellbeing. Tucked in cozily amid a forest hillside between Mumbai and Pune, this wellness resort promotes Dharana, a way of life. The breathtaking greenery and cloud-scaped valleys surrounding luxurious villas gift your senses the real break. You can choose from a platter of wellness experiences namely Dharana Resilience Retreat, Dharana Rasayana Retreat, 9-day Fasting Detox Retreat, Cooking Workshop, Short Stay experiences, and Immersive Healing Holidayswhere Ayurvedic treatments and Yogic practices reconnect your physical, mental, and spiritual wellness.
Carnoustie Ayurveda & Wellness Resort, Kerala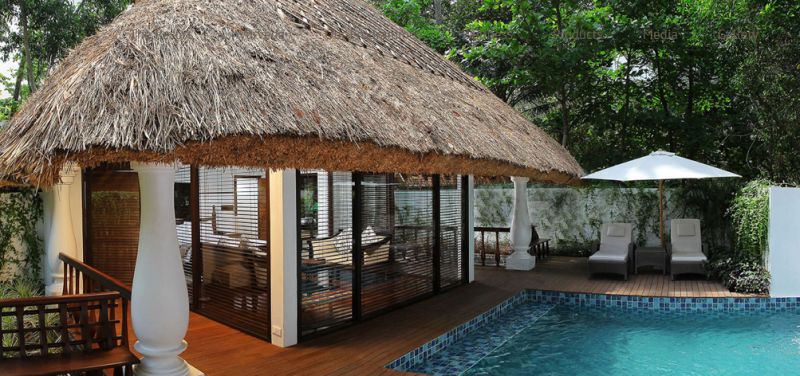 Image Source : carnoustieresorts.com
Set on the mesmerizing Arabian Sea shore 12 km away from Alapuzzha, this popular wellness resort in India has bagged several prestigious awards. Grand pool villas, house boats, multi-cuisine dining in beautifully landscaped dining spaces and a plethora of activities covering heritage tours, local exploration, cultural exposure, visiting bird sanctuary present a gratifying wellness escape. Traditional mind-body practices, Ayurvedic treatments,Sports Medicine, Female Healthcare, Diabetes Management, Weight management, Body detox, Antiaging therapies, Naturopathy and Pain and Injury management are some of the therapeutic wellness programs offered in this resort.
Viveda Wellness Village, Nashik, Maharashtra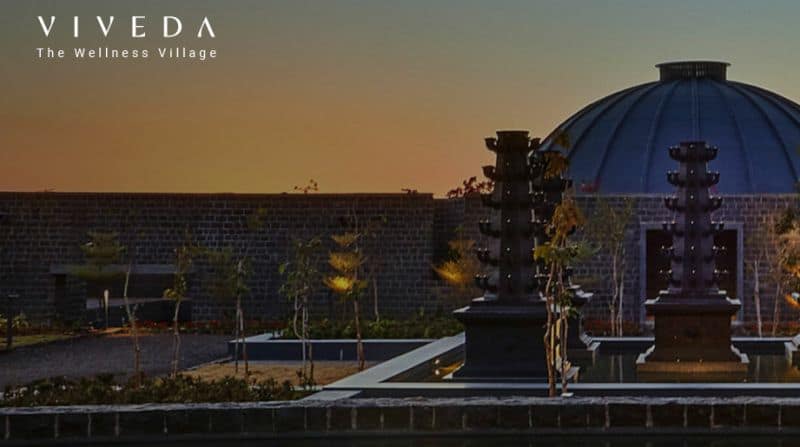 Image Source : vivedawellness.com
Meeting with the vibrant self is the aim of guests visiting Viveda Integrated Wellness Village, a one-of-its kind wellness resort in India. Located beside the Lake Beze with splendid view of the Sahyadri range, this idyllic wellness getaway sets you free from all encumbrances. Surround yourself with colorful shrubs and earth colors while staying in handcrafted cottages. Boost your wellbeing with customized wellness treatments covering Naturopathy, Ayurveda, Yoga and other international therapies. You can pick the wellness staycation of your choice from a range ofrejuvenation, detox, fitness, pain management, stress management, weight management, yoga retreats, spa, and many other curated wellness programs.
Shathayu Ayurveda Yoga Retreat, Bengaluru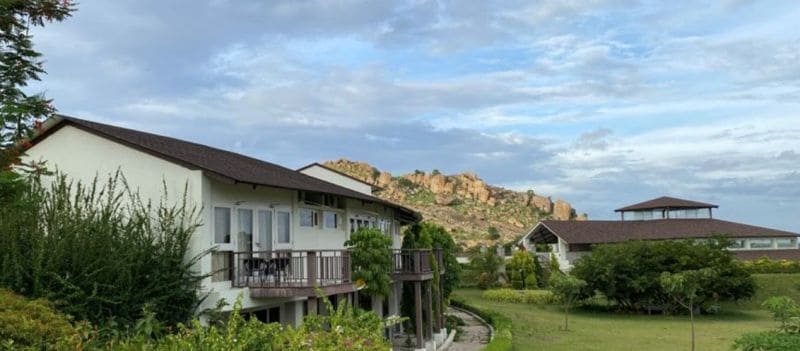 Image Source : shathayuretreat.com
Just 25-minutes drive from the Bengaluru International Airport, you land in a wellness paradise Shathayu Ayurveda Yoga Retreat overlooking a lake and hills on three sides. This top wellness resort in India assures you holistic wellbeing in nature's lap.  Under-the-same-roof wellness solutions include several packages where you can avail treatments of any common chronic conditions. 20 plus well decorated rooms, amphitheater, Yoga Hall, medicinal and spiritual gardens and curated Naturopathy and Ayurvedic therapies promise you the desired mental, physical, and spiritual wellbeing.
Nirvana Naturopathy & Retreat, Nashik, Maharashtra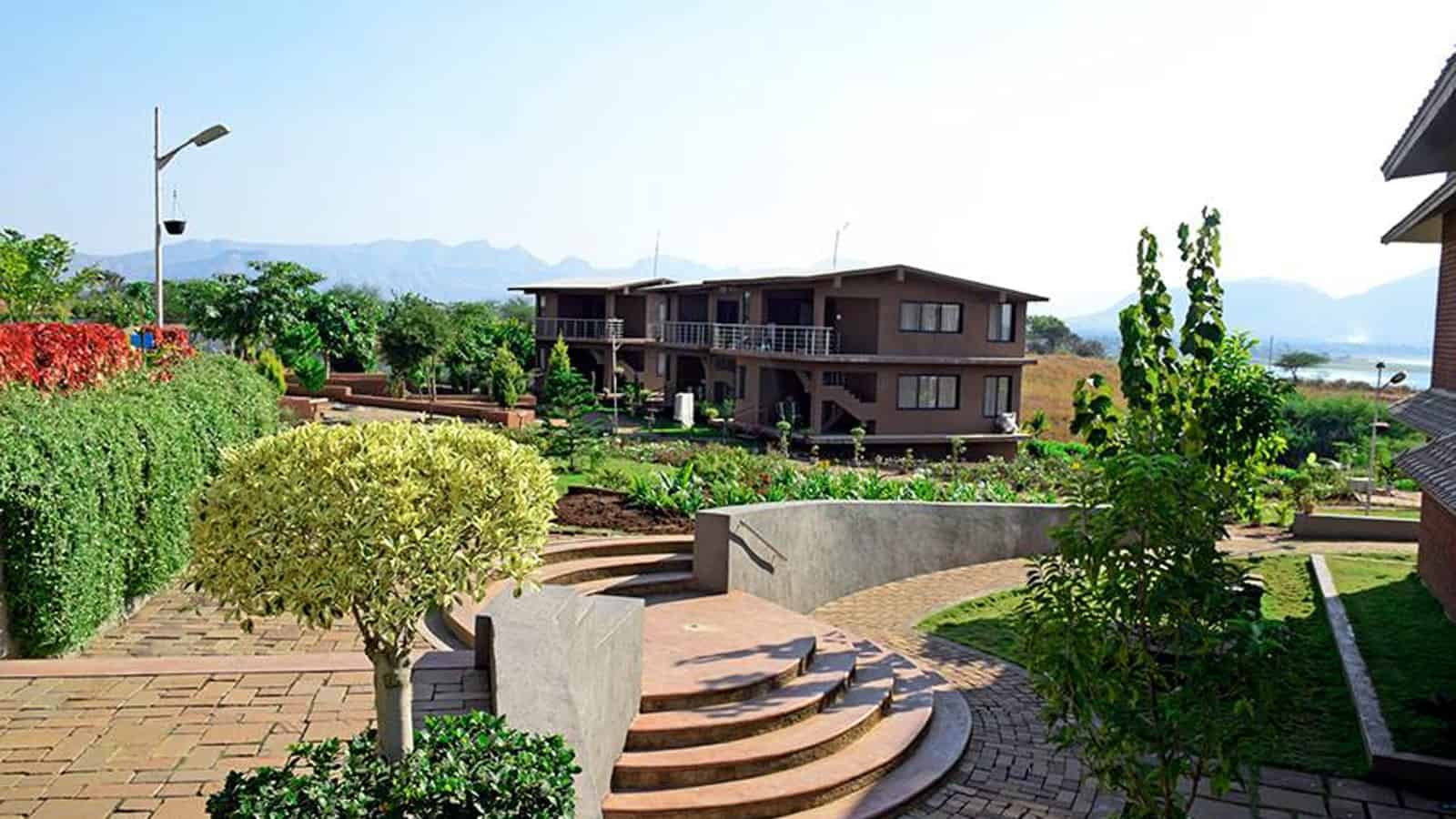 Image Source : nirvananaturopathy.co.in
This award-winning Naturopathy and Wellness Center in India practices "Cure in Illness and Care in Wellness". This dynamic multi-facility wellness resort in India is located beside the picturesque Lake Beale with lush greenery and hillocks creating a true ambience of wellbeing. A plethora of packages are on offer tailormade for individuals, families, and corporate groups. You can choose from weight loss package, natural antiaging, diabetes management, stress management, yoga and meditation, spine and neck pain management, Corporate wellness, hormonal imbalance, and rejuvenation and detox.
Naad Wellness, Haryana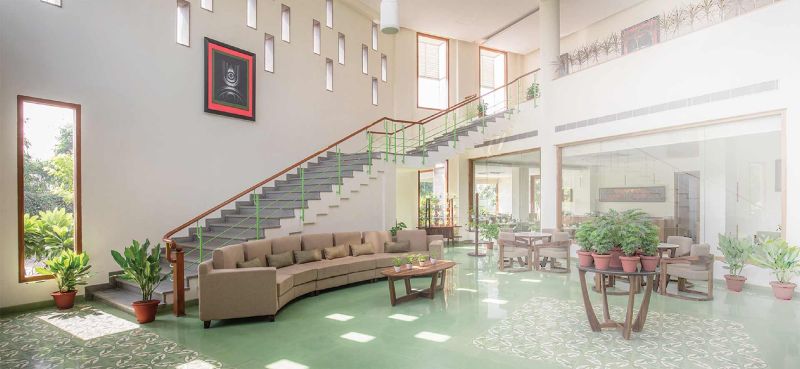 Image Source : naadwellness.com
Set in a tranquil location outskirt of Delhi,Naad Wellness promises tired and stressed-out souls a fulfilling rejuvenating experience. Here one gets to disconnect, relax, reboot, and reconnect through an array of wellness practices that you carry back home. Its nourishing wellness bouquet comprises of curated experiences helping you to detox, heal, and remerge in an upgraded version. Specially curated Ayurvedic therapies, massages, acupressure, acupuncture, Reflexology, Hammam therapy, Salt therapy, and naturopathy treatments help in managing and treating a host of health issues. Corporates can avail it signature Corporate Wellness package for the wellbeing of their employees.
Mekosha Ayurveda Spasuites Retreat, Kerala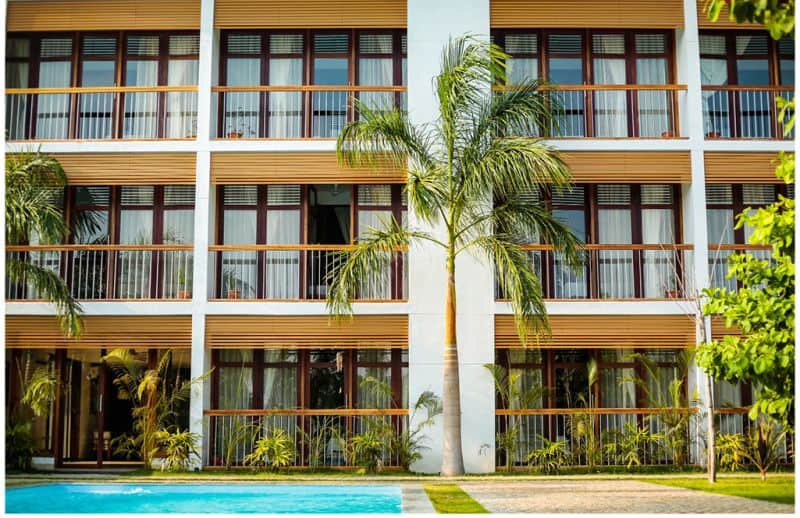 Image Source : mekosha.com
This hideaway wellness resort in India offers an all-inclusive wellness experience through Ayurveda to heal your mind, body, and soul. Surrounded by lush greenery with the famous backwaters flowing by, the11 spacious spasuites with private in-suite Spa, a personal library and balcony handcrafted by local artisanscreate memorable wellness experiences. The private jetty, organic garden, amphitheater, roof top spa, pool, and bamboo groves are special nooks for yoga, meditation or sheer relaxation. A plethora of Ayurvedic Wellness Retreat packages are on offer tailormade for your special needs.
Veda5 Ayurveda & Yoga Retreat, Uttarakhand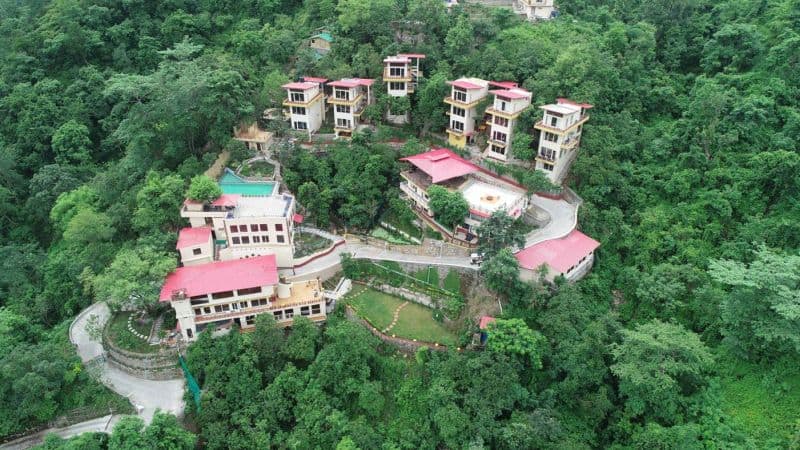 Image Source : vedafive.com
Age-old wisdom of health and wellbeing is concentrated in this award-winning Ayurveda and Yoga Wellness Retreat in India. Architecturally designed with natural and wellbeing inducing elements, the resort offers memorable wellness experiences amid luxury living. Rooms are equipped with modern amenities. Ayurveda spas, clinics, yoga, and meditation centers are well above the standards ofluxurious wellness resorts in India. The resort's holistic wellness philosophy covers Ayurvedic nutrition, physical exercises, and Ayurvedic therapies personalized to meet individual needs. You can choose from a variety of Ayurveda-based packages to treat specific conditions or enhance your wellbeing.
Vijayshree Resort & Heritage Village, Hospet, Karnataka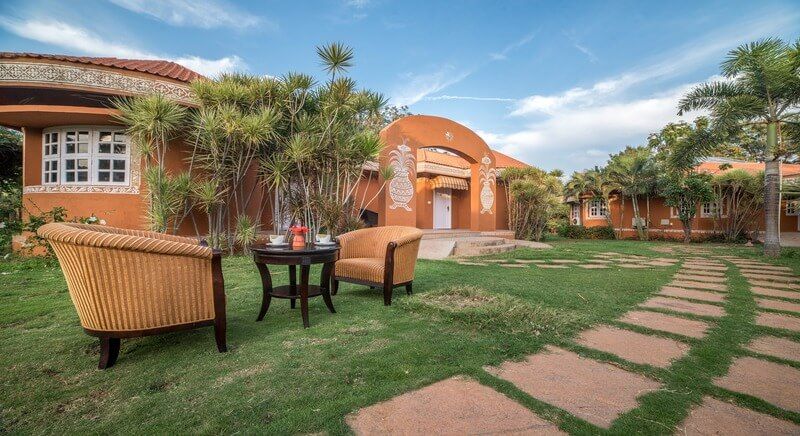 Image Source : vijayshreeresort.com
Spread over 20-acres of lush green manicured garden, this wellness paradise isdotted with magical fountains, water bodies,blooming colorful trees and elegant cottages. Cottages are built in a cluster to make guests feel close to each other amid privacy. With the colonial architectural set up and traditional wellness offerings in a contemporary setting, guests experience wellness in unique ways. Being in proximity to the Heritage City of Humpi, a UNESCO-awarded World Heritage Site, Vijayshree Resort and Heritage Village weaves traditional history and wellness marvelously. Ayurvedic treatments, Hammam, 4000-year-old massage therapies, Spa body exfoliation, facials, sauna, healthy sleep management, aromatherapy, stress management and all create delightful moments in revitalizing your wellbeing.
Brahmi Wellness Retreat, Bengaluru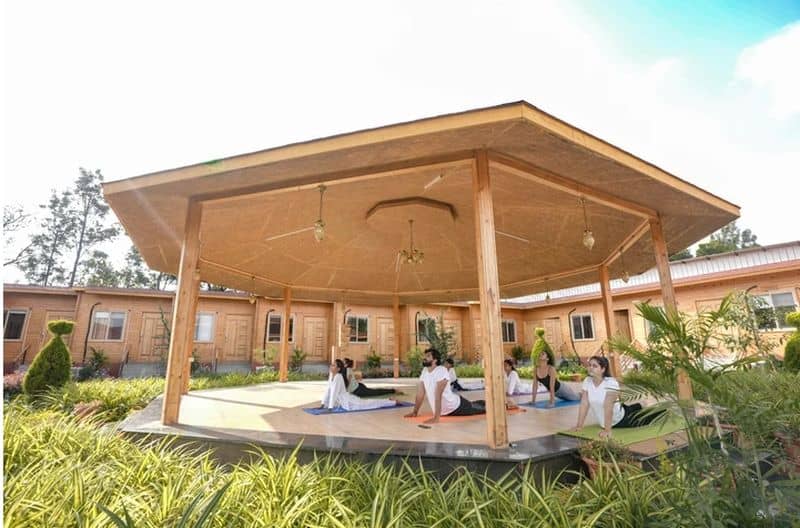 Image Source : brahmiwellness.com
Brahmi Wellness Retreat and Spa, Bengaluru is a wellness paradise spread over 16 acres amid plentiful nature. As you walk through theresort, your eyes get attracted towards the beautifully-designed spacious 3-bedroomed 48 villas. One of the best wellness retreats in India, its other amenities include a superb swimming pool and jacuzzi, Ayurveda and Naturopathy Spa, multi-cuisine vegan restaurant, gym, kids play area, organic garden, and provisions for indoor and outdoor games. The resort offers striking 3,7,14, and 21-night curated wellness treatment packages like 3 Nights Ayurveda Rejuvenation Package, 3 Nights Corporate Wellness Package, etc.to meet specific wellbeing needs of guests.
Rakkh Resort, Palampur, Himachal Pradesh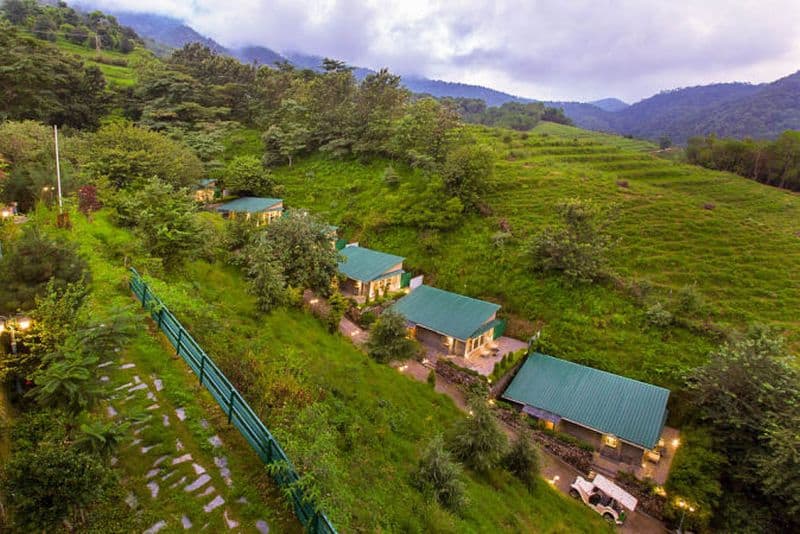 Image Source : rakkh.com
An amazing offbeat wellness resort in India nestled cozily in a village surrounded by breathtakingDhauladhar peaks, Rakkh attracts visitors with its signature immersive experiences. The natural grandeur motivates you to rediscover. Experiences here push you out of your comfort zone to real adventure. Ideal for family vacation, its notable outdoor wellness experiences include mountain biking, trekking, and exploring local cuisine and culture. You can dive into other rejuvenating experiences in Yoga and Detox Spa and enjoy fresh juices from produces of the in-house organic garden.
Manaltheeram Ayurveda Beach Village, Kovalam, Kerala

Image Source :  manaltheeram.com
Awarded as the Best Ayurveda Resort in India by the government, ManaltheeramAyurveda Beach Village offers the ultimate pampering experience taking care of your holistic wellbeing. Just 21 km from the international airport, you enter a lush landscape with sea kissing the surrounding golden beach. You enjoy a perfect wellness stay in sea facing eco-friendly accommodation ssurrounded by well maintained gardens. Yoga retreats and Ayurvedic Treatment packages accompanied by healthy cuisine and warm hospitality complete your journey to mind-body-spirit rejuvenation.
Kairali, The Ayurvedic Healing Village, Palakkad, Kerala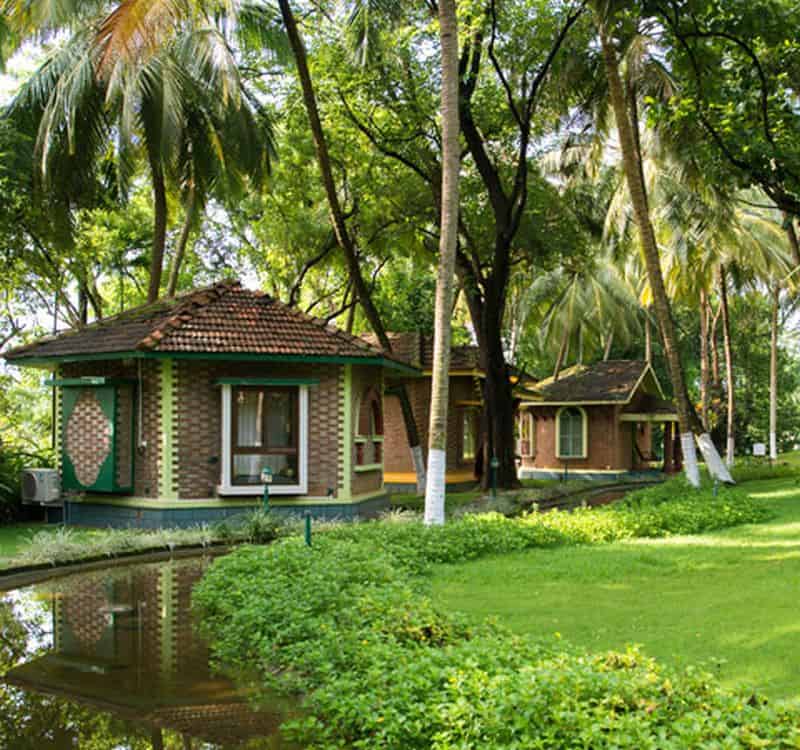 Image Source :  kairali.com
This top wellness resort in India also takes Ayurveda Healing approach for holistic enhancement of your well-being. Located in Palakkad and in proximity to Coimbatore Airport, the greenery and the wellness hospitality with sattvic food, physical activities, and Ayurvedic treatments promote healing internally and externally.  You feel extreme relaxation as the sound of the flowing stream soothes your mind. You receive a doctor's consultation upon arrival based on which are offered a personalized and curated wellness program which might include yoga, meditation, Ayurvedic therapies, massages, nutrition therapy, and spiritual guidance. You can also opt for Astrology, palmistry, and traditional Indian rituals and travel to a distant past despite being soaked in modern luxury.
Kunkhet Valley Resort, Uttarakhand

Image Source : .kunkhetvalleyresort.com
Kunkhet Valley Resort with 5 luxury tents and 15 well-appointed rooms is counted among the top wellness resorts in India. With the river Kosi flowing beside this wellness center is surrounded by mountains on one side and the thick woods on the other side. You experience one-of-a-kind wellness journey through yoga, meditation, alternative treatments, and sports. Spend some quality solitude in riverside lunch and 360 solitude lunch. Fill yourself with pure oxygen through nature walk amid forestry trails or test your fitness in biking through hilly trails.Meditation Retreat, Mindfulness Meditation Retreat, Birding in Corbett National Park, Astrophotography, Corbett Heritage, and Farming Tours are other curated wellness experiences that could be life-changing for you.
Naturoville Ayurveda Center, Dehradun, Uttarakhand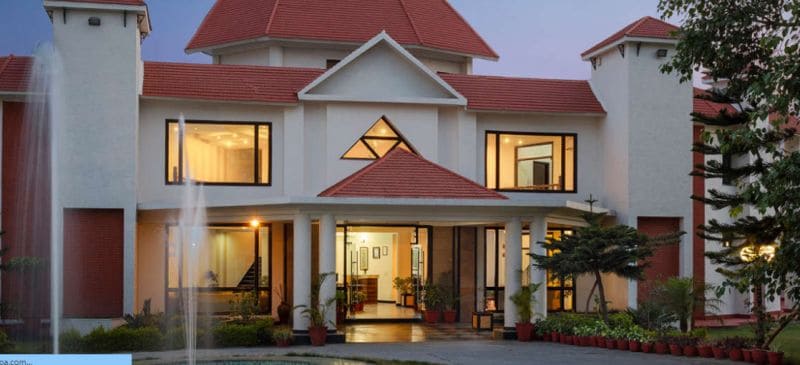 Image Source : naturovillespa.com
Nestled in spectacular and serene valleys in Hrishikesh with river Ganga flowing by, Naturoville Ayurveda Center in Dehradun could be the best wellness retreat in India for you. Choose from Super Deluxe Club Rooms or Executive Suite fitted with modern amenities and let your mind and body free from daily entangles and stress of life. The wellness palette of this resort includes Yoga, Meditation, Naturopathy and Ayurveda treatments to treat a range of physical and mental issues. Exclusive for women, Naturoville Shakti Ladies Special Treatment includes a comprehensive range of therapies to bring out the inner power or shakti. Each package related to Diabetes Management, Weight Management, Detoxification, Panchakarma, Anti-aging, etc.covers a comprehensive treatment list tailormade for every person.
The Punarnava Resort, Uttarakhand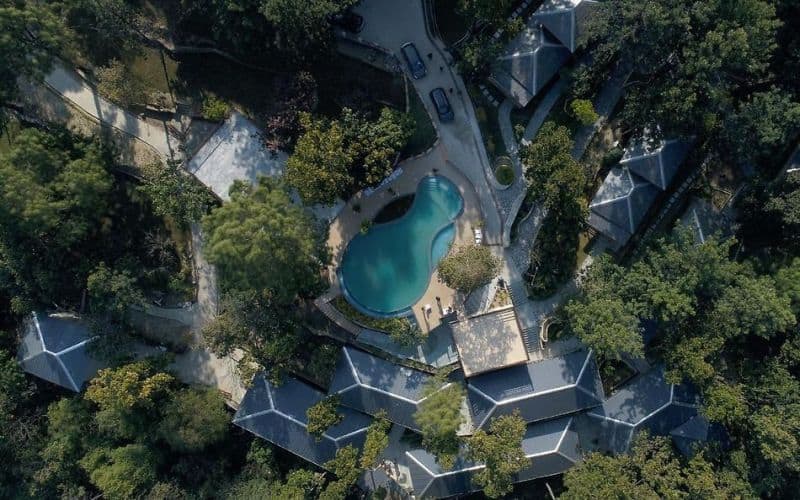 As the name goes, Punarnava Resort is the place of reawakening and rediscovering yourself, your needs and wants. Nestled amid the breathtaking mountains of the Uttarakhand Valley with the gorgeous  Mt Everest in view, this popular wellness resort of India immerses you in unique luxurious experiences to uplift your wellbeing. Accommodations range from 2 well-designed villas, 21 luxurious super deluxe rooms, 15 cottages, and 3 tent cottages in the middle of jungle. A massive library, healing lounge, meditation hall, spa room, swimming pool, amphitheater, Yagya Shala, Herbal and Spice garden, and banquet for Vedic weddings are other facilities available. Curated wellness programs cover vital dimensions of wellness that gradually enhances your wellbeing. The roof top Santhusti restaurant dishes out traditional gourmet based on Ayurvedic principles with ingredients sourced from the resort's organic garden.
Cottage Nirvana Wellness Retreat, Uttarakhand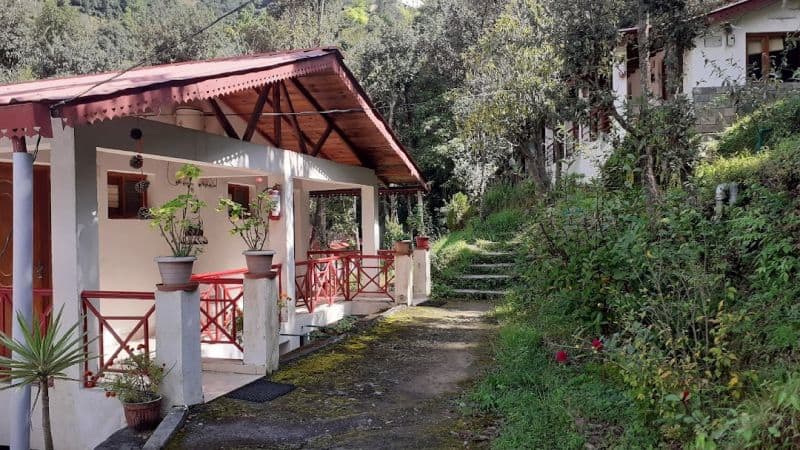 Image Source : cottage-nirvana-mukteshwar
Amid dense Oak and Rhododendron forest in Mukteswar of Nainital district Cottage Nirvana Wellness Retreat holds a top place among popular wellness resorts in India. The mesmerizing snow-capped Himalayas and the serene Ganges flowing nearby presents a gratifying wellbeing ambience. 10 well-furnished room spread over 2 acres of Oak forests have all modern amenities allowing you enough space and tranquility to reconnect with self. Enjoy curated Yoga and Ayurveda holidays with doctors and therapists who will help you with preventative and curative options. Guided meditation retreats help in your mental and emotional wellbeing. Reiki, Chakra Balancing, Crystal Healing, Buddhist Healing, Color Therapy, Theta Healing, Sound Healing, and Qi Gong promote your energy balancing for sustained wellbeing.
jüSTa Rasa Retreat & Spa, Rishikesh, Uttarakhand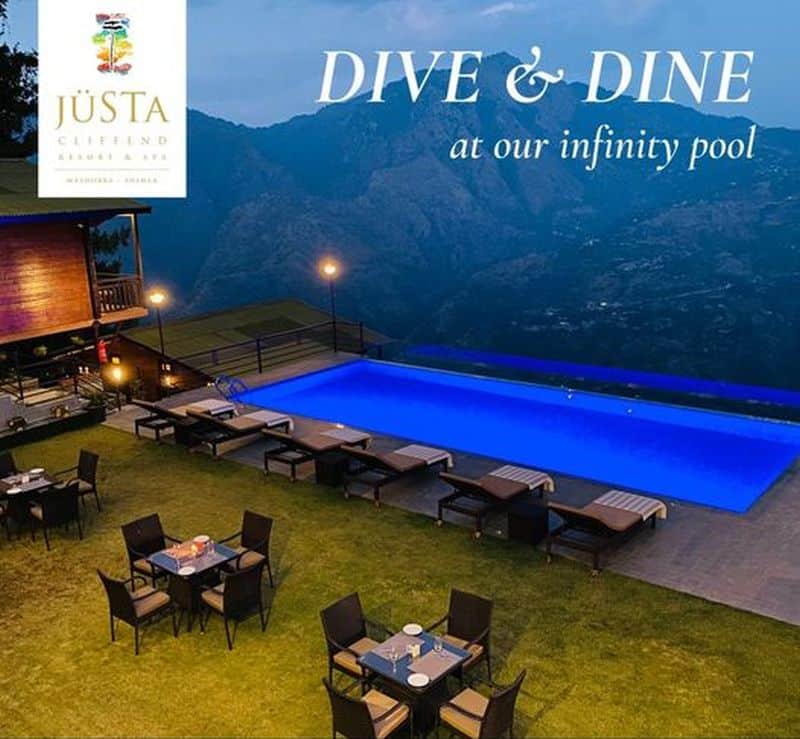 This 5-star luxury wellness resort in India symbolizes extracting the 'Rasa' or the aesthetic flavor of wellbeing, which is purely an Indian concept. Set in the foothills of the Himalayas beside the banks of Ganges, a perfect spot to take a restful pause and unwind yourself.Marvelous resort design and architecture andoutstanding deluxe rooms (Lake View Room, Himalayan View Room, Independent Villa), cottages with private spacesand modern amenities sit perfectly with the backdrop. Join yoga and meditation sessions, and indulge in pampering Ayurvedic and spa treatments, or take part in adrenaline-rushing bungee jumping, jumping heights, and river rafting.
BANYAN By The GANGES, Rishikesh, Uttarakhand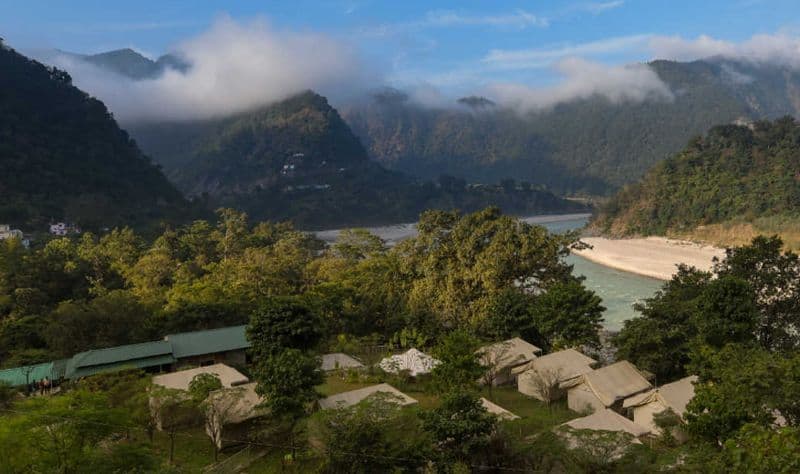 Image Source : banyanbytheganges.com
This is another popular wellness resort in India that allows you a complete nature immersion amid unending serenity. The riverside spot rejuvenates you with amazing experiences of angling, bird watching, yoga and meditation retreat, white water rafting, kayaking, and more. Twelve well-designed luxury Swiss cottages  and The spacious open dining area The Riverstone Diner and Lounge are equipped with all modern amenities and provisions that a wellness enthusiast can ask for. Corporate teams can enjoy a wellness business trip with conferences and strategic meets. Nurture your creativity by taking part in workshops on art and sculpture, cooking, musical jamming, book clubs and more.
Whispering Pines Himalayan Retreat, Uttarakhand
Nestled amid dense pine, cedar, oak, and Rhododendron forest with a dash of Wild Iris and other wild flowers, Whispering Pines Himalayan Retreat could be the perfect wellness paradise for you. Snow-capped Himalayan ranges, lush green breathtaking valleys, dew drops on leaves and grass fill you with awe. Rest yourself in any one of the 13 Alpine Swiss Tents or 2 Alpine Mountain Cottages and enjoy its exquisite interiors and modernized facilities. Whether you are a wellness enthusiast, a casual traveler or adventure seeker, this wellness resort in India has many things in offer. Try a complete Holiday Yoga, meditation, and spa with special Ayurvedic and European massages. Make your wellness experience choice from Moonlight Trails, Rappelling, Trekking, Rock Climbing, Golf, Do-it-yourself Barbeque, Bonfire, Live Folk Music, Star Gazing with astronomical telescope, Snow camping, Snow Trekking, and Sledging in winters.
Wood Castle Spa & Resort, Uttarakhand
The amazing location of this top wellness resort in India in proximity of the world-famous Jim Corbett National Park truly offers some great experiences to uplift your well-being. The panoramic Himalayas, dense forest and the Kosi Riverhelp in fast unwinding.All the 65 rooms come with a balcony and the lawns are spacious enough to spend quality time. The woody interior décor gives off natural vibes without compromising the luxury and comfort. The wellness resort Spa is equipped with all facilities including an outdoor pool, indoor Jacuzzi, steam room, sauna, Vichy Shower, wet and dry massage spaces, and pedicure manicure stations. Professional therapists offer signature treatments using 100% herbal oils sourced from local gardens exclusively meant for this purpose.You can enjoy trekking, nature walk, rapelling, Hot air ballooning, rock climbing, river crossing and last but not the least the famous Jungle Safari.
The Devdwar Yoga Resort, Uttarakhand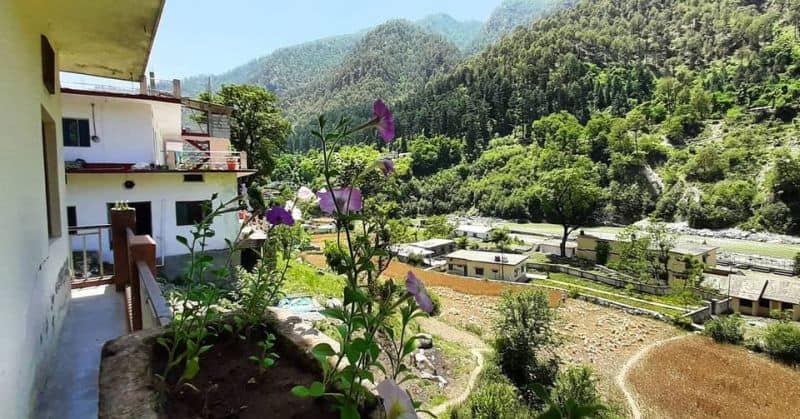 If you are looking for a relaxing stay amid splendid nature, Devdwar Yoga Resort should be your right choice. Very near to Tapasyalayam, the resort has well-maintained 18 rooms with all basic amenities. Relaxing from the balcony and savoring the natural beauty is something great for your wellbeing. You can plan for a trek or walk for hours in nature, a rare experience for urbanites. If you are looking for more, visit Vishwanath Temple and Kuteti Devi Temple 9 and 12 kms from the resort.
Beach & Lake Ayurvedic Resort, Kovalam, Kerala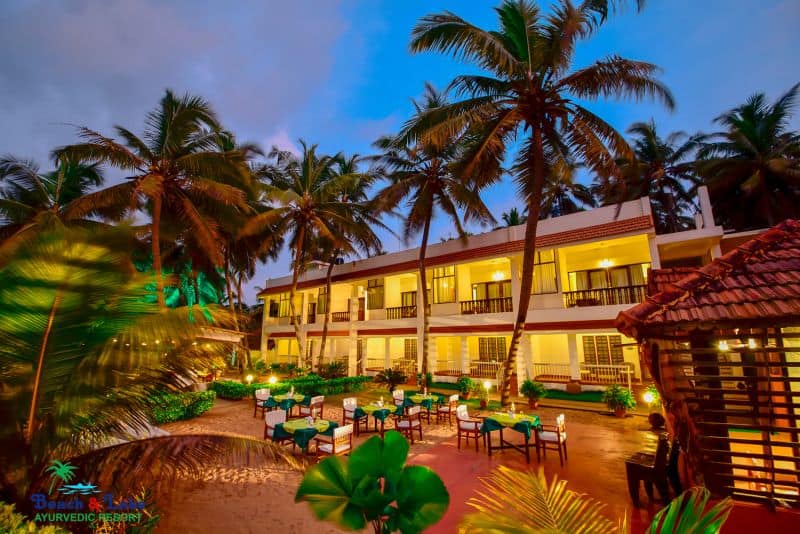 Image Source : beachandlakeresort.com
Just 8 kms from Trivandrum International Airport, you will find this boutique wellness resort in India. Natural surroundings, outstanding offerings, eye for details, and compactness make this wellness resort the first choice of many wellness seekers. A unique blend of nature, yoga, and Ayurveda and enhanced sensory experiences gives a gratifying wellness experience. Picturesque waterfronts, lush coconut plantation, and pool/garden view rooms add to the wellness elements of the property. Ayurveda Retreat and Yoga Retreat take care of your holistic well-being with due reinforcement of local tours and other activities.
Ayur County Resort, Munnar, Kerala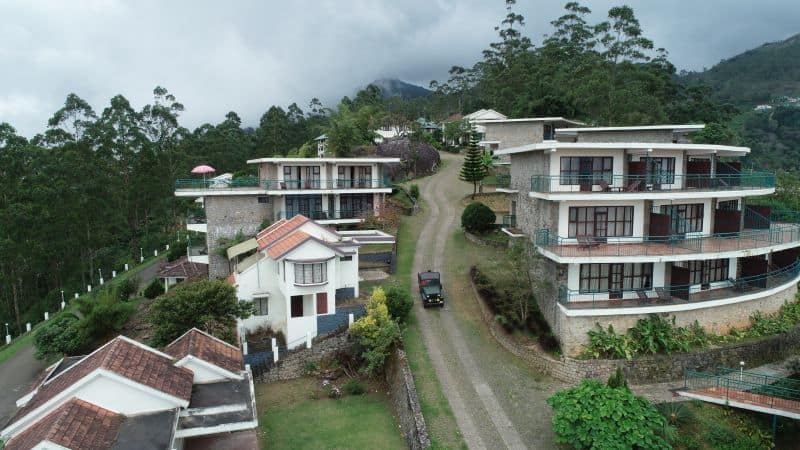 Image Source : ayurcounty.comayurcounty.com
Far from the din and bustle of city, Ayur County Resort takes you to a different world of wellness with its great suites, cottages, independent villas, and house boats wrapped in luxurious comfort. Facilities ranging from Ayurvedic therapeutic center to classic outdoor pool and restaurant, you can never dream of better wellness experiences for your mind-body-spirit harmony. The splendidChinnakanal Valley, neatly designed pathways, courtyards, misty lawns, and rooms all covered with green foliage create the perfect hideout for a relaxing wellness vacation.Personalized Ayurvedic treatments in this wellness resort in India by expert therapeutics give you the best opportunity to cure, relax, and unwind.
Adithya Nature Resort, Kerala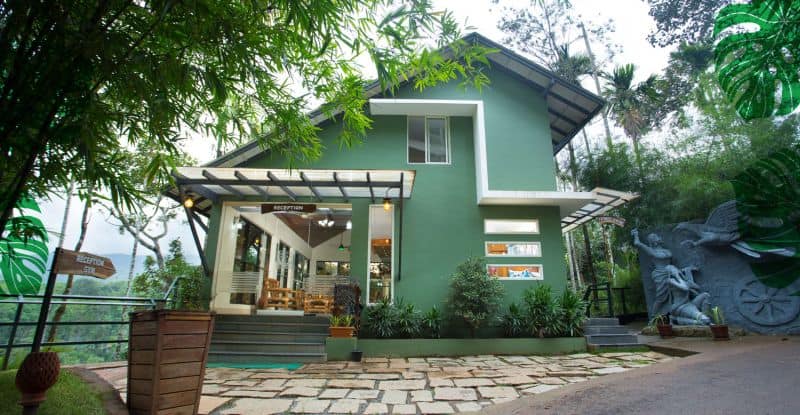 Image Source : adithyanatureresort.com
Cradled in the lush rainforests of the western ghats, Adithya Nature Resort offers a sensory wellness journey in all respects. This popular wellness resort in India located in Wayanad gives you ample opportunities of outdoor wellness experiences and immersive spa treatments for self-pampering. Set out for a trek in Sugandhagiri Forest, a thrilling jungle safari or visit marvelous nature spots for a fulfilling wellness immersion in nature. Rooms offer a cozy stay overlooking the lush greenery presenting a never-ending treat for your eyes. Adithya's Ayurveda Spa is located on the slope of a breathtaking valley. Equipped with well-trained and experienced Ayurvedic physicians, you can choose from a platter of curative and restorative treatments and regime.
Vythiri Resort, Kerala
Image Source : vythiriresort.com
If nature immersion far from the crowd is your objective in wellness tourism, Vythiri Resort will be the ideal hideout for you. This 150-acre property is nature's treasure troveand its 'Rainforest Experience' makes it one of the popular wellness resorts in India. The winding paths towards brick-colored cottages speak volumes of the journey that lay ahead of you. Spacious accommodations with earthy vibes bring out the flavor of the soil and give you an intimate experience with nature. Lofty tree houses and cottages on stilts fit right with the property. Rooms and suites are elegantly designed with some having private pools and Jacuzzis. The property houses a modern Spa and Ayurveda Centerwith an array of massages, baths, scrubs, facials, hand and feet toning to reinvigorate your system.
Ananda in the Himalayas, Uttarakhand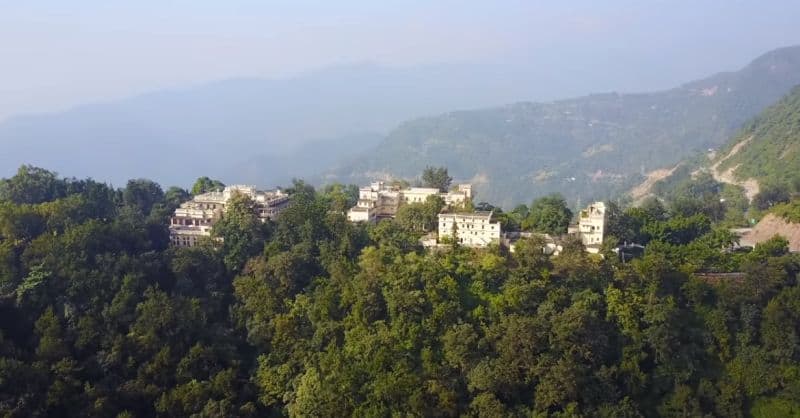 Image Source : anandaspa.com
It is probably one of the Indian wellness destinations which are counted among the best in the world.  It's a luxury spa spread in 100 acres, surrounded by a majestic Sal forest. Ayurvedic doctors, therapists, yogis, and chefs work hard to provide the best treatment to patients. Their specialty is the spa, which has over 80 varieties of treatments. These therapies are a combination of modern and ancient therapies – including Shirodhara, Abhyanga, Shloka, etc. People gain a sense of peace with Vedanta talks, healing treatments, and physiotherapy.
Vana, Uttarakhand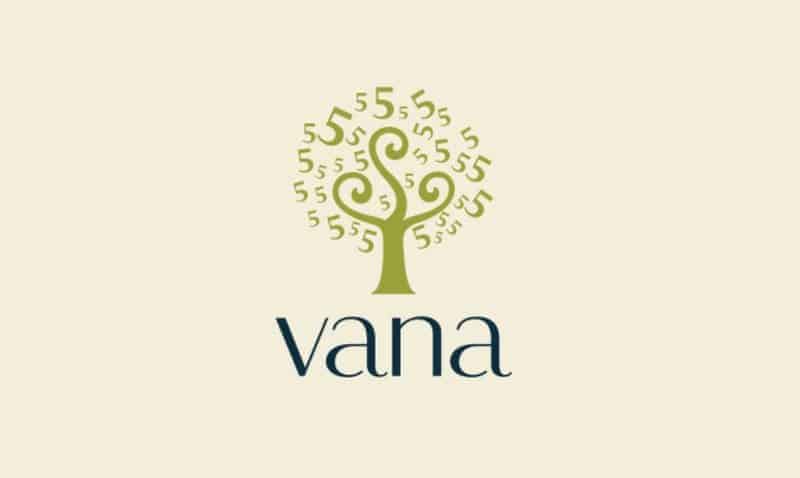 Image Source : vana.co.in
This is one of the newer Indian wellness destinations. The visitors here have to wear an attire provided by the center. They offer wellness vacation on a budget and help visitors gain a balance in body and mind through guided meditation, yoga, lessons in nutrition, and musical performances.
Sikkim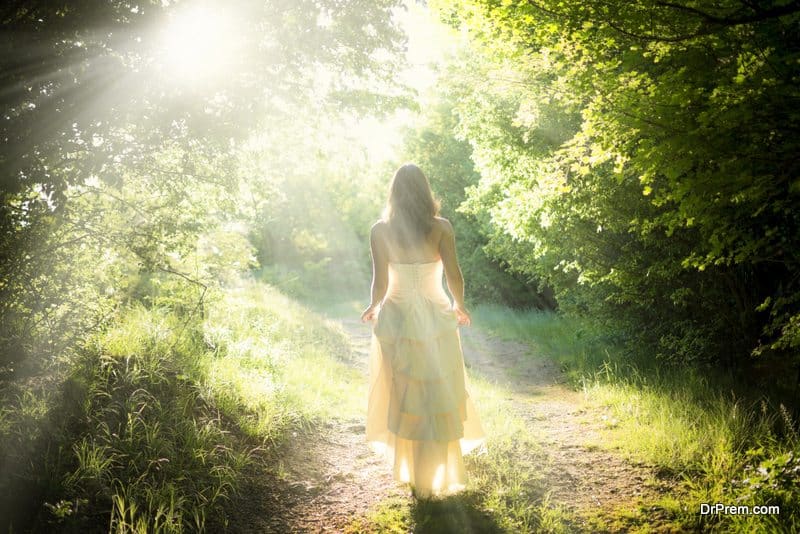 Sikkim's habitat is as of yet untouched and just looking at the natural beauty of Sikkim is a therapy in itself. For those who are interested in wellness vacation on a budget, Sikkim has many budget hotels. In Gangtok, there are no cars and you have to walk everywhere, allowing you to enjoy the grandeur of the place. Whitewater rafting in the Teestha river and the hospitality of the Sikkimese will allow you to explore the simplicity of life here. Indulge in some introspection in the peace and quiet of the Romtek Monastery.
Sarovaram Ayurvedic Health Center, Ashtamudi, Kerala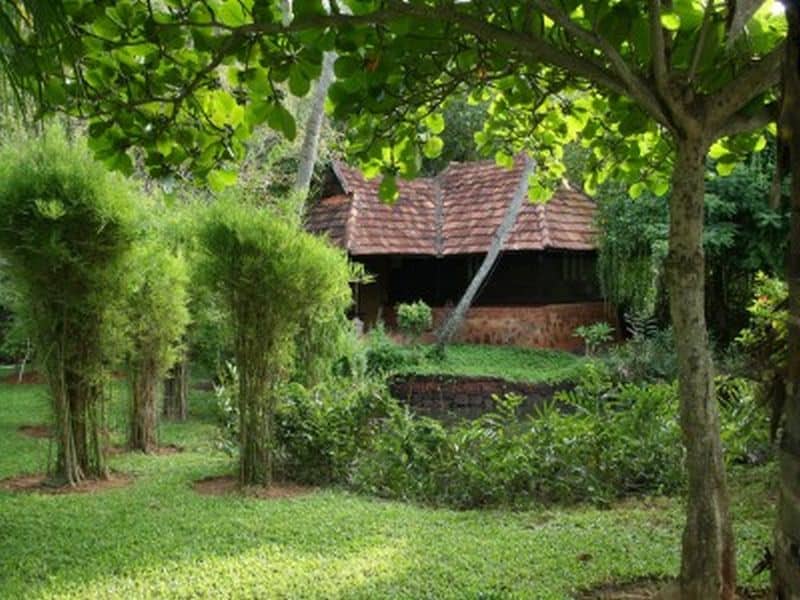 Image Source : sarovaramkollam.com
Situated on the banks of Ashtamudi lake, visitors can take advantage of authentic Ayurveda treatments at the Sarovaram Ayurvedic Health Center. The retreat is family-owned and offers detoxification and rejuvenation. The temples and the herbal garden are additional attractions. Sleeping disorder, shoulder and neck pain, arthritis, sinusitis, and backaches are treated with Ayurveda here. Besides, it is one of the most affordable retreats in India.
Atmantan in Pune, Maharashtra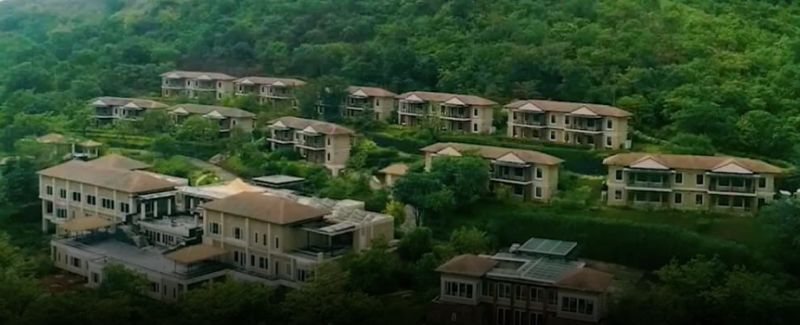 Image Source : atmantan.com
This is one of the best wellness retreats in India, which offers both Ayurvedic and western massages. Alcohol and smoking is prohibited on site, which helps you detoxify your body. However, you have to plan a stay for three days to get the required benefit from Atmantan. Anti-aging facials, acupressure, aromatherapy, balneotherapy, and pranic healing are among the treatments offered here. Turkish hammam, spa, and Vichy showers are the special features of this retreat.
Nimba Nature Cure in Mehsana, Gujarat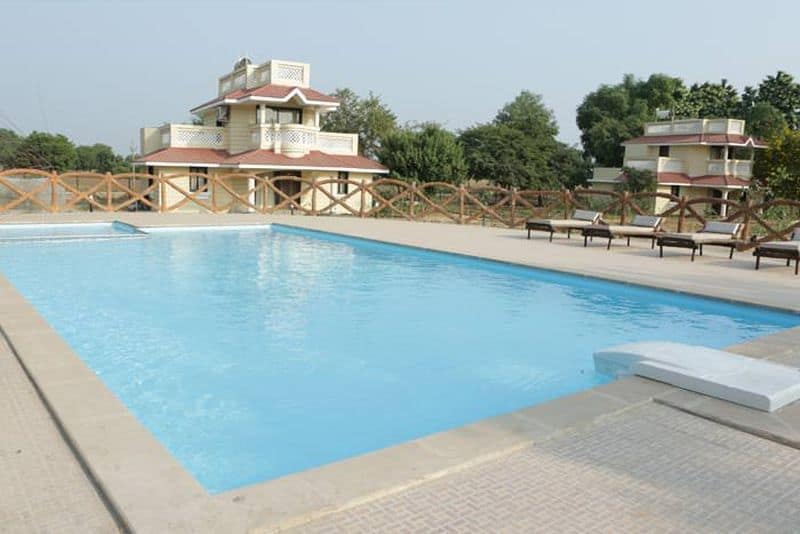 Image Source : nimba.in
This retreat treats respiratory, musculoskeletal, gastrointestinal, lifestyle, and endocrine diseases through naturopathy. Vibro massages, mud packs, spine baths, diet therapy, and enema are some of the treatments offered by this wellness centre. 
Beach House, Goa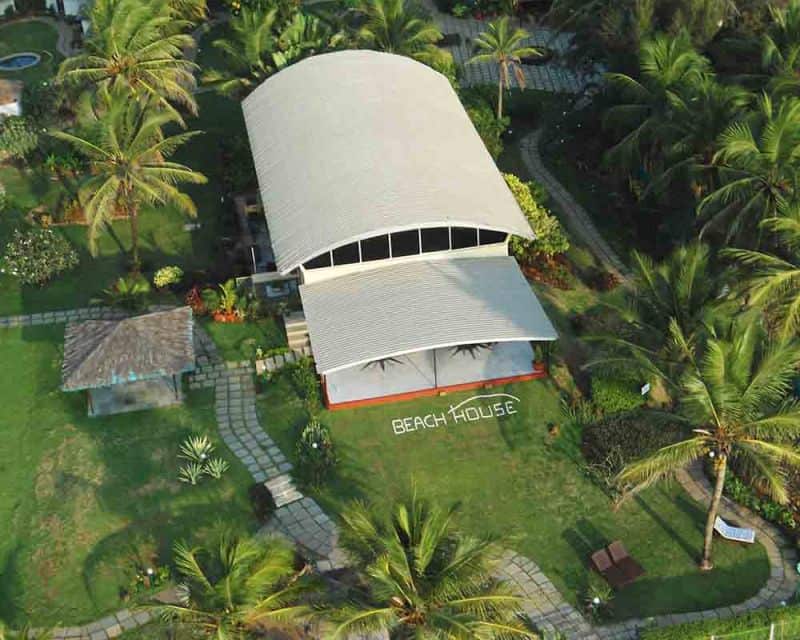 Image Source : thebeachhousegoa.com
For those who love the sea, this is one of the best wellness retreats in India to explore. Be soothed by the waves and enjoy body rebalancing in the luxurious rooms of this retreat. Ayurvedic retreats, hypnotherapists, yoga instructors, activity coaches, and fitness trainers will help in weight management and detox.
Kalari Kovilakom in Payyallur, Kerala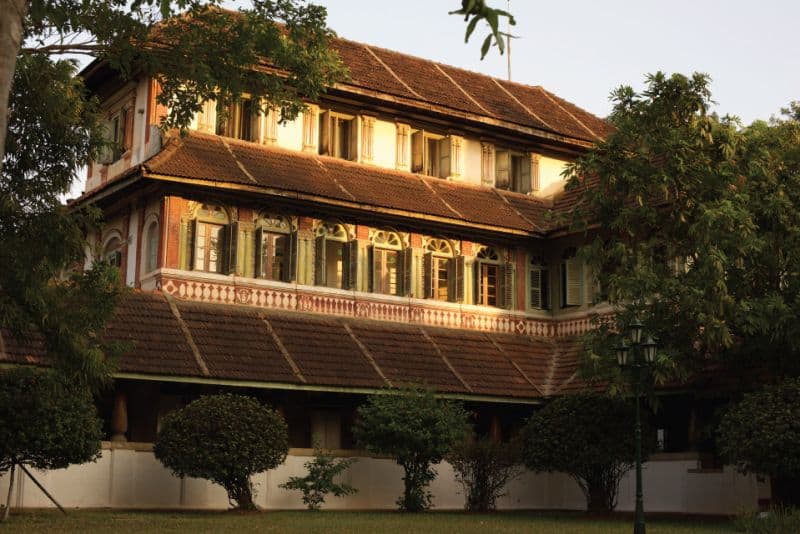 Image Source : cghearthayurveda.com
This is famously known as the 'Palace of Ayurveda'. The retreat is designed like an ancient ashram. It prohibits caffeine, leather accessories, alcohol, and flesh. The holistic approach helps to restore mental and physical health. 
Resurge Clinic, Goa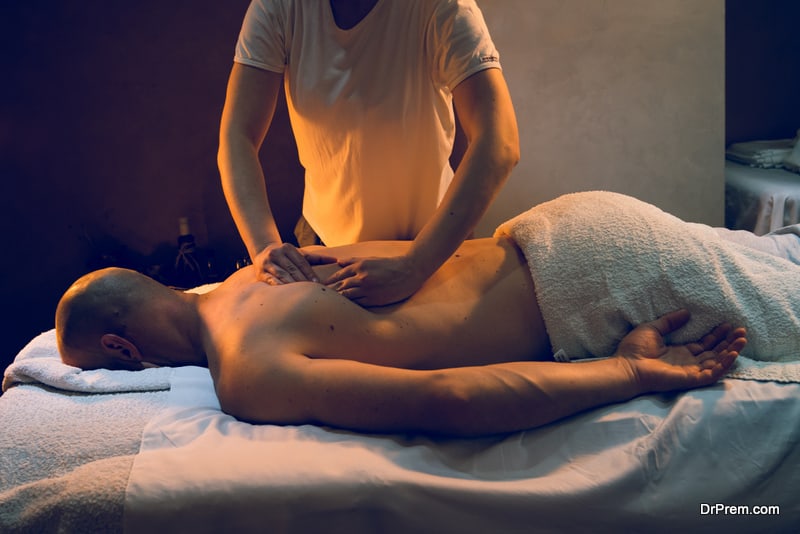 Located in a luxury hotel in Goa, the Resurge Clinic was conceptualized and developed by Australian fitness guru Glen Schirmer. The clinic promotes overall health via its 28 day weight loss, fitness and wellness programs that feature among other practices, healthy eating, massages and leisurely workouts, etc. The clinic is also known for its reverse health pathology practices that help individuals gain lean body mass while losing body fat.
SwaSwara, Gokarna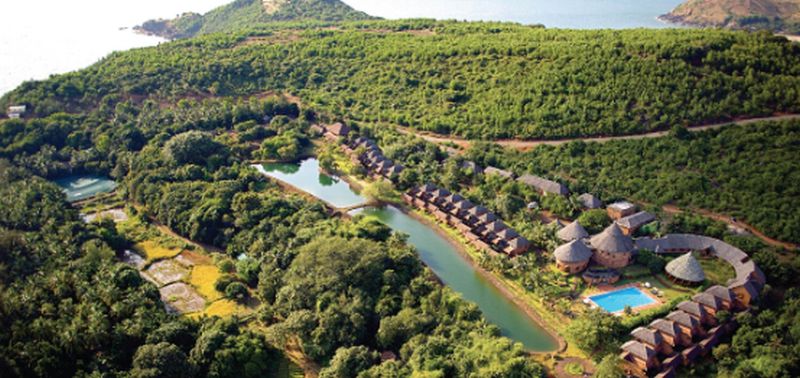 This beachside wellness retreat helps individuals connect with their body and soul in an artistic manner. The retreat houses one of the best art hotels in the country, and offers guest an Artist in Resident program. Via this programs, guests can explore their artistic side while letting loose their emotions on their artworks. Apart from this, the SwaSwara retreat also organizes other wellness activities like sunrise yoga, ayurvedic treatments and meditation classes.
Ayurvedic Natural Health Center, Goa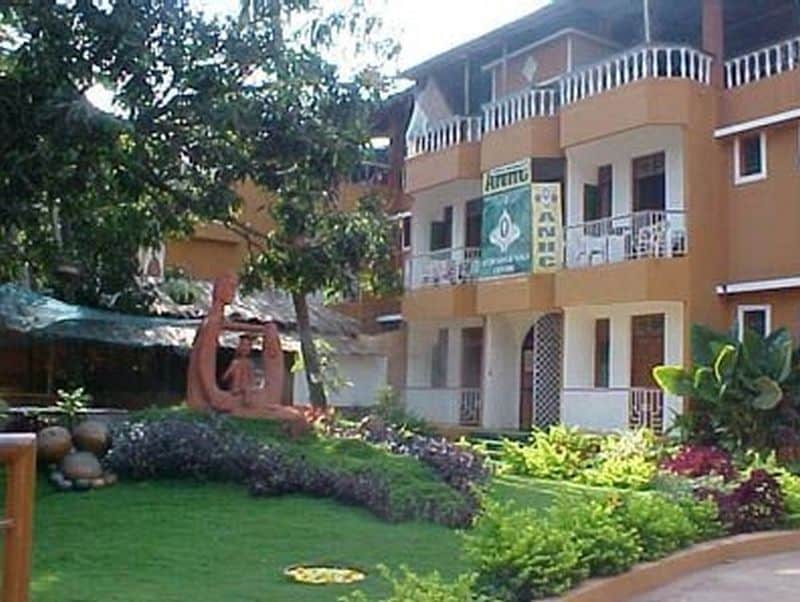 If you are looking to enjoy a wellness vacation on a budget, head to the Ayurvedic Natural Health Center in Goa. Offering guests a great blend of Ayurveda, yoga and meditation techniques, the center focuses on attainment of overall health and fitness. Guests can also opt for a range of short courses in Ayurveda, yoga and nutrition. The center also houses its own herbal garden filled with teas, powders, oils and other green products.
Sivananda Yoga Vedanta Dhanwantari Ashram, Trivandrum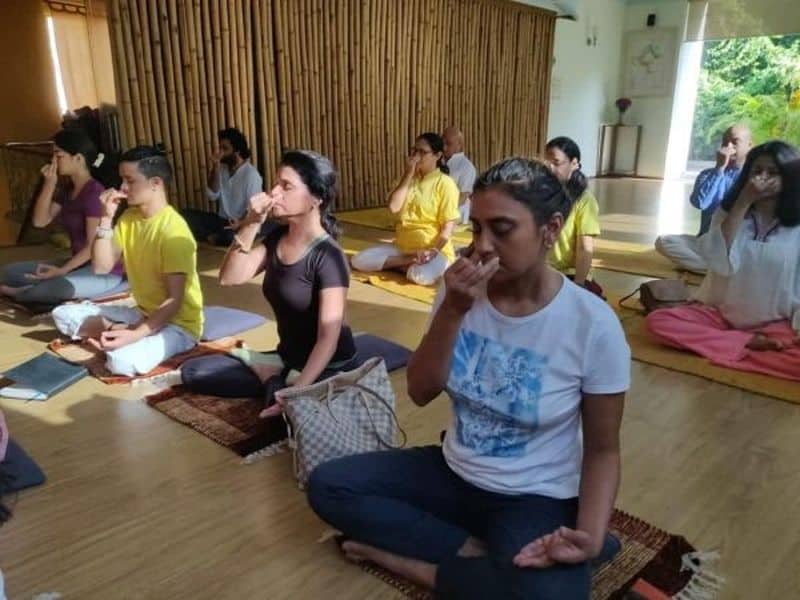 Image Source : sivananda.org.in
Situated amidst the Neyyar dam and forests on the outskirts of Trivandrum, the Sivananda Yoga Vedanta Dhanwantari Ashram is a 12 year old wellness retreat that focuses on yoga, devotion and philosophy for holistic wellbeing. Started in 1977, the 12 acre ashram offers guests a range of structured 'yoga' holidays that can extend from anywhere between 2 weeks and a month.
Wildflower Hall Spa, Shimla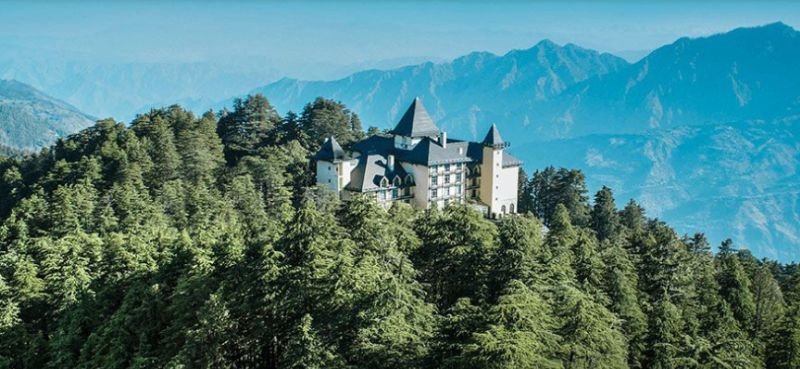 Image Source : oberoihotels.com
Located among beautiful cedar forests and the snowcapped Himalayan mountain range, the Wildflower Hall Spa at the Wildflower Hall Resort in Shimla is one of the best wellness retreats in India. Regularly voted as one of India's best spa resorts, the spa offers guests the chance to connect with their body and mind in a tranquil environment. This is achieved via a range of Ayurveda and aromatherapy treatments what use plant and flower essences.
Jiva Spa, Udaipur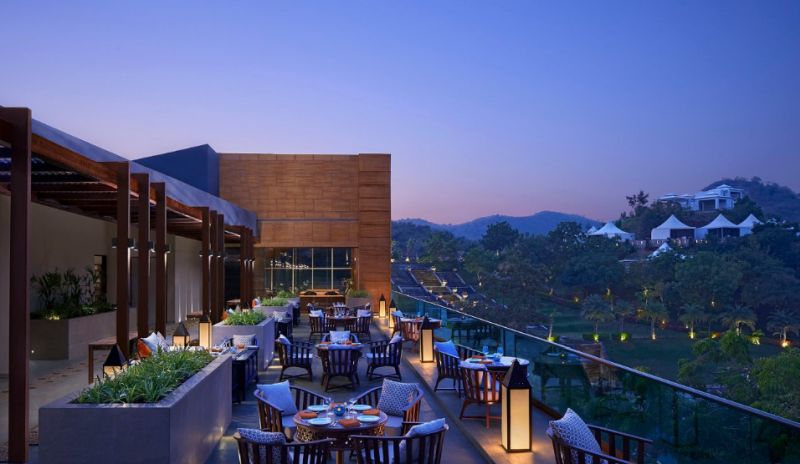 Image Source : tajhotels.com
There's nothing more relaxing than opting for a body and soul rejuvenating treatment at the Jiva Spa which is located in the Taj Lake Palace in Udaipur. Offering stunning views of the nearby Lake Pichola, the spa provides its guests with never before experienced treatment options. Guests arriving at the Jiva Spa can either choose to enjoy their spa treatment in exquisite treatment suites that feature hand painted heritage frescoes on the walls, or the Royal Spa boat which would take them on a ride across the lake as they enjoy their on deck spa treatment.
Affordable detox retreat
Bamboo Yoga Retreat, Patnem, Goa: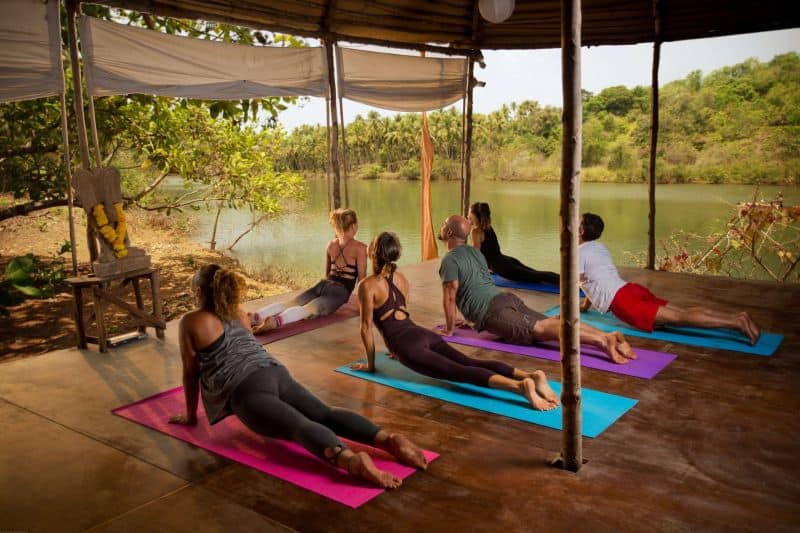 Image Source : bamboo-yoga-retreat.com
Since it is the origin where Yoga evolved it is quite natural that in India affordable detox retreats do exist. One such is Bamboo yoga retreat in Goa. The primary attraction is the location of this resort by the scenic Goan beach and second reason is it being pocket-friendly.
Mediation and sunset yoga classes are hugely popular and unwind you. Accommodation in bamboo beach bungalow with special spa treatments (Keralite herbal baths) has a worldwide appeal.
Anahata's 8-day holistic healing and yoga retreat, Mysore: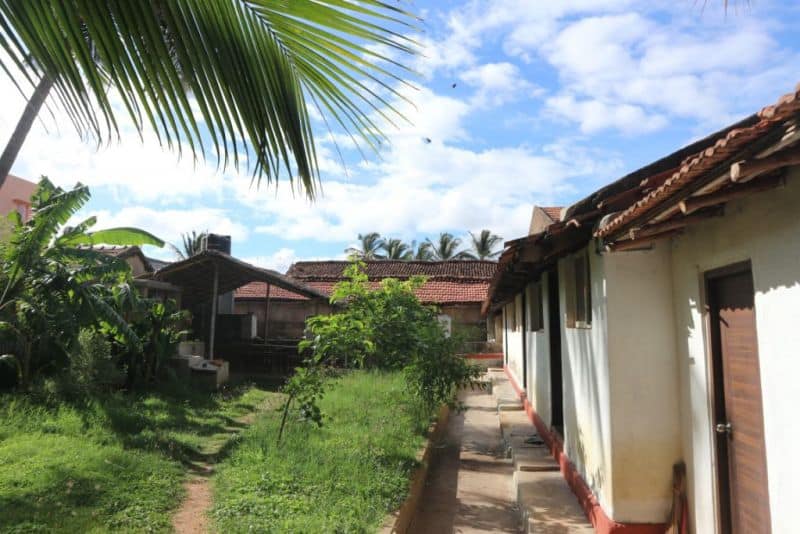 Image Source : anahata-healing.com
When you are a detox buff and you are in India you shouldn't miss Anahata's.  A typical ashram life is promised where you are miles away from the grind. You thrive on organic meals and satvik detoxification diet.
The program includes 5 days of Ayurvedic massage, regular yoga and meditation classes, drawing healthy juices, cleansing sessions and tranquil trances. Location is picturesque between a pristine forest and a lake adding to its landscape charm.
Indian yoga retreats for coping with Spinal Disorder Management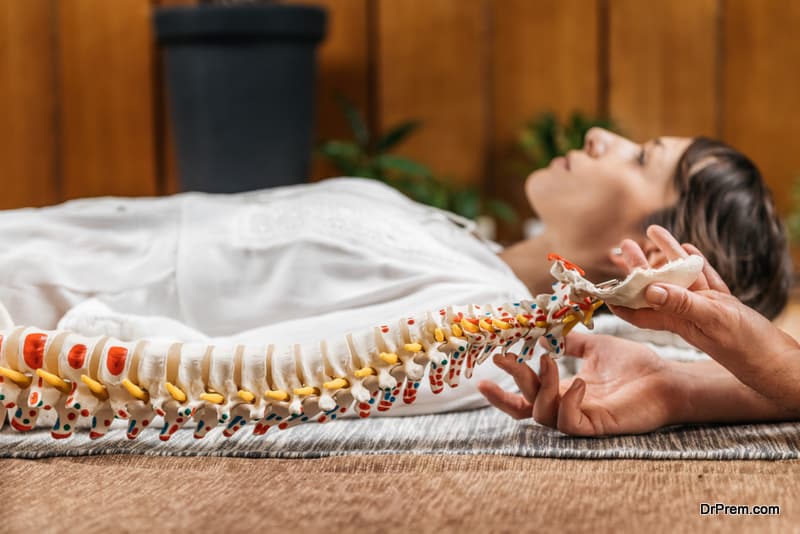 A lot of individuals have started opting for yoga as a positive form of therapy for their back pain problems. Yoga has been known to have curative benefits for chronic backache, including those caused by spinal disorders as well. A lot of retreats in India offer specialized yoga programs to treat back related issues in individuals. These yoga programs are highly customizable and would suit each individual's specific needs, issues and body constraints. Here are 5 such yoga retreats in India that excel in spinal disorder management.
SWAN Yoga Retreat in Goa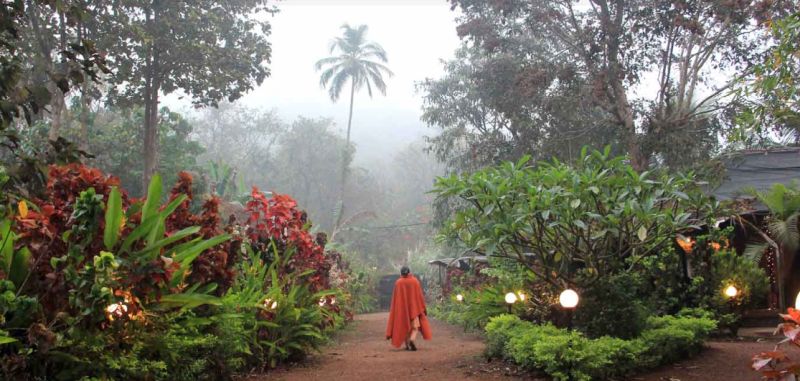 Image Source : swan-yoga-goa.com
The SWAN Yoga Retreat in Goa is renowned throughout the country for its one of a kind program that deals with spine related ailments. Spanning a course of 10 days, the program will aim to cure a number of spinal disorders and issues like back pain, slipped disc, sciatica and cervical spondylosis, etc. via a range of yoga therapies.
You can join group sessions as well as request for individual sessions with the instructors to develop a more customized program for your need. The program will feature daily classes focusing on posture building Asanas, breath controlling Pranayamas, meditation and deep relaxation techniques, all aimed at treating spinal problems.
Niramayam Heritage Ayurveda Retreat in Kerala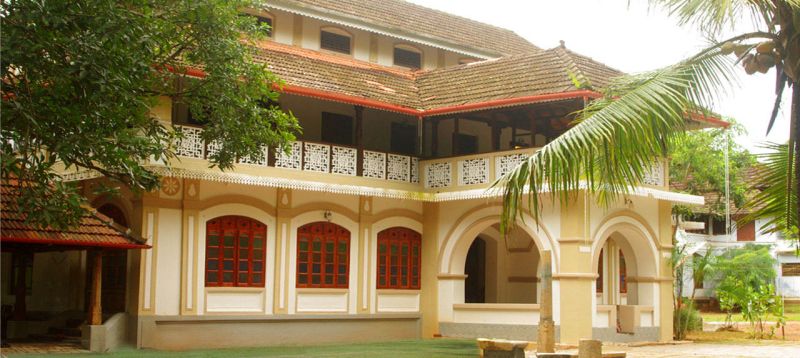 Image Source : niramayam.com
This yoga retreat in Thrissur, Kerala prides itself in offering authentic Ayurveda treatments focusing on traditional healing techniques for spinal disorder management. Set amidst stunning and yet, peaceful surroundings, the retreat incorporates the right infusion of tradition, culture, Ayurveda practices and expertise to optimize treatments and produce unmatchable results.
The retreat has carved a niche for itself in the industry for offering traditional healing methods to treat a wide variety of back problems, including back pain, lumbar spondylosis, cervical spondylosis, Disc Prolapse and other spine related problems.
Ayurveda Yoga Villa in Kerala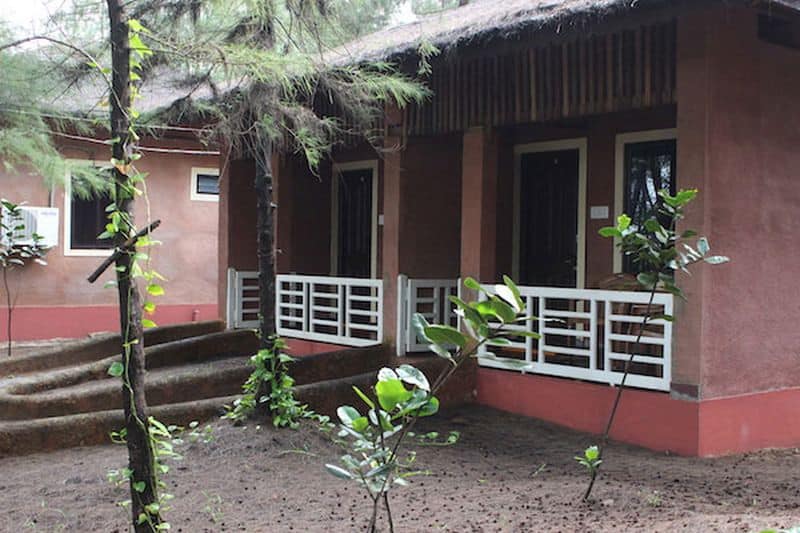 Image Source : ayurvedayogavillage.com
The Ayurveda Yoga Village sits on the banks of the River Kabani, and specializes in several ancient Indian traditions of bodily healing, including yoga, meditation, Ayurveda and Kalari.
The retreat is one of the few of its kind in the country to offer a specialized KalariChikilsa therapy to treat back problems. Utilizing an appropriate blend of Ayurveda and Sidda healing systems along with Kalar'sMarma points, Kalari aims at ridding the body of issues like back pain, hip pain, disc prolapse, sciatica, bone fractures and spondylosis, etc. in a holistic manner.
The Ayurveda Yoga Village employs trained Kalari instructors to offer massages to the vital points within the body that have direct control of all the systems in it. The therapy will isolate the vital point that deals with a disorder and restore it to normalcy, thus treating the issue in the process.
Zamorins Health Retreat in Kerala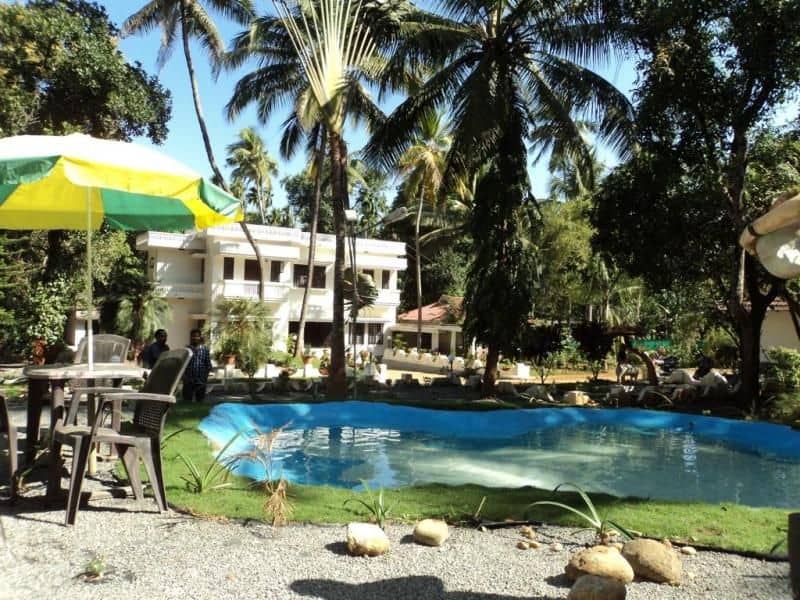 Image Source : media-exp1.licdn.com
The Zamorins Health Retreat in Kerala focuses on holistic healing techniques to combat common health disorders in individuals. The retreat aims to provide relief from these ailments by incorporating treatments and therapies that would flush out harmful toxins from the body and promote overall wellbeing.
The retreat also focuses on using tailor made Panchakarma techniques to treat different guests based on the latter's needs and physical condition. Your days at the resort will usually start with a nature walk which will be followed by a range of customized Panchakarma treatments, including steam therapy, hot oil massage, herbal baths, herbal bolus applications and shirodhara, etc. aimed at treating your back pain and the condition associated with it.
KARE Ayurveda & Yoga Retreat in Maharashtra
Image Source : karehealth.com
Located atop a hill that overlooks the Mulshi Lake below, the KARE Ayurveda and Yoga Retreat in Maharashtra is filled with beautifully landscaped lawns and gardens. Inspired by Dr. Prakash Kalmadi, the retreat specializes in offering an appropriate blend of Ayurvedic diet, Iyengar Medical Yoga and traditional Kerala therapies for holistic healing.
Truly a place of timeless beauty, KARE is inspired by nature's beauty to promote optimum wellbeing, a job it does pretty well thanks to the team of expert doctors, nutritionists, paramedics and therapists at the retreat.