Great prospects lie ahead in the wellness travel and hospitality market as more and more travelers opt for staycations, daycations, schoolcations, workations or workcations. In a frantic race to convert the doom to dawn, they have found new avenues of travel focused on wellness.
Staycation has been around for some time. Wellness sabbatical is trending in global wellness travel but it is the new concepts like schoolcation and workcations that have snatched the spotlight. With long-distance travel held up for the time being, these new models of travel are fulfilling the desperate outing needs of travelers.
Let us have a broad glimpse of how destinations and the hospitality industry are responding to the emerging wellness travel trends.
Guide to staycations, schoolcations and workcations in wellness travel
How luxury wellness travel sees a boom in daycations?
So what if situations have put a hold on to your dream vacation plans, elite US citizens of the East Coast have found a unique way to quench their desperate outing needs through 'daycations'. Mind you they are splurging dollars for the one-day travel stay! The well-heeled group is gravitating towards this pricey outing instead of going for hiking, trekking or a drive at outskirt counties. These glamorous 'daycations' include travel,accommodation, food and top quality day-long tailored wellness experiences.
One such high-end luxury itinerary would include flying in a private jet followed by a warm welcome to the destination resort or spa. You hop into a luxurious car and set out for day-long exploration of the destination attractions. You will be pampered beyond your dreams with sumptuous food and gorgeous stays amid a stunning landscape but only to last for a day.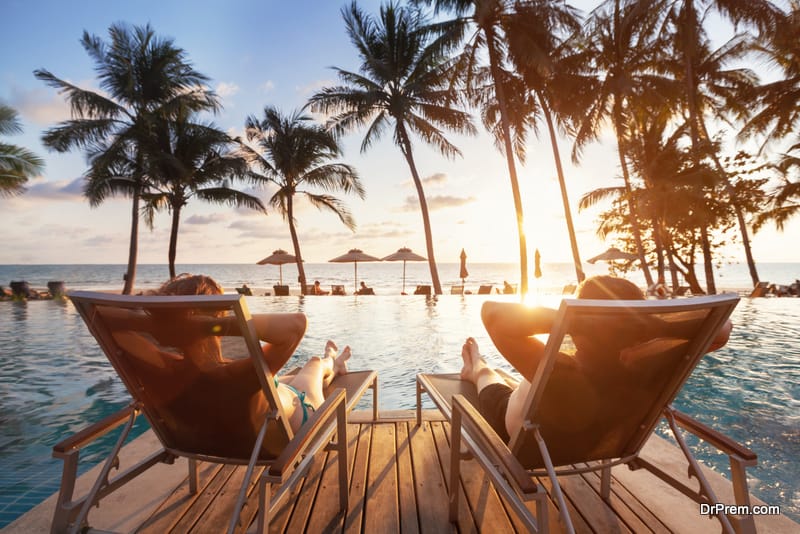 It may seem to be compromising a vacation or holidaying but given the situation of travel embargo, daycations could be a big relief from the prolonged locked-in situation making people gasping for fresh outing-oxygen. The full-day experience is such that it sets your system to the vacation mode automatically where you get to spend 24 long hours as you wish to. It comes as a great mental boost where you can set aside your worries and tensions. Taking such daycations at regular intervals could be good for your mental and emotional wellbeing.
The great news, luxury holiday makers are seeing a rise in day travel and local excursion bookings since the summer and the trend is going to stay for sometime. While spending a vacation in a high-end resort could be a distant dream given the expenditure, a one-day splurge can help you live the dream of enjoying a luxurious vacation.
How do winds of change come up fast in trying times?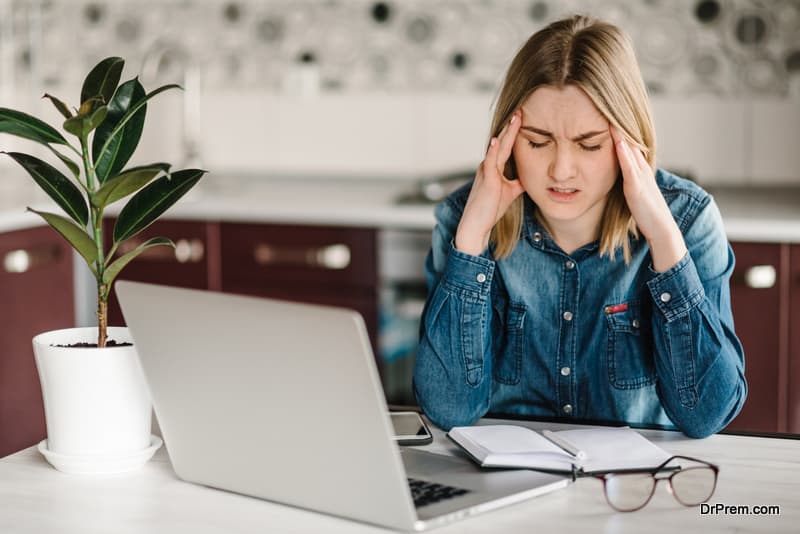 When work from home becomes the new normal, then why not work from anywhere? The only thing that matters is a steady digital connection. Home confinement sucks if continued for a long stretch. A break into the lap of nature is a welcome change where the demarcation lines between work and life get a bit blurred. Just a few hours' drive to a tranquil place will serve every purpose.
How digital nomads carve their own working space?
With digital nomads growing in numbers, workcation (another alterative of wellness sabbatical) is very much feasible. Just find a suitable travel destination with a good WiFi connection and you can enjoy work and vacation in parallel. The wellness travel market has been quick to spot this demand and destinations are working out innovative setups to offer a great workcation.
How yesterday's vacations are today's workcations?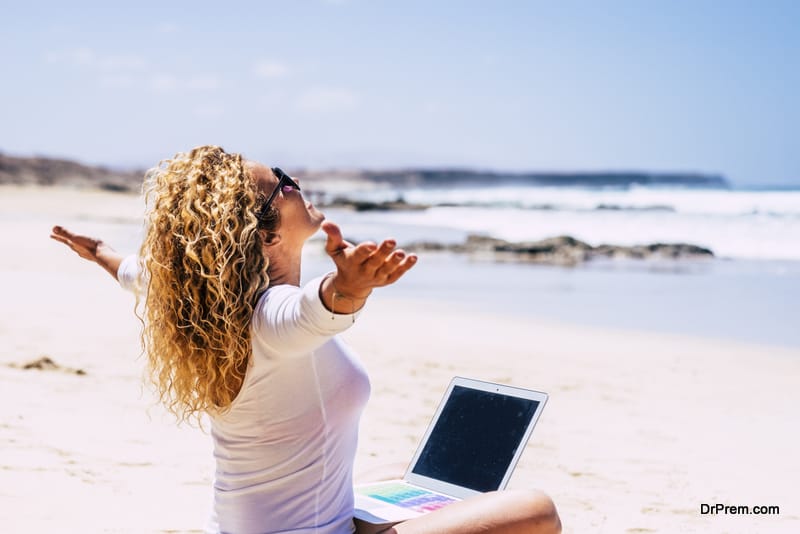 Recent studies show a rising number of professionals are opting for beaches, hill stations, and serene neighborhoods. It is not that they are just in a mood to vacation alone. These tranquil zones are their new workstations.
Statistics reveal that 20 % of online searches for booking Airbnb are opting for extended holidays ever since the enforcement of restricted travel. Workations for digital nomads look like oases in a desert. 45 % of the travelers are engaged in searching out of the way accommodations.
Treetop houses, campsites, and farm stays register a rise in consumer demand. Working from close and clustered concrete jungle is losing significance. Workcations provide relief from the claustrophobic unhealthy situations. Those pristine nooks marked as vacation spots once have turned into workations for digital nomads!
Although work from home assures more comfort sparing you from taking tedious commutations, at times it can induce monotony and loneliness. You desperately look for a break and explore greener and spacious pastures to breathe in freely. Socially distanced locations with ample greenery and breathtaking naturescapes could give a much-desired relief from stress without disturbing professional commitments.
Why do your workplaces need not be indoors always?
Days are not far when Zoom meetings will be held on the sandy beach or amidst lush valleys (mind the internet should be good!). Workcations would mean creating innovative working spaces where professionals will prefer working under the sky in broad daylight in a gorgeous natural setting like ocean fronts or lush sun-kissed valleys. It would be more refreshing and energy saving. One hour lunch break could include swimming in the ocean or taking part in short-duration activities like strolling, meditation, yoga and mindfulness.
How wellness tourism destinations are aligning to new trends
Bali
Bali, a much-visited wellness tourism destination has launched free staycations and tours for the locals to promote its wellness tourism offerings. Not only the citizens would get to enjoy a free vacation but will promote destination attractiveness as well.
Caribbean Islands
Remote working from Caribbean workcations is growing as the US citizens look for these healthy working and vacation options. Holding zoom calls from the Caribbean beach is very much acceptable among modern corporate organizations!  To fuel the trend, Caribbean officials are offering extended visa options making it feasible for the long stay of visitors.  Aruba's OneHappyWorkcation program is luring the US citizens to stay for 7- 90 days.
Maldives
The Nautilus Beach and Ocean in Maldives is offering an exclusive Workcation Package where visitors can work and also take part in various holistic wellness programs. The beachfront office setup includes a computer, printer, stable WiFi connection, a phone, required stationery, and a working desk.
India
Tourism hotspots in India like Kerala, Karnataka, and Uttarakhand are also coming up with innovative amusement workcation packages to meet various wellness needs of stressed working professionals.
Thailand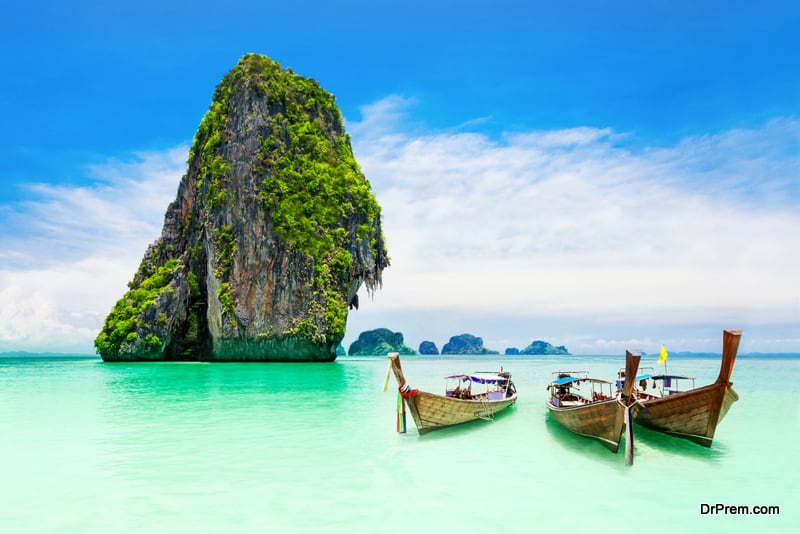 Workstation Thailand is all set to reshuffle the office scenario. It is an innovative effort that inspires staff from both the public and private sectors to explore new realms of office work. Sustenance of the badly hit tourism industry is an agenda, but a change of place of work and reduction workforce crowd in a confined office space is an important target too.
The Deputy Prime Minister and the Energy Minister wonderfully worded the idea behind the project takeoff emphasizing the essence of "Working out" and "Meeting from Somewhere ". This is a guaranteed stance that will drive the workforce from rank and file to socialize in a different atmosphere.
An invitation was sent to selected organizations to depute 5 staffs each for the travel plans covering five domains:
Projects focusing on social responsibilities.
Boosting staff welfare and enthusiasm.
Making insightful exploitation into community lifestyles.
Tasting lavish vacations including gourmet delicacies.
Exclusive yacht cruises offering special meals and specific travel plans at a reduced price.
These organizations will earn "survival points "to the extent they contribute towards the revival of a damaged tourism sector.
How do UK staycation ideas receive investor attention?
Staycation ideas have caught the investor's attention given the flexibility of work and wellness that it brings in and the low cost factor. People badly needing a break but unable to take expensive vacations find staycations a better option to unwind and relax. Hotels in and around London are seeing higher staycation bookings as travelers look for more space and greenery in suburbs and countryside.
How an ideal workcation would look like?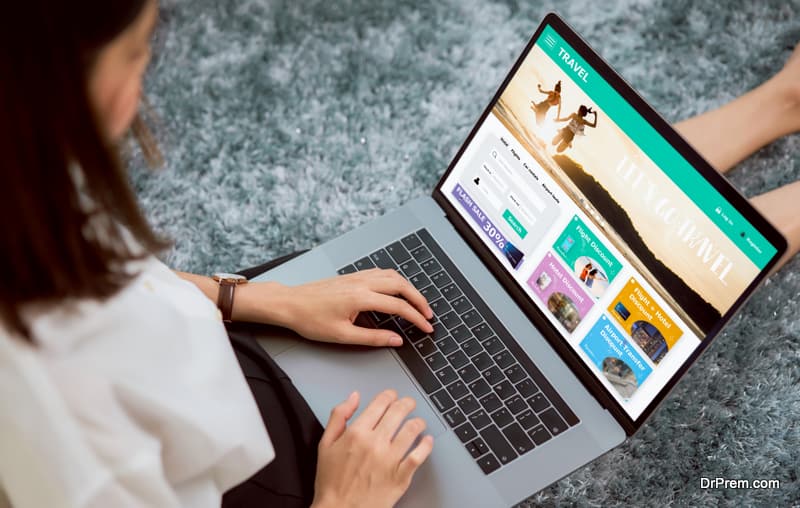 It could be any destination or a special accommodation in a tourist spot reachable in a few hours' drive.  One can think of far flung destinations provided you plan a long stay say for 3-4 weeks or months. In a unique mode of mixing business and pleasure, workcations could really mean fun while working.
Destination resorts are coming up with attractive wellness packages where one can balance work and pursue wellness goals without compromising the other. Leading hotel giants are also in the race to offer great workcation options in tier I and tier II cities.
What are the tips to plan smart for your workcation?
Choose a destination that will make you feel good.
Ensure the mobile and net connections in the destination work fine
Pack smart. Do not forget your laptop, chargers, powerbank, extra batteries and all. Most workcations do provide all these but it is wise to keep these handy.
Do not leave out the 'vacation' part in workcation. Make time for vacationing activities as well.
Choose your food wisely and maintain your regular physical activities.
How are trending schoolcations helping in remote learning?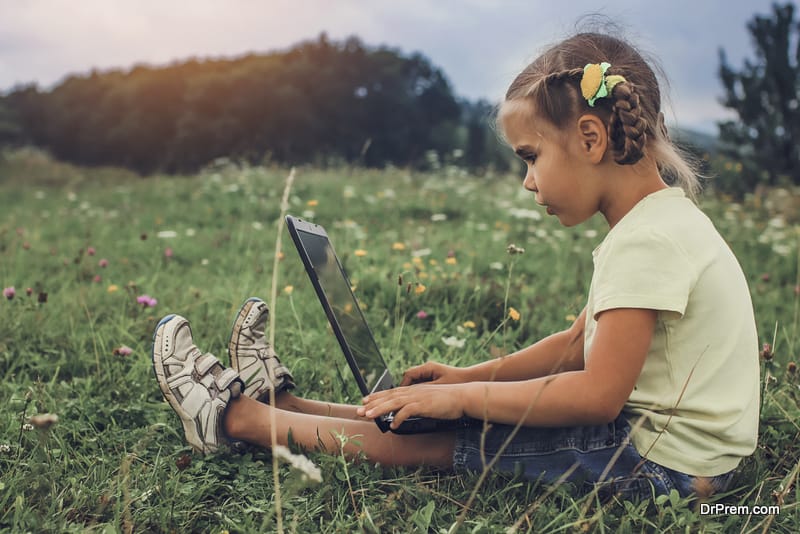 Schoolcations are a new distance learning platform marketed by hotels and resorts to arrest their falling tourist revenue. Instead, opportunities showed up in the form of online learning portals.   Initially, it was a hurried affair with very few having a clue to online schooling. When life pushed people indoors, everything seemed to be very confusing.
As the new trend of online schooling picked up, family vacationing can happen anytime where kids' learning would not be hampered. Wellness tourism could get a new shape with more planned and user friendly schoolcations available nearby.
A welcome change in learning?
The concept has been readily bought by many parents as a welcome change of scene with tech savvy professionals at the destination taking care of their kid's learning process. Many parents aren't adequately qualified in web literacy to handle teaching issues. Getting their wards signed in to an online class becomes a task.
When families are badly looking for a holiday break with their kids, what can be a better option than to select a destination offering schoolcations? These are excellent relievers for wannabe working parents who are otherwise busy with careers. Schoolcations packages near you would definitely be helpful in this area. Facilitators come forward with a smiling face and helping hand. Kids get their supply of stationary, snacks and cute little desks and appealing study materials.
Schoolcations have turned out to be an ideal mix of schools and family vacations, and the trend is likely to grow with more interesting features. Families interested in history and want their kids to master it from infancy can even go exploring historic sites and important milestones. Learning becomes effective when practical exposure is combined with texts. Tailor-made schoolcations are available to serve different learn-in-leisure objectives.
However, one should never discount the primary purpose of learning. It is not a vacation in a stricter sense. Children have fun, games and study or else the saying "all work and no play make Jack a dull boy" would work the other way round.
What you can expect in schoolcations?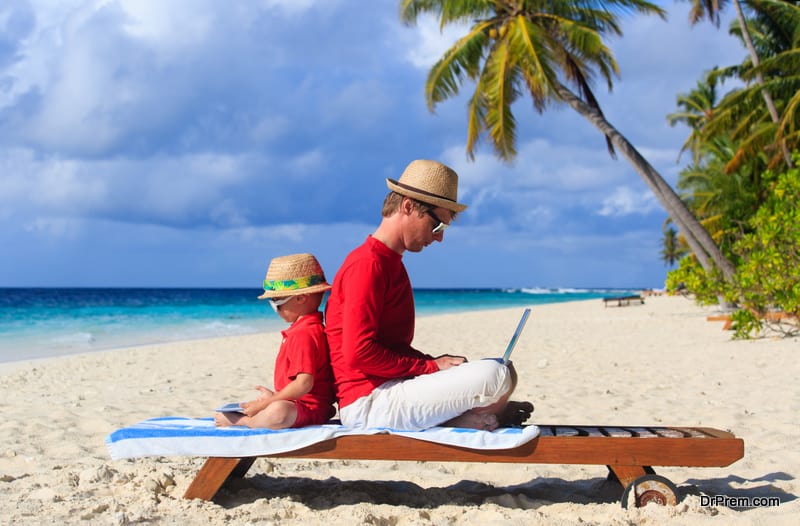 Good supportive framework in wellness resorts and other sites facilitating uninterrupted learning.
Smartly planned routine for learning and other leisure activities.
Special personalized nutrition and wellness activities
Separately planned activities for adults and kids
Special outing programs like beach surfing, swimming, hiking, excursions, etc.
What are the things to consider while opting for schoolcations?
Inform your school about your plan in details.
Check if your kid is likely to miss any offline school activities.
Check the school holiday calendar.
Make sure that the resort or retreat or any accommodation that you are booking provide you with high speed net connection.
If you are booking a wellness resort, check what exclusive schoolcation support it is providing.
It would not be wise to consider schoolcation as a luxury vacation. You will be paying for every minute your kid learns through the digital mode.
Ensure your kid maintains the learning routine instead of indulging too much in outdoor activities.
How will identification of niche markets matter?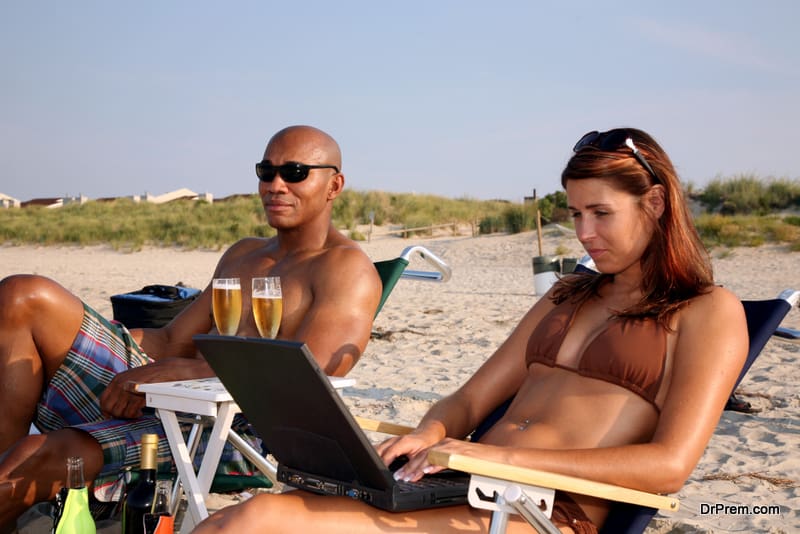 Staycations or workcations are likely to stay providing a steady revenue generation regardless of seasonal earnings.  Location of properties will matter although people may also opt for the same in the neighborhood. In situations where corporate travel and MICE tourism is at all time low, interest will be leveraged around micro- domestic and domestic leisure markets. Staycation packages will grow in demand with the obvious back to back proliferation of unique ideas.  However, the central theme would be prioritizing health safety of travelers allowing them to work and relax peacefully.
What are the recommended requirements for a hotel or resort to run staycation or workation packages?
Resorts and hotels need to abide by a set of standards before they set up their staycation or workcation outlet. Here we have a few of them:
Tailor-made work space or dwelling area meeting the customers' requirements.
Arranging leisure activities based on the customers' preferences.
Creating support system for smooth running of office hours
Compliance with density requirements to ensure enough space in between.
Mitigation of close contact meets between guests, hotel staff and cross- wise.
Diffusion of crowd and stringent prohibition on gatherings.
Compulsorily putting safe entry into practice and motivating guests to use contact tracing app.
Thorough disinfecting procedures .
The downsides
The trend has picked up no doubt giving the hospitality sector enough room for creative innovation. Bookings are rising after a period of lull but the question arises – Will it remain as exciting as it is today? Let us study some points.
Limited options
Although the idea seems to be great, but not everybody eager to travel will have the same staycation, workcation or schoolcation opportunities. It will largely depend on the place you live.
Miss the excitement
Staycations may not give you the similar excitement that you get while vacationing in an exotic location. You may get rid of the boredom for the time being but miss the thrill of travel and exploring the unknown.
Experiences may be repetitive
Occasional staycations are fine but if you go for it regularly, you may find it repetitive and less interesting. It may make you think that it is better to take a day or two off and spend relaxing at home.
It may not be that cheap
It is natural you would like to pamper yourself with luxurious services which may prove to be pretty expensive.
Important staycation tips
Why do you need a staycation and what do you expect? How many days would you like to spend in a staycation? These are vital queries that you need to have clear answers.
Not spending on flights doesn't mean that you can spend randomly in staycations. Plan your budget according to your needs and check whether it suits you or not.
Staycation does not only mean touring locally and taking up conventional activities. Camping, hiking and trekking can also be good staycation options.
Since you will travel to nearby surroundings, check the available offers from the traveling agencies. You can benefit a lot.
What are the packing tips?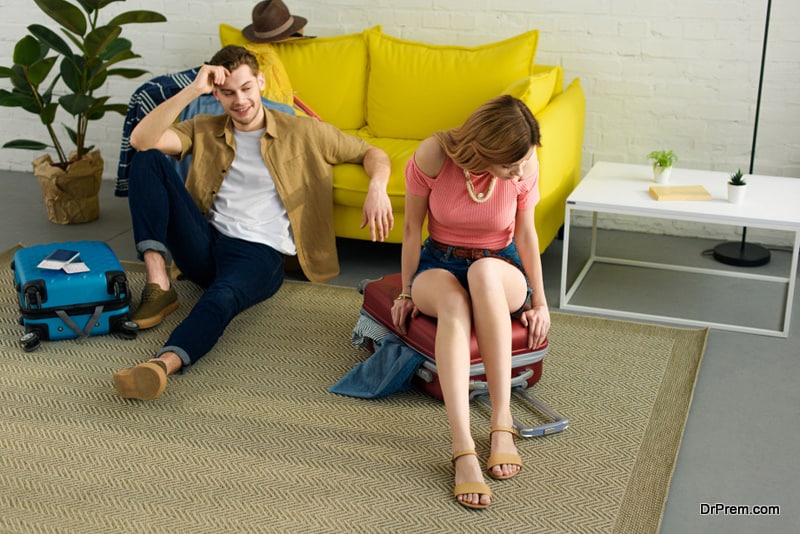 When it comes to travelcations, it is obvious you will pack light unless you are planning for a long term stay. Make sure you take proper clothing, essential working items and school kits for your kids. Carrying enough fluids and snacks in case of outdoor camping will make sense for you.
Staycations and workcations have helped strike a wonderful work life balance. Going off the grid may not be possible for all given the professional commitments. But with these vacationing set ups you can work and play amid tranquil settings away from the disturbing and unhealthy crowd. It is great that destinations and wellness resorts have got the cues and are bringing up wonderful creative spaces fusing wellness and safety.