If you are thinking of trying something different for a change this holiday season, why not step out of your comfort zone and opt a unique opportunity, staying in a treehouse hotel? Resembling those tree houses that you build in your backyard for your little ones, but on a much larger and grander scale, treehouse hotels can be found all around the world and offer visitors the chance to experience some of the best aspects of Mother Nature.
1.      The Tsala Treetop Lodge in South Africa
Talk about roughing it up in luxurious style! That's what you get at the Tsala Treetop Lodge which is situated atop the trees of the famed Tsitsikamma Forest in South Africa. If you feel apprehensive about staying at a cottage high up in the sky with no facilities whatsoever, just wait till you enter it.
Complete with spacious fireplaces, floor to ceiling windows, elegant dining rooms and even an infinity pool, the Tsala Treetop Lodge is a marvel up in the sky and offers you splendid views of the surrounding regions, in addition to treating you to one of a lifetime experiences like interacting with wild elephants, swimming alongside seals and whale watching etc.
2.      The Tranquil Resort in India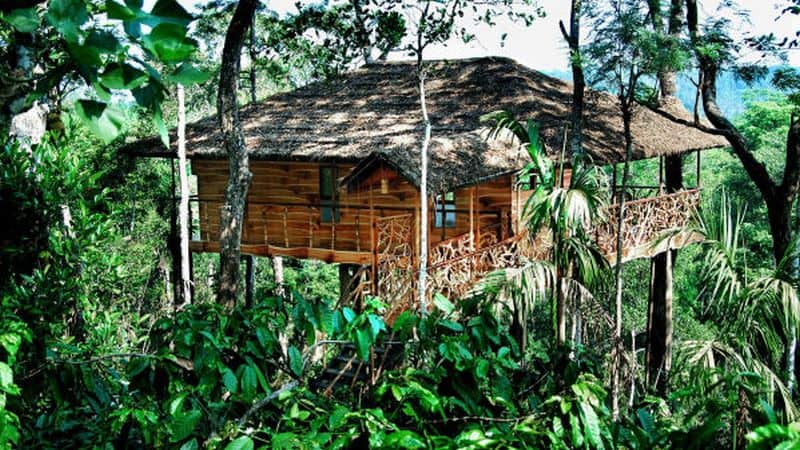 Image Source : res.cloudinary.com
Located in Kerala, the Tranquil Resort is a 400 acre resort that true to its name, lets you enjoy your treehouse holiday in complete peace. But that doesn't mean you have to let go of yourindulgences. The resort is well equipped with modern day amenities like DVD players, satellite televisions, mini refrigerators and Wi-Fi, all at a height of 35 feet in the air. The resort also offers other standard amenities like a pool and Ayurvedicspa treatments for guests.
3.      The Post Ranch Inn, California
Situated in the wild, coastal region of the Big Sur, the Post Ranch Inn houses luxurious tree houses located almost 9 feet from the forest floor. Better yet, these rustic cabins are made of wood, stone, steel and glass. Guests are treated to luxurious amenities like fireplaces, king sized beds, private decks offering stunning views of the surrounding regions, indoor spa tubs and even private skylights that enable you to watch the stars as you doze off.
And if that's not enough, you can enjoy day long swims in the hotel's cliff-side pools, opt for a session of free Yoga or choose from several interesting hiking trails for a day out. 
4.      The Ariau Amazon Towers in Brazil
Located in Manaus, the Ariau Amazon Towers is deemed to be the largest treehouse hotel in the world. Also called the 'Tarzan House', each individual hotel in this hotel is located at canopy level and offers stunning views of the surrounding regions, enjoyed from a private balcony. You also get to enjoy a private plunge pool and a Jacuzzi.
The entire campus is connected by wooden catwalks and stairs. And the two observation towers located at 150 feet can offer you stupendous views of the jungle below.
5.      The Treehotel, Sweden
Each suite in this futuristic tree hotel in Harads, Sweden is designed uniquely and would definitely catch your attention for sure. The hotel houses a total of 5 suites which are located at a height of 6 meters from the ground and are accessible in various indigenous ways, including ramps, bridges and even electric staircases.
And why not? The units themselves follow individual designs, including a flying saucer, a bird's nest and even a six sided mirror (covering the room's exterior). Some of the interesting activities offered at the hotel include snowshoeing, kayaking, fishing and even dog sled riding.
6.      The Bangkok Treehouse in Thailand
Ok so here's a tree hotel that actually lets you leave civilization behind and enjoy a few days of peace and tranquility, far from the hustle and bustle of city life. The Bangkok Treehouse in Thailand is located in one of those off-beat places that do not have standard roads or pathways.
The only way to reach the hotel is via foot, bicycle, bike or boat. The individual units come complete with outdoor showers, open air roofs and wonderful views of the nearby river. And if the heat gets to you, you can opt for a swim or chill out with the hotel's 24/7 free ice cream policy.
7.      The Out 'n' About Treehouse Treesort in Oregon
Ok here's one for the kids! Families will definitely love this treehouse hotel in Takilma, Oregon, thanks to the numerous family-friendly activities offered here. The individual treetop units are spacious and extremely comfortable, not to mention kid friendly.
The Treesort also houses a 'Treezebo' which happens to be the highest treehouse in the entire resort, and a Swiss Family Treehouse that comes attached with a swinging bridge leading to the kids' room.
A huge network of bridges and walkways called the Mountain View Treeway connects the units to the other areas of the resort. And if that is not enough, families can enjoy a myriad of activities like horseback riding, river rafting and zip-lining at the resort.