Festival tourism is exploring a region at its height of fun, amusement, cheerful crowd and colorful spirit when the entire community is out to celebrate an event or a festival that had been ingrained in the local tradition and culture dating back to the distant past. Upon landing on your travel destination exactly when the country is in a mood to celebrate is a great experience. You catch the local crowd neck deep in the ocean of extreme mirth. You can feel the pulse of the community involved in fun, frolic and celebration. The air becomes thick with joy, and you see a sea of smiling faces around you. You feel very much a part of the crowd and become vibrant with glee.
You will read the following in this guide:
Complete Guide to Festival Tourism by Dr Prem – Definition, History, Importance, Destinations and Tips
What do we see in Festival Tourism?
During the festive season, the locality or the country observing the festival practically throbs with activities. The activities are multifarious and go on with a feverish pitch. Usually, the weather is at its all season best, and it is a crucial reason behind the selection of a festival time when the climate has bloomed to its utmost beauty. There you find a bright shinny blue sky overhead, moderate temperature and the air loaded with a natural fragrance. It makes you feel that you have come to a fancied fairyland pulsating with amazing carnivals, booming commercial activities and lively events and shows displayed with awesome grandeur. The feel of joy in the air is infectious in the truest sense.
Although you may be visiting a foreign land whose culture is alien to you, but the moment you arrive there in a festive season all the cultural demarcation disappears. Surprisingly, the language barrier disappears as well. A festive season has its own language and is understood by all. It is the language of universal mirth. It cuts across all religions, communal and cultural barriers. It makes you unified with the spirit of the merry making crowd, and gives you the feeling you are lucky to have visited the destination during the festive season.
Cultural significance
Festival is a wonderful exposure. You get to taste local food and wine, buy local handicrafts and clothing, and attend local carnivals and functions which mark the very spirit of the festive season packing the entire nation into a hilarious frenzy.
The cultural significance of the festivals prompts the hotels and accommodations to hike their tariffs because of the mounting demand. This is basically the operation of supply and demand mechanism that pushes the price up. This may not seem to be fair, but it is a usual way in which the equilibrium of economics works its way. Fair or not it is a fact that you find a heavy rush of crowd and not only the hotels, but the transportations are also booked well in advance. Since the festive season grips the locals as well as the tourists in a delirium of joy, opportunists and touts try to make some extra money devising deceptive means.
Negative sides of festival tourism exist as well. The spirit of the festival, the rush and the urgency to participate in the mass enjoyment often affects rationality and the logical thinking that dictates you to take insensible decisions. This aspect has to be kept under serious focus or else it will land you in neck deep trouble.
Ways festivals are celebrated all over the world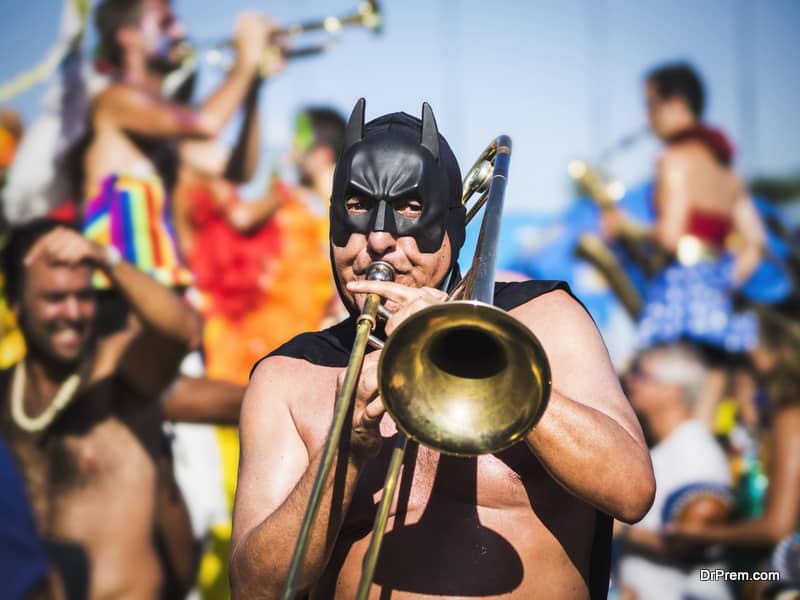 The Christmas through the last week of December till New Year is a big festive time sending ripples of mirth across the length and breadth of the globe. The streets snake in and out fed with throngs of tourists and the hotels rooms literally overflow. The entire sea of humanity finds a fresh gush of vigor flowing overnight, and it is a fact the tourist is seeing the tour destination at its dramatic best.
The Brazilian Carnival or more famously known as the Rio carnival is a big tourist draw. It is held annually during February – March prior to Easter and is literally an explosive display of color, dance, bright and bizarre clothing and head gear. The entire nation irrespective of tourists and locals mingle in amusement loaded with indulgence in a plethora of food, wine and other modes of entertainment.
Festival tourism is a great way to dive into the culture of a destination thrown into a riotous spell. The tourist is enchanted and feels very much a section of the community. Festivals usually have their roots in religion and tradition. They welcome everyone both local and strangers with open arms. The tourist at the end of his stay leaves the country with a wonderful experience to recall in the future.
History of festival tourism
Festivals and their glamour have fascinated man since time immemorial. Usually, festivals and carnivals have a powerful background with a religious and cultural link. Religion and culture had always been twin pillars to which the human civilization has been tied up, and it is obvious these two entities will have a great impact on day-to-day functioning of the human society. Festivals being an explosive manifestation of religious and cultural features used to be promoted by the kings and monarchs, and the resulting frenzy of celebration and merrymaking was quite contagious affecting people from all walks of life throwing them into fits of extreme glee.
The procedures and the tone may have evolved down the ages with more of high-tech features added. However, the basic picture remained much the same. The same smiling and cheering crowd that has thronged the festival sites in millions in the historical past are very much in existence today. History indicates that in the past the festival crowd was managed by the king's troops who patrolled on foot or on horseback.
Today the sea of humanity gathered around festival sites are controlled by the country's administrative wing. The method of patrolling has altered. Patrol helicopters hover overhead and police vehicles ply across the carnival sites to ensure all is well. Mobile phones and wireless are introduced to facilitate contacts necessary to successfully establish a festival crowd management system.
Upholding local tradition, culture and history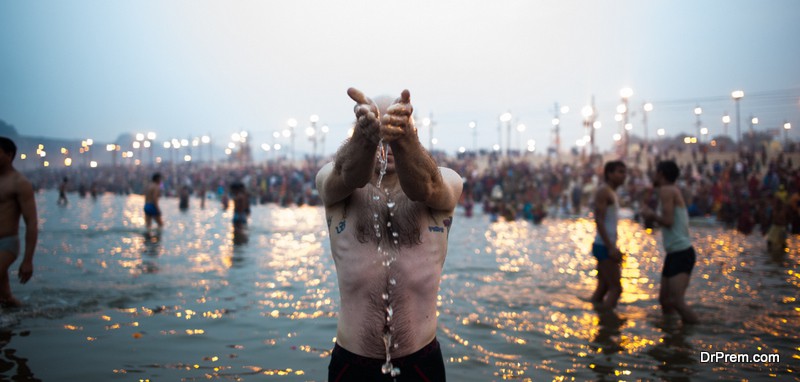 The Kumbh Mela is a classic example of India's traditional festival that is organized every twelve years at the confluence of three sacred Indian rivers Ganga, Jamuna and Saraswati. The festival site is called Prayag and is thick with visiting tourists. Attending this sacred festival is considered holy since ancient times and it is even the sole target of many to attend this at least once in his lifetime. The crowd is a stunning mix of common man, affluent class, wretches rolling in abject poverty, pilgrims and 'sadhus' who has chosen a life of humbleness in the wild abstaining from all worldly pleasures. According to historians, this gathering dates back to 3464 BC.
There is a descriptive essay on Kumbh Mela by the Chinese traveler   Hiuen Tsang who visited India in 629 BC during the reign of the Emperor Harshavardhana. The mela received royal patronage. It started off as the world's largest fair and inspired many saints who consider this gathering as one of the holiest pilgrimages.
The Indian festival of Dusshera has an exciting history. It is celebrated with much jauntiness and pomp, which is marked with grand rituals including animal sacrifice at the sacred alter where enthusiastic crowd gather to witness the blood bath. The burning of the effigy of evil king Ravana is an additional feature.
These imposing exhibits have a tremendous appeal on the spectators' psyche, especially on those who are inclined to fanatic religious cults. This festival embraces parallel episodes of the victory of goddess Durga over Mahishasura, the demon incarnate and that of Lord Rama over the evil king Ravana. The events are legendary and have taken epic proportions drawing millions of devotees to the festival site down history.
The history of Christmas is centered around the birth of Lord Jesus Christ on 25th December. The initial celebration of Christmas was believed to be a pagan rite that marked the culmination of the crop reaping season and arrival of the winter solstice. History affirms that during 4rth century AD Christmas was a significant Christian holiday in the Roman Empire. The merriment featured masquerade parties, communal meals, gift swapping, hall decorations and candle lighting. Devout Christians celebrated with music and sung carols and jingled chiming bells. The importance of Christmas tree was a pronounced trait.
Mardi Grass or the festival of Lent has its roots in history of the medieval Europe in Rome and Venice way back in the 17th and 18th century, which was observed with an outburst of passion. The same pulse was felt among the festive crowd when the frenzy hit the French house of Bourbon. Usually, in the olden days, the mass parade moved along the streets with a huge bull's head carried on cartwheels by sixteen cart pushers. Later, an actual bull was clothed in all white indicating the arrival of Lent or the meat fast that was held on Fat Tuesday. The earliest events of the Mardi Grass carnival were referred back in 1781 by the Spanish government.
Then again, New Orleans organized street processions crowded with men with faces hidden behind bizarre mask, decked carts and horse riders. The striking features that make the Mardi Grass festival so exotic down the ages are that the gas lit glaring torches exhibited and the passionate crowd marching on in colorful attires with strange facial make ups and masks. This gave a magical look to the Mardi Grass festival shrouded in a mystic appeal.
Why festival tourism matters?
Prime revenue earner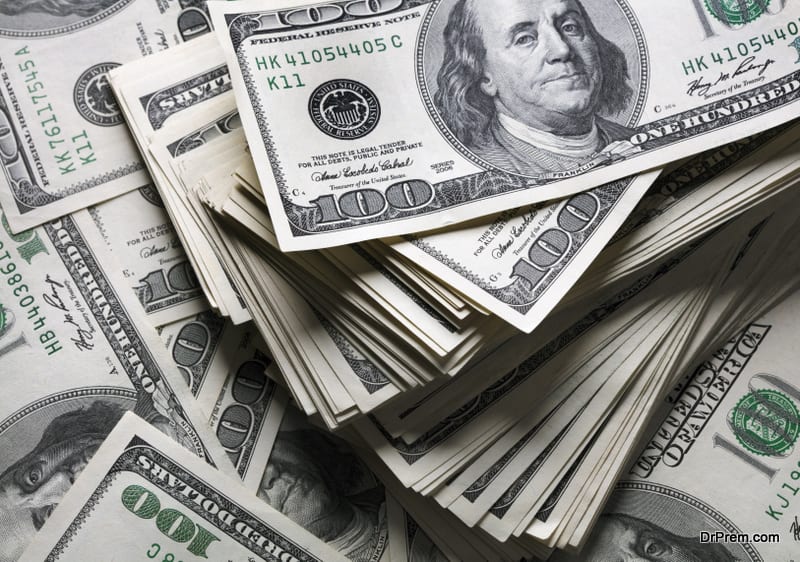 Festival tourism is a big foreign exchange earner. With money literally flowing in with the influx of hordes of tourist, the local economy gets a vital shot in the arm. Festival tourism offers a tourist- local interface, and much of the cultural flow is a one way traffic that is the local culture, tone of the celebration and traditional beliefs find a way through the rituals of the festival having a great impact on the visiting tourist.
Cultural exposure
This is a wonderful exposure to the cultural wonders that are manifested in a festival in a big way. The carnivals for example gather a large crowd of locals and tourists. The makeshift commercial units that grow under the light of a grand carnival have much business to do. Their products and services find a ready market in the visiting tourist population. Money flows in from the tourists, and makes these vendors a bit economically better off than what they used to be prior to the festival. On the other receiving end, the tourist gets is satisfaction. His objective of festival tourism seems fulfilled.
A festival site is an amazing opportunity to learn and understand how the local crowd reacts to the grandeur of festival celebration, and their attitude towards the visiting foreigners in the background of the cultural festival. The greater the hospitality and friendly attitude the bigger will be the crowd size in a tourist destination during festivals in the coming years.
Fosters cultural bonding across the globe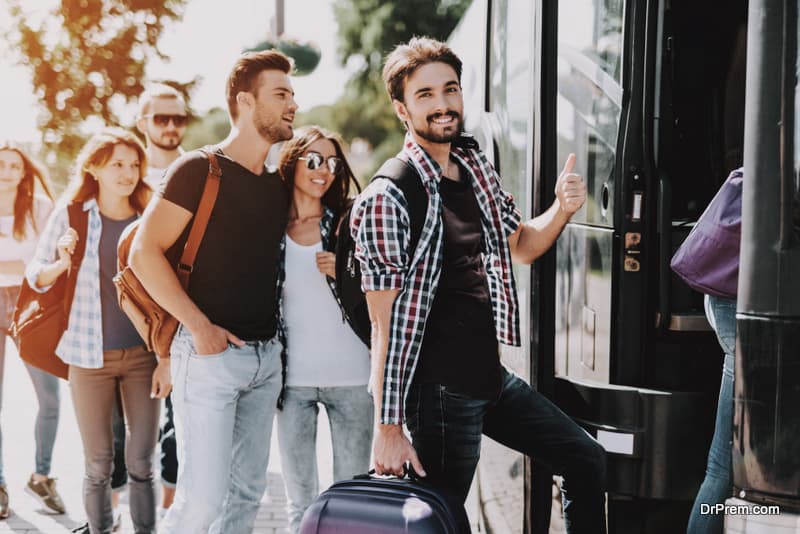 Festival tourism shrinks the world in a bind of cultural celebration and makes one feel his identity is not just confined to the citizenship of a particular country. The tourist almost assumes the status of a global citizen and is expected to participate in any festival celebration across the globe irrespective of his country of origin.
This in fact, fosters a universal acceptance of tourists of all nationality and benefit flows in every direction, making all the faces connected with the festival happy. This mammoth meet of people belonging to different nations inspired by the spirit of festival is a promotional device that spreads the popularity of festival tourism far and wide.
The festival roars and the pitch reach a crescendo with a lot of commercial activities around. This triggers more spending and the local business stands to gain. These festivals offer a great opportunity for the locals to display their potential through dramas, plays, mimes, acrobatics and other forms of public entertainments and reap benefits.
The local residents get to observe the impact of the festival on the tourists and keep an eye on the size of the crowd the festive attractions are able to draw. Based on the observations, they take many important decisions on pricing, additional features and facilities to be incorporated as regards the accommodation, transportation and other saleable services they put on offer for the festival tourists.
This is a great study which will shape how the local residents would react to the crowd of festival tourist. Needless to say, if the festival and the visiting tourist generate more money and employment, the locals would wish the tourists stay forever!
The impact the festivals have on the tourists helps framing certain policies and budgetary plans by the government as well as industrial entrepreneurs. The rising size of the festival tourists may call for the growth of the hotel industry to cater to the needs of the growing crowd. The flow of foreign exchange would fortify the economy.
Is festival tourism for you?
Festival tourism is a chance to see a country decked in its best. The vibe is infectious, and you feel an irresistible attraction to sway and dance to the tune of the smiling crowd around ready to break into fun and drown in the ocean of mirth any moment.
Visiting a country in the season when it is celebrating its prime festivals is a great opportunity to absorb its cultural wonders. The festival tourism has its own merits so far as visit to the country is concerned. The climatic conditions are at its best. The cities and towns are in full bloom. There is usually far more crowd on the street than what is seen on a normal day. The crowd is colorful and painted with glee for the people put on their best attires and some even hide behind weird masks and fancy dresses.
The commercial units and shops mushroom with a gorgeous display of local artwork, handicrafts and artifacts luring you to buy. You can always go ahead and buy and keep your merchandise as a wonderful memento of your festival trip.
Festival tourism is a gateway into the cultural wealth of a nation, and is a great opportunity to explore how the local people engage in a mass celebration exhibiting their best enjoying the spirit of the festival to the fullest. It is certainly a unique experience. The crowd is ready to embrace you with a warm reception. It is a brilliant cultural experience and feels great to be a part of the sea of humanity with smiling faces on all sides.
Celebration is the chief driving force behind a festival. It is observed by merrymaking, eating, drinking and dancing. You attend a carnival with hi tech mechanical rides to set your kids up on height of intense joy. You have plenty of mouth-watering delicacies around you to relish. Festival vendors sell a variety of items starting from ice creams and cakes to small artifacts symbolizing the spirit of the festival.
Your family which accompanies you to the festival is encountered with an exotic atmosphere charged with entertainment. Your family is literally bitten by the fun bug and your children feel they have stepped upon the much-awaited fairyland of their dream. The amusement is contagious; it catches on like wild fire. The smile that radiates from your kids' eyes delighted by the magic moments of the festival soon reaches you, and you feel extremely satisfied that your festival tour has rightly been rewarded.
In the festive season, you find the infrastructural services well geared. The transportation network runs smooth and generally extends to whole night service. However, hotels and rental accommodations are to be booked well in advance. A touch of renovation and polish prior to festival is usually given to hotels to make you feel the extra console. The government concentrates on renovation of infrastructure so that the festival tourist feels comfortable.
Festival tourism is for all, and it's amazing to be amid a cheerful local crowd celebrating their festival with color, passion and fun.
Key drivers of festival tourism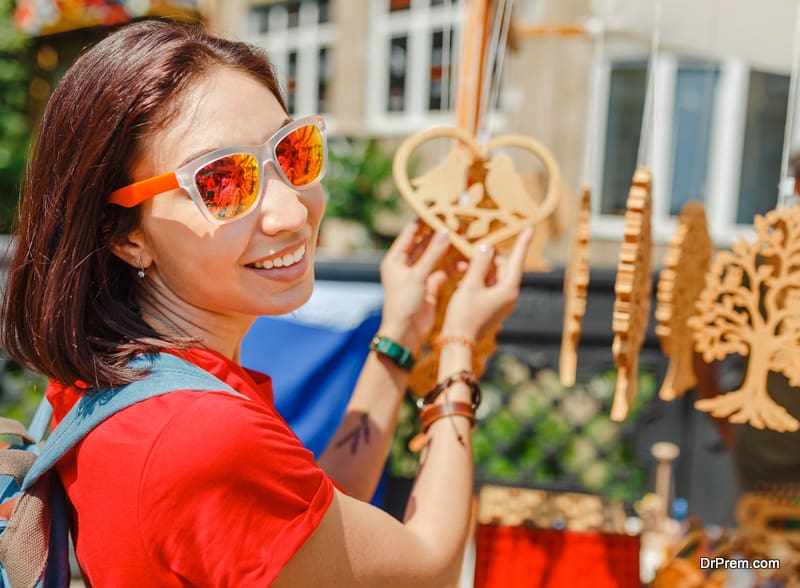 Acceptance demonstrated by the local residents towards visiting tourists is a key factor behind making a country a popular festival tourist destination. Generally, the attitude is positive and warm, and there is no demarcation seen in alienating foreigners from participating in a local festival. The influx of tourists contributes to the commercial activities.
The inflow of money is generated with the mounting tourist size in a festive season. The restaurants sell more food, the handicraft vendors sell more artifacts, the hotels and cab drivers get more business, and this is something wonderful the way a country welcomes the arrival of tourists during festivals with open arms. The glamour and the strong appeal of the festival are perhaps the key drivers that beckon throngs of enthusiastic tourists from all corners of the world.
Season
The matching of the season with the festival time is important. It is a notable feature that the festival is traditionally timed to fit into the best season of the region with a brilliant sky overhead and general comfort with regard to climatic temperature and humidity. The brilliance of the weather condition is an additional driving factor that attracts the tourists during festivals. For example, if Diwali, the festival of lights in India was to be held during heavy downpour there would not have been any fun at all.
Business prospects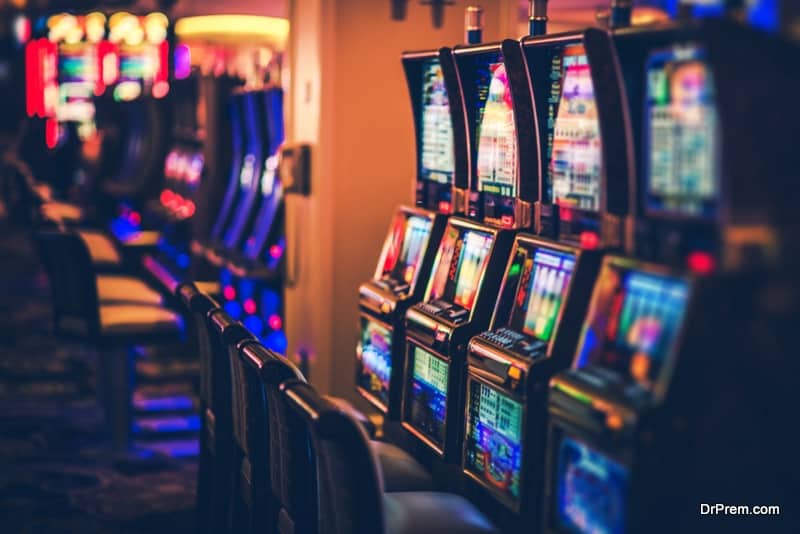 The ancillary business that develops with the major festival celebration in the background is a powerful factor responsible for drawing in tourists who are on a look out for mirth and excitement. The large crowd being the chief driving force for a successful festival, it needs to be charged with electrifying excitement. The quality of fun generated by the machineries of amusement in a carnival must justify the reason why the tourists should feel excited and happy while on a festival tour.
Cultural performances
The cultural performances like traditional and modern dance and music shows, art competitions, plays and dramas including modern and those drawn from mythological epics usually livens up the spirit of the festival and are key drivers pulling festival tourists from within the country and abroad.
Shopping opportunities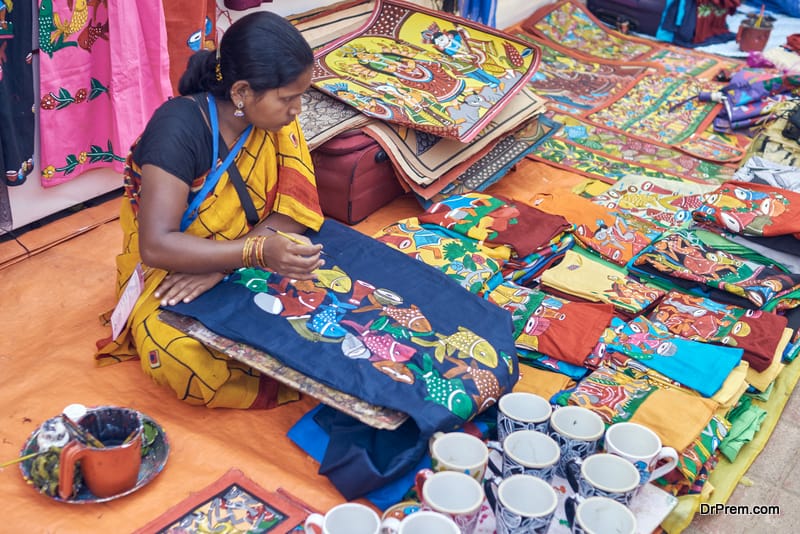 As already highlighted earlier, shopping is a key factor driving in hordes of tourists during the festive season of a country. For shopping to be a popular activity during festivals the quality of products offered on sale should have reached a satisfactory standard of customer satisfaction be it food, clothing, local handicrafts, artifacts or special works of art like sketches catching the theme of the festival. Pendants, amulets, necklaces, rings offered on sale symbolizing the spirit of the festival have an enormous tourist appeal when handcrafted with a lot of finesse and elegance.
Infrastructure
Last but not the least, the infrastructural set up that exists during the festival season is another key driver having a bearing on the visiting tourists. The availability of a decent accommodation and transport in the face of heavy festive rush is a serious factor. The role of local administration in managing the entire scenario so that the festival is celebrated from the initial day through its culmination without any untoward incident is important.
Essential components of festival tourism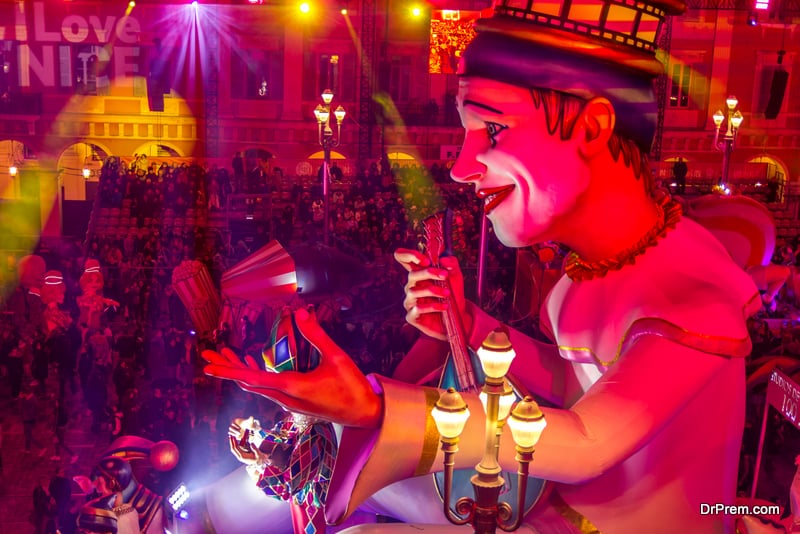 Festival tourism and its vibrant tone depend largely on the mood of the wave of crowd engaged in frantic activities painting the spirit of the festival in shades of happiness. Enjoyment and mirth manifested by a sea of smiling faces, the people constituting the crowd in their best attires and moving on in the company of family and friends is the basic picture of festival tourism. It is needless to mention that countries with rich tradition and cultural history have more festivals to celebrate drawing huge local and international crowd annually.
The attitude of the local administration is an essential feature that decides the success or failure of a festival. This factor certainly has an impact on the tourists visiting a destination in a festive season. Crowds explode in group dances like they do in Samba during Rio Carnival. Hard drinks and mind exhilarating potions are often used to ride high on a frantic trance to make it to the highest level of ecstasy, and it is here where law and administration walk in imposing restrictions and rulings.
Mardi Gras is one hell of a celebration observed across the world where Christianity is dominant. It is equivalent to Rio festival before Easter observed with much pomp and color. The administration keeps a watchful eye that merrymaking does not go beyond the tolerance limit, and thus is an important component deciding on the vibes of the festival and the psyche of the festival tourist.
Some festivals are marked for a display of a riot of colored dyes where people smear and drench each other with colored water. One such festival is 'Holi' in India where foreign visitors are welcome to participate. However, the boisterous explosion of wild fun in the name of festival celebration is closely monitored by the local machinery of law and order. Thus, the role of administration is an important component.
Festival like Diwali in India is noted for an amazing display of fireworks and sparking of ear deafening crackers. Accidents quite often result from careless use of fire, but this festival of light is a big crowd puller as is Dusshera, another Indian autumn festival, which is a big hit with festival loving tourists.
However, in many Indian cities the role of local administration is a bit stringent. High decibel fun explosives are banned and so are the dangerous fireworks that can set a town on blaze! The role of administration is critical and is an important component of festival tourism. Actions taken by the law might mar the spirit of the festival a bit, but it ensures safety to both locals and visiting tourists.
The commercial boom that grows overnight around the festival frenzy is an important component as well. It not only adds color and substance to the festive mood, but also keeps the crowd busy buying, tasting and sampling commodities sold. It keeps the clock of commercial activity ticking, the trade rolling and there is an either way flow of money in exchange of goods and services. The economy of the region thrives riding on the festive spirit.
More the technological advancement more attractive the festival can hope to become. The glamour of a festival can be enhanced by an amazing display of gadgets and gimmicks. Gone are the days when people laughed their hearts out riding on a merry go round. A million of hi-tech fun rides have replaced the merry go round in a festive gathering. They are a big hit with the children accompanying their parents in a festival, and these gadgets are marvels of modern engineering. Countries with better knowhow have a clear edge with their festivals becoming the highest crowd pullers from different corners of the globe.
How to get more information on festival tourism
Information about festival tourism is not that difficult to get. Festivals are generally open events with pronounced existence, and any bit of information about festival tourism is generally widespread. The Cultural and Tourism departments of countries make all information regarding festival available to the interested tourists.
They publish brochures for free distribution. These pieces of literature contain the details of the festivals, span of celebration and information regarding hotels and accommodations with their contact phone numbers and websites. Information regarding local transportation, specific events like fairs and carnivals that come up in the light of the main festival and other attractions like plays, dramas, music concerts, dances and pageantry with their exact venues and timings are all put on these brochures.
No doubt, the internet is the easiest access to all relevant information you are looking for prior to visiting a country during festival. Browsing across specific festival tourism websites is advisable. You arrive at online open discussion forums where the query that you may have in your mind might get discussed in detail. You certainly get a rough idea of all information or answer of a specific query that you have in mind regarding festival tourism.
From the internet itself, you get to know about the tour agencies that will help you further with your festival tourism objective. The genuine travel agents have acquired a certain level of expertise in delivering their service. They have a wide range of background experience in festival tourism with respect to budgetary issues, accommodation and food, transportation, arrangement of fun fests, carnivals and music shows, which all come in a comprehensive informative package. You will need them in every step while fixing a festival tourism itinerary and while on the trip as well.
Various organizations across the world who play an active role in celebration of festivals publish their periodicals putting all the details of the festivals. International Krishna Conscious Society is one such powerful and resourceful organization. Headquartered in Mayapur, India this organization was formed way back in 1966 in New York for propagation of thoughts and philosophies of Lord Krishna. Pulling of the holy chariot (Ratha) is a grand festival observed with pomp. Information regarding the Ratha festival can be had from the ISKCON bulletins, and this comes as a much sought after information for the festival enthusiasts.
The Ratha festival takes place in India during July, and it takes a massive proportion at Jagannath temple at Puri in India. This is an enormous ritual with millions of devotees pulling the holy chariot. It is surely a spectacle worth giving some attention. The Jagannath Temple Board has all the information you need to derive the utmost pleasure from attending this Chariot festival also popularly known as 'Rath Yatra'.
Holi, the festival of color, is celebrated with enthusiasm and fun in Shantiniketan in India. The world-famous University of Vishwabharati teaching fine arts is a major source of information regarding the Holi festival in Shantiniketan.
Gathering information of festival tourism from reliable sources is the vital step before setting out as any misinformation will drain your money unnecessarily depriving you of the enjoyment that you were looking for.
Activities in festival tourism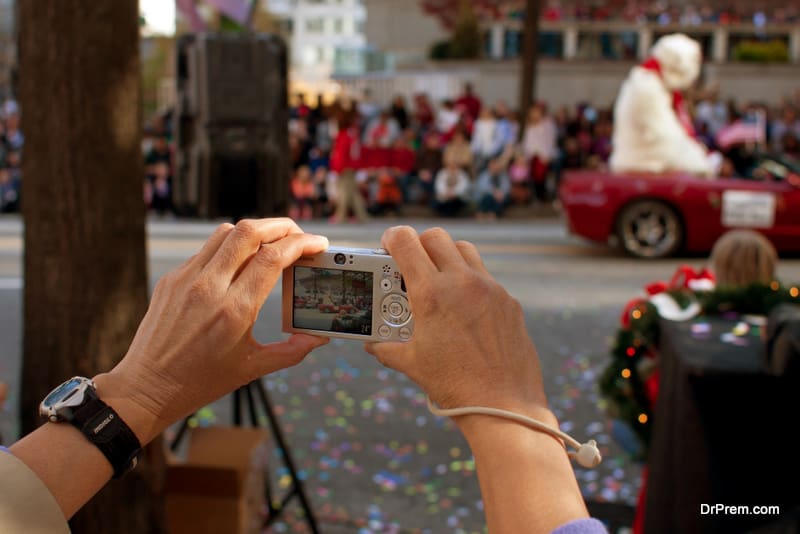 Festival tourism is in fact a portal to vent your energy through channels of fun boiling with vibrant activities. But again there is a word of caution whatever you do should be backed by your rational mind. Fun actions are great, but ensure you do not spill your beer over the brim and get swayed in passion being blindfolded by the infectious air ringing with mirth and crowd frenzy. Your camera is a great friend, and whatever spectacles of festival excitement you witness, your photo shoots record it for you to revisit your exciting moments with your near and dear ones in the future.
Fun and Frolic
You spend your time with the Santa during Christmas and see him entertain a group of children showering gifts and chocolates. You can well be a part of the crowd as well. There are no restrictions and no conditions imposed. Santa will enjoy your company as you do his.
During Christmas, you can attend a carol which is a great way into a solemn function observed by Christianity. The shops over flow with gifts, cakes, clothing and decorative, and you can practically spend your day in a shopping mall to liven up the spirit of "Merry Christmas" exchanging Christmas greetings as well. It is a great feeling and your spirit will soar.
Soak in culture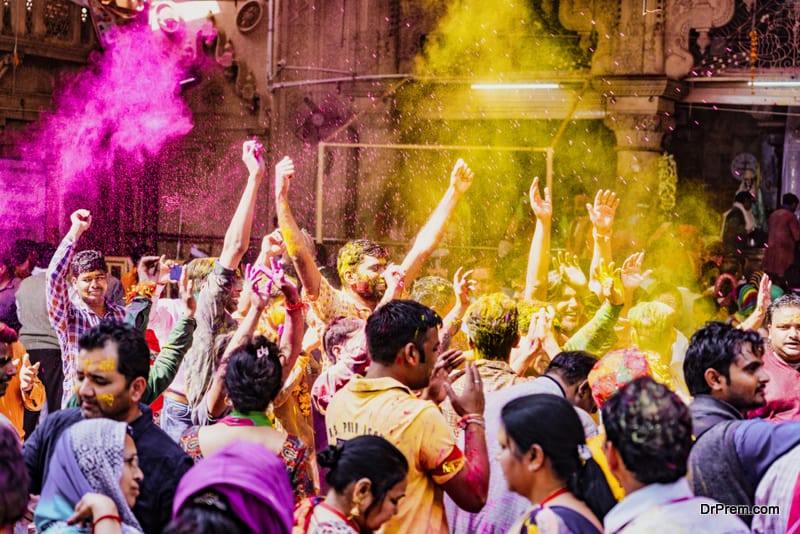 If you are visiting India during "Holi" the festival of colors, it will be amazingly entertaining to see people smearing and drenching each other with dyes and colored water. You can be a part of the active crowd neck deep in fun. However, you can always tone down your level of exhilaration exchanging sprays of colored dusts locally known as "gulal" or "abir" instead of fast and stubborn dyes which does not seem to go off your skin evening after a thorough cleaning.
Legendary sites where you can enjoy this awesome Indian festival to the fullest are the city of Mathura in North India, Khajuraho in central India, Hampi in Karnataka and Shantiniketan in east India. Holi is such a glamorous festival of color where you are advised to participate and not just witness it. It is therapeutic as the popular local belief goes. It cleanses the air of germs and disease causing viruses.
Diwali, the festival or lights and fireworks though has its origin in India has spread far and wide. While participating in the festival of Diwali, you need to take extra care as an element of risk is associated with careless handling of fireworks. Rest is all clean fun. Lighting some of the fire crackers producing deafening sound requires days of practice and special skills else one may invite danger. Your maneuvering hand skill and the propulsion from the chemical ingredients stored inside the fire cracker help it take a brilliant flight amid a spark of multicolored flame before bursting into high decibels.
This certainly gives you immense pleasure and thrill. The story does not end here. On reaching the maximum height, the prop bursts into bright design illuminating the dark sky in a riot of colors. It is high voltage amusement where you enjoy every moment of the festive night.
In Rio festival, you join the crowd doing a Samba to the beat of drums and loud uproar rising. You watch fun, color and rhythm around and find yourself in full flight moving with the crowd in unison in breath taking pageantry that you remember for the rest of your life. Now what are you waiting for? Unpack your camera and keep hitting the shutter. What you get is a treasured photographic collection of your life time. Basically, you have archived a live exposure to an alien cultural display which is fun packed and an experience to be preserved forever.
Then there is the Dragon dance awaiting you during Chinese New Year. It is a group of dancers performing and moving forward in coordination to the beat of drums. The group put on color and decorative and together look like a dancing Dragon. There is fun and frolic in the atmosphere where you stand amazed and thrilled.
The Durgapuja- Dusshera is the autumn festival in India. As the legend goes, when the universe turned polluted and chaos ruled under the supremacy of Demons, the heaven sends Durga, a female deity to purge the universe from the evil. She does it and the good overcomes the evil. Idols of Durga are worshiped over a span of four hectic days with fervor and rituals.
The environment literally explodes with a ceremonial throb, and a pulse of cheerfulness can be felt with millions of people moving along streets with smiling faces. It is a great experience to watch and be a part of the crowd. Shopping is a great activity during a festival, and it would be even greater if you could load your retail cart with artifacts and souvenirs, the true representatives of the festival.
Travel and tourism arrangements in festival tourism
Like other niche tourism arrangements set up by the tour operators, festival tourism is also an important area of focus for them. Handling rush is a huge challenge that the tour operators have to face bearing an extra responsibility towards fixing up the itinerary on smooth lines. Usually, the size of the tourist population visiting a country is larger than what it is during other seasons. Scarcity in accommodation, flights and local transport in the face of heavy rush is an important issue the tour operators handle with efficiency and expertise and there lies the beauty of festival tourism arrangement by experts. If you try to organize the festival trip all by yourself, you may land up in deep mud as the heavy rush is a factor which will take things beyond your control.
Local sites where the festivals and carnivals are set may be reached by car. Tourism operators may run their own fleet or may have tie- ups with the cab owners. The arrangement is simple and smooth. Your travel agent has your cell number, sends you the vehicle and informs you timely. You have the car at your hotel door step, board it and spend the day around the festival sites without any exhaustion or hassle or confusion. Every bit of your trip was programmed before hand in order to give you maximum enjoyment in exchange for the money you have spent.
Apart from the transportation and hotel booking services, the tour operators are well aware of the road maps and can pinpoint the exact location of the festivals. They in fact have all the vital information in their finger tips as to the entry and no-entry points to a route with all the knowledge of traffic rules and crowd management. This saves a lot of valuable time, and you find yourself exactly at the place at the time you should be to derive the maximum amusement from your festival trip.
The tour operators' efficiency in making festivals accessible to the visiting tourists is well manifested in festivals of Tirupati Devasthanam in Andhra Pradesh in India. Perched atop the mountain range of the Eastern Ghats in India this world famous place of worship is thronged by millions during the high festive season. Passion and religious devotion could be literally felt in the air. To get a holy glimpse of the deity of Lord Venkateswara could be a next to impossible task if tried on individual effort.
There are lots of administrative formalities and surprises waiting for you. At the end of the day, you are faced with sheer wastage of time, money and efforts for not being able to make it to the ultimate target of 'darshan', the other name for getting a holy glimpse of the Deity. It is here where the tour operators and agents walk in with their right contacts and resources to get your objective fulfilled. The only thing you need to locate is the fake agents from the genuine ones.
However, it is advisable to connect with the government-based tour agents. Their services are reliable and you have an extra protection of the direct government patronage over your head. They have well equipped grievance redressal cells to attend to any issues that you may encounter in your festival tour. More tour operators are coming up and the competition is quite stiff as the number of tourists to carnivals and festivals mount.
Budgeting festival tourism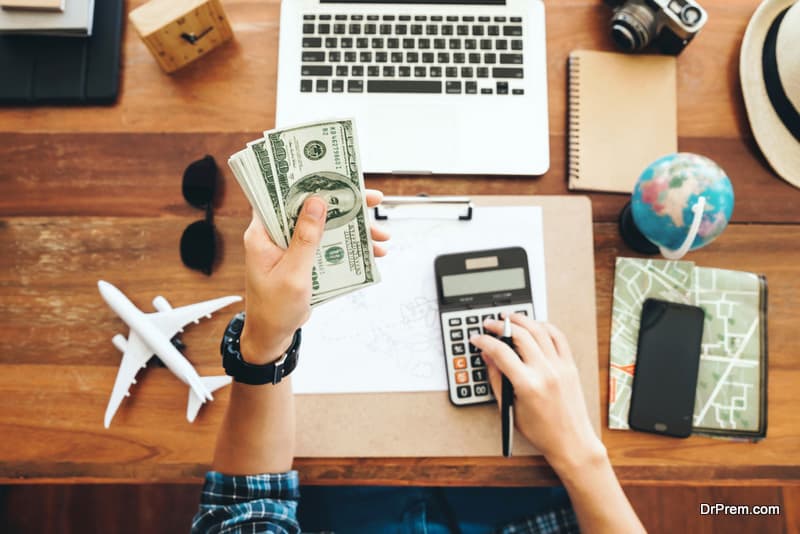 Festival tourism might seem to drain your financial resource, but it isn't really so. All you need is planning your expenses well in advance. Carnivals, joy rides and fun gadgets that run on the eve of festivals quite naturally have an entry fee which you need to pay if you gonna have fun experiencing these added amusements. You must set aside funds for these extra indulgences. The size of the budget on these may not be big; still you need to plan as money won't drop in from the sky, especially when you are visiting a distant land to enjoy a festival.
Heavy rush is a characteristic feature of festival tourism. The hotels, resorts, villas and lodges are booked out well in advance. If you look for the last-minute booking, you won't even get a makeshift shade over your head no matter how big an amount of money you are prepared to throw in. Those still vacant are most assuredly going to charge an exorbitant price. While fixing your accommodation within reasonable limits, search the internet, call over phone or establish online contact with reliable providers and reserve your accommodation well in advance suiting your budget.
When you are buying travelers checks from a bank for meeting festival expenses, try to get checks of bigger denominations because bank charges often depend upon the number of checks issued and not on the denomination, and this is the area where you save money in your bank transactions.
Festival celebration in a country usually is not confined to a single city. It is spread over a number of major cities with extreme fun spilling over. If you are planning to visit a couple of cities during your plan of stay abroad during a festival, covering your itinerary in the shortest possible time within a reasonable budget is another exercise to achieve the most out of your festival trip.
Hotel bookings, inland travel bookings and your precious holiday should be timed to give you the utmost gratification within a feasible budget. During festive rush do not forget about discount offers. Avail as much as possible. Every person you deal with is out to make some fast money, be it the hotel owner, the cab driver or the ice cream vendor. So you need to watch out and plan your budget accordingly.
Since the festivals are located in cities generally, you need not spend on items like hiking boots and knee length leather boots, binoculars and other items you need when travelling to a hill station or during a jungle safari. Investment in a good camera and light clothing would make sense.
Needless to say, the basic expenses like the cost of flight tickets to and from your festival tour destination to be accommodated in your expenses plan. Here, you can save money by selecting the airlines providing festival discount offers. Since you are on a trip to festival tourism, your focus should be on spending on festival related events so that the products don't go astray on a spending spree. Else you will be creating a big hole in your wallet.
It is essential to sum up your budget within a feasible limit. Neither your festival tour should make you poorer nor should it deprive you of all that fun that goes on in the festival. All depends on your judgment and intelligent budgeting.
Do's and don'ts in festival tourism
The things we should do or not while on a festival tourism is a very delicate issue. This is a very sensitive aspect of festival tourism which you must handle with that extra care. Festivals and ceremonies are charged with mass sentiment, and one must ensure any of his acts and attitudes shown while on a festival tour does not hurt the local sentiment flaring off a string of rage among the crowd comprising of a large number of devotees and passion inspired fans.
However, you may observe a set of dos and don'ts that has been put as a synopsis as under:
Never stamp or climb or walk over alters and place of prayers or over places where some solemn ceremony is in progress.
Customs, rituals and ceremonies connected to a festival may look weird and funny, even if it is so you should never express an attitude of contempt and mockery in public.
Do not take photographs of processions, idols of deities being worshipped and rituals unless you are permitted.
During festival celebration the festive sites and carnivals are thick with crowd with different kinds of people with unknown motives. Some of them may be waiting for an opportune moment when your level of alertness is at its lowest. In a festival gathering, be alert and never display your valuable belongings like wallet in public to invite a theft. Show respect to the rituals and celebrations, follow the crowd sentiment and do what others are doing.
Check the credentials of the guide if you hire any. During festivals, many take up tour guiding service with a notion of cheating the tourists.
Do not buy any open food and drink from the vending kiosks that have grown in the vicinity of the festival site. They may be harmful to your health.
The festival celebrations and carnivals are usually an all night affair. It is quite normal for the locals to file through the streets and festival spots with glee and high spirits. Do not follow their trail. You are a stranger here, and you can be easily identified that you do not belong to this place and become an easy prey to some antisocial activities.
Followers may stalk you with bad intention. Remember that in the festival infected atmosphere, a fraction of the crowd is bent on making some fast money, and do not be surprised if they pick on you as an easy target. If you are a female, your vulnerability to threats would multiply. It is advisable to return to your hotel before it is too late at night. Swap your contact number with the hotel administration so that you can establish contact at the time of distress.
During festival overseas, you may find it interesting to interact with strangers in order to satisfy your curiosity, but there is no point making fast friends abroad and trust them with your hotel address. This is a necessary safety measure.
Avail the public transport like buses and other authorized vehicles and avoid travelling alone. These modes of transport are much secured than riding a cab and the direction is clear. Your personal interest coincides with the interest of other tourists riding the same vehicle. You are not in isolation and can get support of your co passenger in case you are faced with trouble.
It is advisable not to take a cab to festive sites as the cab driver can take you for a real ride. Always keep a direction route map handy in case you lose your way back from the festival site to your hotel.
Countries promoting festival tourism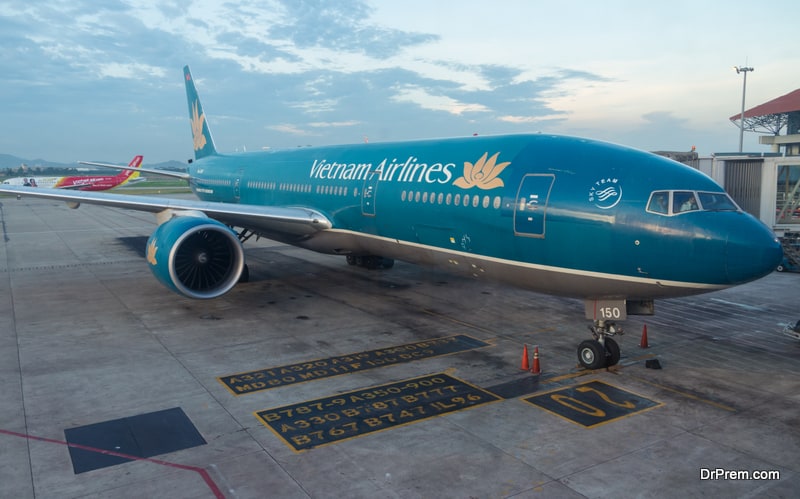 Innovative steps have been taken by a consortium of three countries to promote the 'Indo China passion festival' in a big way. The countries are Vietnam, Cambodia and Laos and they have opened a tourism promotion cell in Paris for showcasing the cultural exhibits and colorful festivals having a rich legacy. This is in fact the first time such a massive event concentrating on festival wonders being organized by the three countries and promoted by the Vietnam Airlines in Europe.
Tourists from the western world need to get an exposure to the amazing cultural and festival experiences the Indo Chinese nations have in store for them. The embassies of these three countries located in Paris are holding the sponsorship of this Indo Chinese festival tourism. The primary objective is to bring about an environment where the foreign tourists and festival enthusiasts can have a wonderful exposure to the excellent cultural bases and rich capabilities of these nations so far as traditional festival celebrations are concerned.
The festivals are innovative portals to attract foreign tourists to Indo- China. To help facilitate mobility of tourists, Vietnam Airlines membership in the global airlines franchise helps tourists to travel between Vietnam, Cambodia and Laos with considerable ease. Visitors to the festival can have a wonderful experience of traditional dances, dramas and plays linked with legends, epics and mythology. At the same time, enjoying culinary delicacies and the beautiful landscapes is an added bonus.
Spain
Spain is a key player in the arena of festival tourism. The country has a brilliant combination of innovative festival tourism campaigns and some of the world's most colorful festivals. The home crowd is equally energetic bubbling with high enthusiasm to make their festivals the most spectacular one. More than 15 % of Spanish GDP owes its source from the festival tourist visits. Almost 12% of the nation's population is engaged someway or in other in the business of festival tourism. In Spain, festival tourism promotional efforts receive massive encouragement from the ministry level.
An honorary award called "Fiestas of International Tourist Interest" is bestowed by the general secretariat of ministry of tourism for events, festivals and glamorous shows that give a convincing picture of evidence as to the cultural and festive grandeurs in Spain. Special emphasis is laid upon displaying intellectual features that make a festival or carnival truly appealing to the foreign tourists with a specific focus on the Asian market, which is believed to have a great potential.
Australia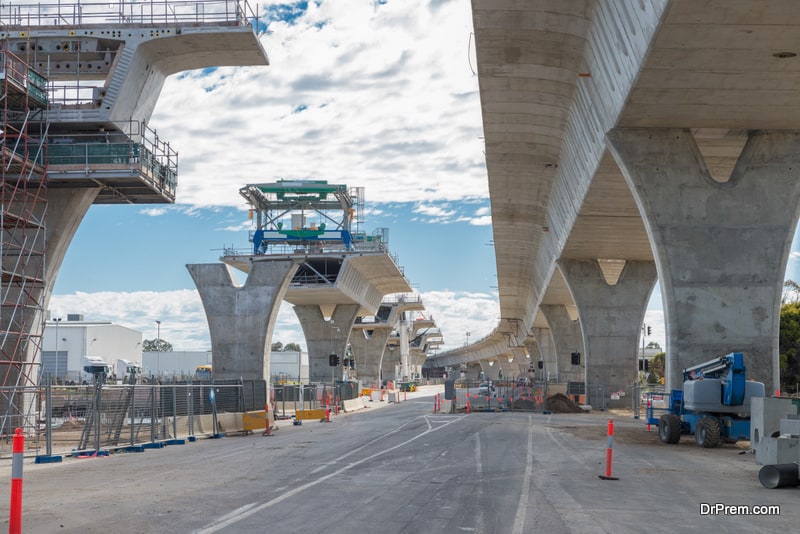 The Australian tourism commission is taking a massive promotional step for attracting tourists from all corners of the world. Festivals, carnivals, tradeshows and events are showcased with a great hype. Sydney Mardi Grass, is for example, a very much celebrated festival receiving universal acclaim. The public infrastructure project has received an enormous revamping and upgradation of regional airports, highways, ferry waterfronts and cruising points are seriously attended so that the visiting tourists do not feel any hardships for moving across cities attending festivals and carnivals.
India
The Indian festivals have assumed a high level of popularity among the festival loving tourists. The Indian tourism board is quite aware of the fact and has initiated steps to popularize Indian festivals among the prospective festival freaks abroad. Recently, the public relations society of India had organized a festival in Bangkok in June'13 to promote international relations showcasing Indian culture and its depth.
The attractions of the magnificent Melas (fairs) like the Kumbh and Gangasagar were highlighted. Millions of pilgrims gather to take a holy dip in the confluence of the rivers and sea which are considered sacred. The auspicious moment of the day just at the break of dawn is much awaited. These Melas had been legendary and were passionately patronized by the emperors themselves in the past. The entire concept is marketed with a wonderful presentation to promote the concept of festival tourism in India.
Tips to make festive season travelling safe and exciting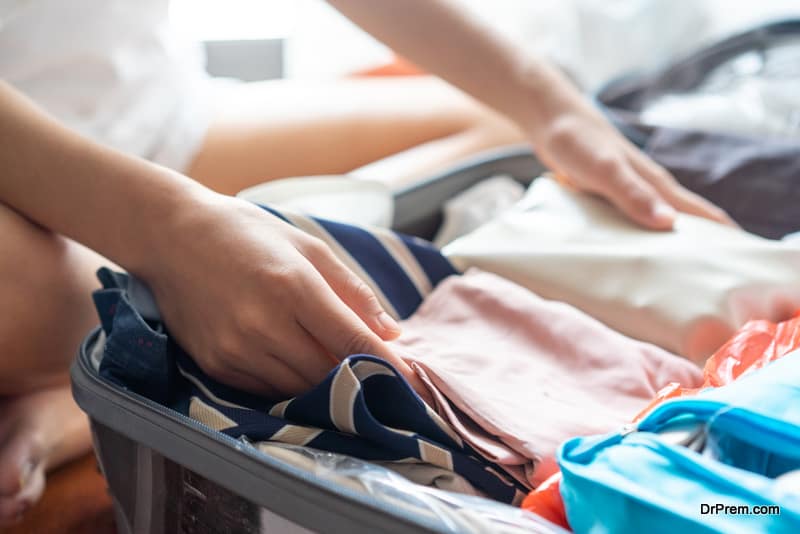 Indian people tend to travel a lot during the festive season. Indians love to spend time with their close and extended family during festivals, which is why you will see trains, buses and planes filled to capacity with people travelling to their hometowns.
Some also take the opportunity to travel to various holiday destinations, to have fun and relax with their families. Though travelling is mostly safe, you do hear about many incidents, which send shivers down the spine. Exercising a little caution can help to keep your family, you and your belongings safe. Here are a few festive season travel tips for you:
Be always alert
The 'stranger danger' rule applies in travelling on trains, buses and airports. Do not eat anything or accept anything to be carried as luggage from any other passenger, you never know what the food may be laced with, or what is inside the package. Small children and women travelling alone should never accept food from strangers on a bus or train. There have been many instances of people being drugged, and their baggage stolen. If you don't want to offend anyone, take the sweet or chocolate, but don't eat it!
Secure your luggage
In trains, you can secure your luggage with the padlock chains which can be bought in the station. Your fellow travelling companions may not go off with your luggage (though this too can happen), but thieves might get on the train when it stops at night. They take advantage of sleeping passengers and steal any unsecured luggage.
Don't draw attention to yourself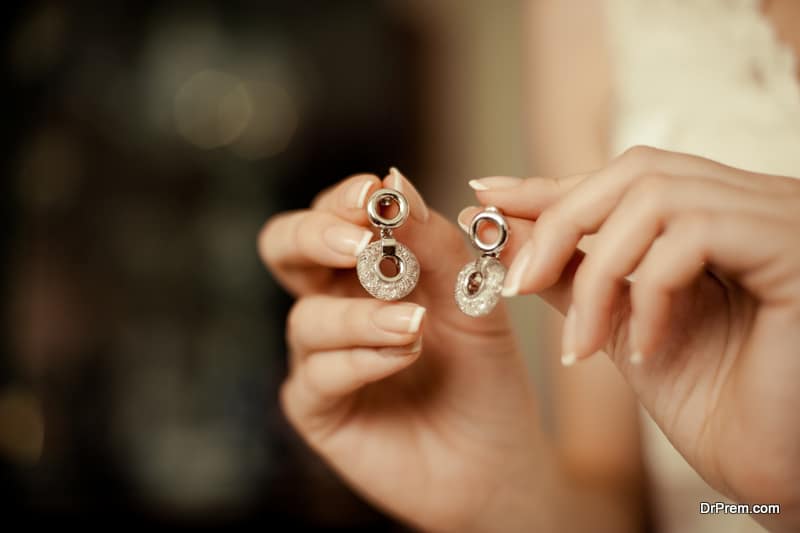 Buses and trains are not the best places to become the centre of attention. Dress simply, avoid heavy or any jewellery or expensive watches, and keep to yourself. Do not talk about money, and keep your children close to you. Do not trust or ask strangers to keep a watch over your children. 
Keep your purse/wallet close to you
Don't be careless with your purse or wallet and keep them with you at all times. If you are a lady travelling alone, take your purse to the washroom too, as you just can't trust anyone with your money and valuables. You might carry a sleeping bag, inside which you can stash your purse while sleeping!
Make friends
Do make friends, without giving away personal information. If you're in any kind of trouble, these 'train' friends do help you out.
Be considerate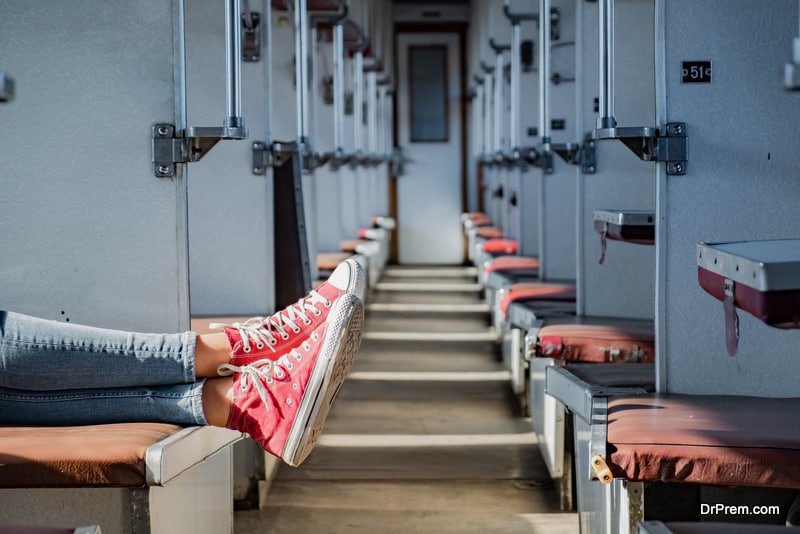 Be considerate to the comfort of your fellow passengers – do not sleep late if you're on the lower berth, control your kids and keep your compartment/area clean.
Bring books for you and toys and entertainment for the kids
If you're going on an overnight journey, or even a few hours flight, bring a nice book to keep from being bored, or else you have your smartphone to entertain you. If you are travelling with younger kids, be sure to bring books, toys, drawing books etc to help them pass the time. Or else you'll have a cranky child with you, forcing you to walk through the whole train or airport numerous times!
Be prepared to be asked personal questions
The favourite past time of most Indians on long journeys is to talk and they are not shy to ask all kinds of personal questions. Be prepared to answer and also ask a few questions of your own to make new friends and your journey less boring.
Bring food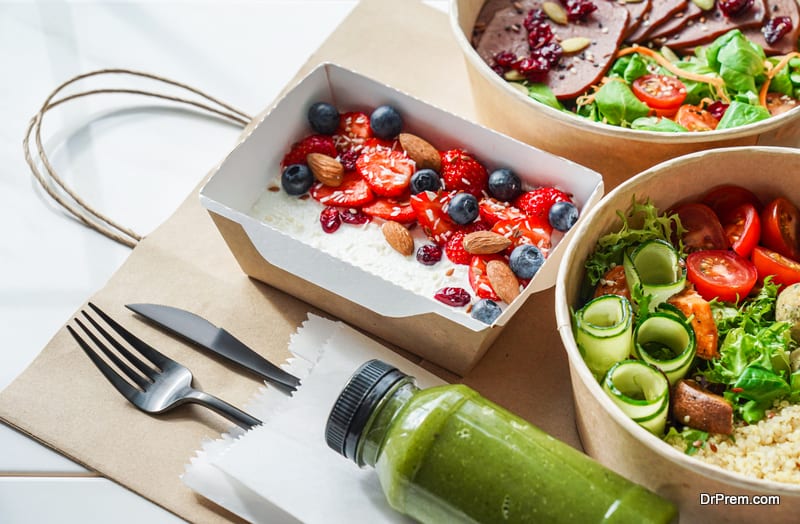 Though trains do serve food, they may not be to your taste. Carrying your food with you, especially for children ensure that you don't have to stay hungry. Food is also delivered by services, which give you another option for food.
Carry toilet paper and anti-bacterial wipes
Always carry toilet paper and anti-bacterial wipes which are extremely handy during travel.
Be fire prepared
Carry a heavy object to help you break open windows, at times of emergency, if you are travelling in AC coach. A wet towel should be tied around the face to be safe from suffocation. Keep jewelry, passports and money in a pouch which you can carry out with you.
Tweeting to @RailMinIndia about your travel woes if any, usually helps to get the problem solved. Just being alert can help prevent dangerous situations, and a positive expectation will definitely result in a positive travel experience.