Khajuraho – A brief history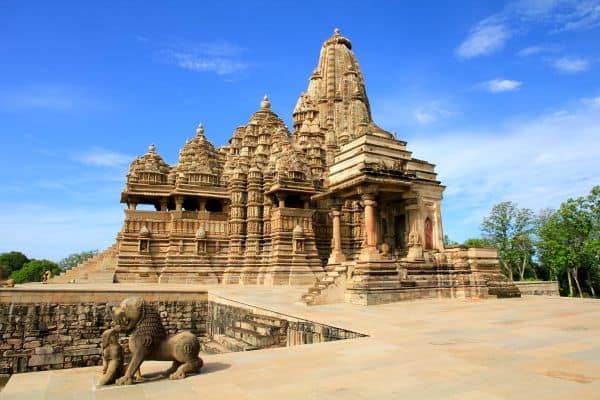 The exploration of medieval culture of India remains incomplete without prowling the ruins of Khajuraho and its exquisitely sculpted rocks inspiring the theme of love, passion and eroticism.
Basically a cluster of amazing monuments located in the Indian state of Madhya Pradesh approximately at a distance of 625 kilometers south east of the country's capital, Khajuraho is one of the most talked about tourist destination. The sculpted statues throb with life with depiction of male and female engaged in acts of sex and group sex poised at myriad postures and radiant ecstasy beaming in the granite eyes infusing life into them.
This splendid medieval art and architectural feat has been well preserved till date with shine and gloss and has been declared a world heritage site by the UNESCO. Constructed in between 950 and 1150 much before the Mughal monarchy, these shrines were built by the Chandela dynasty that drew inspiration from the possible tantric cult with its mystic philosophies that pervaded the Indian religious and cultural scene. Young students who spent their childhood in hermitages practicing Bramhacharya, a total withdrawal from material pleasures, grew up into adulthood feeding on all the teachings and wisdom of life these sculptures have to convey to prepare them for a worldly life.
The name 'Khajuraho' has its origin in the word 'Kharjurvahaka', which means a carrier of date palms in Sanskrit term. The local residents of the villages in and around these magnificent temples had great regards for these monuments of unsurpassed splendor and have always kept these delicate structures well preserved. In fact, they drew the attention of the British rulers in the late 19th Century when the surrounding greenery crept into this remarkable piece of art and architecture with thick shrubbery starting to engulf these priceless feats of the artists patronized by the Chandela kings. The place was put under global limelight by sincere efforts delivered by the British engineer TS Burt and later by General Alexander Cunnigham.
The temples of Khajuraho have been considered one of the seven wonders of India. The city was the seat of culture of the Chandela Rajputs who reigned this central portion of India spanning 10th and 12th centuries. It took almost two centuries to carve out these unique temples. Devoid of any citadel, this beautiful locale was enclosed by a wall and the site spreads over an area of around 20 square kilometers. It is also famous for its annual dance festival organized with much pomp.
Khajuraho: International Love and Art History
Erotic art in Khajuraho – What it reflects?
Khajuraho- A critical evaluation from socio cultural angle
Why should you visit Khajuraho?
Role of nature and environment on Khajuraho art
Life of people in ancient Khajuraho
Combining Wildlife, Cultural, and ecotourism in Khajuraho
Specific Khajuraho Temples with their essential features
Khajuraho Wild life safari – Special attraction
Khajuraho Dance Festival – The special event
Eroticism in Khajuraho – The Philosophy behind