Located in Kiev, or Kyiv, the capital of Ukraine, the Bratislava hotel exudes European sophistication offered with the renowned Ukranian hospitality. It is a gorgeous 4 Star hotel that has wowed visitors for almost 40 years. Boasting of modern, beautiful interiors, it has attracted famous writers, artists, musicians, astronauts and athletes over the years. The serene yet bustling atmosphere draws those who want to enjoy a peaceful time, yet get some work done during their stay.
It has several multi-functional spaces that hosts big and small corporate events, as well as family events at affordable rates. Let's take a closer look at the accommodation, event and meeting spaces, restaurant and more.
Accommodation to suit all budgets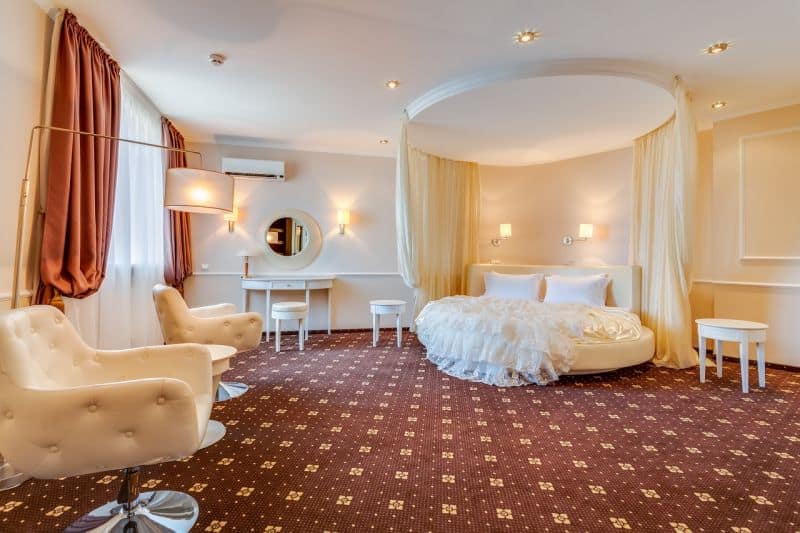 Image Source : bratislava.ua/en/
The hotel has 335 beautifully done up rooms in a modern decor. The influence of European interior style is evident and pleasing to the eyes. All the rooms and suites are equipped with everything necessary for business as well as leisure travelers.
Rooms have designated space for work, modern appliances, air conditioning, direct-access telephone, flat screen TV with international channels,  in-room safe, minibar/fridge, spacious balcony and bathrooms fitted with high-quality fittings.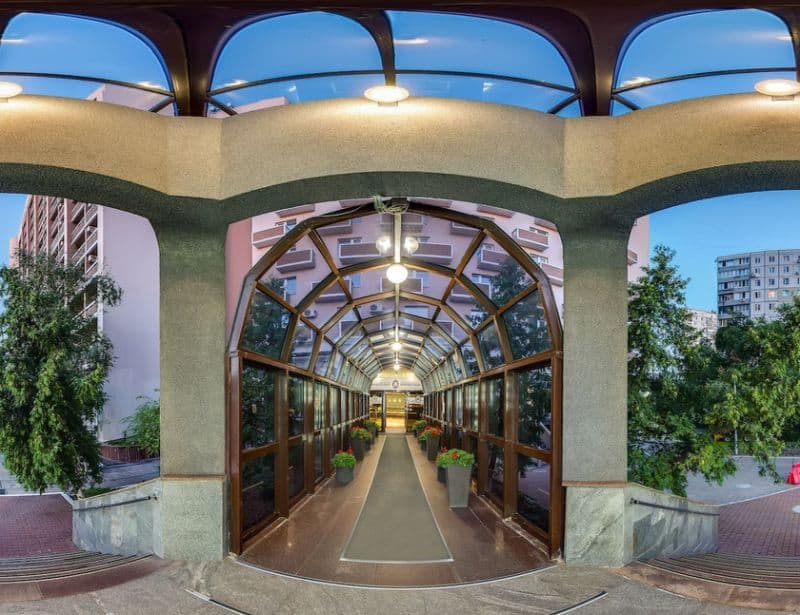 Image Source : bratislava.ua/en/
The most important amenity nowadays is wi-fi, which is provided free by the hotel. Leisure and business travelers can work easily from the hotel during their stay. The trend of work from home has led to people working from holiday locations, and Hotel Bratislava makes working easy and convenient with free wi-fi and room service at the fingertips.
There are especially designed rooms for the disabled that reflect the thoughtful and caring attitude of the hotel.
Electronic security systems in every room ensure the safety of your belongings.
Conference halls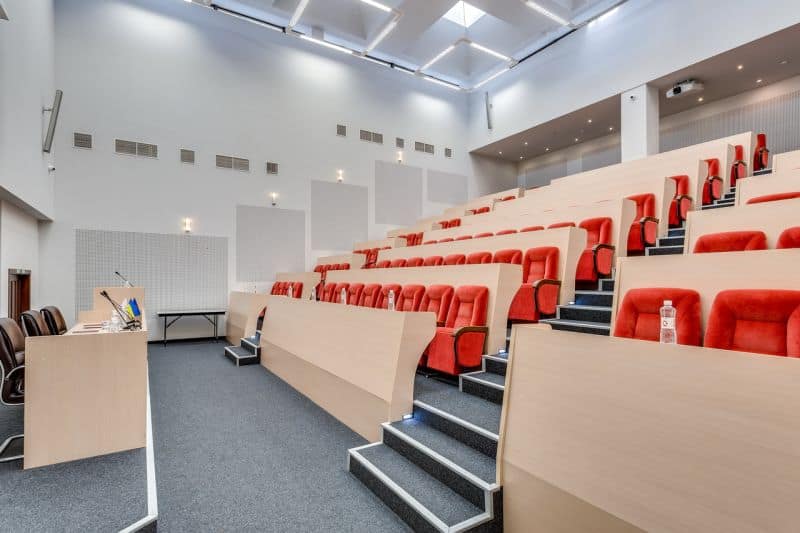 Image Source : bratislava.ua/en/
There are 9 conference halls in the hotel which facilitates conferences, business meetings, seminars, presentations, banquets and buffets. The conference halls are spacious, luxurious and functional and the hotel looks after all the needs. Situated on the 2nd floor, the air-conditioned conference halls can accommodate 14 to 400 people, and all have free wi-fi.
The halls are brightly lit with ample overhead and wall-mounted lights. Natural light streams in during the day to add to the ambiance. The combination of artificial and natural lights makes the Conference Halls an inviting space where delegates feel good and positive upon entering. Hotel Bratislava thus pays attention to the small things which make all their guests comfortable.
All the halls can be blacked out on request, for presentations and so on. Some of the halls can be divided into different zones which is convenient to hold multi-faceted events. The furniture used has been chosen carefully so that they can be used for multiple reasons such as conferences, seminars, trainings, presentations, exhibitions and more.
Small round tables come in handy for any kind of banquet, or business celebration, award presentation ceremonies, receptions and so on. Senator Conference Hall is the biggest with seating capacity of 500, and has a lobby. Eight of the Conference Halls have been decorated in a neutral, muted color scheme that adds to the gravity of the meetings.
The Red Conference Hall is a vibrant, colorful and opulent space perfect for celebrations. It can accommodate 100 people, and like the other Halls, can also be transformed into a meeting space.
Hotel Bratislava provides complete catering services, so that your event goes smoothly. Coffee breaks, and delicious lunches and dinners are catered according to the event organizers choice of cuisine, thus adding to the success of any event.
Restaurant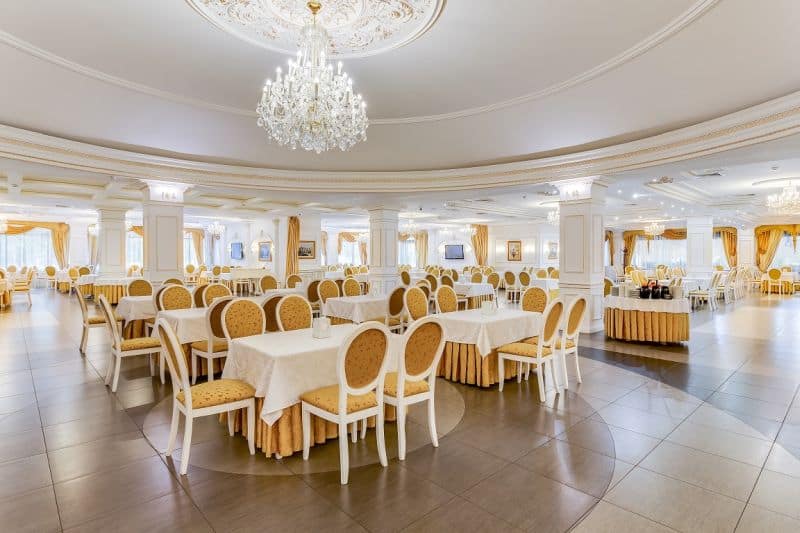 Image Source : bratislava.ua/en/
The hotel has a cozy European themed restaurant offering Ukrainian as well as continental cuisine. The chefs are adept at presenting delicious food to the guests. The unique design of the restaurant brings to mind the decor of a royal palace. Beautiful chandeliers shed abundant light creating a warm atmosphere. It is a large hall which can accommodate up to 350 people.
Location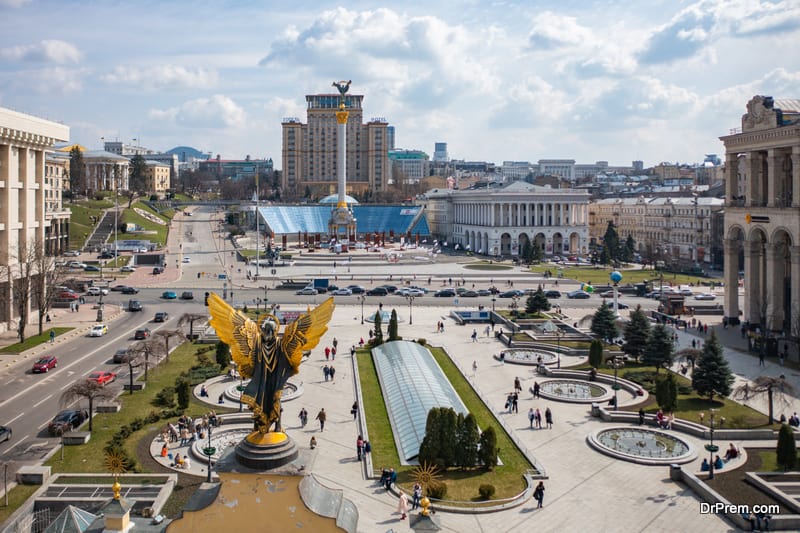 The metro station can be reached by walking for two minutes and leisure as well as business visitors staying at the hotel can see sights such as the central street Khreshchatyk, European Square, Kyivo-Pecherskaya Lavra, Mistetskiy Arsenal, St. Sophia and St. Michael's Squares.
Another plus point of the hotel location wise is the  close proximity to the International Exhibition Centre  which is at a distance of just 10 minutes from the hotel. This  makes Hotel Bratislava very convenient for visitors and exhibitors.
There are large shopping centres nearby where you get everything, from clothes to kids toys that visitors can buy as gifts for their families.
The shopping centres have kids play zones too so they can be kept busy and happy. Many business travelers tend to bring families along making a business trip into a holiday one.
Hotel Bratislava has made service its focus, attending to each guest's requirements impressing business as well as leisure visitors for almost 40 years. Whether the requirement is for a day's meeting/conference or for a wonderful stay, the experience and amenities offered are  world class and unforgettable.