Dining etiquette to follow during your business travel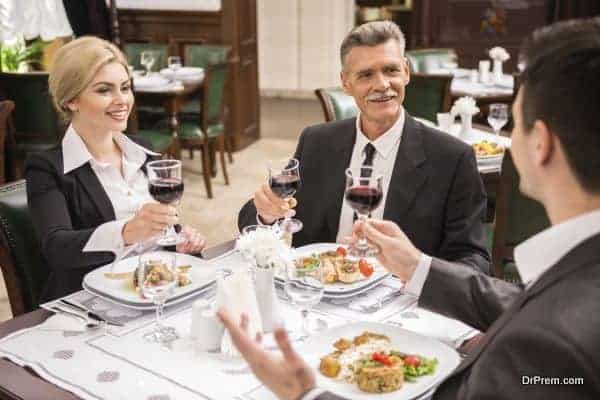 Business owners or entrepreneurs have to interact and dine with different people, including clients and colleagues, during their business trips. Even though familiarizing with local customs becomes difficult for outsiders, you must respect the local customs and traditions to leave a positive impression on your clients and colleagues.
Therefore, you must at least follow basic dining etiquette while dining in a business environment to maintain a professional image and impress fellow guests on the dining table. Here we have listed some simple yet effective dining manners that one must follow during business meals.
Dress formally:
As they say first impression is the last impression, business travelers must dress appropriately or professionally when attending a business meeting or dining with their clients or business counterparts abroad. Even though you wear casual dress at your workplace back home, you must follow the dress norms of the place you are travelling.
Informal dressing may leave a negative impression on the host, or guests for that matter, and set a casual tone for your business trip or deal. If you are not too sure about the dressing rituals of the place you travel for your business deals, there is no shame in being conservative with your dressing, or you can simply follow standard business dress code approved internationally.
Interact with others sitting on the dining table:
Before joining the dining table for a meal or snacks, you must introduce yourself and shake hands with others already on the table. Instead of rushing to take your seat, be polite and follow your host to join the dining table. During business dining, you need not to follow social gender rules and let other diners pull the chair for them. Make sure not to pull the napkin until host and other guests take seat and place the napkin on their lap. You must stand up and greet guests who join the dining table after you.
Keep your order balanced:
Even though you are free to place the order according to your taste or likings, you should follow the host and prefer something similar to what other guests order. In case, you get the responsibility to place the order on behalf of others, make sure to choose dishes that are healthy and easy to eat. Keep in mind that you do not order the most expensive dishes listed in the menu.
Place utensils properly around your plate:
The placement of utensils may appear trivial or superficial to many, but if you place utensils properly around your plate, it will help you display your organized self to others sharing the dining table. Make sure to place your fork to the left and knife and spoon to the right of the dining plate. Similarly, the food including bread, salad or any other food dish goes to the left, while the glass containing any drink or water remains to the right of the plate.
Proper use of utensils:
Waiters usually place all the necessary utensils before serving the dishes on the table, and it is all up to you to use them either according to your likings or according to general norms. If you go by the standard rule, one must begin with outside utensils and move in for the main course and dessert. Keep in mind that bigger spoons are usually the soupspoon, and there are different forks and knifes for different dishes like fish knife and fork and dessert fork and spoon.
Whether you are on a business trip with colleagues or a leisure trip with your family, dining etiquette simply signifies your identity or character. Business dining etiquette at the table can help you impress your clients or fellow entrepreneurs and seal the business deal in a smart and effortless way.