Beach — A place where you want to leave all your worries behind & enjoy with the waves passing by. A perfect place of enjoyment & relaxation for newlywed couples, honeymooners, travel-lovers, and tourists. Beach is the place where you get to see the horizon, a clear vision of Earth meeting the sky, which gives you a perfect mood of relaxation. The sound of the water waves gives you the perfect moment of being yourself. So here are the few beaches you may want to enjoy and celebrate your honeymoon, leaving behind the stress of your everyday life & bringing a refreshment & rejuvenation in your daily routine.
1. Radhanagar Beach, Havelock Island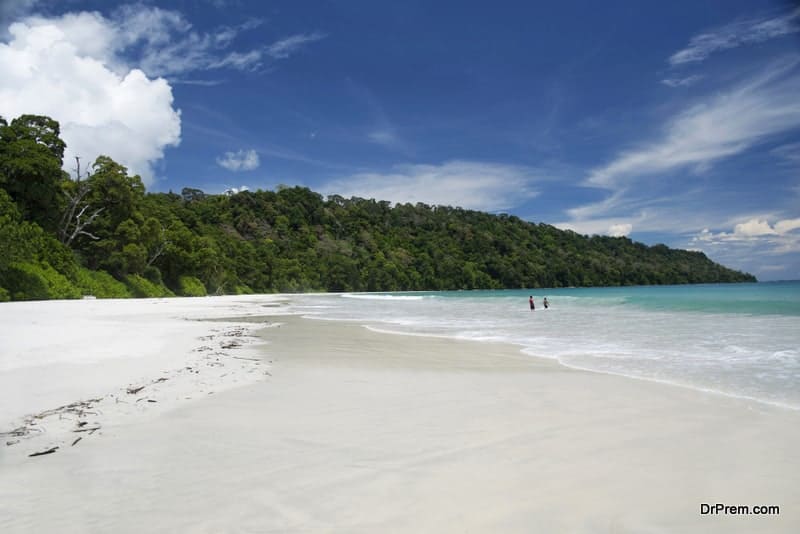 This island was named after a British General, Henry Havelock, who was based in India. This is located in Ritchie's Archipelago in the union territory of Andaman & Nicobar. Havelock is situated 57 km North East of Capital City Port Blair This has been rated as the seventh most beautiful island by the administrative body of Andaman & Nicobar. A perfect place for a twin experience — beach & island. This is also a destination for trekking, snorkeling, scuba diving, sailing etc. It can be visited all through the year.
2. Ganpatipule Beach
Another twin experience, beach with a 4000 year old land mark – the SwayambhuGanapatitemple.This temple is a self-made temple which gives this beach a different signigficance. The village got its name Ganapatipule, Ganapati the lord of the "ganas" or army and "pule" which means sand dunes, Ganapatipule is one of the "AshtaGanapatis" (eight Ganapatis) of India and is known as "PaschimDwarDewata" (the Western Sentinel God). It is located approximately 375 kms south of Mumbai, along the KonkanCoast.Its one of the cleanest beach with clear waters & rich in flora for coconut palms & mangroves.
3. Agonda Beach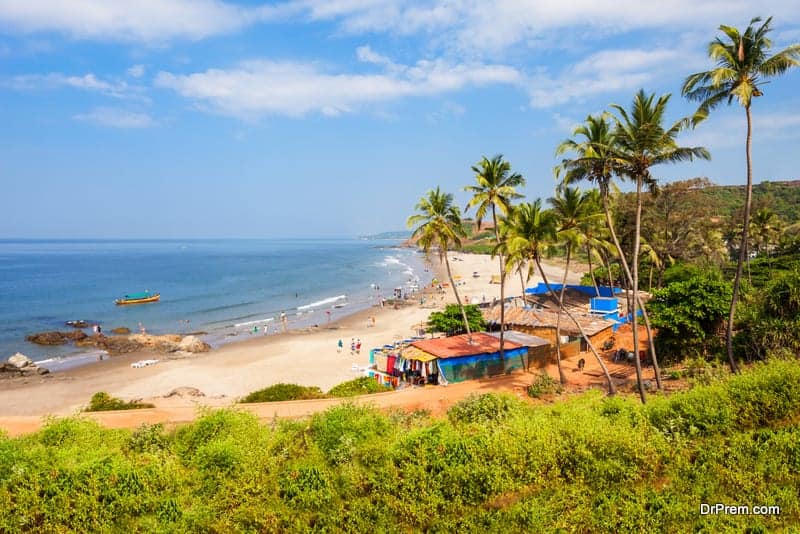 If you want to experience the quietness on the beach, Agonda is the right spot. Located in Goa,and a few kilometers from Canacona station, this beach offers a complete hassle-free environment. This beach is for the one who simply wants to relax and be away from the crowd. The best time to visit is late October to March.
4. Karaikal Beach
This is located in Pondicherry. It offers a spectacular view of the confluence of Arasalar River and the sea. This beach is famous for watching the sunsets & also popular for the boating club which is located at the backwaters of the Arasalar River. This beach is ideal for sunbathing, swimming or simply strolling on the golden sands. You can also enjoy adventure sports like boating, canoing, kayaking or a round of beach volley ball with your loved ones.
5. Baga Beach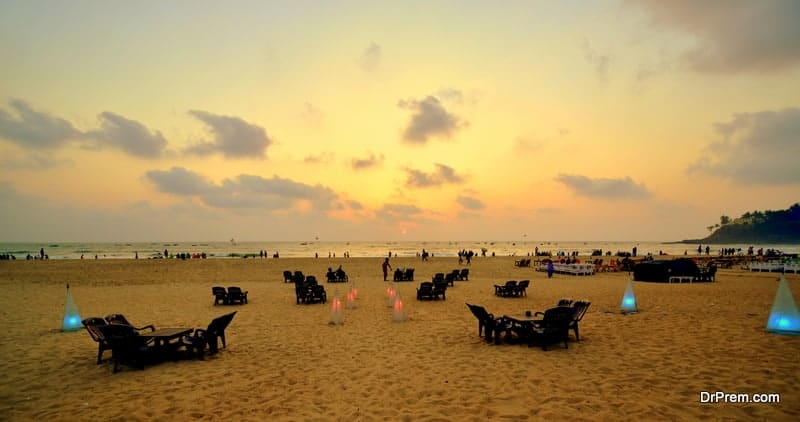 Situated in North Goa, this is one of the busiest & happening beaches in Goa. It's a world famous & highly recommended beach. Water sports are a huge attraction here. You can also enjoy para sailing, wake boarding, wind surfing,kite surfing, jet ski ride or dolphin spotting trips. Just have a beer, fish, take a bath in the sea and relax that's what is Baga. The best time to visit is November to April.
6. Bangaram Beach
This beach is located in Lakshadweep & is one of the topmost secret beaches. Black coral formations surrounded by sparkling blue ocean waters, pristine coconut groves, and silvery white beaches are the immediate attractions of this ethereal island. Myriad varieties of butterflies, sea birds, hermit crabs and innumerable fish families awe tourists. Some of the attractions here are diving, snorkeling, deep sea fishing and water sports.
7. Kovalam Beach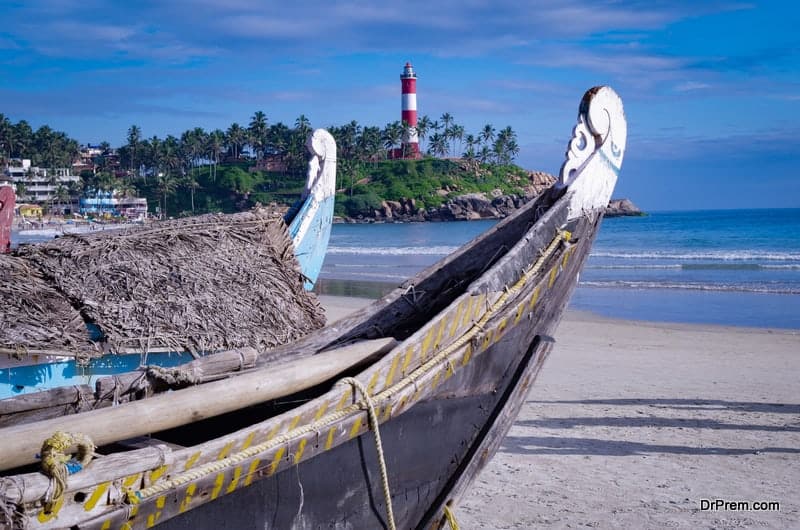 Located around 16 kms away from Thiruvananthapuram city in South Kerela, this beach has a beautiful bay of calm waters. It has three adjacent crescent beaches — Lighthouse beach, Hawah Beach and Samudra Beach. Sunbathing, swimming, herbal body toning massages, special cultural programmes and catamaran cruising are some of the attractions here. Best time to visit: September to March.
8. The Nagoa Beach
This beach is located near the Nagoa hamlet of the village of Bucharwada in Diu. The specialty of this beach is its horse shoe shaped, perfectly semi circled. It is bordered by palm hoka trees. Various water sports can be enjoyed here along with swimming, gamboling or just lolling around the soft sand shores. This beach is largely deserted & perfect for getting some peaceful time away from the city crowd.
9. Tarkarli Beach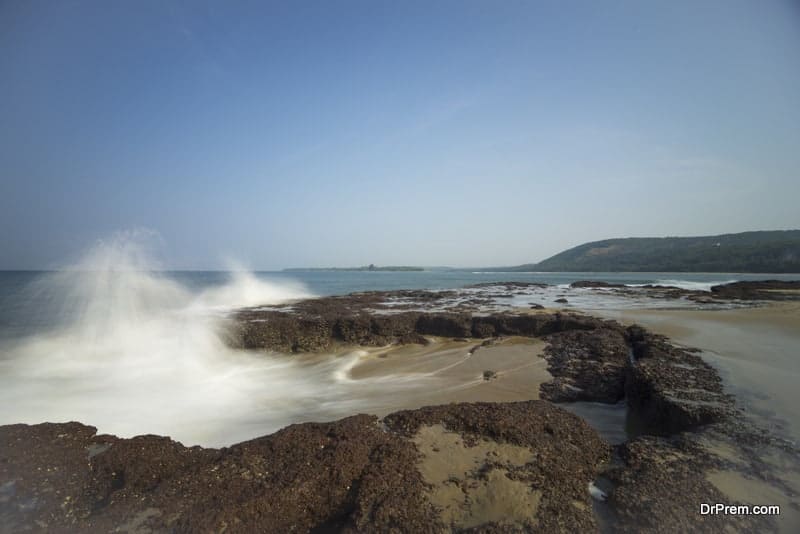 It is located in Konkan area, 8kms from Malvan. It has a confluence of the Karli River and the Arabian Sea. Tarkarli has white sand and casuarinas trees stretched for miles, fringed by foam-flecked waves. We also get the beautiful view of sea birds enjoying in the sea water on this beach. You get a perfect blend of beautiful view with tasty sea food here.
The sunrise and sunset are worth watching. It's perfect for morning and evening walks.
10. Rishikonda Beach
LocatedinVishakhapatnam, this is one of the most beautiful beaches in Andhra. It is dotted with golden sand and the tidy waves of the Bay of Bengal. This Beach is an ideal location to engage in water sports such as water skiing, swimming and wind surfing.