Here we present you the sorted list of 20 plus most scared and holy religious places in India 2013 that you must visit once in your lifetime.
Badrinath:
Badarinath temple the main attraction of Badrinath is considered as one of the most important and sacred pilgrimage centre situated in the lofty Himalayan heights of Uttarakhand at the height of 3133 m (10248 feet) above sea level. This Vishnu temple is built 50ft tall built of stone with a small cupola on top covered with a gold glit roof and arched windows, intricate carvings inside the garbha or main shrine with 15 idols present in the temple complex resembling a Buddhist vihara temple.
Other nearest attractions include Tapt Kund which has many medicinal properties, Neelkanth another snow-peaked attractions, Panch Prayag that include Deo Prayag, Rudraprayag, Karnaprayag, Nandaprayag and Vishnuprayag Mata Maruti Temple, Pandukeswar,
Badrinath temple established by Adi Shankaracharya is one of the Panch Badris of Yogadhyan Badri, Bhavishya Badri, Bridha Badri, and Adi Badri.
Witness one of the greatest wonders of Nature at Badrinath!!!
Udupi
The temple town and the land of celestial beauty – Udupi is just 60 Kms from Mangalore lies between the rich mountains of the Western Ghats on the east and the immense calm Arabian Sea on the west.
Udupi an authentic treasure trove of tourist's pleasures is famous for its Sri Krishna temple established in the 13th century by the great Sanskrit philosopher, Madhavacharya. The Sri Krishna Temple – Udipi's most famous attraction attracts pilgrims from all over India with its prehistoric graven temples, splendid architectural buildings, stunning hills, lush forests, unending beaches and huge cultural inheritance. Malpe Beach is an important and natural port of the Karnataka coast has mesmerizing natural scenic beauty, while temples of Vadabhandeshwara, Shankaranarayana temples Balarama and Ananteshwara and Daria-Bahadurgad fort are the nearest tourist attractions.
Udipi is worldwide famous for south Indian dosas, idlis, sambar and other snacks!!!
Bageshwar :
Bageshwar – the 'Abode of Gods' is a city in Uttarakhand is situated on the confluence of river Gomti and Sarju is a place of extreme religious and historic importance and undoubtedly nature lover's delight. The Baghnath temple, Baijnath, Sri Haru, Gauri Udiyar, and Chandika temples are the prime attractions of Bageshwar.
Other important shrines in and around Bageshwar include Ram Ghat temple, Agnikund temple, , Hanuman temple, Veni Mahadev temple, Radha Krishna temple, Bhileshwar Dham, Suraj Kund, Kukuda Mai temple, Nileshwar Dham, Swarg Ashram, Ramji temple, Loknath Ashram, Ashram of Amitji, Jwala Devi temple, Shitla Devi temple, Trijugi Narayan temple, Siddartha Dham, Gopeshwar Dham, Golu temple and Praktishwar Mahadev.
This beautiful town is also a delight for adventure sports lovers where people can trek from Bageshwar to reach Pindari, Sunderdunga and Kafni glaciers.
Banavasi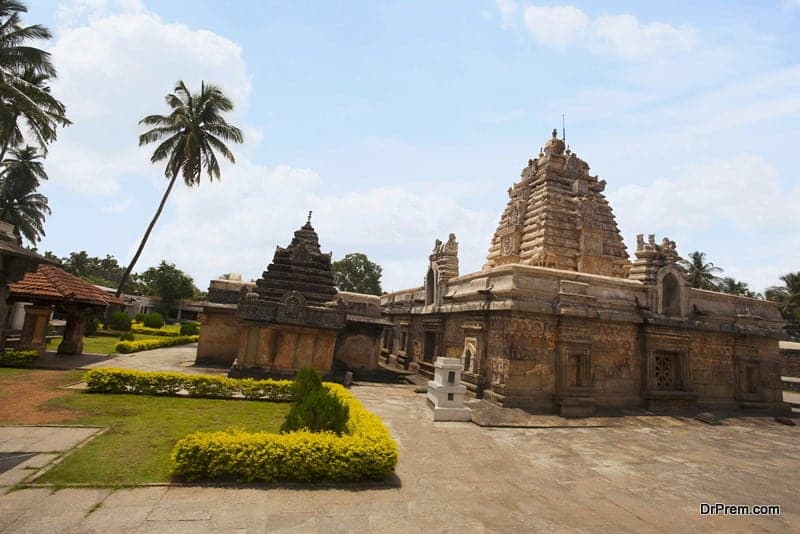 Gifted with nature's bounty Banavasi is an ancient temple town that lies in the deep lush forests of Western Ghats on the banks of river Varada in the state of Karnataka.
Madhukeshwara temple built in 9th century by the Kadamba dynasty is one of the architectural marvels with monolithic stone works, idols depicting Lord Shiva and Lord Vishnu from all their main abodes including Varanasi, Tirupati, Rameshwaram, half idol of Ganesha, unusual idol of Lord Narasimha with a peaceful face, five-hooded Naga sculpture dating back to the 2nd century are some of the highlights of Banavasi town.
Other atatrctions include shrines at Ikkeri, Keladi, Balligavi, Thalagunda, Kotipura, Bedsagaon and Sahasralinga each of these temples unleash unique architecture styles to the dynasty that built them. Experience the spectacular and scenic waterfalls especially the Jog falls, Unchalli and the Magodu waterfalls, Honnemarudu, sacred groves at Yelkundli and loads more yet unknown to most tourists!!!
Char Dhams:
Char Dhams as the name clearly depicts is all about the most revered four pilgrimage shrines lies at four corners in India that includes Badrinath in the north (Uttarakhand), Dwarka, in the west (Gujarat), Jagannath Puri (Orissa) in the east and Rameshwaram in the south (Tamil Nadu) to be visited in one's lifetime. Leave the trauma and fight backs of your cosmopolitan worlds, and add a unusual charisma to your life in Chardham!!!
Amarnath:
Amarnath located in the state of Jammu & Kashmir is a holy Hindu trinity dedicated to Lord Shiva and considered to be one of the holiest shrines in India. Amarnath has been a place of worship since times immemorial where lord Shiva appears in the form of Ice Lingam. To reach the destination people often trek through the daunting mountains that is at a soaring height of 4,175meters unleashing the sheer beauty of the snowy paths and beautiful sceneries all around.
There are 2 major routes that take you to the holy cave:
The first route beings from Pahalgam and takes 47Kms to reach Amarnath cave where people get to travel by Palanquin, Pony, or porters accompanied with accommodations at few spots. The alternative route is the trek route that begins from Baltal and covers a distance of about 15Kms to reach the holy cave without accommodation. However, the route is very steep and often prone to landslides. Helicopter services are also available including Palanquin, Pony, and porters.
The best time to visit Amarnath starts from May to September. Be prepared get woolens and rain gear. Tourist attractions near Amarnath include Aru Valley, Kohli Glacier, Tarsar Lake, Chandiwari and Leh makes your journey complete and joyful.
Dwarka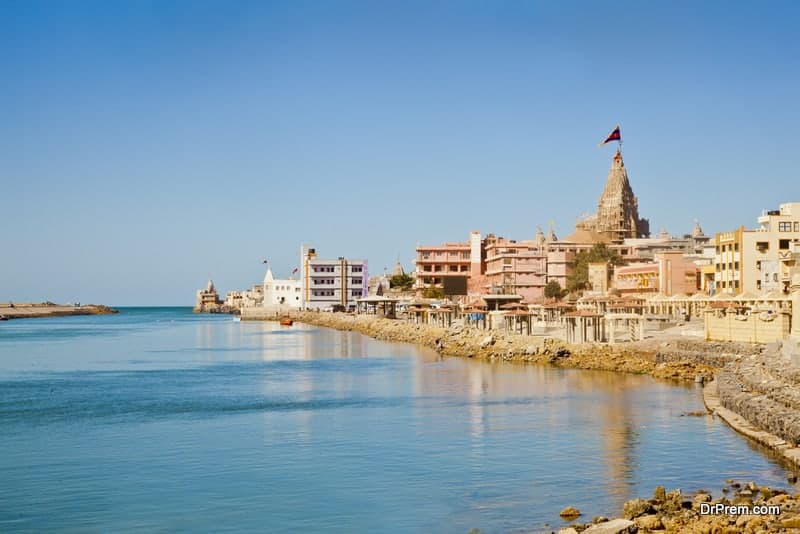 Dwarka is an ethnic city an epitome of spiritual enlightenment one must visit if premium holy shrines and impressive tranquil ambience inspire you displaying glitzy structural architectural design. The city once flourished submerged into the shores of the river Gomati after the death of Lord Krishna.
The Dwarkadheesh Temple or Jagat Temple, built as per ancient Hindu architecture, is a five storey- ornate temple profusely carved from the base to the pinnacle resting on 60 pillars housing the image of lord Krishna. Besides this there are various other temples in Dwaraka including Nageshwar Mahadev, Rukmini Temple, Bhalka Tirth, Gomati Ghat Temples, temples dedicated to Mirabai, Narsinh Mehta and Shank Narayan, the Matsyavatar, and more. Pilgrimage to Dwarak is incomplete without visiting Beyt Dwaraka a temple on the island off the coast that encloses 56 consorts of Lord Krishna.
Besides all these, Dwarka offers some of the alluring beaches, where the sparkling waters and the warm weather lure tourists with its intrinsic charm and beauty.
Explore Dwarka the treasure of the holy magnificence!!!
Ganapatipule
Ganapatipule is one of the most spectacular and idyllic village long the Konkan Coast in Maharashtra endowed with clean water beaches, rich flora, coconut palms, mangroves, golden sands where one can relax in tranquility.
The self-originated temple of Swayambhu Ganesh on the Ganapatipule beach is the primary attraction in Ganapatipule frequented by thousands every year while, the Thibaw Palace, the Lokmanya Tilak Smarak and the Patit Pawan Mandir, Jaigad Fort resting on a cliff, Ashram of Swami Swaroopanand makes Ganapatipule an ideal holiday destination to discover the landscape, art, culture and history of Maharashtra.
Rameshwaram
Rameshwaram is a town situated at the very tip of Indian peninsula on Pamban Island, Tamil Nadu which is connected to the mainland by the Pamban Bridge. It is one of the holiest Char Dham pilgrimages housing one fo the 12 Jyothrilingas of Lord Shiva
According to mythological facets, Lord Rama has built bridge across the sea to Lanka to rescue his consort Sita from abductor Ravana
Sri Ramanathaswamy temple an epitome of Dravidian architectural style of the medieval ages is built by Rama and dedicated to Lord Shiva occupying most of the area of Rameshwaram Island citing to one of the many highlights of Rameshwaram tourism. Other religious shrines to visit include Agnitheertham, Kothandaraswamy Temple, Nambu Nayagiamman Temple, Erwadi, Ramanathapuram, Tirupullani, Uthirakosamangai, Sethu, Adam's Bridge, ruins & beach of Dhanushkodi, Ramjharoka Temple on Gandhamadana Parvatam, the five-faced Hanuman temple, Indira Gandhi or Pamban Bridge, besides being a intrinsic pilgrimage centre Rameshwaram is known and popular for its beaches with flat blue waters and waves.
Haridwar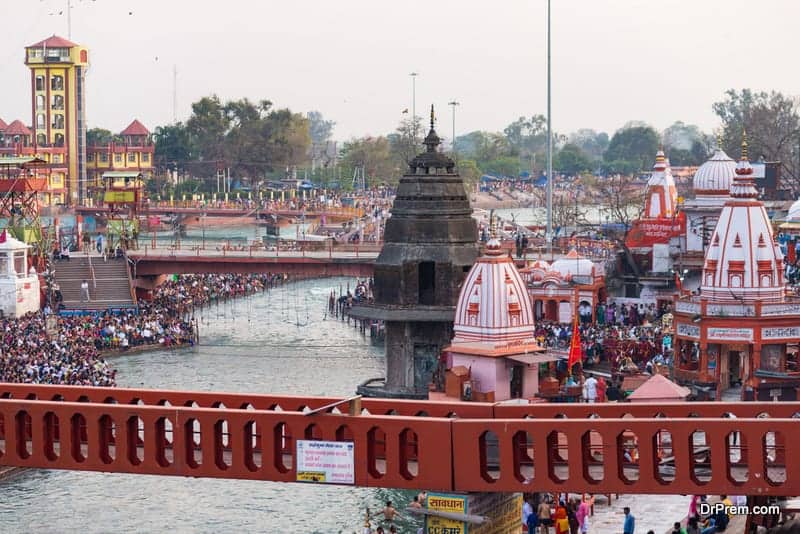 Haridwar – the holy city – 'Gateway to Gods' is known as Mayapuri, Kapila, Gangadwar as well – a treasury of various temples and religious places endowed with loads of shopping hubs and wildlife sanctuaries all located at the point where the Ganges emerges from the Himalaya. The Haridwar Ganges is flooded with thousands of pilgrims offering floating flickering flames as offerings in the evenings that looks spectacularly alluring.
Don't miss the Har ki Pauri one of the most holy place, the Chandi Devi Temple, Mansa Devi Temple, Maya Temple, Kankhal, Piran Kliyar, Neel Dhara Pakshi Vihar, Bhimgoda Tank, Doodhadhari Barfani Temple, Sureshvari Devi Temple, Pawan Dham, Bharat Mata Mandir, Rajaji National Park and others.
Ranakpur
Ranakpur located in the Pali district of Rajasthan is one amongst the most famous places to visit in Rajasthan. The most popular being the Marble Ranakpur Jain Temple constructe in 14th century by Rana Kumbha a jain businessman. This temple signifies the architecture of ancient India with its distinctive domes, chaumukha entrances at four cardinal directions, turrets, cupolas over 1444 amber marble pillars to support the temple from the slope of the hill. All the pillars are carved to be different and unique where no two pillars have the same design.
The sculptures and carvings made on rocks are magical where the 108 snakes with numerous tails are just strikingly dynamic and must see structural designs.
Sadri, Narlai, Desuri, Surya Narayan Temple, Muchhal Mahavir Temple, Kumbalgarh Wildlife Sanctuary, Neminath Temple, Parsvanath Temple, Hindu Sun Temple are few religious attractions you should not miss to visit.
Ajmer
Ajmer is a city bestowed with natural beauty of majestic Aravalli Mountains in Rajasthan state, all around is a pilgrimage centre for both Hindus and Muslims reflecting India's true blend of religious convictions.
The shrine Dargah (tomb) of the Sufi saint Kwaja Moinuddin Chisthi renowed for fulfilling the wishes of the followers and also Pushkar, one of the five scared dhams for Hindu devotees and has many famous temples of which Brahma Temple is very notable, Taragarh fort of Ajmer, Adhai-din-ka-jhonpra Jain temple, Akbar fort, Magazine, the city of museum, Mayo college, Ana sager, Khobra Bhroon Temple, Nasiyan Jain Temple, Jami Masjid and must visit tourist destinations in Ajmer.
Kedarnath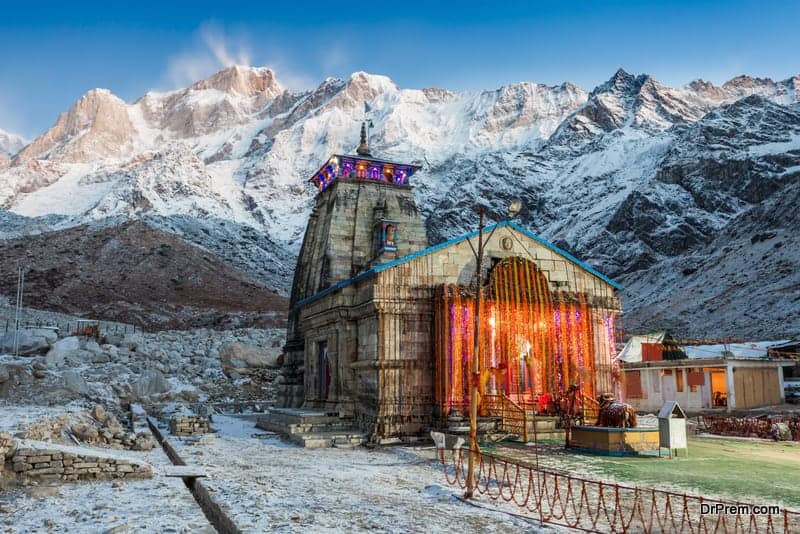 Kedarnath Temple, the most sacred Hindu shrine located in the great Himalayas, and one of the twelve Jyotirlinga or Shiva temples in the country is a picturesque spot situated against the scenery of the magnificent lofty snow covered Kedarnath range.
The Kedarnath temple has the statue of Nandi, the celestial bull of Lord Shiva placed at the threshold of the temple, while the walls inside the temple are ornately carved with figures of various deities and scenes from mythology. The Yamunotri & Gangotri, forms the perfect scenic backdrop with pilgrims cleansing their body & soul in the Ganges, while the river Mandakini, the shrine of Kedarnath is amongst the holiest pilgrimage for the Hindus.
The Samadhi of Adi Guru Shankaracharya, Trijuginarayan (wedding place of lord Shiva and Parvathi), temple of sage Agasty, Madhmaheshwar, Tungnath , Chorabari (Gandhi Sarovar) fascinates visitors with floating crystal ice on waters, besides, there are several kunds so called pools known for religious significance shivkund, Retkund, hanskund, Udakkund, Rudhirkund and Gaurikund which is the base for a trek to Kedarinath.
Mt Abu
Mt Abu – the oasis in the desert – is a popular hill station located in the Aravalli range of Sirohi District, Rajasthan. Guru Shikar, the highest peak of the Mount Abu is at 1,772 m above sea level is a retreat from the heat of Rajasthan and homes numerous Hindu temples of Adhar Devi, Shri Raghunathji Temple, Dattatreya, Dilwara Jain Temple, Vimal Vasahi Temple, Achaleswar Temple, Kantinath Temple and others situated amidst lush green forested hills.
Nearest tourist attractions of Mount Abu include Achalgarh fort, Durga Temple, Nakki Lake, Sunset Point, Guru Shikar, Trevor's Crocodile park, Mount Abu Wildlife Sanctury, Gaumukh….
Mt Abu is a pilgrimage centre for Jains and numerous other shrines of itself and a summer retreat with its cool and soothing climate.
Mata Tripureshwari
Mata Tripureshwari or Tripura Sundari temple is one of the 51 pithasthans in India. As per Hindu mythology, Lord Vishnu had battered Mata Sati into 51 pieces using the Sudarshana Chakra and the body parts are scattered and fell at different parts of the India known as the Pithasthanas, wherein Mata Tripureshwari or Tripura Sundari temple endows the 'right foot' of Mata Sati which fell at Matabari.
This mythological shrine is also known as kurma pith for the temples resemblance with the tortoise wherein the idol of Maa Kali is worshipped. Kalyan Sagar is one of the famous tourist attractions where fishes and huge sized tortoises are found and devotees get to feed them and worshipped. You would not miss to enjoy the tribal heritage of Tripura!!!
Mathura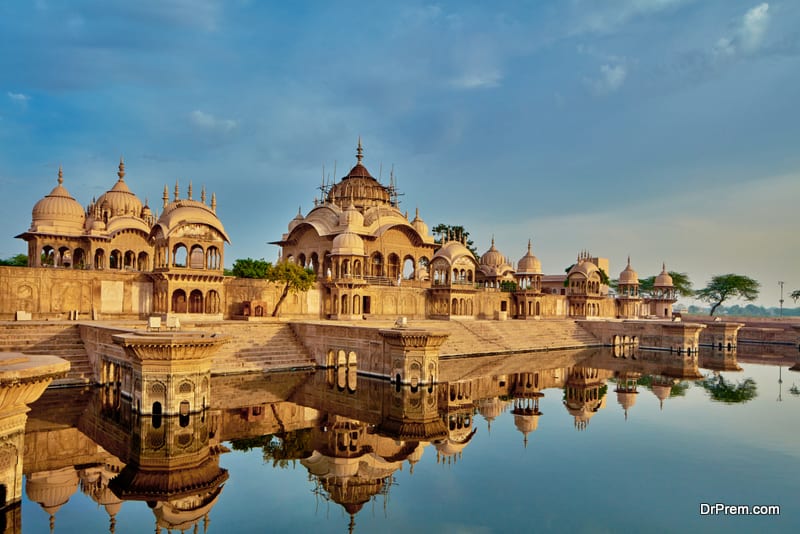 Mathura in Uttar Pradesh is the terrain where Lord Shri Krishna was born and spent his youth is still alive
There are numerous other little spots in Mathura that still reverberate with the enchantment of Shri Krishna with places like Gokul, Mahavan, Baldeo, Mat and Bajna, Vrindavan, Govardhan, Kusum Sarovar, Barsana and Nandgaon.
The city of Vrindavan, is the major place of pilgrimage eminent for its abundant temples – while, Shri krishna janma bhumi, Jama masjid, Vishram ghat – the sacred bathing ghat along the river Yamuna where Lord Krishna is believed to have rested after slaying the tyrant Kansa, Rangbhumi, Dwarkadheesh temple, Gita mandir poplar for its eminent carving and painting, Govt. Museum are few tourist attractions that you mustn't miss to visit.
Sun Temple Modhera
Sun Temple Modhera is a temple constructed and dedicated to the sun god – Surya in 1026 AD by king Bhimdev of the Solanki Dynasty on the bank of the river Pushpavati, Gujarat.
Modhera in ancient days was considered to be known as "Dharmaranya" where Lord Rama after defeating Ravana came to this pilgrimage to purify himself for killing Ravana who was a Brahman. The shrine depicts the unique architectural and sculptural essence of ancient construction comprising of three separate, axially aligned and integrated elements of Surya Kund to store water is decorated with numerous miniature shrines, Sabha Mandap a hall for religious gathering with carvings of Ramayana, Mahabharata and Krishna Lila episodes, and a sanctum with intricately carved images of 12 sun God and is no doubt an art of itself that cannot be explained or painted.
The temple is so designed that the first rays of sun fell on the image of Surya at the time equinoxes is worth mentioning. However, prayers are not offered in this temple due to its deteriorating condition and are under the supervision of Archaeological Survey of India.
Palitana
Palitana situated in Bhavnagar district, Gujarat is a city of temples and sacred pilgrimage centers for Jains i.e. the holy shrine for Jains that is believed to visit once in a lifetime to attain salvation. Mount Shatrunjay is the scared Tirtha site where you get see hundreds of Jain temples carved exquisitely in marble and systematic groupings of great religious and artistic significance.
The arches, carved pillars and bejeweled idols, veritable prayers in stone allure you to the extent. Notable among the temples include Adinath, Kumarpal, Sampriti Raj, Bimal Shahwhile the main and holiest temple is the temple of Adishwar dedicated to the Rishabha, the first tirthankara. The Digamber Jain Temple, Chhah Gau Yatra being main tourist attractions, as a whole Shatrunjay hill offers a beautiful scenic view of cluster of temples and tourists from every nook and corner of the country.
To reach Bhagawan Adishwar temple the mountain has 3800 steps with 700 temples endowed with 7000 idols where the climb seems never ending!!!!
Pushkar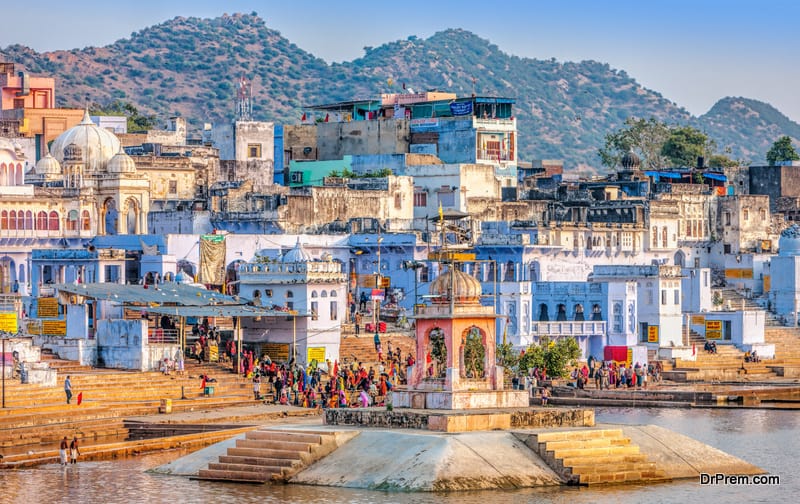 Pushkar is a sacred town also known as the "Adi Tirtha" for the Hindus, situated in Ajmer, Rajasthan that abounds with several temples, which trace their origin to ancient times of 4th century B.C. According to Mythological perceptions, Brahma created the lake when killing the demon Vajra Nabha who killed Brahma's children where the lotus flower petals fell at three places of which Pushkar is one of them boasting a temple dedicated to Lord Brahma – the Brahma Temple.
The Jagat Pitta Brahma Temple is the temple of its kind in the world dedicated to the deity Brahma on a high plinth with the Marble steps, silver doors and a silver turtle facing the sanctum, Peacocks (vehicle of Brahma's consort Saraswati) adorn the temple walls, milkmaid Gayathri flanks the four-faced image of Brahma called Chaumurti is very famous.
Other religious attractions include Savitri Temple, Varah Temple, Mahadeva Temple, and Ramavaikunth Temple one of Pushkar's largest and most intricate temples endowed with beautifully sculpted images of no less than 361 different deities, Sri Sawai Bhoj Temple, Apteshwar Mahadev temple, Temple of Rangji (New and Old) or Shri Vaikunthnathji, Gurudwara Singh Sabha, Man Mahal, while the lake offers numerous Ghats – a dip in the Pushkar (especially on kartik Purnima) and worship ensures salvation.
Tirupati
Tirupati located in Chittoor district, Andhra Pradesh houses the Tirumala Venkateshwara Temple on the hill town of Tirumala comprising of seven peaks representing the heads of Adishesha that include Seshadri, Neeladri, Garudadri, Anjanadri, Vrushabhadri, Narayanadri and Venkatadri presiding Lord Venkateswara as the deity.
Tirumala Tirupati is an exciting and awe-inspiring sacred shrine that has a worldwide reputation while the Tirumalai Tirupati Devasthanam is one of the richest Devasthanam of Andhra with thousands of pilgrims visiting the shrine are filled with spiritual divinity pay large sums to the deity as their offering and pray for a good fortune in their life.
There are many types of darshans made available at the Tirumala Tirupati Devastanam by availing special Sevas or free dharma dharshan, generally the seva starts at 3 in the morning and closes around 12 pm in the night.
The "laddu" as prasadha is very popular and accepted by people all across the country.
Tirupati is filled and adorned with immense and eminent tourist locations or shrines that include Sri Govindarajaswami Temple, Sri Kapileswaraswami Temple, Sri Veda Narayanaswami Temple, Sri Kodandaramaswami Temple, Sri Padmavathi Ammavari Temple, Sri Venugopala Swamy Temple, Sri Bedi Anjaneyaswami Temple, Swami Pushkarini Lake, Sri Annapurna Sameta Kasi Visweswaraswami Temple, Silathoranam, Talakona Waterfalls, Sri Vari Museum, Sri Venkateswara Dhyana Vignan Mandiram, Sri Kalyana Venkateswaraswami Temple, TTD Gardens, Akasha Ganga Theertham, Sri Chennakesava Swamy Temple, Sri Varahaswamy Temple, Chakra Theertham, Tumburu Theertham, Japali Theertham, Pandava Theertham, Papavinasam Theertham, Kumaradhara Theertham, Ramakrishna Theertham, Ashtana Mandapam, Pasupu Theertham, Sesha Theertham, Vaikuntha Theertham, Sitamma Theertham and loads more magical and spectacular religious spots that allures and fills happiness and spirituality into your all yourself.
Ujjain
Ujjain the historical city of Central India i.e. Madhya Pradesh and the holy city for the Hindus located right on the bank of River Kshipra houses one of the 12 jyotirlingas in India to abide Swayambhu Mahakaleshwar Temple in a spacious courtyard that has adroitly sculptured tapering shikhara.
Ujjain is one of the seven blessed cities that conduct Kumbh Mela sacred festival every 12 years in the month of Chaitra which one of the most ancient and greatest carnivals celebrated by the Hindus from times immemorial.
The main tourist attractions nearby Ujjain includes Jantar Mantar, Bhartruhari Caves, Harsiddhi Temple, Vikram Kirti Mandir, Chintaman Ganesh, Kalideh Palace, Pir Matsyendranath, Gomti Kund, Bade Ganeshji Ka Mandir, Chaubis Khamba Temple, Gopal Mandir, Kal Bhairav Temple, Mahakaleshwar Temple, Navagraha Mandir (Triveni), Patal Bhairav Temple, Ram Janardhan Mandir, Ram Mandir, Ram Mandir Ghat, Sandipani Ashram.
Ujjain hosts many renowned historical figures like King Vikramaditya, Raja Bhoj, Kalidasa, and is considered as the Greenwich of Hindu astronomers and astrologers and etc. Dip in the waters and experience true spirituality and bliss!!!
Vaishno Devi
Vaishno Devi is an enchanting journey to the Holy Shrine or cave of Mata dedicated to Shakti located in the narrow snow capped hills of Jammu and Kashmir i.e. lower Himalayas called Trikuta Hills. This holy shrine is one of the ancient places of pilgrimage that is nearly a million old.
It is one of the most visited religious shrines after Tirumala with almost 8 million pilgrims visit the temple every year and is acknowledged as one of the Shakti Peeths of Goddess Durga.. Accoding to mythology, Maa Vaishno Devi was born to Ratnakar Sagar as Trikuta in south India, Ratnakar before the birth of divine child has promised to fulfill all the desires of Trikuta. Trikuta at the age of 9 years sought her father's permission to meditate on the seashore at the when Rama was searching for Sita. Rama saw Trikuta and vowed that he would marry Trikuta in kalyuga manifesting as Kalki and gave her the name "Vaishnavi".
The temple is at 5300 feet above sea level i.e. equivalent to 12 Km from katra, thus one has to trek up the mountains to visit Maa Vaishnavi although carts horses, and Helicopter services are also available to carry visitors to the mountains.
The Mata Vaishno Devi Temple cave is open for devotees during the lean season, traditional festivals or ritualistic occasions; other tourist attractions include the Bhumika Temple, Kalika Temple, Shiva Goompha, and Ban Ganga Temple with the spring of the holy river Ban Ganga.
Dharmasthala
Dharamsthala, located at the scenic banks of River Netravati in the district of Dakshina Kannada in Karnataka is a famous pilgrim location known for the temple of Sri Manjunathaswamy, devoted to Lord Shiva is built by Sri Devaraja Heggade in the 16th century.
Sri Manjunathaswamy temple housing a golden lingam while the 39 feet Bahubali monolith is eye-catching and the scenic beautiful landscapes, lush greenery all around, and aesthetic beauty of this place welcomes pilgrims from all across the country.
Lakshadeepa- the festival of lights is the annual festival of Dharmasthala is a perfect place to experience bliss and spirituality.
There are many nearby attractions that include many ancient architectural religious shrines of Manjunatha temple, ancient Shiva temple in Karanje, Manjusha museum treasures some antique ancient paintings and manuscripts, Shri Ammanavaru, Four Dharma Daivas and Shrine of Shri Chandranatha Swamy, Kukke Subrahmanya, Vasanthamahal, Kateel Durga Parameshwari Temple at Kateel near Mangalore, Udupi Sri Krishna Temple in Udupi) and Horanaadu Annapoorneshwari Temple in the Chikamagalur District.
About 10,000 pilgrims visit Dharmasthala every day and free food is offered to the devotees all round the day, while the SDMCET Society run by the Shri Kshetra Dharmasthala operates 25 educational institutions to give education to all. The Free mass weddings are also conducted where the whole wedding expenditure is taken care by the Dharmasthala Kshetra society.