10 handy travel tips for overweight hikers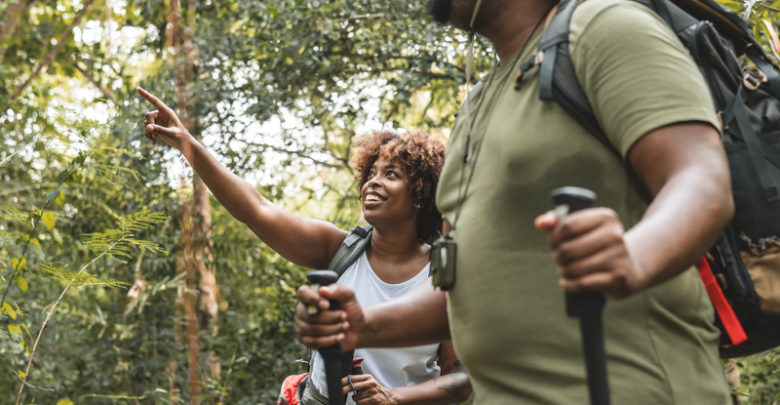 Love outdoors? Long for exciting hiking? But never dared for it being overweight?  You have never seen a fat guy out for hiking. But this is not always the case. Hiking is quite physically challenging and fat and fitness never walk hand in hand. But even if you are on the heavier side, there are many things to cheer about in this guide.
We have some handy tips for overweight hikers to help them enjoy hiking to their heart's content without facing any serious physical injury. Hiking should not be a last-minute decision unless you are a seasoned hiker scaling summits and bumpy terrains now and then. If you wish to realize ypur trekking and hiking dreams despite being overweight, do it in a planned manner. Just switch over to a healthier lifestyle and get yourself prepared for your venture. If you are already into it, half of the job is done.
10 handy tips for overweight hikers:
Tips for overweight hikers may seem to be exhaustive, as you need to factor in so many things. But fear not, these are quite simple. You can do away with gargantuan efforts of getting into a proper frame of mind and body for hiking. But make sure you trust your body's ability and know your limits – two vital traits to get along with life not only in hiking.
Tip 1: Change your mindset- give up your preconceptions: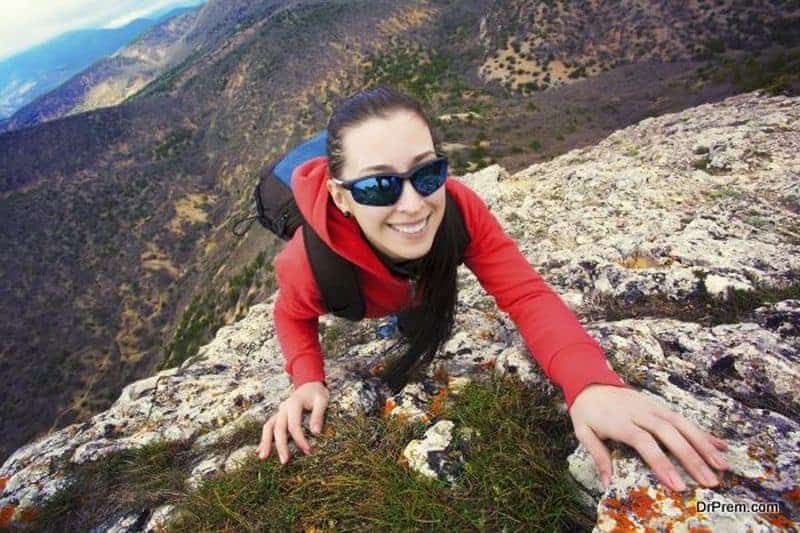 You are a fat guy or girl. So what? Hiking is not reserved for chiseled bodies – it is a universal sport. Anybody willing to connect with nature can hike irrespective of body size and ability. Even hiking on a wheelchair is possible!
The truth is, hiking is uncomfortable for everybody. Here lies the uniqueness of this sport. It forces you out of your comfort zone and immerses you in nature. Embracing this discomfort is fun! Shed your apprehensions and step out. There is no harm in taking breaks during the hike as much as you want.
Tip 2: Training tips for overweight hikers:
Let's face one thing. Carrying a few extra kilos can be grinding during hiking. And if you follow the conventional hiking or trek training program, you are in for trouble. Such training involves spending the entire day walking or hiking not suitable for overweight hikers. Being overweight, you are at a higher risk for plantar fasciitis, knee pain or shin splints.
You smart training schedule should consist of:
Off-feet conditioning to build your aerobic capacity and endurance without stressing knees and feet. This should be included in the early stage of the program and include activities like pool running, stationary cycle, swimming and step machine.
Strength training: This is a must but should not include rigorous squats, step-ups and gym sessions. Work through a tailor-made program session with a professional to bullet-proof your joints from injury.
Hiking for weight loss is a great idea to be in shape and the above-mentioned training program would be extremely useful. Let's not forget hiking is a great lower-body workout and an addition of squats, lunges and pushups helps in maintaining overall fitness.
Tip 3: Do not forget hiking poles: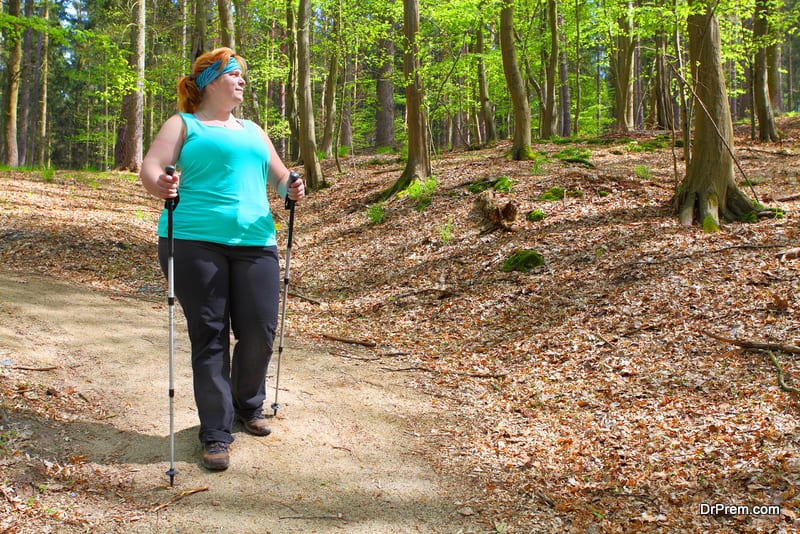 An essential tip for overweight hikers. It not only helps you to balance on rugged terrain but also burns more calories; a great thing for those opting hiking for weight loss. According to a study published in the Journal of Strength Conditioning and Research, trekking poles contribute to calorie burning without letting the hikers feel worked out.  Never miss this secret weapon.
Tip 4: Get the best apparel:
It may seem to be a tough task. Be rest assured, Columbia and Minus 33 produce extended sizes for overweight hikers. But make sure you get the best apparel that allows enough maneuverability. Get a few plus size hiking pants and tops that are lightweight and will not add much weight to your backpack.
Tip 5: Start with short hikes:
You are overweight, not sure of your physical endurance and stamina. You may need more breaks which can be difficult in long trials. Get a local hiking guide book and start with easy trails. As you gain confidence, plan for some daring trails.
A vital tip for overweight hikers – Never extend your hiking period by more than 20%. You should return with the feel that you could have achieved more. Hiking essentially does not always mean scaling inaccessible summits. Take it as a sheer joy of nature exploration.
Tip 6: Join a group of hikers at the start:
This might not be an essential tip for overweight hikers, but as a beginner, you may give a second thought. The maiden venture can teach you a lot of things and being in a group, it would be of immense benefit to tackle hurdles and challenges likely to come into your way.
Before joining a group, check the following:
Is the hiking group a registered company?
What is the itinerary? Will it suit you as a beginner?
What else is provided by the group so far as food and drinks are concerned? Overweight people may not be able to sustain on small meals.
Do you need to carry your sleeping bags, mats or tents? If yes, check the quality and whether it can withstand the weather conditions of the destination.
Do they provide hiking gears?
Do they have porters?
Will you have to hike together or move at your own pace?
Tip 7: Essentials to check if you are hiking of your own:
Hiking gear:
Do not forget the essentials:
Navigation map and compass
Sunglasses and sunscreens
Extra clothing for insulation
First-aid kit
Repair tool-kit
Headlamps or flashlight
Emergency cover like space blankets
Extra food and water.
Right footwear
Your checklist for food: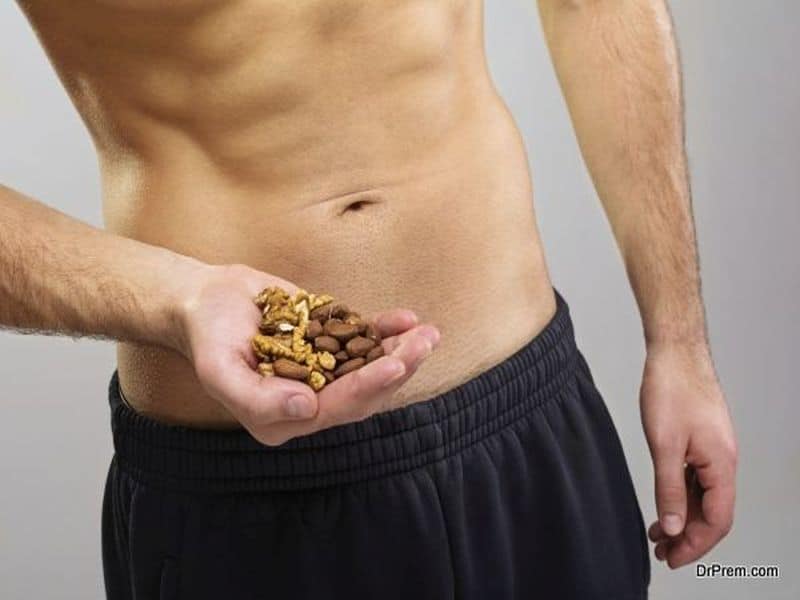 Stay away from binge eating and boozing at least a couple of weeks before your scheduled hike. This will help your body to adjust to new conditions while hiking. It is not easy to estimate the amount of food and water to be needed during the trek but you cannot expect to go on with four square meals type schedule.
List the number of meals you would be having during hiking and make arrangements accordingly. You may need more or less than that estimated.
Take protein bars, chocolates, ready to eat noodles, nuts and bread.
Carry some snacks like dry fruits to keep you filled for long. Occasional munching of chips is not bad to satisfy your cravings.
Carry a few cans of energy drinks.
Whatever you pack, make sure not to go overboard.
Tip 8: The hydration factor:
Overweight hikers may need extra hydration – but how much water to carry? The rule of the thumb is to pack at least one quart of water per hour of hiking. Sip water at regular intervals instead of gulping in large quantities.
Tip 9: Select the right footwear: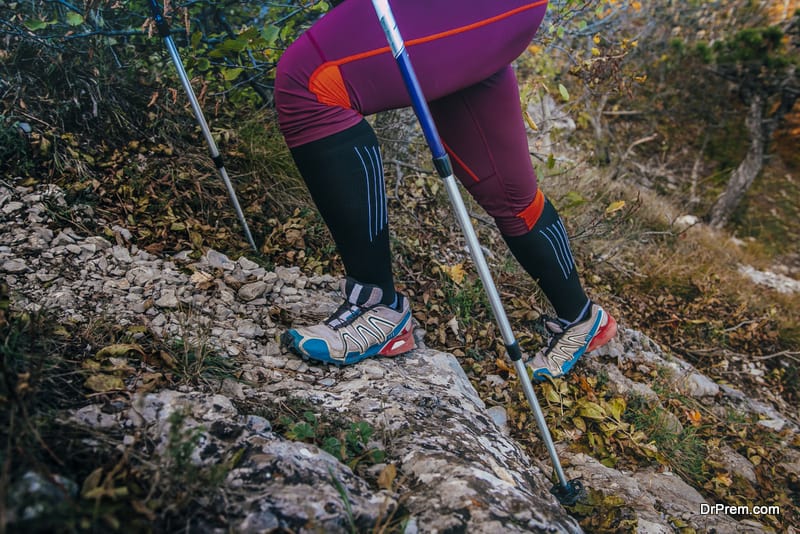 Selecting the right footwear comes first as overweight people are likely to face plantar fasciitis. Get one or two pair of good quality socks of soft wool. A sturdy and comfortable pair of hiking shoes will provide comfort on the go.  Hiking boots are good but may not be suitable for all. Two important things to note:
Use the shoes for few days before the hike to adjust your feet.
Make sure they are waterproof.
Tip 10: Go for hiking often:
It is not only one of the vital tips for overweight hikers, but all hikers. Practice eases things. You will be on the move. Every time during hiking you will have to leave your comfort zone, but each experience will build your confidence. You will neither fall off a cliff nor get harmed by any animal, but will get more moments of triumph as you catch the breathtaking view from a summit.
Take care of your recovery: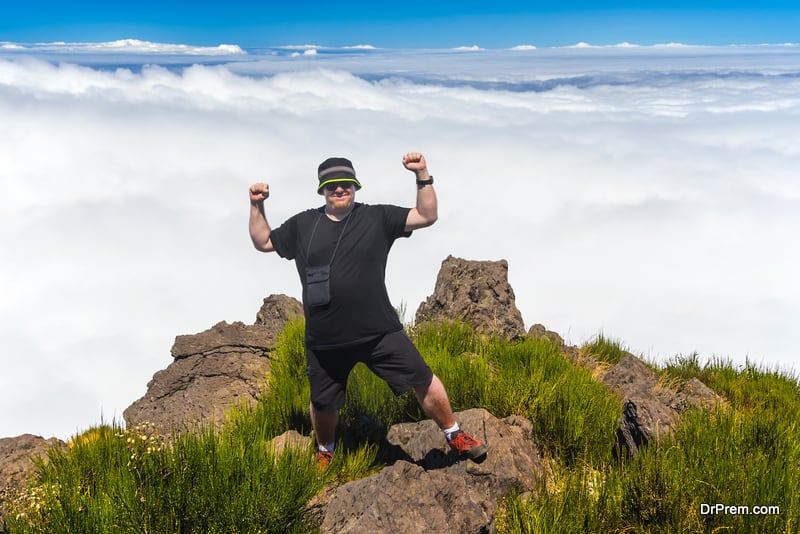 You had a great hiking trip beyond your imagination. After getting back, it is time for proper recovery. Many hikers neglect this but overweight hikers should take special care. However, the following things can help in easy recovery:
Plan for an active recovery session with swimming, cycling or pool walking.
Get minimum 8 hours of quality sleep every night.
After completing the hike, put on compression clothes at night while going to bed.
Devote 5 minutes for foam rolling every day.
During off days, practice 20 minutes of stretching and foam rolling.