Travelling to Mongolia can be exciting for those inclined to offbeat explorations. The Land of Blue Sky – popular for its 260 days sunshine days in a year – is home to the last surviving nomadic community.
What can be more exciting than to be a nomad for a few days spending days and nights in 'gers' or getting lost in the Mongolian Desert? Mongolia is one of the safest countries in the world, but traveling here is not that easy. There are some vital things you need to be aware to explore Mongolia's history, culture and nature to the fullest.
15 things to know before traveling to Mongolia:
The best time to visit: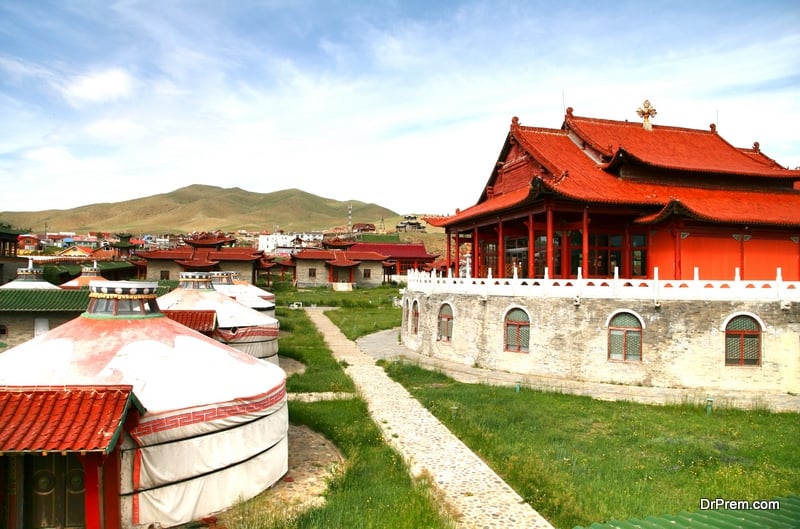 Drier months between May and October are the best to visit Mongolia. Ulan Bator is the coldest capital of the world with winter temperature dropping to -40 C. Naadam festival draws a good crowd in July with accommodation prices touching the peak.
Getting there:
While planning for traveling to Mongolia, you have four border crossing options. Three are on the Russian side – of which Altanbulag is the main one. Zamyn, the fourth crossing, shares the border with China.
You can avail flights from Tokyo, Beijing, Seoul, Hong Kong, Moscow, Denver, Berlin and many other destinations to Ulan Bator. Ulan Bator also offers one of the great train journeys through Trans-Siberian Railway.
Other local trains from China and Russia borders are also available at a fraction of cost, rewarding you a breathtaking journey. Busses are available from Russian and Chinese border – but the journeys are arduous, involving 10-12 hours of bumpy ride.
Visa requirements: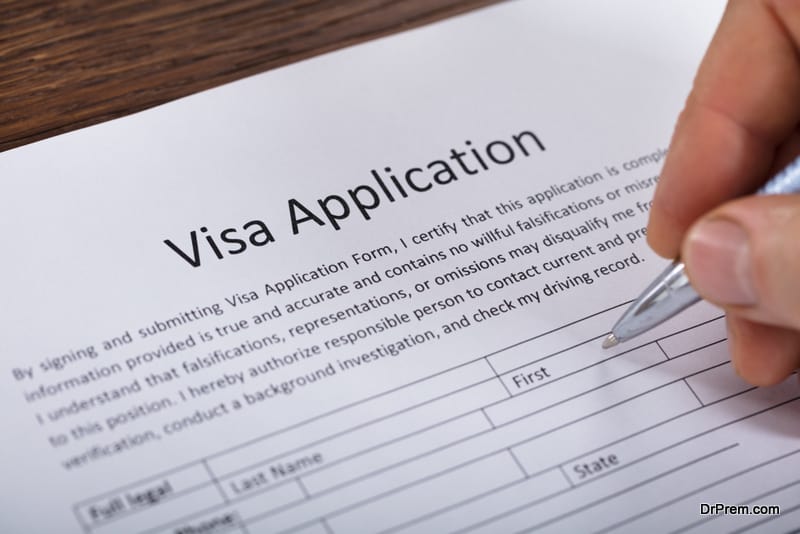 Check your visa requirements before travelling to Mongolia. Some foreign nationals can travel visa-free. The US citizens can avail a 90-day visa-free travel, while those from Canada and Germany can avail visa-free travel for 30 days.
Language:
English is understood in Ulan Bator and some sums (big towns). Beyond these, Mongolian and Russian languages dominate. Better to carry a Russian phrasebook while traveling to Mongolia or depend on your sign languages and gestures.
Maintain travel safety:
Crime statistics in Mongolia are not so alarming, although petty thefts rule. Police are friendly towards tourists. Given the country's infrastructure and slow economic progress, you need to be alert and ensure your travel safety. Few tips would be quite handy:
Pickpockets are rampant in tourist-crowded areas in the black market, Gandan Monastery and even in buses. Protect yourself properly else you may find your bag slit wide. Stay vigilant of your valuable belongings, especially cash.
Petty crimes peak during the festival season.
You are likely to encounter drunks, as alcoholism is a big issue here. They are more annoying than dangerous. Check whether your driver is drunk or not while driving your vehicle.
Beware of stray dogs especially around the gers. They can be vicious and rabid.
Scamming is also prominent here. Be careful while booking tours and accommodations as you may not be delivered what has been promised.
Outbreaks of malignant anthrax and foot-and-mouth disease are common. Check whether your proposed destinations of visit are affected or not.
Be extra alert in the following crime hot spots:
Chinggis Khaan International Airport, Ulan Bator
The State Department Store
The Central Post Office
Gandan Monastery
Naran Tuul Covered Market 
Beware of ethnic groups:
A recent rise in ethnic-violence in Mongolia is adding to the country's crime statistics. Protect yourself from the ultra-nationalist groups who may single you out if you are back, white or ethnic Chinese. Avoid talking with Mongolian women as this is not accepted by the groups.
If you are a single male, avoid being too dynamic or flirtatious, especially in bars and clubs. Things to take care of:
Avoid traveling at night
Maintain a low profile
Stay away from political arguments
Avoid antagonistic behavior
Must-visit places:
There are far too many must-visit places in Mongolia. A one month trip might not even suffice! Before traveling to Mongolia, create a bucket list of the places likely to attract most. You can choose from the following:
Ulan Bator: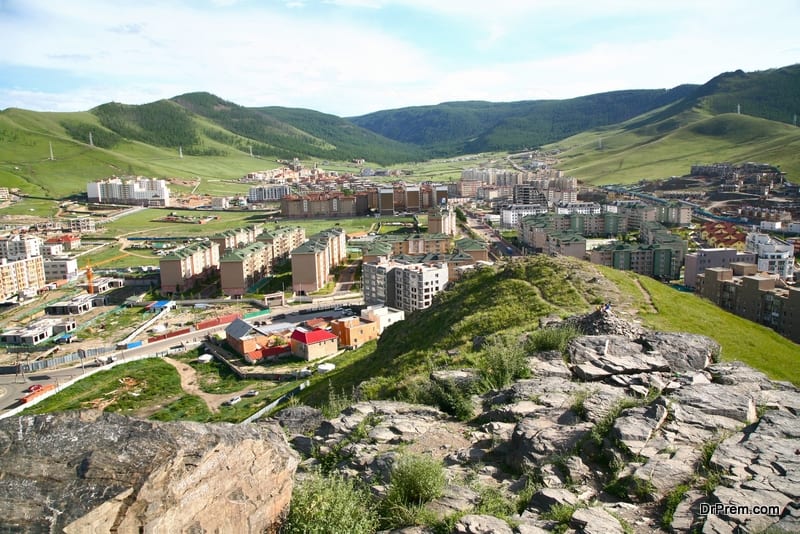 The capital and largest city of Mongolia. If this doesn't appeal you, then any other city in Mongolia will not be that attention-grabbing. Wonderful museums and cultural shows in Ulan Bator will leave you fascinated. Before heading to the wilds of Mongolia, stock up your goods of food, clothing and gear from the State Department Store of Ulan Bator.
Gorkhi-Terelj National Park:
One of the most premier destinations in Mongolia for trekking, hiking and camping. Located very near to the capital Ulan Bator, it is a favorite holidaying spot for locals as well. Tourists are offered an excellent selection of gers in this place.
Tsetserleg: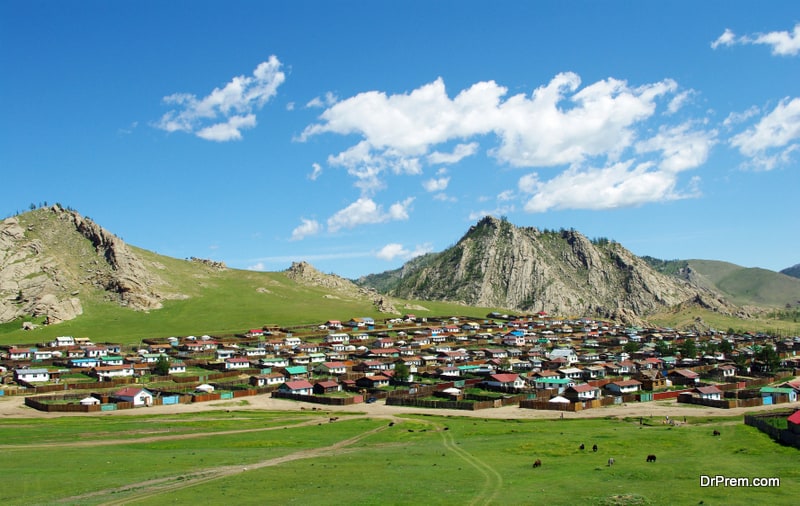 Another attractive site in Mongolia for initiating treks to Terkhin Tsagaan Nuur (White Lake) and Hot Springs 30 km away. The surrounding forested valley in Khangai Mountains, a monastery and the local market keep the travelers busy for a few days.
Not-to-miss festivals:
Naadam Festival:  Centuries-old mid-summer festival involving men's sports: wrestling, archery and horse-riding.
Tsagaan Sar: Mongolian Lunar year marking the end of winter. Festival to feast along with traditional song and dance.
Golden Eagle Festival: A competition among eagle hunters held in the first weekend of October.
Camel Festival: Thousands of camels gather to participate in polo and camel racing followed by traditional Mongolian music and dance.
Lake Khovsgol: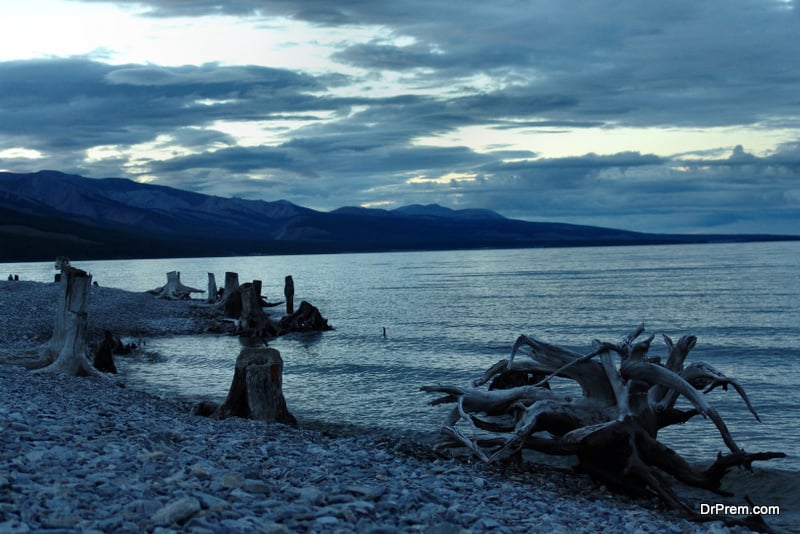 The largest lake in the country by volume and one of the prime attractions. Known as the "Mother Ocean", it is located near to the Russian border and can be reached by flight. You can also take a tedious 15-hour bus ride from Ulan Bator to Moron (the nearest airport). Khovsgol is ideal for canoeing, fishing, hiking and horse trekking.
Terkhiin Tsagaan Nuur:
Another beautiful lake in Mongolia is easily accessible as well. Nestled among the Khangai Mountain with the splendid Khorgo Volcano at the eastern end, the lake is perfect for hikers. Great place for fishing and spending time in tourist gers.
The Altai Mountains: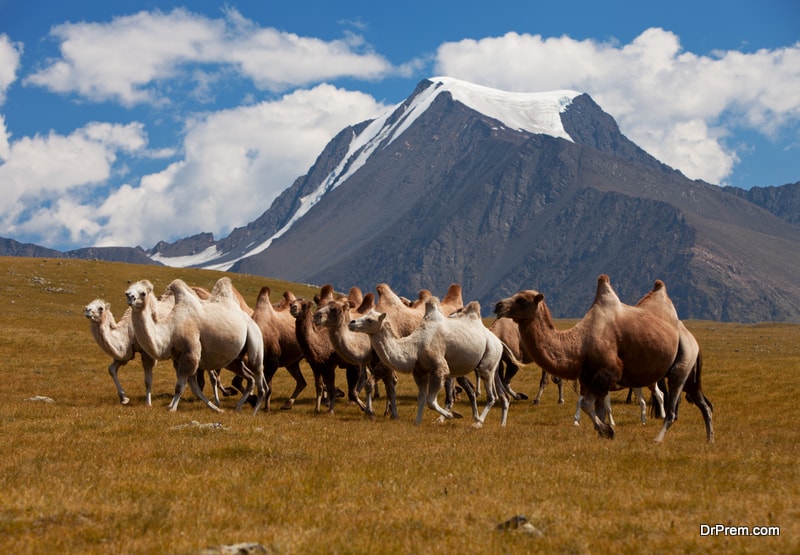 The best way to reach this place is to take an expensive flight. Else you can opt for a 30-40 hour bumpy bus ride. The mesmerizing backdrop of the 7000+ meter Altai Mountains makes it the most beautiful region of the country. Ample opportunities for treks and fishing and few breathtaking landscapes are rewarding for visitors.
Beware of border scams:
Crossing the border may be bumpy too! Whether you cross the border from Russia or China, you are likely to be stopped and harassed by a person in a uniform, not necessarily official. He will persuade you to procure travel insurance declaring it as a mandatory requirement. Never fall into the trap.
Must-have experiences: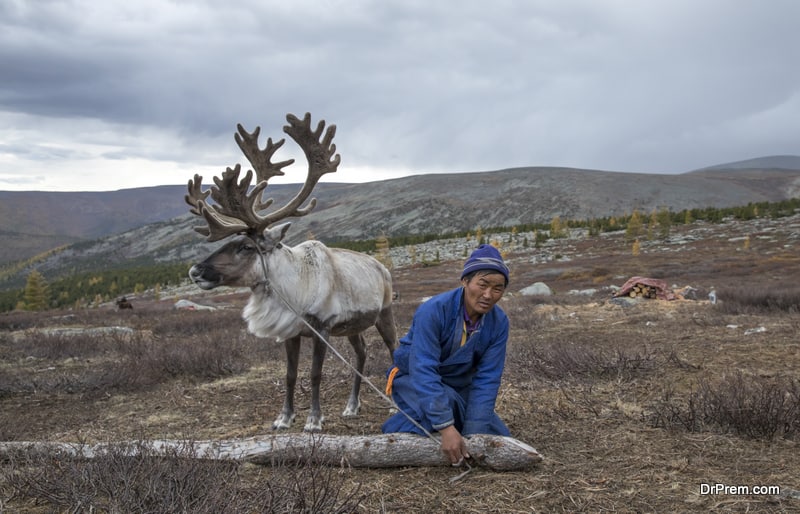 Apart from hiking, trekking and fishing, create the following wish list of unique experiences while traveling to Mongolia.
Explore the Gobi Desert on a camel or a half-wild horse
Drink Arag, the fermented mare's milk
Follow the footsteps of Marco Polo
Meet the last reindeer tribe
Enjoy living in ger tents
Explore the unique history in the Hindu-influenced Buddhist temples
Get a glimpse of the dinosaur fossils
Enjoy the Trans-Siberian rail ride
Food:
Food is very much related to travel, but Mongolia is not the foodie-destination. Many Mongolians are nomads till date and survive on goat, mutton, horse and dairy products. Vegetables are rare – owing to the climatic conditions. You may find some culinary delights in Ulan Bator. Meat dumplings – both fried and steamed – are the mainstay of Mongolian food.
Stay protected from air pollution:
Dry wind flowing can pick up anything from dust to pollens. The green and blooming steppe during summers can be a good source of pollens and allergens. Those prone to seasonal allergies must carry their medicine and masks or take required anti-allergic shots.
Be careful of dehydration: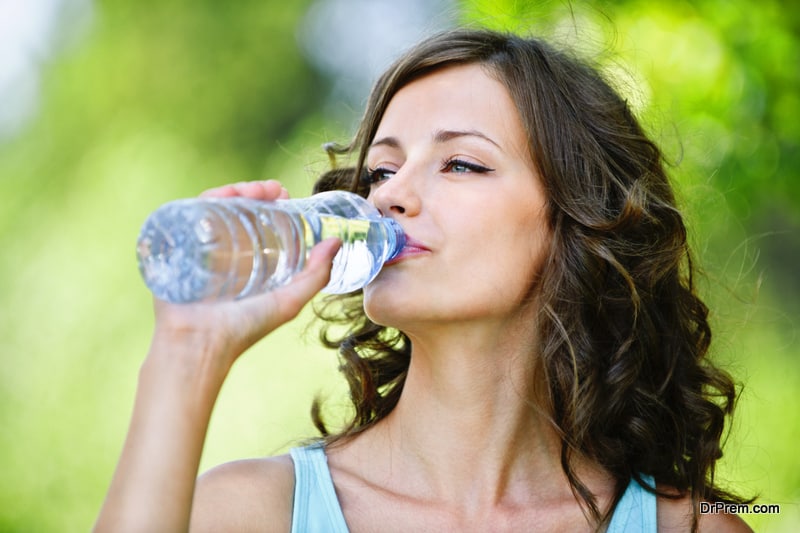 Dehydration is very common in Mongolia for its very hot and has extreme dry conditions. The sweat dries off before it is noticed. You lose water continuously, so stay hydrated.
Cash and currency:
Plastic money is accepted in most hotels, restaurants and departmental stores. Visa, Master, AMEX and JCB cards are accepted. Bank ATMS are available. Foreign currencies are not accepted. You will have to convert it into Mongolian currency Tugrik.
Communication facilities: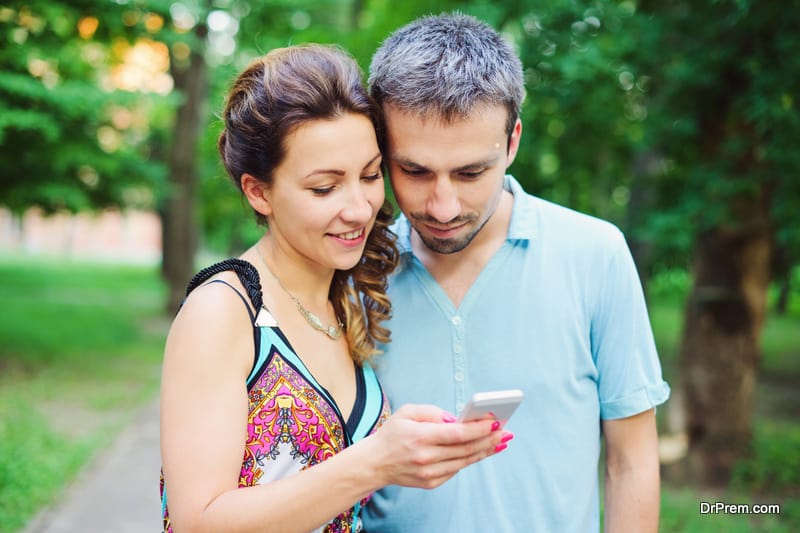 Cell phone network coverage is available almost everywhere, but the signals are better near the sums. You can avail good Wi-Fi connectivity in bigger sums and Ulan Bator.