New Zealand maps to about the size of Japan or Great Britain. The country with a total population of merely four million people serves as a perfect escape from crowded cities with its exotic landscape and fun-filled activities. Auckland's stunning beaches always delight beach lovers. Those fond of sun, sea and sand will no doubt find their own sanctuary in the sandy beaches and harbors. The coastline stretching for about 15,000 km it is always tough to single out the most attractive ones as each beach has its own exclusivity.
Travelers are literally spoiled with choice. Let us help you with some real hidden gems of Auckland coastline for a worth-remembering beach vacation. Here are the following handpicked beaches for you.
Top 15 beaches in Auckland:
1. Kaitarakihi Bay, northern Manukau Harbour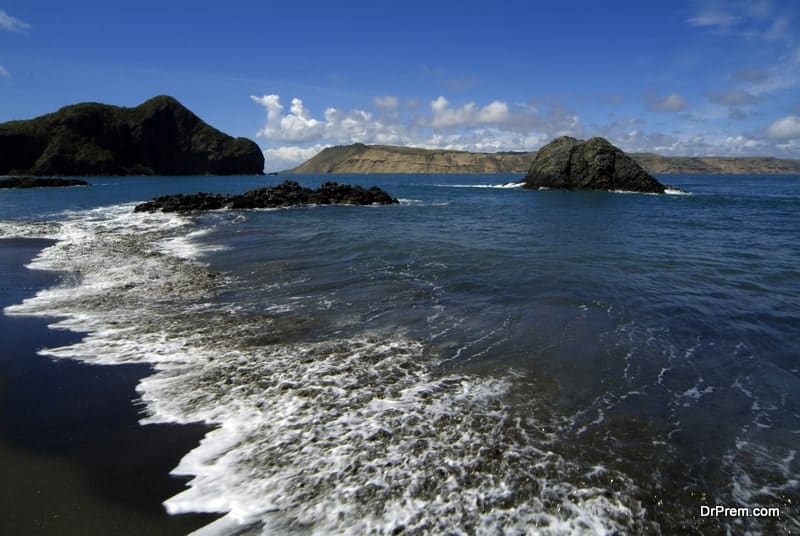 With so many popular beaches around Kaitarakihi, it's no wonder this is a quiet spot. Sandwiched between Cornwallis and Huia, the beach is accessed through a gate,
Getting there: Turn left into Kaitarakihi Rd off Huia Rd just after Cornwallis Rd.
2. Charcoal Bay, Beach Haven
Charcoal Bay is perhaps the most beautiful in the inner Waitemata Harbour. It's not signposted, but a relatively well-formed and newish track drops down to Charcoal Bay from Rosecamp Rd through a stand of native bush and mature pines.
Getting there: Park opposite number 31 Rosecamp Rd, Beach Haven and walk down the track in the unmarked reserve.
3. Mercer Bay, west coast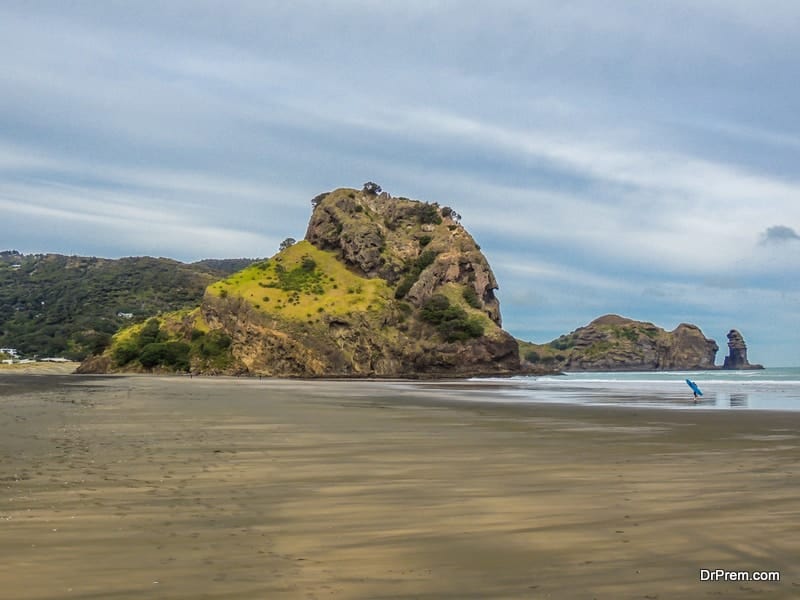 If you think popular west coast beaches such as Piha and Karekare are wild and remote, you ain't seen nothing yet. Mercer Bay eclipses them all.
Getting there: Park at Karekare Beach. Walk north along the Colman's Track and then the Mercer Bay Loop Track. The steep rugged and rocky track to Mercer Bay turns off at the north end of the bay.
4. Wattle Bay, Awhitu
Two of Auckland's best secret bays are called Wattle Bay and both are on the Manukau Harbour. This one is a 60-minute drive from downtown Auckland, on the Awhitu peninsula.
Getting there: Take Wattle Bay Rd from Orua Bay.
5. Wattle Bay, Waikowhai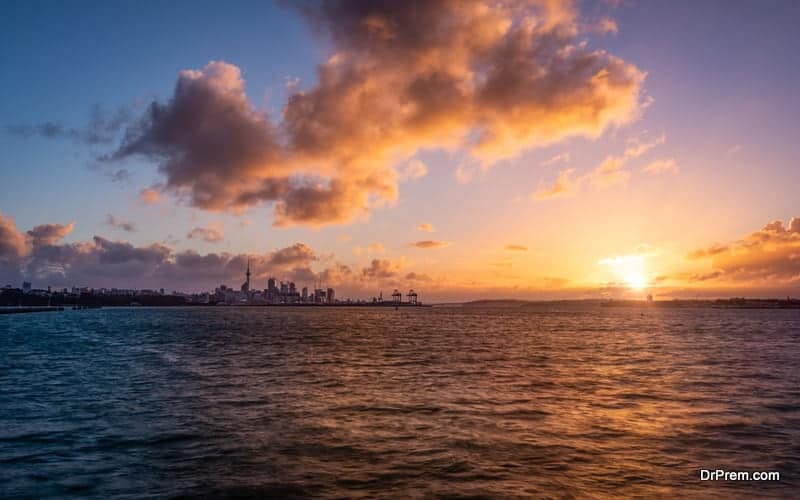 Wattle Bay on the northern Manukau was once home to a rag-tag bag of illegal beaches until the council cleared them a few decades ago. It's not just humans that appreciate this corner of the Manukau Harbour. Kereru abound.
Getting there: Park between 34 and 36 Canberra Ave.
6. Rahopara Beach, East Coast Bays
Summer and winter there are people on the numerous big beaches spanning the coast from Long Bay to Cheltenham
Getting there: From Kennedy Park on Beach Rd, Castor Bay, walk 75m south to the first gun emplacement. A path leads to stairs to the beach.
7. Anchor Bay: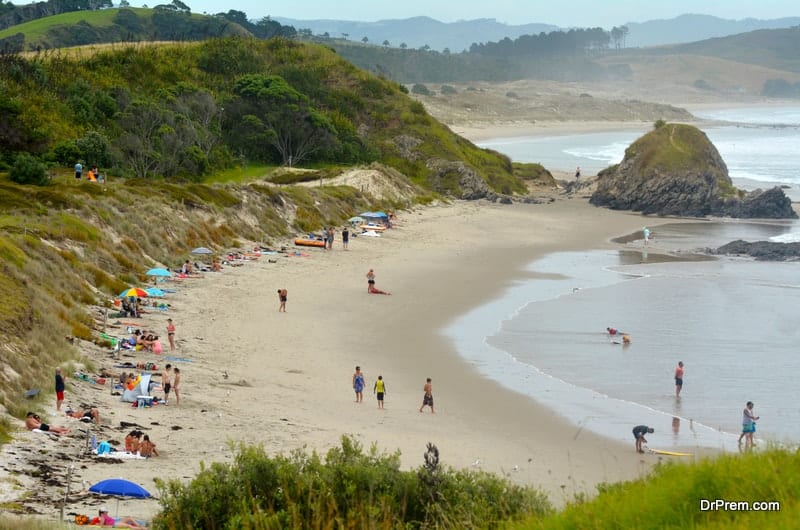 This breathtaking beach with white sand cover is peacefully nestled within Tawharanui Regional Park. It attracts hikers and surfers and a perfect secluded setting for those looking for private time.
Getting there:  One hour drive from Auckland city.
8. Esplanade Reserve beach, Pt Chevalier
Often noticed the people kite-surfing and swimming at Eric Armishaw Park, seen from the Northwestern motorway between the Patiki Rd and Pt Chevalier exits.
Getting there: Go to the car park at Eric Armishaw Park at the very end of Walker Rd, Pt Chevalier.
9. Orewa: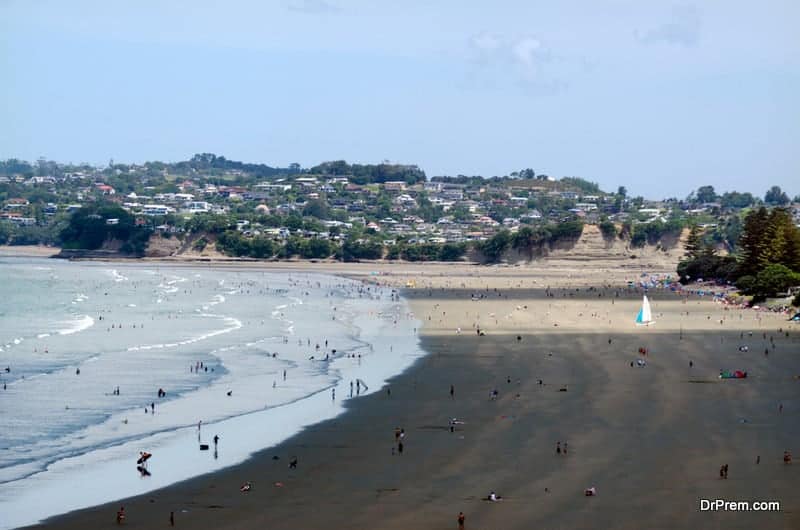 The 3 km stretch of this stunning northern beach is a big hit with locals. Its flat nature makes it convenient for families, joggers, kite surfers and surf crowd.
Getting there: Right at the heart of the Orewa town about 30 minute drive from Auckland.
10. Waipiro Bay/Te Rau Puriri, South Kaipara Peninsula
If you're looking for truly secret beaches, go remote. And in the Auckland region you can't get much more remote than the South Kaipara peninsula
Getting there: From Parakai take Parkhurst Rd and then South Head Rd. After Donohue Rd lookout for the Te Rau Puriri sign and carpark.
11. Piha:
One of the remarkable beaches of Auckland in the western coast. A haven for surfers and photographers. Strong currents make surfing an adventurous activity. The Lion Rock splitting the beach into two sections keeps the shutterbugs busy.
Getting there: 45 min drive from Auckland city.
12. Kelvin Strand beach
There's nothing like a long peninsula to keep the masses away from lovely little beaches. Kelvin Strand beach almost at the tip of the Te Atatu peninsula is one such hidden treasure.
Getting there: Access from Kelvin Cres off Gill Rd.
13. Bethells Beach: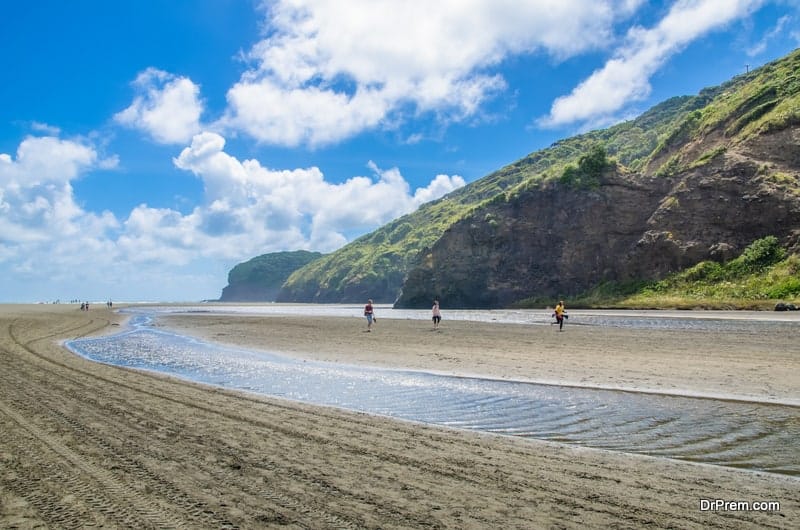 Suitable for the surfers than swimmers even though brave hearted swimmers can give a try. Its signature black sand, incredible caves, rough waves and sand dunes makes it one of the coastal marvels of Auckland.
Getting there: More than one hour drive by bus or train from Auckland.
14. Tawhitokino, south east Auckland
Tawhitokino is an unspoiled stretch of sand in a series of beaches between Orere Pt township and Papanui Pt, on the south-east coast near the Firth of Thames.
Getting there: Drive past Waiti Bay to the end of Kawakawa Bay Coast Rd. Follow the Tawhitokino track around the rocks and over Papanui Pt to the beach.
15. Karekare: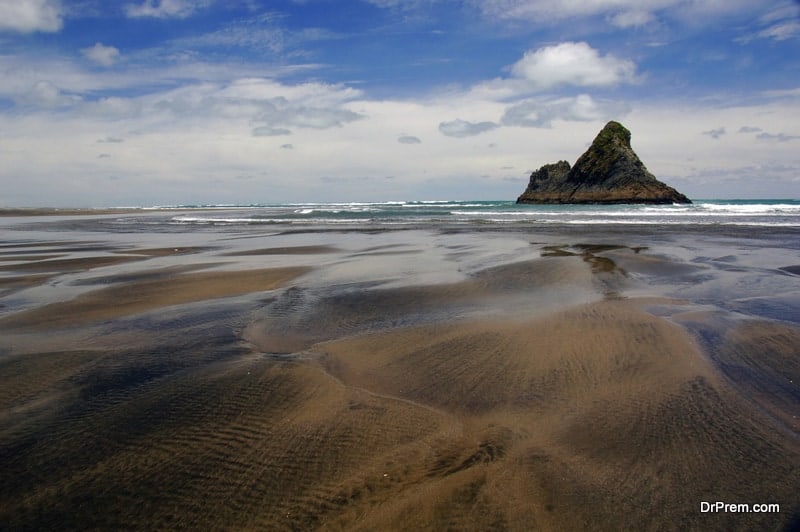 Choppy waters of the beach won't disappoint you as the amazing scenic beauty is there as a bonus. Little bit isolated, it is located a few kilometers south of Piha. Karekare waterfalls located at a walking distance is a bonus for you.
Getting there: No direct transport from Auckland. You can take a train to Glen Eden Train Station and then a cab to Karekare. Else take a line bus to 54 Castleford Street and then a cab to Karekare.
Auckland activites – Top 10 Things to do in Auckland
Auckland is a natural playground of sparkling waters, iconic volcanoes, beautiful beaches and lush rainforests and they are free to explore. If getting into the wild is not your thing, you can discover the region's rich culture and history.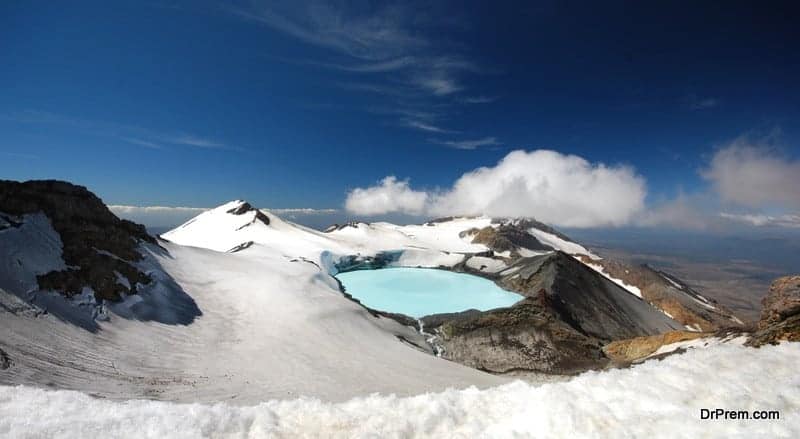 Climb a volcano: Mount Eden is the highest natural point in Auckland and offers stunning 360-degree views of the city. The volcano's 50-metre deep crater and surrounds have an important Maori history.
Surf and sand:  Auckland's beaches range from the wild surf and black sand of the rugged west coast to sheltered bays and long stretches of smooth white sand. Discover your favourite Auckland beach today.
Wildlife encounter: Goat Island is a protected marine reserve and one of New Zealand's top snorkelling and dive spots. Swim amongst the colourful fish or take a trip out on a glass bottom boat to view the sea life.
Find a hidden gem: The restored heritage Manukau Heads Lighthouse sits proudly on the very tip of the Awhitu Peninsula overlooking the turbulent ocean. This lighthouse is one of only a few in New Zealand you can actually climb to the top of. Gates are open from 9am to 5pm daily. Free but donation appreciated.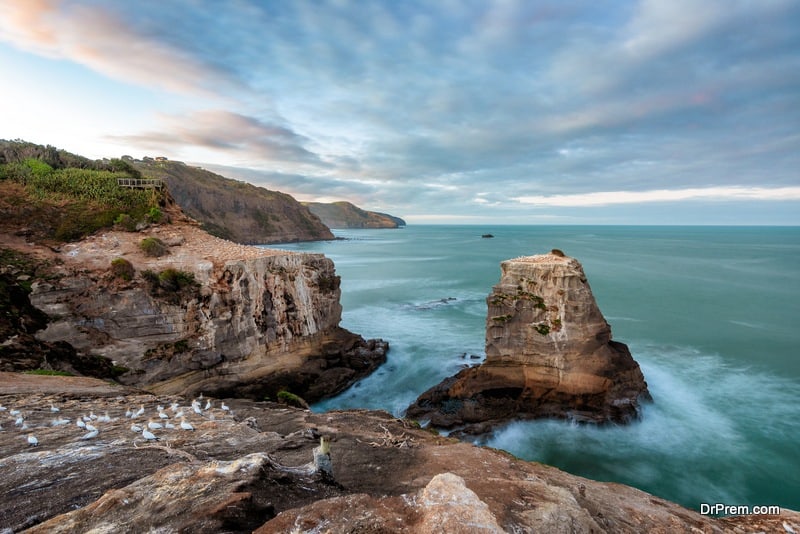 Get close to nature: View the huge gannet colony at stunning Muriwai Beach, where over 1200 pairs of gannets nest on the rugged cliff tops. There are two viewing platforms so you can get up close.
Take a walk: Auckland has a huge number of walking trails throughout the region, from leafy tracks through native bush to energetic hikes with magnificent views – there's something for every age and fitness level.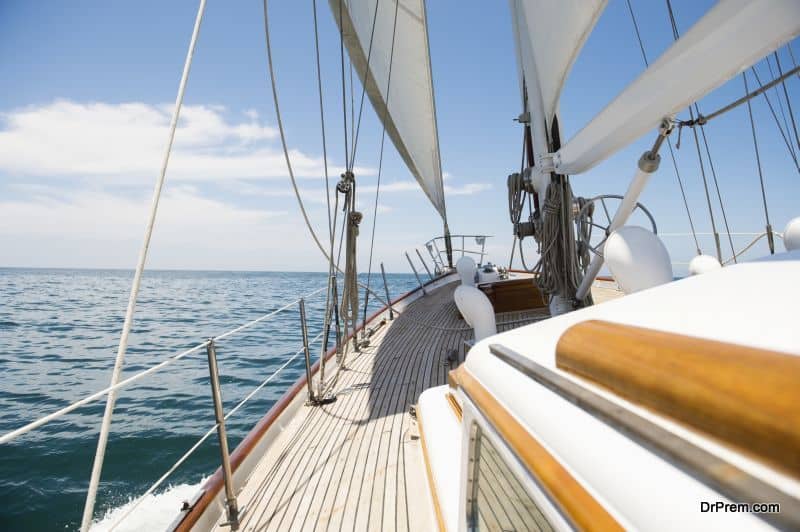 Watch the sails: Auckland's harbour is full of boats of all shapes and sizes and Wynyard Quarter is a great spot for sail watching. You can also enjoy sculptures, boardwalks and a marine-themed playspace.
Join in the fun: There are lots of free events on in Auckland throughout the year, from live music and outdoor movies to major cultural events like the Pasifika Festival, the Auckland Lantern Festival and many more.
Step back in time:  The Domain, Auckland's oldest park, has formal gardens, ancient trees, miniature waterfalls and leafy walks. Ideal for strolling, jogging, picnics and sports, the park also has regular free music events.
Wynyard Quarter: Wynyard Quarter is the latest extension of Auckland's waterfront – discover new public spaces brought to life in an authentic maritime setting.
Top picks: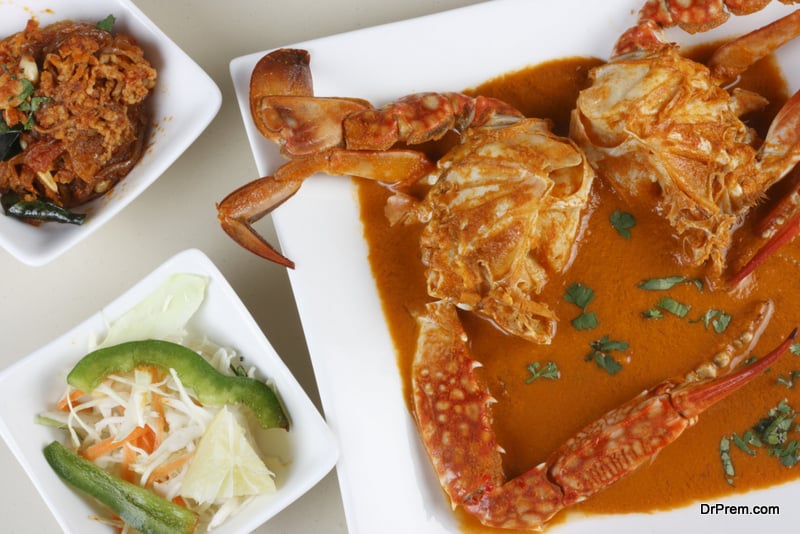 Visit Auckland Fish Market for a wide range of fresh seafood
Dine at one of the North Wharf restaurants for the freshest waterside dining in town
Take the kids to play in the maritime themed playspace Climb aboard Auckland Dockline
Trams and take a ride around Wynyard Loop
Make sure you scope out the newly opened waterfront space at Wynyard Quarter – a fresh urban location for visitors to enjoy. The area stretches from the Viaduct Harbour to Westhaven marina.
Stroll or cycle over Wynyard Crossing – the bridge that connects Te Wero Island at the Viaduct Harbour to Wynyard Quarter. The bridge rises to let passing boats through.
Destinations in New Zealand that top the to-go-to list
This small country is a great tourist destination thanks to its moderate climate with many hours of sunshine. The country has a variety of landscapes and is rich in nature flora and fauna. If you are planning a trip to this gorgeous country then here are some pointers on places that demand a visit.
Waiheke Island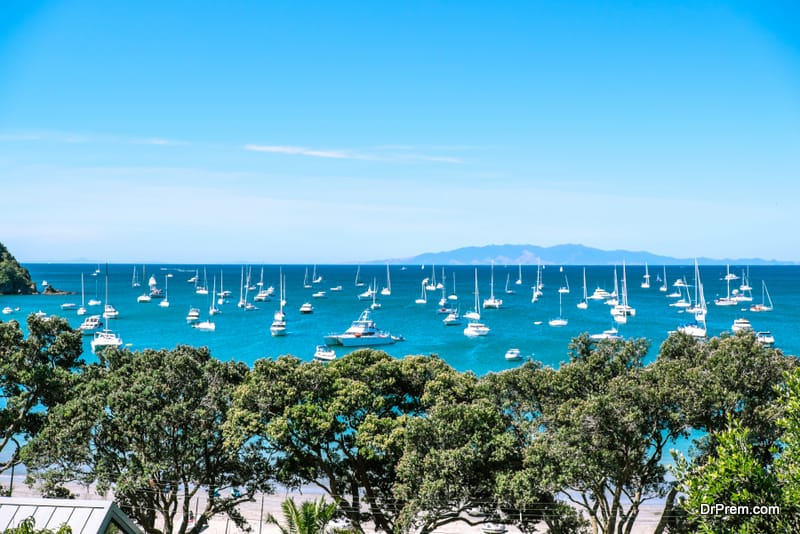 For visitors of Waiheke Island, there can never be an end to thefun. With vineyards, olive groves, sunny beaches, craft galleries, adventure sport, culinary delights and much more to offer, these are the ideal vacation spot when you are in New Zealand. Reaching the island is simple, just take a ferry ride from downtown Auckland and 35-minutes later you find yourself on a beautiful island. While on the island you can also enjoy bars and other entertainment centers, signup for tours and team building activities, sailing, diving and more.
Wellington
The "coolest capital", Wellington has a great outdoor scene. Full of restaurants, cafes and bars that are the social hubs, the city also has a vibrant art and culture and a very flamboyant lifestyle. At Wellington, you get the perfect blend of the village-like warmth and the city-like sophistication.
Milford Sound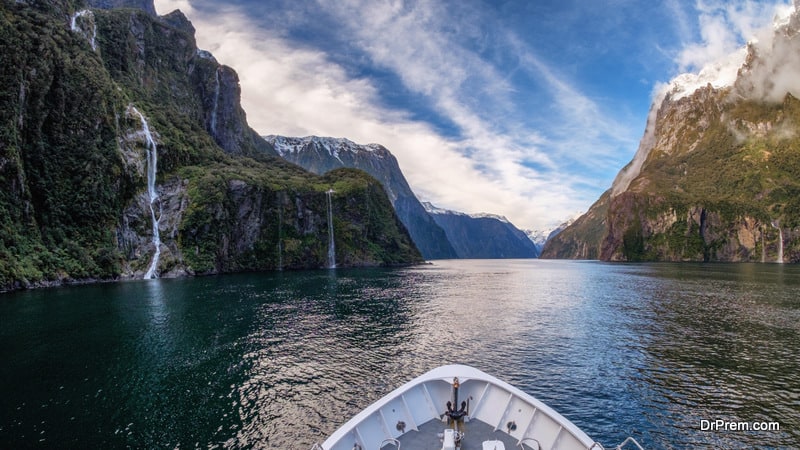 In the south-west corner of New Zealand's South Island is the densely concentrated Milford South. The majestic Mitre Peak is 5,560 ft and rests in the center of it all. Five peaks culminate into a single arrow-headed summit and creates a perfect background for photographs as well as first-hand experience of trekking. Rudyard Kipling called it the "eighth wonder of the world". Milford Sound receives high tourism in the months of December-January and February. March and April are a good choice if you want a decent weather and lesser crowd.
Queenstown
Queenstown offers you everything and beyond in relaxation and fun activities. The favorite tourist destination in the country, it is set on the shores of the Lake Wakatipu and is surrounded by mountains on most sides. To make sure you enjoy your visit there are a number of fun activities like sightseeing and land tours, skiing and snowboarding, fishing and other sports, water adventures, biking, hiking and much more. The restaurants and takeaways in Queenstown are just as amazing as the bars and cafes.
Aoraki Mount Cook National Park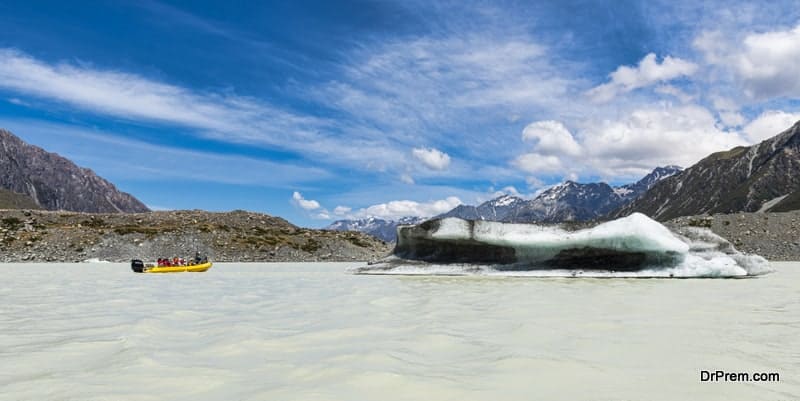 The Aoraki Mount Cook is the highest mountain in New Zealand. The place has several other high peaks for all trekking enthusiasts. When there, you can go kayaking on Mueller Lake for a once-in-a-lifetime experience, walking around the natural retreat, tramping, skiing, and mountaineering. The provision of air safaris can leave you amazed when you get a flightseeing tour of all the major mountains and glaciers. The national park offers you with the provision to set camp right in the middle of all the natural attractions .Weather in this region has a tendency to shift rapidly, so all travelers are advised to prepare accordingly.
Christchurch
A place of innumerable variations, Canterbury extends from the oceans to the Alps. The Canterbury region offers something for everyone, whether you are a shopaholic or a nature enthusiast, the place will cater to all your needs. There are a number of boat cruises where you can watch glacial lakes and go dolphin spotting.
Activities in New Zealand

New Zealand has so much to offer that you will be running out of breath catching up on everything. You can enjoy skiing, bungy jumping, snowboarding, jet boating, hiking and more when you are in this beautiful country. You can enjoy walking around the landscapes in the national parks of New Zealand or signup for mountain biking and cycling trails. Each corner of this country has something to add to your vacation adventure.
New Zealand offers fun-filled adventures and serene landscapes together on an open platter for its visitors. There will hardly be a dim moment in your trip to this beautiful country.