Maldives is very famous as Maldive Island and is known to have 26 atolls. In this place, you can enjoy the deep blue seas featured with great reefs, diverse vegetation and white sandy beaches. It is the best tourist destinations to relax and also an awesome place for spending your honeymoon time. The country has an interesting historical background. Early dwellers of this land were primarily Dravidians hailing from Sri Lanka and South India. It is even believed that Jats, Gujjars and Sindhis from North India also contributed to the early Maldive population.
According to the oldest historical account available, Buddhism was propagated during the reign of Emperor Ashoka. It remained the dominant religion till 12th century when Islam pervaded the country.  There are many tourist attractions but the top 10 historical places of Maldives are mentioned below.
Guide to top 10 historical places and beaches in Maldives and exciting things to do
Top 10 historical places of Maldives:
1. Biyadhoo Island Resort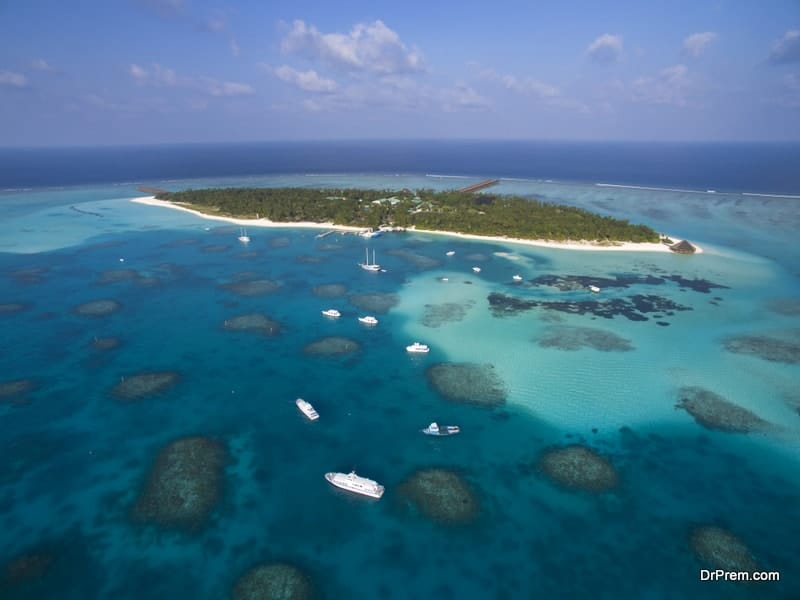 This is a very calm resort and the best reef house. You can experience a lot of things here like snorkelling, diving and a lot more. There are over 35 diving spots here. If you are looking out for an ideal place for relaxation, this could be the best place for you. You can also get the best dining and accommodation facilities here.
2. Utheemu Ganduvaru
This residential place of Sultan Mohamed Thankurufaan is one of the famous historical places of Maldives. He is known to be the hero of this place and has found a place in the history of Maldives for his daring actions and also for saving the people of Maldives from the Portuguese conquerors.
The visitors will be fascinated by the 500-year old wooden interior décor of this palace. Intricate wooden carvings, swing beds to keep cool during summer, oil lamps and a large thatched shed used as the sleeping room for guests are other attractions.
3. HP Reef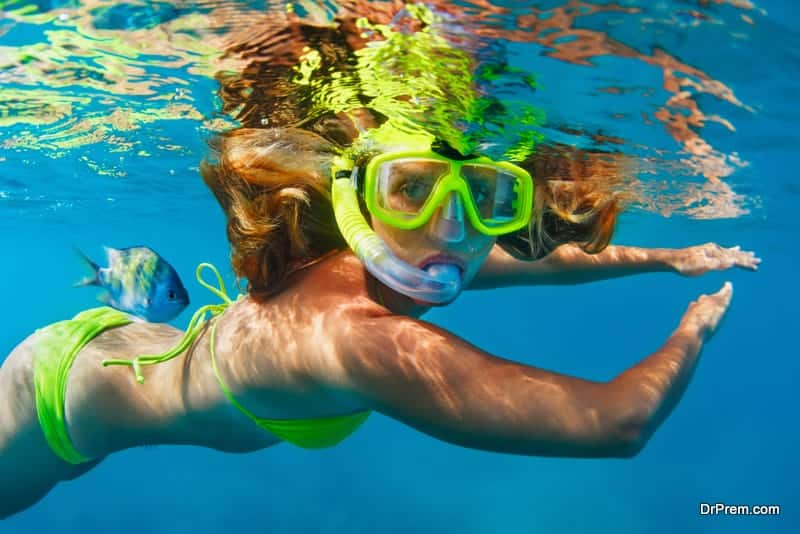 This is known to be one of the best diving spot in Maldives. In this place, you can explore a lot of colourful fish and the magnificent coral reef formations. If you want to look into the numerous marine lives beneath the waters, then this is the right place for you.
This reef is known to have the shape of a banana that spreads over 300 meters from north direction to south direction. Variety of marvellous marine life can be found here that include Moray Eels, Napoleon Wrasse and also the rare Banner fish.
5.  Manta Point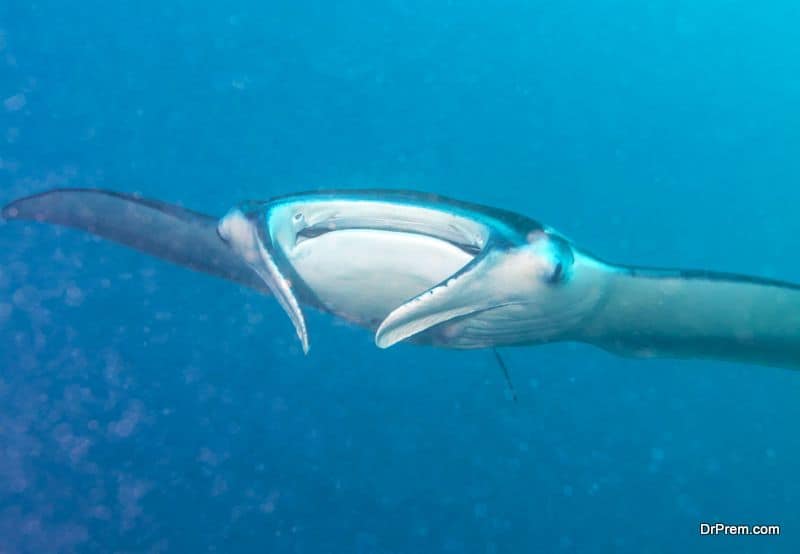 In this place, you can find many manta rays being nourished and also washed by wrasses. Even you want a splendid sight of manta rays, this could be the right place for you to spend your leisure hours.
This place provides you with the best diving experience and also gives a pleasant sight of the lovely aquarium. Here you can find rich green plantation that is surrounded by shores and many other lovely areas. When you spend your time in this island, you can experience a brilliant 5-star atmosphere. 
7.  Sun Island Resort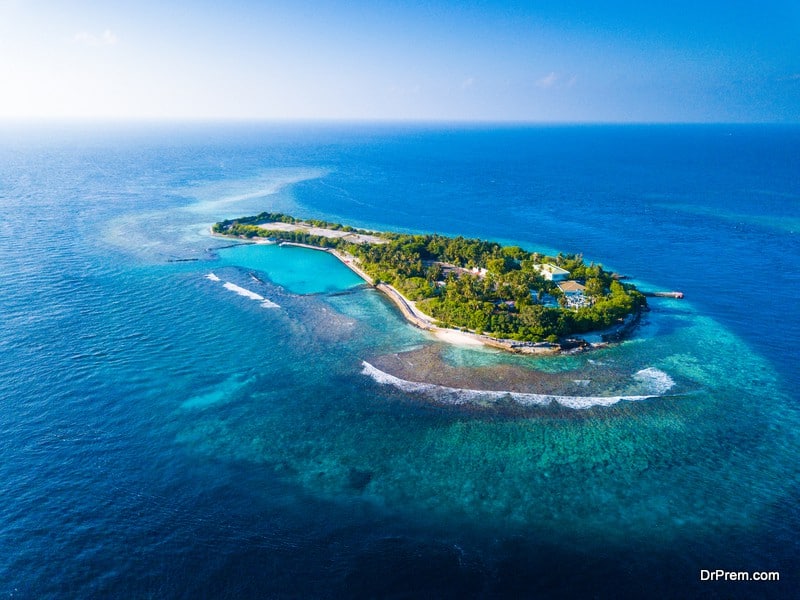 This is a wonderful place where you can have the lovely sight of the amazing greenery, tropical flowers and superb lagoons that will surely be loved by you. This resort provides you with the luxurious stay with wonderful facilities for a pleasant stay. You can experience a different way of island living, with this resort.
8. Hukuru Miskiiy 
This place also very renowned as Old Friday Mosque is another historical place of Maldives. In the island, this is considered the oldest mosque dating from 1656. The interior of this place is extremely appealing. It was designed with the help of coral stones and different patterns of Arabic scripts are carved here. You can also find tombs here that have been constructed on account of the memory of various heroes and Sulthans. You need to maintain a conservative dress code to enter the mosque.
9. Bluetribe Moofushi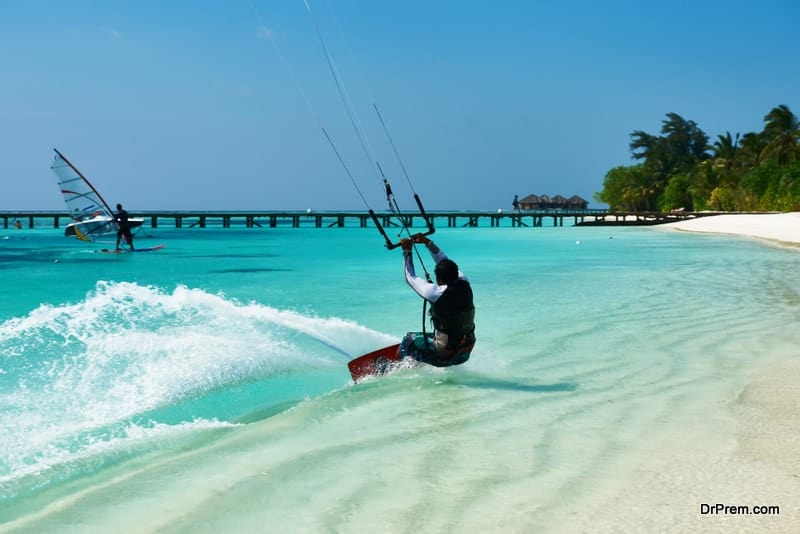 This is the best place for you to experience numerous water sports activities like diving, kayaking, windsurfing and a lot more. You can also spot different animals here like manta rays, whale sharks and many other varieties of fishes. Hence, overall it will add to a wonderful experience of exploring the best marine life.
10. National Museum
This museum is located in Male and you can find a lot of historical artifacts here. The building gifted by China may be fiercely ugly but has a lot of historical value. This is a 3 storied museum that belongs to Maldivian Royal Palace. Unfortunately, in 2012, this building was brought down by religious extremists leading to the destruction of precious ancient Buddhist stone carvings and other items. The latest museum is known to be planned by the Chinese Government.
Maldives beautiful Beaches – Top 10 beaches in Maldives for a lovely leisure
Spending time in the best beaches of Maldives can be the best for you to spend lovely time. This is one of the very popular tourist destinations for this purpose. Below mentioned are the top 10 beaches of Maldives, which are the best tourist attractions as well.
The Rethi Rah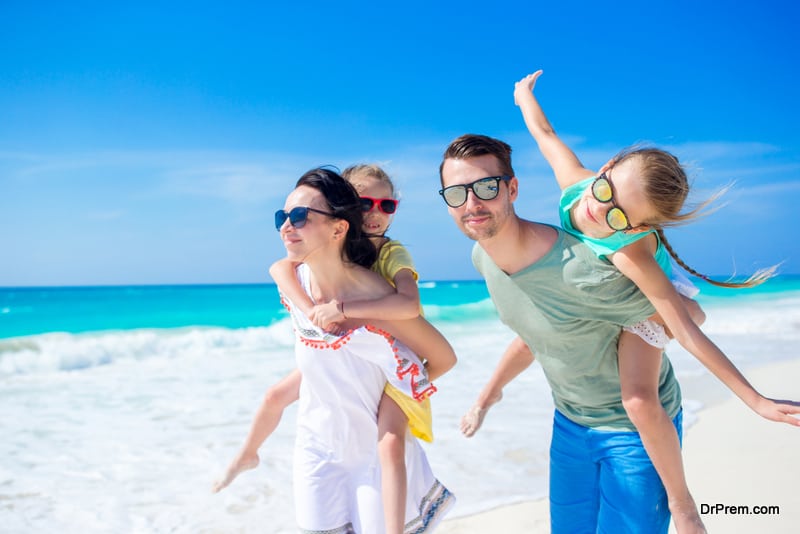 This is a great beach for your family to spend lovely time. From the speedboat, you can reach this place within an hour from the capital city. The resort here is very beautifully designed and is extremely perfect for kids. The resort is known to have 130 villas, out of which 98 are along the beach and 32 are in the lagoon. You can enjoy the serenity of this beach by savouring the delicious food in 3 restaurants here that serves lovely Indian, Japanese and Maldivian cuisine. Also the spa facility is the best here.
2. Cocoa Island Beaches
The various beaches on this island are really exotic. The underwater life and also the turtles can be a great sight to watch here. With the awesome facilities provided by the resorts of this place, it is very sure that you will have a wonderful time.
3. Nalaguraidhoo Island
This place is also known as Flower of the Indies. This is a very beautiful garden that consists of breathtaking setting, amazing gardens and sapphire blue water. You can also enjoy diving, snorkelling and kayaking here. This is the best place for relaxation and will make a perfect holiday for you.
4. Veligandu Island
This island provides a very good view of the sunset. It is one of the best place for the honeymooners as the place is very romantic. The resort of this place provides you with the best facilities and can enjoy the marine life to the greatest extent. You can get introduced to the latest Jacuzzi Water villas. This golden sand beach is sure to be admired by you.
5. Kuredu Island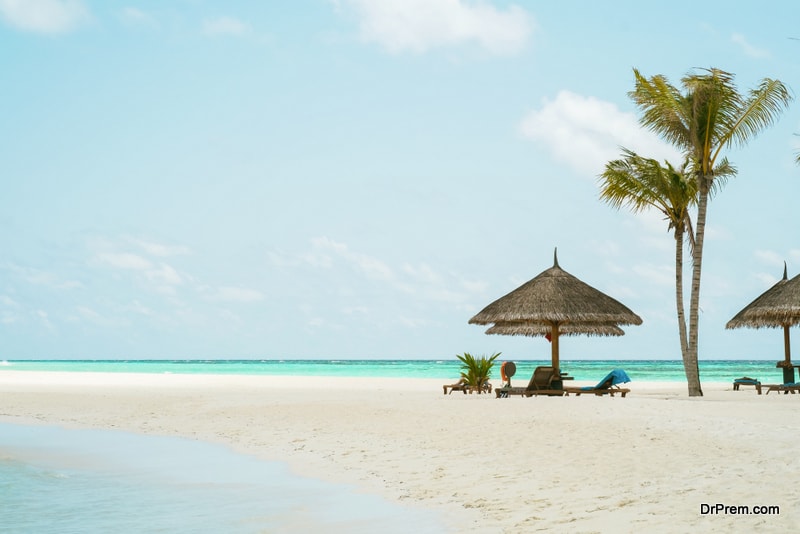 This is known to be a wonderful island in the entire world. This island is the best for divers and the resort here also provides diving classes. By this, you can get greatly benefitted. You can also spend your leisure here by engaging in various activities like parasailing, catamaran sailing, wakeboarding, kite surfing, windsurfing and a lot more. You can have the best time relaxing here y sleeping and eating delicious cuisine.
6. Nika Island
This island is surrounded by shallow lagoon and beautiful reefs. The sea shore of this place looks the best with white clean sand and also the amazing blue water. Scuba diving and snorkelling in this place can be a great experience.
7. Kunfunadhoo Island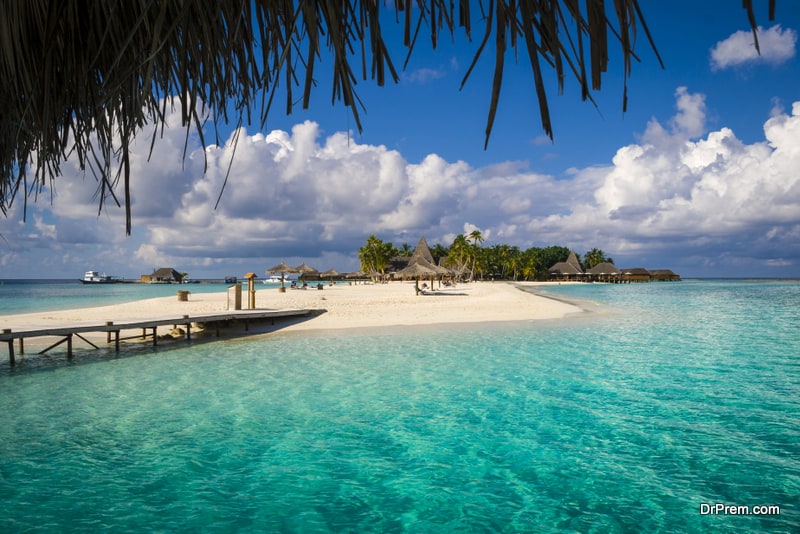 This is a small private island and a white sand beach that is the best for people who want to spend their honeymoon. The Six Senses resort of this place provides you with the amazing spa facility and you can also engage in various water sport activities that include sailing and diving. Cruising on the luxurious cruise vessels can be a wonderful thing here.
8. Vabbinfaru
The beautiful corals surround this island to create a wonderful and romantic view. This place is also used for the purpose of conservation and for this reason, you can view many animals in this place as well.
9. Ihuru Island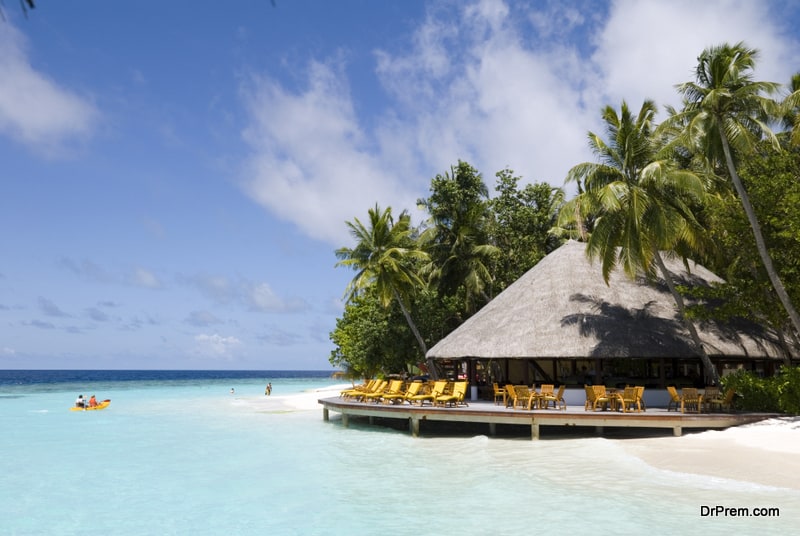 This island surrounded by the blue waters can be a perfect destination for a lovely vacation. The green turtles are very famous in this place. Angsana Ihuru is a luxurious resort located here that provides you with a lovely sty with the best food wine. Also the wonderful spa facility here, will make you feel extremely relaxed. This is a romantic place that is perfect for the honeymooners. 
10. Nalaguraidhoo
The turquoise water of this place creates a lovely view along the white sand. This is a wonderful beach for those who want to explore canoe, jet-ski and windsurf.
Top 10 things to do in Maldives
Maldives is one of the hottest tourist spots in the world and tourists get the maximum fun and entertainment at this place. The exciting attractions, activities, places, eateries and wildlife sanctuaries in Maldives make it one of the best tourist destination in the entire world. There are several things that you can enjoy however if you are still confused, here is a top 10 list of the best things that you can do in Maldives:
Sport water activities:

Maldives is known for its water bodies thus indulging in water activities can be one of the most favorable options for people visiting the place. Scuba diving and snorkeling are some of the major activities that one can indulge in. This activity is specially planned for honeymoon couples who are taken to the world under water together tied in a rope.

Sightseeing:

Maldives has a number of historical places and buildings that are worth a visit. So if you are in Maldives, do not forget to visit the famous historical buildings of the place. Hukuru Miski and National museum are some of the places that you should definitely go to.

Flora and Fauna:

The underwater flora is one of the most exciting sights that you must look for! If you are interested you should definitely pay a visit to marine parks where you can find hundreds of species of fishes and other underwater creatures.

Fishing:

Fishing is a relaxing activity for most of the people. So if you have planned a relaxed trip to Maldives, fishing can be one popular activity that you can indulge yourself in. There are several fishing points in Maldives and you can easily explore them.

Experience the night life:

Night life in Maldives is fun and it would be a big mistake if you visit the place but did not enjoy the night life. There are several bars and disco in Maldives that will allow you to loosen yourself and enjoy the feel.

Island hopping:

There are a number of islands surrounding the place. So if you are visiting the place for fun and leisure, you can definitely start hopping from one island to another and enjoy the feel of visiting this great place. The scenic beauty and local lifestyle in Maldives is worth a watch.

Massage at spa:

After the tiresome exploration work done, it is important for you to get relaxed and loosen all your muscles. Maldives is known for its exquisite spa and lifestyle. The variety of spa in the Maldives will astonish you. A rejuvenating spa and freshening up session is a great idea while you are vacationing.

Let your taste buds fly:

Maldives is known for its flavorsome cuisine. So once you are in Maldives, do not forget to taste the best food of the place. Start your day with an authentic Maldivian breakfast. The place also has some of the best restaurants that can cater you with the best food in the neighborhood.

Live on live aboard:


Diving can be most fun when done from the live aboard. Enjoying the scenic beauty of the place on a live aboard can be the most fun activity to do in Maldives.

Enjoy the fun beaches:

Beaches in Maldives can be big fun and enjoying the beaches is one of the most popular activities among the tourists. You can sit back and relax under the sun or watch the fun crowd surrounding you!