Yoga as a discipline gives equal importance to intellectualism, fitness as well as spiritualism. In this regard, being a Yoga teacher is not only about being pedantic or physically impressive. It has more to do with your balanced psychological state of mind, which in turn harmonizes your physicality. This helps the teacher to be fearless, creative, and passionate, and more importantly, gives him/her the ability to connect to the students at a deeper 'personal' level.
Yoga helps in maintaining the right mind-body balance to keep away stress and other lifestyle diseases. Therefore, it is no wonder that most wellness resort businesses include yoga as a must-have program in their menu.
In this guide you will read about:
Guide on How to Become a Yoga Teacher – Essential Qualities, Certification, Best Yoga Training Centers and Other Tips
Essential qualities one should have to become a Yoga teacher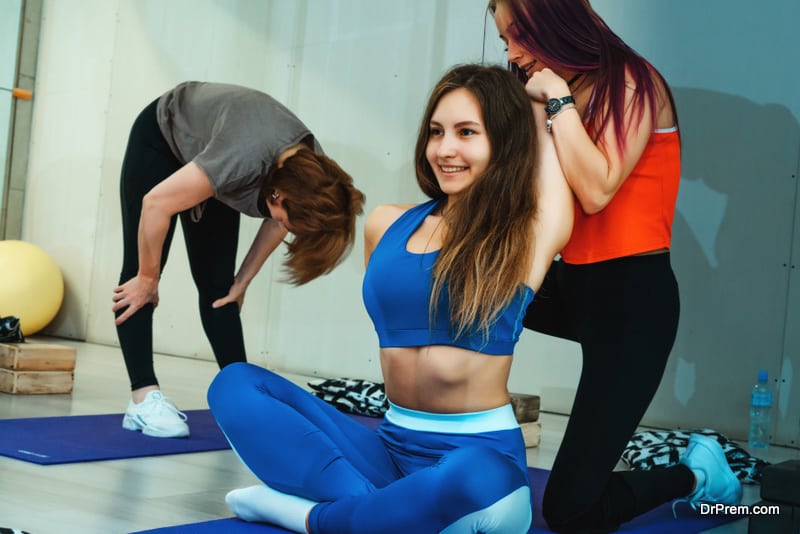 Take a look at the qualities one must possess to be the effective yoga teacher everyone wants in their life. Any wellness retreat in India or wellness retreat in the world look for yoga instructors who are well-balanced and display the qualities and attitudes mentioned below:
Creativity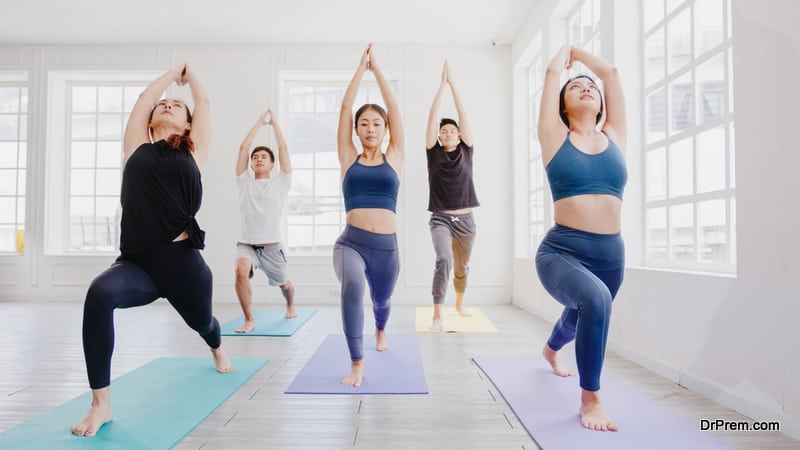 Yoga in its multitude of different forms and styles allows people to practice it in their very own individualistic preferences. This in turn makes the 'job' of a teacher more creative in its essence; ranging from which style they would want to teach, which pose they would want to modify to which group of adherents they would want to instruct. Moreover, teachers do have to have the capacity to inspire their students. And, they have to do that in their very own creative ways. So, if you are a creative person, it would be easy to apply the training when you learn how to become a yoga instructor.
Courage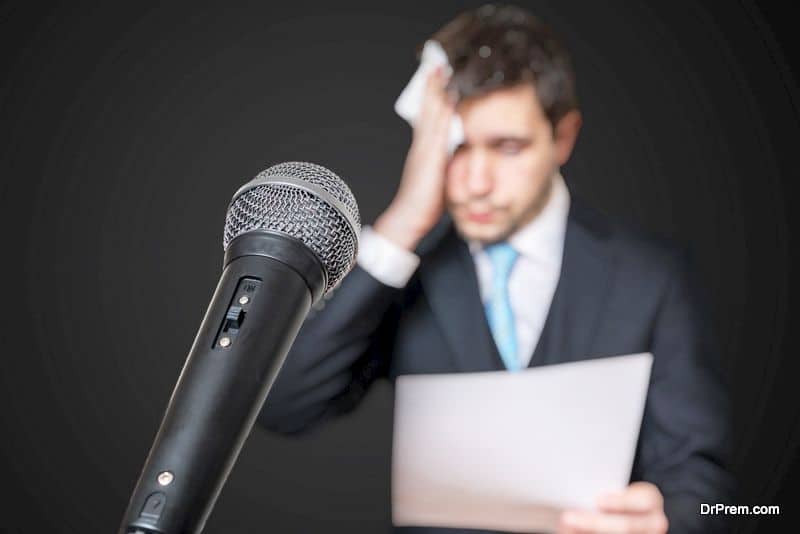 Many of us might have the phobia of speaking to a large number of people. However, as a Yoga teacher, you will have to conquer that fear, while you try your best to instruct and connect at an emotional level. This is where free expressions come in handy. The unabated flow of communication keeps the class disciplined yet flexible at the same time. So how to become a yoga teacher? By conquering your fear, building confidence, and the ability to address a large number of people.
Passion for Yoga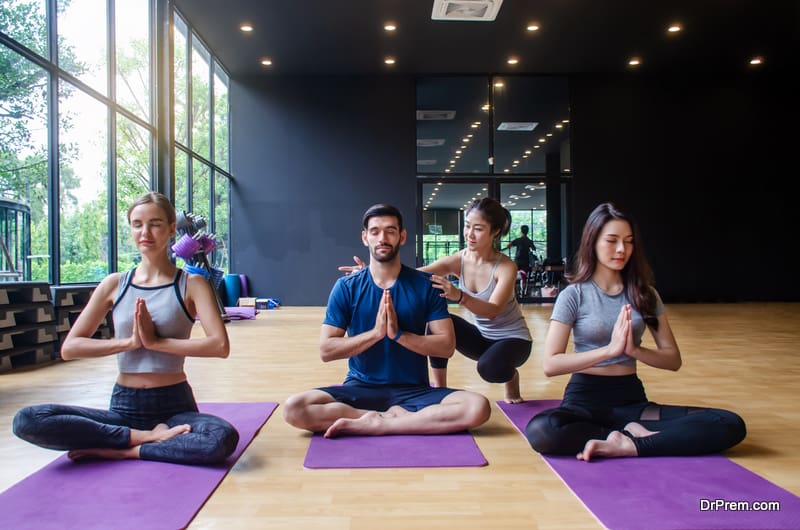 In fact, the intrinsic passion for the discipline of Yoga is what drives most teachers to give their best. In this regard, it is not enough to love Yoga, but it is pertinent to 'live and breathe' Yoga as a teacher. Only this intangible passion makes the teacher a true master of his/her craft, whether in the spiritual-theoretical scope or the physical-posture scope.
Ability to progress beyond mistakes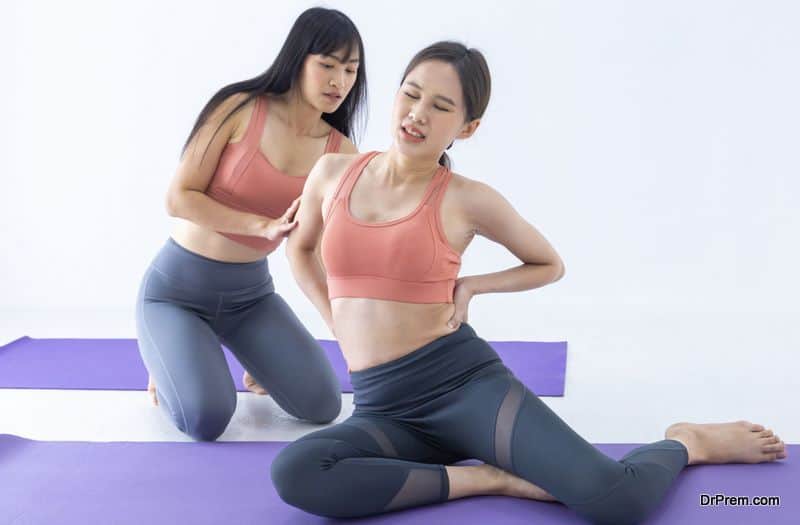 'To err is human' – making mistakes is a part and parcel of every profession. Teaching Yoga is no different, especially when you have a room full of meek beginners, a plethora of complex poses, and a requirement for deep concentration. However, in such cases, it is important to move beyond such mistakes (committed by you or by your students) and advance into the next move. This helps the flow of poses to be more organized, without the intrusion of delays and embarrassments.
Humility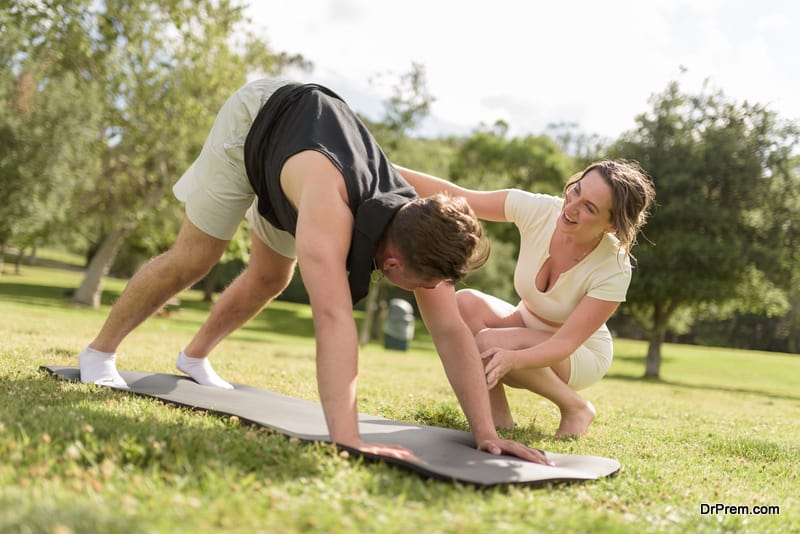 Related to the a forementioned point, it is highly crucial that you have the ability to laugh at your own mistakes. This makes the class less stringent, while the communication is maintained at a more friendly level. These not only lighten up the moods but also allow your students to absorb and reciprocate your values with a deeper conviction.
Yoga Training and Certification
You will find several yoga training and certification courses near you. You can become a yoga teacher without any certification or training but following a curriculum helps in setting the direction.The training duration may vary between 500-800 hours. Before enrolling, make sure to check the accreditation and reviews of this course.
Being a master in Yoga is not all about the training program or the institute, it is within yourself. The following points matter a lot to becoming a successful yoga teacher:
After the training or certification, if you stop practicing due to the unavailability of students or a job, you will not be able to pursue your career as a yoga teacher.
Continuity and consistency matter.
Your lifestyle
Your temperament and patience
Your future plans.
After Yoga teacher training, what's next?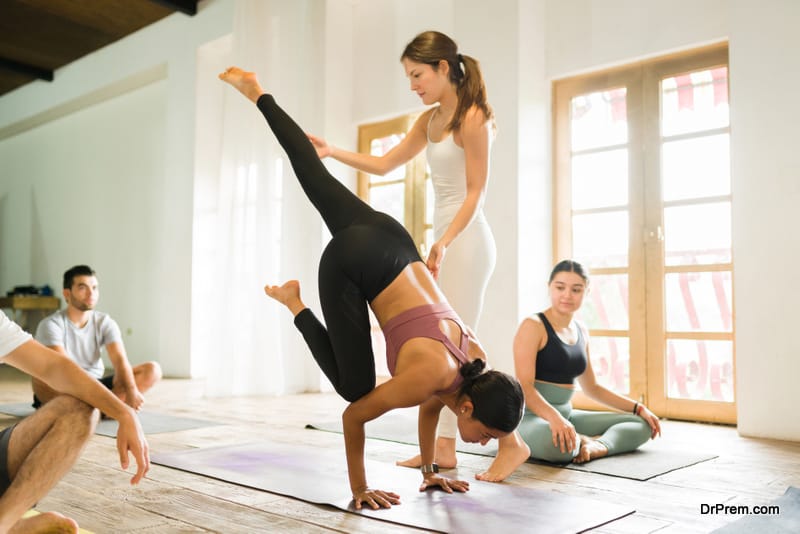 Most of the Yoga teaching graduates after getting their yoga instructor certification might have the same question lingering in their mind after passing out – 'what is the next step?' Well, practicality dictates that some of you would opt for other full-time jobs. However, given the huge and varied scope of Yoga and its steadily rising adherents, it could be worth your while to invest more time in teaching. In this regard, here are some steps that you can follow as you try to get your pass into the Yoga world.
Get hold of your certificate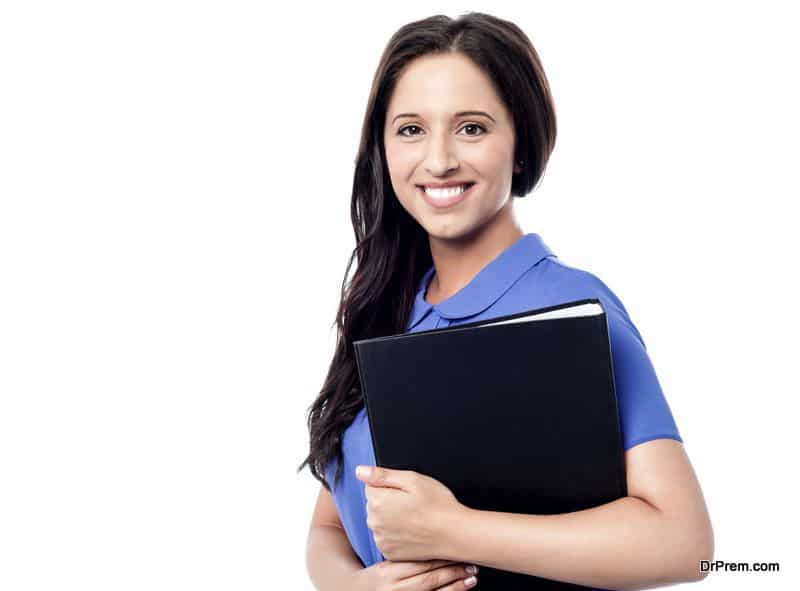 As a rule, the majority of the institutes do offer you a certificate on passing out. These certificates contain your attendance credentials along with the institute name and training details. So, it is always wise to make a few copies of the certificate; because they can come in handy when you are about to be inducted into some future training program.
Register as a Yoga Teacher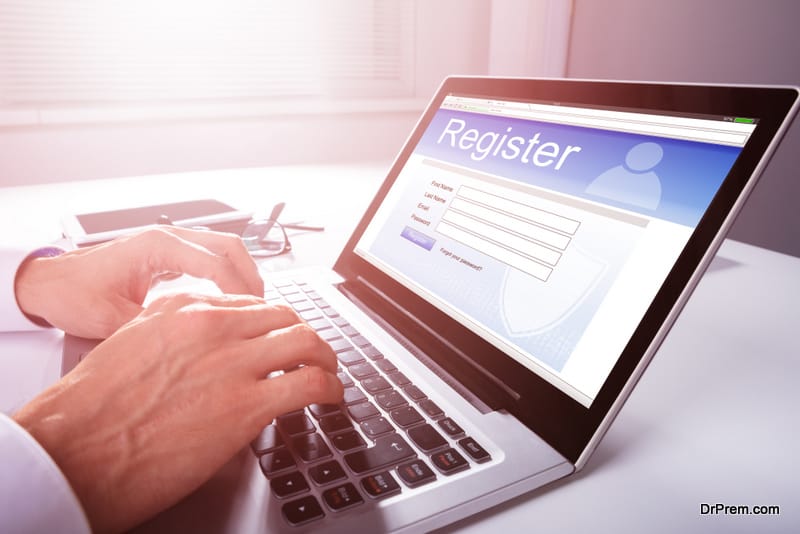 This is an obvious step, especially if you are serious about your Yoga oriented career. So howcan you start a career in yoga – the first step is to register yourself as a yoga instructor. For example, most of the Yoga schools in the United States are affiliated with Yoga Alliance. So, once you have passed out of your school, you should go online to the governing body's main website, and register yourself as a certified Yoga teacher with credentials.
Resume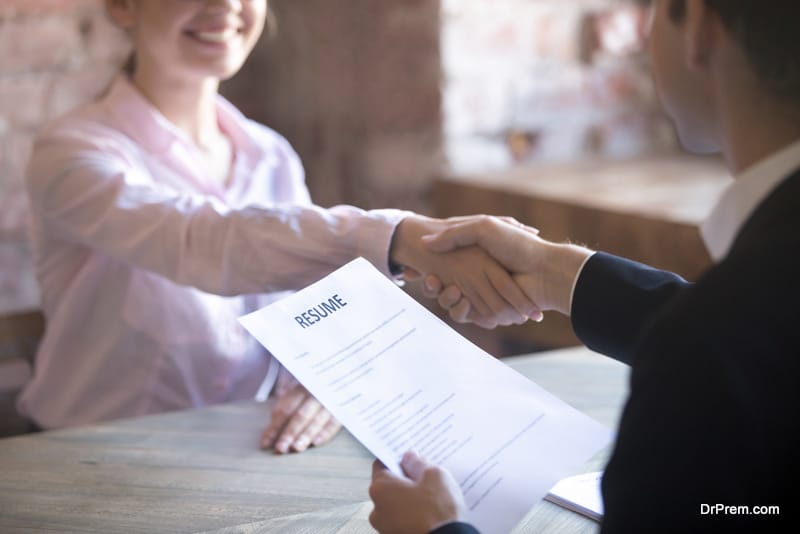 As with all jobs, it is highly important to create your very own resume. Most Yoga teaching resumes contain info about the person's experience in the field. However, for those of you who are about to start teaching and you want to know how to become an international yoga teacher– the first thing you should do is to mention your skill relating to some particular style. Moreover, you can also add statements that would outline your creativity and method of teaching Yoga poses.
Minimum rate
Yoga may be all about the fascinating balance of mind and body; but when it comes to teaching Yoga, in any wellness retreat in India or the world, you should also consider the financial issues. In this regard, it is very important to fix your minimum rate for future teaching jobs. Now, some of us might think that it is getting too ahead of ourselves (since we have not even started our careers!). However, the rate should be the outcome of a study undertaken by you. The study should concern all the local rates, the styles followed by local teachers, and their corresponding relations. This saves you much time when you start off with some particular style of Yoga.
Start assisting and teaching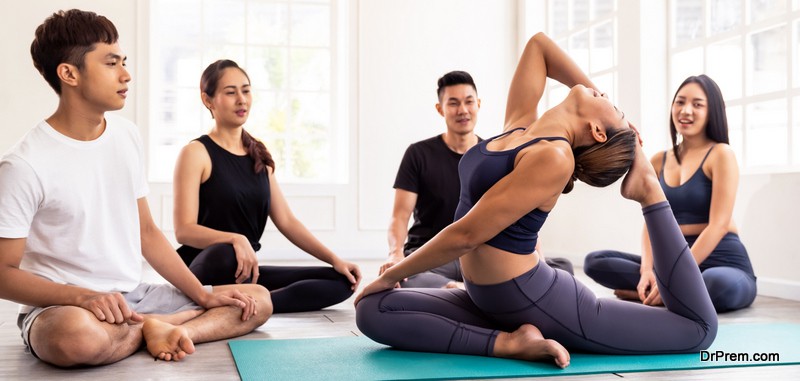 It is always good to get into the fray, especially since you can gain valuable experience when assisting other teachers. Moreover, it also helps you to build your own network, which comes in handy when you are about to go solo. Even teaching 'free' classes helps in bolstering your reputation as a teacher.
Yoga teaching tips for aspiring yoga trainers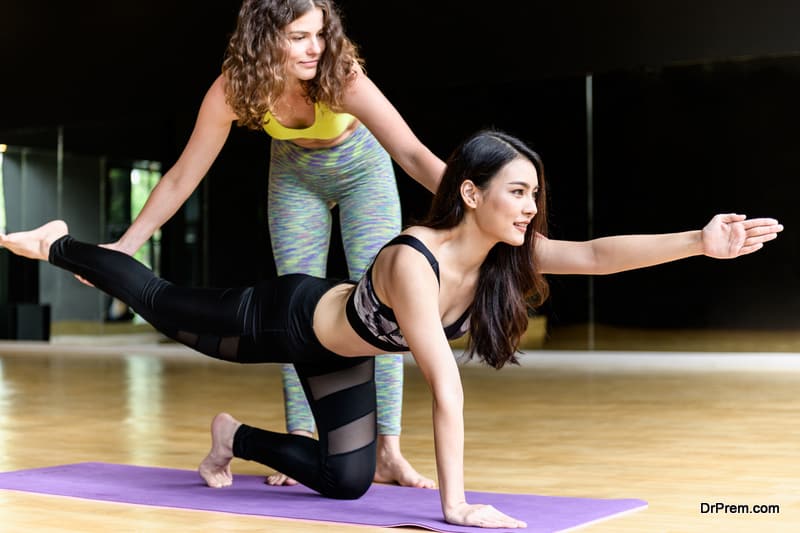 So, you have finally managed to stick your foot in the door, and are all set to gain entry into the world of Yoga teaching. But believe us, there are always some predicaments in a Yoga class, like amateurs looking for more complex poses or the slow ones tottering to match their moves with the fast ones. In this regard, before you start your teaching journey, it is always good to know a few pointers from the experienced ones in this field.
Stop assuming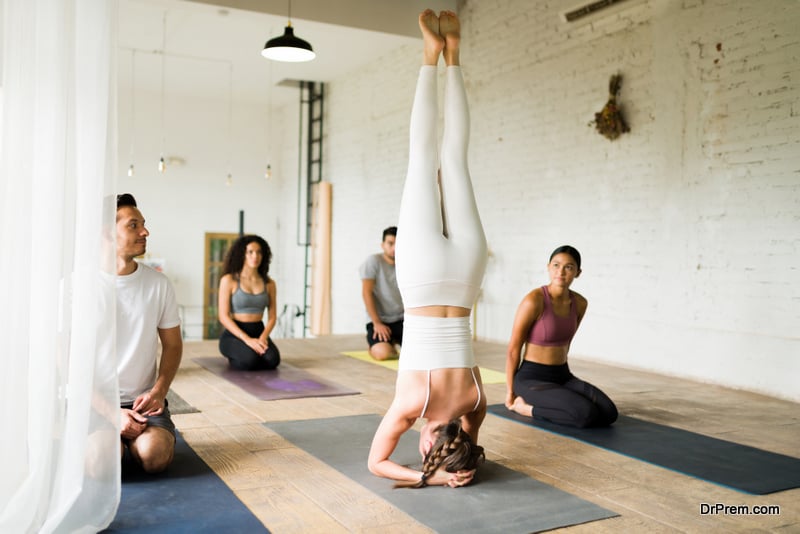 More often than not, you will have a class of Yoga practitioners with mixed experience, i.e. some of them will have higher practice of poses and some of them will just be beginners. However, it is your job not to assume a person's experience by his physicality or age or even his questions thrown at you (like 'can we do the Scorpion?'). However, in most cases, such questions are just for creating impressions. But, practicality dictates that some poses can be potentially dangerous for the 'posers'. So, it is always safe to go through the simpler ones and build up to the difficult ones in latter classes.
Maintain a basic sequence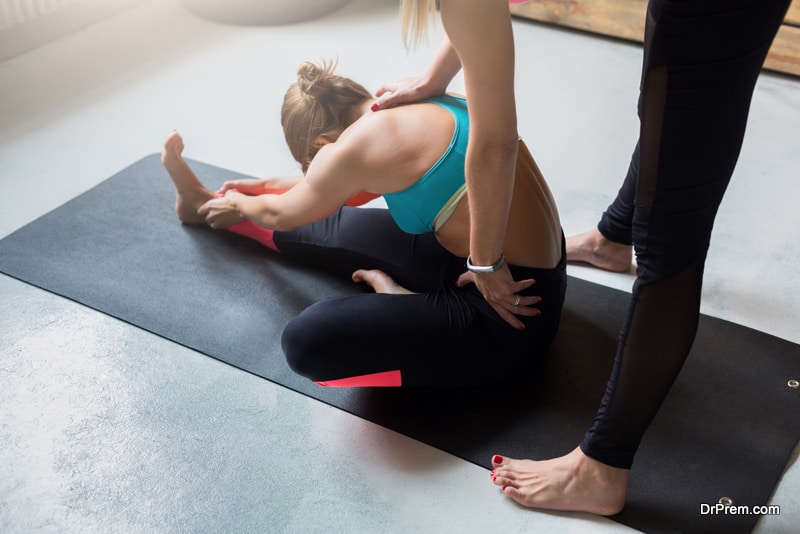 Always stick to the basic framework of your teaching style, as this makes your teaching both suitable and flexible. This can especially come in handy when you have a class of mixed experience. Each Yoga pose can always be modified to an easier form or a complex form. So, while you maintain your basic sequence, you can also cater to the student's individual capability. For some you can switch on the easier mode, and for some you will have the advanced mode; however, the poses will remain same for everyone.
Keep an eye on poses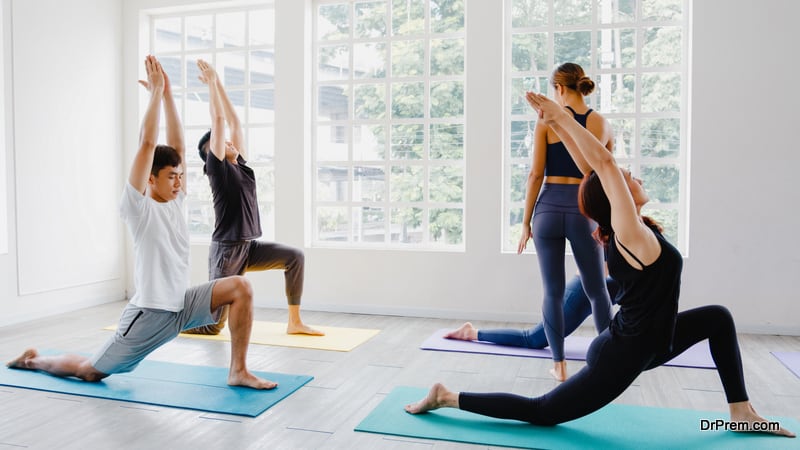 As a Yoga teacher, it is your job to not only teach but also direct your student's moves. Beginners can have a difficult time in maintaining the correct sequence of poses, especially when they are adapting to a mixed experience class. In such instances, politely show them the way, or even help them with props if necessary.
Make your students try some advanced poses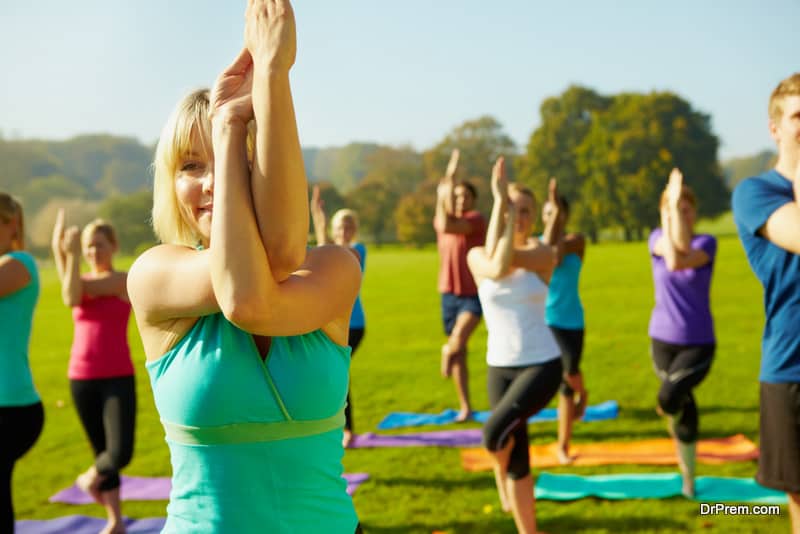 Well, you should keep it elementary in the first few classes. However, you shouldn't be hesitant to try out a few complex poses in the future classes. Amateurs on regular practice can do some of the postures like the Half Moon and Crane. So, this mode of flexible teaching can finally test out the mettle of some of the aspiring Yogis.
Filter out the feedback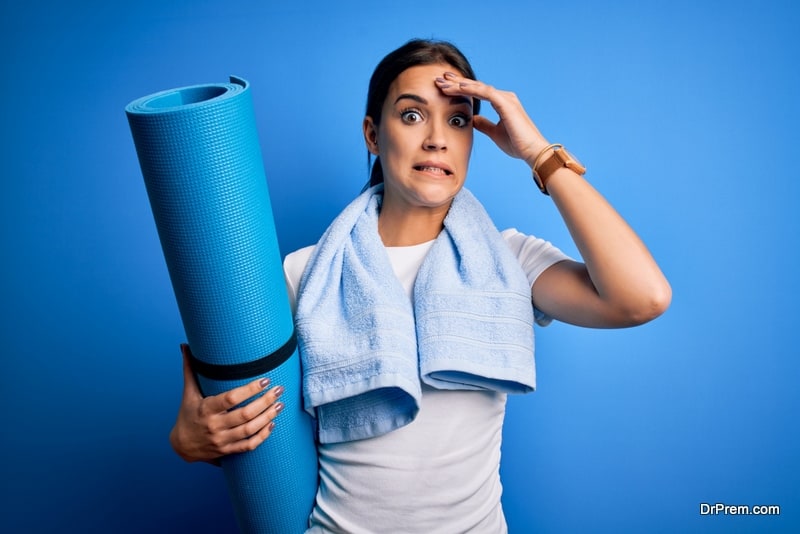 Positive feedbacks are good for a teacher; and hence, hear them out and then consider. However, there will always be a few people who would want to just prove their point. In such cases, do not let those critical comments affect you. Let them go, and move on with your class and direction.
Five things to consider before opening your yoga studio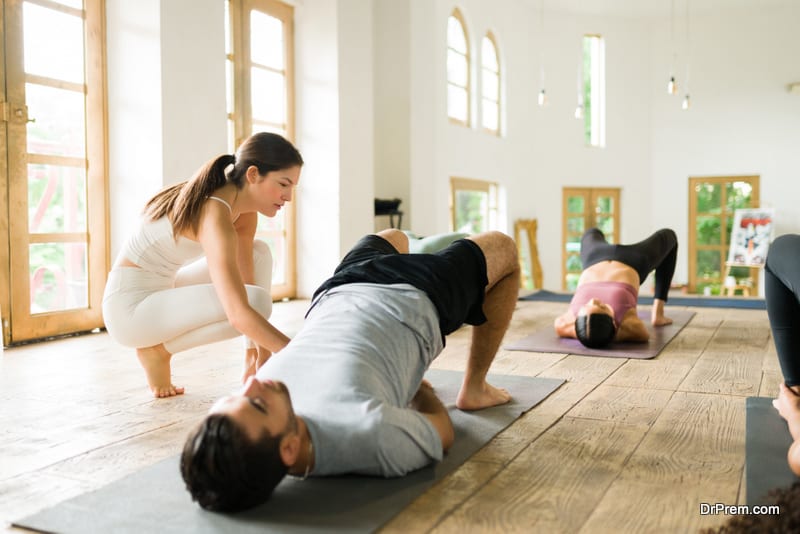 Most Yoga instructors, after teaching Yoga for many years, often decide to open their own Yoga studio but do not show a keen interest in knowing the business involved in running a studio for Yoga. So, the following are some important points you need to consider seriously before embarking on your new journey to run your own Yoga studio:
At the very beginning, you must make sure that you are willing to work late nights and even on weekends because starting a business requires maximum effort and hard work. Moreover, your efforts will also bring you freedom as well as wealth later. For that, you will have to sacrifice some of your comforts initially. However, if you are not ready to work hard day and night and want to focus only on your Yoga practice then perhaps, you should try other options like a Yoga franchise or buying an established Yoga studio.
Although making a lot of money may not be your primary goal in opening your own studio, you cannot ignore the importance of money in running any kind of business establishment. So, this means you must be open to the ideas of learning how to maintain finances, bookkeeping, or budgeting. You must also be able to plan your finances in such a way that you may enjoy good returns and also create new ideas regarding the expansion of your business in the future.
It has been found that most small business owners often experience financial exceedance to a considerable degree regarding their planned financial expenses and it is also perfectly normal. So, you need to have at least more than 50% of the money you think will need to get your business started. This will not only help in your crisis but will also give you a sense of security.
Marketing is another aspect of running a successful business. You can either hire a marketing professional or can learn the technique of marketing yourself and implement them for the benefit of your studio. Through marketing, you can also spread awareness regarding the various health benefits of Yoga and attract more and more learners eventually.
You must be passionate about your plans to open your own Yoga studio and not just about performing or practicing Yoga. You must be passionate about teaching the art of Yoga to your students and share the knowledge you have earned from years of Yoga practice. On some occasions, you may even find it hard to continue with your plans but it must be your passion to keep you from giving up and keep going on despite hardships. So, passion is an utmost necessity for starting your own business.
Top Indian yoga gurus, you should know of
It doesn't come as a surprise that most of our modernistic Yoga moves are derived from practices originally initiated by Indian Yoga gurus. These practices are the evolutionary legacies of India's glorious Vedic period when sages and priests strove to find that perfect balance between mentality and physicality. Harking back to those same ideals, let's read about some of the well-known Indian gurus of our modern world.
B.K.S Iyengar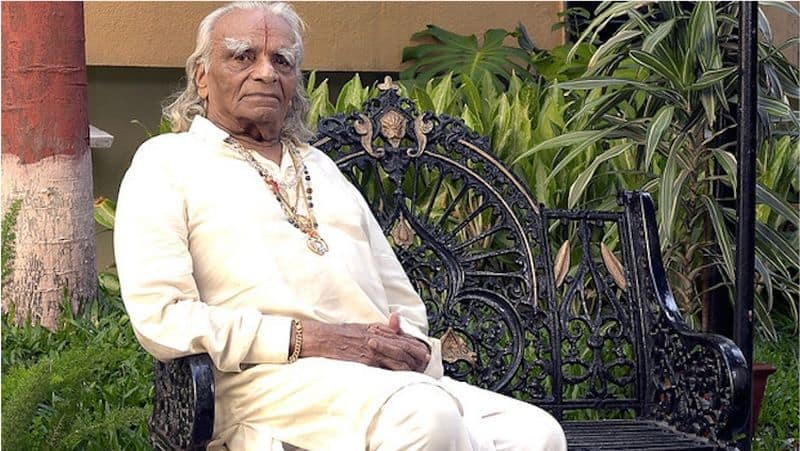 Image Source : iskconnews.org
The founder of the Iyengar style of Yoga, the 93 old Yoga master is considered one of the foremost Yoga teachers in the world. His trademark teachings relate Yoga as an extension of our inner consciousness that connects both our mind (with its intellect and ego) and physicality. Hence in his teachings, Yoga is represented as a moralistic 'way of life rather than just an esoteric exercising regime.
Suneel Singh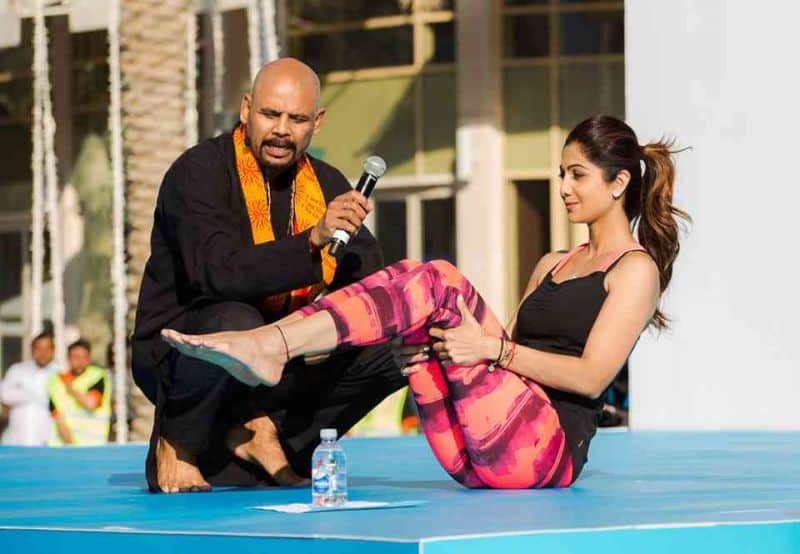 Image Source : yogagurusuneelsingh.com
Very different from B.K.S Iyengar, Suneel Singh is one of those modern-day teachers with his own set of contemporary Yoga moves influenced by the Zodiac Sign, Hasya Yoga, and Yoga-Chi. He is very media friendly and has been known to hold his classes in urbanized areas with a heavy cosmopolitan flavor like corporate houses and modeling schools.  But more importantly, the man is a nigh brilliant Yoga practitioner in his own right with his remarkable talents of flexibility.
Bharat Thakur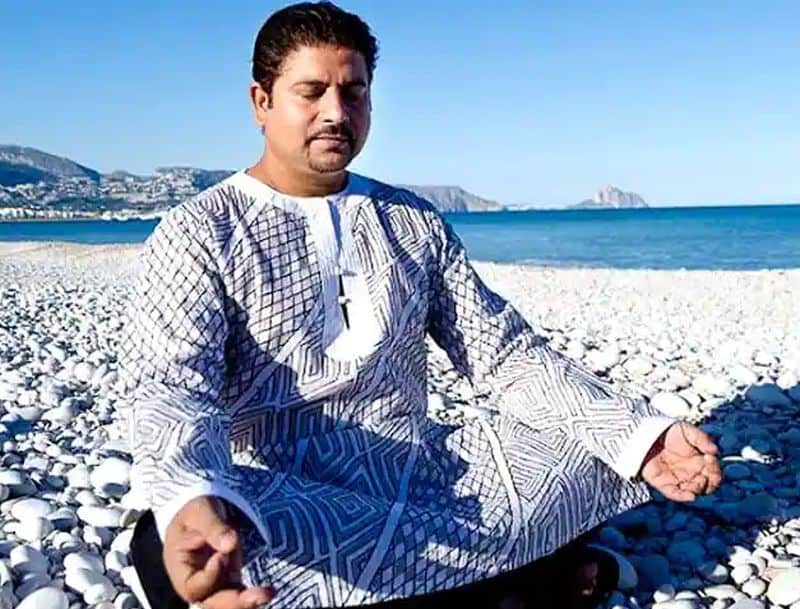 Image Source : images.hindustantimes.com
As a proponent of artistic Yoga, Bharat Thakur's teachings endeavor to bring both improved fitness and peace of mind together in a singular concoction. Generally, faster than comparable styles, his practices are bound by the traditional faculties of Asana, Pranayama, Bandha, Kriya, Shatkarma, Mudra, and Meditation.
Bikram Choudhury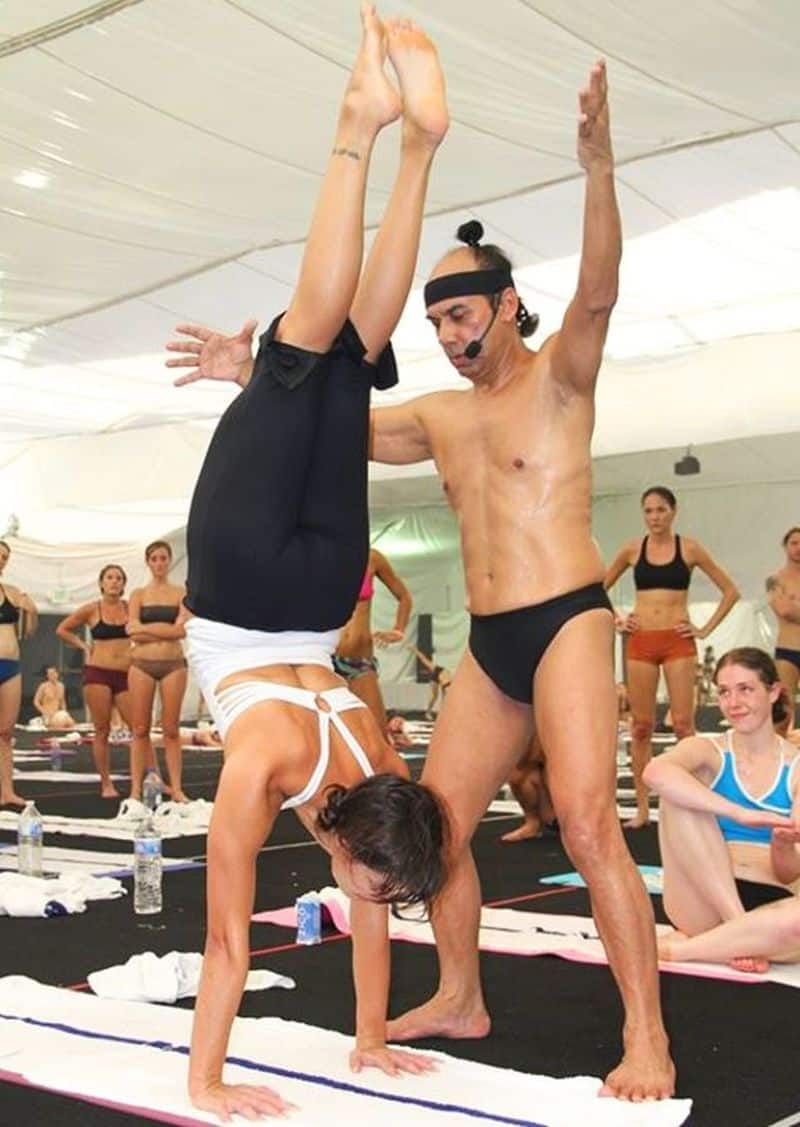 Image Source : im.rediff.com
The Yoga world better knows this 65-year-old venerable instructor as the 'inventor' of the Bikram style of Yoga. His famous 26 types of power postures are derived from Hatha Yoga and are known to have beneficial attributes for every part of our body. As a matter of fact, each of the individual poses is responsible for a definite part of our system; however, the collective effect works in a symbiotic manner for the whole body.
Baba Ramdev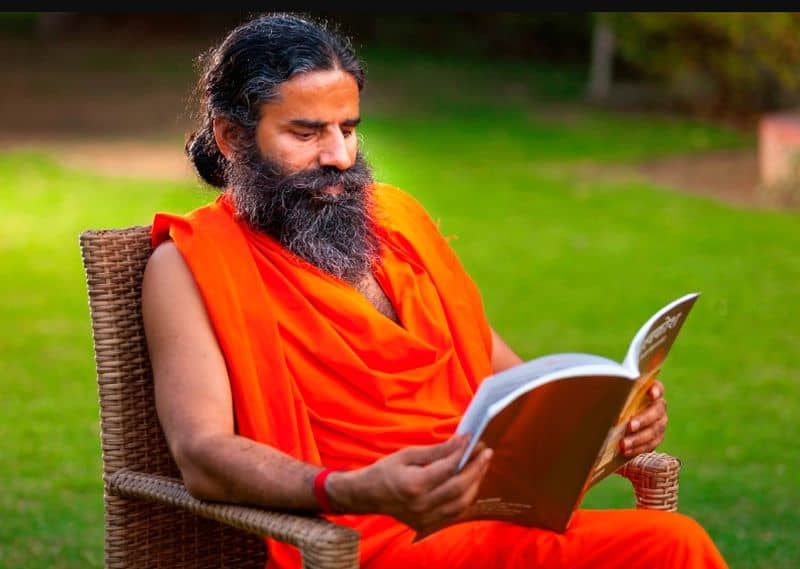 Image Source : divyayoga.com
A well-known yet very controversial Yoga teacher, Baba Ramdev came into the public limelight through his nationwide broadcasts of Pranayama. His flexibility in dealing with his stomach muscles has become a nigh national phenomenon, while his breathing exercises have also gained much publicity for their simplicity. Moreover, he is also known for propagating Yoga cures for various diseases and ailments.
World's best yoga studios
We have come across numerous hotel brochures claiming to give you a fascinatingly 'spiritual' experience through various Yoga and Pranayam lessons. However, the truth of the matter is that most of them are very easy classes for beginners. But if you want to go on to the next level in your Yoga endeavors and that too in foreign metropolises, here is a list of Yoga studios you would seriously want to go through.
New York City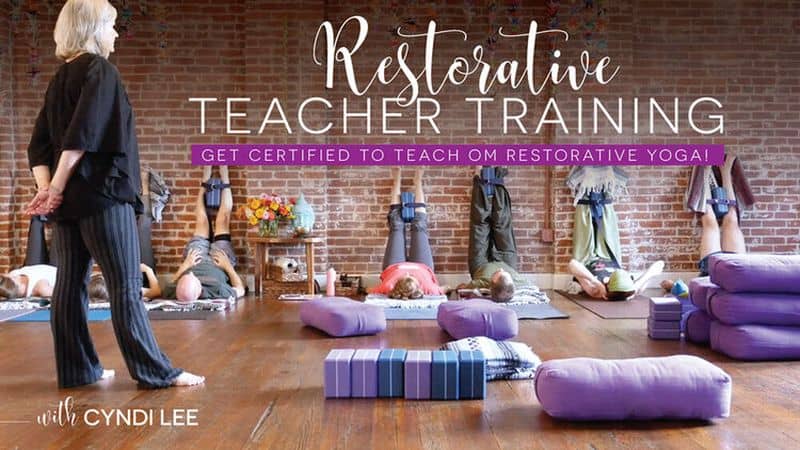 Image Source : cyndilee.com
The Big Apple among all major cities perhaps provides the most varied scenery in Yoga with its myriad of personalized classes. For example, if you are into Vinyasa, then Cyndi Lee's Om (www.omyoga.com; $18) would be perfect for you. However, if you are interested in the modernistic fusion of Vinyasa and Power Yoga, then the Prana Power Yoga (www.pranapoweryoga.com; $17) at Rolf's Gate would be apt. As for new studios, the celebrated Jivamukti (www.jivamuktiyoga.com; $17) opened up their second complex on 65th St. and Lexington Ave.
Los Angeles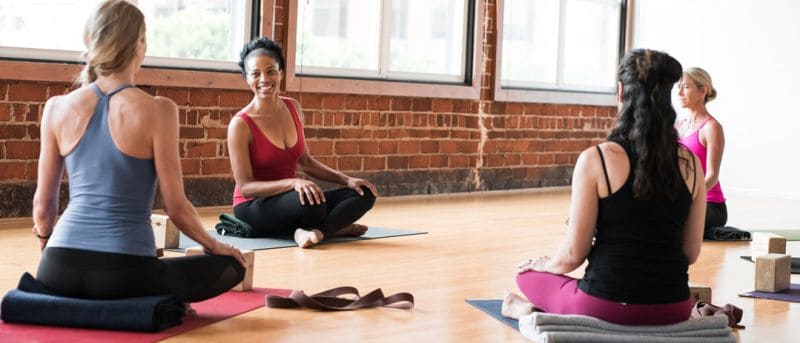 Image Source : yogaworks.com
The City of Angels is not too far behind in catering to your Yoga needs, especially when it comes to advanced challenges. One great example would be YogaWorks (www.yogaworks.com), with its whopping five locations. Of course, for Power Yoga enthusiasts there is Yoga guru Brian Kest's Santa Monica studio (www.poweryoga.com). Moreover, there is also a more spiritual option for deep Yoga aficionados like the Liberation Yoga (www.liberationyoga.com; $10), in south La Brea.
London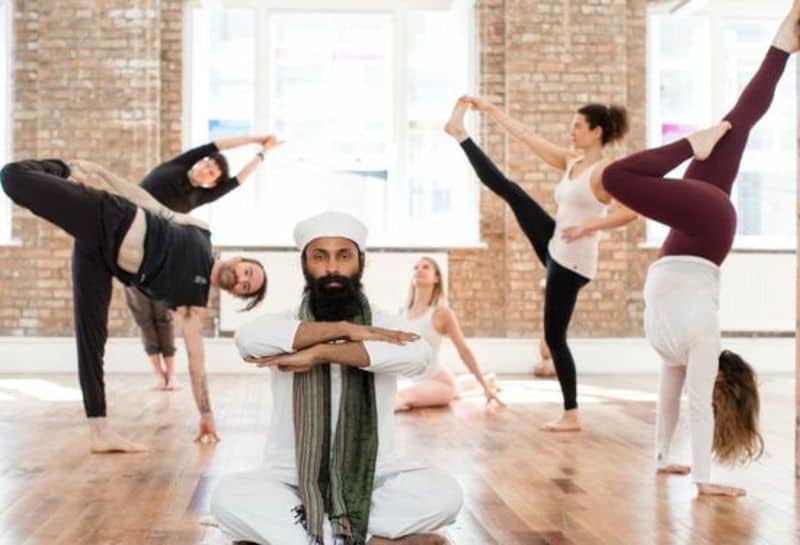 Image Source : triyoga.co.uk
When it comes to London, one name might cater to all your Yoga-fueledworkouts, and that name is Triyoga (www.triyoga.co.uk; $22 [11£]). With its three branches, this Yoga conglomeration provides a plethora of exercises from Ashtanga to relaxing meditation. Moreover, the Yoga workouts are equally complimented by a series of holistic services like acupuncture, homeopathy, massage, and even Tai Chi.
Paris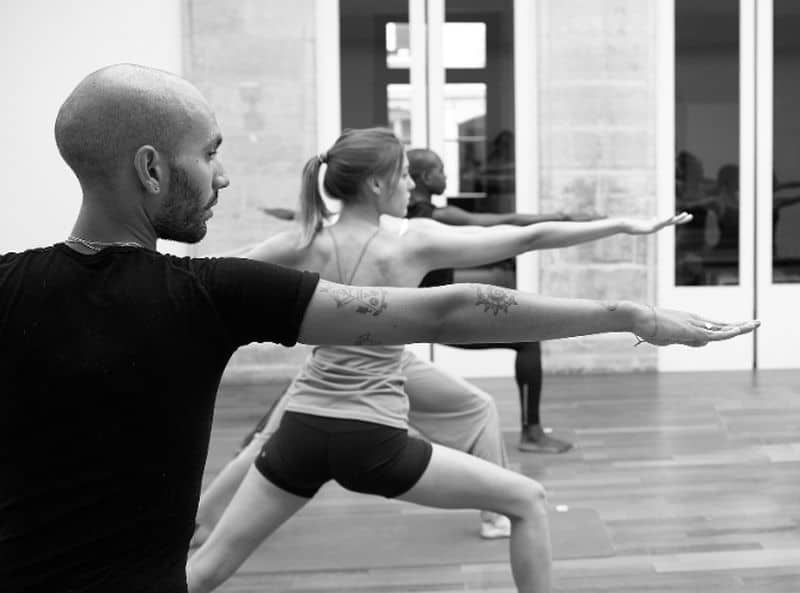 Image Source : rasa-yogarivegauche.com
If that peacefully serene ambiance is your thing, then nothing can beat the Rasa (www.rasa-yogarivegauche.com; $27), located near Notre Dame. Furnished with dark wood flooring, which equally contrasts with the ethereal white walls and soothingly diffused sun rays, the studio offers its main course in Vinyasa. Other Yoga oriented exercises are also offered, and they include Ashtanga, Mysore, and Yin.
New Delhi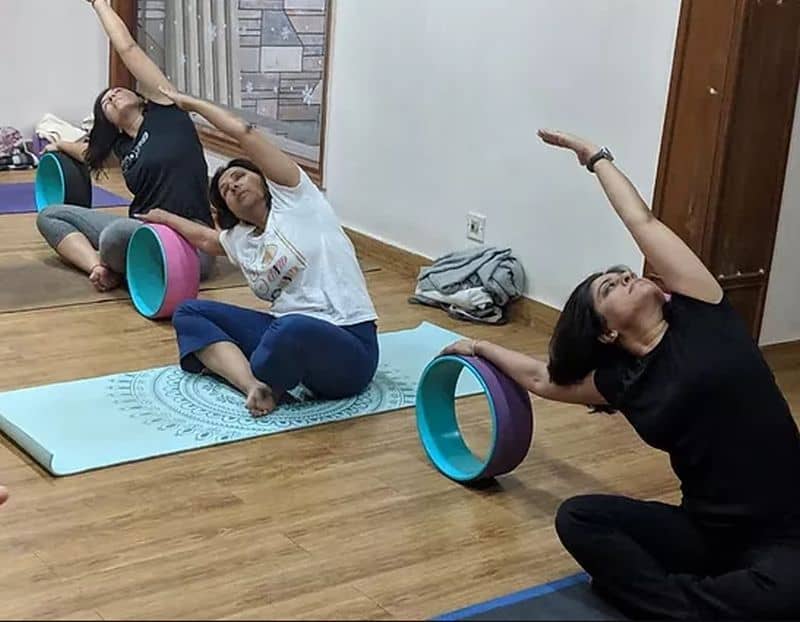 Image Source : theyogastudio.info
Being the capital of India (the very birthplace of Yoga), this thriving metropolis does provide its fair share of Yoga studios. One of the good ones among them would be the Yoga Studio (www.theyogastudio.info; $7 [Rs. 300]), situated in Hauz Kaus. As expected, it specializes in Ashtanga. Moreover, there are other celebrated Yoga retreats spread throughout India, like the B.K.S. Iyengar Institute in Pune or the numerous ashrams situated in mountainous Rishikesh.
Best Indian yoga centers to train in
As far as the current trend goes, the practice of Yoga has been nigh rediscovered in the west, with its numerous fusions and modern adherents. However, in essence, India remains the birthplace of this collective form of exercising. In this regard, it doesn't come as a surprise that the country boasts of a myriad of 'authentic' Yoga centers spread across equally varied locations. Without further ado, let us check out some of them.
1. Ramamani Iyengar Memorial Yoga Institute, Pune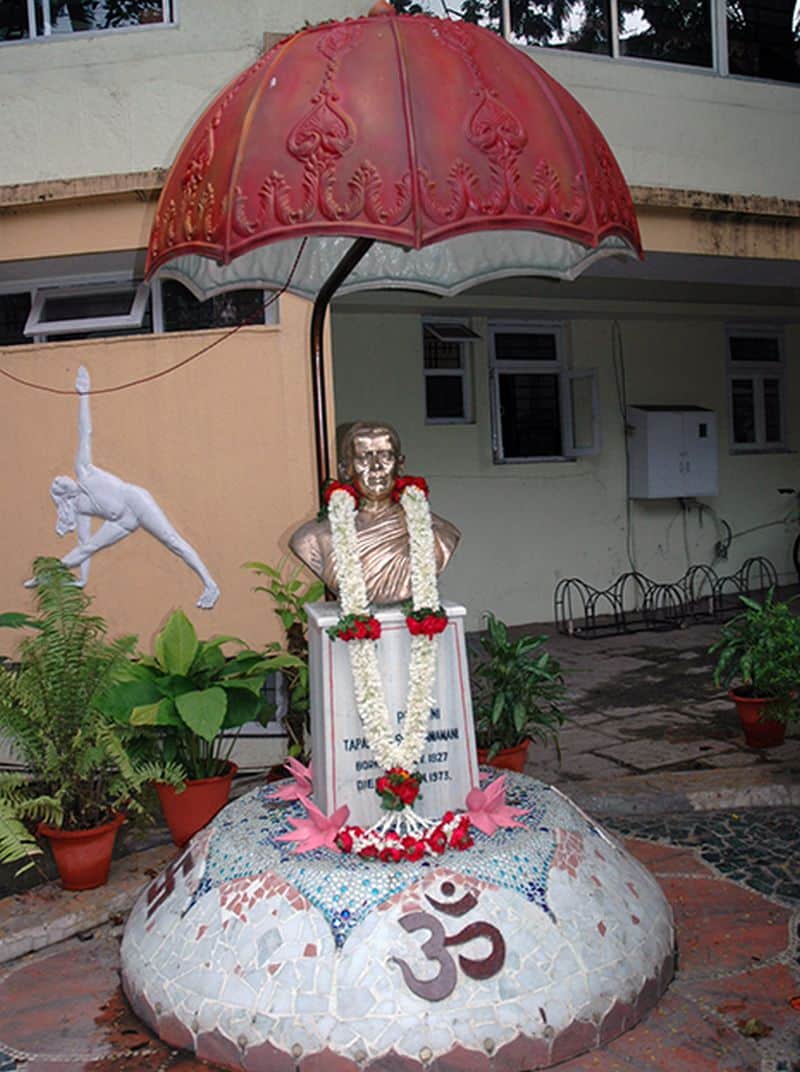 Image Source : iynaus.org
Counted among the well-known and respected Yoga institutes in the world, the center covers regular classes of Iyengar Yoga (which in itself is a posture-oriented variant of Hatha Yoga). More interestingly, here the students can be found from different walks of life starting from budding enthusiasts, and homemakers to medical patients. However, given the demand for the institute, the waiting period to get in can be excruciatingly long. Moreover, the practitioners are also expected to have some prior knowledge of Iyengar Yoga moves.
Cost: $450
2. Ashtanga Institute, Mysore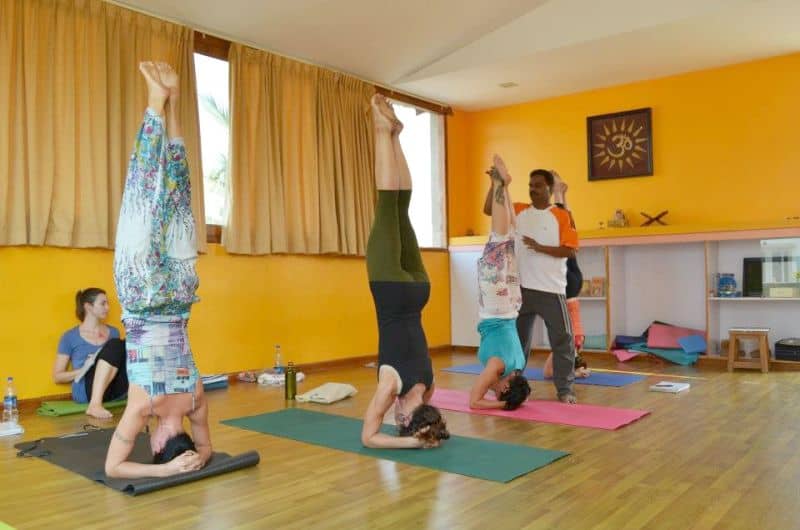 Image Source : ashtangayogamysore.net
Run by the exalted Sri Krishna PattabhiJois since 1930, as the name suggests this institute conducts advanced classes of Ashtanga Yoga. Many of the courses range overhalf a year; however you can also opt for a one-month long course. Finally, come to the level of teaching, can be a bit difficult for amateurs, given the institute's association with Ashtanga. Moreover, you will have to go at least a two-month waiting period before being accepted.
Cost: $650 for the first month. $415 for each month additional taken.
3. Parmarth Niketan, Rishikesh

Image Source : parmarth.org
If your Yoga instincts are craving an imposing 1000-room spiritual palace, with its 8-acre area and a paradisiacal mountainous location, then the Parmarth Niketan is certainly for you. More of a retreat combined with an institute, this place offers a plethora of Yoga oriented stuff like beginner's lessons, Vedic cultural study, and even training courses for potential teachers. However, the 'piece de resistance would be the week-long international Yoga Festival held in March every year.
Cost: Ranging from $10 to $20 per night.
4. Sivananda Vedanta Center, Trivandrum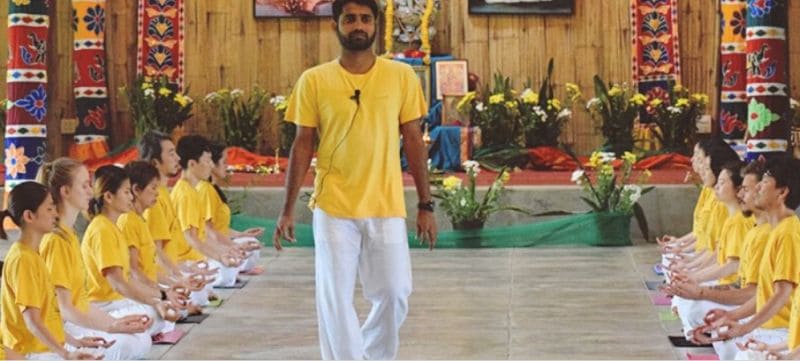 Image Source : sivananda.org
Located in the beautiful southern state of Kerala, this Center's teachings are defined by the five basic points of Yoga – postures, breathing, relaxation, meditation, and diet. The ashram conducts regular beginner's classes in meditation and yoga moves, along with teaching courses. However, the advantage for some of us casual adherents is that we can flexibly opt for a drop-in class, and also spent our night in the ashram for additional fees.
Cost: Ranging from $2.50 for drop-in classes to $35 for meditation courses.
5. Yoga Institute, Mumbai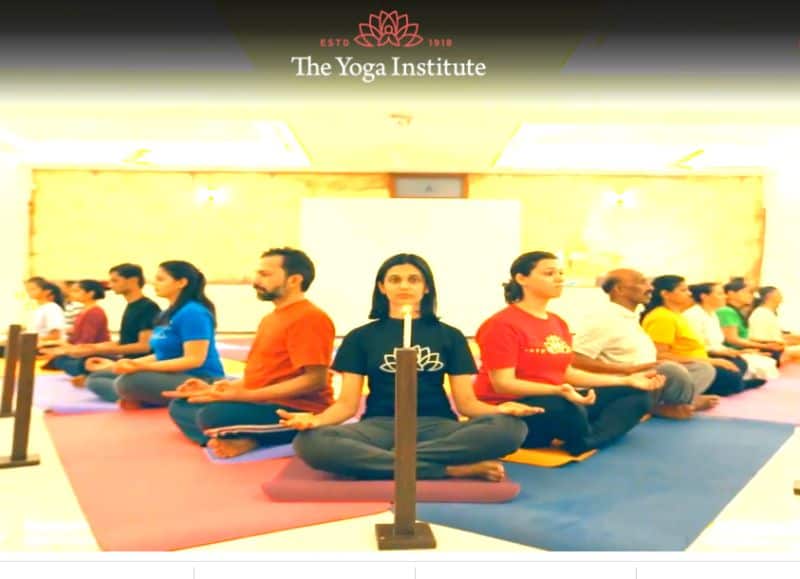 Image Source : theyogainstitute.org
It is the oldest Yoga institute in the whole world, founded almost 100 years ago in 1918. More importantly, the center conducts a myriad of developed courses complimented by equally progressive workshops. In fact, the courses are well known for their therapeutic elements, with the objective being to treat various ailments like diabetes, breathing problems, and even treating bone structures.
Cost: 800 rupees ($20) to 2,500 rupees ($60).