Where do you think my last wellness trip was? It was at Jeevess Ayurveda, in Wayanad, Kerala. When God's Own Country beckons, I miss no opportunity to set my foot on this blessed land.  And if you ask, what was the most exciting thing for me this time? It is Kalari Ayurveda. Simply mind-blowing! Above everything, the personalized Ayurvedic care laced with comfort is just beyond the words of appreciation. The feeling of rejuvenation was all around.
Jeevess Ayurveda Hospital, in my opinion, can be counted as one of the top wellness resorts in India.  What else can you call it whenyou are in a grand natural setting like this? The surrounding lush greenery of the Western Ghats and hillocks create such a heavenly ambience that you won't feel your pains and disorders.
The Jeevess Ayurveda Hospital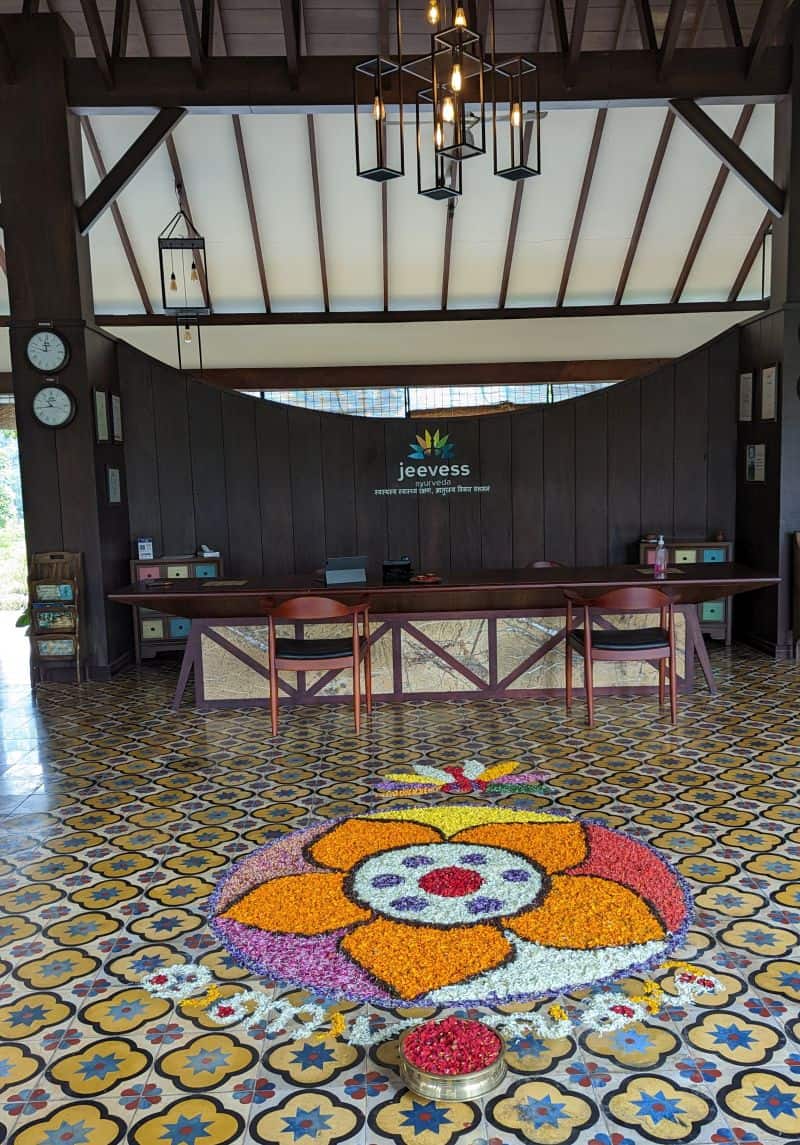 Jeevess Ayurveda follows the motto – Rebirth of Holistic Lifestyle. They literally walk the talk ofthe Ayurveda lifestyle.The ultimate destination for rehabilitation. Rehabilitation of your mind, body, and senses. Among all well-known wellness resorts in India, Jeevess Ayurveda has many outstanding features for a worthwhile wellness journey.
Nestled among splendid nature, this 14-acre property houses 16 cottages, 11 treatment rooms, a diet restaurant,a medicine production unit, a pharmacy, and many other associated facilities to keep this resort up and running.
The property's organic garden not only feeds guests with nutritious diets but also is the source of medicinal ingredients needed for Ayurvedic therapies. And the most splendid thing is the verdant tea plantations surrounding the cottages and other buildings.
Taking a trip to this property is a part of the wellness journey that you have come for. You see and feel nature so closely. The smiling and caring staff make things so easy for you. I received a warm welcome anda refreshing ayurvedic drink. And thus started atrain of pleasant surprises. I will unfold those gradually.
You meet a team of qualified and experienced doctors, physicians, and therapists whocurate a personalized wellness program for you. It is a combination of Ayurvedic treatments, physical exercises, mind-body programs, and diet. Their aim is not only to restore the optimized well-being of your mind and body but also to elevate your spiritual well-being.  They take a preventive approach going deep into the roots and guiding you with a sustainable program.
Staying at Jeevess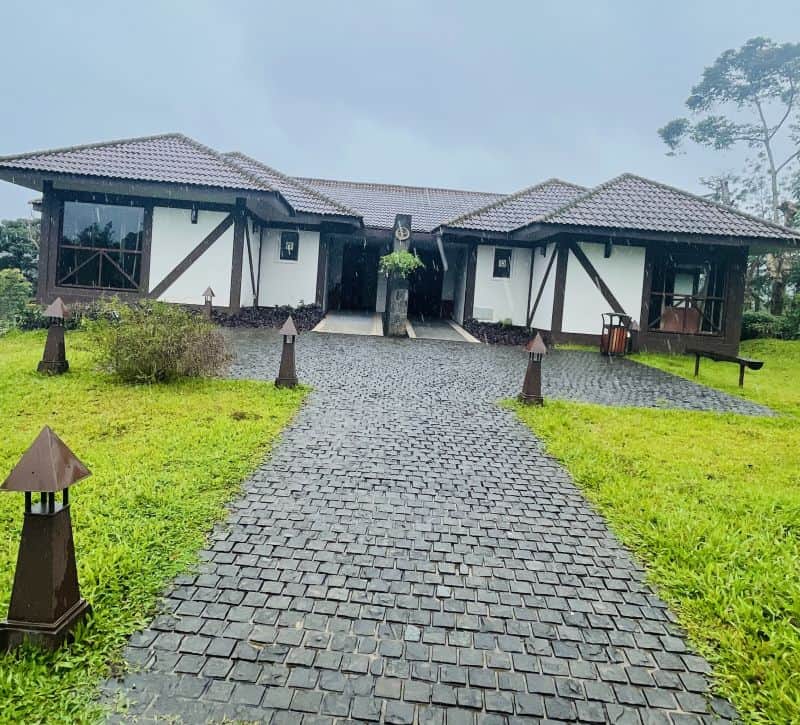 The resort has five double cottages, four single cottages, and two deluxe cottages spread over the property. Enough care is taken to build these cottages without disrupting the natural wilderness, especially the tea plantations that grow freelyon the premises. Guests can move easily from one cottage to another through neatly built stone-paved pathways.
The naming of cottages is also in sync with nature. Each cottage has the name of the fruit that is grown in front of it. Lovely, isn't it? By the way, you can explore the vast fruit garden in this property that cultivates 200 varieties of native and exotic fruits right from the local jackfruit to the Mediterranean olive.
The organic vegetable and herbal garden gives a rich harvest around the year. The garden has separate areas marked for a specific vegetable or herb.It was another value-addition to my wellness journey as I learned so many things. (You don't get everything in Google).
You can go for a trek in the forest behind the single cottages until you meet a rivulet flowing into the Kabini river. All cottages are well-furnished and equipped with modern amenities. But the lovely panoramic view from cottages surpasses everything.Enjoyed the stay watching the greenery and misty clouds fleeting over the slopes of the ghat. A grand view from the 12 m high watch tower is a treat to your senses!
While the stay is so rejuvenating, you get its real taste with personalized Ayurvedic care that is neatly sequencedat an unhurried pace. You can take your time to see, feel, and think deeply about the purpose of these treatments and the outcome.
Jeevess Chikitsa Gram (Treatment Block)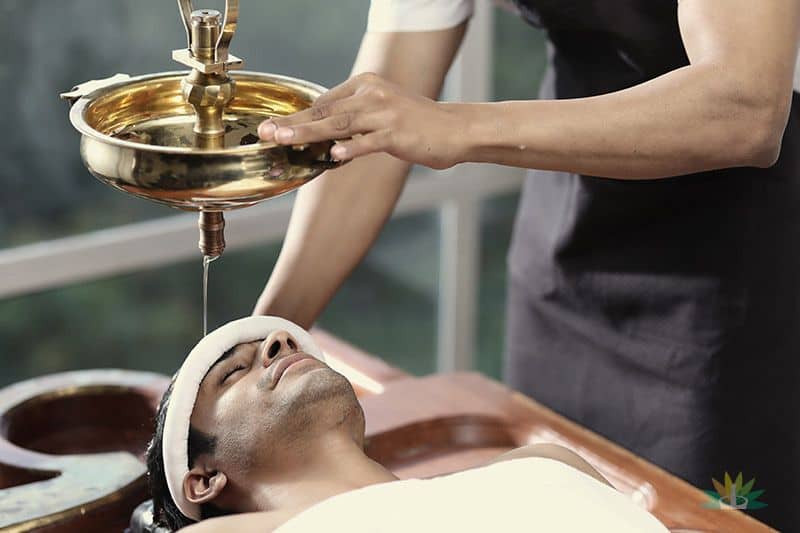 Image Source : jeevess.in
This is the core of Jeevess Ayurveda. It comprises of 11 main treatment rooms. There are separate rooms for pre-consultation, para surgeries, and post-treatment relaxation. The room arrangement is so well synchronized that itdidn't create any confusion or delay in moving from one treatment room to another.  This block is meant for Panchakarma, Shirodhara, and other related Ayurvedic Therapies.
I checked into special consultation rooms for Kayachikitsa, Shalyatantra (surgery), Kalari MarmaChikitsa, Yoga Diet, etc. These are the specialty therapies of Ayurveda. Of all, the Kalari Chikitsa, is a part of the age-old local martial art training called Kalaripayattu. I will describe this incredible local culture-turned-therapy later in this writeup without which this narration would remain largely incomplete.
The grand outdoor view from the glass walls of treatment rooms makes this experience more pleasant. A special kitchen known as Kashayappura is attached to the treatment rooms for a quick and ready supply of Kashaya and kizhi needed for various therapies.
Jeevess Bheshajagara–The Medicine Manufacturing Unit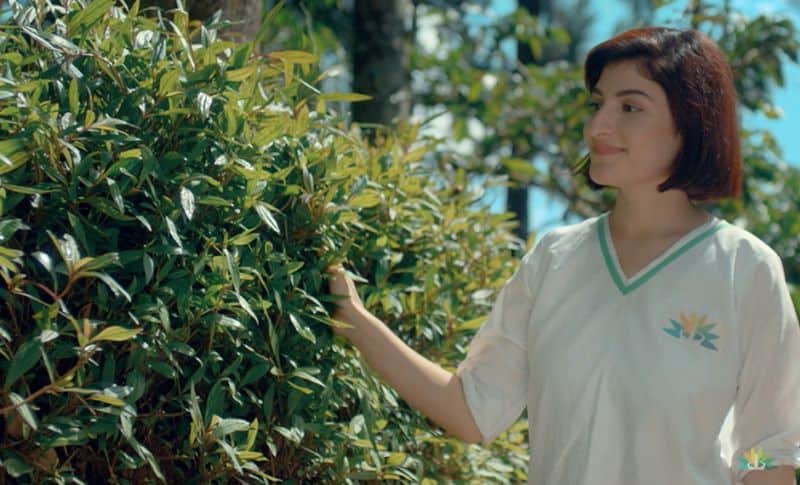 Image Source : jeevess.in
This 3200 Sq. feet complex is the heart of all the treatments that are conducted in the treatment block. A large part of medicines or oushadhis are prepared with handpicked medicinal herbs from the garden under the careful supervision of experts or Bheshags.
Ayurvedic medicinal formulations come as Kashayam (decoctions), Arishtam (fermented liquid), Choornam (powder), Gulika (tablets), Tailam (oil), Ghreetam (ghee), lehyam (formulations to lick), and peyam (specially formulated drinks).
The complex has separate spaces for herb collection, sorting, processing, chopping, powdering, and storage. All these steps go through the best standards of quality testing to make the medicines effective in healing.
Diet Kitchen and Dining Area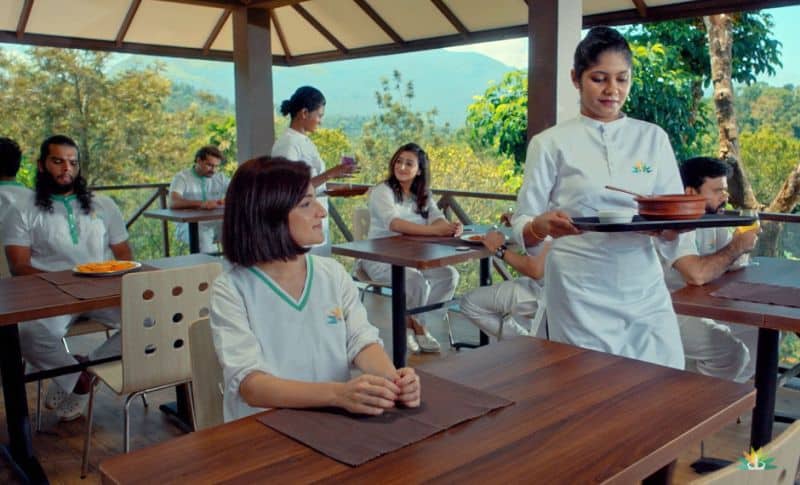 Image Source : jeevess.in
You cannot imagine the variety and eating rituals of the Ayurvedic diet unless you visit Jeevess Ayurveda. Their organic garden cultivates rice named Raktashali and Swastika Shaliand a variety of millets and cereals to formulate special Ayurvedic diets.
Expert chefs cook personalized diets and serve you fresh. The JeevessBhojanalaya or the dining space has a special seating arrangement purposed for different diets. You will have to switch off your mobile phones and pay attention toyour eating.
Treatments in Jeevess Ayurveda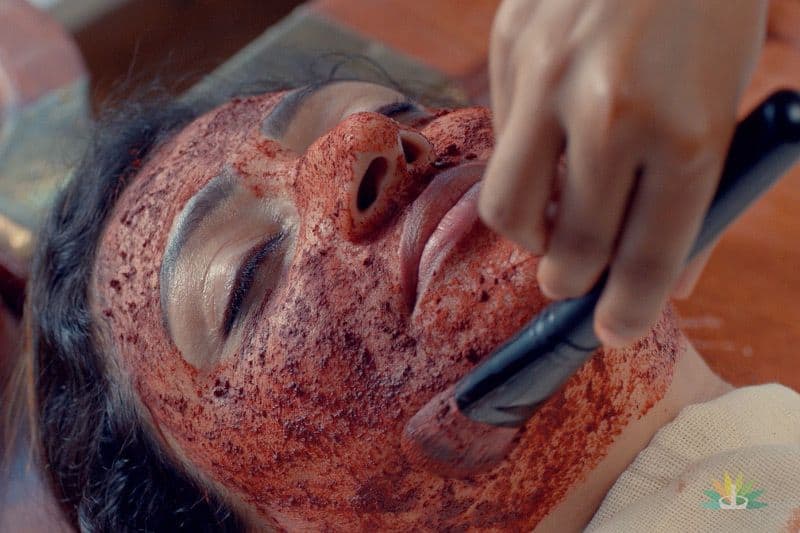 Image Source : jeevess.in
Jeevess offers a comprehensive list of ayurvedic treatments right from treating disorders to enhancing your beauty and youth. As mentioned, Ayurvedic doctors will check your existing health status before creating the customized Ayurvedic treatment program for you.
According to Ayurveda, your prana (or life energy) is concentrated on your Hriday (heart), Murdhana (Head), and Basti. Paripalana (maintenance) and Rakshati (Protection) are two primary goals of Ayurvedic treatment along with treating disorders. All these if done rightly leads to holistic wellbeing.
Jeevess Ayurveda Chikitsa (or treatments) are categorized into different categories based on the requirement and duration.
JeevessChikitsa – A program meant to treat various common musculoskeletal, metabolic, and gynecological disorders.
Jeevess Kalari Chikitsa–A treatment plan to improve physical strength and stamina.
JeevessCharya (ritual or routine) – Aprogram to create a specific Ayurvedic Routine as per your physical and mental health conditions.
JeevessSwastha (health) – A program to attain sustainable well-being through Ayurvedic treatments, diet, and yoga.
JeevessYouvana (youth)- Arejuvenation and anti-aging program based on ayurvedicRasayanachikitsa.
JeevessVajee (virility) – Vajeekarana program for enhancing fertility and reproductive energy.
JeevessLekhaneeyam – A detoxification program for deep cleansing and excess fat elimination
Jeevess Mukta (free)– An Ayurvedic body detoxification program
Jeevess Lavanya (glamor or glow) – Ayurvedic beauty treatment with specially formulated natural herbs and ingredients.
JeevessIndriyaPrasadana (sense organ satisfaction)Chikitsa – A special program to rejuvenate and revitalize your sense organs (eyes, ears, nose, tongue, and skin) with local treatments, natural medications, diet, and exercises.
JeevessManasshanti (mental peace) –A special stress management program to release stress, tension, and anxiety and improve mental and emotional well-being.
Jeevess Prana –An exclusive program to heal from long-Covid symptoms.
JeevessUrja- A physical fitness program with an integrated approach of Kalari Chikitsa and other Ayurvedic treatments.
I was amazed to learn about the variety of Ayurvedic treatments offered and how these are thoughtfully integrated into different programs mentioned above.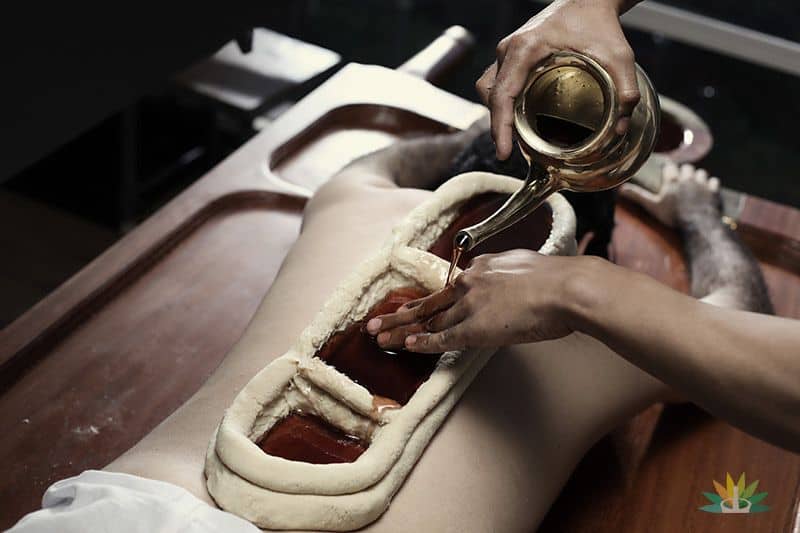 Image Source : jeevess.in
Jeevess Karali Chikitsa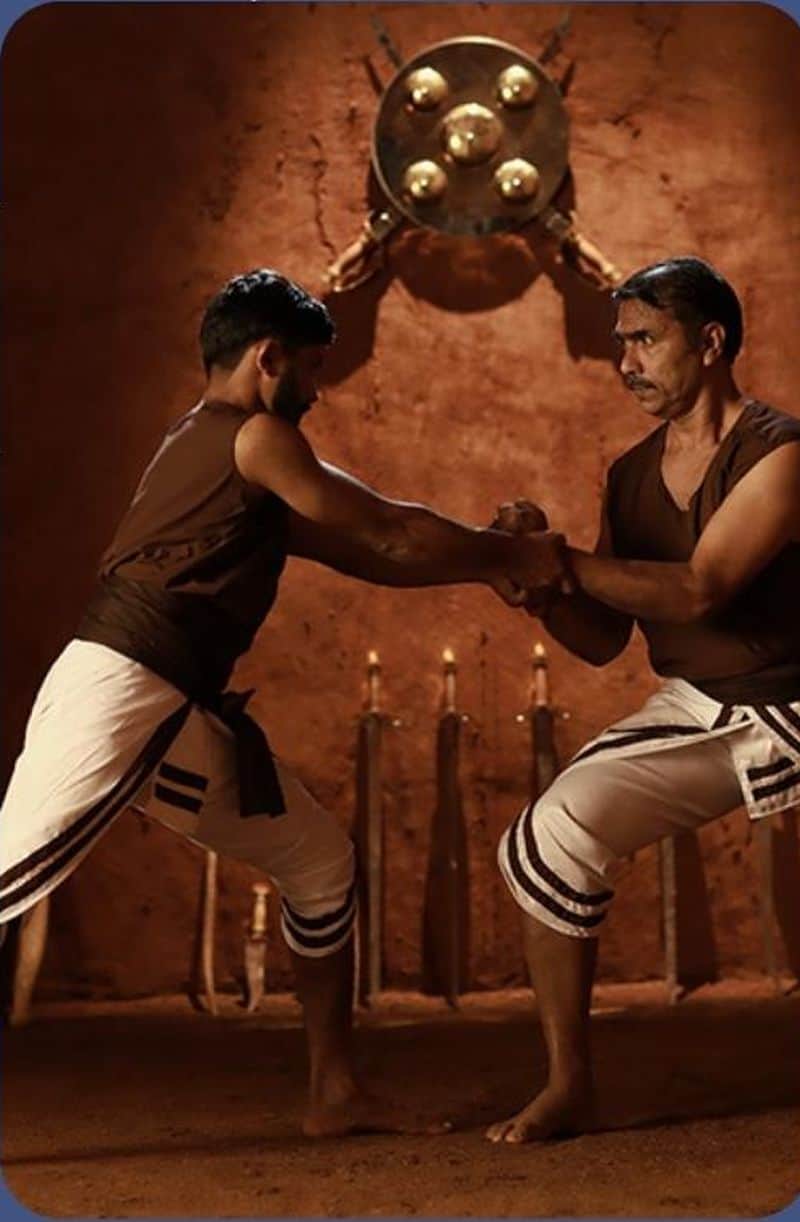 In Ayurveda, body massage or Uzhichil is a staple treatment, but it became popular mainly due to Kalari Chikitsa. It is a part of the local martial art training famous as Kalaripayattu. As the legend goes, Parashurama, the disciple of Lord Vishnu is the father of Indian martial arts, and Kalarippayattu is one of his innovations.
As per history, this form of art originated between 200-600 BCE and reached its peak in the 14th and 16th centuries.At one point in time, kalaripayuttu was taught in every village as it was largely associated with machoism and self-defense.
Kalaripayattu the martial art of Kerala, is more than just a martial art. it is a lifestyle and an art of obtaining physical discipline, mental strength, and spiritual empowerment.Three forms of massages are prominent in KaraliChikitsa – Enna thechupidipikkal (oil massage), kai uzhichil (massage with hands), and chavittiuzhichil (massage with feet).
Among these,ChavittiUzhichildeserve a special mention. The practitioners hold two strong ropes hanging from the ceiling to balance himself while massaging the patient's body with the feet. Not only the balance, but the therapist should also be very aware of how much pressure to put on the patient's body so as not to cause any harm. It is very useful from the therapeutic aspect that few would like to believe. The entire system attracted me a lot.
Want to know which Ayurvedic treatments I experienced at Jeevess Ayurveda?
Here is the list
Cupping Therapy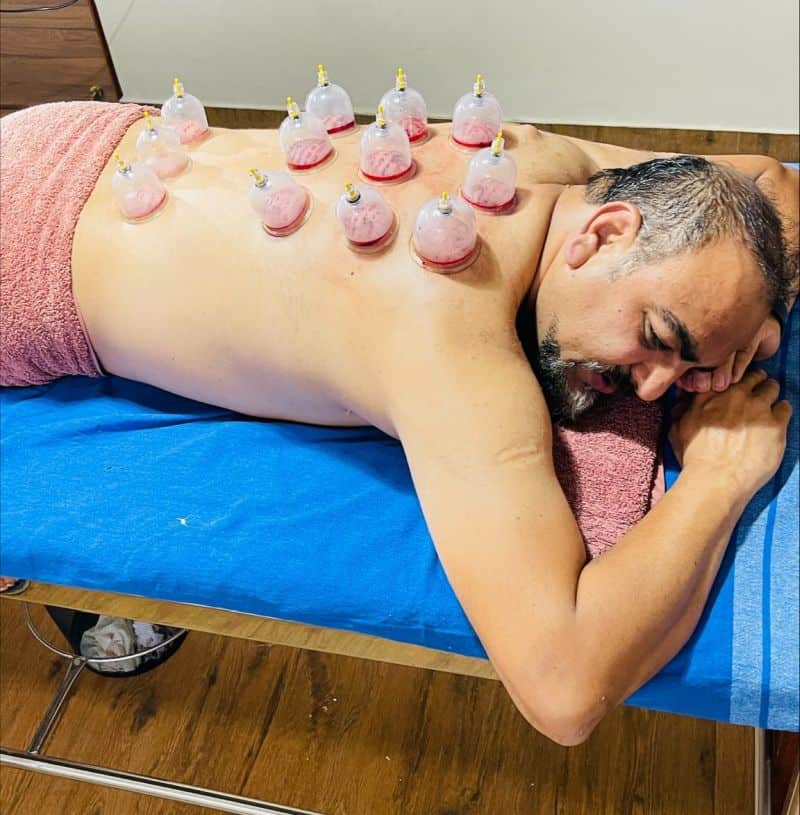 Cupping therapy originating in 1500 BC is one of the most preferred alternative treatments today. It is an effective way to reduce pain, improve blood flow, and treat chronic diseases. Stay connected with us as we share videos and details of cupping therapy.
Leech Therapy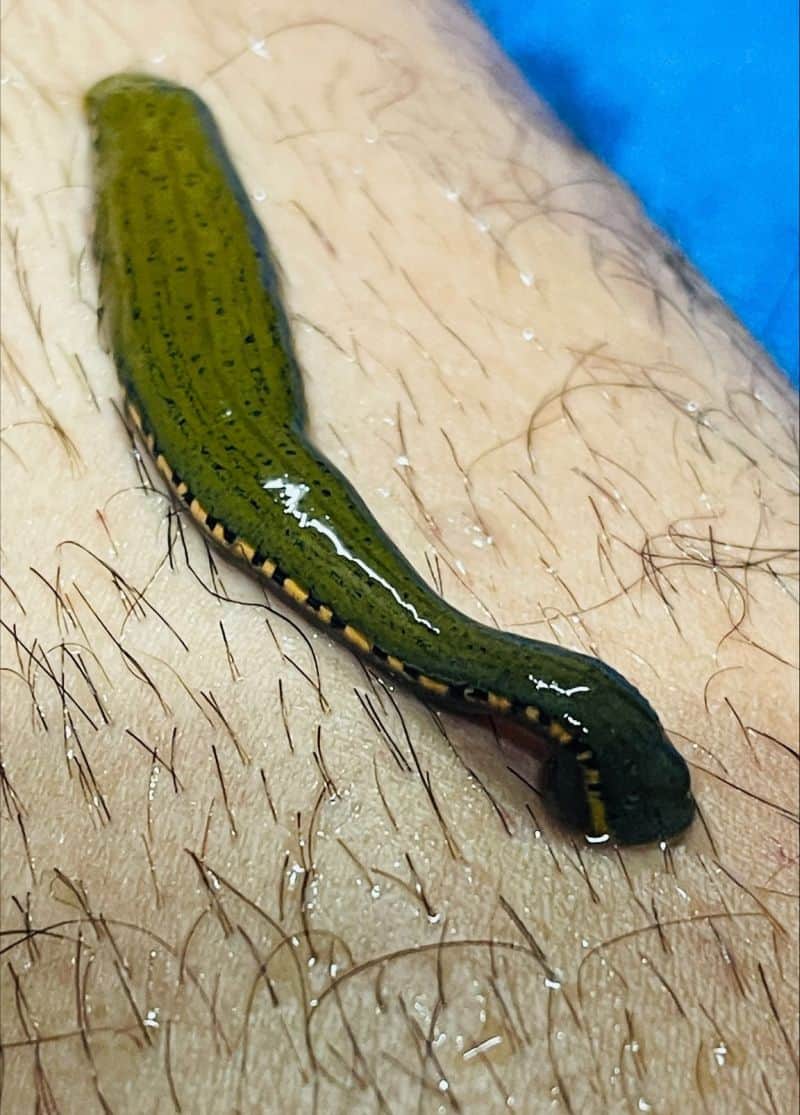 Leech therapy has been used since ancient times. Leech produces saliva that contains certain bioactive substances like anticoagulants, pain relieving agents, and vaso-dilators. These substances prevent the clotting of blood and allow the impurities to flow out. This process is commonly believed to be a part of bloodletting.
Shiro Abhyanga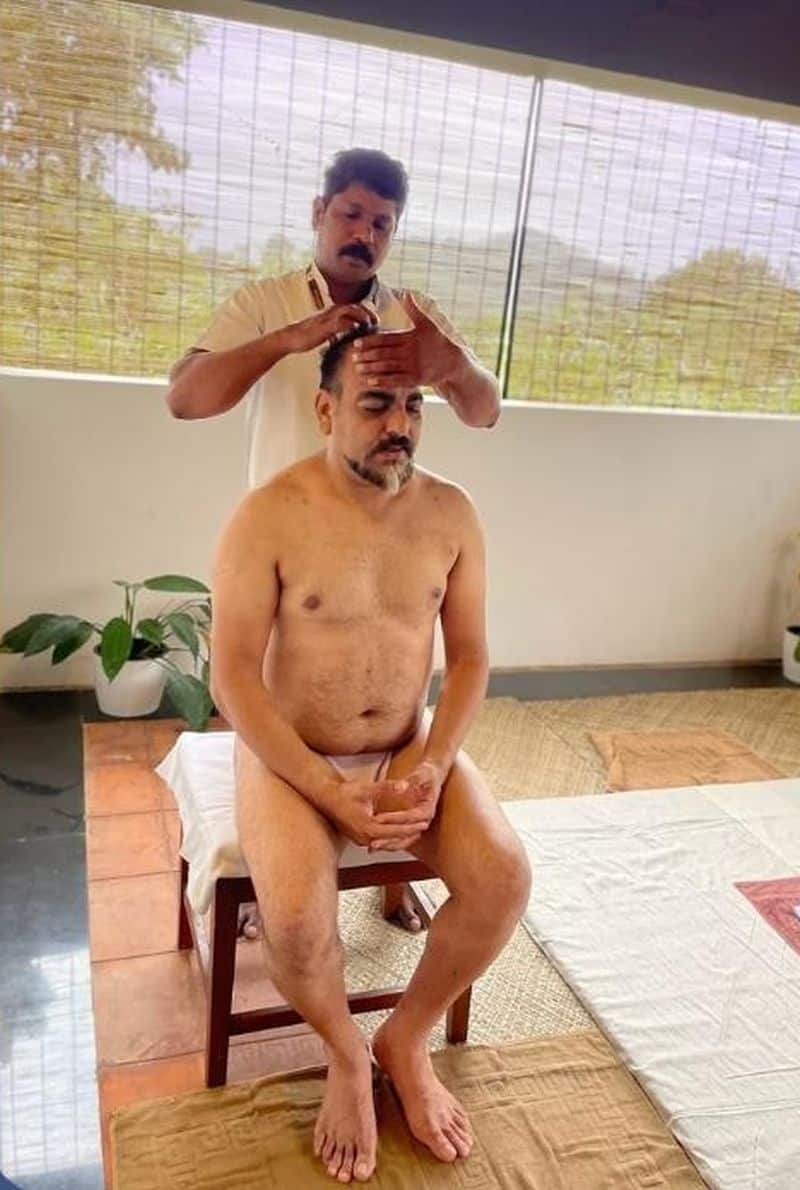 Marmas are the source of Prana, or life force, where the energy is regulated and stored. They are also the destination point for each of the three energies of Vata, Pitta, and Kapha. A good Kalari massage starts with Shiro Abhyanga.
These are the common Ayurvedic treatments in wellness resorts in India and also in other parts of the world. But Jeevess has something different.
My Overall Experience at Jeevess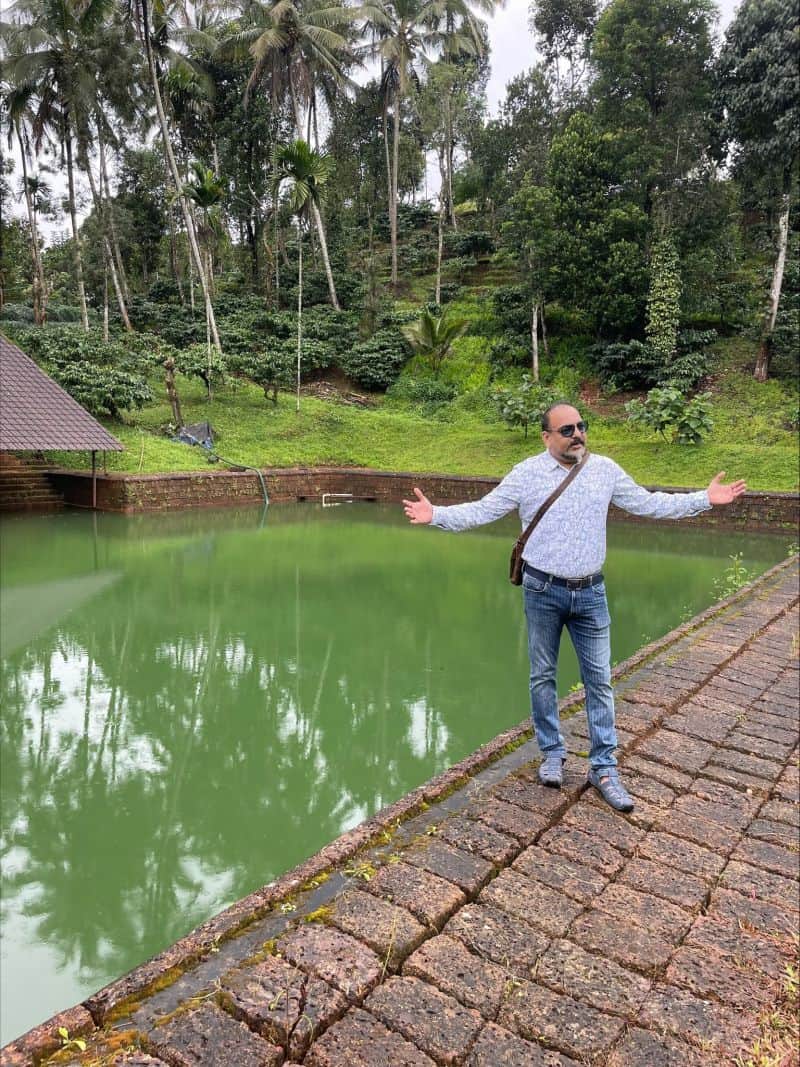 I would love to offer my sincere thanks to Jeevess Ayurveda for inviting and hosting me along with an international guest fromthe ministry of tourism. It was a sheer pleasure to be in a purely natural environment. I was mesmerized bythe ubiquitous greenery and landscaping there. The cottage that I stayed in was comfortable, spacious, and luxurious.
My room had an uninterrupted beautiful view from the balcony, where I also had a couple of peaceful dinners. I was provided with personalized services and great hospitability, where the manager of the resort Mr. Nithin made sure that I was served and treated well.Truly, the stay itself was an unforgettable experience!
Another remarkable memory was the Ayurvedic Treatments I received. The specialized Ayurvedic doctors diagnosed me and the other guest to assess our Vata, Pitta, and Kapha doshas. Although there was no significant medical reason to be treated, we selected a few treatments to experience their beauty.
The striking aspect of this wellness resort in India is the Kalari Chikitsa part.
Kalari Foot Massage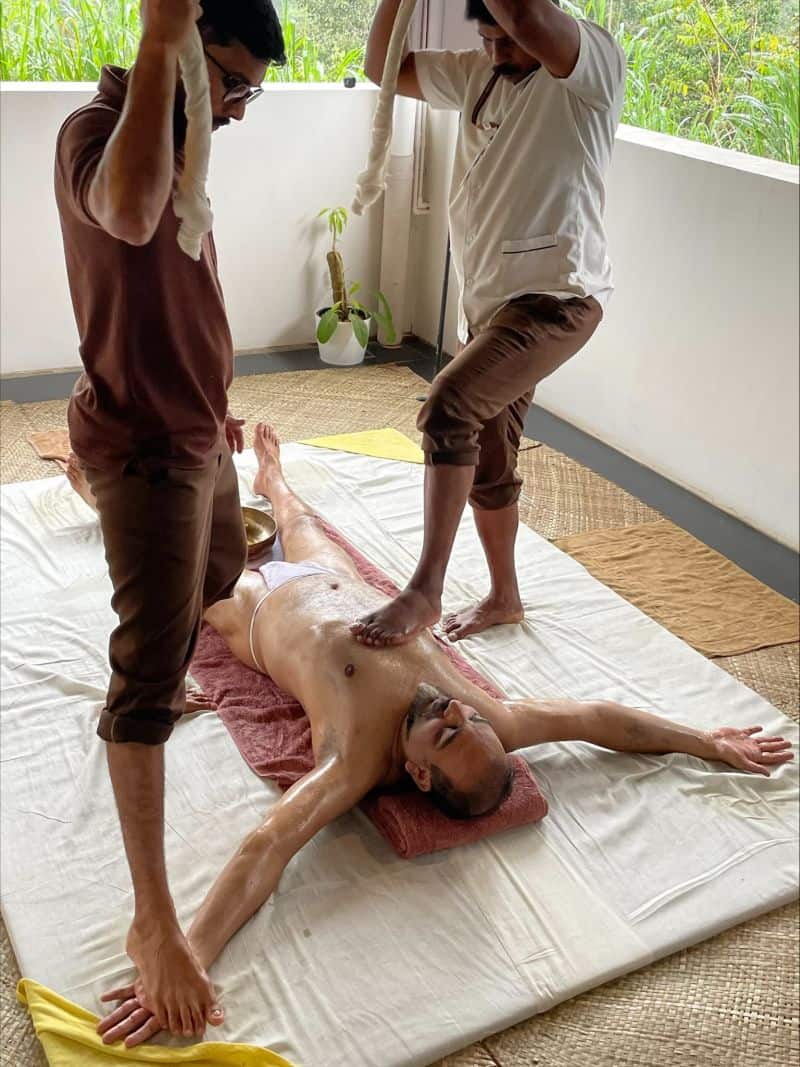 I decided to go for the Kalari Foot Massage where two gentlemen holding ropes gave me a full body massage with feet. It started with Abhyanga and was adjusted by the therapist according to an individual's sensitivity levels. After this, I went for cupping therapy which is known for improved blood circulation and pain relief benefits. As informed by our doctor, the scars from cupping settled after 2 days. In fact, I was completely fit to play volleyball on the third day.
What I experienced in Leech Therapy?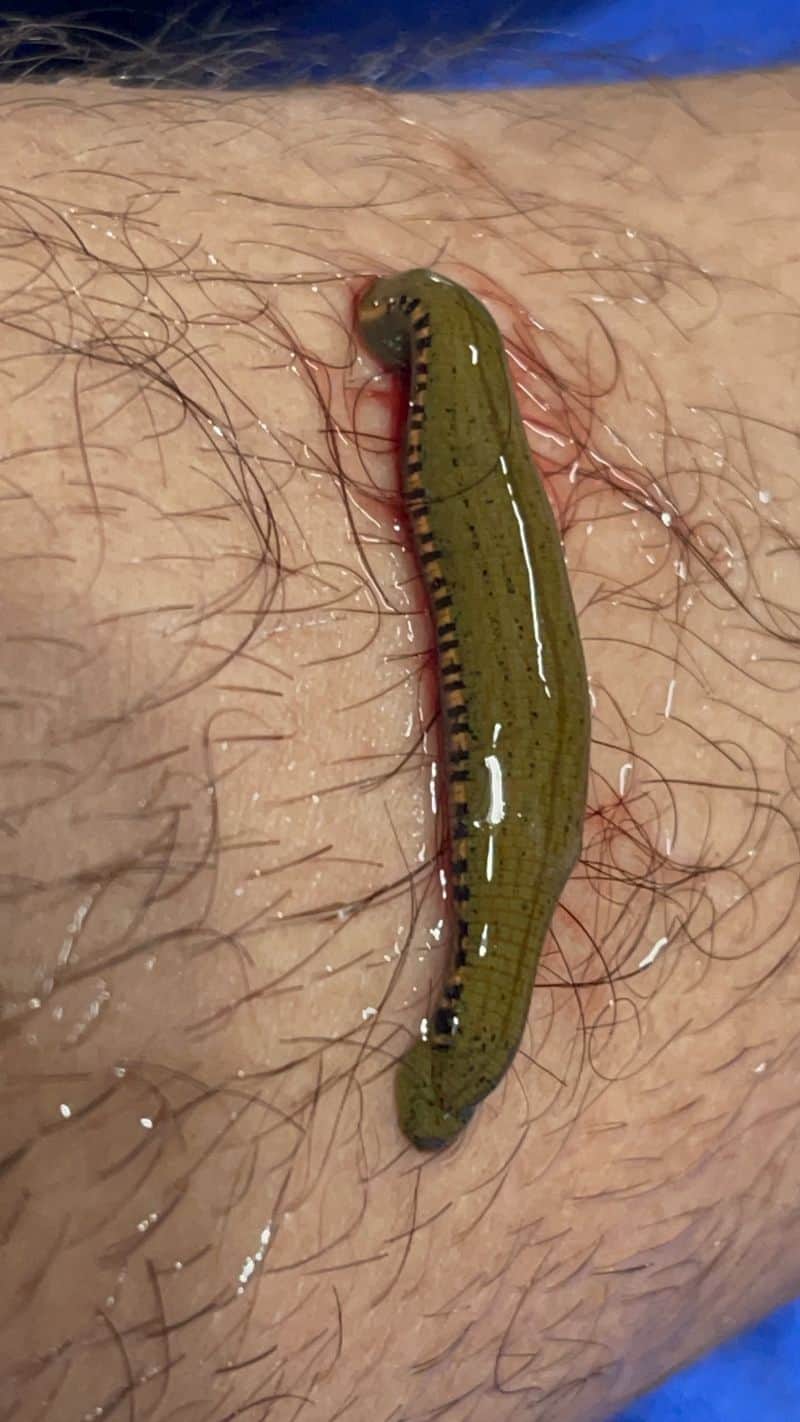 The last and most interesting treatment I tried was Leech therapy. I was very much aware of this therapy, as my father is also an ayurvedic doctor. But it was amazing this time, as it was done in evidently proven style and process. Two Leeches were correctly placed by the doctor that sucked out all the bad blood from my body. The most wonderful thing for me about the treatment was that after the therapy was done, these Leeches were given a turmeric bath.
It led them to vomit out all the bad blood and they were not affected by it. It was so amazing to experience all these for me. The guest with me decided to go for a Kalari massage, Face Treatment, and Steam therapy. As she was sensitive toward spicy food, the staff also served customized food for her comfort.
She also shared how delighted she felt experiencing everything here. I'm grateful to Chairman- Dr. Saheer Ali, MD- Mr. Naseem MC, and our brilliant Ayurveda doctors – Dr. Anamika and Dr. Mithun for all I got to take from this place. It is undoubtedly one of the best wellness resorts in India.
To end my unforgettable experience here and to do justice to this place, I cannot forget to mention about facilities like a polyhouse, pond, solar panels, rainwater harvesting system, watch tower, stroll ways, well-stocked Ayurvedic pharmacies, and last but not the least a library!
The place not just offers peace to mind and body, but also provides sources for intellectual growth. Visit the facility and experience the great effects of the Traditional Indian Ayurvedic Medicines. Located at Waynad, the tranquil, pristine, enchanting, and hypnotizing destination, this landscape is brimming with history and culture. I highly recommend Jeevess to anybody who wants to have personalized Ayurvedic care. This is the place to go.