Wellness is more of sensory experiences. Understanding the need for sensory experiences and enhancing it through interactions with the surroundings is the cornerstone of wellness resort architecture.
Dr Prem Jagyasi has travelled to 65 countries to work with top wellness resort brands in the world and have helped many resorts to build sustainable and mind-blowing designs embracing corporate wellness philosophy. This guide is a quick look to his idea of Wellness Resort Design and Architecture. As he says "Wellness resort design has been evolving beyond the typical architecture and interior décor to a deeper understanding of the interdependency of nature and human beings."
You must have noticed how your body and mind respond slowly as you approach a wellness destination. Your breath slows down, your muscles feel relaxed and your mind unwinds instantaneously. The psychophysiological impact that a wellness resort has on guests could be attributed to the wellness resort architecture and designthat creates a strong pull factor.
Embodying health and wellness not just for guests but also for the staff is the prime design consideration in wellness resorts.  Guests should feel healthier and happier after spending some time in your wellness resort, and staff will also remain motivated to deliver outstanding services.
Infusing wellness into design strategy is a subtle process with smart planning, programming, and technology that remain invisible but trigger a feel for wellbeing. From the launch of the project, sustainability and wellness should be embedded into the resort design keeping up with the latest wellness amenities and trends.
Wellness Resort Design and Architecture – Guide, News, Trends, Update and Consultancy by Dr Prem Jagyasi
What are the 4S's of wellness resort design – Space, surroundings, sound and services?
[youtube https://www.youtube.com/watch?v=UceFi1XKmNc]
Space, surroundings, sound, and services – contribute to sensory experiences as you step into a wellness resort long before you are into the scheduled programs. Proper sensory management is the key component of wellness resort design and architecture in sync with the natural surroundings.
Space: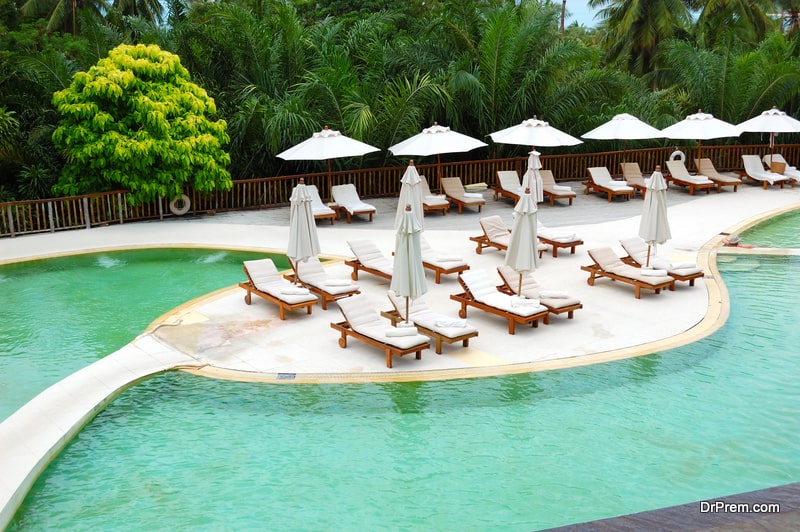 This includes all the external and internal spaces of various constructions in the resort namely living rooms, resting spaces, dining spaces, spa and treatment rooms, consultation spaces, washrooms, private and public spaces where guests are likely to interact with the staff, nature, and others.
Sound:
This encompasses the entire outdoor natural sound and indoor acoustic management that supports a serene and tranquil ambience.
Surroundings: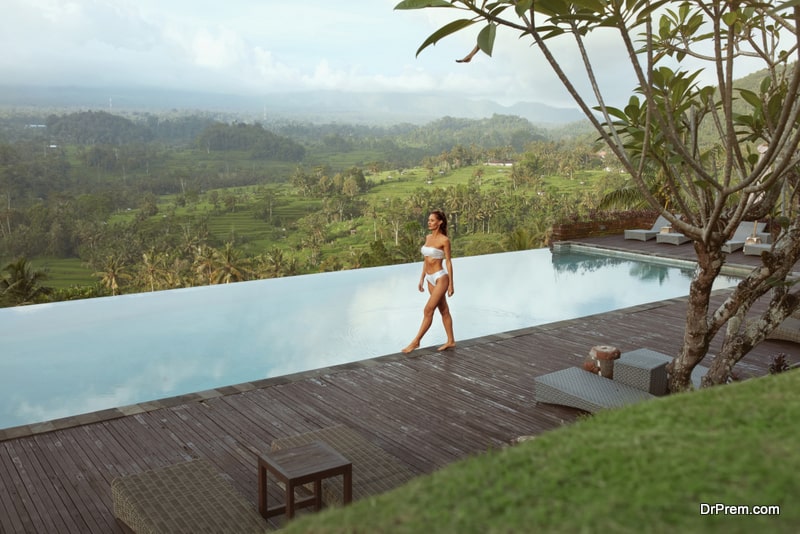 The overall natural surrounding both inside and outside of the resort premises. Lush valleys, greenery, curated gardens and lawns, wilderness, ocean fronts, waterbodies, hills, and mountains comprise the external surroundings. Internal surroundings include everything related to interior décor and arrangement of spaces.
Service:
All the above three sensory management have a great impact on the service of wellness resorts. Thinking the other way round, smart and efficient service and support can promote the overall sensory experiences of guests.
What are the key strategies for wellness resort design and architecture?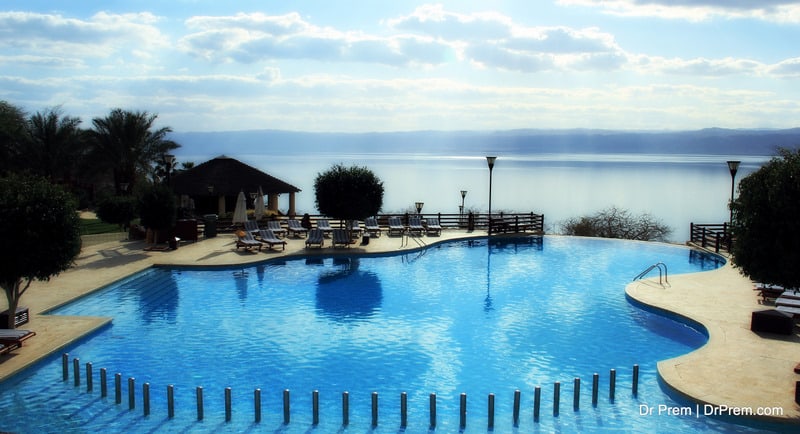 Although much of the wellness experiences spins around rest, relaxation, recovery and rehabilitation, today's discerning travellers look for bespoke authentic and immersive experiences like cultural and natural exploration, adventure and thrills. Your wellness resort design should reflect a distinctive wellness philosophy based on your surroundings and offerings.
How does your wellness resort tell a story?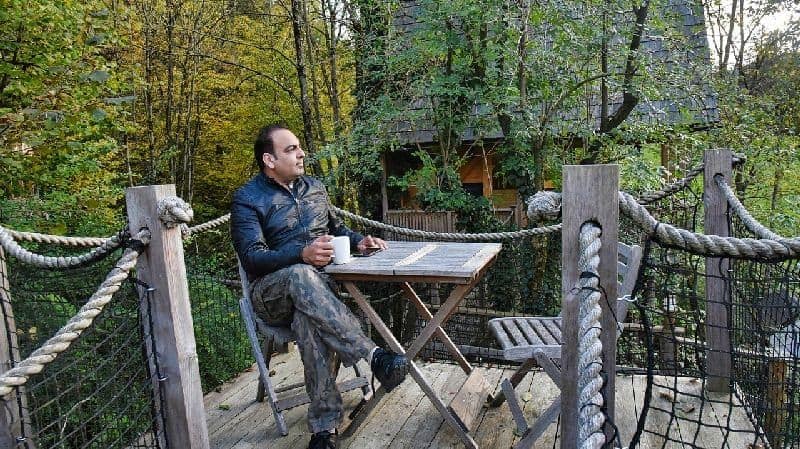 Emerging wellness approaches are impacting the modern wellness resort design. Just a mere luxe accommodation stacked with wellness amenities won't suffice. The resort should speak of a distinct wellness philosophy or concept that will serve the guests' resort visiting objectives.
The designer should make an in-depth analysis of the resort's unique philosophy, surroundings and preferences of guests and weave into an appealing narrative – the story the resort wants to tell. It is this story that shapes the resort's identity with other vital inputs –the materials, functionality and structure standing as marked characters.
2. Resort location and climatic conditions 
Exposure to nature has a significant impact on the physical and mental wellbeing of an individual. The location of your wellness resort will shape the basic design elements. Grand natural settings with mountain valleys, forests, beaches, and water bodies serve the objective of wellness resorts but at the same time, it should be accessible and appealing enough to guests for overnight stays.
Your resort should be in proximity to other cultural and recreational amenities. If the planned resort is in a remote location, proper signage should be set up enabling smooth navigation. Climatic conditions of the location will largely determine the resort's outdoor environment and how it will interact with the indoor components.
3. Sizing the resort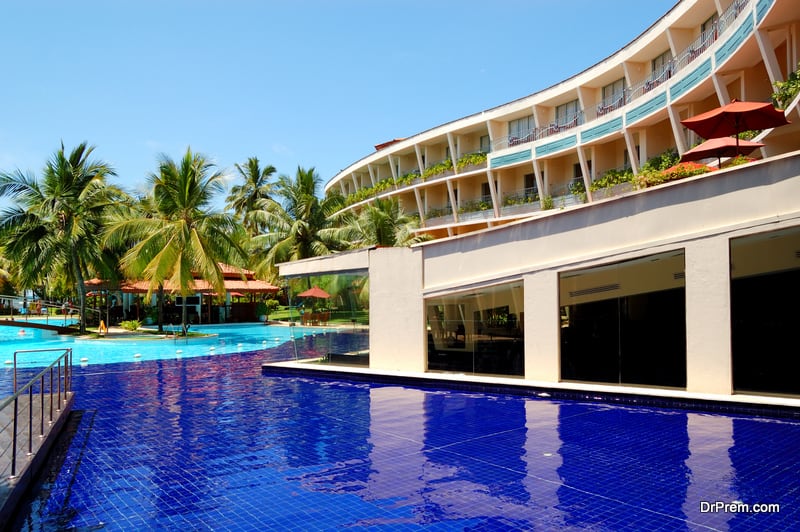 Wellness resort design and architecture rests on five basic elements of nature – earth, water, fire, air, and space. What would be the probable size of your wellness resort? There is no fixed answer to this query. Locational attributes, appeal, accessibility and availability of required materials, infrastructure readiness, labour force, positioning, the local market and all need to be researched to fix the resort size before the design layout is drawn. Bigger is not always better.
4. Site planning 
The sun's diurnal motion is the cornerstone in site planning of wellness resorts that inspires architects to design different zones, functions and make the right choice of materials even the colours. Prioritising key areas of the resort's interior and exterior is the prime task of the designer.
It just takes a few seconds to create a guest impression. Therefore, erroneous site planning where guests feel uncomfortable in accessing resort services can spoil the resort's objective. Many resort designs are awe-inspiring that creates an instant impression. Later, if guests find navigating different wings of the resort uncomfortable or confusing, it creates a reverse effect.
Therefore, it would be great to present the entire resort plan to guests beforehand or a route map especially if the resort is too big, and a few hidden surprises will stir the guest's curiosity.
5. Resort offerings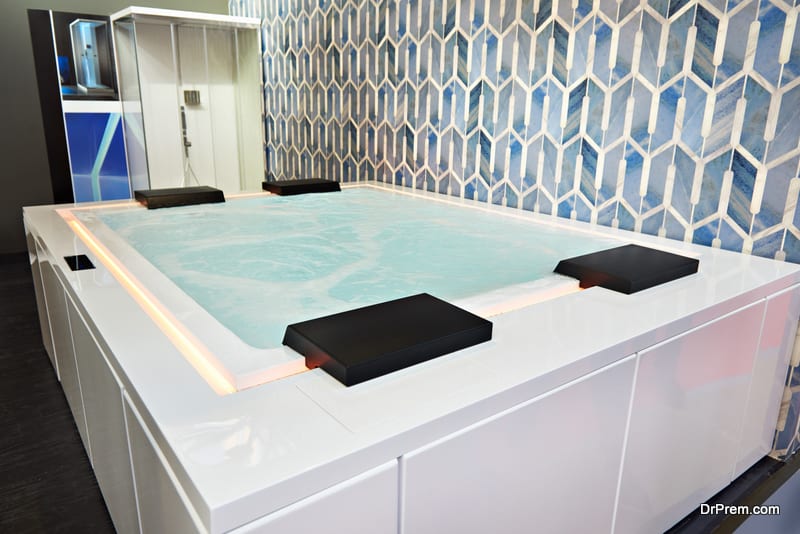 Site planning and resort design would depend upon the resort offerings. If it is comprehensive, you need to check the proposed layout at the start to accommodate those.  If you are planning to set up a health resort, the resort design and architecture should extend beyond typical designs. Designs for holistic spa, consultation rooms, diagnostic setups, fitness studios, counselling offices and other specialised areas for common wellness programs need to be in tune with the resort's wellness philosophy. If your resort offers special recuperative services or rehabilitation support, the design will differ a lot.
6. Structure 
Geographical location, climatic conditions and materials used are the prime considerations in designing the resort structure. The structure should respect the natural components of the resort site. It should be in tune with the construction materials and craftmanship available on-site else it may not be financially viable.
Seaside wellness resort structure cannot be the same as those located in forests or hillsides. The structure of urban wellness resorts reflects the city vibes way different from those in natural settings.
7. Resort architecture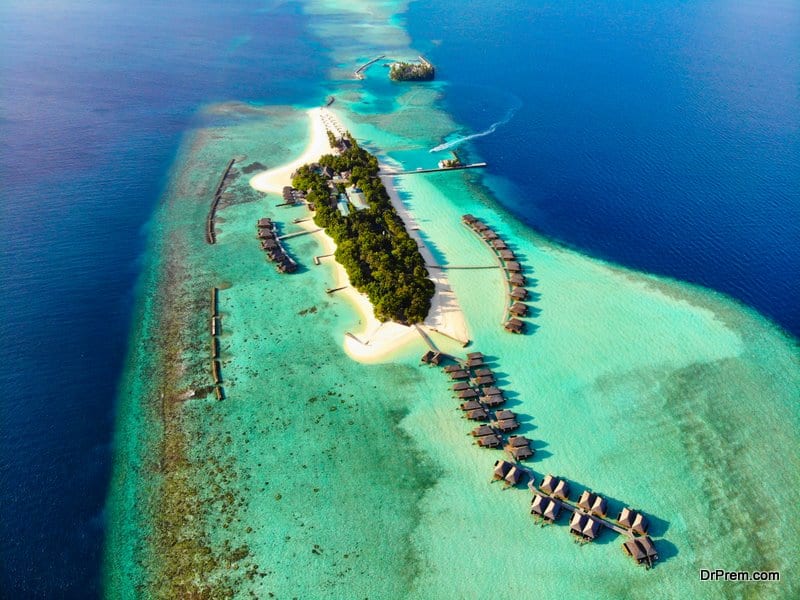 The entire wellness resort functionality is dependent on its architecture which should be in harmony with the socially-conscious systems to promote specific wellness dimensions of guests namely physical, emotional, spiritual, social, cultural and intellectual wellbeing. At the same time, it should focus on regenerating the natural surroundings. Chalets and other constructions should seamlessly connect with nature fitting with the requirements of future sustainability and easy maintenance.
Following are the supporting pillars of the wellness resort architecture:
Wellness resorts tend to follow the vernacular design that reflects the local sentiment – its tradition and culture. This design poses more attraction to leisure travellers that easily sets the inner connect. It easily narrates the story of the place – its climate and heritage. Vernacular designs enhance the guest's perception of the place assuring an authentic experience.
The core of the resort's external design rests on the roof, entrance, open spaces, gardens, lawns and community areas that give off true wellness expressions of the location and surroundings. Innovative blending of local art and contemporary design makes a resort stand out among the rest.
Creating water bodies as recreational amenities or attractive visual settings further adds to the resort's attraction. Five critical factors that greatly influence the exterior of wellness resorts are: roof, building materials, open spaces (porch, lawns or veranda), exterior view and landscape design.
The internal design of the wellness resort should go with the external design style. If you opt for vernacular architecture, the same philosophy should be applied to the interiors. Decoration and furnishing items should meet the traditional resort-style. Smart melding of contemporary designs creates a distinct wellness experience for guests.
The passage from the entrance or reception area to the rooms should be designed in a manner to invoke a special wellness ambience for guests.
Rooms need to be carefully positioned in an attractive setting with an unrestricted natural view. The design of bedrooms, suites, living spaces, washrooms and private dining should merge with the natural exteriors enabling round-the-clock nature connection.
Designers smartly incorporate trendy spa-designed washrooms and other modern amenities without distorting the vernacular style. Waterfall shower, oversized bathtubs, and curated sinks promising ephemeral luxury are easily making places in the guests' needs. Other private areas like jacuzzi or indoor pools should be in sync with the overall resort layout. Modernised fittings and furnishings would go best if customized with the resort's theme.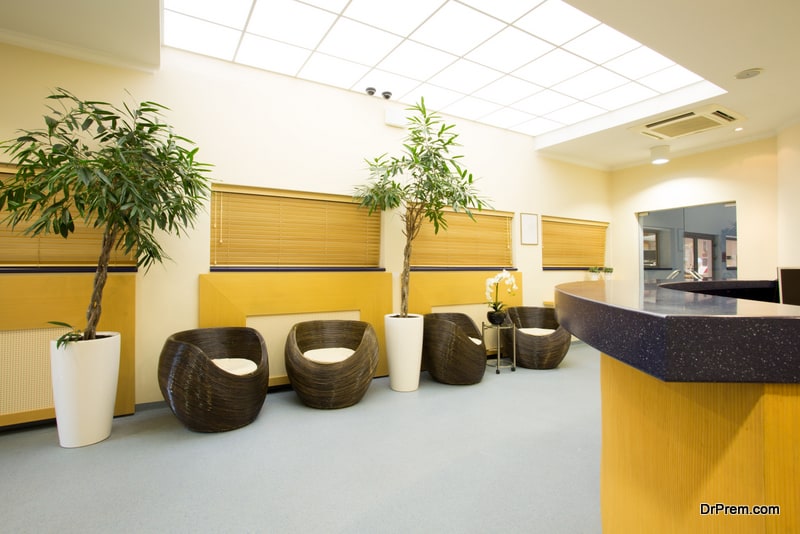 To preserve the innate human-nature connection, biophilic architecture is creating wonders in wellness resort design. Resorts in natural settings have an edge over those in urban locations, still designers are carving out different biophilic environments for an enhanced natural feel in the interiors.
Urban wellness resorts have been incorporating biophilic components to set that much-needed human-nature connect that have a long-term impact on human health and wellness. It could be some simple practices like creating natural colour palettes, indoor plants and natural lighting. Sophisticated components include green-living walls, curated indoor-gardens and green pools to generate wellness vibes of nature.
Passive and active design
Active design in wellness resort architecture matters a lot as it invites guests for healthy living activities. Whether it is the fitness studio, swimming pool, walking area or meditation space, the design should be alluring for whole-hearted participation of guests. Offering easy access to nature-based activities like hiking, nature trails, trekking, bird watching, fishing, organic farming, cooking, etc. enhances the resort's attractiveness.
The resort's passive design is influenced by the local climate and traditional socio-economic culture which is mainly reflected in the resort's building façade, roof, windows, ventilation, lighting, heating and cooling system of the buildings.
Often, traditional resorts come up by transforming existing rural settlements and small towns. The passive design gives the designer the opportunity to create energy-efficient buildings with a much less upfront cost and assured sustainability.
Space allocation for different facilities in the resort layout determines the overall success of the design. It should clearly specify the hierarchy of spaces demarcating the public, private and semi-public areas. Space should add comfort to the guests preventing overcrowding. It is true, wellness resorts need to be spacious enough but care should be taken that guests do not feel isolated.
Space for different activities should be in coordination enabling the smooth transition of guests from one space to another. Living rooms, washrooms, spas and other treatment rooms should be of a standard size not crammed. Specific spaces for specific age groups and specially-abled people are normally recommended in wellness resorts.
The wellness resort's narrative is best expressed with locally made design materials. It upholdsthe resort's vernacular design andis also cost-effective. Man-made landscaping and artefacts are important constituents both for external and interior décor.
Locally designed materials enliven guests' wellness experience that is authentic and immersive. It is not that luxury amenities get eliminated but it is the smart melding of contemporary art with the locally procured materials, the designer justifies the resort's wellness concept.
8. Aesthetic appeal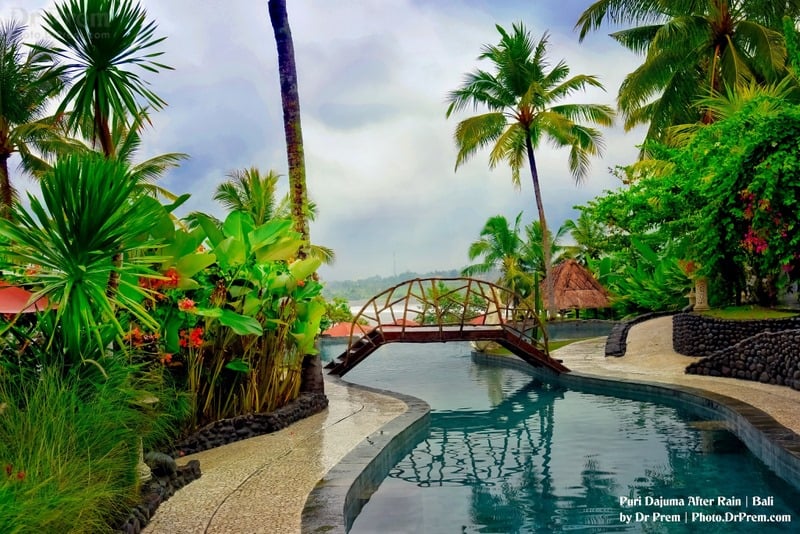 Aesthetics in wellness resort strikes the emotional aspect of guests that contributes to their objective of the visit. Human psychology has an innate linkage with aesthetics that has a direct impact on their quality of life. Aesthetics are appreciated better if kept simple. The rule of thumb is to seek aesthetic components from the surrounding natural landscape that will deeply communicate beauty without the need for language. Let aesthetics say about the people and the place. Too many abstract elements may not resonate with the guest's sense of aesthetics.
Synchronization of mass, space, symmetry, proportion, balance, contrast, and pattern with the surroundings is crucial to bring out the aesthetic appeal. Few things left natural add to the aesthetics. One should be careful of this aspect overdoing will spoil the objective. 
9. Sustainability 
Wellness without sustainability has no meaning both for the destination and guests. Incorporating green principles of wellness architecture is one of the prime considerations of the resort design. Efforts should be made so as not to put much strain on local resources along with considering the environmental factors.
Energy-saving design putting emphasis on natural lighting and air-flow sets the basics of sustainable design. Be responsible in material selection free from chemicals and pollutants so as not to pose any health risk.
Open-air outdoor spas, beach-side meditation and yoga spaces, green restaurants, etc. speak of the designer's approach to sustainability. Green walls, green roofs, proper recycling of resources and waste management are other sustainability factors that could be included in resort design.
10. Environmental considerations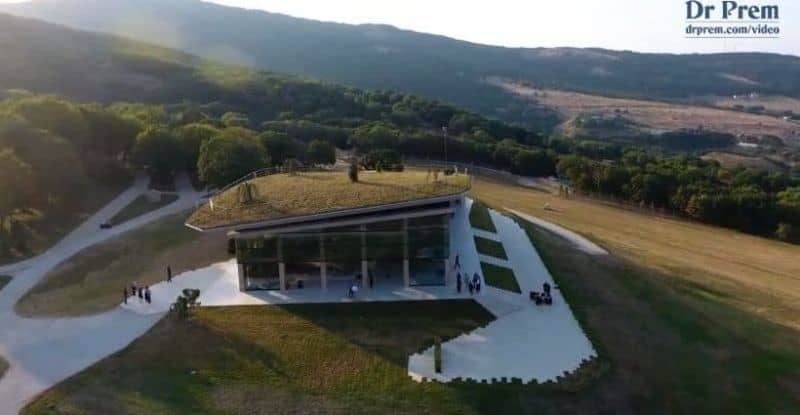 What is the impact the resort is going to have on the surrounding environment? Pre-analysis of possible environment-degrading conditions arising from the construction, soil damage, water usage, sewage and waste management is the key to successful resort designing.
The design should keep in mind the conservation aspect of local flora and fauna and its future impact while it is in full operation. Will it alter the skyline, natural viewpoints, or the landscape vision? Will it affect the underground water table and lead to land erosion?
11. Maintenance 
Proper maintenance is essential to maintain the resort's functionality to provide a seamless wellness experience.Care should be taken in choosing the design, construction materials, fittings and furnishings ensuring their durability and easy low-cost maintenance.
The colour and texture of materials need special attention as they vary in durability. Frequently-touched furnishings and fittings subject to intensive use and damage should be of high-quality as well as resonate with the resort's style and philosophy. Often, one-time investment in quality materials could save future maintenance and replacement pains.
To help you understand Dr Prem also regularly update Top 100 Wellness Resorts in world, you can learn about how leading wellness resorts are taking design and architecture to next level. 
Wellness resort design trends: 
[youtube https://www.youtube.com/watch?v=NN4eoxV00t8&w=800&h=600]
Let us have a look at a few key trends influencing wellness resort design and architecture: 
Creation of multi-use common spaces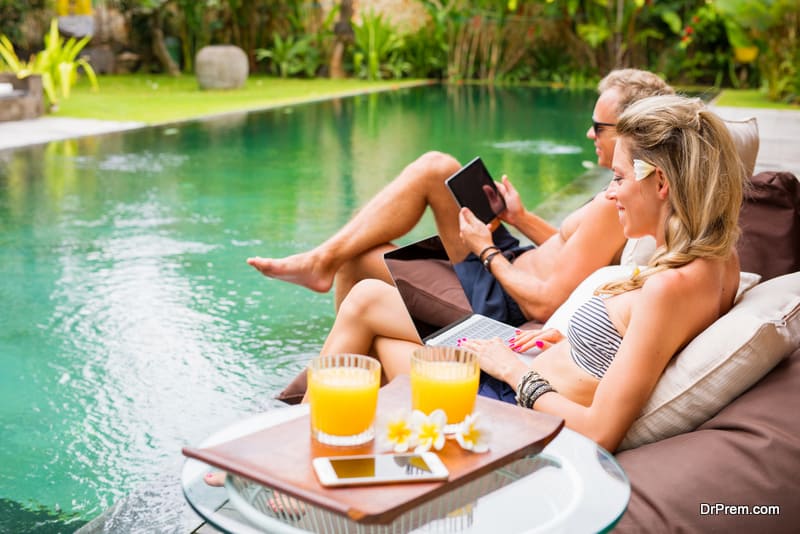 Common spaces complete the guest experience. Lounges, gardens, resting areas, poolsides and other spaces no longer are only meant for relaxation. Guests prefer socialization or working with laptops amid a relaxing ambience. Creative space augmentation comes into play with the installation of structures for supportive functionalities.
Blurring the outdoor and indoors
Ethereal transition of outdoors and indoors leads to a great sensory experience. Floor-to-ceiling windows, large decks, terraces, private pools, indoor greenery and waterfalls, contemporary wooden interior décor or earth colours bring the outdoor nature indoors in a graceful way causing a drop in the tension and anxiety level of guests.
Rooms are getting more personalized for business people, leisure vacationers, wellness seekers and recuperating patients. The classic bed-wardrobe-locker-table combo is fast giving way to customized rooms meant for specific wellness objectives of guests.  An eclectic mix of interior décor and colour variations add to the unique appealing factors.
Less technology overloading
People visiting wellness resorts do not look for hi-tech accommodations. On the contrary, they tend to remain disconnected from the tech element. While great tech-support is essential at a few points of the guest experience, making it a point to strike a balance should not be lost sight of.
Designer spas enhancing a deeper connection with nature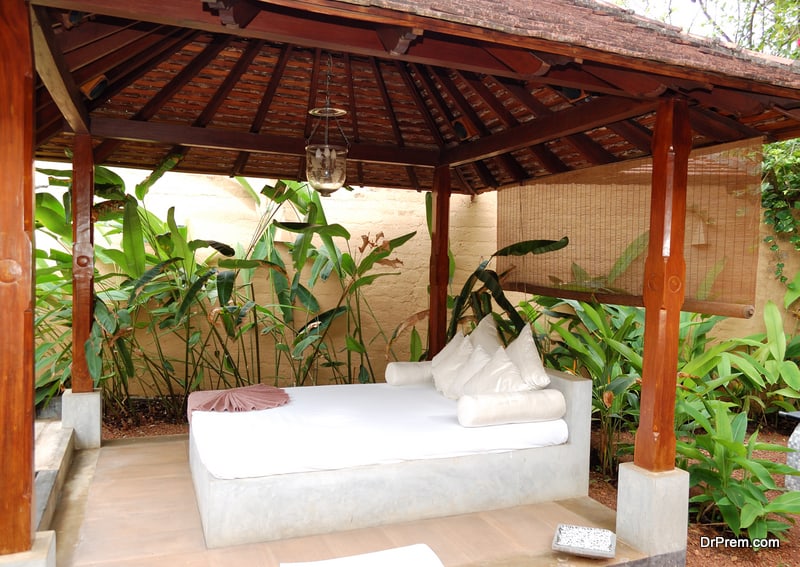 Modern spa designs are evolving beyond the closed-door spas. Open-air spas amid natural settings are coming up fast. Even in closed-door spas, indoor greenery in the waiting space and the sound of waterfalls enhance the relaxing environment. Natural cedar seats and walls made of local salt bricks or other ingredients contribute to sensory experiences providing guests the much-needed respite from the noisy world.
Local traditional art reflects the authentic vibe that guests mostly look for. This is done through the proper use of fabrics, earth colours, local design motifs that narrate the culture and history of the place well.  Modern wellness architecture is getting easily merged with local art with small and large-scale installations as required where guests can absorb the essence of the local culture and experience the daily life of locals.
Specially designed mental wellness spaces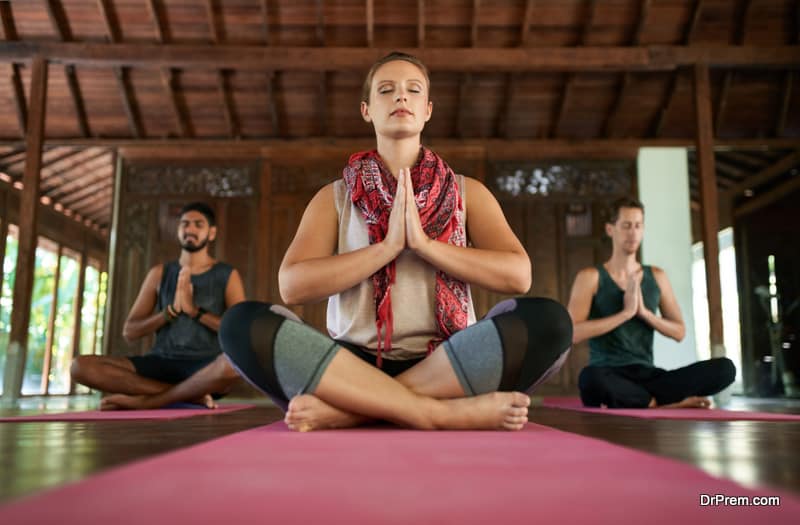 Apart from conventional open-air meditation and yoga spaces, wellness resort designs are adding curated natural sanctuaries for nature bathing (akin to forest bathing) within the resort premises.
Other important points to consider: 
Designing wellness resorts does not depend on the designer's artistic sense and expertise alone. The designer should be cognizant of: 
Evolving customer demands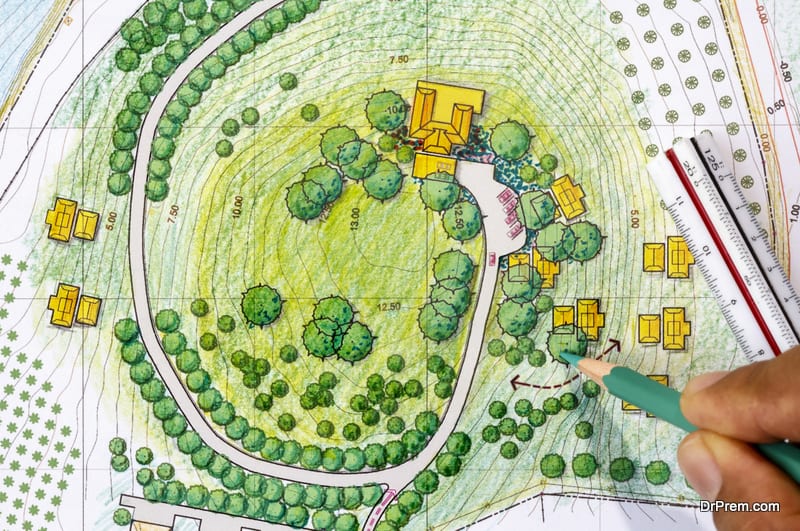 Shifting customer preferences are forcing resort designers to instill more creativity in receptions, lounges as well as private intimate spaces. If your guests are booking staycations, workcations or evenschool- cations, more creative your space, better is your resort's appeal.
People's traveling objectives are shifting fast. The wellness resort design should have provisions to accommodate newer and emerging wellness trends. For example, wellness sabbaticals are trending where people prefer to be in touch with workplace while caring for self-wellness. While some may prefer total digital-detox programs. The resort design should support the objectives of all.
Multiple entry and exit points for easy accessibility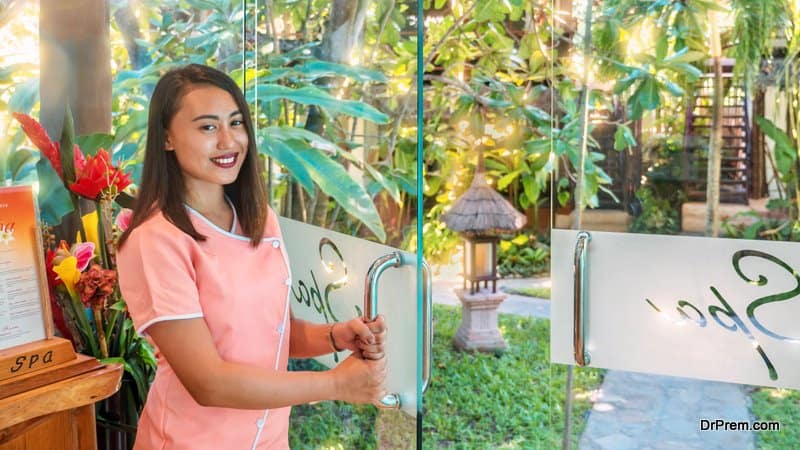 Setting up a wellness resort in far-flung destinations is a good idea for crowd-evading travellers. But the resort should have good connectivity in context of the surrounding. Consider putting up different entry and exit points with respect to road connections that would spare your guests driving extra miles. In case of any emergency, multiple exit points will facilitate faster evacuation.
The entrance and reception 
The entrance is the first experience point of your guests which almost sums up the entire resort experience. The aesthetics of the entrance should be in line with the resort design and spacious enough. It should be rightly positioned and clearly visible no matter how unique the layout of your resort is.
Circadian rhythm-setting lighting system
Quality sleep is integral to wellness yet it can be disruptive if a traveller has to cross several time zones to reach your resort. If bed size, mattress and pillows are important for quality sleep so is the lighting design. Consider lighting systems that help in setting the circadian rhythm enabling travellers to fight jet lag and adjust to local time zone soon.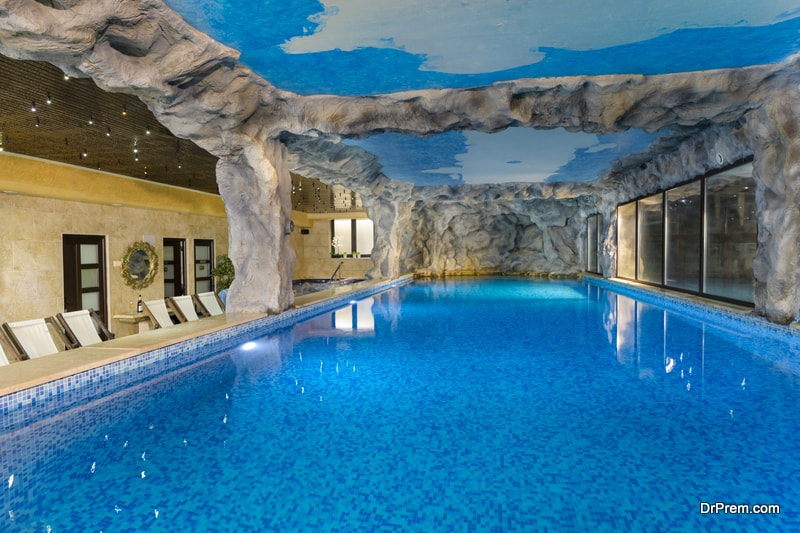 Humidification control, radiant heating and cooling systems and displacement ventilation are some of the thermal management strategies that need to be considered in wellness resort design. Hectic lifestyle and long hours of travel are often overwhelming to our senses.  Fresh air, ambient temperature and well-designed acoustics help in fulfil the guest's immediate need to relax and refresh.
Be it the newly laid carpet, wall covering or flooring, the smell of chemicals is neither pleasing to guests and staff nor healthy. Make an informed-selection of finishing and furnishing materials or individual products that go with the wellness concept. Make sure to have proper material evaluation regarding its chemical content and its impact on overall wellness.
On-site medical facilities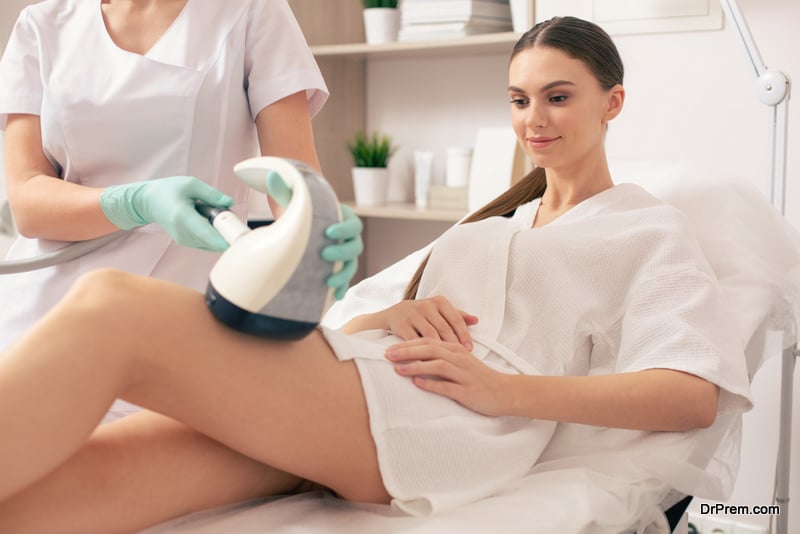 Wellness resorts offering integrated luxury wellness treatments and non-invasive treatments need to create securely designed on-site medical facilities for patients seeking privacy. Consulting rooms, operation facilities and recovery suites should be designed identically with other resort buildings.
Even before you start programming for the design, make sure to collaborate with the real estate developers, operators and consultant teams to evaluate options and technical systems at macro- and micro levels to meet the ultimate objective of enhancing the guest's wellness experience at all levels of stay.
Hospitality leaders are vying to grab a bigger pie of the wellness tourism market. The design approach that cares for people – not only guests but the entire staff whose wellbeing is also crucial to deliver outstanding services emerges as the sure winner.
Read more about marketing and promoting strategies for wellness resorts and wellness hotels
Read more about customer services in wellness resorts.
Should you wish to connect Dr Prem Jagyasi for your wellness resort design and architecture needs just connect with him at drprem.com/contact