Turkey's spa and wellness tourism market is shaping up interestingly thanks to its huge reserves of geothermal springs. Travelers get their required dose of relaxation, recovery and rejuvenation while on a vacation. Turkey ranks 7th in the world in thermal water resources and 3rd in Europe for Thermal water resource utilization. Tapping natural springs for therapeutic purpose has been an age-old practice. Today it is a raging trend in global wellness tourism.
Thermal water therapies are evolving in modern spas, thermal resorts and wellness retreats. What makes this water so special? There must be some potential benefits visitors are reaping within the ambit of wellness. Oksana Svetenko, an experienced wellness professional based in Kazakhstan digs into the matter.
The global thermal spring market is amazing: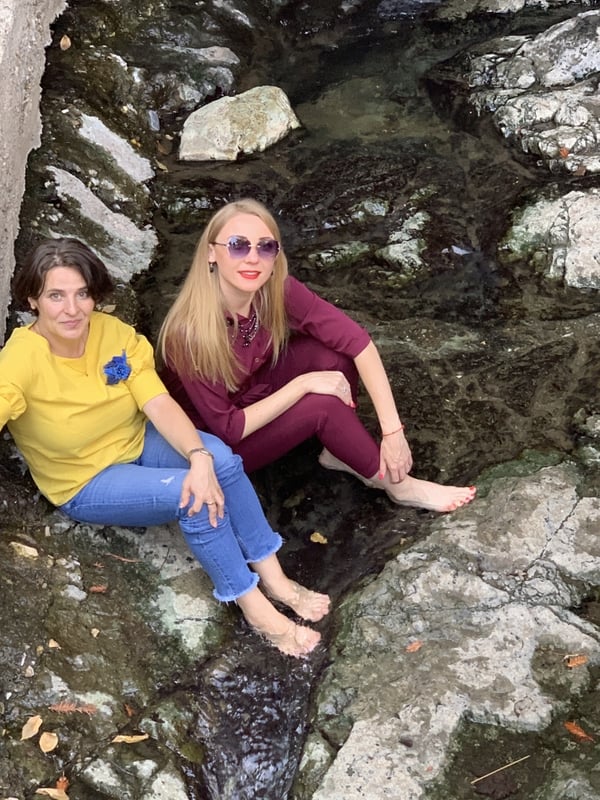 Global Wellness Institute (GWI) research suggests, thermal/mineral springs market has grown from $5 billion in 2015 to $56.5 billion in 2017. Facilities associated with it also clocked an impressive growth from 27,507 in 109 countries to 34,507 in 127 countries generating employment for 1.8 million workers.
Thermal spa market growth is concentrated in Europe and Asia accounting for 95% of the total revenues. Destinations with huge hydrothermal reserves (thermal/hot springs) are marketing organized tourism packages much to the likings of wellness travelers.
Shifting preferences in therapies – Nature as the best medicine: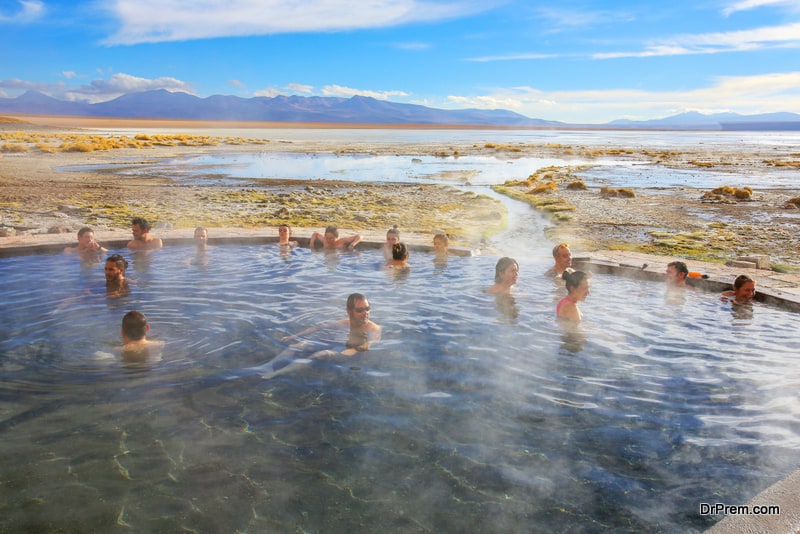 According to Oksana, people are being more inclined to nature for remedies. Her opinions resonate with the Global Wellness Institute research that says, prescribing nature is one of the most popular trends in today's wellness market. It is good that people are gaining trust in nature's healing power. As Parascelsus, the notable German-Swiss physician of the 16th century attributes the art of healing to nature, not to physicians.
In this digitally-connected world, we are disconnected from nature. This dissociation with nature is impacting our physical and emotional health. Silent epidemics have invaded 21st century. The global population is overpowered by stress.
People are fighting a tough battle against non-communicable diseases like obesity, hypertension, diabetes, cancer not to mention depression and anxiety. According to research, non-communicable diseases contribute to 68% of global deaths killing 40 million people every year. Mounting healthcare costs are making people bankrupt.
Therefore, the quest is not for cure but wellness. Our mind and body need the healing touch of nature. The growing attraction towards Thermal/mineral springs not only spins around healing physical discomforts but also means getting a chance to be closer to nature. She feels a trip to Thermal/mineral springs can serve many wellness purposes.
Benefits of Hydrothermal waters: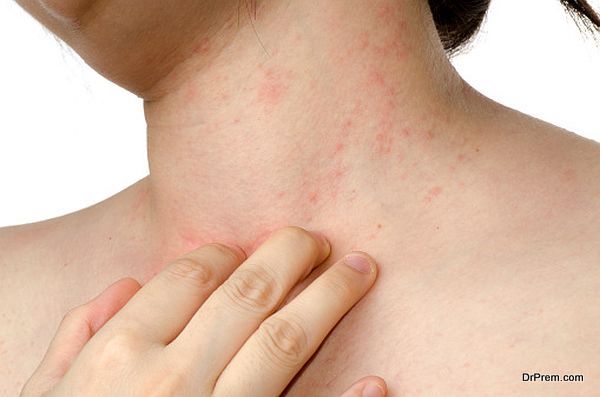 Thermal water therapies are not only restricted to external application or bathing. It follows other treatment techniques like inhalation, steam rooms and drinking. Thermal waters of many springs are recognized as medicinal waters which can be drunk for curative purpose but this needs to be scientifically established.
Temperature and mineral content of the water are prime determinants of healing which has led to the practice of thermal water bathing. Our body needs many trace minerals each having a distinct function. Thermal/spring waters are rich in sulfur, calcium, magnesium, bicarbonates, iron, sodium, chloride, etc. known to have special therapeutic effects. Epsom salt bath to treat arthritis and joint pains is a common practice, the effect can be even better with thermal springs.
Thermal/mineral is recommended for treating:
Skin diseases like eczema, acne and psoriasis
Musculoskeletal disorders, joint problems, rheumatic disease, calcification, soft tissue rheumatism and injuries.
Gastrointestinal problems
Diabetes
Gout
Liver failure
Diseases of the kidney and urinary tract like chronic cystitis, kidney stones and functional insufficiency.
Neurological disorders in the spine
Thermal springs are also known to be beneficial in improving the quality of life of patients crippled with degenerative diseases. It is also recommended for rehabilitation from stroke and other senile disorders impairing mobility.
The natural 'detox water':
Lately, thermal water is considered as the detox water that strengthens the body along with purification.  The mineral content of water helps in throwing out harmful toxins from the body. As you remain soaked in thermal water, your body absorbs traces of minerals from the water which boosts the circulatory system aiding in detoxification.
Children can benefit too: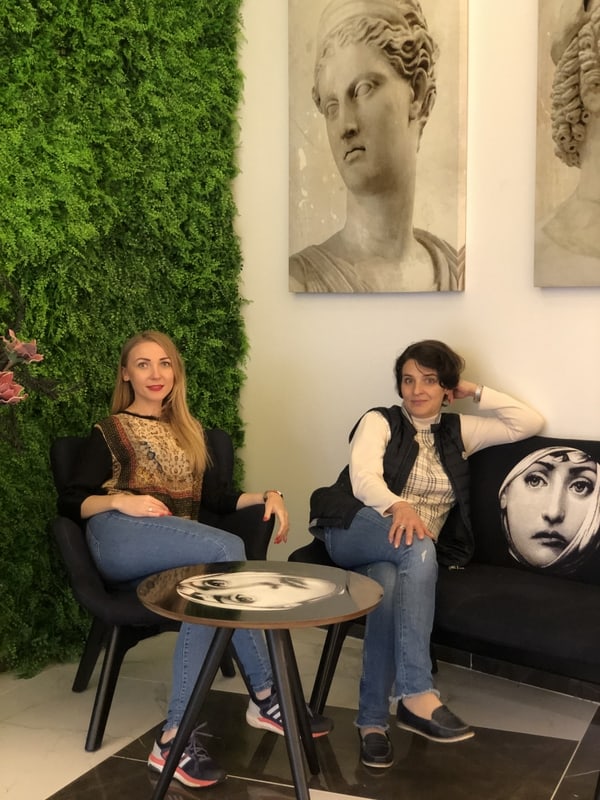 Oksana Svetenko through extensive research finds thermal water treatments are applicable to children also. Nowadays, many thermal spa resorts have specially curated spa programs for children as well. Thermal spring waters work best in curing curing upper respiratory tract problems like hay fever and asthma which are common in children.
Thermal water for the elderly: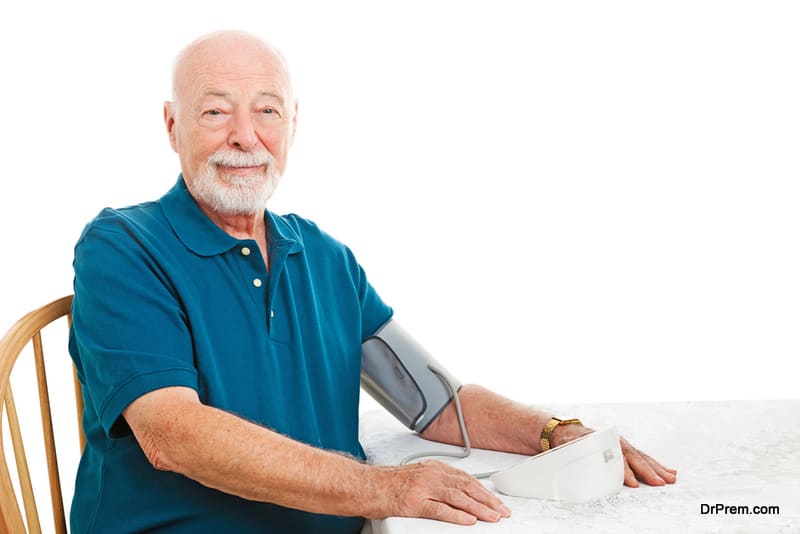 Elderly people suffering from chronic ailments like hypertension, coronary heart disease, chronic lung disease and diabetes can benefit from thermal water therapies.  A specialist recommendation is necessary regarding the selection of thermal spring and treatment procedures.
Duration of the treatment matters: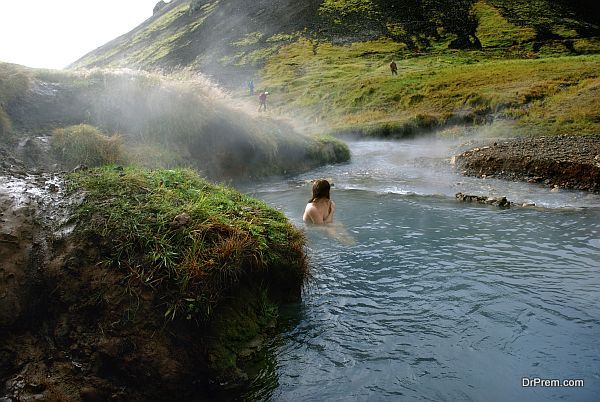 This varies according to the nature of the ailment and patient condition. Healing in thermal spring waters is more of an adaptation therapy. You cannot expect overnight results. It normally takes at least 10-15 days for the treatments to be effective. The ideal temperature of the water should be 36-38° C.
Turkey witnessing the revival of Thermal water therapies: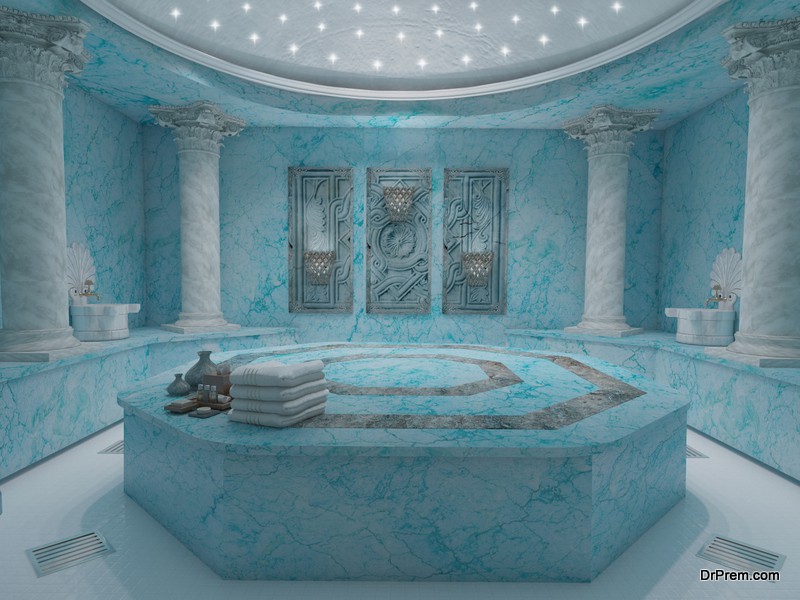 Turkey enjoys a special advantage of being located at one of the prime geothermal regions in Europe. It is reputed for 113 thermal regions covering nearly 1300-1500 hot spring sources with the earliest recorded around 15th -18th century.
Promising healing for all, Turkey's thermal water baths are founded on rich history from the days of Seljuk and Ottoman reigns.  By establishing sustainable bathing spaces, each one an architectural marvel, Turkey gave birth to a phenomenal bathing culture 'Turkish Bath' or Hammams that not only cleans but also heals.
Romans preferred relaxing in large public baths with special heating methods invented thousands of years before. Even today, bubbling heat from springs is applied in spas and thermal resorts but in a modernized form. Of all regions, Anatolia drew the most attention with its unique water supplies.
A study by NIH states, all forms of Balneotherapy and spa therapy for rheumatic diseases in Turkey can be considered to be effective.  With advanced techniques and facilities, the combined healing power of water and heat is applied in treating many diseases.
No two thermal springs in Turkey are the same. Each spring is unique in its mineral content, water temperature and gravity. Oksana Svetenko feels Turkey has a competitive edge here. With spa resorts and wellness retreats offering great value for money, visitors are sure to crowd here.
Some of the rich thermal water treasures of Turkey: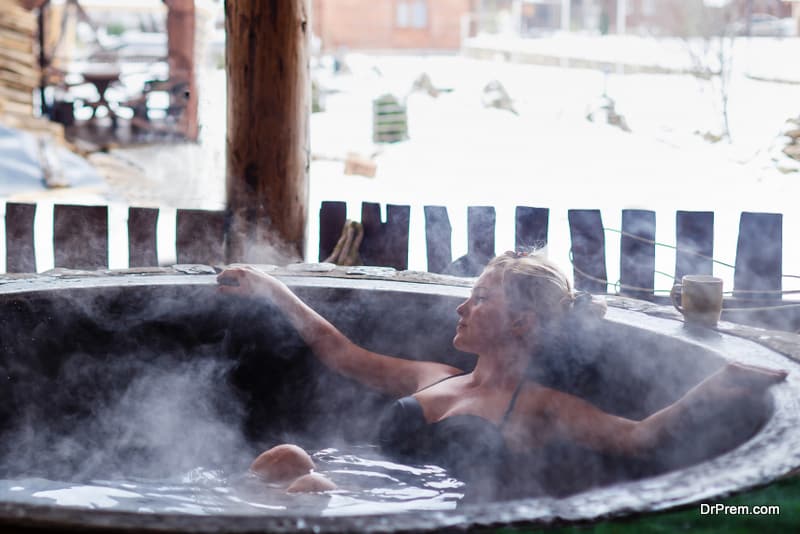 The ancient thermal spring reserves 2000-2500 years old still continue to have immense therapeutic potential. Cities with such rich reserves are:
Terma City, Yalova Turkey
Pamukkale (Hierapolis)
PaĢa Hot Springs (Allianoi)
Aydın: KuĢadası,
Denizli: Pamukkale ve Tekkeköy Hot Springs,
Ġzmir: Balçova Hot Springs, Bademli Hot Springs,
Güzellik Hot Springs, PaĢa Hot Springs,
Haydar Hot Springs,
Çanakkale: Hıdırlar Hot Springs previously named "Angonia",
Kocaeli: Tuzla Mineral Water,
Ordu: SarmaĢık Hot Springs,
Afyon: Ömer-Gecek, named as "Aqua Germ" during the antic era,
Sandıklı, Gazlıgöl and Hüdai Hot Springs where was known as "Agros Thermon" in Antic era,
Bursa: Yalova-Termal, known as "Pythia Thermae",
Oylat and Çekirge Hot Springs built by Roman Emperor Julius Ceasar,
Balıkesir: Manyas ve Gönen Hot Springs,
Ankara: Kızılcahamam Hot Springs,
Muğla: Sultaniye Hot Springs,
Yozgat: Sarıkaya Hot Springs,
UĢak : Aksaz Hot Springs,
Samsun: Ladik Hot Springs
Classification of Thermal waters: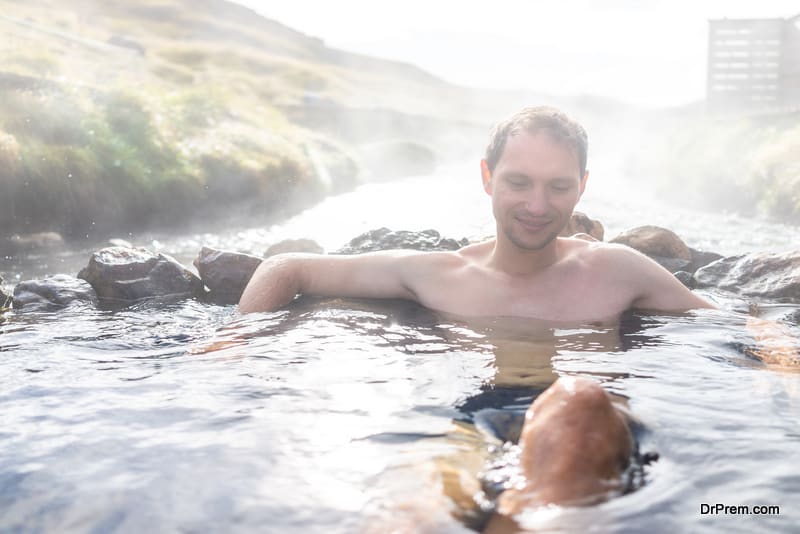 Oksana Svetenko has presented an interesting study on temperature variations of Turkey's thermal spring waters in different regions.
Cold water resources: Temperature 19°C concentrated in Central Anatolia, Marmara and Aegean regions.
Hot water resources: Temperature 36°C-45°C concentrated in the Aegean, Marmara, and Central Anatolia regions.
Very Hot water resources: Temperature above 46°C in the Central Anatolia, Marmara and Aegean regions. This has the highest healing potential.
Aegean region is known for the highest reserves of healing water followed by Marmara, Central Anatolia, East and Southeast Anatolia, the Black Sea and the Mediterranean region.
Thermal Springs regulated by the Ministry of Health: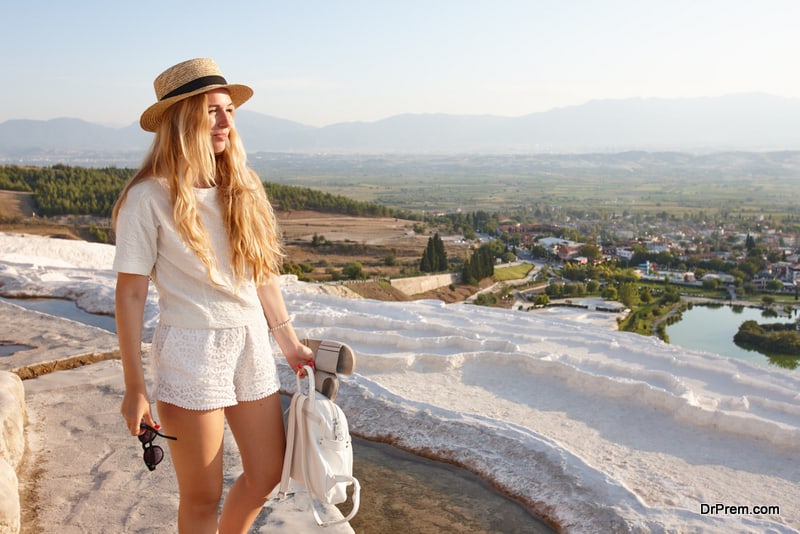 Regulation of Hot Springs created by the ministry of health categorizes Turkey's spring waters as follows:
Hot Springs Curing Centers:
These have outpatient treatment facilities for patients controlled by specialists. Patients also get the hot spring ambience with special accommodation facilities.
Hot Springs Curing Cliniques:
Patients recommended for Hot Spring therapies get inpatient treatments termed as 'enclosed curing' by specialists. These are like clinics with all sorts of clinical arrangements.
Hot Springs Curing Hotels:
These are hotel-type facilities offering spa services and other hot spring therapies with other recreation facilities. Treatments are performed by specialists. The hotel part should comply with the Regulation of Certification and Qualifications of Tourism facilities.
Revolutionizing spa tradition: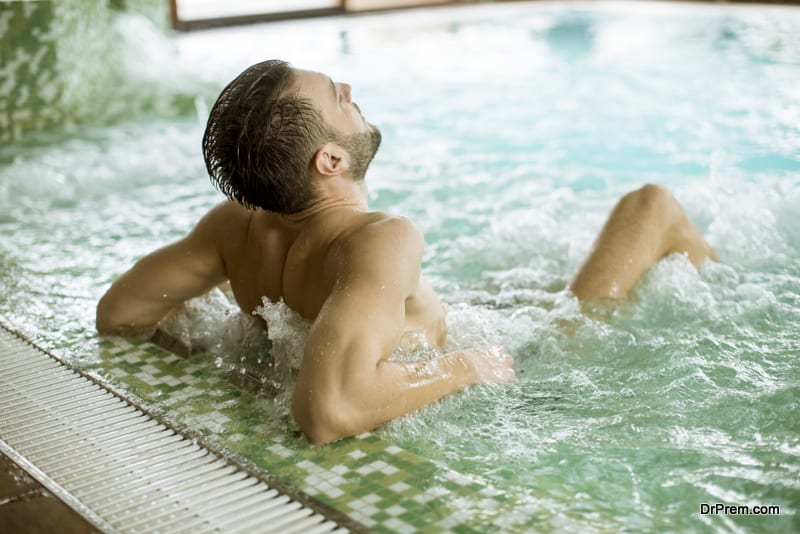 Today, Turkey has taken over traditional practices and has become one of the leading countries offering varied thermal water therapies including balneotherapy, thalassotherapy, massage therapy, thermo mineral bathing, , mud therapy and other thermal cures.
Antic spas have been upgraded for international travelers along with the opening of state-of-the-art hotels, resorts and spas. Some are even providing in-room private thermal spas by channelizing water flow from the source. 
Modern technology and traditional practices have been integrated without marring the essence of yesteryears. You will find luxurious hotels, trained specialists and therapists and high standards of hospitality and also get to taste the age-old authentic experience. Here lies the specialty of Turkey's wellness offerings.
Not a cookie-cutter wellness experience: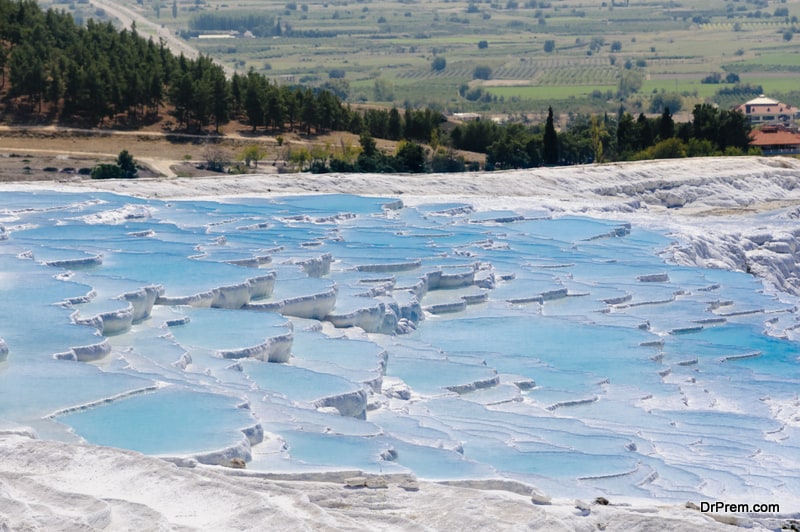 Wellness offerings of each thermal spa resort are a specialty by itself based on its natural resources and assets. Such a wide variation in products and therapies are drawing discerning travelers seeking authentic wellness flavors. A relaxing bath in these magical waters amidst a serene ambience rejuvenates guests physically and psychologically.
Turkey offers a holistic approach to wellness with its splendid landscapes, thermal springs, traditional Turkish baths, rich cultural heritage, historical marvels, delicious cuisine and ample recreational activities. With investments flowing in and innovative therapies picking up pace, Turkey is on the fast-track growth in health and wellness tourism.
Thermal Bath and its rising popularity in wellness activities
Thermal bath is a body of warm water having rejuvenating properties. The Spas are the classic examples of thermal bath with minerals and other herbal mixes added in water at a specific temperature. Thermal baths have immense healing properties and are widely practiced in specific regions of the globe where there is an abundance of hot springs. Besides, modern spas also have facilities for mineral water baths and cold baths.
History:
Since time immemorial, man had been fascinated by the magical properties of water. Not only water cleans up your body externally and internally, it is believed to rejuvenate the tired muscles after having a relaxing bath at the end of a tiring day.
Ancient Romans and Greeks realized the immense benefits drawn from bathing in hot springs. Wounded soldiers were miraculously cured through this hot spring bathing. The history of thermal bath can be traced back to the Roman Empire which featured a number of Thermae and Balneae throughout the city of Rome. These were the ancient thermal baths. Thermae were larger in size and contained imperial baths where people had a good time enjoying in warm water.
It was a place for socialization as well. Some of these magnificent buildings that housed Thermae often had adjacent Villas, town houses and citadels. Balneae were small scale thermal baths with the same facilities as in Thermaes. The city had a large number of these public baths which came under both public and private ownership. These public baths were fed with water from adjacent rivers or a nearby stream. The water prior to being flown into the hot bathing chambers were heated by log set on fire.
It was the Turks who popularized thermal baths in 1565 creating Hammams (specially designed bathing rooms) with different chambers for hot air flow well known as Turkish bath. Thermal bathing is deep rooted in countries like Budapest and Turkey due to the abundance of Thermal Springs arising from seismic faults. With lots of innovations and luxury brought in, Thermal Baths have taken a new dimension providing a unique bathing experience.
Principle:
Thermal bath causes vasodilation of the blood flow in the limbs relaxing the entire body. In absence of water, the body cells loses their elasticity giving rise to aches in different organs , muscular cramps and severe physical disorders such as spondilytis, rheumatics, arthritis etc. The temperature of bathing water has a soothing effect. It regulates your body temperature and infuses energy along the vital channels of your body.
The principle of Thermal bath makes use of the properties of water among which the heated state of water is very important. When taken bath in heated water or when hot water is simply sprayed over the body, the intensity of blood flow along the blood vessels increases. Consequently, this results in transportation of food and oxygen by blood more vigorously to the organs of the body.
Methods:
The methods of thermal bath would call for heating the body of water uniformly and the temperature should be optimal so that it should not be too high to give you blisters nor should it be too low. A temperature around 35 – 38 degree centigrade would be ideal. Take a thorough dip until your muscles relax and you are overwhelmed with a soothing effect.
Benefits:
Thermal bath yields the following benefits:
Heals skin disorder.
Boosts blood circulation.
Eliminate toxins from body.
Improves immunity.
Relieves pain.
Relaxes muscles.
Induces sleep.
Thermal bathing: An important wellness activity fuelling Thermal Tourism:
Driven by the growing wellness craze, travelers are preferring bathing in natural hot springs making Thermal Tourism, an offshoot trend in wellness tourism. Destinations abundant with natural hot springs are fast coming as preferred wellness tourism destinations through aggressive marketing of their natural resource.
Coed Thermal Bathing is gaining popularity:
Coed Thermal Bathing is now gaining acceptance in the US where spas are now being developed in innovative ways creating exciting unisex spaces for socialization. Unisex wet thermal spas are already in vogue in many European countries and now the US is picking up the trend.
The younger generation is making the best of this Coed Thermal Bathing or Mixed Thermal Bathing. They tend to seek group and social wellness activities. They have recognized the benefits of social spa far outweigh the single sex thermal bathing.
Privacy issues are taken care of by providing some private areas in the locker rooms while the main spa complex is designed as open communal spaces. The visitors may have to maintain a dress code as specified by the Spa.
Wellness and mineral springs see massive gains in growth
Health conscious wellness tourists are flocking to thermal and mineral spring destinations. Even destinations which do not offer spa services have earned $18 billion dollars in 2013, showing a general shift towards wellness tourism. The thermal spring resorts who offer spa services have earned $32 billion dollars in the same year. At present, Asia is the leader in thermal spring industry. The Asian countries Japan and China gain 51% of the total revenue generated by this industry.
Tracing the growth and prospects of the thermal and mineral spring industry:
The modern travelers are trying to integrate their healthy lifestyle with traveling. Global tourism is growing faster along with the number of high yielding tourists who are interested in revitalizing their health. They are demanding healthy rooms, menus, fitness centers, spa facilities and other wellness related services. Bathing is a traditional form of spa therapy which helps in healing and rejuvenating. The water of thermal and mineral springs is believed to heal both body and spirit.
In Europe, Latin America, and Japan people traditionally visit thermal and mineral springs for rejuvenating their health and regaining their physical and mental prowess. This tradition first turned into a trend among the modern individuals with high income and spare money and now it has grown into a full fledged global industry. Travelers are seeking authentic and place based spa experience in the lap of nature. The growing interest regarding thermal springs has spurred many countries in marketing their thermal or mineral spa destinations for attracting the foreign wellness tourists.
The Global Spa & Wellness Economy Monitor has divided the thermal springs into two groups according to the availability of spa facilities. The hotels and resorts are building thermal springs and mineral water swimming pools. Thermal spring resorts in some regions and countries are capable of offering a variety of water based facilities. The nature of the water based spa therapies depend on the traditions and cultures of that particular region.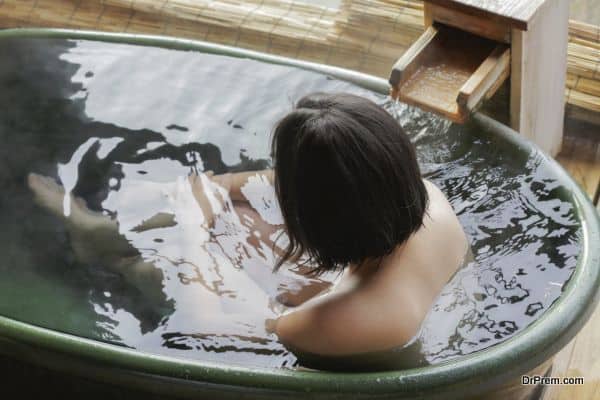 The onsens in Japan, thermal pools in Latin America and thermal water swimming privileges in Iceland are examples of non-spa thermal springs where one can only enjoy healing through bathing. According to the estimates made by Global Spa & Wellness Economy Monitor, there are around 26,847 spa facilities built around thermal and mineral springs in 103 countries across the world. These spas have earned $50 billions of revenue in 2013.
Among these establishments, only 6,504 are known to offer spa facilities. Thermal spring bathing and swimming is not an expensive wellness facility. In most of the countries and regions where there are thermal springs, the fees of bathing are very low. Spa facilities help in earning higher revenues and now the hotels and resorts have started to recognize this potential.
Investors are also showing interest in investing in thermal spring resorts, especially in China. In the next few years, 200 new hot spring resorts will be opened in China with the help of $48.9 billions in investment. The markets for thermal spring resorts have long been established in Europe. Many of the European countries are trying to offer newer and better facilities for appealing to the modern tastes of foreign clients.
Geothermal Springs as an essential part of Wellness Tourism
Wellness tourism is increasingly becoming popular and the number of tourist opting for wellness tours is on the rise. Wellness tours try to put more attention on improving overall health and fitness of a person and have a holistic approach to wellbeing of a person. Geothermal water sources provide good therapeutic benefits and are becoming an integral part of many wellness tours. In the following sections let us look at some of them.
Use of Geothermal Pools in Wellness Tours
These geothermal pools are present in all parts of the world and are also known as hot lakes with several health benefits that tourist can capitalize on. Some of the well-known geothermal pools include:
Dominica's Boiling Lake:
This is the second largest geothermal lake in the world located in Dominica, which is a small island nation. The lake is a major tourist attraction and one of the most visited tourist attractions in the country.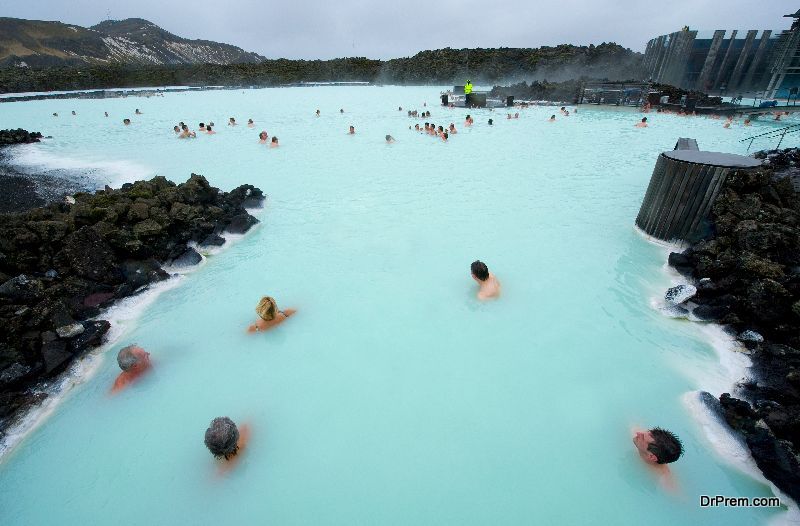 The top destination for tourists in Iceland is Blue Lagoon, situated in Southwestern part of Iceland. The water here is rich in minerals like sulfur and silica with health benefits for visitors in the form of exfoliation, cleaning and skin nourishment. A bath in waters of Blue Lagoon is said to be particularly useful for people with specific skin diseases.
Grand Prismatic Pool:
It is one of the largest geothermal pools in the US and third largest in the whole world. The water of this pool is rich in minerals and visited by tourists from all around the world to explore the health benefits.
Bukfurdo Wells:
Waters of these geothermal wells, which are four in number, are rich in minerals such as magnesium, chloride and alkali-hydrocarbons. Calcium as we known is useful for the bones while magnesium supports muscle activity and carbon dioxide aides' circulation. The other benefit is that people with chronic gastritis can drink this water to cure their problem.
Balneotherapy and Geothermal Springs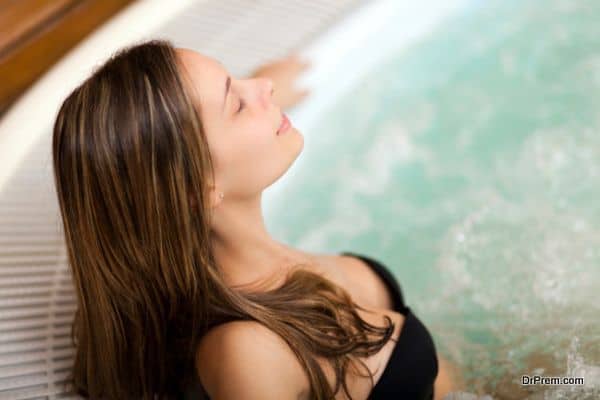 Medicinal spas are becoming part of wellness tours in different parts of the world they use water from thermal springs to cure many health problems. This technique of treating different medical conditions by using water from geothermal springs is known as balneotherapy and is combined with physiotherapy as well as therapeutic massages in spas to provide the best results.
Benefits of Different Types of Geothermal Water
Water of geothermal pools are rich in different types of minerals, which are beneficial for treatment of many ailments, let us look at some of the details here:
Respiratory system inflammation can be cured effectively with geothermal water rich in iodine and calcium.
Skin complaints and degenerative joint conditions can be solved with water, which has high concentration of sulphur.
In peripheral circulatory problems and different heart conditions, patient gets relieve if water with dissolved carbon dioxide is used.
Salty water is suggested for women suffering from different gynecological complaints and people with bladder infection.
Geothermal water rich in radon is known to have pain-killing effects.
Things to Keep in Mind
Geothermal waters provide great medicinal benefits but people have to important to maintain bathing times as recommended and to be increased slowly from average of fifteen minutes to reach maximum time limit of forty-five minutes. A complete treatment course generally lasts for about two weeks but it can vary upon the problem or ailment.
Balneotherapy wellness therapy washes away health problems
Balnoetherapy is treatment that is usually practiced in spas. It is the method to treat diseases through bathing. Balneotherapy is the procedure to relax and stimulate with the help of moving water that may be warm or cold. Balnoetherapy is the holistic term that refers to all the procedures related with this particular spa treatment.
Balneotherapy finds application in hot baths, use of mud and sand, natural vapor baths, and many more. Balneotherapy is a spa treatment that is recommended for treating a wide range of diseases. It is highly effective in treating arthritis, fibromyalgia, and other skin conditions. It is also very helpful in treating muscle and skeletal disorders, spinal cord injuries, stroke, acne, lower back pain, and insomnia. Spa treatments in balneotherapy include water baths, mineral baths, drinking of mineral waters and mud baths. This water of the balneotherapy is rich in many minerals like sulfur, sodium, magnesium, bicarbonate and many others. This treatment also strengthens the immune system and is highly effective.
To start the procedure, one should first have the consent of a therapist or a doctor that the patient can undergo balneotherapy as it not recommended for pregnant women. The number of bath sessions has to be pre decided and the length as well. These can vary according to the patient condition, also depending upon the doctor's analysis for the same.
As such, there are no safety concerns and the side effects from this therapy are not yet reported. Balneotherapy is known to detoxify and relax the body as it increases the circulation that helps in fighting the illness better. Although, balneotherapy is conducive in treating many medical conditions but it is most popular for the treatment of:
Lower Back Pain
According to various studies, balnoetherapy significantly reduces lower back pain. Balnoetherapy is known to give far better results in reducing lower back pains in comparison to other water based hydro therapies. Balneotherapy increases flexibility, tenderness and muscle spasm reducing lower back aches to greater levels.
Arthritis
Balneotherapy's mineral baths are known to improve the severe conditions of arthritis. A sulfur bath in combination with the Dead Sea mineral reduces the pain of the patients significantly and improves their quality of life. Studies have shown that balneotherapy has shown far better results in treating arthritis in comparison to other such treatments. However, this has one limitation that mineral bath with Dead Sea mineral will or Dead Sea mineral without taking mineral bath will not help in reducing the arthritis related pain. Only the combination is known to work in reducing the pains.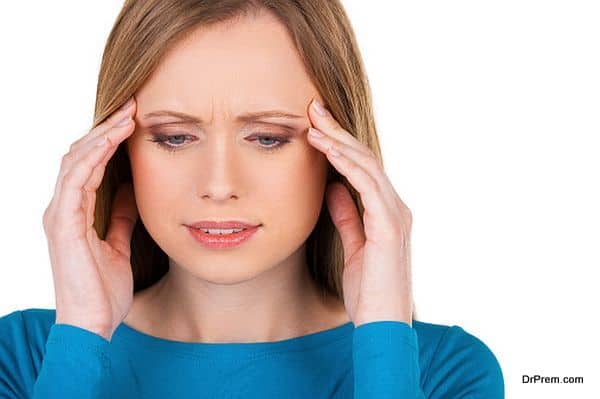 Balneotherapy with mineral baths greatly reduces the tender points in the patients with fibromyalgia. Several studies have also shown that balneotherapy significantly improves certain fibromyalgia symptoms and reduces depression. Depression is a common problem in the patients who suffer from fibromyalgia.
In addition to this, balnoetherapy is known to be useful in various medical illnesses. These are reducing Joint pains, treating Psoriasis, reducing spinal swelling, heart diseases, anxiety, insomnia, headaches, stroke, acne, eczema, muscle soreness, depression, and chronic fatigue syndrome. Balneotherapy is thus one of the most important spa treatments that is committed to improve the quality of life and help people be relaxed and detoxifies in all regards.
We can rightly say that balneotherapy is an effective measure in treating various medical ailments. Although treating ailments with hot water procedures is the method known from the dawn of civilization, yet it has gained a lot of popularity in recent days. More and more numbers of people are undertaking balneotherapy and experiencing the benefits of the same.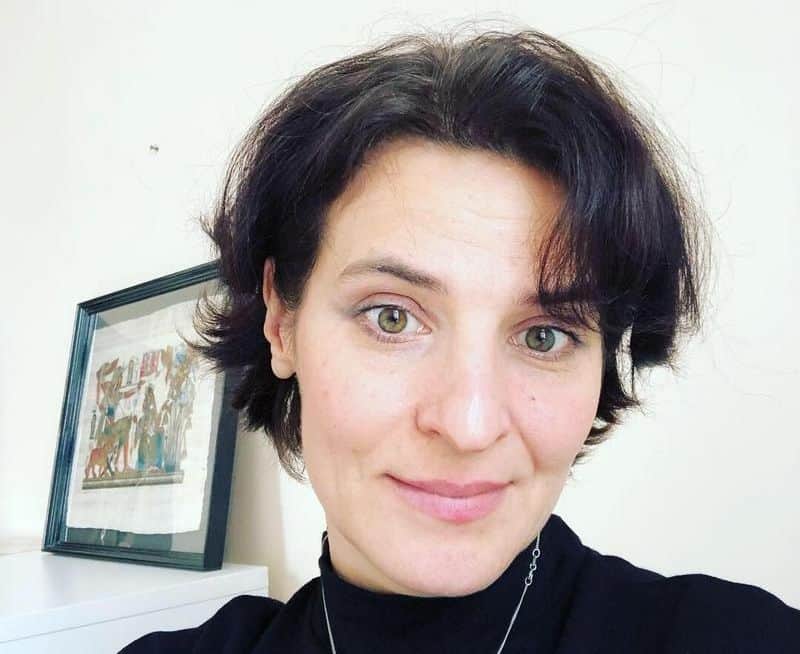 Oksana Svetenko is an expert wellness professional and Senior Associate with Dr Prem & Associates based in Kazaksthan. Her proven expertise has helped in successfully establishing wellness business in different countries.