Appreciating the potential of women and the need for them to travel alone and not just being a part of holidaying family is a thought-provoking picture. We do a lot of talking championing interests of women. It is high time to ensure that it is not just on paper and preaching. We turn so vocal about equal opportunity employments and defending causes for women! That is one side to it.
To think of something really tangible and substantially gratifying for the fairer sex, how about exploring the women-only wellness retreats for solo women travelers? Here we present an extensive list of twenty-five amazing travel destinations for women ranging from high-end spas to outdoor locations promising adrenaline-rushing adventures.  Spread across the globe these places turn your dream wellness vacations a reality.
Women-only wellness retreats for you
The Byron at Byron, Australia: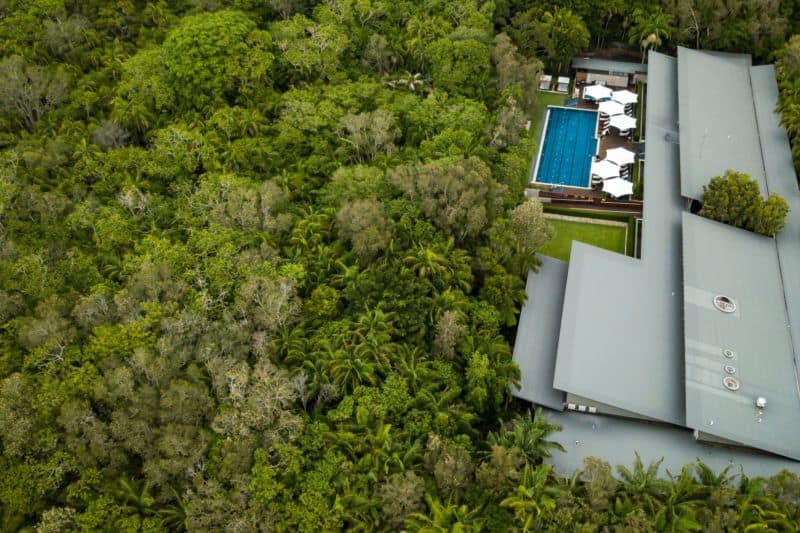 Image Source : crystalbrookcollection.com/byron/gallery
This is a magnificent wellness resort in New South Wales with tranquil beaches. You have everything over here to enjoy a carefree vacation. This is also a women-only surfing retreat with the sea and rainforests taking you to the height of private bliss. Yoga and massage sessions keep you high and healthy. Accommodation, food and surfing coaching classes meet the decent quality benchmark.
Escape Heaven, Bali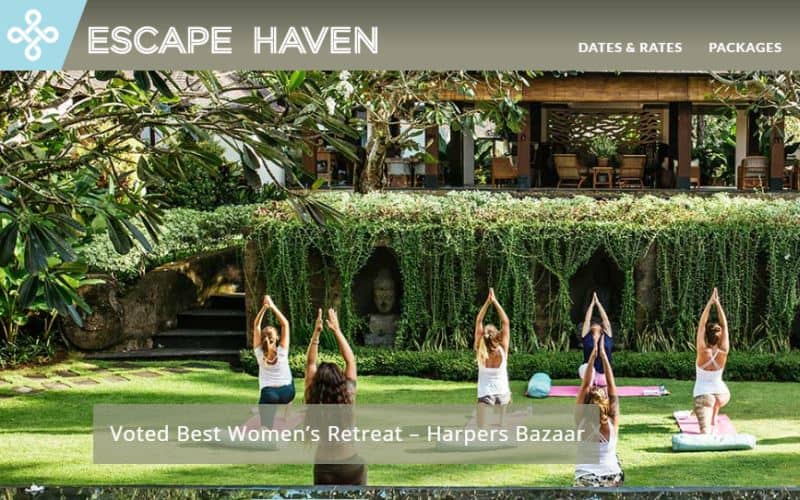 Image Source : escapehaven.com
Escape Heaven was set up 8 years ago in halcyon Bali, a wellness destination in Indonesia. The Island is blessed with lush greenery. Last November, it had earned the prestigious World Luxury Hotel Awards. Surfing, fitness, meditation and yoga classes are designed to deliver utmost value to its customers. You will be stunned to find so many types of meditation existed that you did not know before your arrival at Escape Heaven. The resort is complete with cozy accommodations, rejuvenating massages and equipment hire facilities.
Cal – a – Vie, California, US: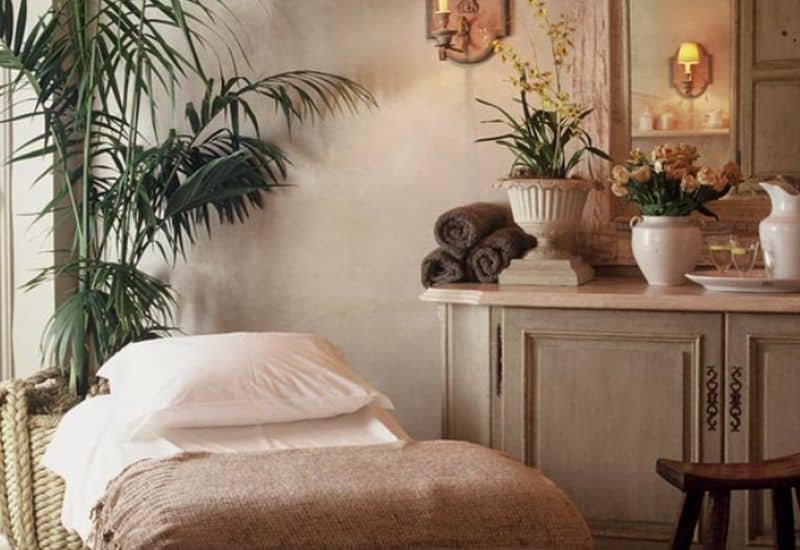 Image Source : cal-a-vie.com
This amazing retreat in California is simply cut out for ladies. Being women-only wellness retreat for solo travelers, Cal – a – Vie is practically all of the happiness under one roof. There is no bound for engaging in the resort's programmed fitness sessions. Classes on nutrition and enhancing culinary skills are available. Coaches are experienced, learned and dedicated. Package offer includes twelve complimentary spa services during your vacationing which is highly recommended. This makes room for some bonus relaxation opportunities.
Super She Island, Finland:
Image Source : supershe.com
This Scandinavian retreat is not an open door  resort. You need to become a member to enjoy the uncoiling rapture and that either requires a referral or invitation. Believed to have been inspired by the Amazons world's first all-women island, Super She is sheer delight. This rather 'off the beaten track' location was the brainchild of Kristina Roth, a bigwig from the US. The retreat is known to offer excellent yoga, meditation, a gamut of wellness activities and nourishing food cooked from local produce. Nature walks and adventures also form a part of your unforgettable vacation.
Vedas 5 Rishikesh, India: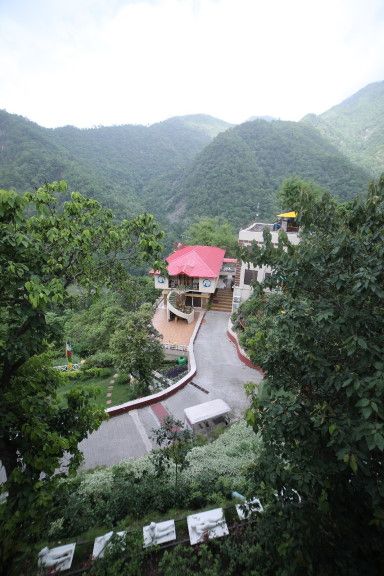 Image Source : vedafive.com
This Indian retreat nestled in the mighty Himalayas is a unique women-only wellness retreat for holistic healing. The virgin land promises bliss and peace all together in an ecstatic combo. The resort features well-coached meditation classes, swimming pool, yoga sessions, guided trekking through nature, nutritious grub, cozy accommodations amid a completely relaxed vibe as you wake up to a cacophony of birds every morning.
It is one of the most highly prized wellness havens featuring Ayurveda, Yogic and Panchakarma retreats. Here luxury and modern amenities are mingled with nature and serenity in a wonderful fusion.
6 Day Rediscover Desire Women's Retreat in Paradise, Belize, Caribbean:
This is another ideal women-only wellness retreat for holistic healing located in the magical Caribbean. This is a place to go for a self sojourn and rediscover yourself and uncover your latent potential. Facilities are classified into Yoga retreats, Wellness retreats, Meditation retreats and others.
The resort is a perfect place for getting lost into serenity escaping the humdrum of city grind. Any scar left in your core could be healed spending a few days here. It will reconnect you with nature infusing in the right mix of mental stimulation and purpose of living. It all happens in a peaceful atmosphere and that's the beauty of it.
Women's Sacred Expression Retreat, Lake Atitlan, Guatemala: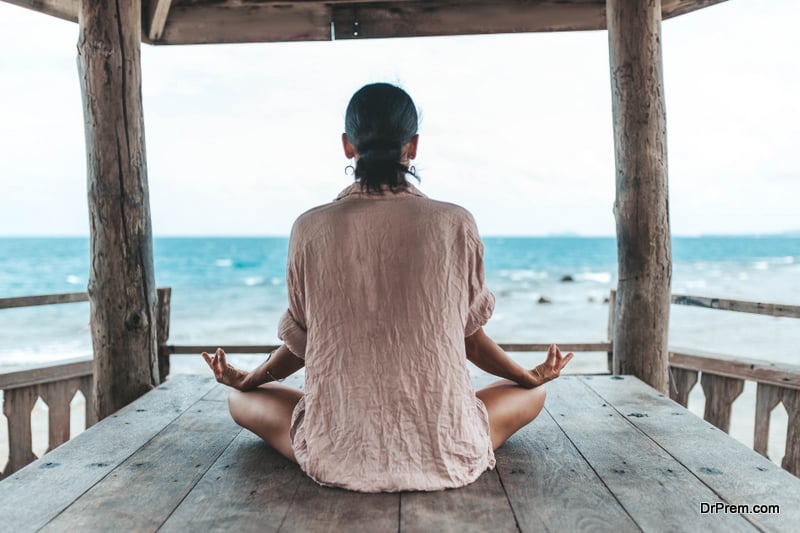 This women-only wellness retreat with yoga and other facilities help attainment is highly endorsed by Lonely Planet Wellness Escapes. Meditation, yoga, poetry and other creative pursuits can be sought here with comparative ease.  The environment is beautiful with lush woods surrounding the Lake Atitlan.
Yoga and meditation classes are held under the sky taking you to an elevated plane of spiritual accomplishment. The food offered is vegetarian and highly nourishing. A few days spent here adds value to your cognitive and cultural profile.
Story Teller within Women's retreat, Guatemala: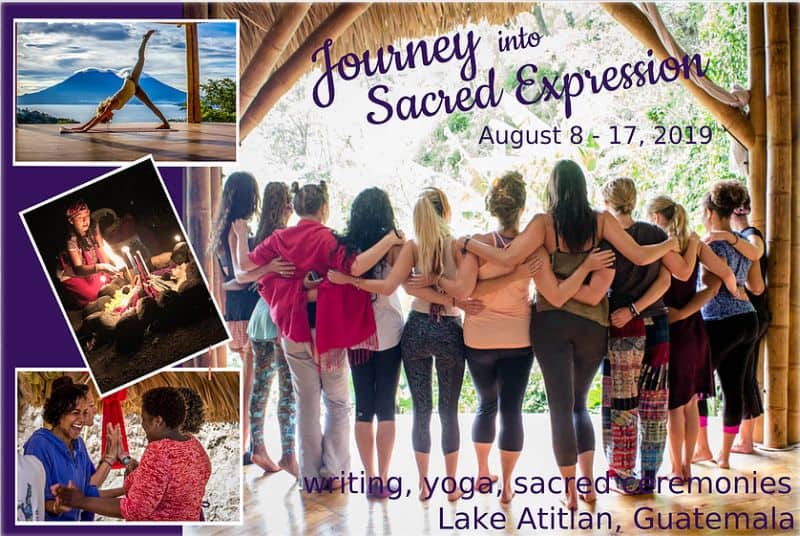 Image Source : thestorytellerwithin.com
This retreat in Central America is a perfect nook for a soul searching journey. The awesome arrangement is customized to women's needs and thoughts, their perspectives and reclamations. This is an ideal place for voicing their most closely held questions about life.
There are ample facilities for yoga and meditation as are for creative writing and paintings. Subjects may range from surrounding nature and mesmerizing Lake Atitlan to realizations and revelations of life.
8 Day Self -Love Retreat for Women, Zanzibar, Tanzania: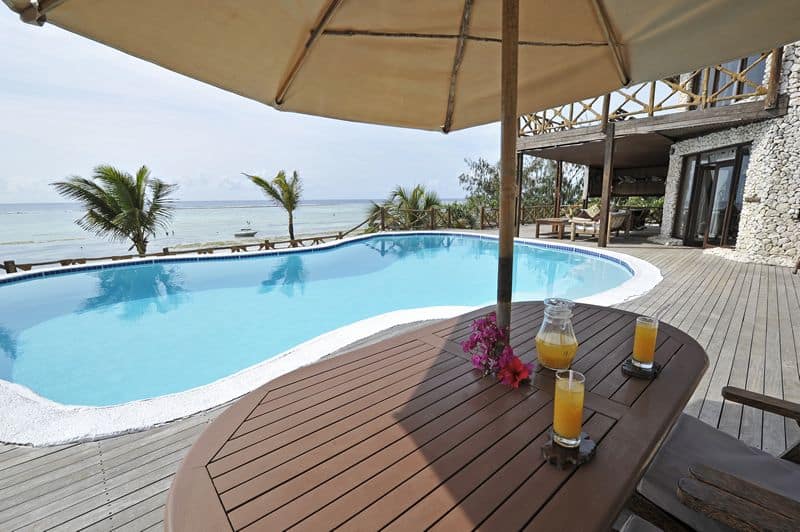 Image Source : theartofmindfulnessltd.co
This one-week all-women retreat sets your mind in an elevated plane. Here you feel to your core the power of community as you apply your body image-enhancing efforts. This is a much sought after women-only wellness retreat for holistic healing where you are trained to grow self-confidence.
Here you discover a new self-image that you adore and respect without any terms. Food is excellent; it is wholesome, vegan and gluten-free. You escape from the usual hectic life for a while and learn activities that are fun and rejuvenating. Skills learned in stand up paddle boarding is an example.
Womb Yoga women's retreat, United Kingdom: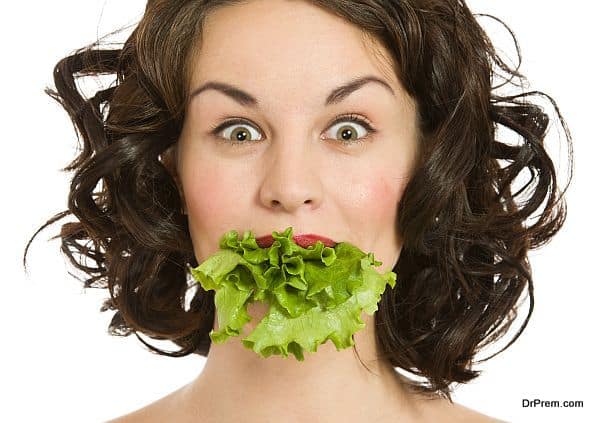 A great thing about this all-women wellness retreat is it caters to all age groups. The place has a spiritual element that helps awakening female wisdom, their inner thoughts and philosophies. Deep relaxation sessions, Bhakti yoga, dance classes, tasty and nourishing vegan diet and a serene walk in Wiltshire countryside uncoil you. This women-only wellness retreat with yoga facilities is wallet-friendly. It helps unlock the immense energy latent inside you.
Menogo Wellness Retreats, Spain: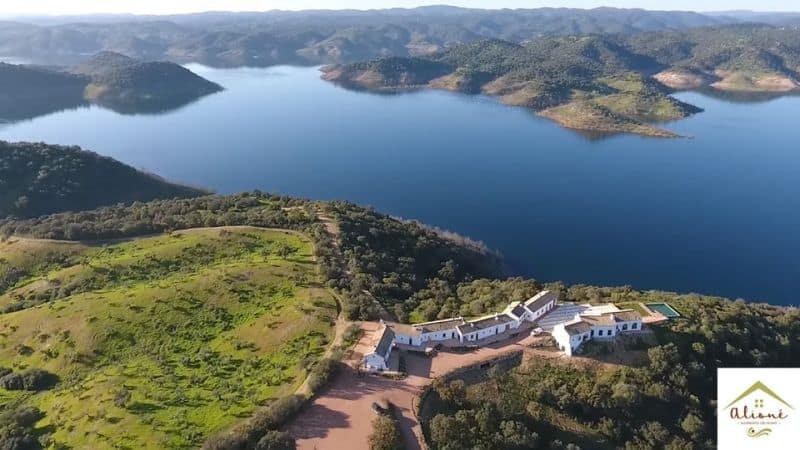 Image Source : menogo.co.uk
Menogo Wellness Retreat, run and managed by Lynda and her team features a relaxing break for Mind, Body and Menopause. The retreat is perched on the hill from where you have a breathtakingly wonderful vista of the Andalusian rural landscape.
Olive and lemon groves offer a staggering rustic charm as is the milieu inspiring self-awareness, confidence, energy and vehemence. Yoga, meditation and mindfulness sessions bring a positive and radical change in the quality of life.
Heart Centre Yoga Nourish in Nature-Women's Retreat, Portugal: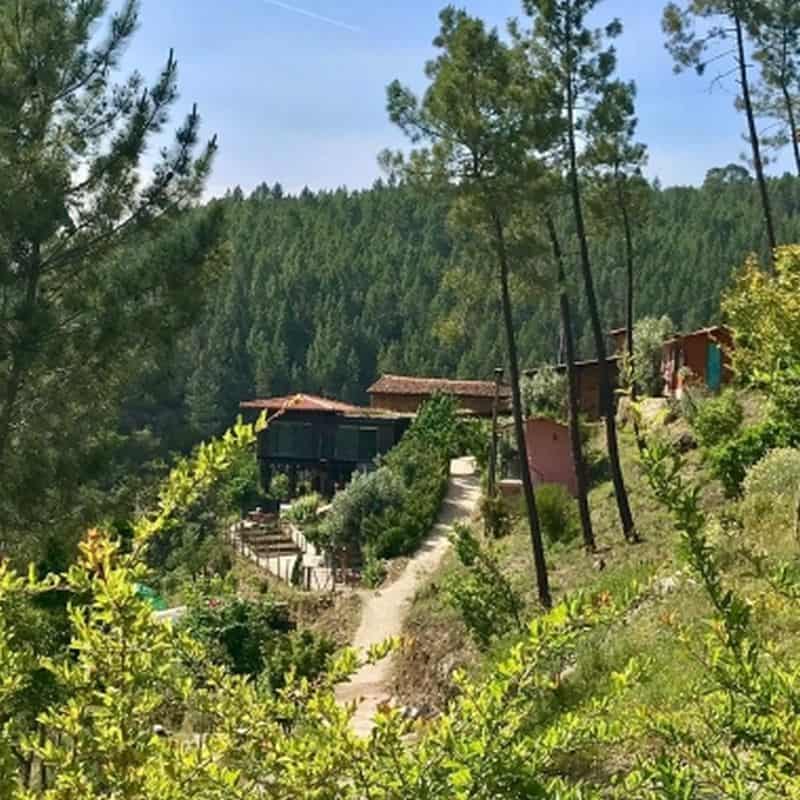 Image Source :nourishinnature.org
This retreat is ideal for taking a break from the dreary chores of life. A total departure from the grind and escaping into sheer benediction is what is promised by this splendid retreat. Special highlights are:
– Tranquil off-grid boutique eco-accommodation.
– Relaxing swim in a natural pool close by.
– Yoga classes twice a week.
– Gluten-free nutritious grub with vegan alternatives thrice a day.
– Massage, reflexology and Reiki sessions.
– Long stroll amid green nature. If complete isolation is your cup of tea this is it!
The Chopra Centre Women's Retreat, USA:
Image Source : chopra.com/
This retreat gives you all support to release your female energy and wisdom. Shakti yoga classes and the specific style of meditation held regularly helps set free your inner potential. A great opportunity to enlighten yourself exists while attending significant lectures from eminent personalities from the field of psychiatry and wellness. Dr. Judith Orloff, author Green Roth, Leader of the New Heart Movement, Louise Laffey to name a few whose invaluable words add a new dimension to your wisdom.
Las Olas Surf Safaris Women's Retreat, Mexico: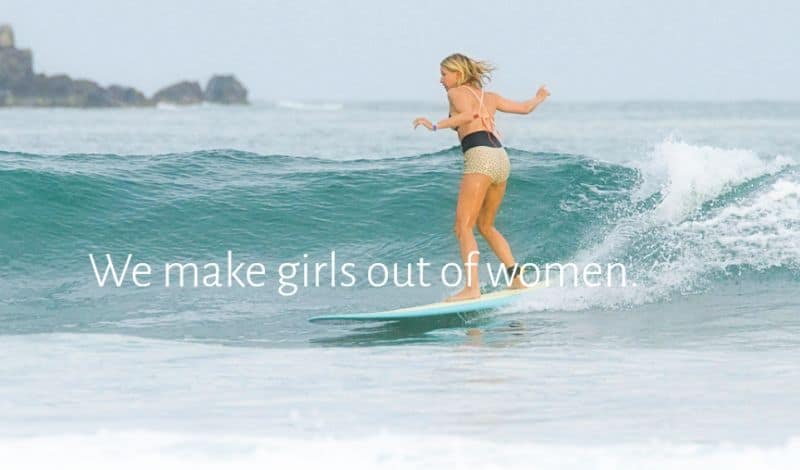 Image Source : lasolas.surf
This Mexican all-women retreat is about complete mental relaxation together with physical recharging of batteries. It is one of the most talked-about surf and yoga retreat where you don't rush at things. Gradually savoring the tranquil aura of the retreat is the key to eternal happiness.
Among cultural activities offered, fun salsa dance classes, preparation of salsa and guacamole tutorials, margarita making and Huichoi beading presentation are worth mentioning. In the wild, a great opportunity lies to have a glimpse of dolphins, whales and baby turtles in their habitats.
Crossbow Villa Luxury Retreat, Barbados: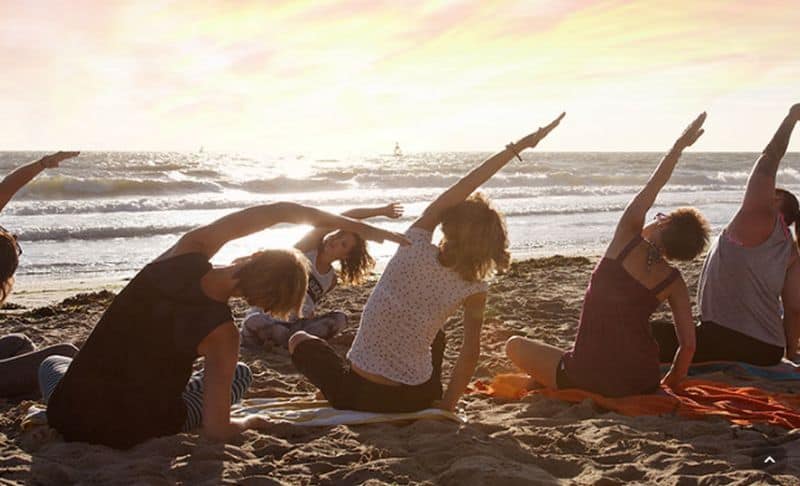 Image Source : luxurycaribbeanretreats.com
Crossbow Villa Luxury Retreat offers an amazing holiday for women filled with fun and calorie-burning activities. Accommodation is extremely cozy and complete with modern furnishings and amenities. Physical workouts feature pilates, stretching exercises, swimming, cardio, snorkeling, boxercise, paddle boarding and hiking. Food is excellent and nutritious.
Swell Women Surf, Yoga and Wellness Vacations, multiple locations Costa Rica, Sri Lanka, El Salvador, Nicaragua and Indonesia:
This retreat offers super surf lessons and nutritious breakfasts, healthy yoga lessons and Sunset sail dinner across its various fraternity chains. You need to stay tuned to their programs and get to know when they would host it and where. Among signature activities catamaran trips, yoga, surfing and massage merit special mention.
Como: The Surf and Wellness Retreat, Bali, Indonesia: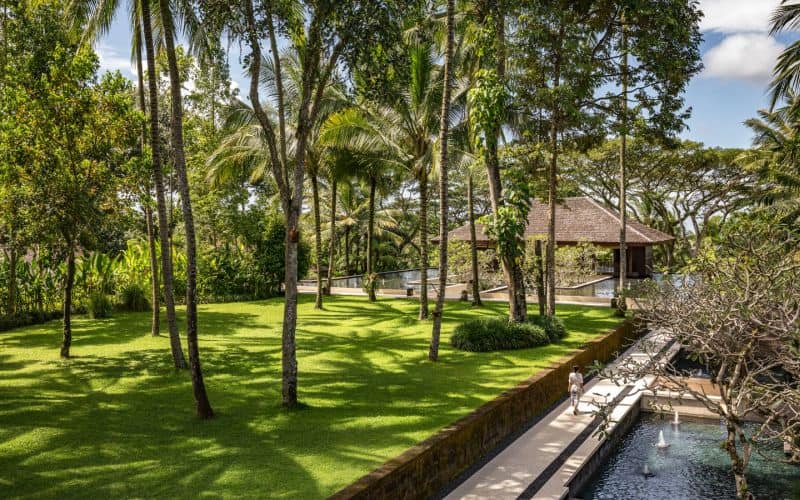 Image Source : comohotels.com
The surfing lessons in Como Una Cannagu and Como Shambala estate is a happening experience for women travelers in the quest for tranquil destinations. The duo retreats have struck a partnership deal with the professional surfer Sally Fitzgerald, ranked third in Women's World surf league.
The vacationers have access to the best surfing locations of Bali under the able guidance of Sally. Exploring a jungle sanctuary is an additional surprise. Good food and wellness sessions round up this splendid retreat.
Esme Tours, a culinary retreat for women, Spain: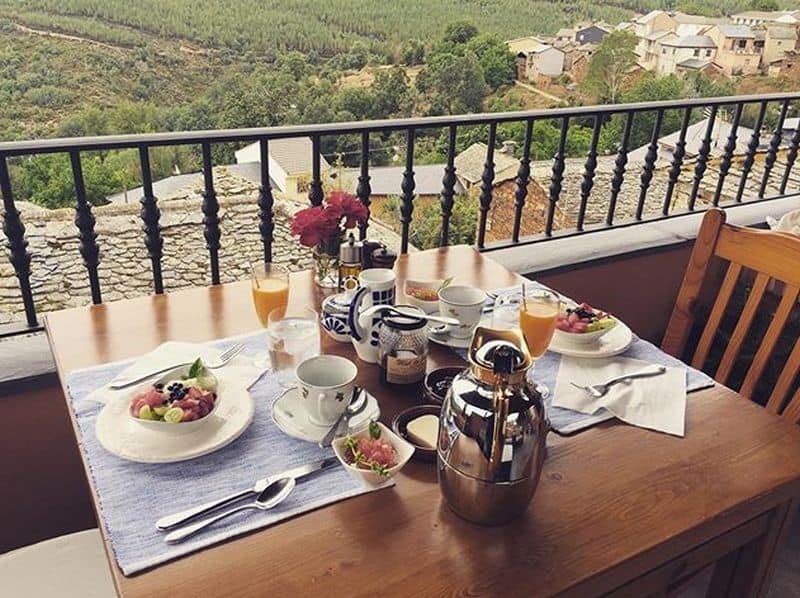 Image Source : esmetours.com
Good food and wine are chief attractions especially when Love paella and Spanish wine combine to fuel the spirit of a memorable culinary vacation. Eminent Spanish chef Esmeraldo Oteruelo helps you brush up your cooking skills in his culinary workshop. Besides gourmet ventures, a visit to the local museum and cathedrals and hikes spice up your entire vacation.
Bliss sanctuary for women: Eat, pray Love Retreat, Bali, Indonesia: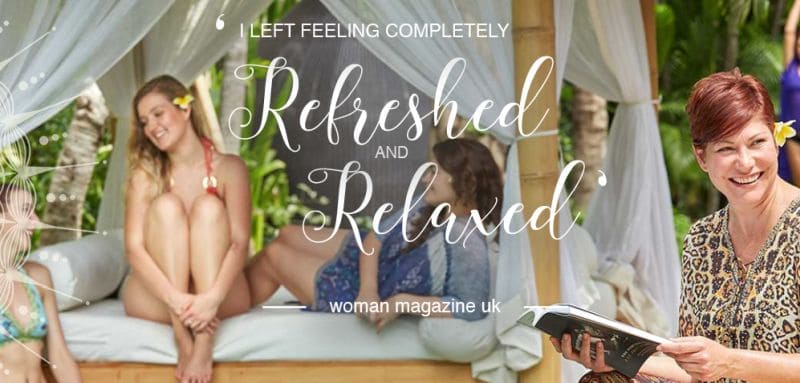 Image Source : blisssanctuaryforwomen.com
This women's retreat has turned famous after the author of Eat, Pray, Love Elizabeth Gilbert found this Balinese retreat irresistible. The late Balinese medicine man Ketut Liyer has become a legend for his insights into human health and wellness. He knew secrets to enhance those traits conducive to leading a happier life.
Even today his son practices palmistry, a legacy of wisdom carried down the bloodline. A day trip includes a visit to Ketut Liyer's house. Eco bike trips in and around Ubud would be a stellar experience. A visit to another medicine man Wayan Nuriasih is in the well-planned itinerary. During her spiritual odyssey to Bali, Elizabeth Gilbert had a close rapport with Nuriasih. Facilities offered include yoga sessions, extensive massage and spa therapies, exploring local gourmet delicacies and nature excursions.
Escapada Women's Health Retreat, Mallorca, Spain: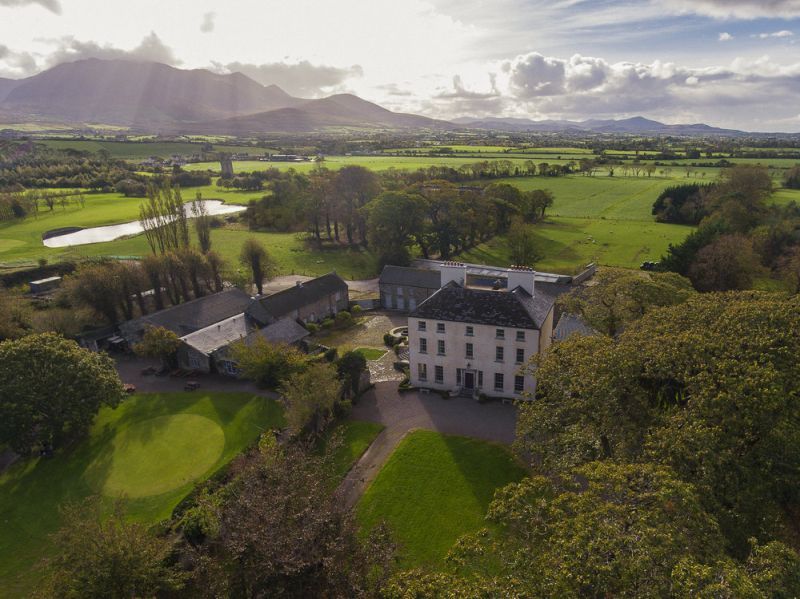 Image Source : escapadaretreat.com
This retreat is an all-women concept, established by women and for women.  The beauty here is that the haven is designed to attend psychological needs of women relevant to different stages of life. The founders Emilia Herting and Maeve O' Sullivan are certified practitioners in Chinese medicine which they proficiently apply on clients.
They are equally good at Ayurvedic therapies and combine both to deliver effective natural healing to women. Spending a session in a retreat, the participants return home with freshly inducted lifestyle programs. It enhances their quality of life.
Big Sky Yoga Retreats Cowgirl Yoga and Hiking, Patagonia: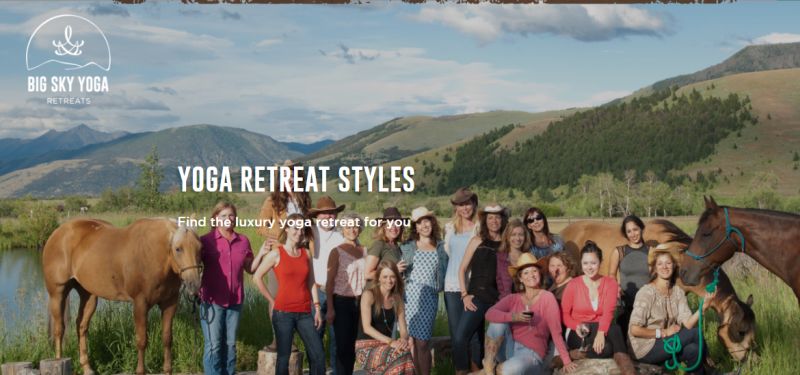 Image Source : bigskyyogaretreats.com
In this Patagonian all women sojourn, the element and ambience of Rodeo is pronounced. It is a fabulous mix of hiking, yoga and horse riding. This retreat delivers great outdoor adventure much of it being spent on ranches and open meadows. Open outdoor space is a fundamental requisite for clients to wake up to their inner resources. Staying arrangement is king-size. Meditation, yoga and outdoor hot tub under a starry night are the underscore features.
Wise and Wild Women Retreat in Haramara, Mexico: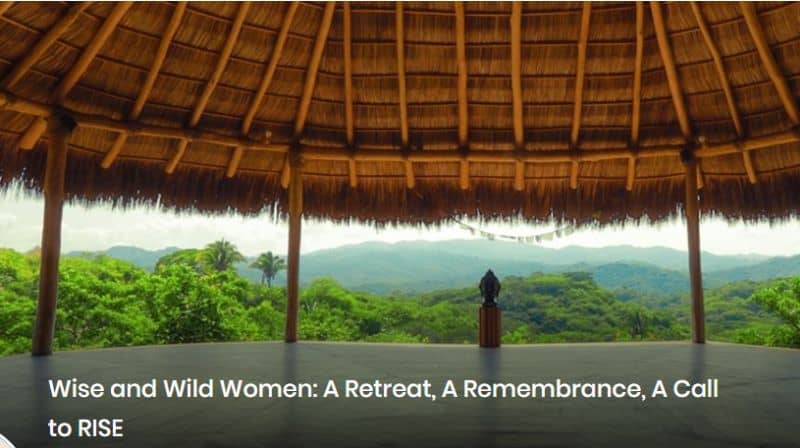 Image Source : wetravel.com
This is a very sylvan retreat and has earned an important status among all women retreats.
A San Francisco-based yoga and meditation guru Meredith Holt has been in the lead role to run this amazing retreat.
Well thought out wellness programs designed by him combines the concepts of Sankalpa (intuition), Kriya (movement) and Sangha (community). It is a wonderful mix of passion and innovation. Open-air rooms with no electricity and WI-FI give you a natural feel. The desire to fuse with Mother Nature in this retreat is strong.
Kelea Surf Spa, Ohau, Hawaii:

Image Source : images.squarespace-cdn.com
Founded by a professional body boarder back in 2000 this is the first-ever all-inclusive women's yoga and surf retreat. This place is designed for women having a penchant for the thrill of hanging ten on their board for the first time.
There is ample scope for excellent massage as well. Laura Mc Hugh the present proprietor brings her rich corporate experience of 30 years to this outstanding beach retreat for women. Dancing on the waves of the North Shore on board is one of the treasured dares right here.
Chicks on Waves Yoga & Surf Weeks: Portugal: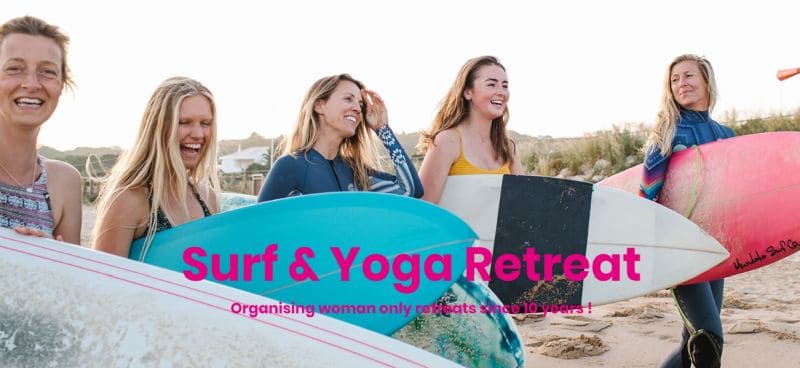 Image Source : chicksonwaves.com
This combo yoga and surf retreat located in the stunningly beautiful Algarve in Portugal is another great women-only wellness retreat. Daily yoga sessions, healthy meals and beverages and surfing lessons are top features of this retreat. With over 300 sunny days a year, women take extreme delight in free mountain biking, exploring fishing villages and the craggy coastline. Algarve, hailed as the Mecca of wellness offers equal relaxing opportunities for solo women travelers too. One downside, accommodations are mostly sharing although private rooms are available at request.
Sunrise Springs Spa Resort, New Mexico: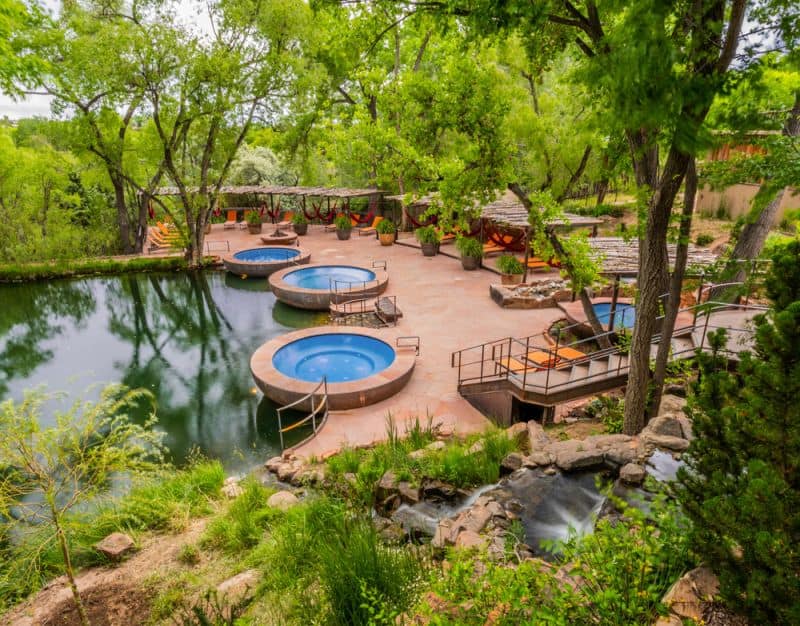 Image Source : sunrisesprings.ojospa.com
Spanning over 70 acres in Santa Fe, this all-women resort allows you to choose from sheer relaxation, ultimate self-pamper, adventure and rediscovering self. Take time to meander through attractive gardens and walking trails. Attend one or more wellness sessions or get immersed in relaxing spa treatments.
You get to learn of ancient healing traditions with a deep understanding of the philosophy. You may even prefer to have a talk with a spiritual guide and try a hypnotherapy session. Finally, the farm-to-table cuisine experience fulfills your gastronomic cravings with your wellness given the top priority.
Wellness retreats that are a haven for women
The popularity of women centric yoga retreats have risen dramatically over the past few years. Many women are opting to travel to these retreats in the hopes of practicing yoga that would be geared to meet their specific needs. These retreats also offer women a chance to share their experiences with others on a deeper level and enjoy a much needed holiday with new friends in an attempt to self -heal their body and mind. As such, here are 6 such women only yoga retreats in the world you cannot miss out on if you are a woman in search of a way to tap into your hidden female energy.
Escape Haven Retreats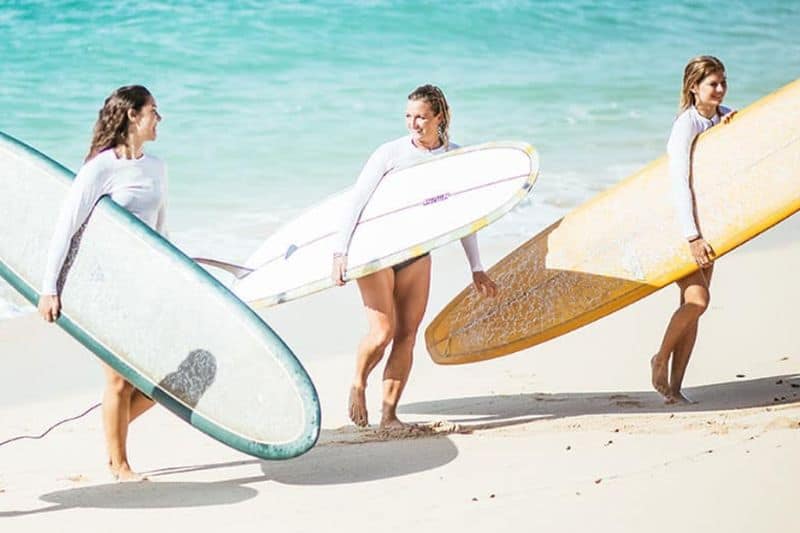 Image Source : escapehaven.com
Escape Haven Retreats specializes in offering women the chance to enjoy transformative yoga and wellness therapies in several luxurious locations in Bali, Portugal, Sri Lanka, Morocco, Noose and Byron Bay, etc. Providing exclusive packages that include a perfect blend of yoga, fitness, wellness, spa and of course, surf, the retreat focuses on week-long rejuvenation holidays for women of all ages.
Bali Goddess Retreats
This boutique wellness retreat provides women with the perfect combination of health, fitness, spa and culture for a truly invigorating experience. Fill your days in this paradise with myriad wellness therapies like yoga classes, fitness adventures, spa treatments and restorative massages. Meet and greet the locals during your free time to learn about Balinese culture. It's all about you in this retreat as your choose to pamper yourself to the core and unwind from the stresses of life.
Surf Goddess Retreats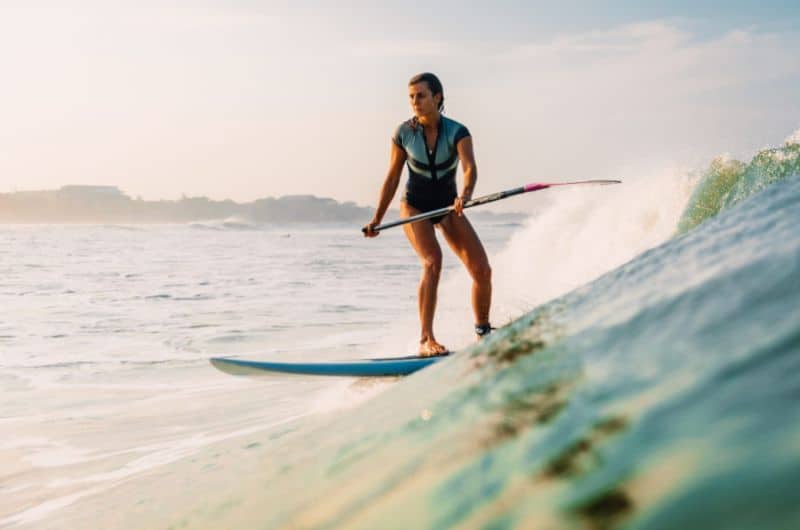 Image Source : surfgoddessretreats.com
Surf Goddess Retreats offers women the chance to enjoy a soulful holiday in a paradise filled with transformative yoga sessions, decadent spa treatments, healthy meals and surf sessions. With over 5 days of surf sessions guided by Bali's best surf instructors ready to tire the body, you can opt to rejuvenate yourself with the yoga and meditation sessions offered at the retreat. While you are at it, don't forget to go for the spa treatments that allow you to choose from a range of personalized treatments and therapies for complete rejuvenation.
Womens Quest Retreat
Women's Quest prides itself in offering unique surf and yoga adventure retreats for women from around the world. During your visit, you get to stay at luxurious accommodations, practice yoga, opt for wellness therapies, learn to surf and share sunset walks with fellow participants. Your mornings will start with a gourmet breakfast which would then be followed by a surfing session. Moving on to the afternoon, you will indulge in some yoga postures to relax your body. This done, you can spend the rest of the day relaxing by the beach, enjoying dance lessons or sharing tales by the bonfire.
Surf With Amigas Retreat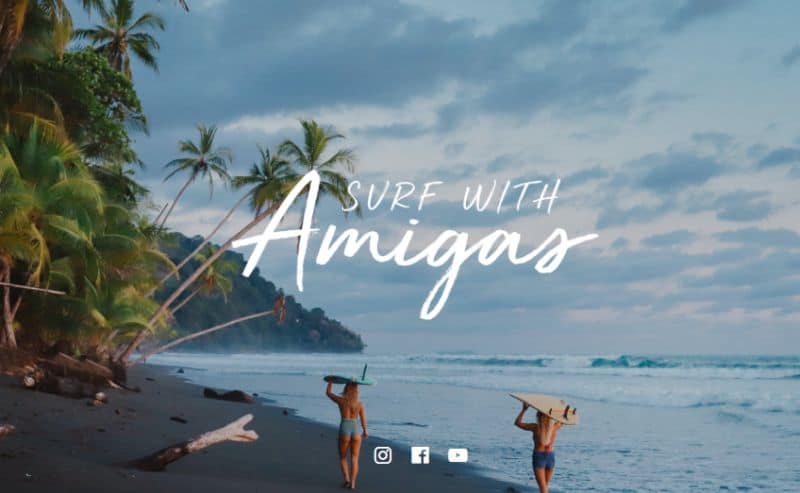 Image Source : surfwithamigas.com
Surf takes top spot at the Surf with Amigas retreat where you will get the chance to meet adventurous women like yourself. Via the retreat's surf lessons, you will learn to empower yourself, conquer your fears, forge new bonds with other surfing Amigas, and get the support you need to reach your goals in life. Morning surf sessions are usually followed by yoga which will leave you relaxed at the end. If that is not enough, you can embark on myriad adventure activities with your surf Amigas, including horseback riding on the beach, battling in the mud, visiting a waterfall and exploring a volcano, etc.