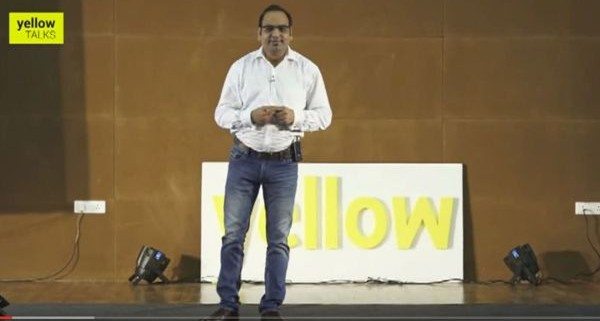 Nothing can ever hold us back when we have the intent to live the life the way we want to. We are our own sculptors – quite capable of carving our life by adding significant parts removing unwanted components. At Yellow Talks, Dr Prem Jagyasi, an award winning speaker, author, global influencer and entrepreneur, reflected on and elaborated the same thought while delivering keynote speech in the presence of eminent personalities belonging to diverse niche market segments.
[youtube https://www.youtube.com/watch?v=ubJmaalxgms&w=520&h=300]
Dr Prem encouraged his audiences to believe in their capable self and accordingly, take control of their lives. He further asserted on the need to pursue what we are good at, instead of following someone who may have his peculiar circumstances, ideals, ideologies and decisions responsible for making him what he is right now.
We should call our inner sculptor and capabilities to chisel our life in the best possible way. Dr Prem further asked audiences to align their actions with their passion just to ensure that their inner sculptor takes the cue to create a multidimensional personality.
Other industry leaders who shared the stage with Dr Prem at the Yellow Talks organized at Mount Litera School International, Mumbai, included Ajeet Khurana – the Former CEO of IIT Bombay's SINE, Mahesh Murthy – the Founder of Pinstorm, Guru Prasad Rao – the Director of Imaginarium India Pvt. Ltd., and Dr. Muffazal Lakdawala – the Chairman of Institute of Minimal Invasive Surgical Sciences and Research Center at Saifee Hospital.
About Yellow Talks    
Committed to create leaders of tomorrow, Yellow Talks is an organization setup that believes in catering to the curious side of human persona. By organizing highly informative and edifying seminars, the organization is disseminating knowledge in various forms to turn aspirers into winners. At seminars, debates, interviews and workshops organized by Yellow Talks, industry leaders, change makers and winners share a common platform to guide young leaders to a fulfilling life and a sustainable future ahead of them.
https://drprem.com/wp-content/uploads/2016/04/Dr-Prem-delivered-keynote-speech.jpg
332
600
Dr Prem Jagyasi and Team (C)
https://drprem.com/wp-content/uploads/2021/06/Dr-Prem-White-Logo-Live-A-Great-Life-With-DrPrem.com_.png
Dr Prem Jagyasi and Team (C)
2016-04-20 08:21:16
2016-06-06 07:40:32
Dr Prem delivered keynote speech at Yellow Talks