Last few weeks have been very hard catching up with lots of engagements. In the middle of these, an invitation from God's Own Country -Niraamaya Wellness Retreat, Kumarakom was a blessing to me. Didn't waste a moment but packed my bag and set off to another marvelous destination. In the quest for wellness, I have set my foot in countless wellness resorts in the world but in Niraamaya I got the real essence of Holistic Wellness.
It is the unforgettable hospitality of Dr. Arpita and apt guidance from Mr. Shibeesh, the managerthat allowed me to reclaim my well-being the way I wanted. My heartfelt thanks and gratitude to them.
If you ask me what triggers my well-being, it is always about getting connected to the roots. Niraamaya Wellness Retreat walked me through a blissful wellness journey with its warm hospitality, time-tested Ayurvedic Treatments, great food, and last but not least cozy accommodation.
'Niraamaya', originally a Sanskrit word, means healing or cure, cure from deep within through a transformative journey. Let me take you through the wonderful wellness experiences that imbibed new life in me.
The Property: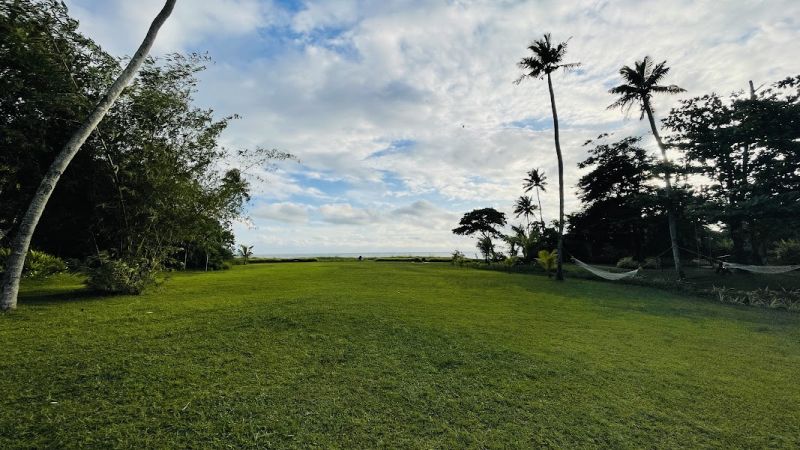 Located on the banks of the beautiful Lake Vembanad Kumarakom, this 8-acre Niraamaya Retreats is one of the popular wellness resorts in Kerala. In this peaceful nest amid a vast tropical garden and calming water bodies, the first thing you get is a whiff offresh breeze. The resort houses 27 luxurious villas each offering an unrestricted view of gorgeous nature. You can choose from Superior Room, Superior Lake View Villas, Luxury Private Pool Villas, Waterfront Villa, Premium Waterfront Villa With Private Pool, and Presidential Suite. All rooms are well-furnished and equipped with modern amenities like walk-in wardrobe, pampering showers, a cozy king-sized bed, ….
What attracted me is the earthy and rustic vibe of the villas with tiled roofs and traditional wooden doors and flooring with luxuriously designed interiors.
The resort houses 10 dedicated Ayurveda treatment rooms and is NABH certified. There are other treatment rooms and a beautiful Yoga Center run by an expert coach. It also features a large outdoor swimming pool, two restaurants offering regional and international cuisine, a world-classspa offering authentic wellness practices of Kerala, a performance deck, a fitness center, and meeting spaces.
The Welcome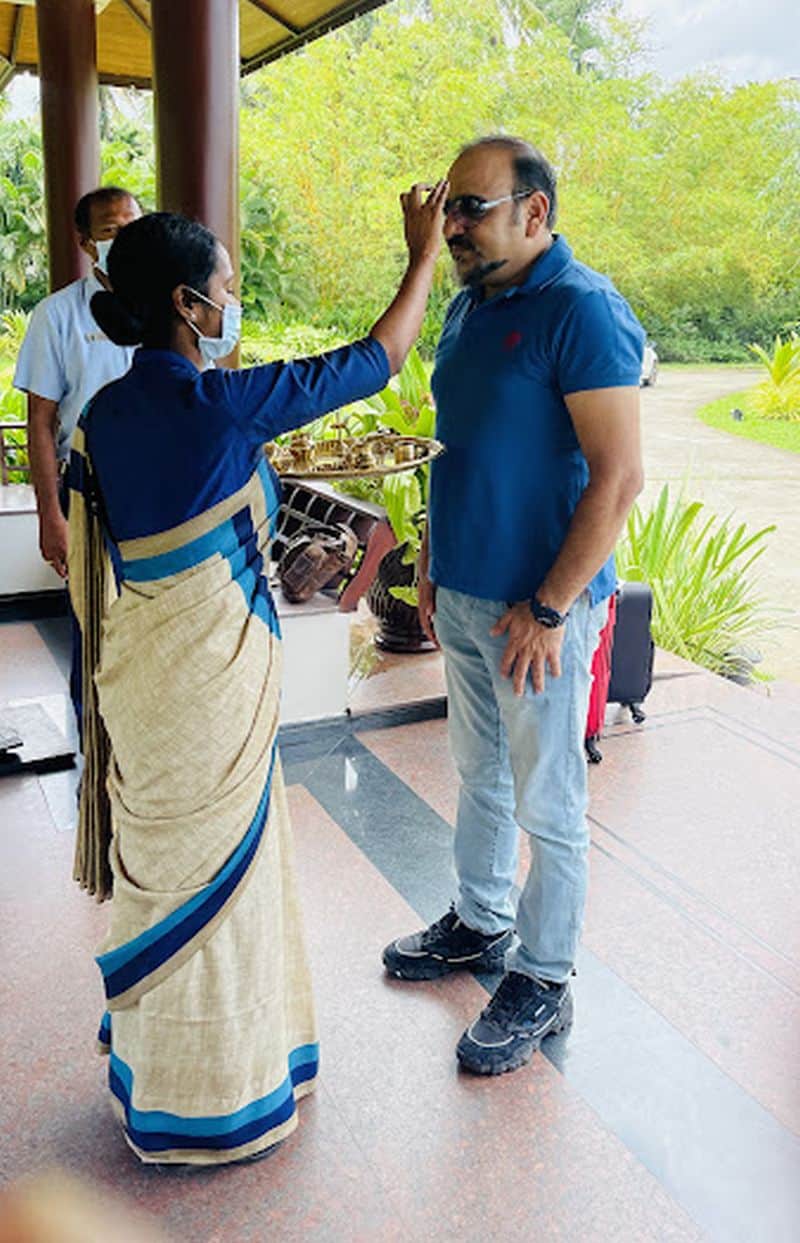 I met with a pleasant surprise as I entered the threshold. Dr. Arpita draped in the traditional saree put Tilak on my forehead and a small garland of "Tulsi' or Holy Basil leaves, the traditional Indian hospitality. It's a pity that this is almost lost.
Tulsi is a highly revered medicinal plant in Indian traditional medicine. A refreshing feel after the 1 ½ hour flight journey and a 2-hour drive from the airport!Next came the welcome drink of tender coconut water. I was ready for the next step of the wellness journey.
Never-to-end affair with nature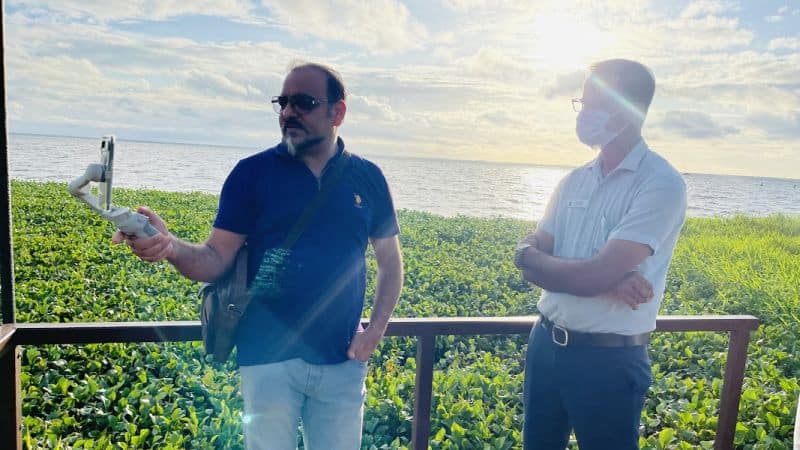 Mr. Shibeesh escorted me to take a tour of the entire Niraamaya Wellness Resort. His engaging narration about this property raised my curiosity. Thanks to him, he never stopped answering my queries. Nature enchanted me at every step as I meandered through the paved paths. You meet breezy coconut palms and varieties of tropical foliageat every turn. The soft green grass beneath ensures the comfort of nature's cradle. The 8-acre property is so elegantly designed in sync with natural settings that one can ever imagine! Manicured gardens coalesce with nature so beautifully. Unleashed my lens to capture as much as I can.
When did I last hear the sweet pitter-patter of raindrops? It soothed my senses as I walked over several footbridges built over small ponds. The earthy aroma and the rain-soaked greens all around trigger healing in Niramaaya Wellness Retreat. I believe no physician other than Mother Nature can heal you from within. That is why time and again, I return to nature.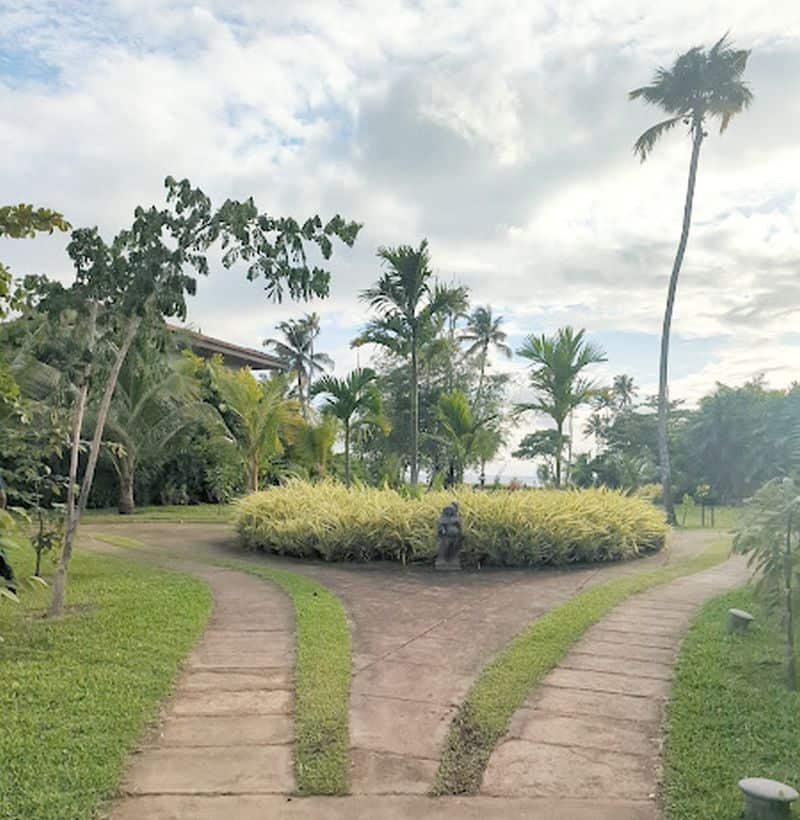 And how do you feel when a Kettuvalam (specially designed Houseboats) slides past your vision? Feels ecstatic, isn't it?  I will make sure a minimum 2-day houseboat stay in Kerala backwaters on my next visit.The sky never seemed so beautiful as I rocked myself in a hammock just beside the lake. What did the clouds want to convey with their arrayed patterns? A cloudy tomorrow or a fresh bright day? I kept wandering as hours galloped.
A Dream Stay in the Pool Villa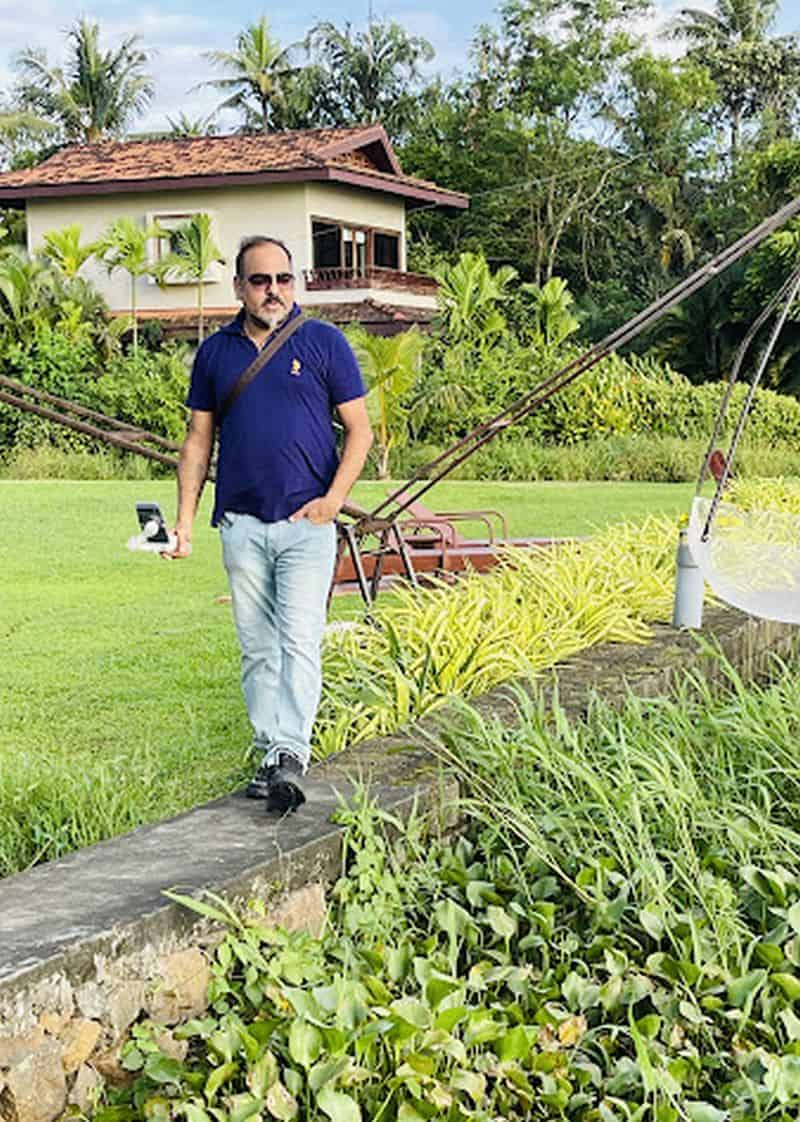 I put up in a Pool Villa overlooking the vast lake. It feels so great spending endless time staring at the blue horizon from the private balcony with a timely supply of refreshments. You get to connect with yourself as you spend time strolling out in the green. Nature always makes you feel good with her best show. Else why the setting sun paints the sky in different hues as if to entertain you?
The private pool attached is no doubt an added attraction.Can't thank enough the staff for the love and carethey showered on me. Needless to talk more about the interiors where luxury blends finely with tradition giving you the best comfort.
Wellness peaks at the Ayurvedic Spa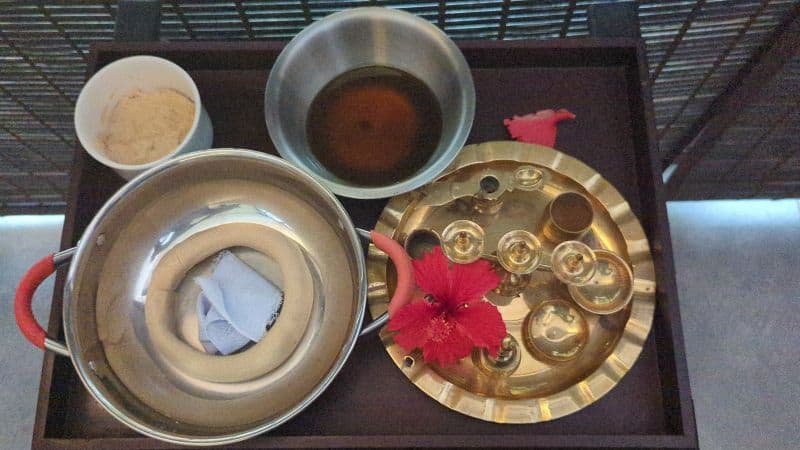 Can you imagine the magic that unfolded in the Ayurvedic Spa? It was Dr. Arpita's expert guidance and Ayurvedic prescription. I thank her for giving time for a great conversation on traditional Ayurveda.  I have a firm belief in my country's legacy of medicine, the Ayurveda. I never let go of any opportunity to immerse myself in genuine Ayurvedic therapies. I have felt the benefits. After a highly informative chat with the 'Vaidya' or the Ayurvedic physician, I got ready for the treatments.
I was recommended Kativasti and Lepanam. Kativasti is meant to treat various lumbar disorders like stiffness and pain in the lower back,sciatica, and spondylosis. Lepanam is the application of a special herbal paste over the affected parts of the body to heal arthritis, gout, and various skin disorders. You can get the details of these and many other Ayurvedic treatments in the special Guide to Ayurvedic Treatments.
It was great to spend some time in the dedicated yoga and meditation center where the learned coach guided me about the importance of various poses and meditation techniques. Meditating is my daily routine. Still, enrichment from experts takes your efforts to a higher level and you reap more benefits.
You can experience amazing Ayurveda experiences here in the Niraamaya Wellness Retreat which are as follows: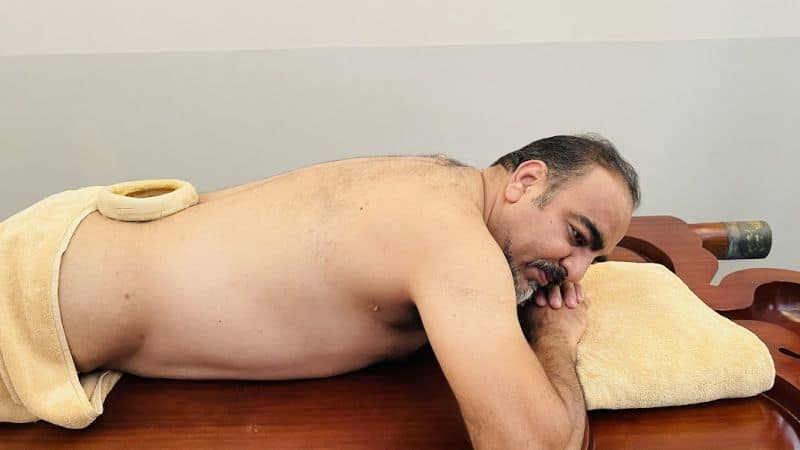 Rasayana – The Relax and Rejuv Program
Ayurveda stress-busting program
Bone and joint care
Body detoxification with Panchakarma
Ayurveda body slimming
Executive weight loss program
Immunity Booster
I was surprised by their Ayurveda offering in Corporate Stress Management which is a lot different from typical corporate wellness programs. It includes Shiromardhanam, Abhyangasana, Shirodhara, Padamardhanam, Ayurvedic Herbal Detox, Mukhalepam, Yoga, Meditation, Pranayama, and Reiki. Very soon, I feel, Ayurveda will be an integral part of Corporate Wellness Tourism, another growing niche in wellness tourism.
Gourmet experience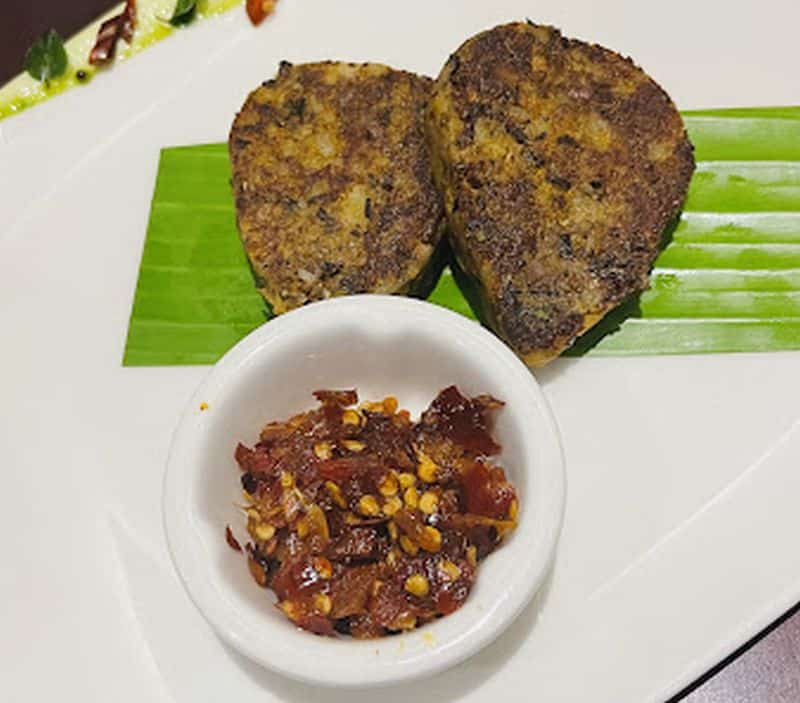 When the wellness resort is about Niraamaya, you can easily guess the food will align with this core philosophy. And Wow! What an arrangement right from starters to desserts! Tasty and delicious is just an understatement. A divine feeling when the aroma of spices and the taste hits your senses. The food is prepared under strict supervision with the right mix of ingredients tailormade to the guest's needs. The menu will vary a lot with the treatments that you undergo. Treatments and treats – You need two to tango!
Ayurveda recommends a specific resting time after the treatments before you take food or get into other activities. Breakfast, lunch, and dinner should be taken at a specific time of the day based on the sun's diurnal motion.
In wellness tourism and wellness resort consultancy, I always believe in offering consultations based on my personal experience. A gap remains between what is available in texts and what happens in reality. Personal experiences in various wellness treatments and programs enrich me a lot which help me in guiding wellness resorts, hotels, and spas in maximizing their benefits.