Did you know Vembanad Lake in Kerala is the longest lake in India? This largest lake in Kerala has its own ecosystem with a plethora of flora and fauna that makes it so attractive to enjoy a relaxing holiday. And yes, I was longing for one such experience; an experience where earth, water, sky, and greenery get mixed creating a gorgeous setup.
I came across some awesome wellness experiences in The Coconut Lagoon, a property of the famous CGH Earth, located on the banks of the Vembanad lake.Can't thank enough Mr. Samboo, the Manager of Coconut Lagoon and Ms. Roshni, the corporate relationship manager of CGH Earth who went outof the way to gift such a rewarding wellness experience to me. My heartfelt gratitude to Dr. Dinesh and therapist Mr. Akhilesh for the awesome Ayurvedic treatments tailormade to my needs that deserve special mention in this writeup.
Kerala decks up during monsoon, which is a real treat to your senses. This has further enhanced the resort's beauty. CGH Earth has a rich portfolio of wellness resorts each having its unique wellness proposition.
Reaching Coconut Lagoon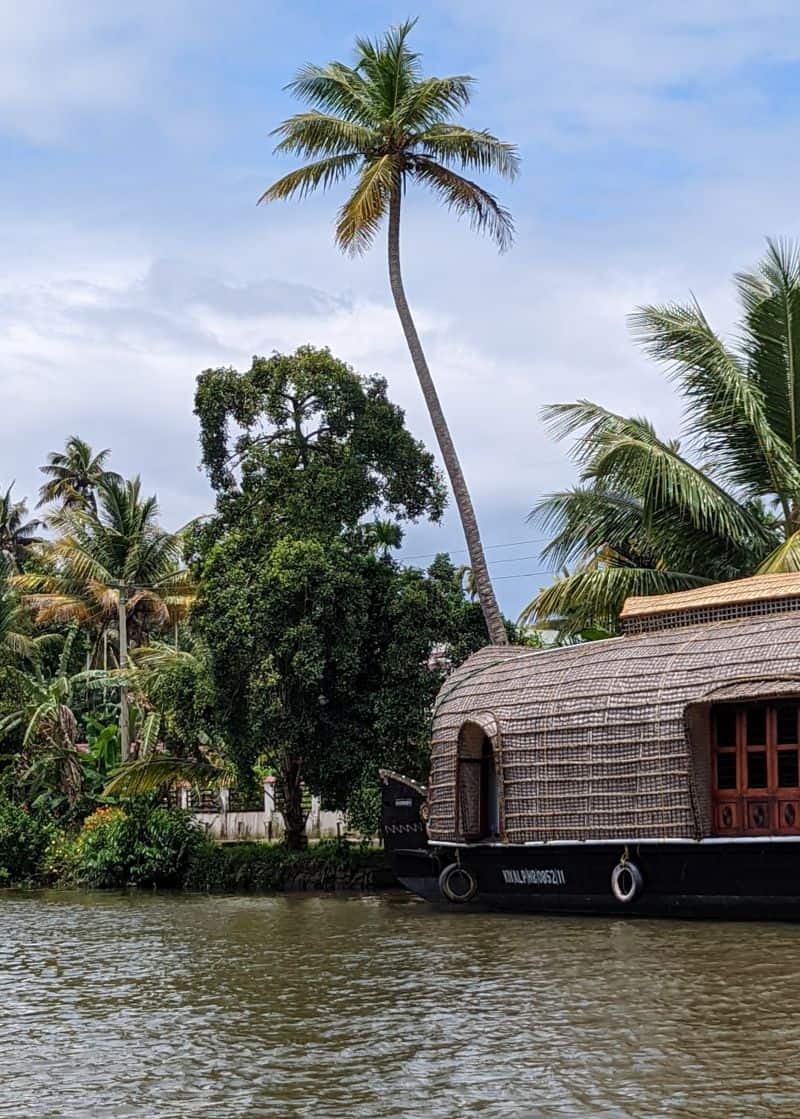 Reaching Coconut Lagoon is an interesting journey by itself. The sky was overcast with nonstop drizzle. You take an upstream boat ride from their private jetty.You can park your car in the same space included within the jetty. The service staff will take the headache to place your luggage comfortably on the boat. And, the boat sets off for a cool ride. As you cut across the lake's rippling waves with coconut palms and lazy hamlets swiftly passing by, you enter the abode of wellness that is so relaxing and nurturing.
The lovely music of raindrops in the lagoon water keeps you enchanted all throughout the journey. Nature in monsoon seems to be in the best form in rural Kerala. A rustic air wraps you all over as you enter the resort premises. The tiled villas, neatly designed lawns, and small ponds here and there give off vibes of the local culture and heritage.
I took a pause when a traditional welcome drink basket with a tender coconut decked with bright red hibiscus and a towel was handed over to me. Simple is the new sophistication! Touring the property meant countless pleasurable moments for me. With nature abound, what else do you need for great sensory experiences?
Be ready for an awe-inspiring Stay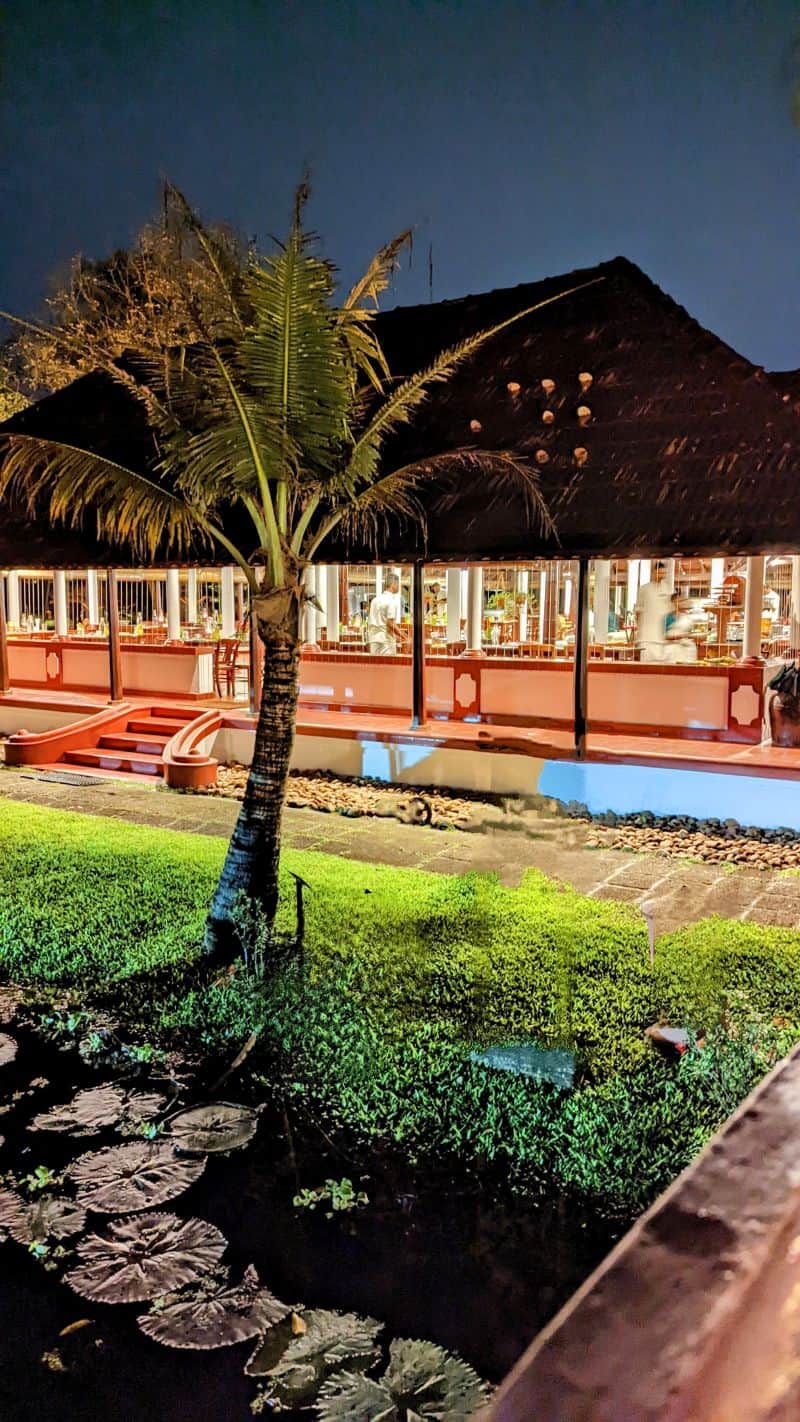 It is all about aesthetics! Coconut Lagoon houses8 Lake Front private pool villas with a private sit-out, 14 Heritage Mansions with an upper story duplex room and private sit-out, and 27 Heritage Bungalows with a private sit-out which includes one cottage for specially-abled guests. Rooms are well-furnished and loaded with all sorts of modern amenities. You won't miss anything. But you get a great opportunity to engage your senses by observing the marvels all around.
You will be awestruck by the traditional carpentry with intricate carvings done on the doors with utmost precision whichever accommodation you choose. Unique geometric and floral patterns are carved with elegance in homesteads and cottages.
The construction is done on the ancient architectural principles of Kerala known as Thachu Shastra where wood constitutes the base material. This is quite likely given the abundance of forests and thick woods in this state for ages. The striking part of this construction is – You cannot nail the wooden joineries! Such is the level of preciseness. The ornate door locking system on the wooden doors can beat the Aligarh masters by miles. It talks a lot about the traditional lock craftsmanship and refinement of feudal Kerala.
Food and Dining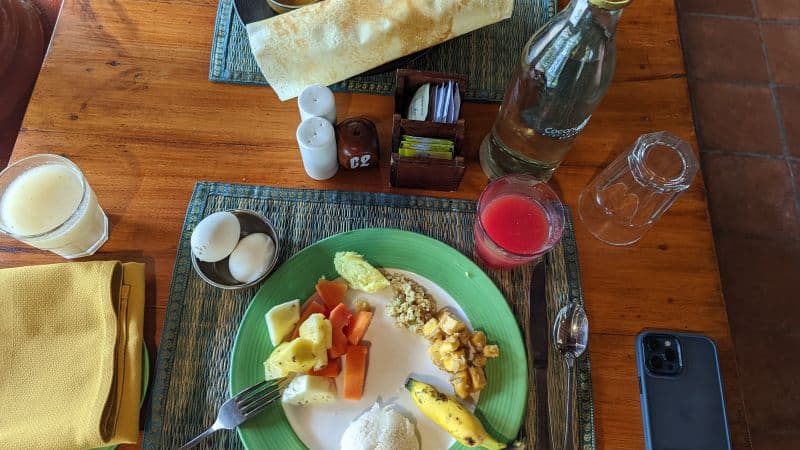 Coconut Lagoon gives you a memorable dining experience in different settings on the vast property. You can choose rustic dining amid paddy fields and water bodies. Try the sumptuous curry lunch at Aymanam restaurant. It is simply divine! Not to miss the fresh catch grills in Vembanad Grill. The restaurant puts up the list of fresh catches on a blackboard out in the open. You just have to make your choice and wait for an adventurous gastronomic experience.
I am thankful to the chef for guiding me to make the right choice of dishes as I am not acquainted with these regional delicacies. Coconut is ubiquitous, it is the staple food of Kerala.
The Wellness life in Coconut Lagoon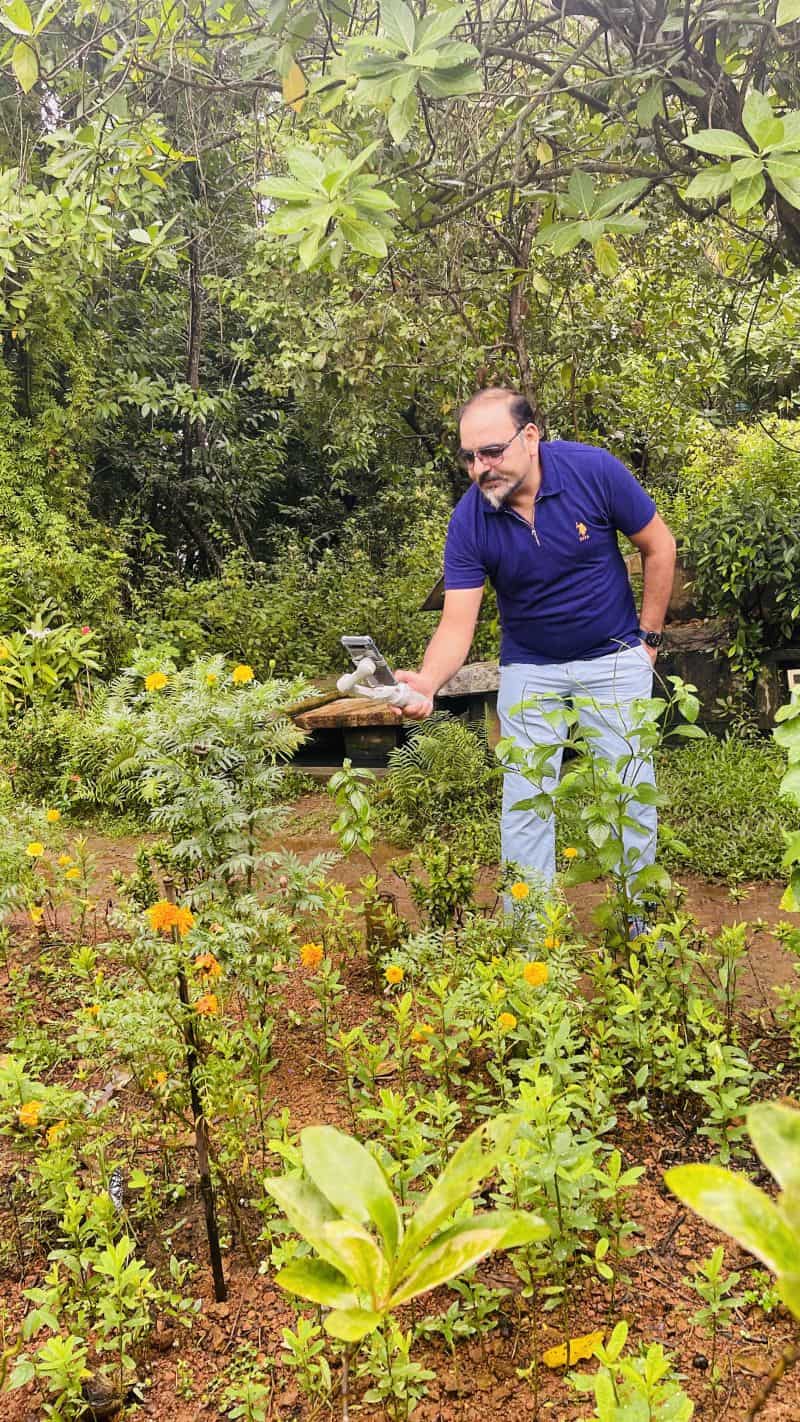 The twitter of birds, the rumbling of leaves, and the sound of the breeze entertained me as I toured the property. An amazing feel! Your mind and body get rejuvenated with fresh oxygen. My cam worked non-stop. Everything seemed to be worth clicking. Houseboats pass through the lagoon in an unhurried manner, the world here allows you to slow down.
The property has a massive garden and lawns dotted by thick bushes, trees, and colorful foliage. Thinking of resting? Find a bench and relax. These are strategically placed all over the resort premises. The aim is to allow guests to go as they like. You enjoy nature, eat good food, roam about, get into some wellness experiences, and have a sound sleep. Life feels good!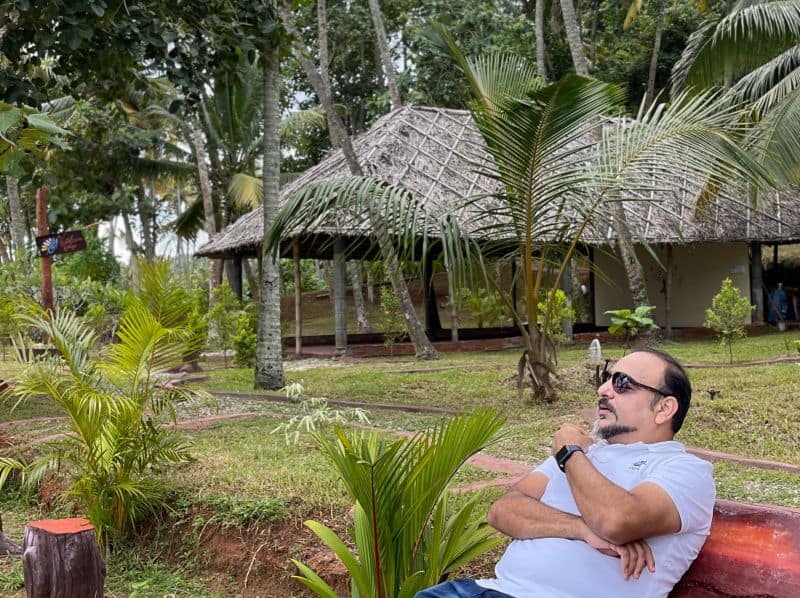 Experiences in the Coconut Lagoon are fabulous. You can go Bird Watching if you love birds. The musical orchestra that I experienced is a great testimony to this. Spend hours in nature bathing practicing yoga and meditation.  The sunset cruise, canoe ride, butterfly garden, kayaking, and floating tea shop will offer you immersive wellness experiences that you remember forever.
How does it feel when all of a sudden you come across a guy gleefully immersed in a tabla recital on a special performance deck? This rural culture still exists in different parts of India where the toxicity of city life hasn't yet seeped in.
My Ayurveda Journey in Coconut Lagoon
My love for Ayurveda drew me to the treatment center. Talking to Dr. Dinesh was a pleasure. He explained to me the principles of Ayurveda and how the center follows the treatments right out of the ancient texts. It was a great knowledge-enriching session too. The brochure presented an exhausted list of Ayurvedic treatments, you name it and you have it. Mr. Akhilesh's hands created magic as he carried out all the treatments in perfect sequence explaining the importance of all the steps.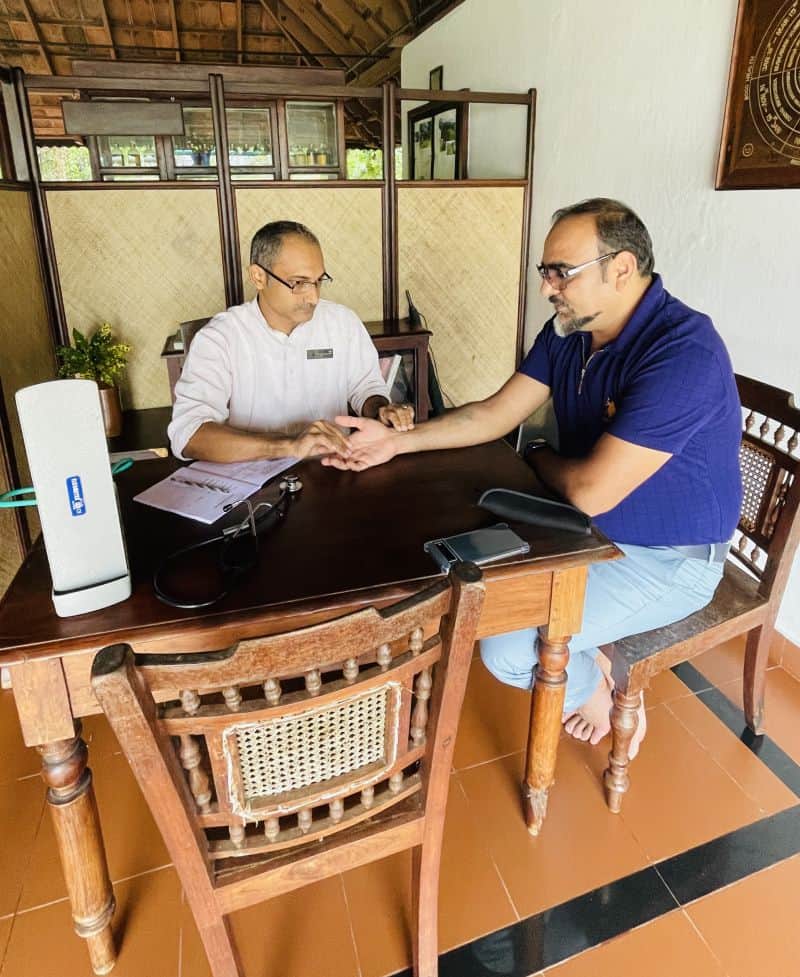 I was so impressed by the guidance on Marma therapy that I decided to go for that. Marma means sensitive points in our bodies that support our body functions and daily activities. Do you know we have 107 Marmas in our body and our soul is the 108th one? Marma needs care and attention for proper functioning. Before the massage, the chief physician checked my vital parameters like BP and pulse rate. I entered the treatment room for the necessary preparation for the Marma Massage.
A medicated oil was applied gently on specific points of my body like the head, palms, and feet.As the therapist moved his hands over different areas of the body, I could feel the relaxation and comfort as my body parts were getting relieved from stress and tension.
Allow me to present the list of Ayurvedic Therapies in Coconut Lagoonarranged into different categories.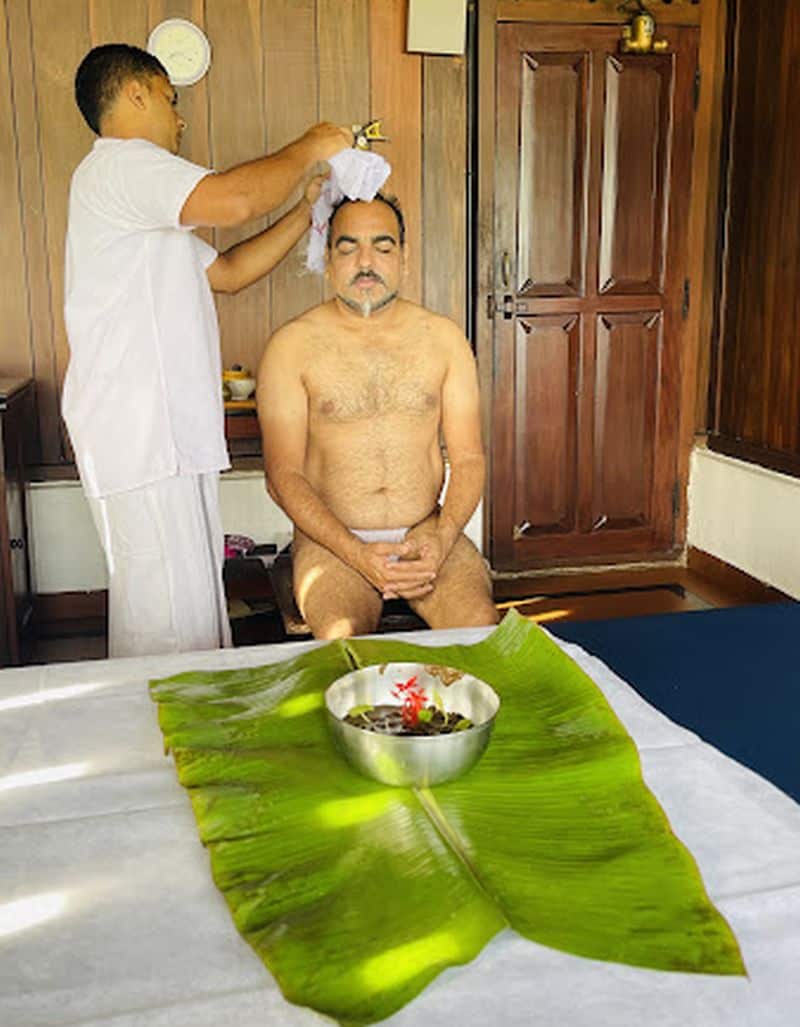 Sarira Raksha (For Body and Health): Mukhalepanam (face pack), and different kinds of facials to address different skin disorders.
Udhwarthanam for treating obesity.
Vajeekaranam for sexual vigor
Lepanam
Shirovasthi
Sirodhara
Thalam (shirolepam)
Kizhi – Elaikizhi, Podikizhi, navarakizhi
Pizhichil
Nasyam
MarmaChikitsa
Plus there are several Ayurvedic massage therapies you can choose from for specific purposes.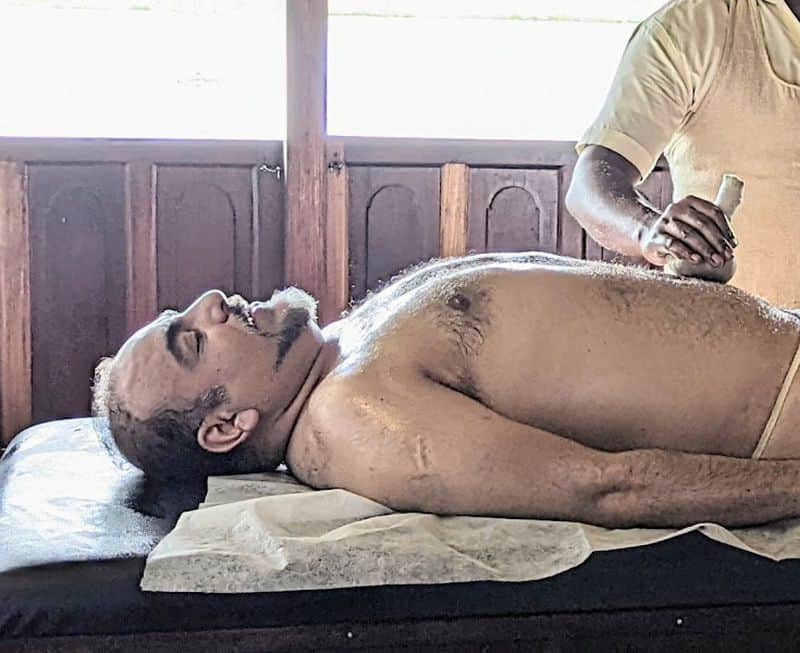 I must say, every wellness resort has its own way of offering Ayurvedic Wellness Experiences adhering to the basic principles. All these personal experiences are real value additions to my wellness consultancy services.  Holistic Wellness is firmly grounded in totality. The location, ambience, place, people, and treatments and programs everything matters.
The Coconut Lagoon by CGH Earth at Kumarkom Kerala is a place of rejuvenation and serenity.
A place to escape from the hustle and bustle of the world,and a place to find yourself again.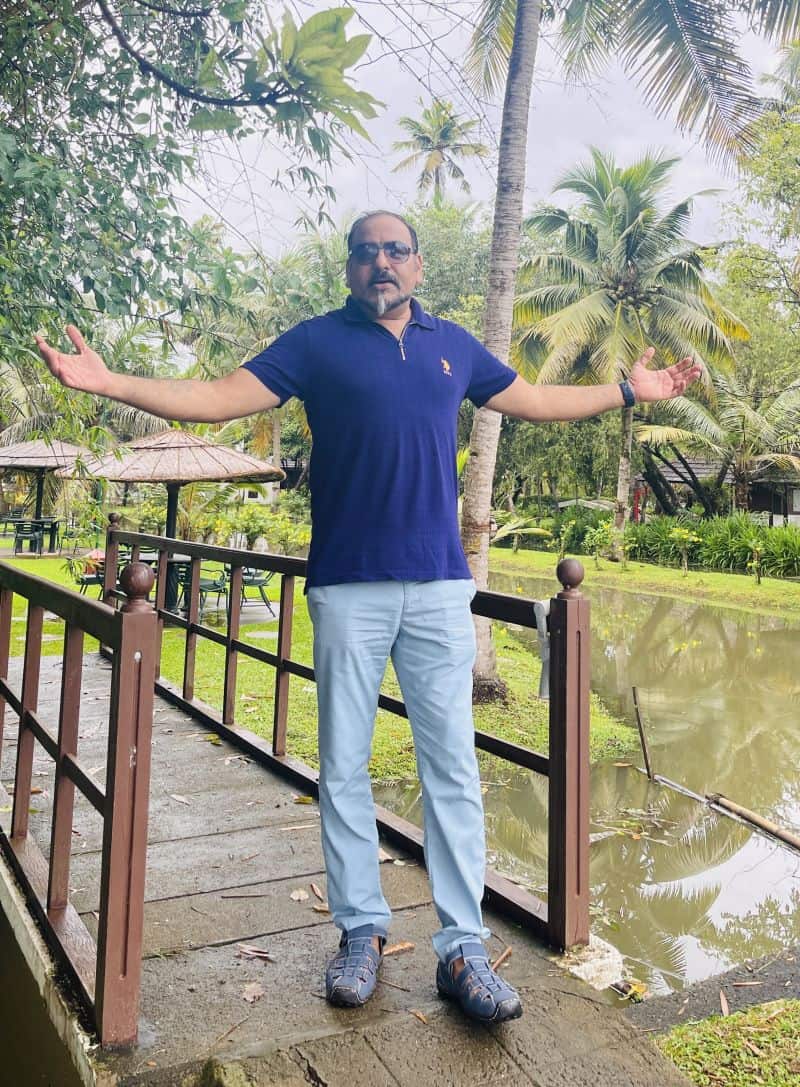 The twitter of birds, the rumbling of leaves, and the sound of the breeze, stillness of backwater entertained me as I toured the coconut lagoon.  The massive garden with shady trees, curated lawns decked with thick foliage, and small water bodies took me so close to nature. Loved exploring it to my heart's content.  Well, there were more surprises too! Bird watching,  Butterfly garden, sunset cruise, canoe ride, kayaking, and the floating tea shop – Cannot ask for more.
You cannot separate food from your wellness. And Coconut Lagoon gives you memorable dining experiences in different settings You can choose rustic dining amid paddy fields and water bodies. Try the sumptuous curry lunch at Aymanam restaurant. It is simply divine! Do not miss the fresh catch grills in Vembanad Grill.
My love for Ayurveda drew me to the treatment center, and had experience of massages, Podikizi, Lepam and other ayurvedic treatments. For your next trip, give a try to this wellness resort.