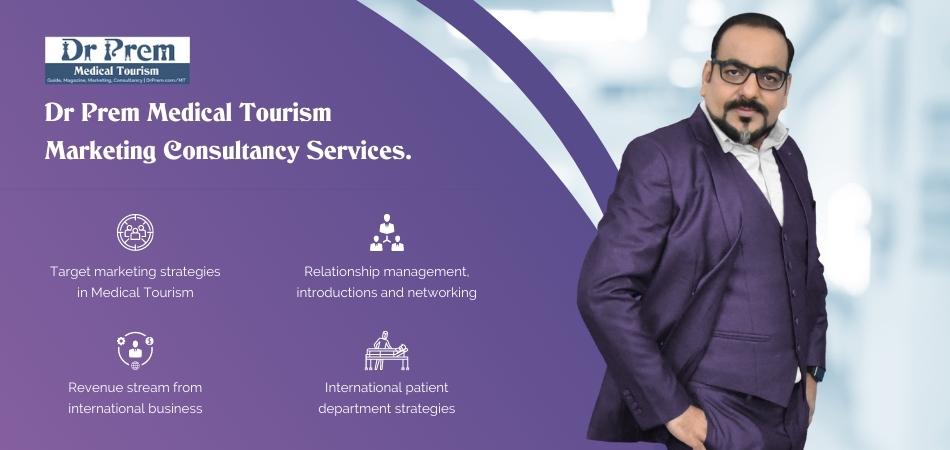 El Salvador is gradually developing as one of the popular medical tourism hubs in Latin America. The main supporting factors for this sector is its proximity to the US and Canada that can attract North American patients. The foreign patients are attracted most in the region as it offers personalized treatment and care which is considerably cheaper but are of top quality.
One of the prime reasons for the growth of medical tourism in El Salvador and the establishment of state-of-the-art medical facilities and clinics is countrywide modernization. Additionally, the country attracts medical tourists for cosmetic treatments, pre and post-operative services available and rehabilitative care.
The "Land of jewels" is famous for the ancient Mayan ruins, natural landscapes such as exotic wildlife, national parks, volcanoes and exciting surfing waters. Communication is easy here as the local people are fluent in Spanish and English, which makes it more favorable for medical tourism.
Guide to Medical Tourism in El Salvador– Facts, Trends, News, Services, Research, Business and Updates by Dr Prem
General

Language
Castilian
Time Zone
CST (UTC−6)
Dialing Code
+503
Electricity
115V, 60Hz
Medical Tourism Status
San Salvador, Soyapango, Santa Ana, San Miquel
Currency
U.S. dollar
Clothing
Due to the climate, the most recommended clothing is

light, thin, usually made of cotton.

Health Related

Mortality Rate
5.61 deaths/ 1,000 population
Life Expectancy
67.6M /75.7F
Hospitals JCI accredited
0
Recommended    Vaccinations
Hepatitis A, Typhoid, Hepatitis B, Rabies, Tetanus-

Diphtheria, MMR, Yellow fever, Poliomyelitis

Other Infections
Venezuelan equine encephalitis, Chagas disease, Visceral

and cutaneous leishmaniasis, Tick-borne relapsing fever,

Brucellosis, HIV
Tourism Related

Population
6,134,000
Reliability of Police Services
96/140
Global Competitiveness
3.80/7
Physician Density
72/140
Tourism Competitiveness
3.6/7
Hospital Beds
114/140
GDP/Capita
$3,855
Quality of Air Transport Infrastructure
42/140
Health and Hygiene
4.2/7
International  Air  Transport  Network
39/140
Safety and Security
3.6/7
Quality of Roads
52/140
Air Transport Infrastructure
2.8/7
Hotel Rooms
103/140
Tourism Infrastructure
3.3/7
Tourism Openness
106/140
Cultural Infrastructure
1.5/7
Attitude  of  Population  Towards Foreign Visitors
90/140
Visa Requirements
23/140
One of the smallest and most densely populated countries in Central America, El Salvador is a mix of different ethnic groups, which is mainly dominated by the Spanish and expatriate refugees. These diverse factors contribute toward the rich and unique cultural heritage of the nation.
When it comes to the Human Development Index, El Salvador finds a place in the top 10 Latin American countries and in the top 3 in Central America countries in terms of industrial growth. El Salvador's tourism industry has seen a rapid growth in past few years, thanks to the conscious efforts of the government. Since it is one of the major cultural and commercial centers of Central America, El Salvador now attracts a number of travelers from different parts of the world. Through medical tourism consultants, El Salvador tourism providers can set up a thriving medical tourism business.
Location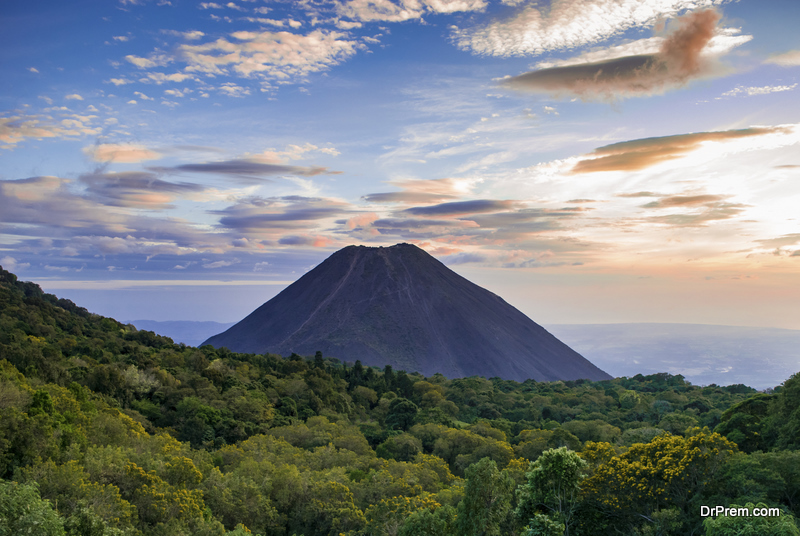 Located in the western coast of Central America, El Salvador is surrounded by the Pacific Ocean in the south, Guatemala in the west, the Gulf of Fonseca in the east and Honduras in the northeast. With a total area of 8,123 miles, the Central American nation can be categorized in three sub-regions. Lying between latitudes 13° and 15°N and longitudes 87° and 91°W in the isthmus of Central America, El Salvador stretches 88 miles from north to south and 168 miles from east to west. Featuring over 300 rivers and several lakes enclosed by volcanic craters, El Salvador is the only Central American country without Caribbean coastline.
People
With a total population of around 7.2 million, El Salvador is the most densely populated nation in the region. Most of the Salvadoran people (around 86 per cent) are of mixed ancestry, largely indigenous Native American and European descent, and just one percent population is purely indigenous, which finds its roots in native Mayan, Pipil, Lenca and Kakawira lineage. Due to racial intermixing during colonial period, El Salvador has no evident African population at present. Usually, Salvadoran people are friendly and fun loving and greet outsiders or tourists with open heart, which makes it a popular tourist destination in Central America.
Events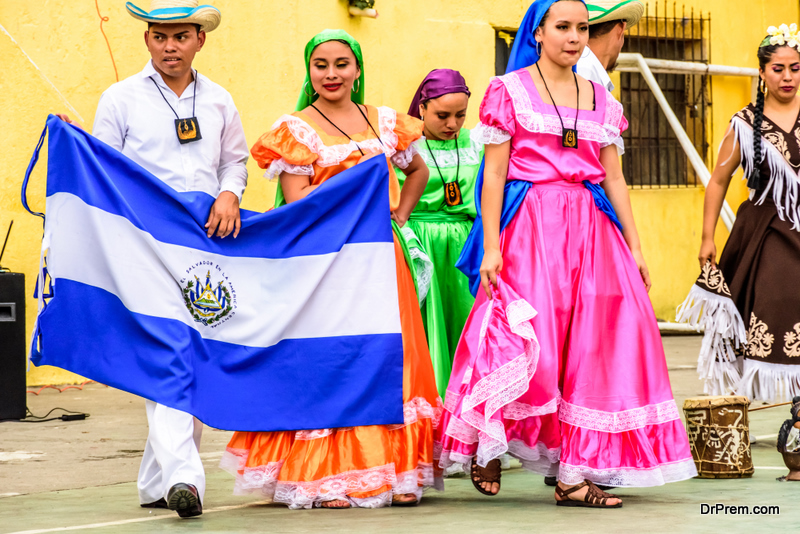 A number of festivals and other social and cultural events take place in El Salvador throughout the year. These festivals and events are not only important for local people, but foreign travelers also enjoy the lively atmosphere during the festive time in the country. El Salvador Independence Day, held on September 15 each year, is an important event that exhibits national heritage and culture of the country.
The "Balls of Fire Festival" is another major event that takes place in the city of Nejapa on August 31 and lets people experience the culture of El Salvador. People come to streets with painted faces and fireballs to entertain spectators.
The "Fiestas Agostinas" held in the month of August is one of the most popular El Salvador festivals, which is characterized by  a range of sports events, art exhibitions, theater performances, food fairs and many other events that take place in various parts of the nation. People actively take part in various events and enjoy the festive time.
Weather
Featuring a tropical climate characterized by wet and dry seasons, El Salvador's weather remains constant throughout the year, with minor changes in hilly regions. The temperature in the mountain areas and Central Plateau remains moderate, while the Pacific lowlands with average temperature ranging between 25°C and 29°C becomes hot in summers.
The summers in El Salvador extend from the month of November to April, when northeast trade winds influence the weather patterns in the country. On the other hand, the rainy season (also referred as winters) stretches from the month of May to October with heavy rainfall on southern-facing mountain slopes.
The start or end of the dry season, flaunting moderate weather conditions, is possibly the best time to visit El Salvador. Based on such great tourism prospects, amedical tourism consultant or medical tourism advisor can easily guide proper medical tourism marketing strategies taking in consideration the weather and other factors.
Healthcare System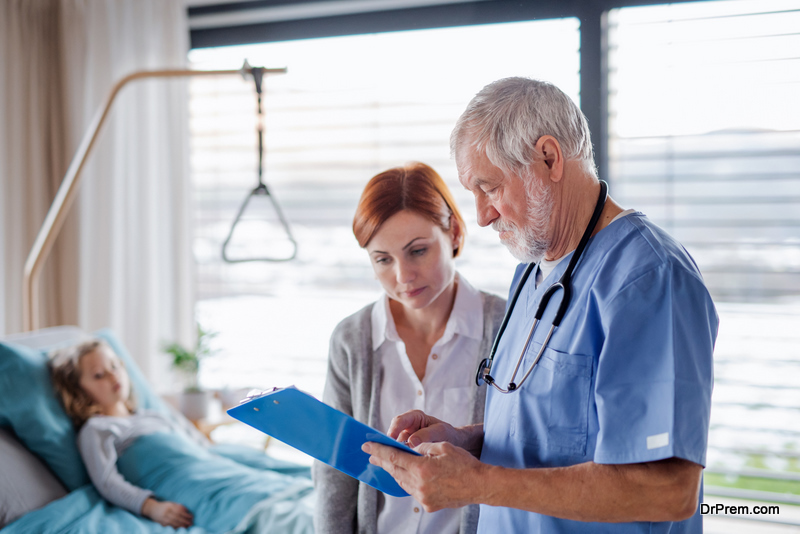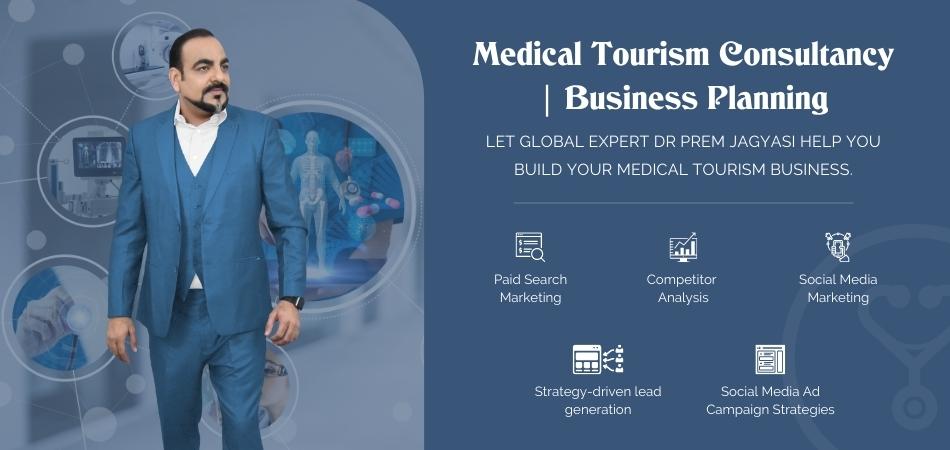 Healthcare in El Salvador operates as a two-tiered system, i.e. public and private. The former sector is responsible for delivering and managing the healthcare for the deprived people who cannot afford the expensive healthcare services on their own. In this sector, the physicians are usually overburdened, as they have to attend to or treat a large number of patients in public hospitals.
The private healthcare system is on the rise because of economic growth and the high living standard of people in the country. Private hospitals and clinics provide high quality healthcare to domestic as well as foreign patients, of course for a price.
Quality of Healthcare
Offering superior healthcare, El Salvador is emerging as a new medical and wellness tourism destination in Central America. Private clinics and hospitals appoint well-trained, experienced physicians, who usually get training in the US, North America and Europe, to treat medical tourists visiting the nation from different parts of the world.
Most of the medical institutes in the country are equipped with the latest equipment to provide the best possible care to local patients as well as medical tourists. At present, there are no JCI accredited hospitals in El Salvador, but the standard of care is on the rise in both public and private healthcare sectors. The country needs substantial medical tourism investment to increase the number of visitors and healthcare facilities.
Medical Tourism in El Salvador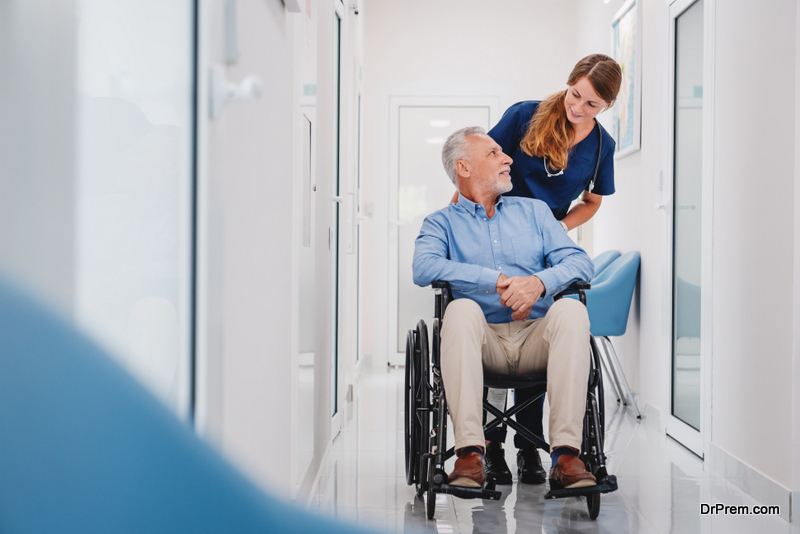 The big draw of medical tourism in El Salvador is its personalized care without compromising on the quality. The Central American nation is attracting a large number of medical tourists not only from the Americas but also from different parts of the world.
Featuring several state-of-the-art hospitals and clinics equipped with high tech equipments and technologies in different parts, El Salvador provides quality healthcare for both domestic as well as foreign patients.
Known for excellent cosmetic treatments and pre and post-operative services, El Salvador also offers great rehabilitative care, which is becoming popular among medical tourists worldwide.
In 2014, $21.2 million dollars in revenue was generated by the healthcare industry, which was an increase of 8.5% from the previous year. In 2015, the revenue generation was expected to be 25 million USD from 24,500 patients approx.
El Salvador holds the distinction of being the first country in Central America to develop a medical tourism quality seal "El Salvador: Destination for Health". This signaled the country providing services of international quality. From 2013 to 2015, 30 health centers were provided with medical tourism certification, 11 were certified by American Association for Accreditation of Ambulatory Surgery Facilities (AAAsf). 19 companies were certified for Certified Medical Tourism Professional (CMTP).
Medical tourism marketing was promoted also by closing a trade agreement with US SkyMedicus and seven companies in El Salvador, thus gaining a strong ally for El Salvador medical tourism services abroad. The country is looking for medical tourism investment by foreign investors  to bolster its medical tourism sector.
Reasons for choosing El Salvador for medical tourism
Highly qualified and experienced physicians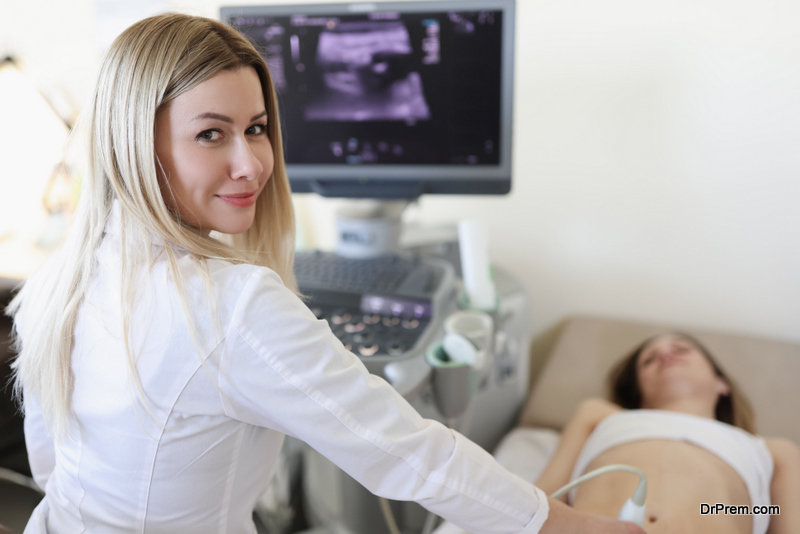 El Salvador provides top-notch medical treatments due to the high number of well-educated, experienced and capable physicians in all medical specialties. Most of the physicians and surgeons receive their training as well as certification from the US, Europe and North America, thus they are able to understand, diagnose, and treat cross border patients expertly. Patients from these countries visit El Salvador by searching medical tourism sites and in guides such as our medical tourism destination guide.
Proximity to the US
A large percentage of medical tourists to El Salvador hail from the US, as it is only a couple of hours flight from there. The treatments are at much less cost, almost 4 times less, so patients enjoy cost savings of 60%. Dental treatments and cosmetic surgery are the most popular treatments sought by the patients. With aggressive medical tourism marketing, El Salvador can become a leading medical tourism destination from the US.
Canadian and US citizens who travel to the country do not require a visa. A passport that is valid for 6 months from the entry date is required along with a tourist card for 30 days that can be extended to 90 days.
Smooth communication
El Salvador residents speak English fluently as a result of greater contact with Americans, Canadians and other English speaking tourists. Many have relatives living in the North America, and thus have learnt the language to communicate. Citizens also speak Spanish fluently, so the country can cater to medical tourists from North America as well as Latin America. Our medical tourism book includes El Salvador since it has excellent facilities and no hassle in communication.
Sizeable number of accredited healthcare facilities
The number of healthcare facilities which have received accreditation as expert medical tourism procedure providers are 30. International accreditation has led to building trust in foreign patients and led to the growth of medical tourism in the country.
Dental tourism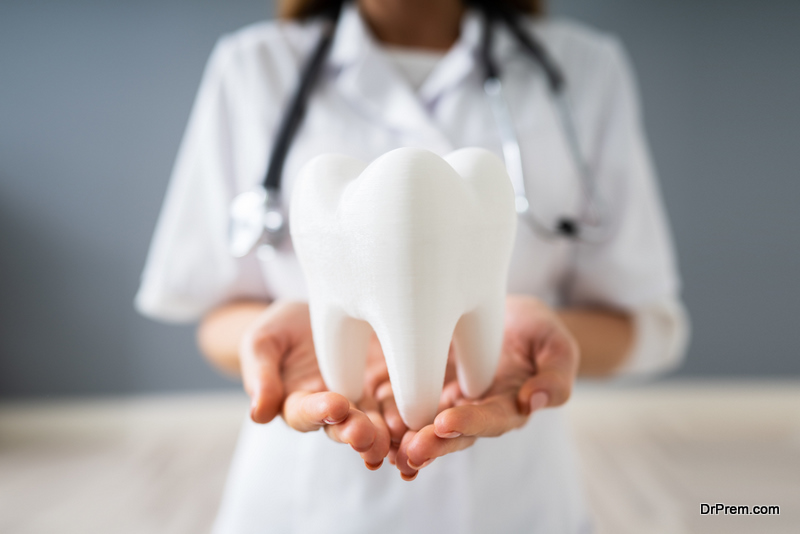 El Salvador has established as favored destination for dental tourism. The medical treatment procedures for dental complaints such as dental implants, laser tooth whitening, dental crowns etc are available at 40-60% low prices than in the home countries of patients from the US, Canada, UK, and so on.
The ratio of the dentists to 1000 people in the country is 0.54, which compares well to the Canadian ratio of 0.58. (as per data of 2009). This has led to the boom in dental tourism from patients from the US and Canada where dental procedures are excessively high. Dental patients visit El Salvador, experience the sunny climate, and enjoy the local culture and cuisine, while getting their treatments done.
The dental surgeons are mostly trained in the US, so patients can get the same standard of expertise as in the US, using advanced equipment, but at affordable costs. From the simplest to the most sophisticated procedures, the expertise of dental surgeons is unparalleled.  This is another reason El Salvador finds mention in our medical tourism destination guide
Excellent road infrastructure
The country is the smallest in the Central American region, but has developed excellent roads infrastructure. It is known as "the country of 30 minutes" as you can reach everywhere in just 30 minutes. This provides medical tourists a comfortable experience of moving about in the country. After treatments they can move swiftly to nearby tourist attractions  such as beaches, mountains, forests and volcanoes.
Popular medical treatments in El Salvador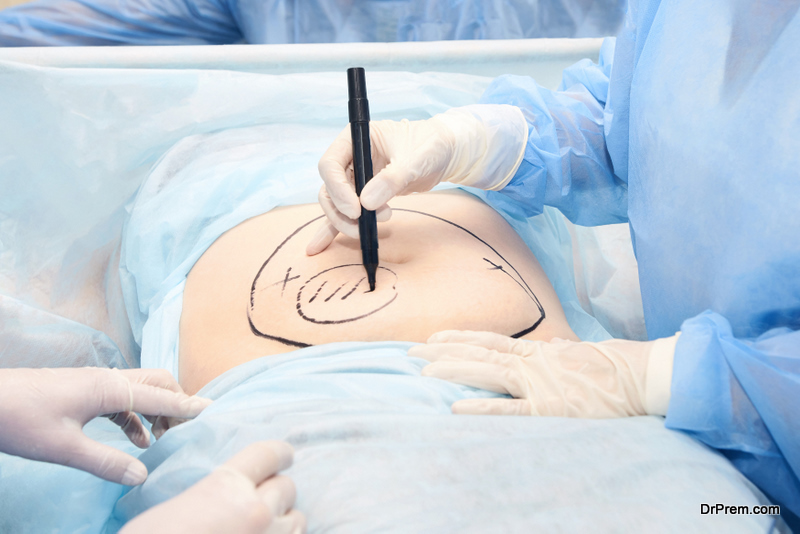 The public and private healthcare facilities offer treatments in all the major medical branches such as dentistry, cosmetic surgery, ophthalmology, orthopedics and cardiology. Highly complex orthopedic, ophthalmologic and bariatric procedures are carried out in El Salvador.
However, the most popular treatments are dental and cosmetic/plastic surgeries which are performed nearly every day. Dentistry is one of the foremost reasons for medical tourism globally, as these treatments are quite expensive in developed nations. El Salvador dental surgeons are adept at regular whitening and cleaning services, veneering, implants, crowns and procedures such as bone graft placement, sinus lift, etc. at cost-effective prices. This is the reason why El Salvador is mentioned in nearly every medical tourism book.
Government support for medical tourism
The government of El Salvador has been able to take advantage of the CAFTA free trade agreement and invite foreigners to invest in various industries including hospitals as well as required critical medical facilities. Salvadorean laws also support medical tourism investments in dentistry and healthcare.
What does the future hold?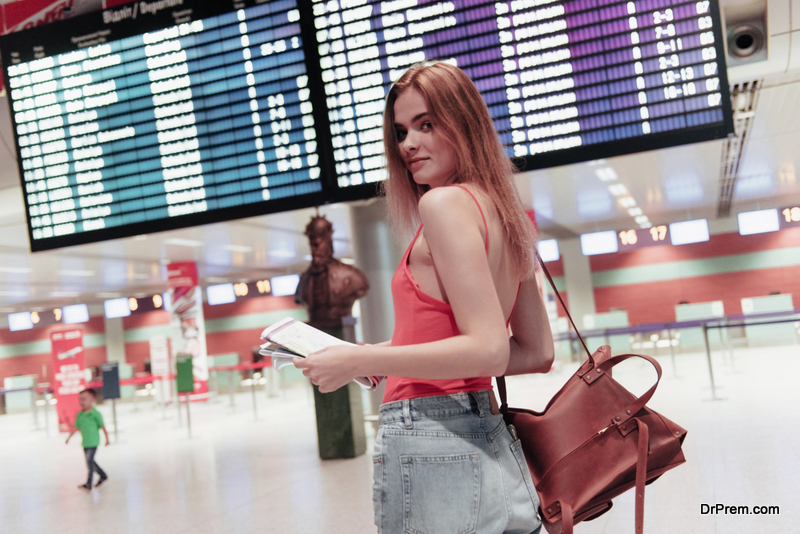 According to the UNWTO data, more than 1.04 million tourists visited El Salvador for personal purposes, rather than leisure and holidays. Business tourism too accounted for about 112 thousand visitors in 2019. It is predicted that after the Covid-19 pandemic is under control, tourism including medical tourism would grow to around 3.25 billion USD by the year 2025, and El Salvador is looking forward to opportunities for sustainable medical tourism growth.