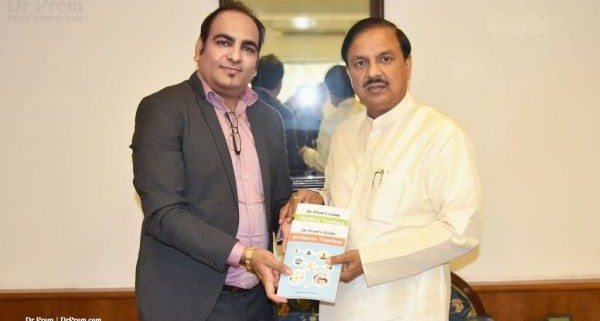 Rising global health awareness with people seeking better and convenient avenues of healthcare and wellness has led to the creation of niche wellness and medical tourism sectors, two flourishing domains in the global tourism industry. Wellness and medical tourism are most sought after ventures by the health conscious,who are keen on exploring various healthcare options within their means to enhance their quality of life.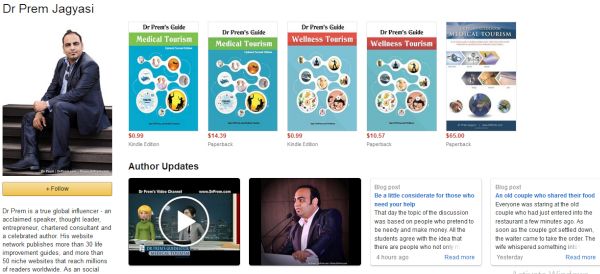 Though many people are aware of these niche tourism sectors, they lack authentic information. The recently published comprehensive guidebooks have done a commendable job by addressing the basic issues of medical tourism and wellness tourism to provide valuable information regarding planning and implementation.
The author Dr Prem, an award winning leader, speaker and global influencer said, "A medical tourism research conducted by us revealed that 59% of industry experts believed that accessing reliable information is a major challenge for the industry. Since many are still unaware of the immense benefits of wellness tourismand medical tourism, and the associated challenges, the objective of these guides isto educate the reader about other effective avenues of wellness and treatment through cross-border exploration."
Cross-border travel seeking better medical support is not a risky affair, but if done without proper planning and reliable information can invite life-threatening situations. Reliability and authenticity of information is a big issue that shapes the success of a medical and wellness tourism venture.
Reinforcing his commitment towards addressing the huge knowledge deficit and with a view to empower the health care seeker with a credible insight in wellness and medical tourism, Dr Prem has deftly framed these guidebooks enriched with informative writing supported by interesting facts and anecdotes.
About Dr Prem's Guide – Wellness Tourism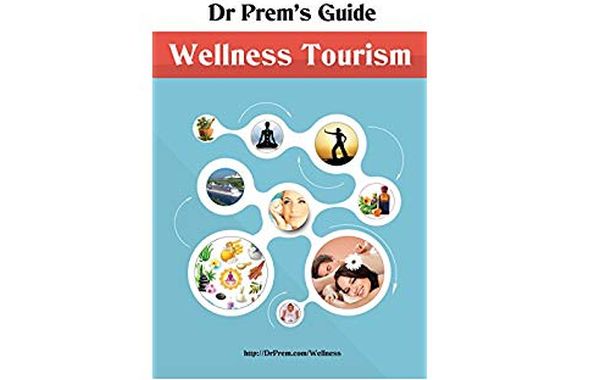 Wellness tourism, about $500 billion industry is a swiftly expanding niche amidst the existing flourishing tourism industry. The book explores the gamut of purposefulness driving the readers to move ahead in the quest for achieving a healthy state of body and mind. Often the target fulfillment is possible only if one is aware of the huge potential trapped in certain practices and cults available in specific countries.
Dr Prem, who has travelled to more than 45 countries to explore tourism activities said – "Once considered as a fringe option, traditional wellness treatments and practices have regained their worth and fame in the global scenario. In spite of this, accessing authentic information regarding these treatments and their effectiveness remains a big challenge".
About 105 natural therapies are narrated in the guidebook.The idea is to encourage the reader to think about broader avenues of cure and wellness, leading to the supreme state of mental and physical wellness. The lucid and well-formatted description of various therapies like spas, mud therapy, sound and light therapy, water therapy, writing therapy, meditation, yoga and many more encourage the reader to explore these avenues.
Read more about Dr Prem's work in Wellness Tourism at http://drprem.com/wellness

About Dr Prem's Guide Medical Tourism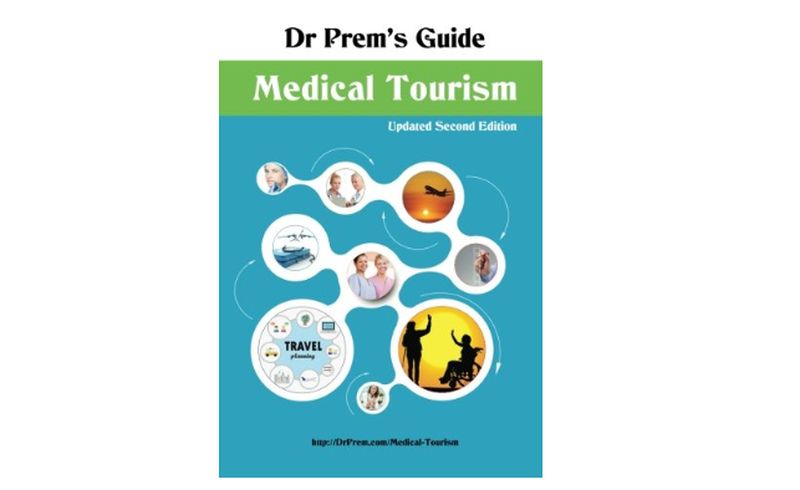 The booming medical tourism industry has been of special attraction to global tourists, who are now opting for top class medical treatments across borders, along with spending a vacation.
This enriched guidebook comes as a storehouse of valuable information related to each and every aspect related to medical tourism. Not every country has the infrastructure and expertise to provide the best medical support for every ailment. People travelling to foreign lands seeking relief from their bodily sufferings is a method practiced since ancient times, and with gradual technological advancements, it has taken the shape of modern medical tourism.
The initial chapters of the book provide you a vivid understanding of the medical tourism concept and the plausible reasons that encourage the phenomenon. This comprehensive guide has touched all the aspects of medical tourism without missing out the trivial issues, with an aim to keep the reader informed of all aspects.
A well crafted description of 50 medical tourism destinations highlighting their uniqueness in medical tourism is the most attractive part of this book, helping readers to select the right destination as per their requirement and affordability.
Read more about Dr Prem's work in Medical Tourism at http://drprem.com/medical-tourism
Justifying the necessity of authentic information in this industry, the author has provided an honest approach in these guides leaving no room for ambiguity and confusion. The reader will make his choice confidently.
Dr Prem'sextensive experience in writing several life benefitting guide books has led him to compile these valuable guides in the most arresting manner through well framed chapters and sections.
The author has envisaged medical tourism from a wider perspective with an amazing insight. He rightly asserts that "Even though the process of accessing care in a foreign location might seem very simple, patients should be aware of the challenges and issues associated with the industry prior to making any medical travel plans."
Dr Prem Jagyasi summarizes his guidebooks in a nutshell, "I have devised a rule—I call it Dr Prem's Medical and WellnessTourism Rule—assume less, reassure more and plan meticulously. The guidebooks are based on this rule; I have attempted to provide answers to all the possible queries a medical or a wellness tourist might have, provided guidelines for you to reassure yourself, and checklists and graphs that will help you plan meticulously. Simply put, these are all the factors necessary in ensuring you a safe and successful journey towards complete cure and wellness."
About the Author: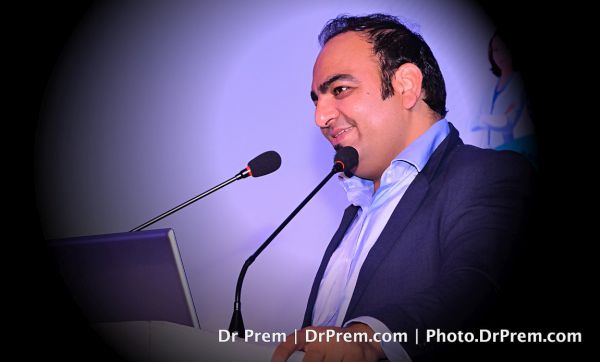 Dr Prem Jagyasi, globally renowned chartered consultant, entrepreneur, healthcare consultant and tourism industry expert has penned highly motivating guidebooks applauded by global readers. His travelling experience to more than 40 countries and enriched experience in healthcare marketing and Medical Tourism consultancy has helped in developing the right insight to author highly informative Medical Tourism Guide and Wellness Tourism Guide.
These books are designed to be benefitting for those seeking a better quality of life in all aspects. His charismatic personality and exceptional ability to create rapport with the audience has earned him a respectable position in the global platform as a keynote speaker.
Dr Prem has been associated with popular social activities with innovative projects like No Tobacco Campaign, Family Health Festival, Summer Health Festival, Diabetes Events etc. We look forward to more such valuable guides to enrich our life and pass it among our closed circle.
Dr Prem further take delights in Travel Photography http://photo.drprem.com
—-
Release Photo
Dr Prem Jagyasi with Dr Mahesh Sharma – Honourable Minister of Culture & Tourism and Civil Aviation of India, discussing andpresenting guide books about Medical Tourism and Wellness Tourism. http://photo.drprem.com/Dr-Prem-Jagyasi/Dignities/i-jnPQnSf
—
Contact Details and Links
Dr Prem Jagyasi
[email protected] | http://drprem.com
Facebook: http://facebook.com/drpremjagyasi
Twitter: http://twitter.com/drpremj
Dr Prem's Official site : http://drprem.com
About Dr Prem Jagyasi: http://drprem.com/drpremjagyasi
Dr Prem's Guide Books: http://drprem.com/books
Medical Tourism Guide: http://drprem.com/medical-tourism
Wellness Tourism Guide: http://drprem.com/wellness
https://drprem.com/wp-content/uploads/2015/12/Dr-Prem-Jagyasi-with-Dr-Mahesh-Sharma-Honourable-Minister-of-Culture-Tourism-and-Civil-Aviation-of-India1.jpg
338
600
Dr Prem Jagyasi and Team (C)
https://drprem.com/wp-content/uploads/2021/06/Dr-Prem-White-Logo-Live-A-Great-Life-With-DrPrem.com_.png
Dr Prem Jagyasi and Team (C)
2016-05-02 09:58:05
2020-01-06 17:56:58
Award winning leader and author Dr Prem publishes guides to Medical Tourism and Wellness Tourism