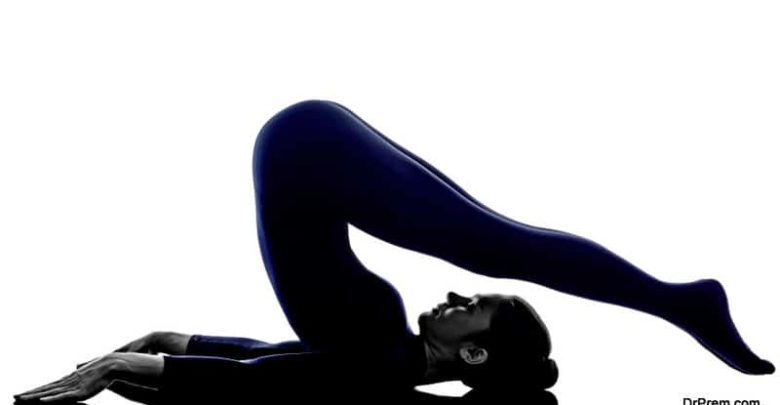 Many people leave no stone unturned to lose weight; still they do not achieve the desired results. If you are also facing this trouble, then go for Yoga that is an assortment of fitness and meditation procedures. Following are some very effective yoga poses that can help you shed weight and transform your body from flab to fab.
Ardha Chandraasana:
If buttocks, upper and inner thighs are a problem area for you, then this pose is apt for you. You have to stand on your yoga mat with feet together. Then raise your arms above your head, join hands and try to stretch upwards. Slowly bend sideways from your hips while keeping your hands joined. You should feel a stretch from your fingertips to your thighs, stomach, and back. This pose will put strain on your problematic areas and burn the fat therein.
Caution: People with digestive disorders, spinal injury, or high blood pressure should not do this pose.
Veerbhadrasana:
The English interpretation of this word is – warrior pose. It stretches your thighs, stomach, and hips. It enhances your power to focus and improves your breathing ability by strengthening your lungs. Stand on your yoga mat with you feet joined and hands on your sides.  Extend your right leg forward while keeping your right leg extended backwards. Now bend your right knee slowly so that your body takes an attacking position. Twist your upper body to face your bent right leg. Try to stay in this pose as long as you can.
Caution: People with shoulder, knee, or back trouble, high blood pressure do not perform this asana or in case you perform then make sure you do this under supervision or guidance.
Setubandhasana:
This pose is great to tone your thighs and abs. Not just this, it also relaxes your mind, good for digestion, good for relieving symptoms of menopause in women and much more. You need to lie down on your yoga mat with your feet flat on the floor. Then exhale and push your body up with your feet down on mat. Raise your body in a way that it keeps your head and neck flat on the floor.
Caution: avoid this pose if you neck or back injury.
Halasana:
Lie on your back on the floor with your arms placed on both sides. Now slowly raise your legs and move them backwards. Place your hands around hips to support the backward movement of your legs and touch your feet on the ground at the back of your head. Do not drop suddenly while coming back to the original position. This pose will tone up your abs and thighs.
Caution: Liver and spleen disorders, neck injury, menstruation cycle, hypertension are some conditions that do not support this pose.
Summary:
You need not lose hope for a weight loss, as yoga is a procedure that can easily transform your flabby body to a fabulous body.