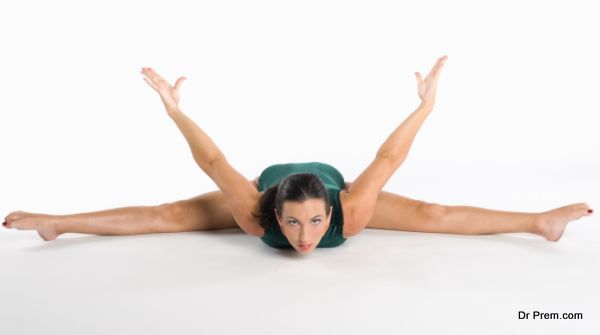 Yoga is beneficial for everyone and it helps in enhancing our physical and mental abilities. Runners can try Yoga for strengthening their muscles and letting the energy flow throughout their body. Yoga is not only good for overall fitness but it also increases our level of concentration. Like every other sports, running also requires focus. Yoga can provide the runners with the mental energy and vigor. Many runners suffer from performance anxiety and excessive stress. Yoga has always been a great stress buster. The benefits of following a strict Yoga regimen are innumerable. Every runner should incorporate some Yoga postures, in their daily workout, which are most effective for them.
Why should runners practice Yoga?
Runners should practice Yoga on a daily basis to reap the benefits of Yoga. Following are some of the great benefits of Yoga for runners.
Regular practice of Yoga makes the muscles flexible and stretches them. Flexibility improves the performance of the runners.
It helps in the development of a focused and goal oriented mindset in the runners. Without high levels of focus and concentration a runner can never get to the top of his/her game.
Running can injure and wear out your joints and tendons. Yoga helps in restoring and curing the injured joints, muscles, tendons etc. It has a great healing power. Yoga protects the limbs and other body parts by making the stronger from within.
Many runners suffer from chronic pains caused by the pressure that tensed muscles puts on the bones. Yoga postures help in stretching the muscles so that they won't pressurize the bones.
Yoga also helps in boosting the strength of the core muscles of the runners. The spinal muscles, hip muscles, stomach and groin muscles all receive the positive impact of Yoga. When the core muscles are strong then running cannot injure or tire them easily.
Yoga promotes better body and mind coordination, which helps in improving a runner's performance.
The breathing techniques taught and practiced along with Yoga helps in the transportation of oxygen to each and every body cell. Oxygen reenergizes the muscles and fights fatigue. This boosts the energy levels of the runners.
Some great Yoga poses for the runners:
1.    The Mountain Pose: The Mountain Pose, which is also known as Tadasana, is really good for the runners. This Yoga pose stretches the legs and enhances their strength. Runners with back-pain will find this Asana very beneficial.
2.    The Warrior Three:  This is a tough yoga pose which works the core muscles along the spine, stomach, groin as well as the leg muscles. It increases concentration levels and the balancing capabilities of the individual.
3.    The Chair: This Yoga pose is also referred to as Utkata. This pose is ideal for the runners who compete in long distance races. It strengthens the muscles of the legs.