Worries and problems these days has become a part of our life. Even if you are physically fit, stress and tension makes you mentally weak. You feel like banging your hand on the wall or running far away from all these worries and problems. However, it is actually not possible because in order to move with the world, we have to deal with all of them. However, you can keep yourself calm and cool and make your life worth enjoying by many ways. One such way is hot stone massage, which relax your mind and body and provides you complete inner satisfaction.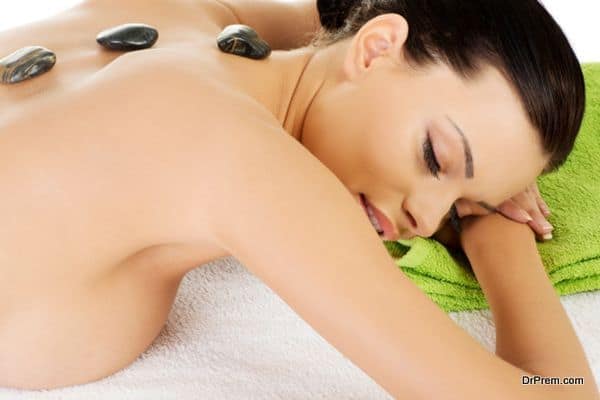 Extra relief:
Hot stone massage is a body massage and is done by highly trained therapist. It is not an easy job to do and most of the therapists are not equally good for every individual, as even the best therapist at times finds it difficult to perform. Therapists have their own technique and skills of performing a therapy. Likewise, a highly skilled therapist is required for hot stone massage.
Before starting hot stone massage, the therapist usually heats the stones in hot water (boiling approximately at 150 degrees), and after that places the warm stones on your specific body parts. After that, the therapist start giving massage with the help of black stones and put them over palm, toes, back and hands according to the requirement. The stones used can be of various sizes, big or small, depending on the size of the body. The therapist keeps on replacing cold stones with the hot ones. This massage helps healing any kind of body ache and gives you the best relaxation and inner satisfaction.
Hot stone massage is expensive, as compare to other massages, and costs around $150. Hot stone massage is suggested neither for the peoples suffering from high blood pressure, diabetes and heart diseases nor for the ones suffering from sunburn and pregnant women.
While going for a hot stone massage, you must consider certain precautions. You should avoid heavy meals and alcohol to make your body feel light, relaxed and fresh. Hot stone massages improves your health, provides body relaxation, heals unwanted stress, corrects blood circulation and energy flow, and most importantly, it actually makes you feel happy.
Summary
Hot stone massage is one of the most relaxing and effective massages. It is one solution to many problems related to mind, body and health. It makes your life worth living and enjoying.