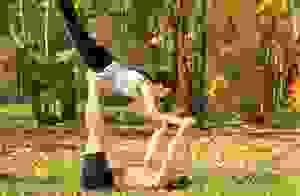 Tantra Yoga is an approach to the study of the universe from the point of view of an entity. Its objective is to rekindle the Kundalini located at the base of the spinal cord. Evoking awareness in all states of consciousness-conscious, sub-conscious and unconsciousness is the primary aim of this Yoga. The result is a union of energy center and the crown chakra, otherwise known as Lord Shiva.
The Yoga studies life as a tree and discerns various parameters that impact our thoughts and emotions. There are two segments of Universe- the static Shiva, who symbolizes rest and power and the dynamic Shakthi, which symbolizes motion and creativity.  The internal state of consciousness is embodied by a layer of external dynamism. As Soundarya lahiri points out, "only when Shiva is united with Shakthi does he have the power to create."
The energy moves in a cyclic manner. The sinusoidal curve of the universe between rest and motion, when studied from a microscopic point of view is called Tantra Yoga. It can be equated with observing the lifecycle of a tree by sitting atop the branch. A cycle of creation, sustenance and destruction are the main outcomes of the merger of the two forces.
Bhuta Suddhi (tantric rite): The body is said to be made up of five elements- Earth or Prithvi; Water or Jal ; Fire or Agni; Air or Vayu and Ether or Akasha. Symbolically, it refers to our five sense organs. This ritual helps to purify the body to keep the elements in proper shape.
Nyasa (a powerful tantric rite): The finger tip is pressed upon various segments of the body as mantra is chanted out.
Kavacha (means protection): Different areas of the body are protected by merging the almighty in different parts of the body.
Mudra: The one hundred and eight mudras appease the different gods as they are welcomed.
Yantra: Drawn on metal film or paper, the sketch is revered as god. It is the body of the specific god and the practioner ingrains the power of the deity's body by chanting appropriate mantras.
Unlike other forms of yoga, Tantra Yoga stands out due to its principle that one doesn't need to abstain from desires. Yoga believes that to be free from desires, one must have the desire to set oneself free. A paradoxical oxymoron in itself, Tantra Yoga has a modern approach of cultivating the desire as a motivating force.
The yoga works more on the mental state and feeling aspect. It presents a choice of whether or not you want to be happy. Invoking the Kundalini awakening, a person can decode and reprogram the mind to use the windows of desire constructively.