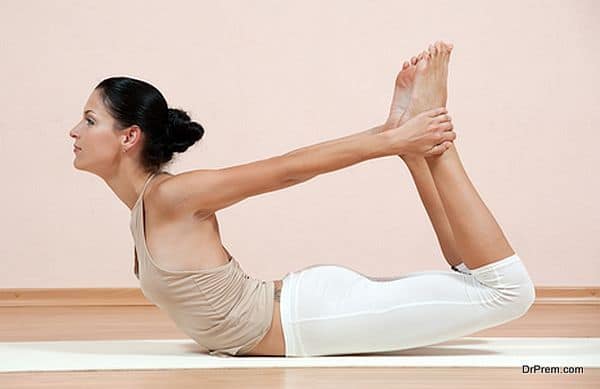 While preparing ourselves to travel for hours together, we generally think about its taxing, painful aspects. As we subject our persona – body, mind and soul, for that matter – to annoying fellow travelers, screaming kids, snoring neighbors, traveling becomes a upsetting experience that definitely takes a toll on our physical and mental health. However, certain yoga postures are there to alleviate our woes and make traveling – be it in a bus, plane, train or a car – an enjoyable experience.
Scroll down to know more about the easiest yoga workouts you can do while traveling:
1. Chest Expansion
We often do this pose when we feel like stretching our arms and allowing our chest to expand. First clasp your hands behind you and stretch your shoulders back. Now pull your palms so that the motion exerts a soft stretch on your shoulders and helps you expand your chest. You may lift your arms higher while bending your upper body to enjoy a deeper stretch.
2. Cat Cow Pose
The simple, relaxing exercise provides instant relief from backache and spinal stiffness. For doing this pose, you need to get down on your legs and arms and then, focus your gaze at a fixed point above your head. Further, as you inhale, shift your focus towards the floor and slowly, to your belly button. Finally, arch your back upwards to allow your spine the much-needed stretch.
3. Urdhva Hastasana – Raised Hands Pose
Unconsciously, every morning we do this yoga pose when we roll out of bed. First, you need to stand straight in Tadasana and then, slowly raise your arms to your side. Now, bring your arms above your head. Keep your palms firmly pressed and arms as straight as possible. Next, maintain focus on your thumb and allow your shoulder blades to slide down your back.
4. Baby Back Bend
As you sit with your sit bones on the edge of the chair, bring your hands behind your buttocks while making sure that your fingertips are facing forward. Now, as you allow your palms to press down onto the seat, keep bending your sternum upward. Keep exerting pressure on your shoulder blades while keeping your head and neck aligned with your spine.
5.  Savasana
Once you're done with the abovementioned poses, do Savasana for 2-3 minutes. Since you won't find a suitable place for doing Savasana while traveling, you may roll your clothes, use them as cushion for your neck, and thus, do Savasana in a sitting position. Now, open your feet to the sides and let your palms face the roof. Next, hold this position as longer as you can.