Mumbaikars are forced to a highly stressed lifestyle caused by regular overstretched working hours and time-consuming commutation. So it is time for you to take a break from this crazy daily routine and pay attention to your overall wellness. After all, quality of life is what matters most! Here are a few exciting wellness getaways for you that would re-infuse a fresh dose of wellness enabling you to enjoy life in a much better manner.

Top Wellness Resorts and Wellness retreats around Mumbai – Guide, Reviews and Suggestions
1. Atmantan wellness resort, Pune: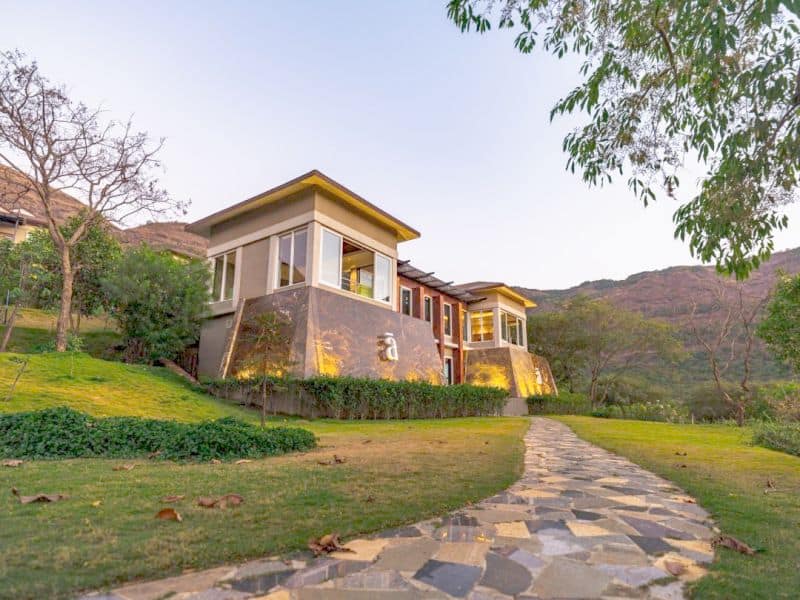 Image Source : atmantan.com
Just about 4 hours drive from Mumbai, this tranquil wellness retreat located amidst the stunning view of Sahyadri hills and Mulshi Lake has everything to recharge your life force. A retreat that strictly prohibits cell phone and smoking opens all the avenues of wellness helping your body and mind regain their vitality.
The resort keeps you engaged in yoga and meditation sessions, fitness activities and healthy nutrition, massages and wellness consultations that you could maintain even at your home. The luxurious 1500 Sq ft Mango Tree Villa offers infrared sauna, infinity pool and a private butler. Housing a spacious super luxury spa, this wellness resort offers traditional Ayurveda, Chi Nei Tsang and Pranic chakra treatments to complete your wellness sojourn.
2. Govardhana Eco-village, Palghar: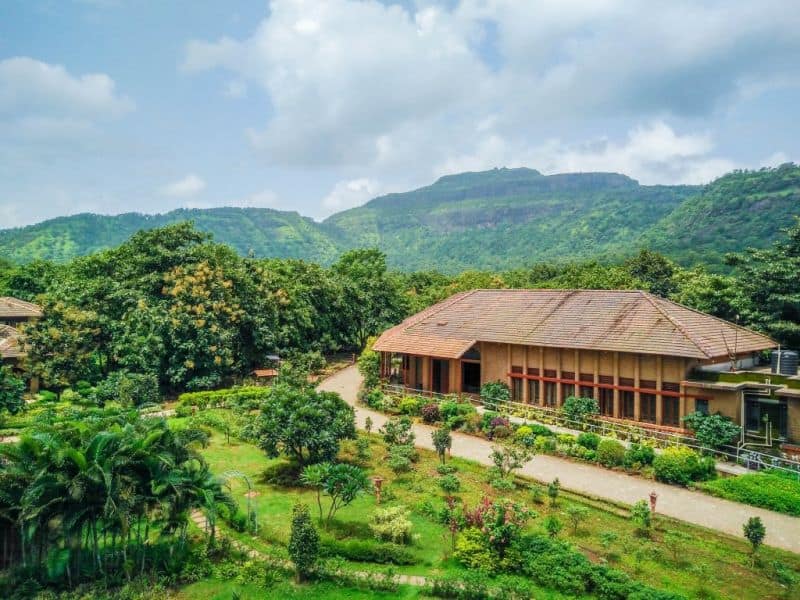 Image Source :  ecovillage.org.in
Facilitated by ISKCON, a sustainable farming community has come up in the foothills of stunning Sahyadri mountain range offering exhausted city dwellers a pleasant escape from the daily grind.
The 28 day/200 hour guided Yoga program of traditional Hatha and Ashtanga yoga accompanied by meditation teaches you to take care of your body and mind for a sustained wellness.
3. Anandvan, Bhandardara: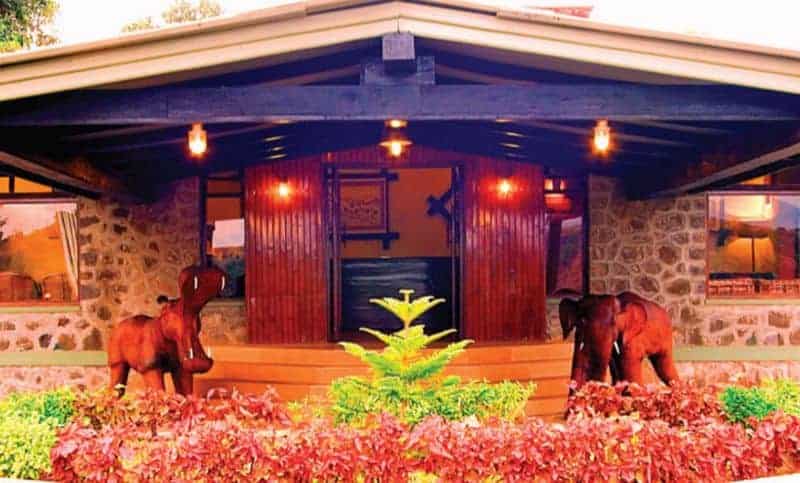 Image Source :  anandvanresorts.com
Perched 2800 ft high on Sahyadri hills amidst awe inspiring wilderness, Anandvan Bhandardara wellness resort offers a great ambience where nature unravels her in the most gorgeous form. An oasis of wellness, Anandvan restores the harmony of your mind and body with the nature through traditional Ayurveda treatments and unique massages.
Pamper yourself with luxurious stress relieving spas giving your body the right balance of nourishment. Soothing fragrances and soft music relaxes your mind fully taking you to the ultimate level of wellness. Located 165 km Mumbai, it is just a few hours' drive to reach this nature's playground.
4. Shine Spa, Grand Sheraton Pune: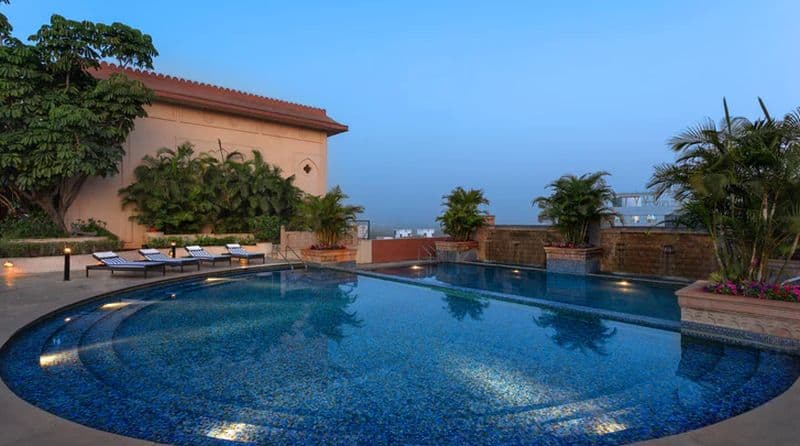 Image Source : cache.marriott.com
If you have a special liking for massages to get the ultimate relaxing feel, Shine Spa of Grand Sheraton Pune would perfectly fit your bill.  The wellness spa is renowned for two iconic massages like Potli massage with heated herbal poultice and the Bamboo massage using bamboo sticks of various shapes and sizes.
Several steps of treatments carried out before and after these unique massages relax the body muscles and enhance blood circulation giving you an energized feel.
5. Heavenly Spa, The Westin Pune: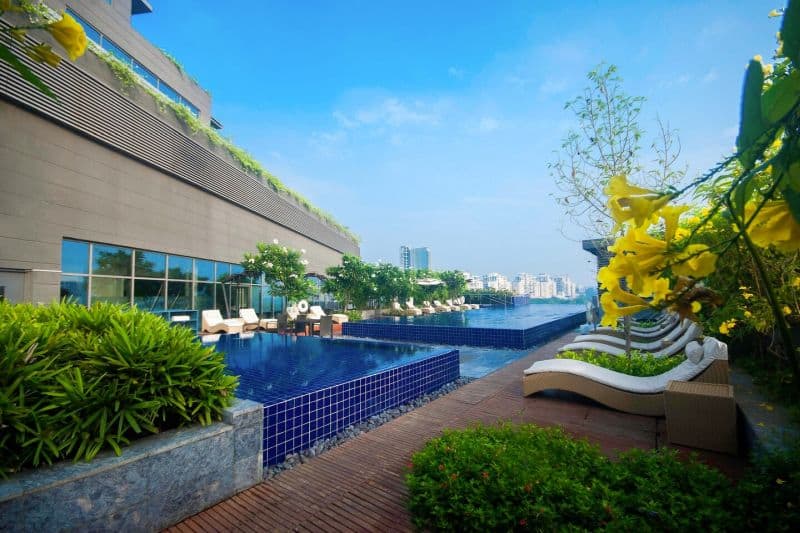 Image Source : clubmarriott.in
This is another popular wellness resort around Mumbai. The spa specializes in enhancing mental wellness through specific massages stressing on a specific emotional note. You will be asked to pick up a stone among three each labeled with a specific virtue like love, hope and gratitude.
While the massage session is on, you will be asked to fix your gaze to the stone that you have picked to enable better mind-body synchronization for achieving the desired state of wellness. This special massage session will not only relax your body muscles and improve your circulation but would also restore your emotional balance.
6. Tanpura Farm, Badlapur: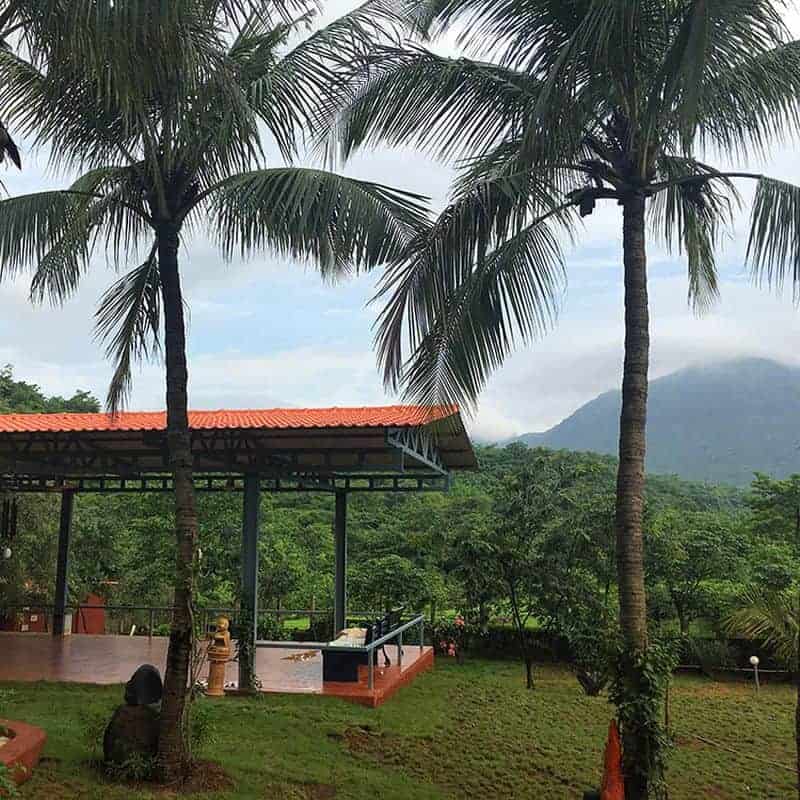 Image Source : lbb.in
How about going for some wellness activities in a farm amidst rustic surroundings instead of high-end resorts and spas? You get to spend a unique wellness vacation in the Tanpura farm located in Badlapur. The yoga session carried out amidst a great panoramic setting surrounded by lush mountains is highly relaxing enabling your body and mind communicate with nature in a perfect harmony.
Hatha Yoga and Ashtanga Yoga are given due importance followed by pranayamas and stretching exercises. The hearty homemade lunch and trekking to waterfall fills your cup of wellness to the brim. You are back home as a fully energized person.
7. Kare Ayurveda and Yoga Retreat, Mulshi, Pune: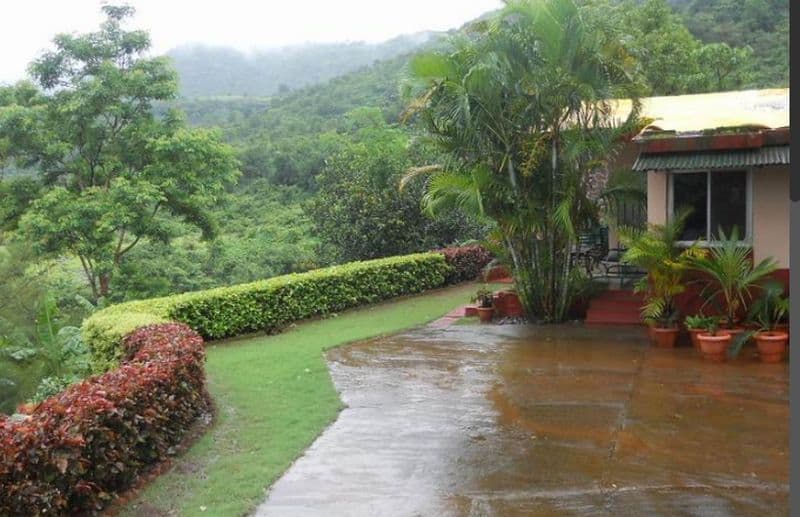 Image Source : karehealth.com
Dream of an ideal day spent on wellness you will get it in Kare, a completely ayurveda based resort. Located amidst a tranquil location in Mulshi, you feel the sense of wellness in its aesthetically designed rooms. Pamper yourself with age-old rejuvenating massages followed by ayurveda diet.
You get access to an extensive library built within the resort premises, engage in indoor games or enjoy walking outdoors. You can also participate in Iyengar Yoga during the stay. The price is reasonable compared to the services and programs offered.
8. Basho, Mulshi: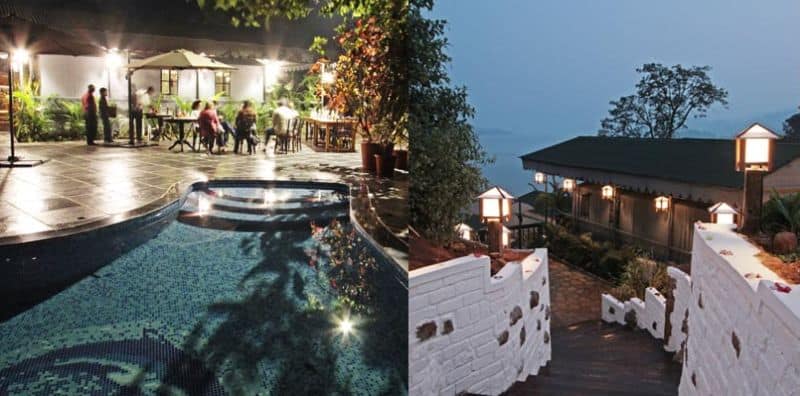 Image Source : basho.co.in
Another wellness retreat around Mumbai, Basho has a special rustic charm. Stone floors and Indo-Greece vibes further add to the charm. The retreat gets its name from the Haiku poet Basho Matsuo who believed in simplicity. The retreat specializes in yoga sessions. After participating in it, you can chill beside the pool enjoying a refreshing drink.  You get a mix of wellness and relaxation. The zen-themed resort is purposed to take you closer to nature.
9. Dharana Retreat, Pune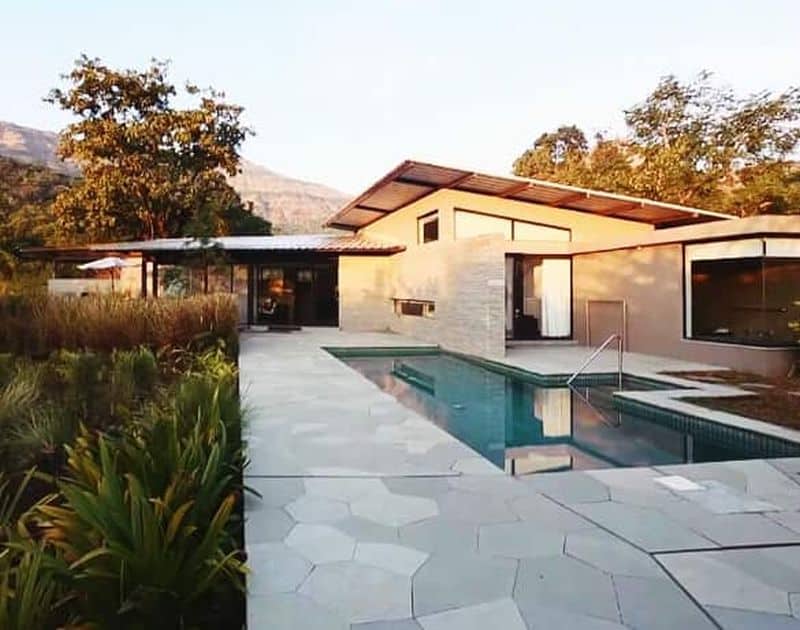 Image Source : dharanaretreat.com
A luxe wellness experience awaits you in Dharana Retreat, Pune. Just 3 hours swift drive from Mumbai, you land in this 70-acre blissful wellness heaven to reconnect, relax, and rejuvenate.The surrounding lush valley takes off your stress immediately as you bask in the sweeping views from your luxurious room. After a preliminary physician consultation, you will be recommended a plethora of Dharana wellness treatments like acupuncture, acupressure, Reiki, Pranic Healing, Chakra Cleansing, Shamanism, Hydrotherapy, Naturopathy, Ozone Therapy, Ayurvedic Therapy, Yoga, andMeditation.Do not miss the Sahyadri Signature Spa Experience, the 105-minute blissful journey of rejuvenation and pampering.
10. Hilton Shilim Estate Retreat & Spa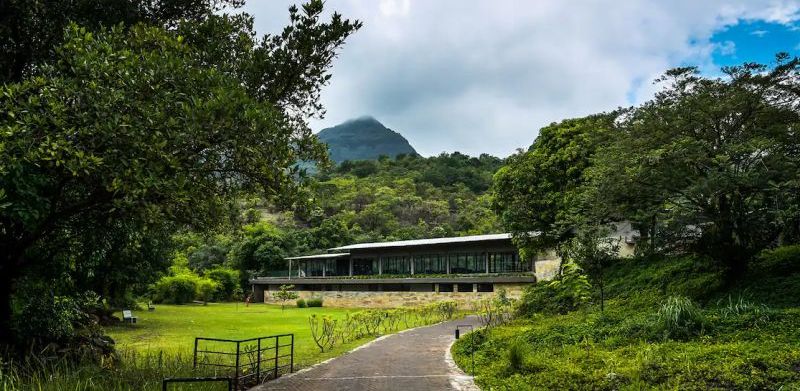 Image Source : hilton.com
One of the best offerings from Hilton in India that makes you feel what wellness experience means in the true sense. A 3-hour drive from Mumbai, you will find this colossal 320-acre wellness resort around Mumbai located near Shilimb village.Amazing Sahyadri valley and the minimalistic but luxurious interiors make this wellness resort stand out. Adhering to the Dharana Wellness philosophy to the core, this award-winning spa resort houses a meditation cave, relaxation center, yoga pavilion, and salon. Seventeen treatment suites offer acupressure, hydrotherapy, Reiki, Pranic Healing, and other South Asian traditional healing practices. Those eager for intense outdoor wellness activities can set out for hiking, trekking, bird watching, and nature walking.
11. Viveda Wellness Village, Nashik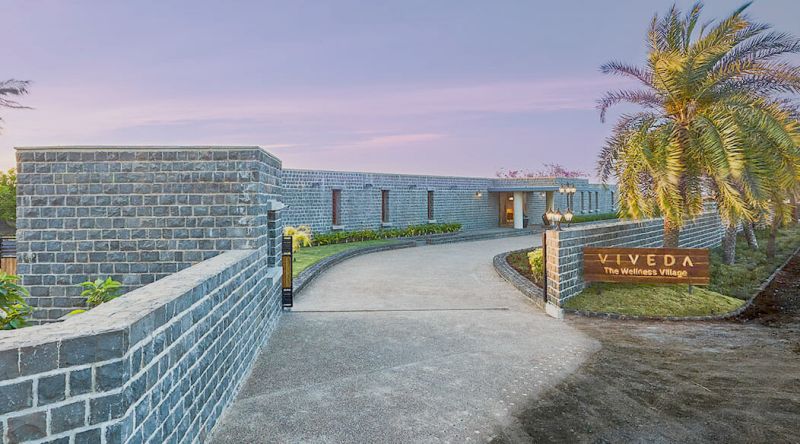 Image Source : vivedawellness.com
One of the best wellness resorts around Mumbai, Viveda Wellness Village is located in Trimbakeshwar in Nashik. Infused with traditional Indian wellbeing practices and warm hospitality, the resort helps you get into your wellness journey with ease with the right mindset and approach. Handcrafted villas with earthy looks offer you a cozy and luxurious stay. You get your customized wellness programs or advanced wellness programs to address your mind-body issues. Satvik cuisine is an added attraction to support your well-being efforts. You can avail of naturopathy, Ayurvedic therapies, homeopathy, mindfulnessand yoga sessions. The International spa offers a plethora of massage therapies and other stress relief and antiaging treatments that give you a totally relaxing and rejuvenating experience.Enjoying a wellness-cation in this top wellness resort will be a lifetime experience.
12. Nirvana Naturopathy & Retreat, Igatpuri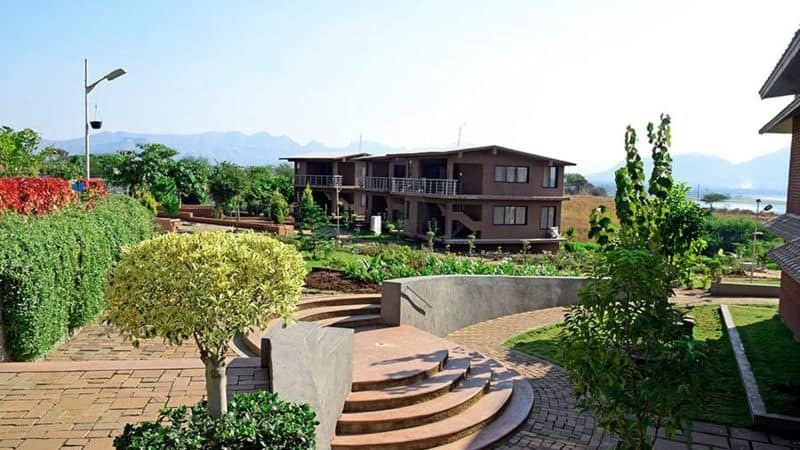 Image Source : nirvananaturopathy.co.in
Splendid location surrounded by lush greenery, lakes and hillocks, lake-facing villas, top-of-the-line amenities, and an exhaustive offering of wellness therapies. This is what makes Nirvana Naturopathy and Retreat one of the popular wellness retreats around Mumbai. Nirvana, as the name implies, spending a few days here will free you from stress, anxieties, and suffering helping you find your path to wellness. Wellness therapies of this resort address several disorders with massage therapy, acupressure, acupuncture, mud therapy, diet therapy, hydrotherapy, hip bath, spinal bath, spinal spray, immersion bath, sauna, Yogic kriya, Shirodhara, and many other therapies. Corporate wellness programs to address several issues of professionals also deserve a special mention.Do not miss the outdoor recreational activities to further boost your mind and soul.
13. Fazlani Natures Nest, Vadgaon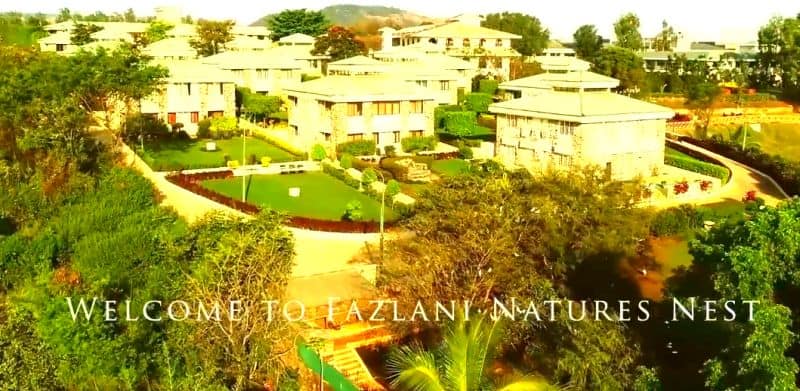 Image Source : fazlaninaturesnest.com
Not very far from Mumbai, this 68-acrewellness resort nestled peacefully amid lush greens offers you unparalleled holistic wellness experiences.Its core principle lies in healing with nature. Here you embark on a unique wellness journey embracing new healing practices and letting go of physical and emotional load. Expert doctors and wellness consultants will help in creating bespoke wellness plans for you based on your duration of stay. This would include yoga, guided meditation, ayurvedic therapies, naturopathy, physiotherapy, acupuncture, acupressure,animal-assisted therapy, wellness cuisine, and ecotherapy.Apart from this, you can indulge in nature trails, organic farm tours, fishing, birding, and artisanal cheese making for a different kind of recreation. Enjoy a cozy and luxurious stayin Garden View rooms or Lake View Suites.
14. The Ark Wellness Retreat, Nandgaon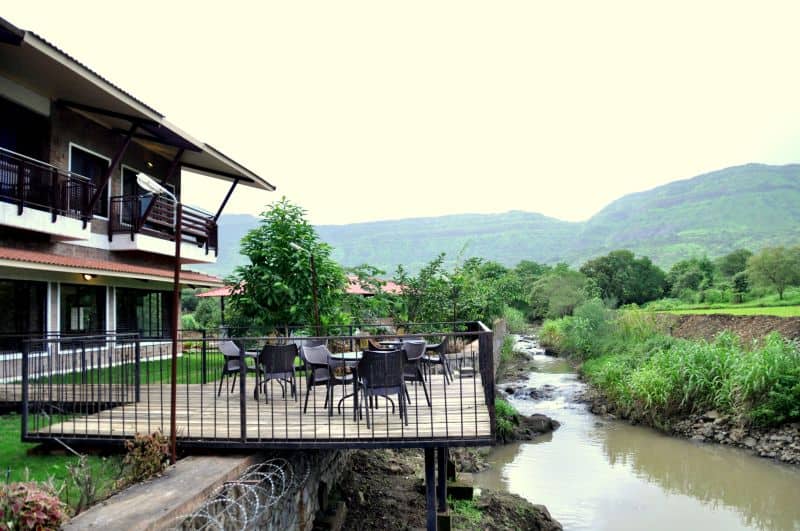 Image Source : arkretreat.in
A 45-min drive from Pune will take you to this boutique wellness resort where everything has been designed to enhance your mind-body wellness. Another great wellness resort around Mumbai where you get ample options for your wellbeing right from the stay to various wellness programs and activities. You can nestle comfortably in the Deluxe Room, Standard Room, or Garden Room. Rejuvenating therapies in the spa will wipe away all your stress and anxieties giving you the real taste of unwinding. Take a stroll in the herbal garden, plunge in the pool, or set out for biking. Unleash your imagination in painting. Enjoy an evening walk around the pond or aimless wandering.  Need more? Pick a book off the shelves and set your literary mood when hours fly in minutes.