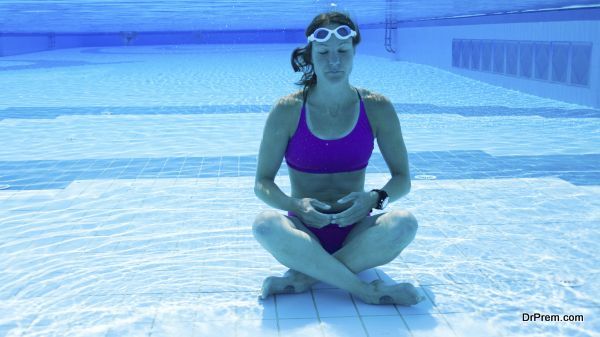 Aqua yoga is the new in-thing that everyone wants to try out. Even wellness travelers are keen on it. In many wellness resorts trainers have started offering pool yoga or aqua yoga sessions. In the water your body seems to be lighter and it becomes easier to do those complicated yoga moves. Thus aqua yoga is fun yet rigorous.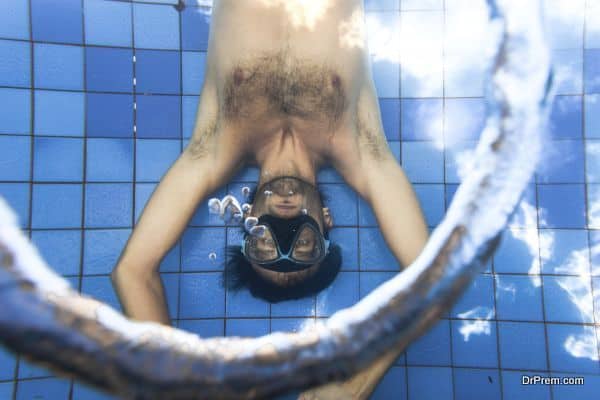 Aqua yoga has shot to fame due to its capability of reducing body weight and belly fat in a short span of time. Among the Hollywood celebrities, Jennifer Anniston has acknowledged that aqua yoga is the secret behind her fine toned abs and arms. The collaboration of water and yoga poses can give your health the boost you are looking for.
What is aqua yoga exactly?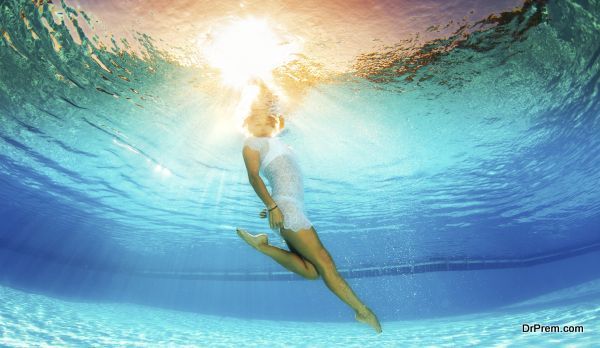 Aqua yoga is a relaxed yet comprehensive form of yoga which helps in bringing balance between the body and mind. It is also helpful in enhancing strength. It is a low impact form of traditional yoga which is generally done in warm water. Aqua yoga poses strengthen the muscles, increase static balance and range of motion or flexibility in those who practice it.
A session of aqua yoga can be both relaxing and energizing. It is advisable that you practice aqua yoga when a professional is present. A particular breathing technique consisting of diaphragmatic breathing and long exhalations are part of it.
How does aqua yoga work?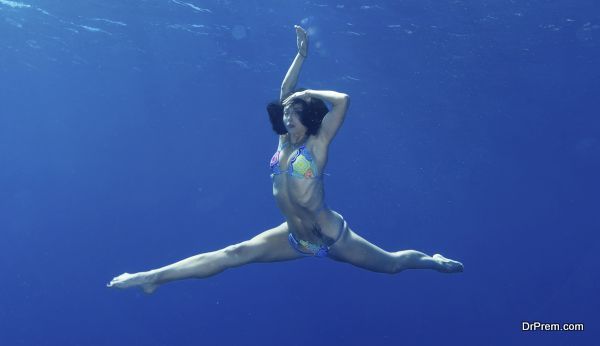 Not only in resorts but also in urban clubs where there are pools, aqua yoga classes are being offered. Professionals are holding sessions of aqua yoga for club members. Before participating in aqua yoga classes you better form a clear idea about how it works. Aqua yoga is not just an innovative form of exercise but also a treatment as it offers therapeutic benefits.
While in water, gravity is felt less and that's why the body can stretch beyond its normal limits. The rhythmic breathing helps in achieving inner peace, relaxation and calmness. People suffering from arthritis, injuries and chronic pains can benefit from aqua yoga as the movements can be done easily and the joints do not get stressed. By doing yoga you can activate and stimulate the cycle that connects mind, body and spirit.
Aqua yoga classes for pregnant ladies and postnatal phase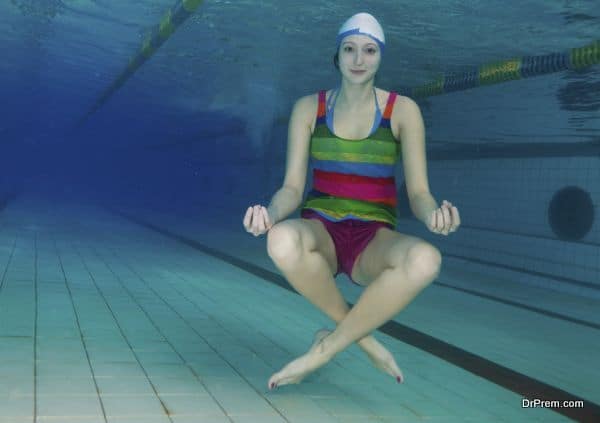 Aqua yoga is one of the safe exercises that women may perform during their pre-natal and postnatal phases. This exercise can help you in regaining your body shape post having a child. The benefits of pre and postnatal yoga are different.
The former helps in relaxation and expansion of the breath. Aqua yoga opens the pelvis region to prepare the soon-to-be mother for the birthing process. It strengthens her abdominal muscles, stretches and aligns the spine and also helps in gaining control of the pelvic floor. Aqua yoga classes are very relaxing and soothe muscle tension in preparation of daily weight bearing.
It even helps in connecting the mother with her baby. Post natal aqua yoga helps in the closing the pelvis after birth and re-knitting the abdominal muscles. By practicing aqua yoga after childbirth women can find their self confidence once again and tone their slack body muscles.
The poses that you can try in water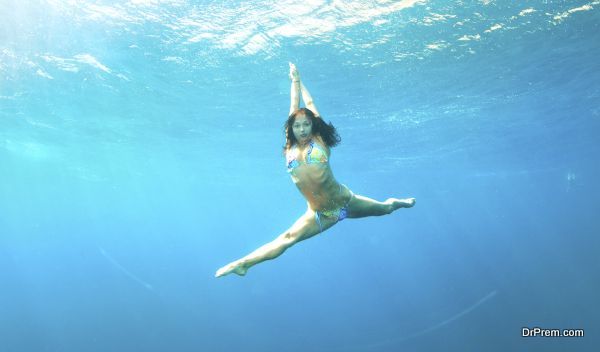 Diaphragmatic breathing is the first thing that one should try while practicing aqua yoga. The other exercises include floating forward bend, the bow pose, sinking meditation and stork pose. The aim of aqua yoga is losing the flab and tightening the lose muscles or toning.
You can combine aqua yoga with other cardio exercises for boosting your workout regimen and lose fat faster. Stretching exercises alone cannot reduce body fat; it needs to be supported by more vigorous cardio exercises.

Aqua yoga has become the new workout fad and wellness tourists are also opting for it. Aqua yoga helps in making your body more flexible and toned but it must be supported by other forms of exercise.