When thinking about launching a successful advertisement campaign, most of us like to play it safe. We think about the advertisements that caught our eye and wish to develop something on our similar grounds. However, when doing something like that we forget the most important thing. We forget that the very act of basing our advertisement on something else kills its sense of wonder. It is something absolutely necessary for your ad as usually only novelty catches one's eye. This advertisement by oldtimer restaurant is a prime example of how you can go out of the box with your creativity.
What's so special about this advertisement by Oldtimer restaurants?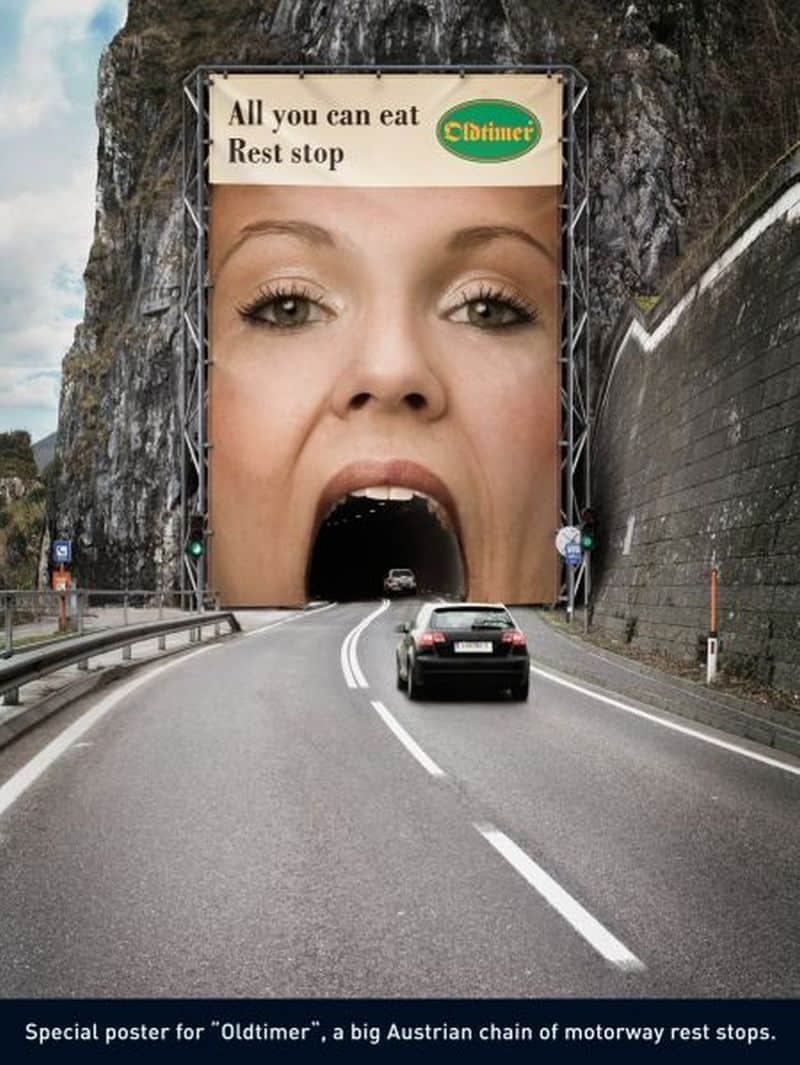 This ambient advertisement campaign was launched by Oldtimer restaurants, a leading Austrian chain of motorway rest stops. The campaign aims at enticing people to take a halt at the restaurant to which provides almost everything that one can eat. The huge poster was placed at the entrance of a tunnel at the highway that gave impression that vehicles going inside is disappearing into the woman's mouth appearing on the poster. However, the advertisement was designed to give impression that one can eat everything they want to at the stop.
Moreover, the product benefit is somewhat dwelling in ambiguity as the concept of the advertisement campaign is not exactly aligned with the product benefit in a logical manner. At the same time, for some this might not work as it has been seemingly at a two way highway. Moreover, the idea of the campaign has already been repeated many a times before. The text of the poster reads, 'All you can eat rest stop'. The advertisement was designed by Demner, Merlicek & Bergmann, Vienna, Austria.
This advertisement is a prime example of how you can attract customers in your region without spending too much on television ads, newspaper ads, etc. If you want advertisements like that for your company, read on.
How to advertise like that?
Companies use the tool of advertising to promote their product across the target audience. What one seeks is an ad which will capture its reader/audience instantly and convert them into buyers/consumers of their product. Advertisements operate according to the principle of AIDA, which revolves around grabbing the Attention, generating an Interest, stimulating a Desire to purchase and eventually convincing him to take Action in the form of purchase.
A successful advertisement campaign contains five major parts:
1. Headline:
The headline is that part of the copy which grabs all the attention in a matter of seconds. Containing just a few words of text, a headline needs to be direct and to the point. A lot of interest has to be captured with just a headline in order to create the impact as the audience must feel the connection immediately.
2. Subheadline:
Appearing directly beneath the main headline, a sub-headline is a text which provides the reader with more information that he is left wanting after reading the headline. The subhead highlights features of the product and outlines the reason as to why the consumer should look into the ad further.
3. Bodycopy:
Aimed at stimulating the desire of purchase, the bodycopy provides in depth information about the product and also provide facts & figures to substantiate their claims.
4. Images:
Advertisements use visual images to back their texts and to grab the reader's immediate attention. You can use images in the form of photographs, graphics, hand drawn illustrations etc. depending on the requirement of the client. In most ads, the company's logo is highlighted.
5. Call to action:
In what can spark the decision to purchase, the close of an ad should be equally stimulating as the start. This part instills a sense of urgency. It should ideally provide instructions to the reader as to what they need to do in order to purchase the advertised item.
All these principles would help you advertise your brand like a pro. However, if you are advertising something that is local to your city or your town, then you can save even more money. By opting for native advertising, you can create an advertisement only for the people local to the region.
Native Advertising might give your business an immediate thrust
Digital advertising has come a long way over the years. Today advertising online is not just about finding space and promoting any and everything. Users have become ever more conscious of what they are clicking and what they are watching. In such a scenario, it's important to note that the advertising world has shifted to native advertising, which has been benefiting both advertisers and publishers at the same time.
What is native advertising?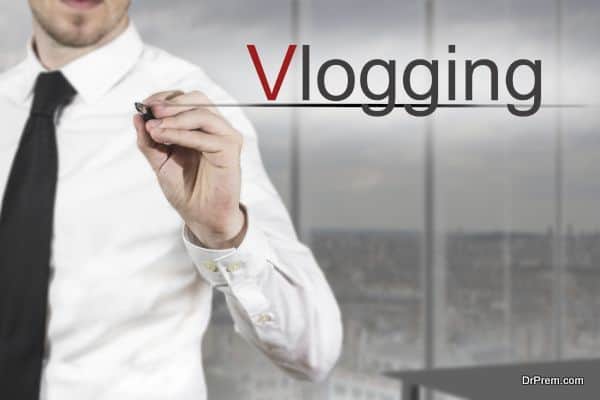 Native advertising is a form of online advertising which also works elsewhere. The forte of native advertising is that the  content matches form and function of the platform being used for advertising.
In most cases, native advertisement is in form of content or video that promotes the product specifically
Over time, businesses have seen a significant shift in how consumers have been learning about brands. The click-through ratio of banner ads has come down a great deal and the advertising industry is in for a paradigm shift.  Most of this is characterized by Native ads.
Native adsget ever so closely with the published content on a webpage that it appears to be part of the content itself. Though a consumer can easily distinguish between an advertisement and content, but all in all native ads are far more useful from consumer point of view. These ads are great brand builders, not just do native ads do good for brands, they are great from publications as well.
Native advertising to promote brands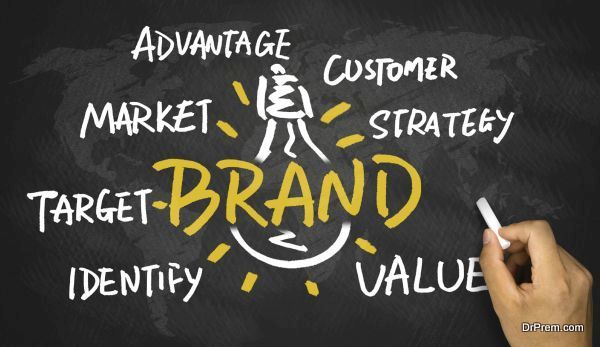 Native advertising is undoubtedly more successful than traditional ads this can be proven by following few examples:
People view native ads (that are more content related) more frequently than rather more distracting traditional ads
Native advertising helps more in brand building
Purchase possibility is higher on a native ad click in comparison with traditional ads
Strategies to refine advertising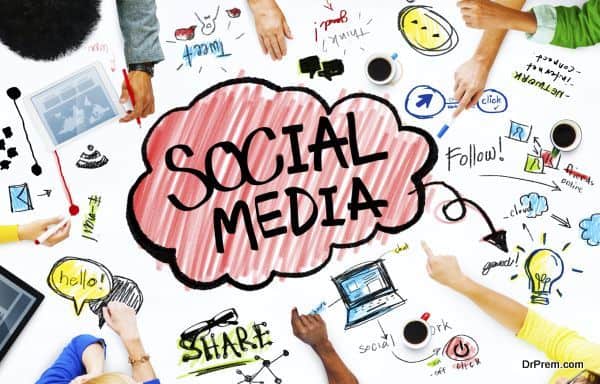 Native advertising has taken the publishing world and social media by a storm. As users are losing out with traditional advertising, native advertising is taking over as the main source of revenue of publishers and advertisers. Here are five odd ways to refine your advertising strategy to remain amid the best.
1. Don't be too formal:
Advertisers commonly make the mistake of being too formal and over informing customers in the small space. Since consumers don't have so much time, often the core message in the ads goes unnoticed despite being informative and detailed. Be real, true, to the point and show in the ad what customers can do with the product, not what it is in literal sense.
2. Bend the rules:
The best thing about advertising is that you have the option to bend the rules. Never be afraid to bend the rules of the game – play with grammar or spell out words differently, as long as it is essential for drawing consumer attention.
3. Give customers something relatable:
Base the advertising pitch based on the product or service you have to offer. Customers often look for something that they can relate to in a product. It may not always be a formal pitch or superfluous language. Use an informative and conversational tone to portray what you're offering. Once you have decided a pitch, keep it constant across all platforms.
Final Words
Ads do more than just being a sales pitch; they invite consumers to be part of a business's ecosystem. Native advertisement blends effortlessly into the content around it, creating a seamless experience for the user, and providing better value for the business.