Companies have always tried to capture the imaginations of their customers by producing ingenious pieces of advertisement. They mostly try to make an impression in the minds of the people by constantly repeating their advertisements. But sometimes we come across such an imaginative advertisement that a single look at them is enough to leave a permanent impression on our minds. Advertising eco-friendly products in a creative manner can be inspiring and eye-opening. Some companies have worked very hard on their advertisement of eco-friendly products ideas, resulting in striking and successful campaigns. These organizations have contributed in two ways to the green revolutions – one, by developing a green product which does not harm the environment and, second, by advertising them in a manner which awakens green consciousness in people.
Here are some advertisement of eco-friendly products ideas which are quite outstanding:
Tide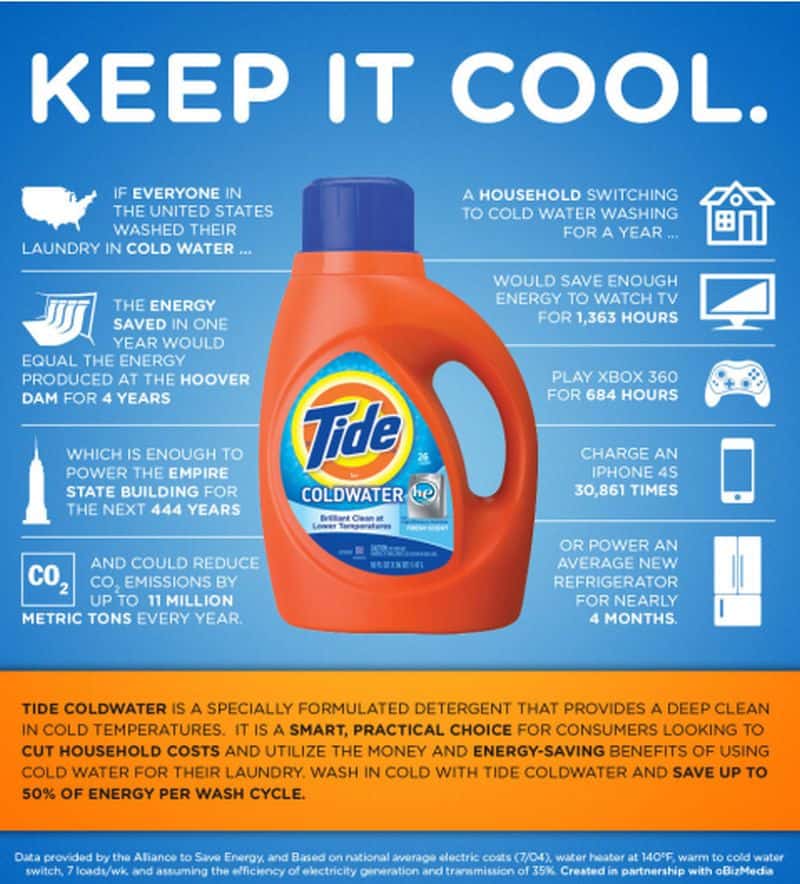 Image Source : scholarsbank.uoregon.edu
Tide's idea behind their unique marketing campaign in 2014 was that people love a challenge. The company challenged Americans to wash clothes in only cold water, without using hot water at all. Their #TurnToCold advertising campaign rewarded 5 participants by paying one month's electricity bill. With this campaign, Tide suggested that people would save a lot in electricity bills if they did not use hot water, and still get the same results.
Completely recyclable coffins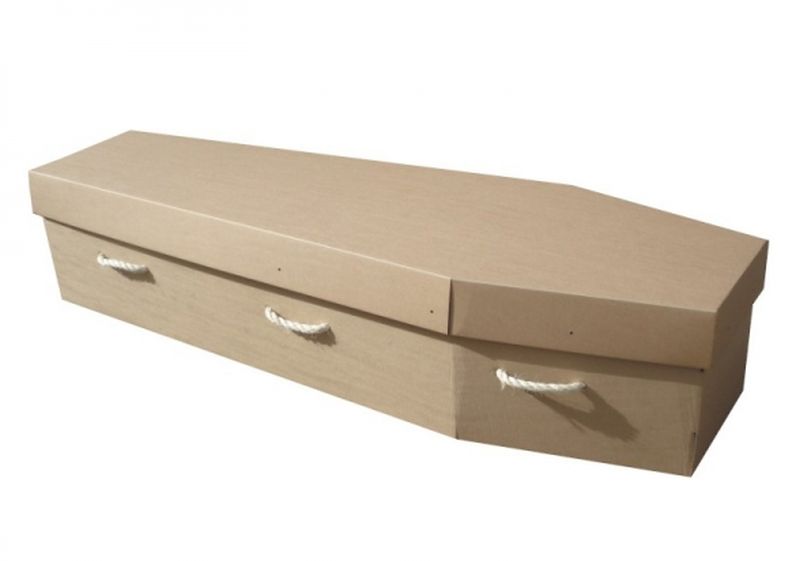 Image Source : greenfieldcoffins.co.uk
The campaign of the company Eco-funerals suggested that we can be eco-friendly even after death. Their striking visual campaign depicting recyclable coffins struck a chord with people and spread the idea of conserving trees by not using wood for coffins. Their campaign is one of the inspiring ideas, which can teach other marketers how to market eco-friendly products.
Toyota Prius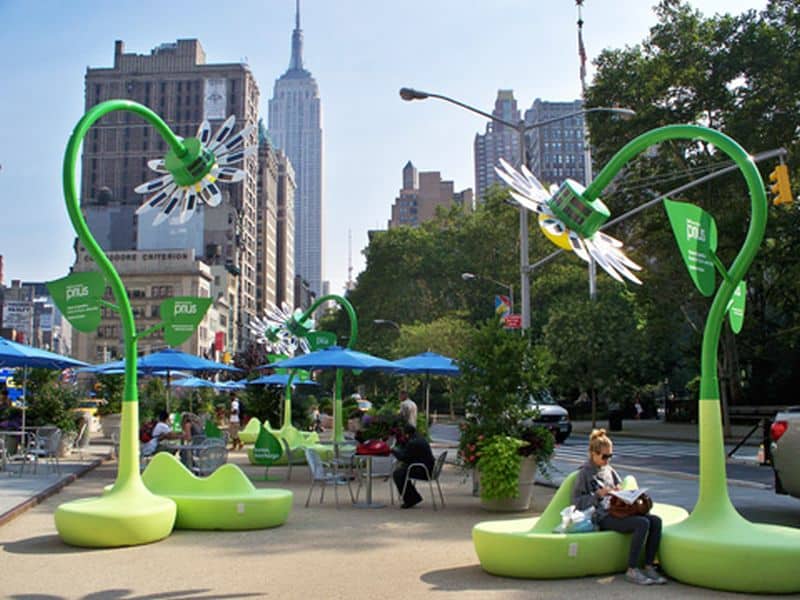 Image Source : sallan.org
Toyota used video advertisements to depict a brighter and greener world, essentially telling their customers that they would be contributing to a greener world if they bought a Prius. The company also used the guerilla-marketing strategy to great effect. Their public installations such as solar powered flower sculptures were highly appreciated. These installations were placed in parks, with free wifi, charging stations, and seating. The solar-powered installations were made to reflect the Prius's solar power capacity. This was an excellent example of advertisement of eco-friendly products ideas, which used many different mediums.
GE's EcoImagination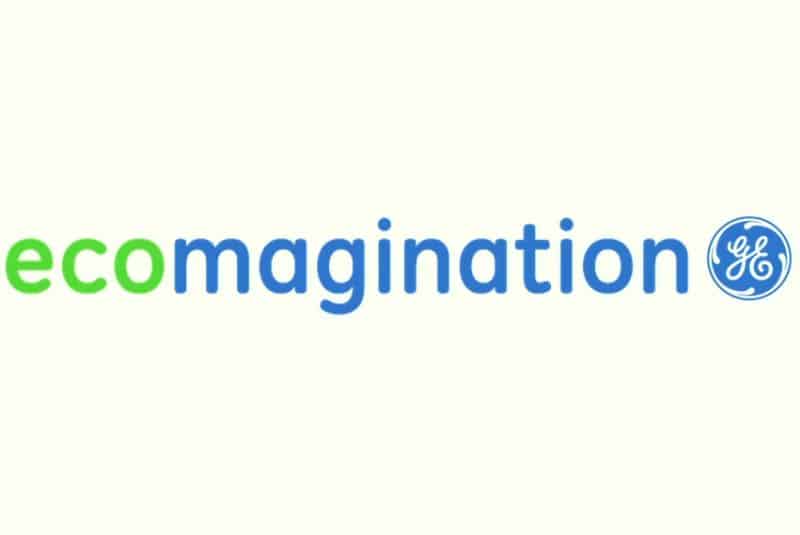 Image Source : bobwork
A huge multi-media campaign developed by GE established GE's commitment to going green. The campaign, though simple, was very effective and delivered the green message in a compelling and engaging way. One can witness the advertisement of eco-friendly products ideas in campaigns such as these.
Diesel
Image Source : naotw-pd.s3.amazonaws.com
How to market eco-friendly products is a problem which is not as easy as it seems. Sometimes, though the idea behind may be great and the creative may be outstanding, but the message may be lost in the layout. Diesel's ad campaign had their models standing behind photoshopped landmarks, such as New York, Rio underwater and Antarctica as a spot to sunbathe. They tried to portray the effect of global warming but some media pundits felt that they had treated the issue of global warming in a very flippant manner. They did get good publicity out of the campaign, though, as the young crowd loved their ads.
HSBC's eco campaign
Image Source : image.slidesharecdn.com
HSBC's campaign elevated its position in the green marketing area. It's 'No small change' campaign exceeded expectations and proved that eco-friendly products can be marketed effectively without any radio or TV ads.
'Earthkeepers' campaign from Timberland
Image Source : httppopsop.com
Timberland created a global campaign to showcase their 'Earthkeepers' collection. They displayed their ads on TV, retail, print ads as well as social media. They had a unique idea to have a microsite which used 3D technology.
'Project Holiday' by TOMS shoes
Image Source : coolmompicks.com
TOMS shoes' campaign in 2008, one month before Christmas, is one of the most effective green advertising campaigns ever. They promoted their idea to sell 30,000 pairs of shoes and promised that they would give an equal number of shoes to children in Ethiopia. Their campaign was a huge hit, and they ultimately raised 23% more profit than their initial goal. They did this without using any kind of paid media. This ad raised awareness about being charitable and saved energy and money by not using any traditional means of communication.
'Ch-Ch changes' by BMW
Image Source : bmw.in
BMW launched its award-winning campaign in 2011 Superbowl XLV. The campaign communicated information to the American public about environmental benefits of diesel – the advances and changes in diesel technology which has made it greener.
These advertisements grabbed the imagination and attention of the public while getting the green message across. They are an inspiration to marketers as well, who can learn from the clever and effective use of media to sell environmentally friendly products effectively.
Apart from these eco-friendly advertisements, here are some highly innovative advertisements (although not eco-friendly), which are worth a mention.
WMF Knives: Sharper than you think.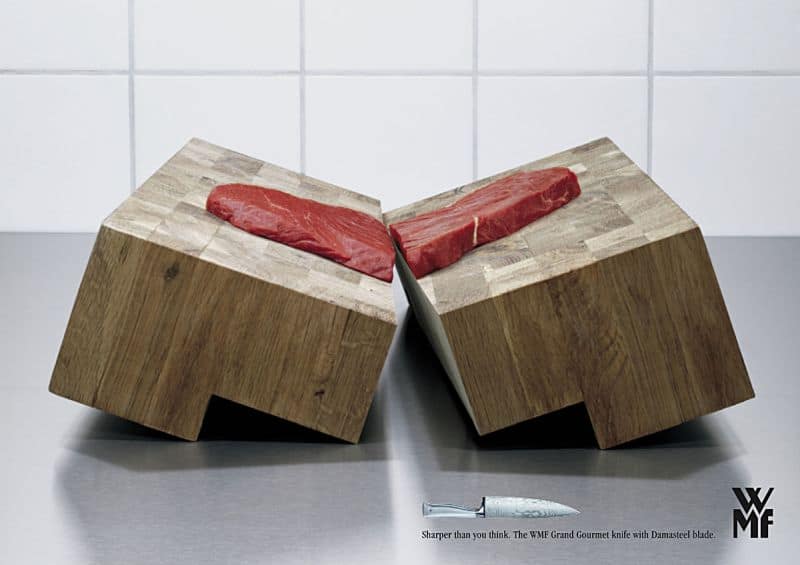 Image Source : aotw-pd.s3.amazonaws.com
Who doesn't like a sharp knife? And with WMF Knives, the company has tried to make a brilliant point. The marketing team behind the advertisement did a wonderful job by using a simple yet effective image to promote the product. This knife can cut through a table. And this advertisement is cutting through the arenas of powerful marketing with this amazing creative graphic.  Makes you wonder about the fabric below the board, doesn't it?
Kleoptic.com: Turning Impressionism into Hyperrealism.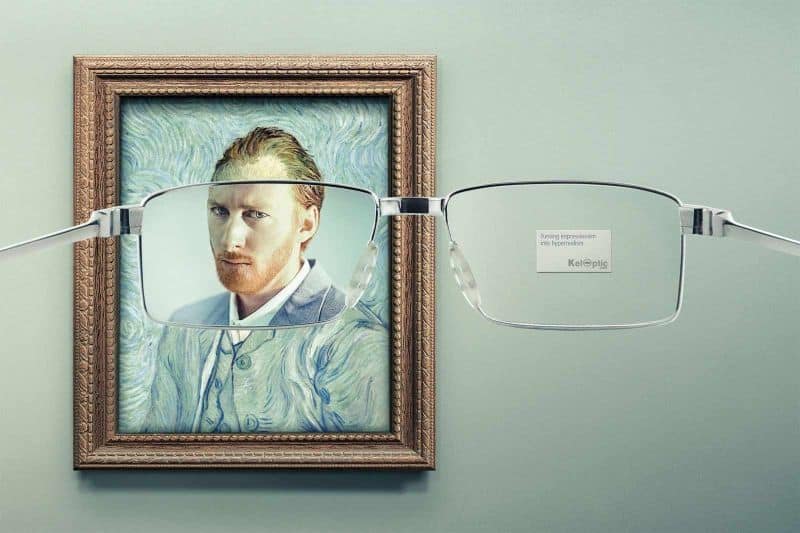 Image Source : wadejohnston1962
The creative team behind the image must have studied some good old visual arts. This advertisement is simply unique. For those who get the terms impressionism and hyperrealism (and most of us do get the meaning behind them), this image simply speaks volumes. Ingenious, isn't it?
Clorets: Eliminate Bad Breath.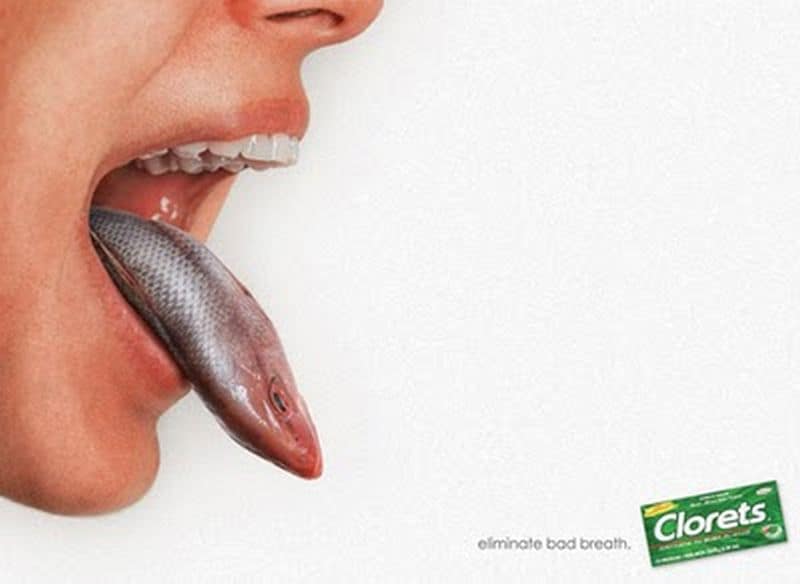 Image Source : oshinity
Bad breath – the two most nightmarish words in the world. Bad breath is basically the elephant in every room, in every house, in every nation. It is a universal threat, which has subtly made its place in everyone's lives. But this advertisement is just mindblowing because it targets its audience right where it hurts the most. Whenever you eat a fish or an onion or a clove of garlic, just pop a cloret, and you are set. The image says it all. That is why this is one of the most innovative advertisements out there.
WWF: Save the World with a Few Coins.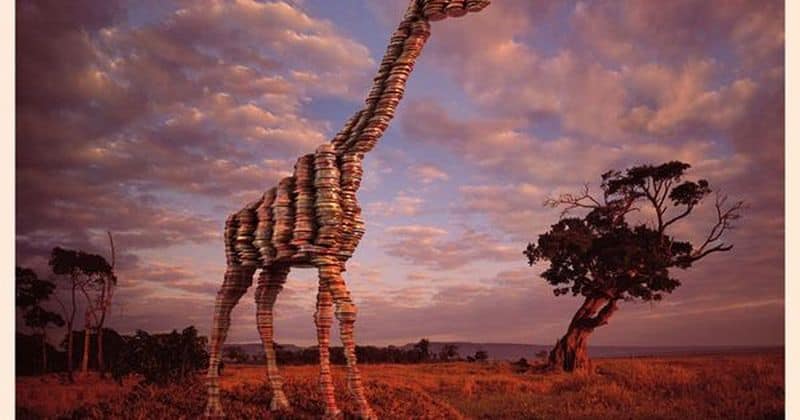 Image Source : pinimg
Every drop makes an ocean. Nothing could have been a better option apart from this image to convey the message. WWF is an organization that raises funds for the betterment and protection of the environment. From numerous innovative advertisements by WWF, this one creates a lot of impacts. A few coins might look like a few to you. But to those out there who need them, your few coins might complete the picture. The great news that emanates from this creative advertisement – You can still save them.
CRS Crisis Relief: Liking isn't helping.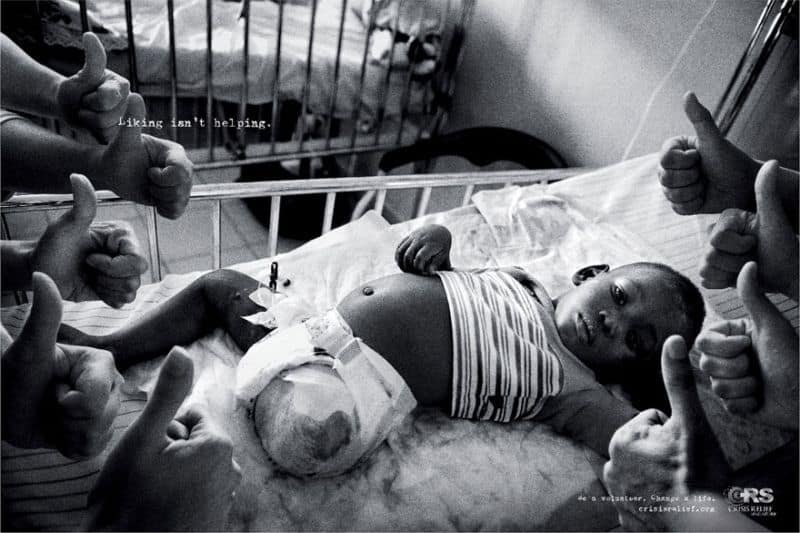 Image Source : static.boredpanda.com
Social media cannot solve all the problems in the world. Your like means nothing if you do not take real action to end a crisis. Your shares will not reduce the pain of the victims. The truth has been spoken – thanks to this innovative and heart breaking advertisement.
Advertisements for your business must essentially market it well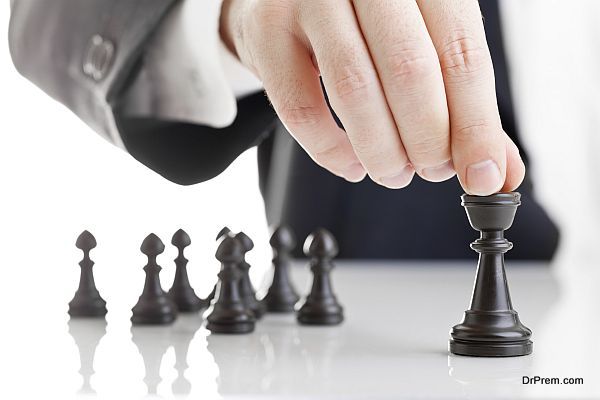 You need to sell yourself. Only when are able to sell yourself will you be able to survive the competition that you face at all ends in the business world of today. And to sell yourself you have to master the art of the promoting yourself. Promotion comes with advertising. You sell well because you advertise well.
Advertising is a major field in the area of business, especially in today's scenario, as there are ample numbers of substitutes for each product. In order to influence people to buy your product you have to make them recall your product as well as brand. This recalling power comes with effectively positioning the product in the minds of the public, which in turn is the result of effective advertisement.
Grab attention and hold it for long
Advertisements should be such that catch and are able to hold the attention of the viewers for a long time. The information you advertise should be interesting and should entice the viewer to buy your product. Try to be different also keeping in mind that the cost of advertisement has to as minimal as possible. Create the buzz about your advertisement strategy so that it generates conversation amongst the public. Your advertisement can be a little controversial as it is bound to catch attention early and stays in the minds of the public for a longer period.
Keep the message simple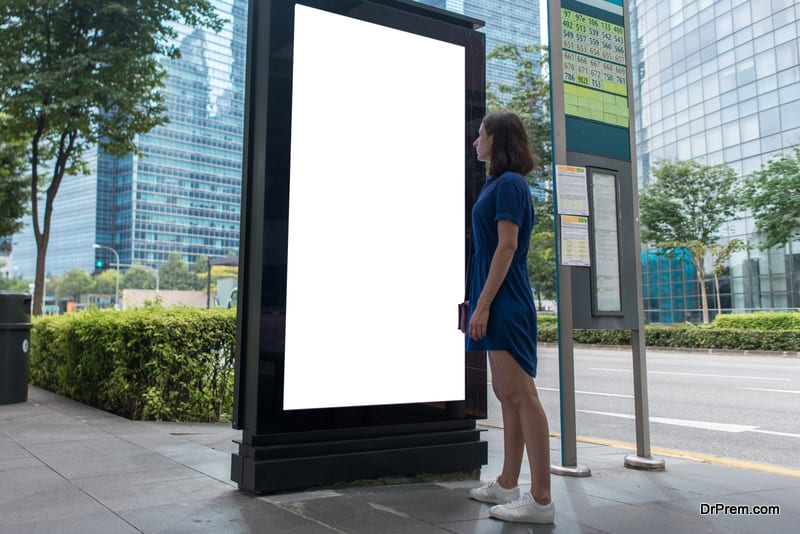 Make sure that your advertisement delivers exactly what you wish to tell your audiences. This can only be done if the message is kept simple and clean. The message has to have an effective reach and therefore it has to be simple in order to be easily understood and interpreted. Your advertisement should be the right mix of words and pictures. A better pictorial description often yields better results.
Link your message correctly
It is highly important to understand that your advertisement has to be very efficiently linked to the target market. Linking the message to the target market will help you generate results that will last long. To link the message to the target audience, you first have to identify the prospective buyers and the market you wish to cater. The advertising strategy largely depends upon the market in you wish to deliver. For Example, if you are advertising for toys your high focus group will be families with young children.
Identify your target viewers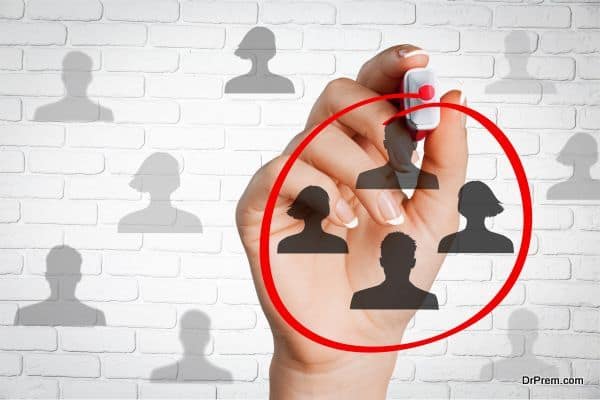 Linking the message to the audiences correctly only becomes a success if you have identified your target audiences correctly. Linking the message would rather be complete failure otherwise. You should know which customer is likely to buy your product. These considerations have to be by segmenting the customers on various factors such as area, demographics, age, sex etc. For Example, advertising for thermals in summers will be a complete waste of resources.
Visual elements
It is human nature that we remember more of what we see rather than what we hear. If more of visual elements are used in the advertisement, it will generate effective results that enhance the sales. Remember what you see, you believe and this is what the advertisement's role is, to make the viewer believe in your product.
Apple did it yet again – advertisement that will remain unforgotten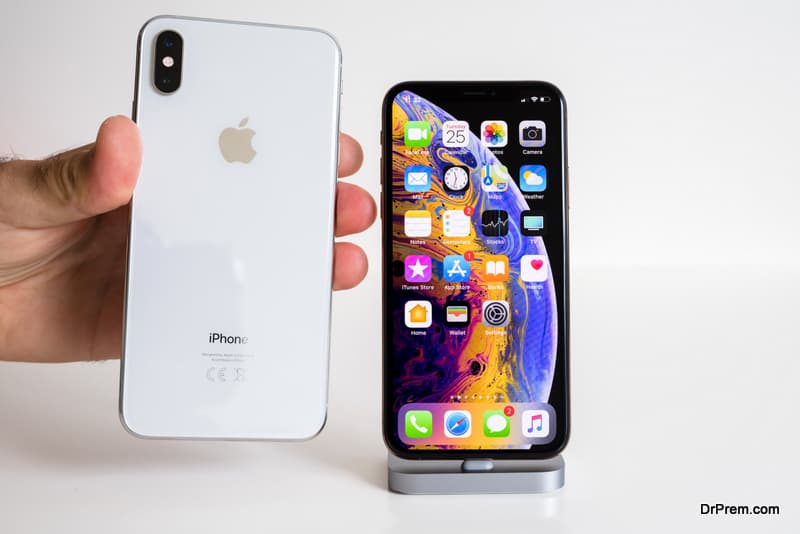 Have you seen Apple's TV commercial? If not then invest a minute to it, it is surely worth your time. It is perfect amalgamation of human feelings. It is such a heart warmer especially in this holiday season. The visuals are simple yet so effective and the music keeps you engulfed completely. The best part being that the message is soft, which is graciously put together.
Keep up with the times and programmatic advertising
In the era where marketing is digital, one can be sure of hearing new ways to market yourself. In this cutthroat competition, that situation has thus come to the point where you grow or die. Under such pressurizing situations, what come to rescue are the concepts like that of Programmatic advertising.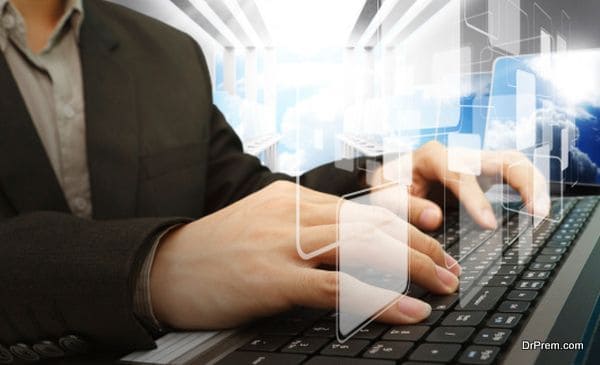 Technically speaking, programmatic marketing is a procedure initiated by any type of event and instructed to the set of rules that are in accordance with the software or the algorithm. Programmatic buying and selling is a concept that is changing digital media at a very rapid pace, making it an automated and real time bidding concept. This concept opens up huge opportunities for the existing as well as the upcoming markets.
To understand the intricacies involved with programmatic advertisement, let us first understand the basics. Programmatic ads are simple advertisements that are processed through machines. This concept is based on a number of technologies, which are used to automate the procedures of selling and buying. The traditional human based methods like phone calls, fax etc have become outdated due to the emergence of programmatic advertisement. However, human skill is very much needed in making a programmatic advertising campaign a successful one. Various forms of Programmatic advertising are:
Programmatic site retargeting
Dynamic creative optimization
Programmatic buying through RTB and ad exchanges
Product recommendation
Email campaigns
All these campaign forms are triggered on a programmatic marketing platform. Knowing these facts, we are in a better position to understand programmatic marketing platform. Well, it is platform that allows marketers to launch a highly targeted marketing campaign and the opportunity to organize their data better. It is a recent advent in the ad tech landscape, which is fast gaining a lot of popularity.
Programmatic marketing is more efficient, reliable and much cheaper than the human ways of buying and selling. This method is machine oriented and therefore its efficiency is far greater than humans in all regards. With the emergence of programmatic marketing, the human efforts are reduced and therefore they have the opportunity to work more effectively. This data driven digital ecosystem is transforming all the facets of the digital marketing.
This concept also poses some serious concerns that need to be corrected. These problems are:
Limited transparency and proliferation of vendor linked to the programmatic marketing campaign.
Internal organizational challenges for publishers, agencies, and brands etc in regards to incentives, training, and commissions.
Lack of clear technical knowledge
Programmatic advertisement has to create value for the entire marketplace and has to be result oriented. To help ensure that this happens IAB has given some guidelines on market clarity and education in the programmatic landscape.
IAB is working with the Publishers so that there is more clarity and transparency from the programmatic publishers end.
IAB is also working on the technical side of it, it working with Digital Advertising Automation Task Force in order to adopt common databases for IOs, invoices, and media plans so that the standardization and implementation becomes easier.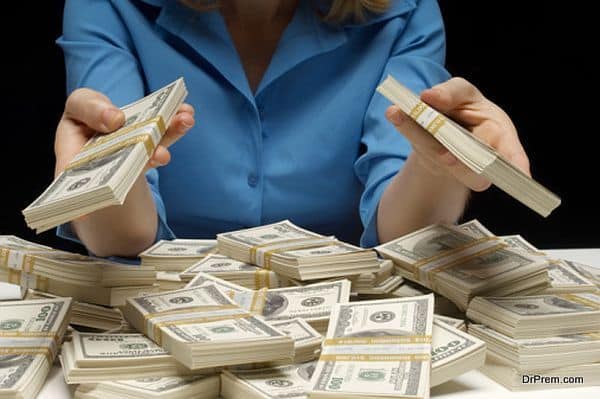 IAB has been effectively working to solve the operational issues and bringing about more market clarity as far as the programmatic buying and selling activities are concerned. The improved effectiveness in programmatic marketing increases the relevance of the advertisement for the consumer and earns greater revenues for the publisher.
This tool comes in handy and works phenomenally well because this is age where professional content is highly valued. Today there is always an increasing demand for the high quality news, which makes this form of advertisement work extremely well. It is estimated to further change the future of marketing.
Summary: Programmatic marketing is the form of performing buying and selling functions that are generated through the machines. This has huge prospects of increased relevance to the customers as well as greater revenues for the publishers.