Companies have always tried to capture the imaginations of their customers by producing ingenious pieces of advertisement. They mostly try to make an impression in the minds of the people by constantly repeating their advertisements. But sometimes we come across such an imaginative advertisement that a single look at them is enough to leave a permanent impression on our minds. Advertising eco-friendly products in a creative manner can be inspiring and eye-opening. Some companies have worked very hard on their advertisement of eco-friendly products ideas, resulting in striking and successful campaigns. These organizations have contributed in two ways to the green revolutions – one, by developing a green product which does not harm the environment and, second, by advertising them in a manner which awakens green consciousness in people.
Here are some advertisement of eco-friendly products ideas which are quite outstanding:
Tide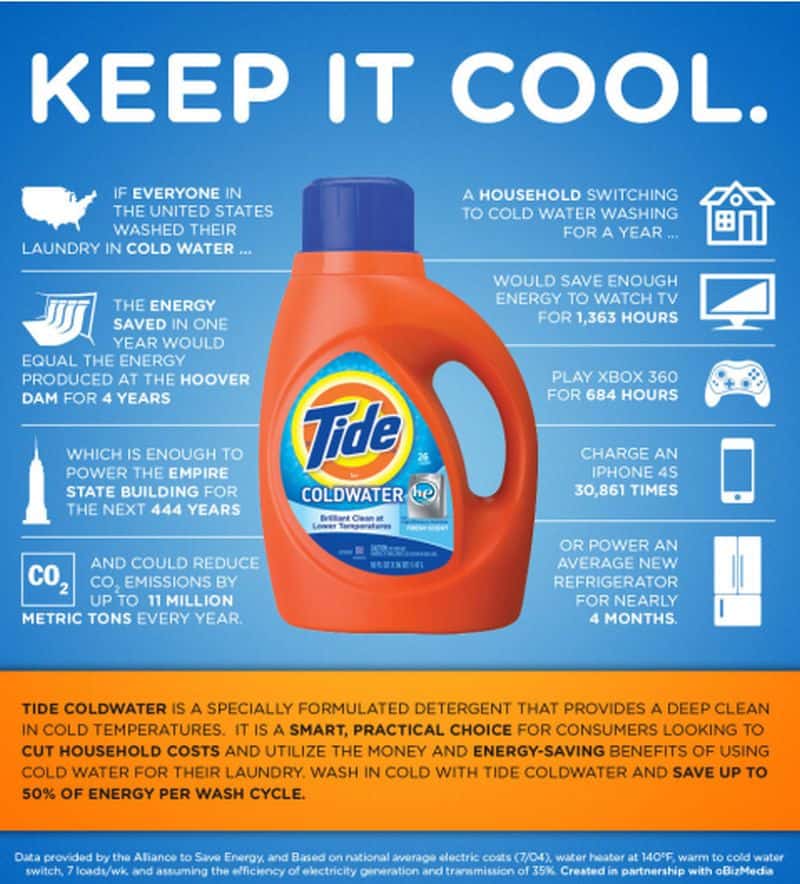 Image Source : scholarsbank.uoregon.edu
Tide's idea behind their unique marketing campaign in 2014 was that people love a challenge. The company challenged Americans to wash clothes in only cold water, without using hot water at all. Their #TurnToCold advertising campaign rewarded 5 participants by paying one month's electricity bill. With this campaign, Tide suggested that people would save a lot in electricity bills if they did not use hot water, and still get the same results.
Completely recyclable coffins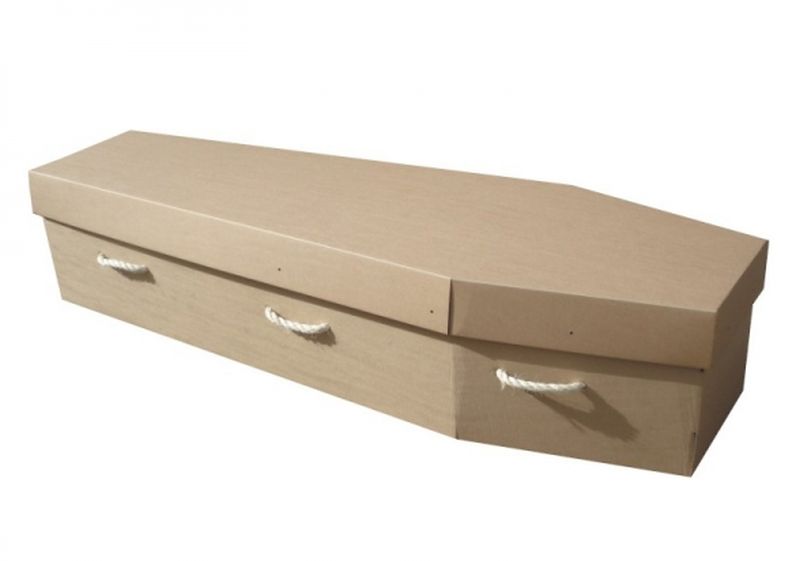 Image Source : greenfieldcoffins.co.uk
The campaign of the company Eco-funerals suggested that we can be eco-friendly even after death. Their striking visual campaign depicting recyclable coffins struck a chord with people and spread the idea of conserving trees by not using wood for coffins. Their campaign is one of the inspiring ideas, which can teach other marketers how to market eco-friendly products.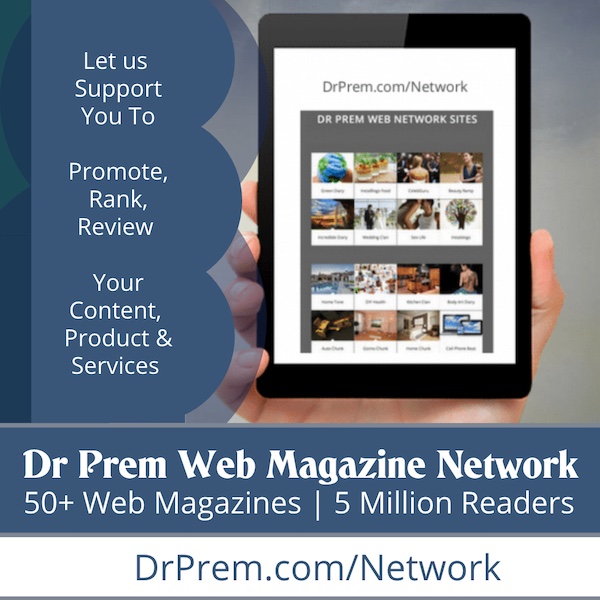 Toyota Prius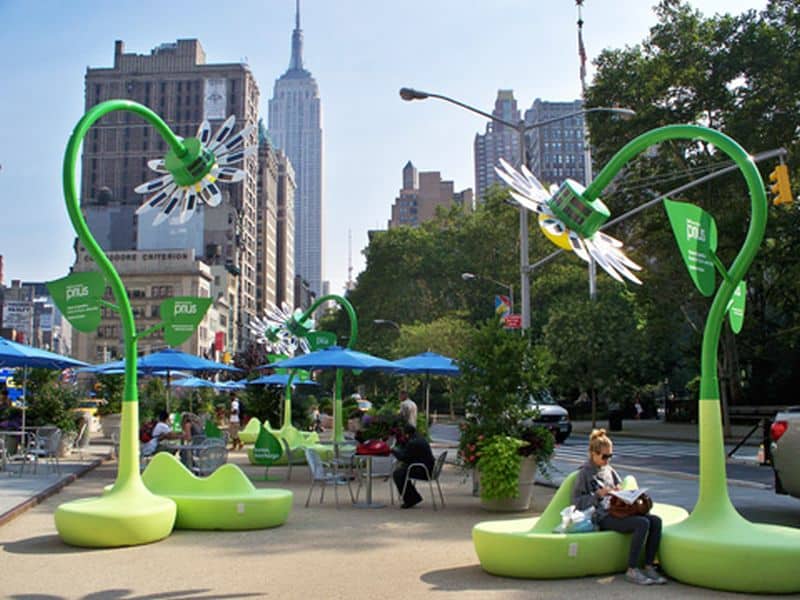 Image Source : sallan.org
Toyota used video advertisements to depict a brighter and greener world, essentially telling their customers that they would be contributing to a greener world if they bought a Prius. The company also used the guerilla-marketing strategy to great effect. Their public installations such as solar powered flower sculptures were highly appreciated. These installations were placed in parks, with free wifi, charging stations, and seating. The solar-powered installations were made to reflect the Prius's solar power capacity. This was an excellent example of advertisement of eco-friendly products ideas, which used many different mediums.
GE's EcoImagination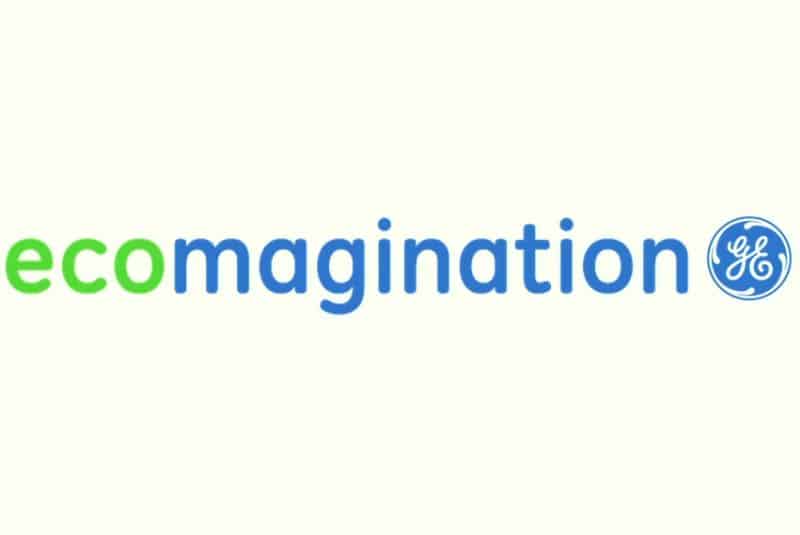 Image Source : bobwork
A huge multi-media campaign developed by GE established GE's commitment to going green. The campaign, though simple, was very effective and delivered the green message in a compelling and engaging way. One can witness the advertisement of eco-friendly products ideas in campaigns such as these.
Diesel
Image Source : naotw-pd.s3.amazonaws.com
How to market eco-friendly products is a problem which is not as easy as it seems. Sometimes, though the idea behind may be great and the creative may be outstanding, but the message may be lost in the layout. Diesel's ad campaign had their models standing behind photoshopped landmarks, such as New York, Rio underwater and Antarctica as a spot to sunbathe. They tried to portray the effect of global warming but some media pundits felt that they had treated the issue of global warming in a very flippant manner. They did get good publicity out of the campaign, though, as the young crowd loved their ads.
HSBC's eco campaign
Image Source : image.slidesharecdn.com
HSBC's campaign elevated its position in the green marketing area. It's 'No small change' campaign exceeded expectations and proved that eco-friendly products can be marketed effectively without any radio or TV ads.
'Earthkeepers' campaign from Timberland
Image Source : httppopsop.com
Timberland created a global campaign to showcase their 'Earthkeepers' collection. They displayed their ads on TV, retail, print ads as well as social media. They had a unique idea to have a microsite which used 3D technology.
'Project Holiday' by TOMS shoes
Image Source : coolmompicks.com
TOMS shoes' campaign in 2008, one month before Christmas, is one of the most effective green advertising campaigns ever. They promoted their idea to sell 30,000 pairs of shoes and promised that they would give an equal number of shoes to children in Ethiopia. Their campaign was a huge hit, and they ultimately raised 23% more profit than their initial goal. They did this without using any kind of paid media. This ad raised awareness about being charitable and saved energy and money by not using any traditional means of communication.
'Ch-Ch changes' by BMW
Image Source : bmw.in
BMW launched its award-winning campaign in 2011 Superbowl XLV. The campaign communicated information to the American public about environmental benefits of diesel – the advances and changes in diesel technology which has made it greener.
These advertisements grabbed the imagination and attention of the public while getting the green message across. They are an inspiration to marketers as well, who can learn from the clever and effective use of media to sell environmentally friendly products effectively.
Apart from these eco-friendly advertisements, here are some highly innovative advertisements (although not eco-friendly), which are worth a mention.
WMF Knives: Sharper than you think.
Who doesn't like a sharp knife? And with WMF Knives, the company has tried to make a brilliant point. The marketing team behind the advertisement did a wonderful job by using a simple yet effective image to promote the product. This knife can cut through a table. And this advertisement is cutting through the arenas of powerful marketing with this amazing creative graphic.  Makes you wonder about the fabric below the board, doesn't it?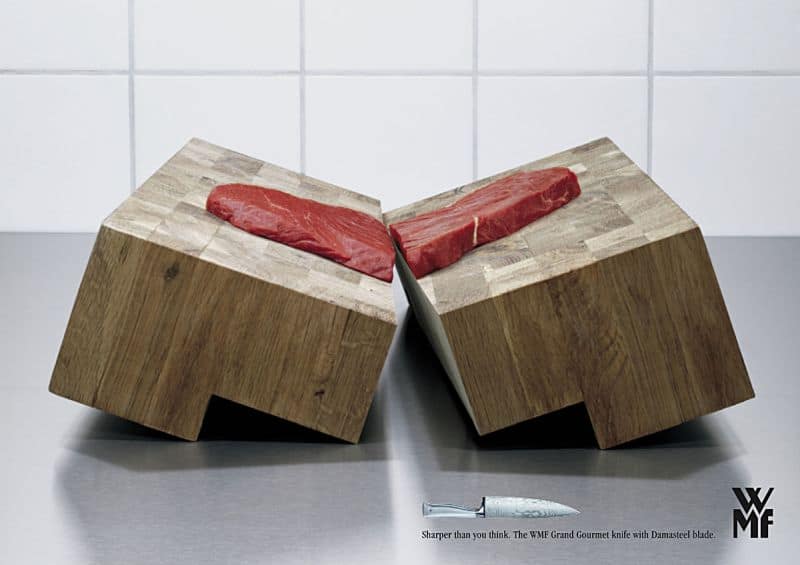 Image Source : aotw-pd.s3.amazonaws.com
Kleoptic.com: Turning Impressionism into Hyperrealism.
The creative team behind the image must have studied some good old visual arts. This advertisement is simply unique. For those who get the terms impressionism and hyperrealism (and most of us do get the meaning behind them), this image simply speaks volumes. Ingenious, isn't it?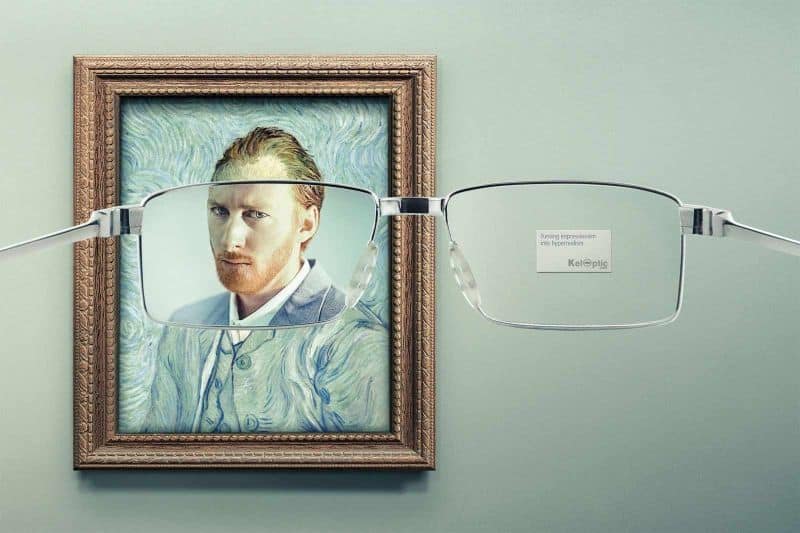 Image Source : wadejohnston1962
Clorets: Eliminate Bad Breath.
Bad breath – the two most nightmarish words in the world. Bad breath is basically the elephant in every room, in every house, in every nation. It is a universal threat, which has subtly made its place in everyone's lives. But this advertisement is just mindblowing because it targets its audience right where it hurts the most. Whenever you eat a fish or an onion or a clove of garlic, just pop a cloret, and you are set. The image says it all. That is why this is one of the most innovative advertisements out there.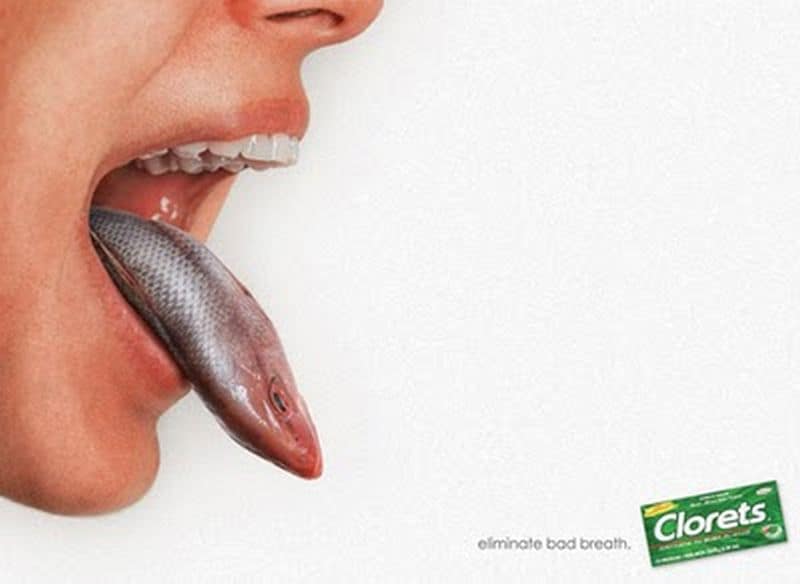 Image Source : oshinity
WWF: Save the World with a Few Coins.
Every drop makes an ocean. Nothing could have been a better option apart from this image to convey the message. WWF is an organization that raises funds for the betterment and protection of the environment. From numerous innovative advertisements by WWF, this one creates a lot of impacts. A few coins might look like a few to you. But to those out there who need them, your few coins might complete the picture. The great news that emanates from this creative advertisement – You can still save them.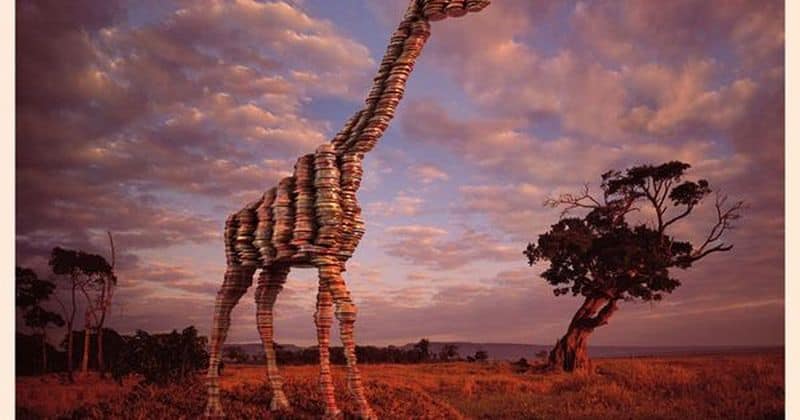 Image Source : pinimg
CRS Crisis Relief: Liking isn't helping.
Social media cannot solve all the problems in the world. Your like means nothing if you do not take real action to end a crisis. Your shares will not reduce the pain of the victims. The truth has been spoken – thanks to this innovative and heart breaking advertisement.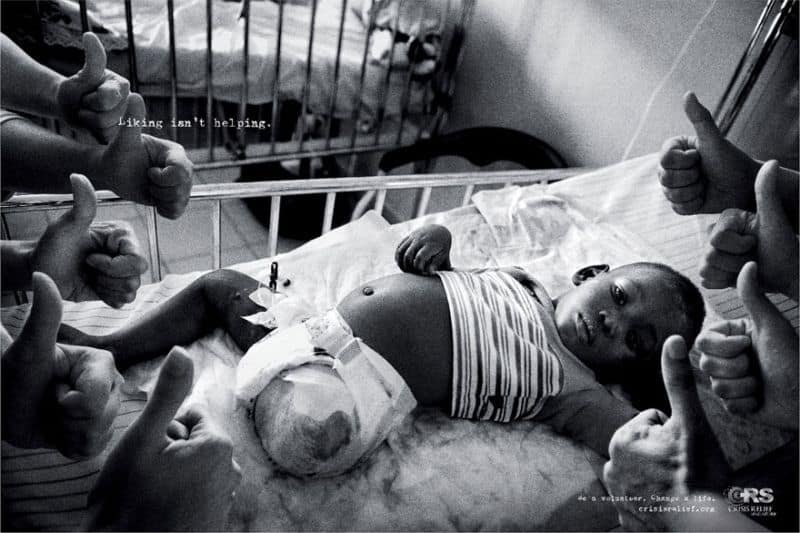 Image Source : static.boredpanda.com