Great tourist spots inspiring romantic tourism can have historical castles and bastions, mountainous terrains, breath taking valleys, golden sea beaches, pulsating disco-theques, pubs and night clubs that guarantee an atmosphere triggering warmth and passion when ardent eyes meet perhaps over a candlelight dinner! Romantic tourism had always been there, and the trend is rising at a fiery pace contributing a substantial economic support to the tourism industry.
You will get valuable information about the following:
Complete Guide to Romantic Tourism by Dr Prem- Definition, Features, Key Drivers, Planning and Budgeting, Destinations and other useful tips
What is Romantic Tourism?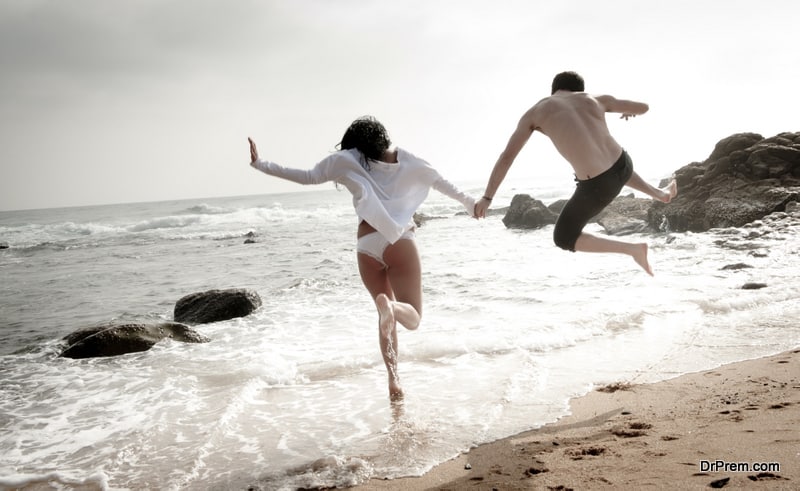 The essential feature of Romantic tourism is that the relationship existing between tourist couples is one of love and romance. Paramours teaming up as a single pair or large group of pairs leave their residence in quest of ventures that fires the flame of love that had been encased in the heart.
Sipping an amazing mix of cocktail from a single glass with the back drop of the setting sun is a picture of a typical romantic break. Romantic tours are directed at engagements, wedding reception and bachelorettes where two souls can have eternal communications in the privacy of a pristine tourist destination.
Lovers sipping coconut milk from a single shell is iconic. There are many more exciting actions in romantic tourism like kayaking, downhill skiing, swimming, surfing, disco, playing guitar around a bonfire and a lot more animated expression of amorous euphoria!
Resting on the paramour's shoulder and spinning up gossamer dreams while the eyes kept transfixed on the distant roar of sea waves kissing the base of a submerged rock bed is yet another picture of romantic tourism.
Marriage anniversaries, honeymoons and romantic promises may look bland and devoid of charm if celebrated amid routine chores and hence the need to go far away from the madding crowd becomes an important requisite for the lovers to relish each other's company amid an amazing setting way apart from everyday life.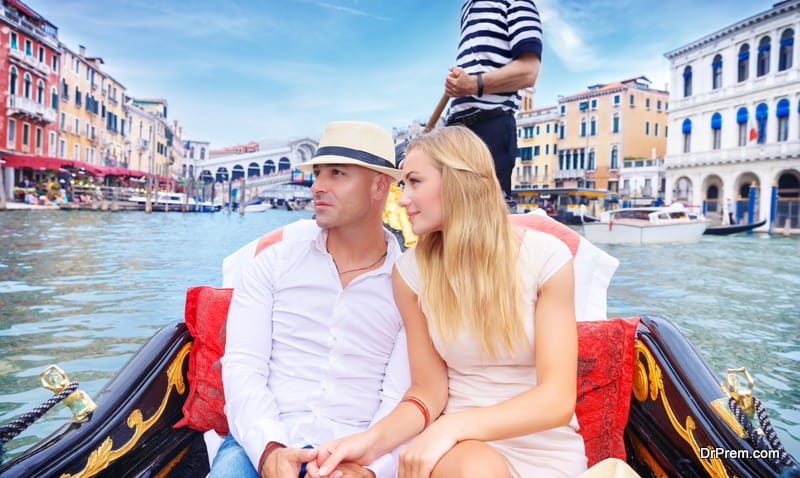 Just imagine a gondola ride across a Venetian canal with your arm around your fiancé's shoulder or hours of heartwarming conversation pouring out of the lovers' lips as both of them wait with eyes locked enjoying panorama from atop an Eiffel Tower restaurant . The love juices work their way up as both of your hands get clasped trying to discover each other with a kind of new found love inspired by the awesome setting and certainly by the persons sitting close to each other whispering sublime words coated with honey.
Breathtaking locations like a secluded corner of a Thai sea beach adds a sweet new dimension to your valentine's day as does the high-end reception platform amidst the palace turned resort to your wedding celebration all decked in a royal grandeur!
Great escapades cast that magic spell on your mood. The presence of fiancée by your side and the intoxicating atmosphere prepares gets you into the right frame of mind when you earnestly wish the adorable moments in the company of your lover who has occupied most of your heart, would roll on for a length of eternity! Exquisite artwork embedded into monuments, palaces, citadels and famous paintings and sketches do inspire lovers to get absorbed into the magic talking about the finer details for hours falling in a close intimacy.
Gastronomic temptations native to a specific destination have parallel consequences. They motivate lovers and help them get into the right kind of disposition.Animated conversation between lovers over steaming stews and delectable muffins is a trademark feature in romantic tourism. It feels that the treat has landed on your table straight from a kitchen in paradise and the presence of the person you are courting just adds extra flavor to the food ordered.
These inputs are mood builders and you never know the potential latent in them and the intensity of romance they are capable of enthusing unless tried. Although romantic tourism seemingly touches the preferences of the younger age group, the senior couples often show same interest towards a stroll along the 'lovers' lane' with lot of leisure hours in hand.
Tour to amazing getaways often refuels your romantic side inspiring you to rekindle your feelings for your partner, which the confinement of your routine life might have an adverse impact. Gone are days where weddings used to be organized in the local cathedrals and receptions planned in a domestic venue. Amazing lakesides, picturesque valleys and pristine country sides have become new destinations in the field of marriage anniversaries and wedding receptions.
History of Romantic Tourism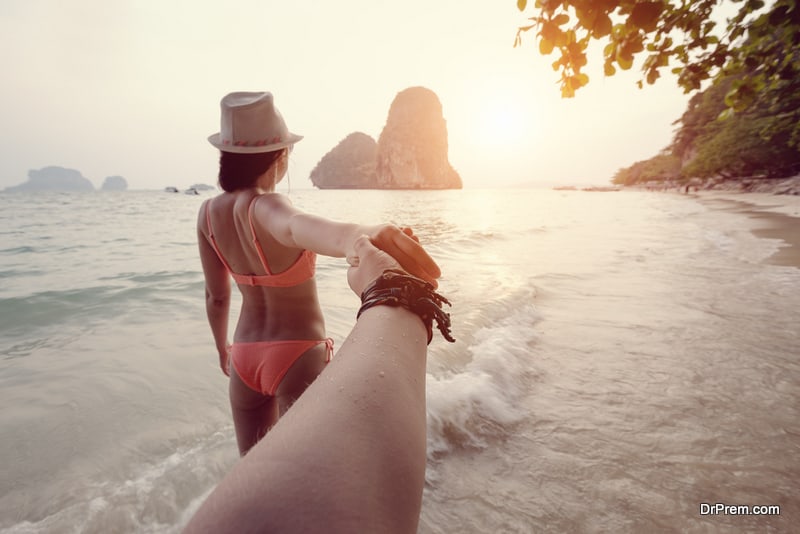 Passion, love and romance are the primitive human instincts that have a vital role to play in the equation between a man and woman, and making a joint trip brings them close to the realization of heartwarming bliss. Since the days of Stone Age civilization, men accompanied by their female counterparts have roamed the earth amid wilderness, treacherous rocky terrain and arid sand flats. His role was basically that of a hunter gatherer.
It was the drive to survive pushed him on exploring unknown pastures. Often a spell of intimacy, love and romance surfaced in between the grind of regular struggle and a strong liking for each other bloomed among hardships which often carried them over on a romantic sojourn leaving them oblivious to the world around them. Incidents often helped making room for the male to prove his chivalry which may have culminated in saving his sweetheart from the assault of a wild beast or rival tribe.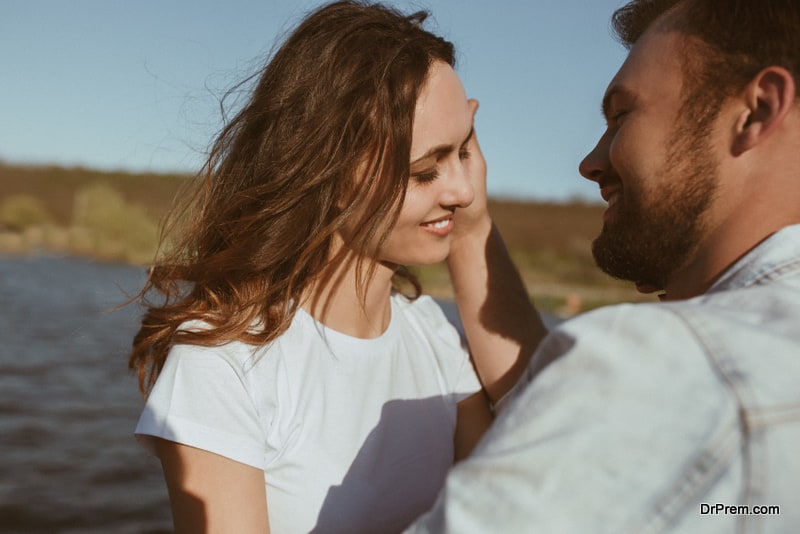 Migrations fired by passion are not new. Instances of romantic tourism could be traced back to ice ages in European and American continents when the beauty of nature enchanted men and women who ventured out and thus the seeds of romantic tourism were sown.
In fact, to bring up the historical features of romantic tourism, north of the Alpine range, a route named as the romantic route had been turned into a legend, which was a testimony to romantic travel in Europe down the ages.
It's in the blood of human being to go on high adventures with paramour. Old romantic routes, traditional and fabled lovers' lanes are clear indications of man's quest for a romantic stroll by serene and yet stunning avenues accompanied by his darling.Stretching point to point over a span of 350 kilometers is a breathtaking highway, the age-old romantic road of Europe that touches between Fussen and Wusburg in south Germany. It is an epic highway and a brainchild of the travel agents with a strong drive for promoting romantic tourism, and they have put their dream into concrete reality way back in 1950's.
This grand route is dotted with majestic castles, beautiful settlements amid a panoramic setting. In the early Middle Ages, it was a commercial route along which traders laden with their merchandise made their way in into central Germany from southern parts of the country.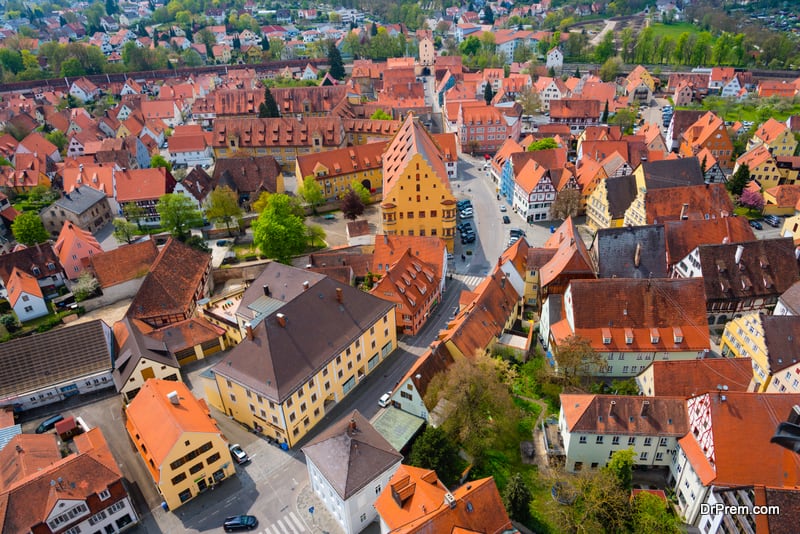 This stretch of route had a typical Bavarian landscape and ethnicity which juggles up a feeling of infatuation between lovers, and the famous cities of Nordingen, Dinkelsbuhl and Burg Harburg castles would drive you into a frantic crush for the milieu hanging in the air.
The romantic road of Germany is a lover's paradise flanked in between a tranquil countryside amid an amazing idyllic backdrop. Right in this place a mood for love and romance is foreordained with the nature serenading all her sweetness into both of you. Twittering of birds would feel like drops of honey and the surrounding exquisite landscape is like a frozen melody.
All the way from Europe to the Far East we have romance brewing in the old streets of Shanghai with tricky and mythical pathways where pretty women dressed in traditional apparel hurry across the paved streets of Tian'ai road, a stretchof 500 meters of lover's paradise. The road is splendidly fringed by the majestic firs that have been weather beaten by almost of half a century's rain, sun and storm adding a spell of tranquility and romance to the area.
Myriad houses worn and dilapidated with age are dotted along the ambler walkway with a sporadic labyrinth of lanes and bye lanes culminating in the dwelling area. On either side of the street stand high walls from where engraved tablets hang bearing inscriptions of verses composed by the western poets and writers together with Chinese sonnets that have a soothing effect on the pedestrians. The words are melodious and have an enchanting effect upon lovers walking along hand in hand.
Take a few paces ahead and you hit upon the 'lovers wall' which bears all sorts of oaths, announcements and words of passion shot by lovers, and the entire pattern is nicely engraved into brickwork for the world to see. Built way back in 1920, they say that the eminent Chinese essayist Lu Xu would frequently stroll along this legendary street and his thought process may be working up new verses inspired by the relaxing atmosphere.
You can stop for a refreshing pot of tea at Tian' ai cafe located at the street terminal, and it will feel immensely good. Then there is the famous mailbox set up at a corner, and letters routed through this point would bear the words "love" just adjacent to the postal mark. Lovers believe that their passion would last a span of eternity if they hold onto each other and take a long walk along this romance inspiring street.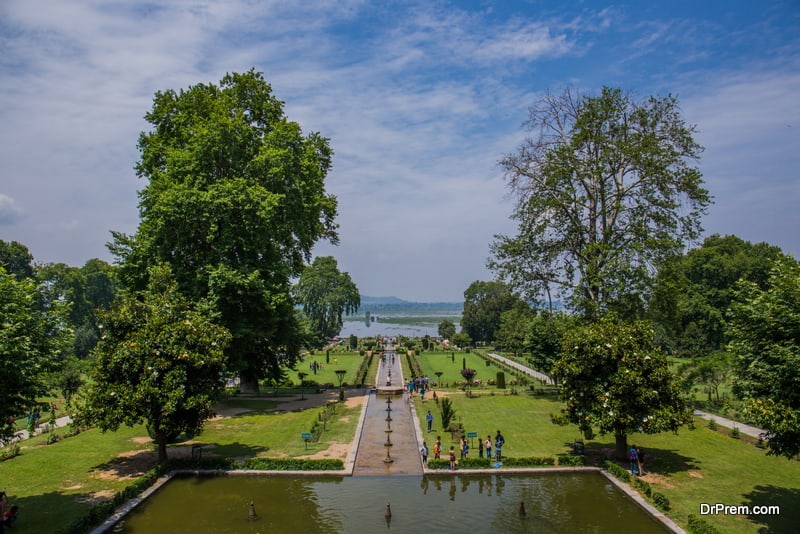 In the Indian sub-continent, history has it that the Mughal emperor Shahjahan occasionally took romantic trips to Kashmir located north of his administrative capital Delhi. The enchanting effect of the Mughal Gardens designed by him and the unparalleled beauty of the Kashmir valley infused romance into the lives of the emperor and his empress. He made repeated romantic visits to Kashmir with his empress and train of followers.
Why Romantic Tourism matters?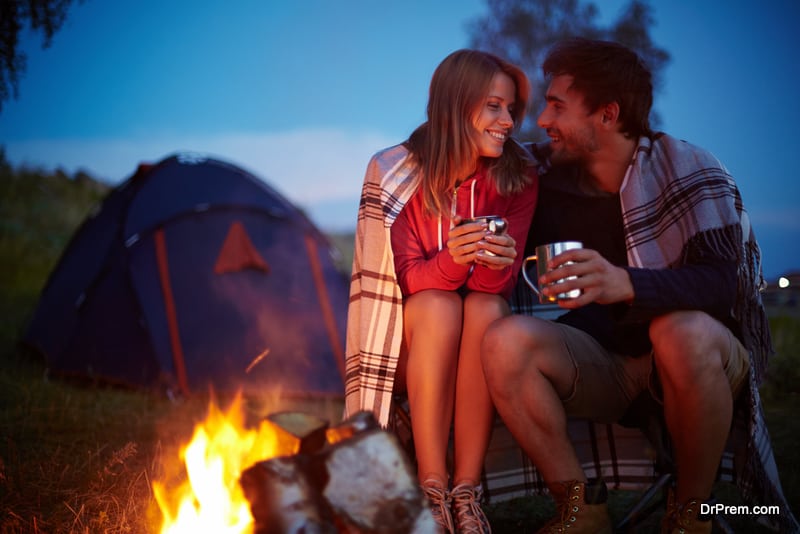 Romantic tourism supplies oxygen to your love life. The occasions come in different shapes and with different connotations be it honeymoon, wedding reception, Valentine's Day proposals or renewal of vows. The celebrations and events must find the right place to be in with the right ambiance and panorama and the right kind of arrangements available to give your romantic life the right dose of impetus.
It is the marvel of romantic tourism that will make all these sweet things happen in your romantic lives making it more charming and beautiful. From the economic perspective, romantic tourism brings in millions of tourist dollars to the destinations round the year that has been identified as hotspots of romantic tourism.
Particularly, Valentine's Day sees a surge in tourist influx where the romantic pairs add color, mirth and fun to the destination bringing in a lot of business to the local establishments. You can practically see smiles written on everyone's face connected with romantic tourism.
Apart from the financial benefits flowing from the romantic tourists to the local businesses and service providers making your trip happen, an opportunity of valuable cultural exchange opens up. The couple gets an amazing exposure to local art and music, gets a taste of local brew and cuisine and may attend short term training classes on developing local culinary skills.
It is pure fun and elucidating as both of you discover a renewed wisp of romance in the air through these activities. Dance classes, art classes, training on cultivating local etiquettes and music classes are all very educative and it is a sort of cultural enlightenment for the couple. This learning process brings both the lovers closer to each whipping in a romantic air. Flash back into these sweet moments is simply priceless sustaining the bond of love between the two forever.
This human-to-human interaction across geographical, cultural and socio-political boundary is something wonderful that opens up possibilities of further romantic ventures as you and your sweetheart clearly stand enchanted by the tour bathed in a renewed flavor of romance. Coming to the availability of world class facilities and arrangements pertaining to a wedding reception, the world becomes aware of their existence providing a considerable marketing scope.
More the romantic tours, more is the marketing exposure that sees an influx of more tourists to the chosen destination. More tourists lead to the spread and hype and the pressure on improving the quality of arrangements mount leading to a spurt in all round romantic tourism business.
From a private angle as well romantic tourism matters very much. Life is bound to get stale and lose its color if couples continue to dwell within the confinement of monotonous domestic chores. A getaway to the quite foothills or by the roaring sea would be a welcome departure from the routine life.
The romantic tourism doesn't end with the trip done and fun activities relished. It is just a beginning. In fact, you carry the gorgeous memory of the trip back home and it gives a new meaning to your love life. Your romantic life gets a boost to function smoothly, and you are simply eager to set out on a second trip no sooner you hit home.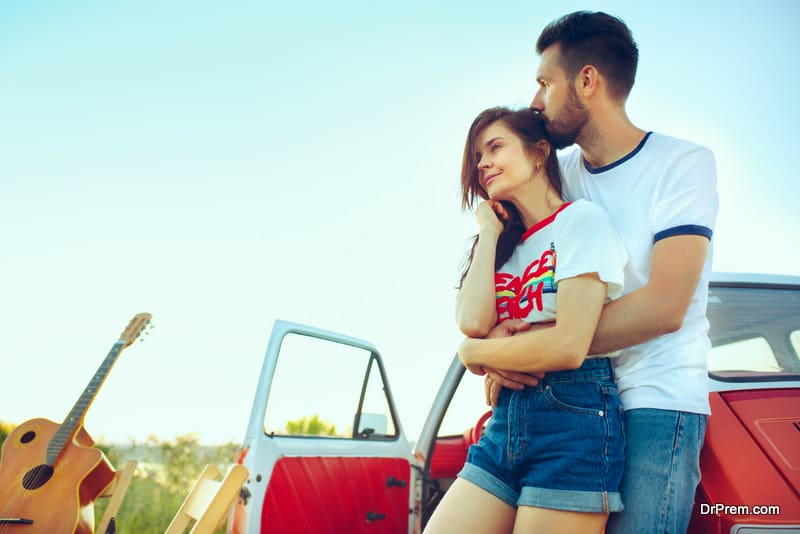 Couples travelling from country to country in the quest of romantic pleasure is an intellectual attainment on a global scale. In spite of the privacy you like to share with your sweet heart, both of you are exposed to a distant land and its awe inspiring beauty, an alien culture and a chance to meet different spectrum of people with a varied background. This constructive experience makes you feel very much a part of the strange, amazing and dynamic world.
Specially wedding reception, honeymoons, renewal of vows, proposals and a valentine's day out are the most important events in our love lives. We won't certainly do justice to these earth-shattering events in our love life spending them as blandly within the confinement of four walls. To make our love life colorful, meaningful and everlasting romantic tourism is imperative!
Romantic tourism encourages romance-based business to proliferate in the destination sites. Discotheques and ballroom temptations beckon the couples to take a step or two to the rhythm of pulsating music and beeping neon. The atmosphere turns charged with passion and opens up the scope for ample business around the theme of romance.
The popularity of dance arrangements draws enthusiastic couples in pairs. The dance tutorials see a growth in interested tourist enrollments most of whom happen to be lovers and couples coming from distant lands.
Is Romantic Tourism for you?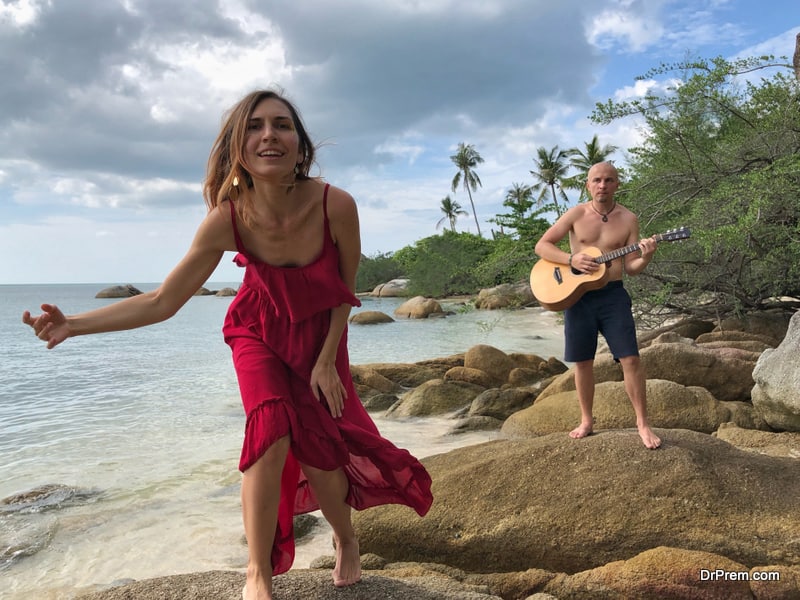 Romantic tourism is an absolutely necessary break! Love and romance occupy an important slot in human life. It is one of the chief motivators that guide us in whatever we do and strive at. Without romance having its catalytic role to play our lives seem merely a bland venture and romantic tourism exactly does its bit spicing up our lives.
Well, you can brew up a spell of romance for your lover and you right at your breakfast table, the spirit, I believe, would have its wings but the right kind of ambiance is what that you would miss. The Italian Alpine beauty, the magic of the Venetian gondolas, the amazing beaches of the Hawaii and the Caribbean or the whispering legendary structures of Egypt and Mesoamerican Mexico are all set to welcome both of you embraced in each other's arms and on a long romantic stroll pouring in honey in each other's ears with passionate hearts encased in everlasting fervor.
If romantic tourism recharges the battery cells of your emotional side warming up your heart with newly found thrill, it brings in plenty of money to the tourism industry for its survival. It is a two-way exchange of benefits and pleasures associated with romantic tourism that your bond with your paramour is consolidated bringing in a fresh gush of breeze that rejuvenates both of your lives.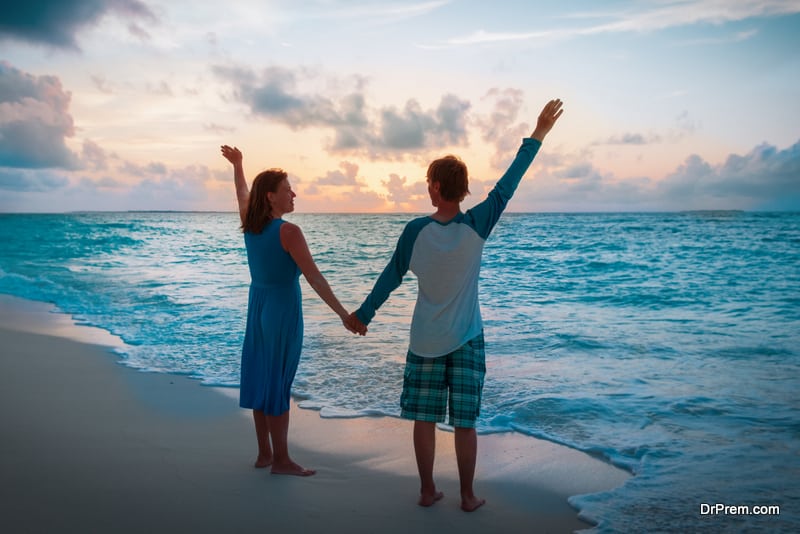 The money spent by you goes a long way in the overall development of the destination including the local residents. It is a pleasant escape amid nature and historical ruins where you and your lover are left alone sunk deep in emotional exchanges with no one around to disturb you in your private pursuit.
Whether you look forward to celebrating your anniversary or set up a mindboggling wedding reception or plan to enjoy a secluded valentine's day amid candlelit dinner and heaps of flower bouquets, stunning romantic tourism destinations exist across the globe to pamper you and get yourself hit innumerable times by the Cupid's legendary arrows.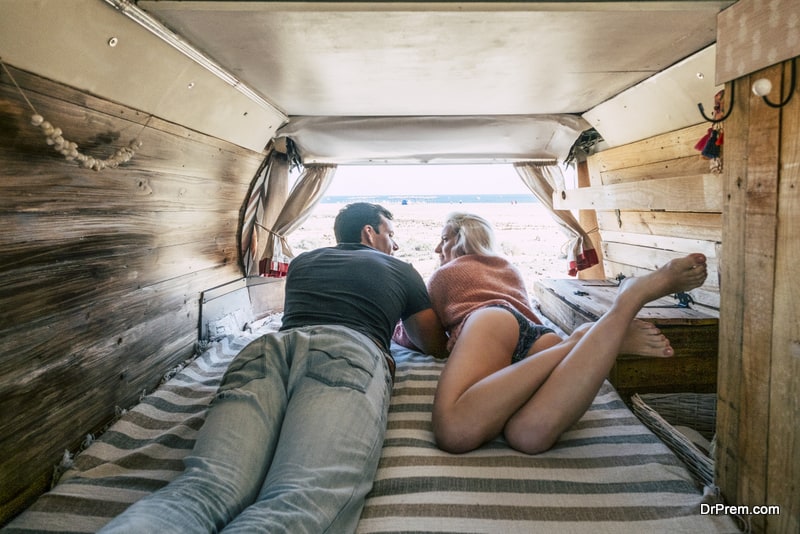 Accompanied by your sweetheart, you may wonder why didn't the idea of romantic tourism strike you earlier? Much of the romance brewed and pleasure drawn would depend upon the selection of the site.
Breath taking Bali, the Mediterranean magic of Italy, Greece, Spain, France and down south across the sea the enigmatic Egypt where tombstones and pyramids whisper anecdotes and myths of the Pharaohs would hold both of you in a spell of hypnotic charm to recall and relish for the rest of your lives.
Luxurious hotels exist having ample space for organizing romantic events, wedding reception and anniversary get-togethers with stunning banquette arrangements. Private dance classes and pulsating ballrooms are too good to be true!
Great romantic destinations are just ordained for weddings, honeymoons, proposals and valentine meets that take you by an incredible storm you wish you had experienced all your life.  Amazing resorts are customized to generate an atmosphere of tranquility and multiply intimacy between the lovers.
The mood is just ideal for pairs and honeymooning couples making them prepared for writing a new chapter together in their lives. The couples would be in total privacy left together with their sweet intimate plans inside plush living rooms to live life to the fullest. Luxurious bedrooms, gorgeous bathrooms, modular kitchen and the air and space that surround the lovers in an envelope of comfort are fabulous!
The dream lodge often overlooks a lush green meadow rolling by or over a pristine blue lake fringed on all sides by unspoilt woods reflecting the blue sky above. It would exactly be the right definition of a "lover's paradise", and I don't see any reason why shouldn't you both be a part of the scene sharing the divine pleasure in the closest proximity to each other!
You relax with your sweet heart and enjoy in comfort pampered by personalized service and realize there isn't any other place called heaven. It is right here! With the matching and exquisite gourmet to spice up your romantic holidays you will certainly not wish to return to your regular chores from this sea of romantic bliss.
In a Mediterranean romantic tourism site, the temptation of the sea, sun and sand is irresistible. With your sweet heart you can do a whole lot of thrilling activities starting from relaxing on a beach deck chair soaking in the sun to get a nice tan on you. You both can go on a number of explosive sporting adventures like surfing and yachting and enjoy mouth-watering delicacies at the end of the day that certainly would add a dash of delight to your romantic experience.
Key drivers of Romantic Tourism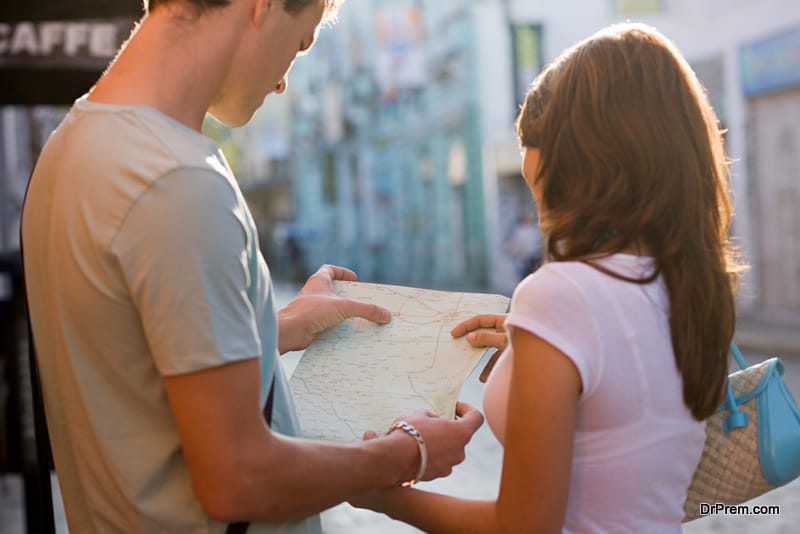 The magic of romantic tourism will depend upon certain key factors which will draw tourists in large numbers contributing towards the economic upliftment of the destination. The first and foremost factor that could inspire romantic tourism among couples, newlyweds and lovers would be the support received from the local administrative body, the ministry of tourism and the attitude of the local residents and the service providers.
Stringent local administration
Lovers riding high on romance look for one thing that is a serene getaway, which may be amid unspoilt nature, could be among historical ruins or even right in the middle of cultural hubs, theatres and art galleries where no one is going to intrude their private and yet passionate realm.
Teasing, sexual threats and other kind of threats posed by locals would definitely discourage romantic lovers to go for ventures in an alien land. The role of the police and administrative machinery is of paramount importance. Their actions should be unbiased, fair and quick.
Destination safety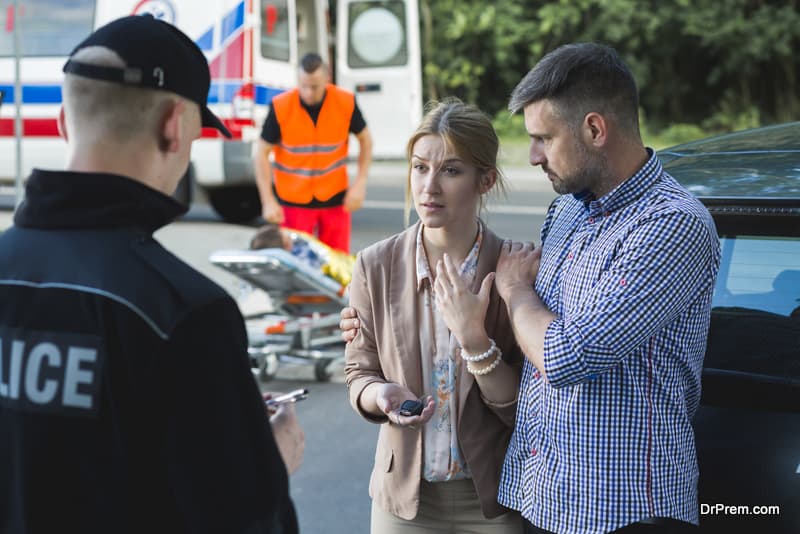 The visiting couples are the main source of bread and butter for the local vendors. They are not an object of mockery or to be given trouble and impolite treatment. As long as the visiting pairs feel safe and at home they will keep pouring in. The moment they feel threat hanging in the air and it is unsafe to move around the number of tourists on a romantic trip would dwindle. So safety and security of the visiting couples is a key driver encouraging romantic tourism.
Luxurious accommodation
Existence of luxury staying places complete with health spas, swimming pools, ball rooms and Disco- theques, fine dining arrangements and cozy bars, spacious and well-manicured lawns, gorgeous banquette halls and facilities for special events organization and management would be key factors inspiring romantic tourism.
Sporting facilities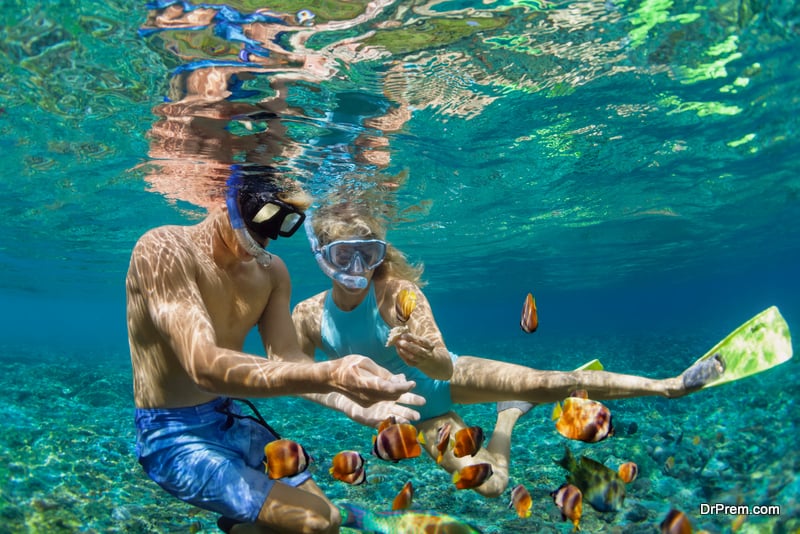 Sporting facilities and scope for high adventure is yet another set of key drivers in romantic tourism. Lovers and couples nowadays look beyond the comfort of their hotel rooms. They look for action packed thrill! Long conversation over a drink or two bordering on romance could be at times boring.
Couples always look for a change. Wind surfing, mountain skiing, paragliding, snorkeling, beach volleyball, disco and ball dances, swimming and a lot of other adventurous treks and serene strolls may allow a fresh breath of air into their romantic holidays when the confinement of the hotel suite or dining table may otherwise turn boring.
Now these outdoor activities would lure the couples only if the supporting gears and designs suit to the latest technological advancement with an element of safety built around. The cash flow cycle associated with romantic tourism is a prime mover. Money flowing in from couples, lovers, wedding reception hosts and honeymooners should match the quality of goods and services flowing from the other side populated by trip organizers, vendors, hoteliers, restaurant owners and logistic managers.
Quality tourism products and services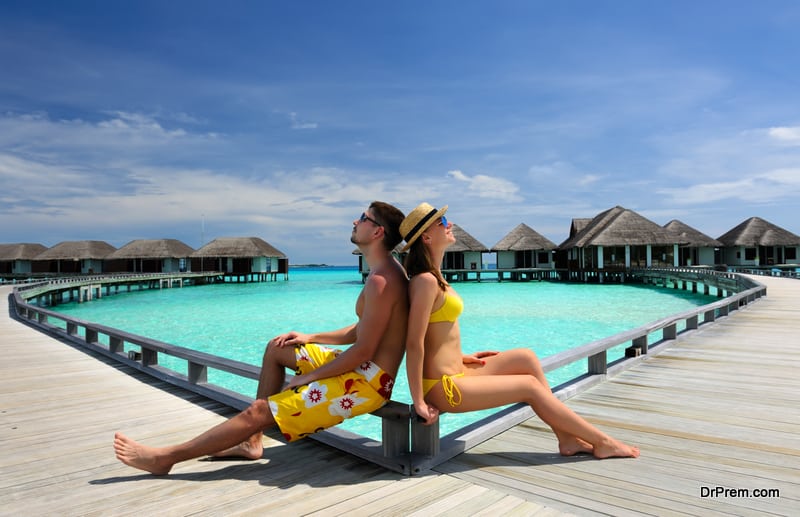 This money should get into the proper distribution channels and if it does so, the quality of romantic tourism destination would improve attracting more and more visitors who can leave satisfied after completing the trip. As much of the success of romantic tourism would depend upon the quality of services delivered by the vendors, the travel agencies also play a crucial role.
Money is not a constraint for romantic pairs provided they get timely and efficient service worthy of the cost. Couples are willing to pay and expect the tour operators and intermediaries would share a large chunk of their headache as regards trip planning and organization leaving them enough room to share intimate moments.
How well the trip organizer would live up to the expectations of the customer will become a key driver that can give a finite shape to the future prospect of romantic tourism. A number of multifarious features may become key drivers to romantic tourism. A destination may be known for its golden beaches and exciting sea sport. Cultural marvel and culinary magic of a country may hold a romantic couple mesmerized. Historic ruins and amazing archeological digs may fascinate lovers.
Romantic pairs may find pristine lakes, breathtaking valleys and rolling pastures of a particular destination simply irresistible. Subtle nuances of art, dance, music, dramas and plays staged by the cultural wing of a nation with its unique rituals and religious celebrations may compel romantic tourists to make repeat visits just because they had been overtly captivated by the wealth of exhibits.
The splendid cultural shows must be showcased with style, authenticity and glamour to have a driving impact on the romantic tourist! The vigilance by the ministry of tourism is an important key driver to ensure growth in romantic tourism. An appraisal audit should be conducted by the ministry at intervals to monitor if the destination and the available infrastructural supports are performing reasonably well to sustain romantic tourism. Drawbacks noticed should be promptly remedied.
Essential components of Romantic Tourism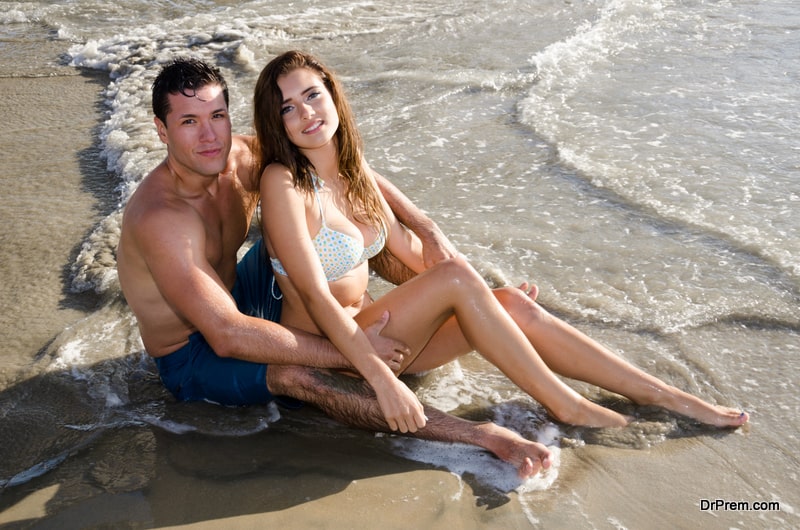 The quality of a destination in terms of solitude and beauty, its capability to inspire love and emotion, its romantic vibes and most importantly the staying arrangement, transport and opportunity of fine dining with a picturesque backdrop would qualify for the most essential components of romantic tourism.
The essence of romantic tourism is an escape from reality of the day-to-day routine chores that make both of you mentally tired. The entire world turns yellow around your life like an old parchment brittle enough to disintegrate upon the slightest touch.
Drawing a parallel in the confinement of claustrophobic boredom born out of a weary routine life, your lives begin to look stale just when you launch upon a frantic quest for a break to someplace else far away from the madding crowd where de-familiarization and an alien yet amazing ambiance rules, and this is the essence of romantic tourism. A key feature would obviously lie in the kind of relationship that exists between the tourists. They should fundamentally be lovers and this criterion would be an essential component of romantic tourism.
The tourism ministry plays a key role to ensure a regular money inflow from tourists in order to capture the global tourism market, and this is a crucial component of romantic tourism. Much of the charm of romantic tourism would depend upon the offbeat ambiance created by the tourism development bureau.
Support from architectural and technical experts could be valuable inputs spicing up the quality of tours done by couples and lovers providing them attention grabbing living environment that is really chic, cozy and a pronounced departure from the regular rhyme and rhythm in its truest sense. This innovative exercise will categorically pay off in terms of tempting more and more lovers to the destination, and is an essential component of romantic tourism.
Availability of good food and wine is another basic criterion that could inspire couples to a destination. There goes a saying that how you love depends on what you eat and drink. Eat in style with plenty of mouthwatering choices to spoil you to the verge of ecstasy. Variety and authenticity of local cuisine is an important part of your love life. If the local food is packed with health benefits, it would just be an added bonus constituting another vital component of romantic tourism.
Other essential components of romantic tourism would rest on the role of tour operators and travel agents in making a honeymooner's trip hassle free and memorable emphasizing on personalized service respecting the couple's privacy.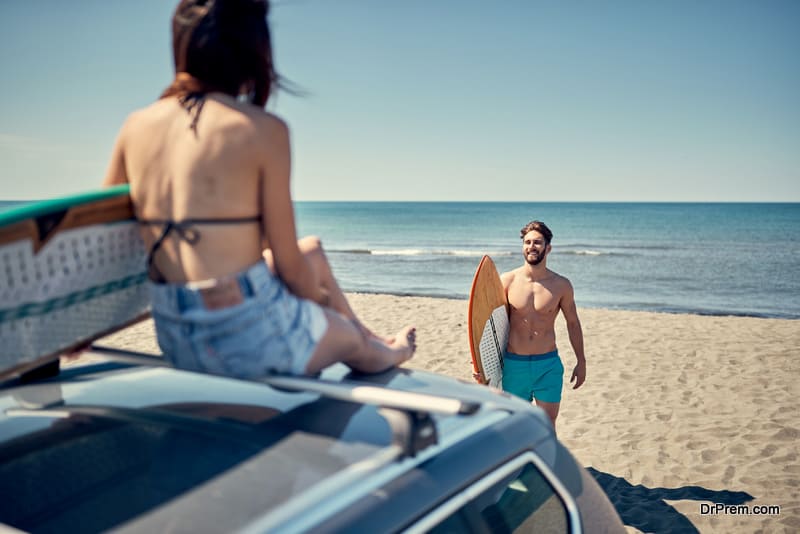 Essential components of romantic tourism would also encompass prime attractions around which the interest of the romantic pair would slowly start building up. They may be pristine locales, romantic boat rides, cruises, picturesque valleys, captivating sea sides, magnificent slow clad mountains, monuments, art galleries, theme parks and to top it all what is essentially demanded is a tranquil retreat free from threats and fracas!
Mode of transportation in and around romantic destination is an essential component as well. Airlines, local cab hire services, railroad, luxury bus rides, steamers and other modes of water transport are the means available, and needless to say romantic couples expect and smooth and comfortable ride.
On a slightly elevated plane of romanticism, horse drawn carts will be at your service and the ride will promise you a novel departure from what you usually experience in your everyday ride back home. Gondola and sampan ride would also imbue a spirit of romance between lovers with an exotic touch of an alien culture.
While talking of horse cart ride, the image of 'Taj Mahal', an epitome of a perfect fusion between romance and architectural wonder comes in a hazy flash! The gondola and sampan rides bring back amazing pictures of Venetian canals and oriental waterfronts all engulfed in romance.
The coverage on essential components of romantic tourism remains incomplete unless how significantly the choice of right kind of accommodation features in a romantic trip. Hotels, motels, luxury resorts, chic apartments and camps where you have a wide range of housing facility to choose from and obviously both of you will be looking for a safe and cozy nest.
An essential component of romantic tourism which may not sound so romantic but nevertheless practical and crucial is how you are going to manage your finances while on the trip. Credit cards, travel insurance and ATM cards are the financial tools available with you when you are in need of money on trip.
Activities in Romantic Tourism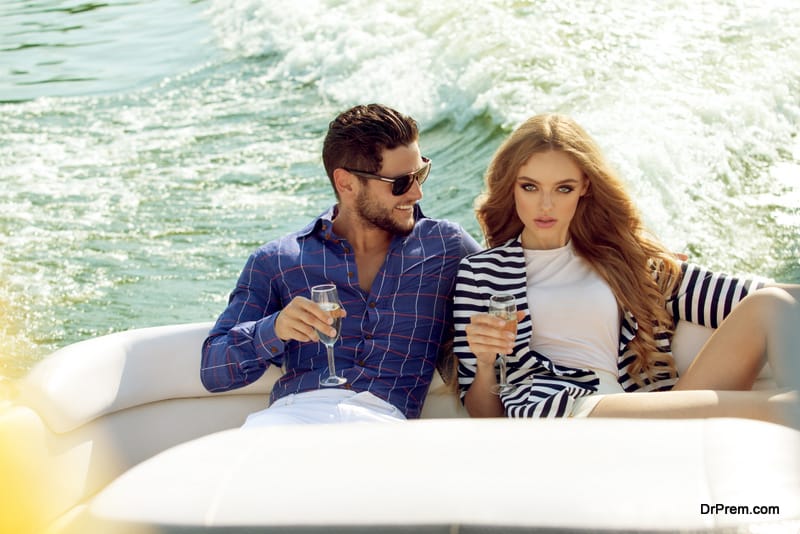 Plenty of options would be awaiting both of you to explore different wonderful ways to spend your romantic holidays. The choices are abundant in their truest sense whether you plan hours of intimacy behind a shut door only to be pampered by the room service attending to your fancy desires with exquisite food and drink served at intervals or you may opt for an outdoor break.
Forest exploration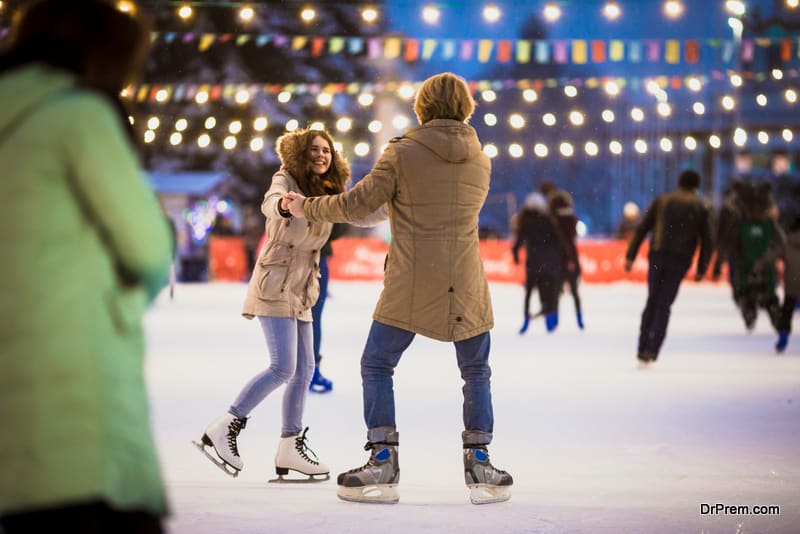 If you plan your romance in the foothills of the magnificent Himalayas, you would surely go for the thrill treks and hikes lower down in the Terrai belt or can enjoy a jungle safari. While romancing in the Andean country or amid the Alpine wonders, a lot of outdoor sports are on offer like mountain skiing, ice skating, horse riding and an assortment of fun and frolic amid snow with incomparable natural beauty surrounding both of you!
Trying out wildlife safari would sure be quite a thrilling activity keeping the romantic pair engrossed in the charms of the bush. Amazing experiences could be drawn staying in tree top resorts and jungle camps, and the couple can spend memorable nights that come alive with shrieks, hoots, howls and grunts of the local fauna lurking behind cover ready to strike for a kill! It would certainly be wild and adventurous.
Beach holidays and water sports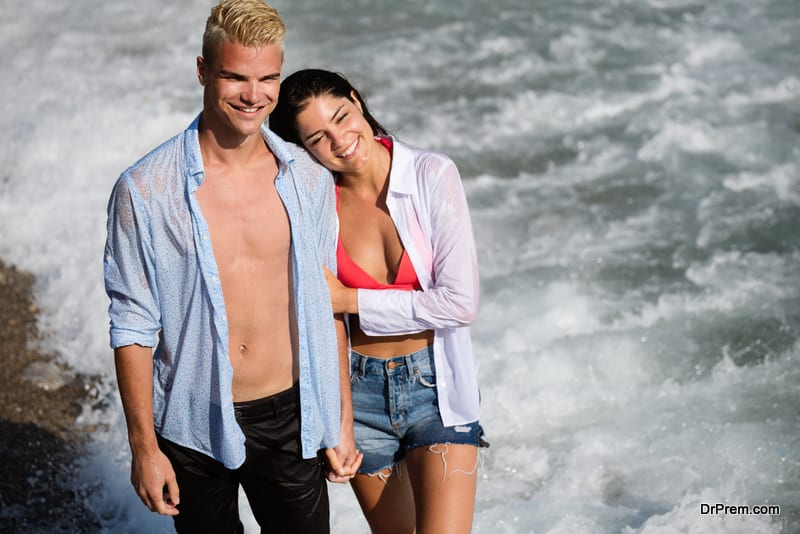 The unique features of a romantic destination will open the doors of specific activities suiting the geographical, climatic and cultural environment. Like when you are visiting the amazing sea beaches of Hawaii, the Caribbean and Miami, wind surfing, water skiing, sun bath and a lot of exciting beach ventures would occupy your days as well as night in a romantic trip.
Spending hours strolling along sea beaches with sun rise or sundown as a backdrop would be a refreshing activity. Fresh breeze blowing in offshore would rekindle your passion and tone up your mood for a perfect romantic exposure.
Photography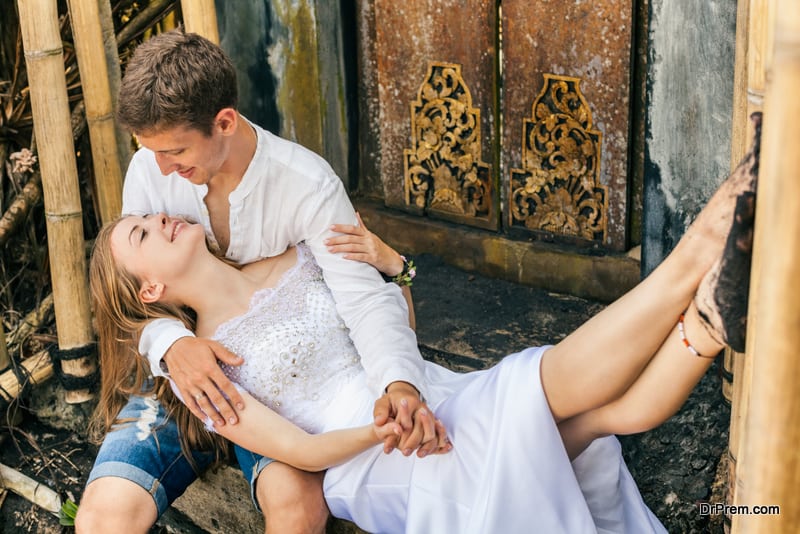 Photography is certainly a constructive way of keeping yourselves occupied in romantic trips. Snapshots of love birds taken from various angles arresting different poses would merit preservation for future calling back sweet memories.
Gastronomic ventures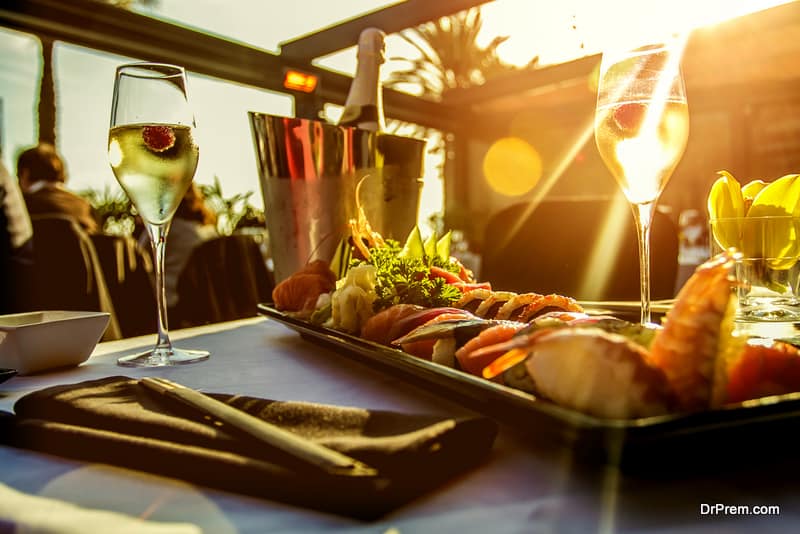 There is an ample opportunity for both of you to sample cuisine and authentic wine from local produce and you will see how amazing can your love moments be fired by the aroma of food and intoxication of the drinks. It would be a memorable piece of activity toning up your romantic venture!
Visiting cultural hubs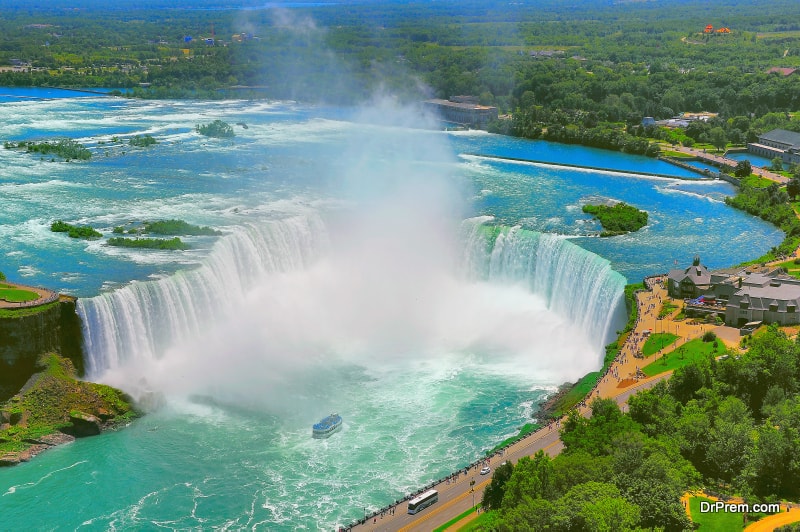 On a visit to cultural hubs there are a lot of activities and fun moments that would impart a romantic touch to your trip. You both can walk down along an art gallery discussing the nuances of paintings and sketches by masters and discover each other and the rich exposure gained can be a significant part of your romantic holiday.
Destinations in Southern Europe like Italy, Spain and France would be ideal if both of you have set your eyes on the cultural wealth of Medieval Europe. A moonlit stroll along the mall in Darjeeling could ignite the fire of passion between the lovers as would the presence of majestic Niagara Falls do to strengthen the bond of love and romance between couples.
Indulgence unlimited
Your romantic exuberance could build up anywhere amid a casino, in a health spa, on a horse ride, beside a thunderous waterfall and certainly amid the traditional and familiar scene of lovers sipping in cocktail from a single glass with the setting sun as a terrific background!
Fishing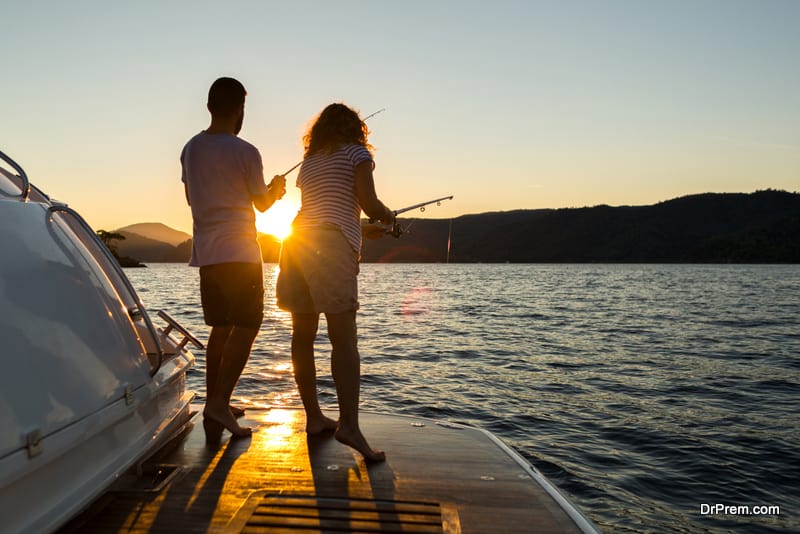 Both of you can go upstream and try out some fishing that will charge you with loads of fun. Trout camps are organized along creeks and rapids. Both of you can have the fun of fishing trout in clear water as would a venture on white water rafting keep you enthralled helping cement the bond of intimacy with renewed fervor.
Paddle boating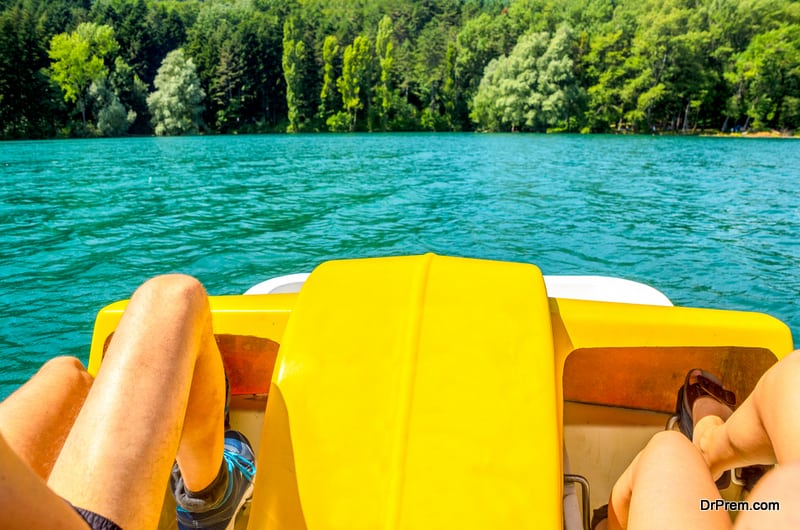 Another exciting activity in a romantic trip is paddle boating across placid waters of a lake. The magic is to strike the pair of oars and balance the boat in the centre as both of you cut across with the azure sky atop and the musical ripples radiating out with each stroke! Foot paddle boating would be an equally interesting activity among couples looking for romance with a slight variation in techniques.
Choose wisely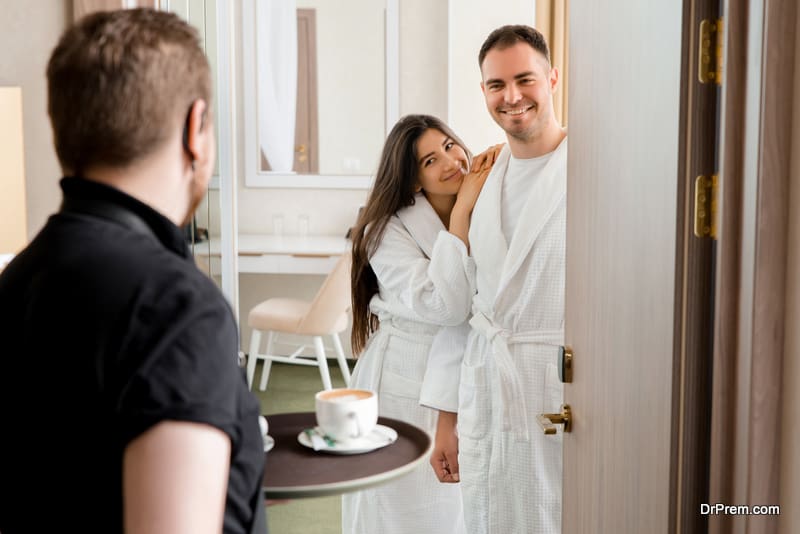 On a romantic trip, the choice of accommodation and transport is a very important activity as a wrong selection can well turn your romantic trip bitter. Instead of taking tourist bus rides crammed with passengers of all description, cozy cab hire services are advised. When choosing accommodation, go for apartments instead of crowded hotels. Frequent interruption by room service should not disrupt your romantic moments.
Hot air balloon ride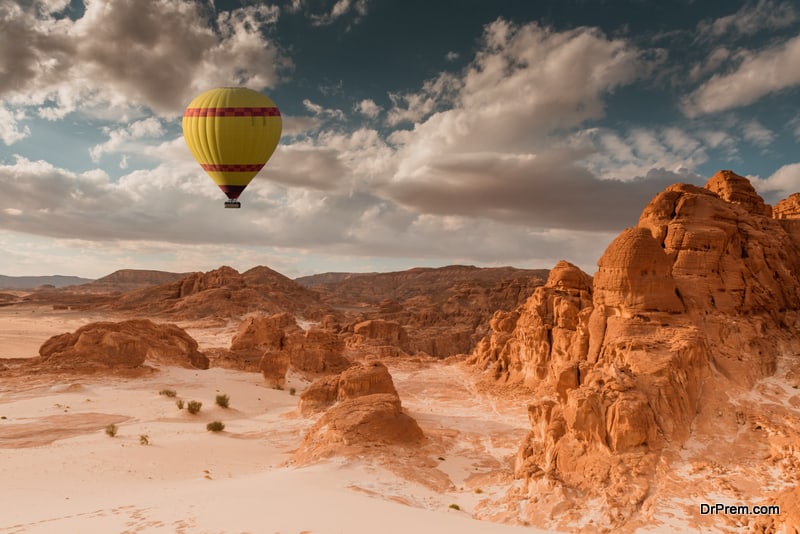 Hot air balloon ride is yet another romantic venture with tons of fun. The ride high up in the air is a wonderful piece of experience for both of you. You have an amazing bird's eye view of the city below with ditches, rivers and canals crisscrossing as the distant smoky mountains stand majestically for the world to see. Especially a ride over the city of Barcelona would surprise you as there would a mid air picnic organized to enchant you beyond your limit of imagination!
Romantic dining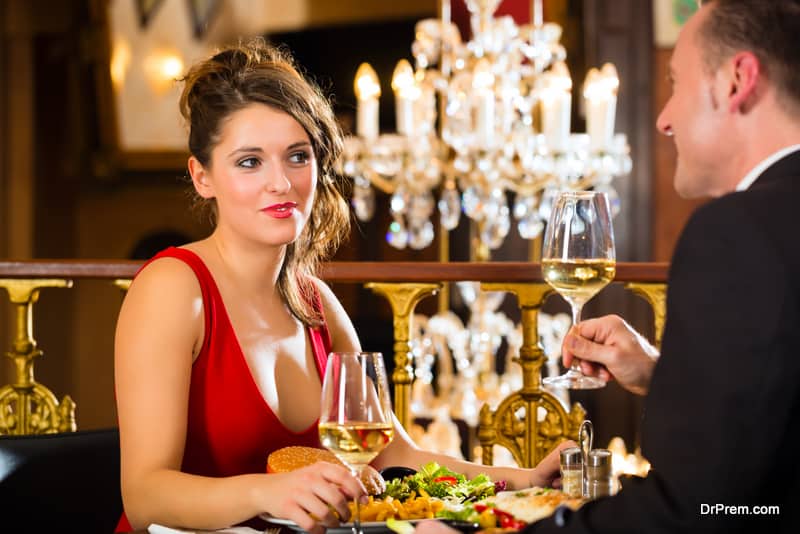 A romantic lunch high up on the Eiffel Tower would be another marvelous experience for both of you, the memory of which would be preserved for the rest of your lives. Activities play a vital role in improving the quality of romantic tourism and more diverse the activities are better is the trip.
How to get more information on Romantic Tourism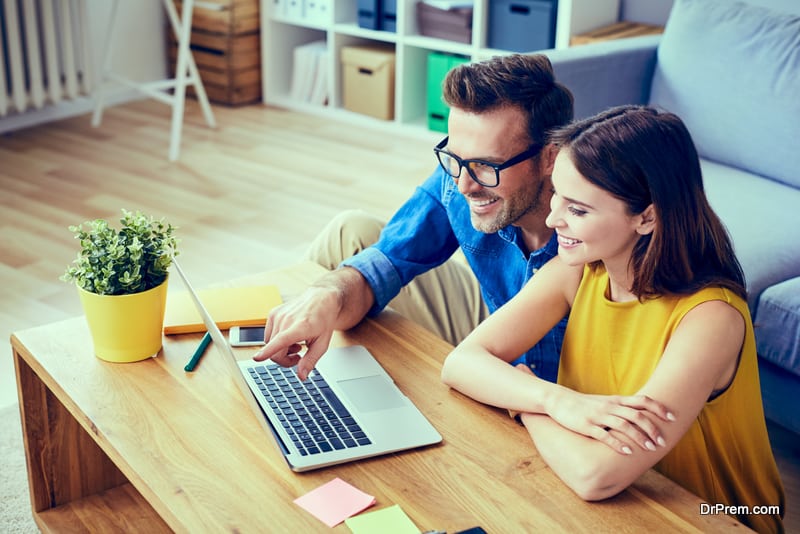 Electronic media transmission has shrunk the world and therefore different websites peppered with blogs, information and significant data give an easy access for the romantic tourists to venture out in dream destinations. The massive storage of information on romantic tourism is available in the tourism department archives. In this regard, the travel agents can help you out a lot.
There is no destination termed romantic destination as such. Any destination can match the fancy of you and your sweetheart in its own right. The specific appeal that notches up a feeling of romance and passion may come in different shapes and color.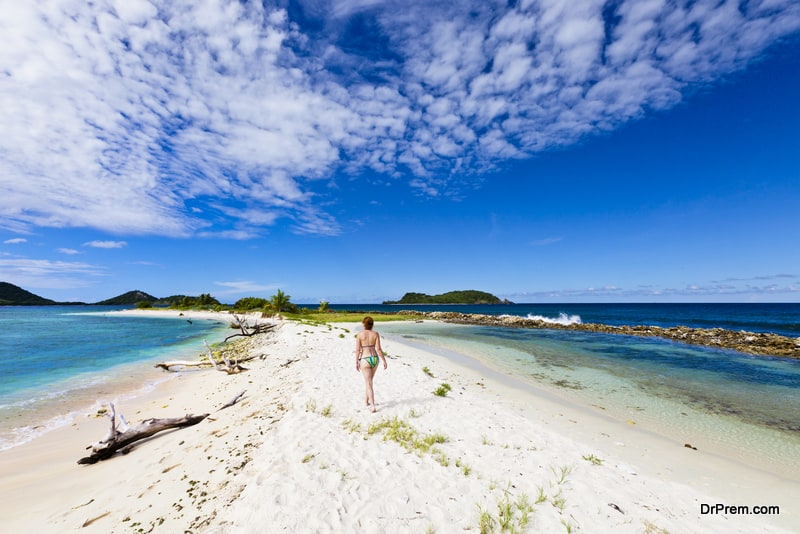 It may be the breezy sea beaches of the Caribbean, its sand and surf bathed in the golden sun, it may be a jungle safari in Masaimara, packed with adventure, a thrill inspiring stay in tree top hutments and jungle resorts, and it may well be in a regal setting in Rajasthan where both of you enjoy a pampered and an exclusively personalized service facilities in an elegant palace turned star resort.
The definition of a romantic vacation is how the locale attracts you and your paramour igniting up the fire that fills your hearts with fervor. Information on all these dream destinations would flow in with a little effort from your side.
The magic of the internet has opened up new portals of friendship where information, views, opinions, likes and dislikes can be swapped and shared. Social networking sites with interesting features are available. Lovers can join romantic groups online featuring best honeymooning and anniversary vacation locales.
The information comes with bright and authentic illustrations, the best season to travel, accessibility, availability of travel agents, cost estimates, tips with dos and don'ts and a lot more updates backed with facts and figures that would be of immense help while going romantic abroad.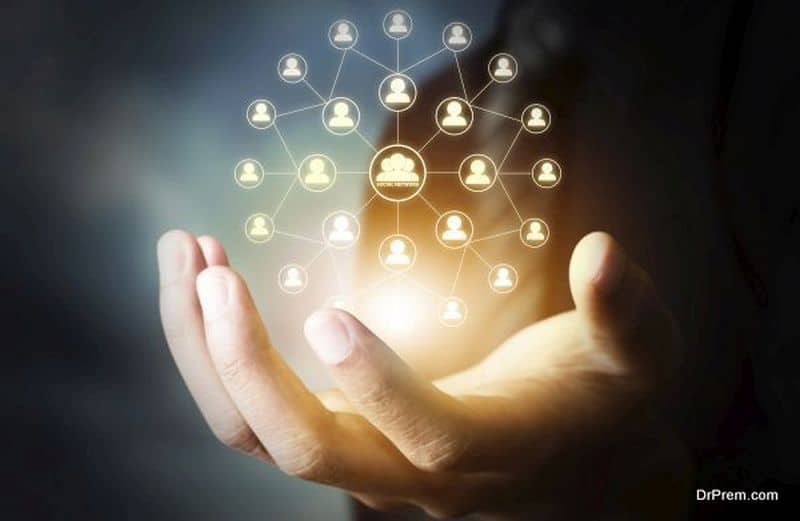 Besides all information retrieved from virtual social networking and from the destination website specifics, lovers may form groups, clubs and associations where real life contact is possible. Face- to- face exchange of ideas, opinions and experiences have their own advantage. A month of social interaction done on romantic tourism will make you know the places like the back of your hand.
Especially important are the areas of hassles and trouble where there is a possibility of stumbling over, and you certainly would find members in your group still having the bad taste experiences left in their mouth. This would help you avoid potential hazards and find ways to overcome if any such situation arises.
You may plan among yourselves to make a collective romantic trip where expenses and hardships may be shared and past experiences put to use to make your trip a beautiful romantic venture.
A storehouse of information on romantic tourism would come from the wedding and honeymoon planner web pages online and their off line printed magazine version. Right from the availability of information regarding rebates on flight ticket to the description of some of the world's awesomely amazing destinations are all delivered in a stylized smart package to capture the attention and interest of potential romantic couple with a strong penchant for travel.
These are in fact inexpensive information sources that come handy from bookstores or pop ups in an instant at the click of your pc mouse. Benefits reaped from these information sources are immense in the first place that they are great time savers plus they open up a wide choice of thrilling and fun packed activities of which you did not have the least idea before!
Wedding planner guidebooks deliver all you wanted to know about organizing a wedding reception oversees in a picturesque locale. There are in fact 'frequently asked questions' section with dedicated responses to all queries you shoot centering around a wedding abroad.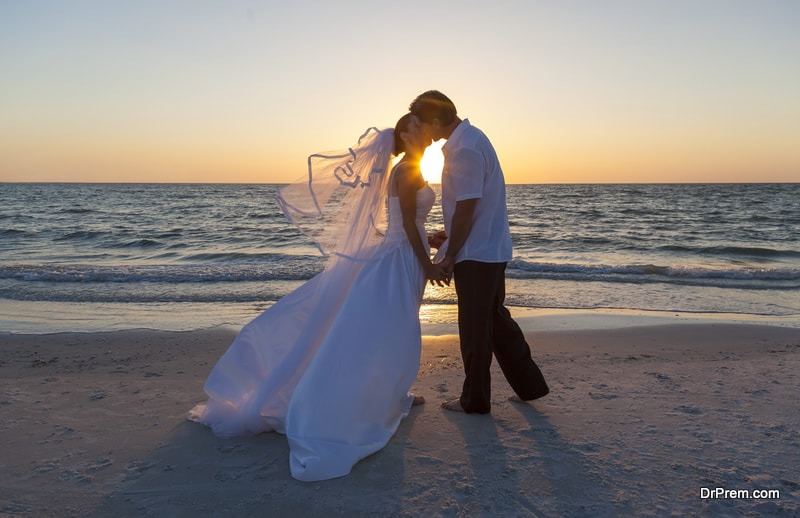 Selection of the venue touching a wide choice from unspoilt lake sides to exotic sea beaches is done on the basis of a meticulous research, which gives a conviction there could no other place better on earth for wedding to look as gorgeous.
Information on local delicacies, desserts, fruits, pies, trademark cuisines and wines available which form the very backbone of a wedding banquette comes from abroad wedding planner magazines, and you should not be surprised to find an entire webpage dedicated to this subject online.
Bride destination magazines are very popular and effective media in the field of overseas wedding events. Order a copy today, and you will virtually get an opportunity to browse through the world's best wedding locations right from your bedroom. They are so beautifully worded containing authentic information and splendid eye-catching illustrations.
As an added bonus, these magazines deliver tips to dress to wear for the big event, how to organize photographers overseas and existence of support facilities available in and around the destination you have chosen to organize your wedding holiday. Turn over the pages, and you find a fairyland open before you which you think should be the right place for an all important event like a wedding reception party.
Importance of planning in Romantic Tourism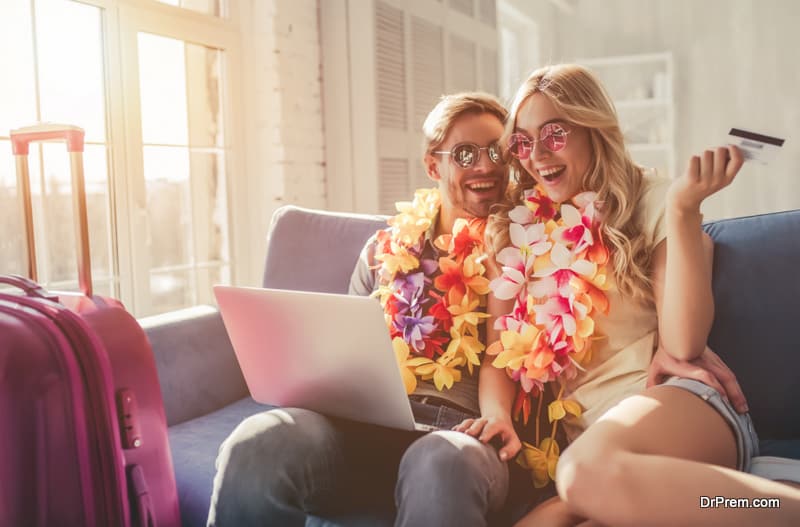 When we talk about planning a romantic holiday, it includes a wide gamut of so many parameters that significantly affect the quality of your trip. Destination is important to stir romance. Lovers love to be in sparsely crowded, pristine and picturesque environment where no one disturbs them.
Left entirely to themselves with Mother Nature in the back drop they serenade their passion to each other. However, it is important to strike a fine balance between your desire and ground reality. A totally desolate locale however charming it might be is not always safe for you. There must be people around to attend your distress calls when situation demands so.
Having selection done you need to time your trip to make most of the bright weather conditions when the beauty of nature is at its dramatic best! If you decide to visit India with your lover in July-August, you will curse yourself having selected this particular time of the year. Throughout the day you may have to sit indoors hearing the clap of thunder and pitter patter of rain drops!
Selection of the right season of visit is no doubt an important part of your entire romantic trip planning premises. Climatic mood swing can make or break your trip. So to see your honeymoon or anniversary trip doesn't go stale you need to catch the destination at the height of its charming weather conditions.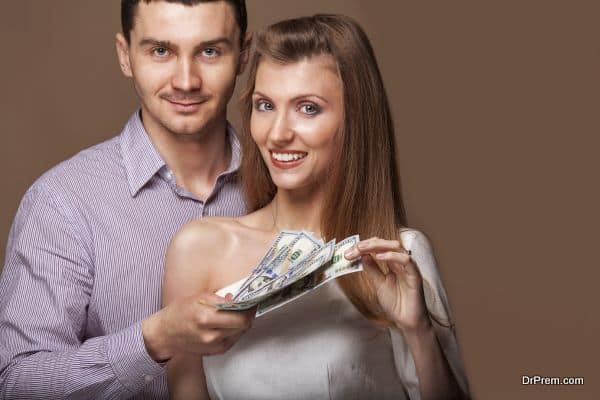 Financial planning and setting out a tour budgetis all important, and without this planning tool as a guide you can neither move ahead or back nor can you turn left or right. Faulty budgeting will leave you at your wits end. You will be gob smacked to see your actual expenses run way apart from what you expected.
There is a fair chance you run into fund crisis having hardly finished half of your itinerary. If money is the limitation, you need to do a judicious allocation for different cost drivers of your trip. A little on grub, a little on accommodation and transport and still a little on shopping would leave you satisfied that at least all the important areas of the trip have been attended and your romantic trip had been consistent.
If both of you are moving alone on your own, you need to do a lot of homework. You need to have your destination and its specific features at your finger tips. You take a virtual tour online and get acquainted with your destination before you physically drop in. You visit libraries and get suitably exposed to texts giving you the latest updates on the places you would like to visit.
If you are opting for a travel agent's service, locating and selecting one is a massive planning exercise. What you are basically striving at is to strike equilibrium where optimal services rendered by travel agents meet the price announced. Get an entire schedule of the service covered. Ask for snap shots of the accommodation you are going to be put up including the interior decor.
If the travel agent provides you transport from its own fleet your logistics issues would be well taken care of. A rough idea of the distance of your hotel from the sites of your romantic visit and from the airport is required. This is important because depending upon your plan and time management you would be able to cover all within a feasible time frame.
In case you desire to have a wedding reception to be organized by a local event expert say in Mauritius or New Zealand, planning a budget will be a big exercise. However, the events professional is expected to give you the estimates of expenditure and handle issues like legal formalities, selection of the venue and setting it right for the guests seeing through requirements of local customs, codes and other related factors.
Plan a light luggage as a heavy luggage will make you curse yourself in every inch of your trip you move apart from hitting a mounting luggage handling bill. Pack only the essentials. You would be surprised to see how fast small insignificant items add on to the total weight of your luggage.
Passport and visa formalities are pre requisites to travel overseas. It needs vigorous follow up. Often you need to dodge your way against bureaucratic delays in processing. Sometimes tour agent shoulder these official responsibilities nevertheless constant pursue is needed.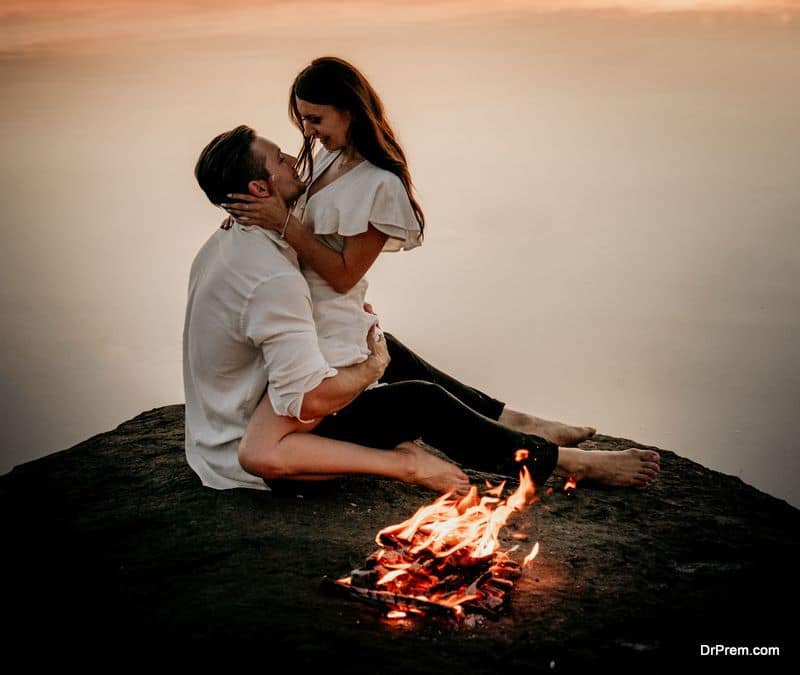 Planning your apparel on a honeymoon trip or anniversary vacation is important too. Depending upon the season waiting to greet you in your destination you select your dress from wardrobe. Intense winter calls for warm clothing. If you are going to spend your romantic vacation by the sea side, light clothing is advocated. Your choice of apparel should keep you comfortable in your romantic trip, and it certainly is an important part of your tour planning.
Budgeting Romantic Tourism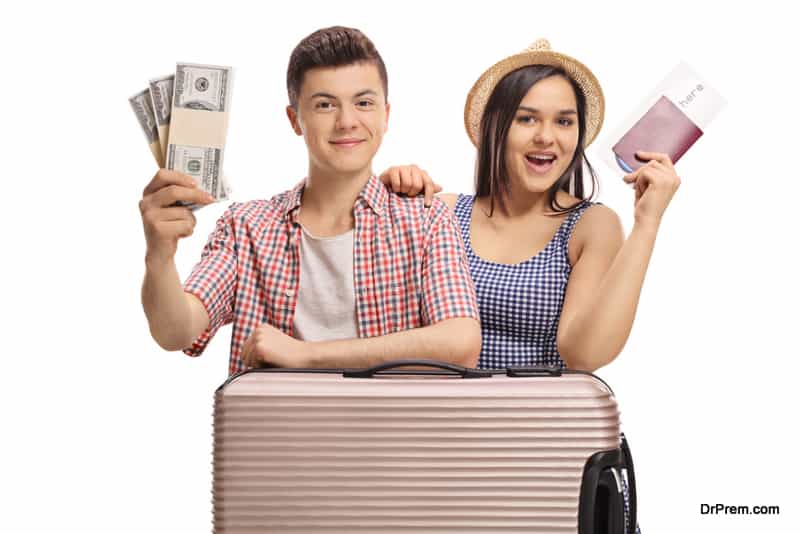 Romance is an absolute escape from reality. Several connotations are on offer to describe what romance exactly is. Certainly, whatever is its description you cannot afford to be blind to the important factor of working out an expense budget you need every inch of your trip as a guide.
Budgeting doesn't mean you drop on to your destination with the sole motive of not to spend, hardly see anything and fly back home in a rush. This may help you save a lot of money, but it defeats the purpose of romantic tourism. You need to search options where you can enjoy your holiday and still keep your money from draining out unnecessarily.
If you select Mediterranean countries like Italy, Spain and Greece, you get ample opportunity to spend quality romantic time with your paramour under the bright sunny sky along exquisite sea beaches and in pristine parks and gardens instead of spending hours at expensive dinner or shopping in high end malls seeing your money leave your purse as the cart piles up with the merchandise you purchase.
If you have Venice in your target, it is a great romantic locale. You both can save up to 40 to 45 percent of your expenses that you may have to incur if you are visiting in the middle of the year. Availing offseason discount is a prudent budgeting strategy in travel.
Dream Mediterranean destinations are dotted with expensive eateries. The menu would certainly notch up feelings of passion, but there are still some high-end restaurants that won't give you your money's worth of pleasure. After footing an enormous bill, you will keep complaining for the rest of your lives.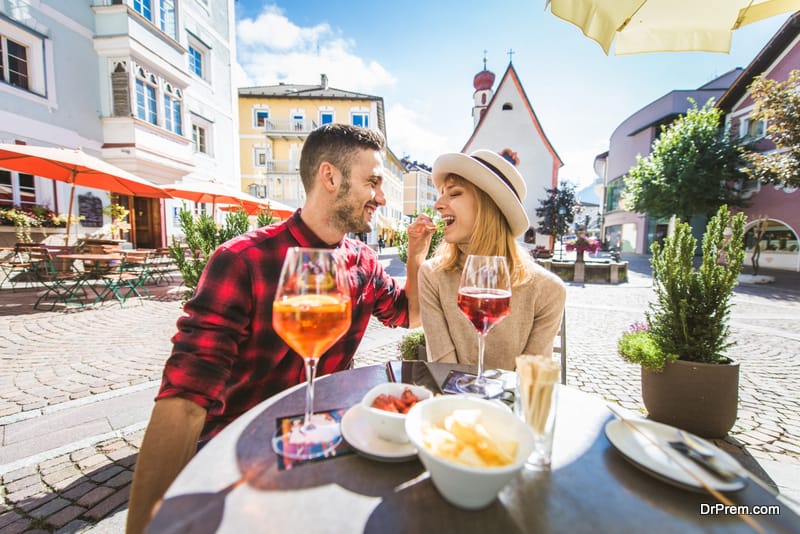 From an expense saving angle, follow the local crowd. Visit the eateries they haunt. They serve wonderful food and beverage at reasonable prices. Selecting hotels in proximity to the exact spot you would like to visit is a good budgetary exercise. Despite these hotels being expensive, you save a lot on local transportation.
Your photography requirement should be factored in your budget for romantic tourism.Go for a DSLR as it is the best choice now-a-days even if you have to shell out some extra bucks.When touring Venice, gondola ride is desirable but not a necessary mode of travel across canals. Try vaporettos instead. It is a sort of water bus that comes cheap with a fixed rental per hour with unlimited trips. The choice is yours and the purse is yours as well!
However, if it is a wedding reception party that you would like to get organized in your dream destination it would involve big money. A sizeable portion of your budget will include the event organizer's fee. Before selecting your events professional, you should read their online brochure to know the details.
Opportunities for discount for early booking or big order should be explored and availed.Be wary of the tricky overseas conversion fees as they can inflate your tour budget by as much as 3 percent for each overseas transaction. Prior to your trip, figure out how much your bank charges for international use of your debit and credit cards. It is wise to think of applying for capital one visa card and the like that doesn't charge any overseas transaction fees.
Tracking expenses is important while on a trip. When abroad especially with your sweet heart by your side, the temptation to embark upon a buying spree is too strong to resist. The gorgeous supermarkets and shopping malls stir a feeling of buying everything that you can lay hands on.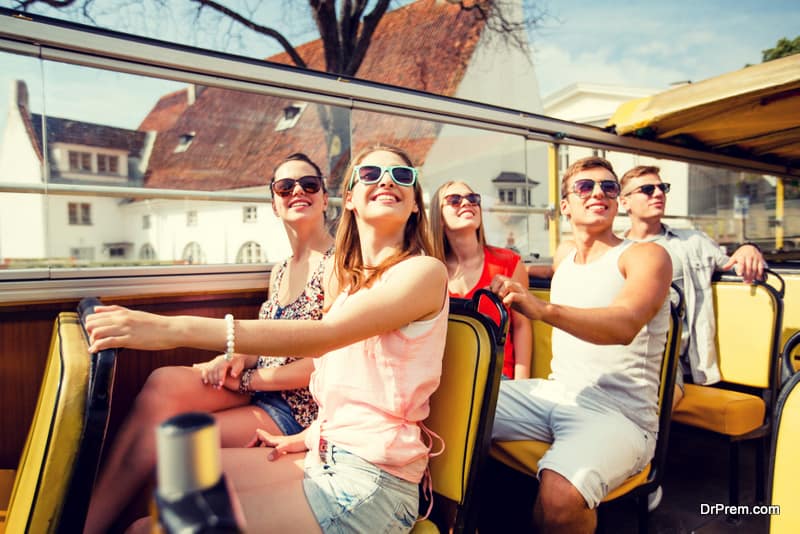 This is suicidal, and this buying itch will soon drain you clean of your resources.You got to work out segments of priority relating to expenses you desire to make and allocate portions of your budget on accommodation, food, transport, shopping and other tit bits. Now you have a clearly defined financial guideline. This is a control device against nonstop expenses.
Always select hotels that have complimentary breakfast on offer. This way you can save up to $15 per head per day. Additionally, on your way outdoors, you may collect an assortment of fruits from your breakfast basket and keep eating them throughout the day. This keeps you filling with your purse intact!
Try to avail early birds discount on airlines tickets by booking your flights well in advance. All you got to do is stick to your departure schedule decided way back, and you stand to save a lot of money which would otherwise have been lost in air fare. The weight of your luggage can fall heavy on your financial plans for travel. You should try to maintain the stipulated airline luggage load to avoid paying high luggage handling fees.
Preparations for Romantic Tourism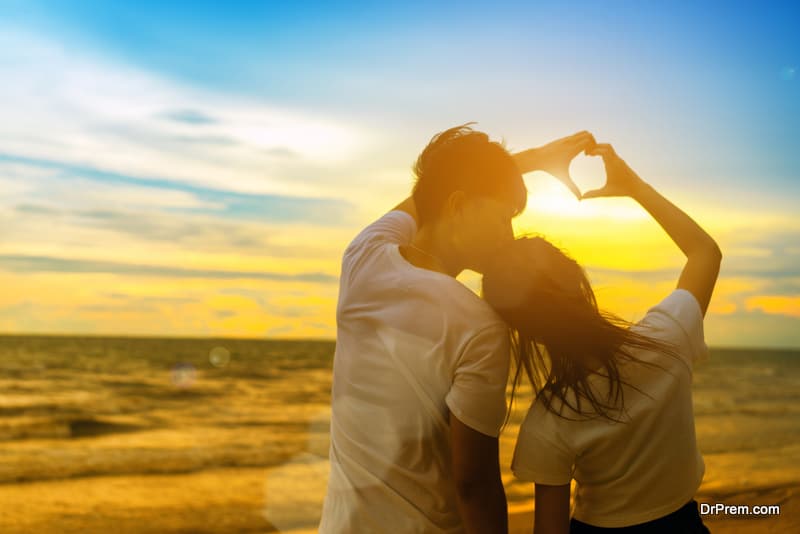 After you have planned your romantic trip, you are left with actions that make you ready for the trip. These preparatory steps are important and without them you feel like having your food served without a plate.
The following is a brief sketch of basic preparations to be taken before going romantic: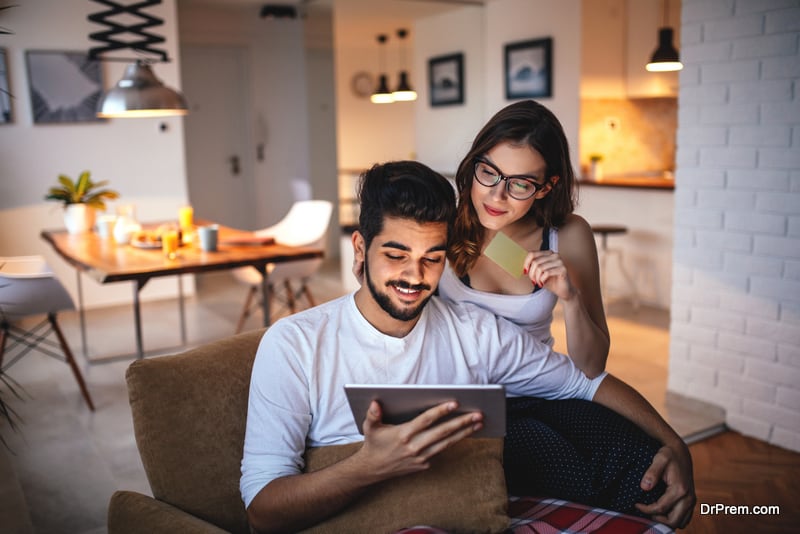 Having decided your destination, explore it in detail with your lover as far as possible. Get your selves acquainted with the place you have planned to visit. Always consult with your better half regarding choice of the destination in case she is having a reservation.
Gather information about the climatic conditions of the destination you are visiting. Select your time to capture your destination in its best weather. Bad weather will defeat the spirit of romance.
Well, if you can't help avoid a wet season, you need to carry your rain jackets and rubber boots. Needless to say if your romantic destination is most likely to welcome you to a freezing cold environment you need to carry your woolens.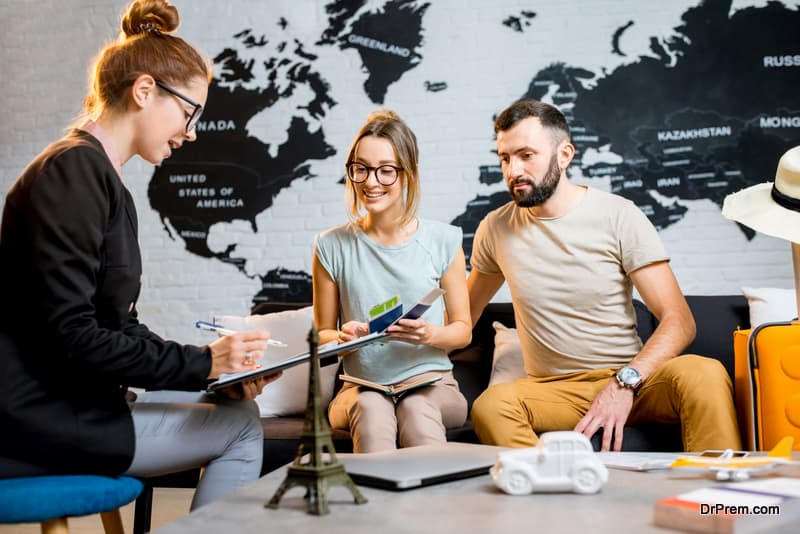 If both of you are not going in a group, select a trustworthy tour operator with a good track record.
If your romantic trip is about organizing a wedding reception in a stunning locale, you need to focus on a huge financial preparation for committing yourself to the expenses as and when they arise.
Health is an important factor and is closely connected with your romantic relationship.  Both of you should be radiating in photos. So be on with your fitness and beauty regime well ahead before the trip.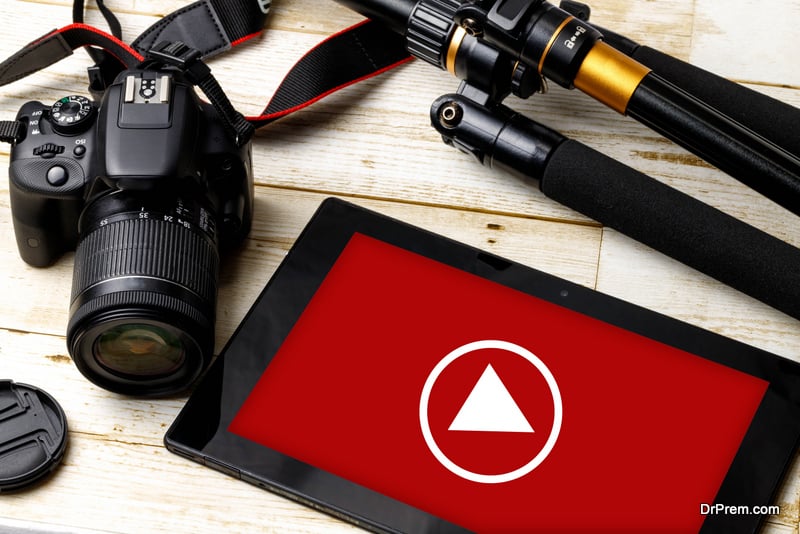 Your photography kit is a priceless tool to capture the romantic moments. Do whatever necessary to get your camera ready with spare lenses and batteries in a top operating condition to catch and preserve blissful moments forever.
For overseas operation of mobiles, get acquainted with the telecom regulations in force in your destination to avoid high roaming charges.
If you have planned to do a lot of shopping with your lover, get updated on the customs rules and regulations guiding indiscriminate purchase. You may have to forego a chunk of your buy at the airport customs.
Carry sufficient stock of medicines to combat common ailments like fever, dehydration, cough, cold and indigestion.
Along with the items of your daily use, carry insect repellants as your romantic destination might have a lot of green cover and wetlands.
When organizing a wedding preparation, it is important you select the right kind of suite from where you can have an unrestricted view of the vista spread out before your eyes. It is likely that the scenery will be great and your guests get enchanted.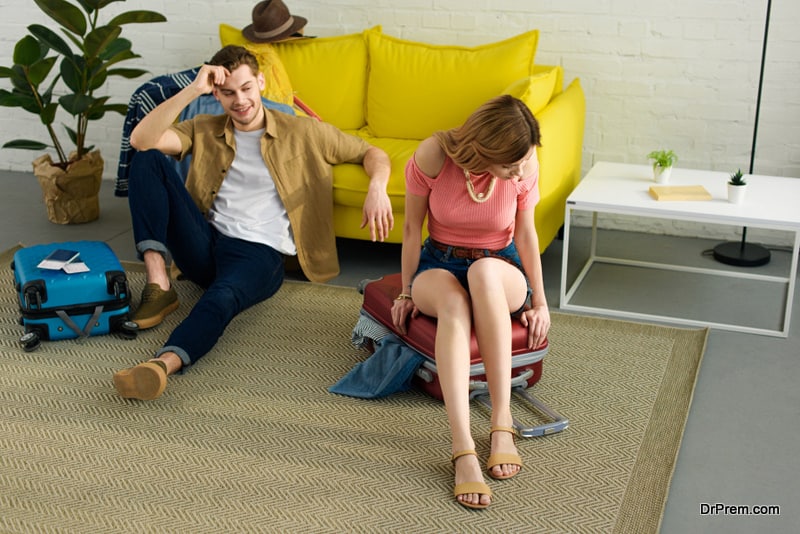 Do not make your luggage too heavy. Pack in items which are absolutely necessary.
If both of you are inclined towards art and your romantic destination is a mix of stunning sceneries and historical monuments, you may carry your paint sets, brush and canvas and let both of your creative side come out till your dreams are realized.
If you have planned to set your romantic holiday amid mountains and hilly terrain carry your hiking boots.
You may procure a belt with a case for stacking money and other important documents under your clothing as a protection against burglary.
Get acquainted with at least a few local words of courteousness for which you need a word translating lexicon.
Get acquainted with the system of tips in restaurants. In some countries it may be a custom to pay tips whereas in some countries it is seen as a gesture of affront!
No doubt a good preparation ends your romantic trip with total gratification.
Travel and tourism arrangements in Romantic Tourism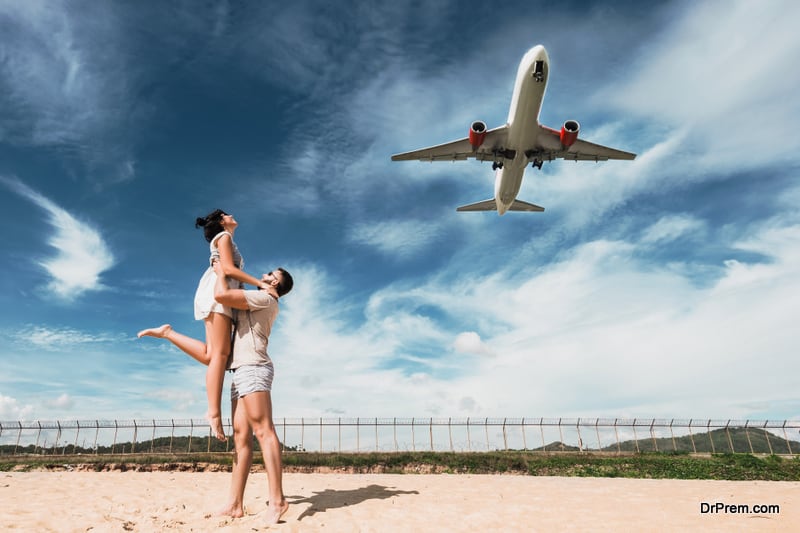 Making a solitary venture on your own is becoming a declining trend even in the case of romantic tourism. More and more lovers have become dependent on tour operators and travel agents who make romantic tourism customized. They deliver personalized service and shoulder the responsibilities of attending all issue starting from administrative, legal tit bits including organizing your entire itinerary in a proficient manner.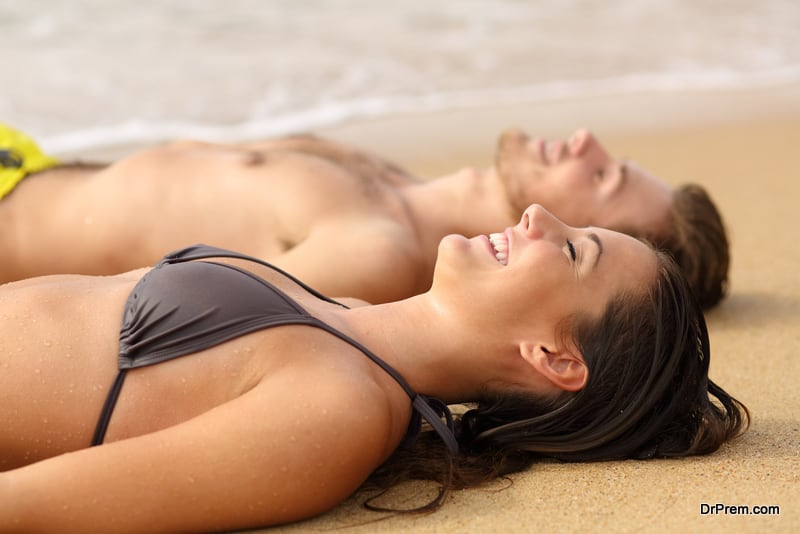 If you have to organize your romantic trip all by yourself you may find little time to do justice to the romantic part of the story, and hence decide on the option of coming under the umbrella of a reliable travel agent in exchange for a fee.
Travel agents and tour operators have set up a wide network of units and subunits spread across the globe. They have put in a lot of innovations in the idea of romantic tourism and have employed vigorous marketing tools to make their presence felt.
Competition between the travel agents has been very stiff, and struggle for existence have led to a major improvement in the quality of services rendered. In fact, the travel agents have stepped into the shoes of a romantic tourist to envisage their possible desires and likely issues they usually confront and devising means to fulfill the desires stamping out the problems.
To exist in this hard competitive market, the travel agents need to keep abreast of the hottest developments in the field of romantic tourism and know these destinations like the back of their hands.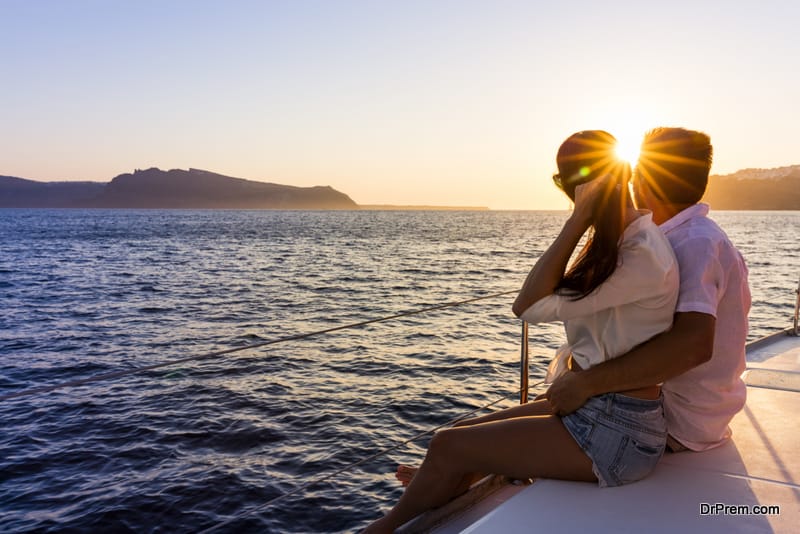 Tour operators focus on specific attractive romantic destinations that would pull the love birds just like honey filled beehives draw the swarm of bees. Travel agents operating in the field of romantic tourism rest on sound and structured platform and they are highly capable. Their services cover an extensive gamut touching accommodation and flight booking looking into your visa and passport regulations.
Management of travel insurance plans and handling foreign currency issues is done with proficiency to suit the romantic tourist's requirements. They would also take care of your on- trip breakfast, lunch and dinner making your logistics arrangements taking care of all your needs. They usually do not deviate from the preset programs. Their schedules seldom change unless the situations demand.
Dream destinations like Paris, Rome, Venice and Giza where the romantic appeal is overwhelming, the service and planning of these travel agents are perhaps the best. In these fabled locales, the air literally rings with passion emanating from its rich historical past. There is an alluring rebate of nearly 750 to 850 Euros from travel agents in case you have your sweet heart beside you.
There exist choicest schemes on romantic tourism designed by them with a lot of vision. These exclusive programs are enchanting and are a major hit especially with newlywed couples.The enquiry desks are active and quite smartly respond to your issues about a specific romantic destination.
These agents usually have very informative websites as an effective advertising ploy. Online brochures are readily available upon a mouse click, which provides the customers with the much sought-after information about the high voltage romantic sites which are never to be missed.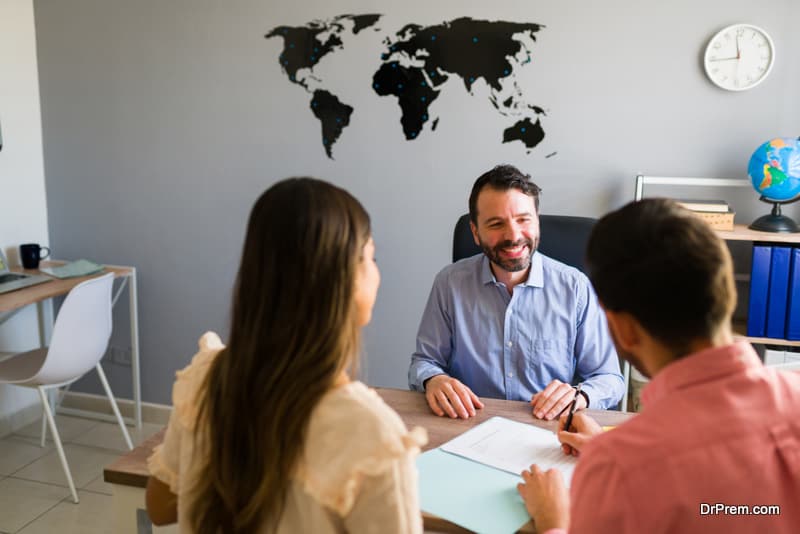 The broad range of services they cover are conveyed to the customers. They run their organization with a mission to improve the relationship between the lovers, giving a wonderful exposure to the hottest romantic destinations around. These agents specializing in romantic tourism have been striving very much to secure a permanent slot in the tourism industry.
They give the customer total feedback on romantic tour destination before the customer has actually booked one. This information prior to the trip forms the valuable backbone for the customer while making decision on a romantic trip.
Good travel agents understand the worth of your resources and sometimes come forward helping you out with your romantic tour budget, but all the tour operators do not merit appreciation. There are few black sheep in the charade of an efficient trip organizer who are just after collecting customer's fees.
To them, delivery of efficient and reliable service with speed and dedication on an honest business policy is secondary. However, these types of deceitful travel organizations do not survive long. But before that there are those gullible travelers who are destined to suffer before realizing they had been invited to a tourist trap. So, just a word of caution: the credentials of a tour operator should satisfy you one hundred percent before you decide to book your entire romantic holiday through him.
There are even travel agents that pick you up from home, get you and your lover through an exciting romantic tourism itinerary, ensure that you receive full gratification from their service and eventually drop you back home.
Best practices in Romantic Tourism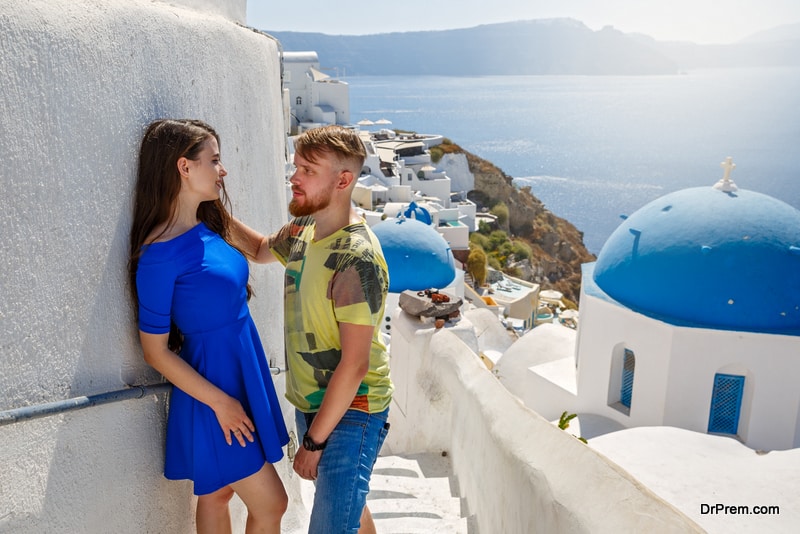 Best practices in romantic tourism focuses on bringing in more and more unexplored and yet exquisite destinations to the notice of couples and lovers who desperately seek a tranquil break amid some privacy shared intimately in each other's company. When discussing privacy, it should not be misconstrued as visiting an amazing and yet a desolate locale where you have no one to attend your needs.
Emphasis on the safety aspect
The emphasis should be put on the safety aspect. The level of security of the place you visit with your sweet heart in search of romantic vibes should keep you immune from external threats. The local administration and the ministry of tourism should ensure implementation of proper security.
Stay away from obscenity
The lovers should not be permitted to violate norms to the extent of touching obscenity either. Laws should be stringent enough to take care of this area as well. Respecting the local culture, observing the norms of local etiquettes, buying local products and eventually leaving the destination of your visit clean would certainly amount to the best practices of romantic tourism that would ensure the long-term sustenance of the locale.
Summing up post-trip experience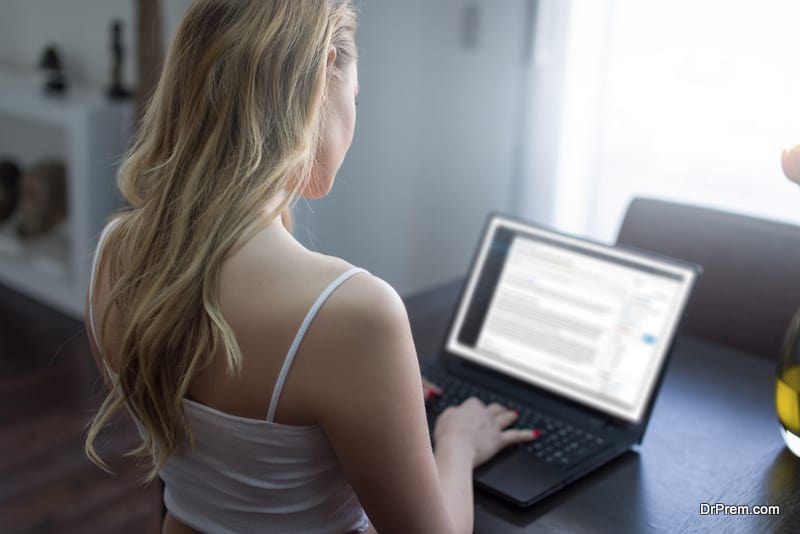 One should not stop at completing the romantic holiday. Experiences of the trip should be put on blogs for the world to see in networking sites. Both wonderful features and negative aspects of the romantic trip should be highlighted.
The brighter side of your experience would inspire more and more love birds forming a massive influx into the locale with enough precautionary measures put on guard against predictable hassles that might come up and spoil the fun.
Encouragement infused into prospective customers from your love trip travelogue would do tons of good to the tourism industry leading to its long-term survival, which indeed would be a prudent practice showering a rain of blessings on the future of romantic vacations.
Respect your partner's choices and decisions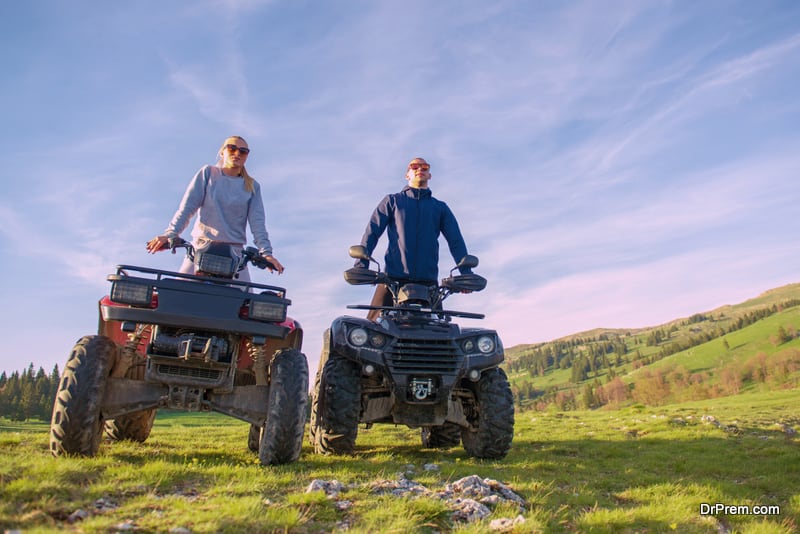 Now, it is important that lovers should give a little thought on areas internal between them which may throw up fits of fury and bitterness resulting from opinion or decision or choice disputes on trip creating a rift. It is quite natural you insist on beef steaks, and your lover might opt for a fish a la carte.
You prefer martini, and your fiancé is obsessed with Russian vodka. You like to go mountain skiing, and your better half insist on rope way cabin rides. Difference in preferences is just a part of your trip, and there is no point throwing tantrums over it.
You should respect each other's views and give an opportunity to each other see that their wishes are achieved on an alternate basis. This is a sensitive area to be handled with care or else the internal conflict will mar the spirit of romantic tour no matter how enchanting the beauty of the external locale might be.
Select the right tour guide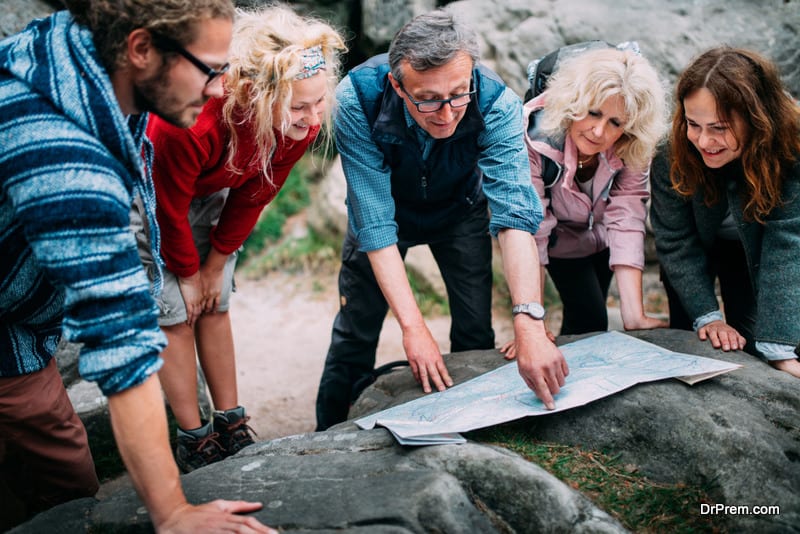 In romantic tourism, 'two is company and three is crowd' concept doesn't really work as the third can always be of help at times when you really need it and could be an eye opener as you cruise your way through a wonderful tour spot.
Presence of a tour guide is advocated as his professional expertise can turn a bland romantic trip into meaningful and exciting sojourn. Engaging a resourceful tour guide after a meticulous selection based on credentials would certainly amount to a good practice in romantic tourism. There is a mutual flow of benefits, you get his service and the guide gets his fee.
Capture your experiences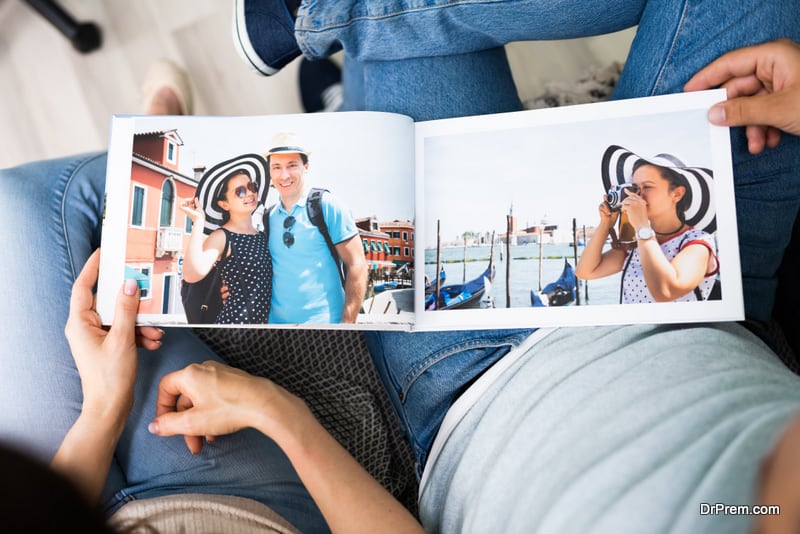 It is always a great practice in romantic tourism to document all that you have done and all those blissful hours spent with your lover. Photography is definitely an answer and is a brilliant trip documenting tool. Flip through your photo album ages after the trip is done, and both of you feel elated.
There are numerous ways and brilliant avenues of making your romantic trip memorable giving it a permanent shelter in your personal archives. One way is using your movie camera, capture the audio-visual fragments and upload it as snippets in the youtube. You get tons of pleasure rewinding into a trip done packed with full blown fun and romance!
Research your destination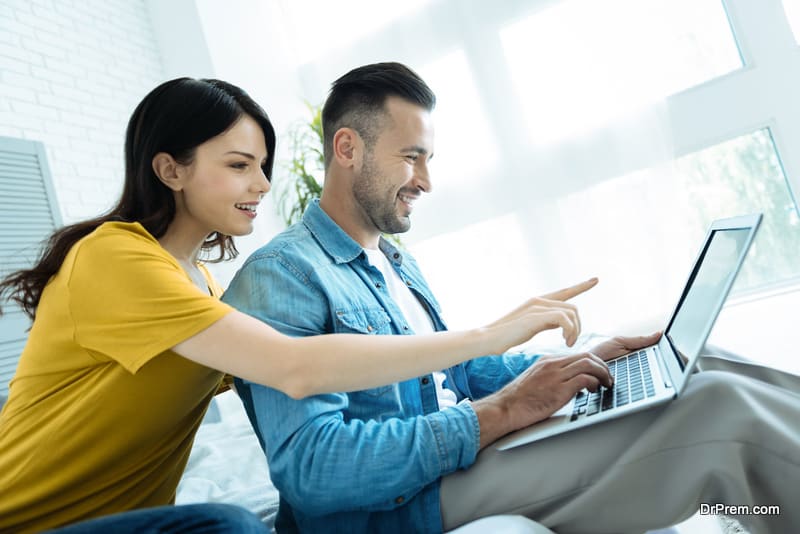 One of the best practices of romantic tourism is to have a survey of the level of exposure a romantic destination is having among promising clientele. The more a destination captures the fancy of a fun loving romantic pair more is the likely visit. Numbers are important and are a straight indicator of the size of the sample customer to whom the destination reaches out endowed with all its magic and attractions.
The method of gathering information about a romantic holiday destination have shifted over the years from depending upon travel agents to the online media hype with more and more customers hitting websites designed to make a destination popular among couples highlighting its special features.
Effective destination marketing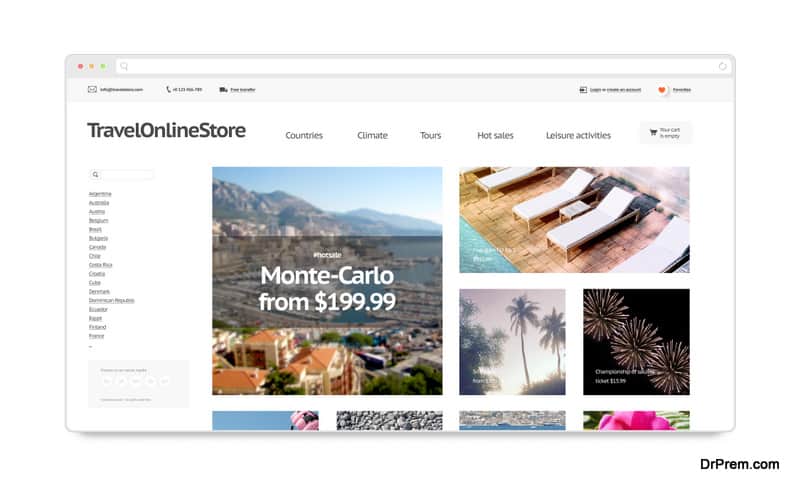 The effectiveness of a destination website supported by the latest online technologies and the detailed analysis of the same is one good practice of romantic tourism. The tourism industry's standpoint about customers browsing the net for romantic destination survey is to be given a serious consideration. The efficiency of the websites needs to be analyzed for detecting strengths and flaws and how effective they are in pulling romantic tourists.
Breathtaking locations, which could inspire romantic feelings often, go unnoticed as their existence is not campaigned to potential consumers. Either a very rudimentary and skeleton website is to be blamed or it might be the utter callousness and indifferent attitude of a defunct ministry of tourism that exists only in name. Here, the best practices of romantic tourism would mean a lot of marketing efforts and websites of promising romantic destinations to be redesigned to make them browse worthy.
Precaution and prevention tips in Romantic Tourism
Romantic tourism without prevention and precautionary tips is like going snorkeling without the oxygen tank. There is a difference between going abroad with friends and going on a romantic trip. It is quite natural the blissful picture of you enjoying a vacation with your partner would invite jealous intruders with diabolic intents.
It is normal that both of you smell threat from the gestures of your green-eyed neighbor, but what you suspect might well be the tip of the iceberg as your suspect might have devised harmful schemes, which you may not even imagined.
So, it is prudent to follow precautionary measures that last bit of your trip doesn't taste bitter after riding high on a pleasant mood in the company of your partner.
The following guidelines may help: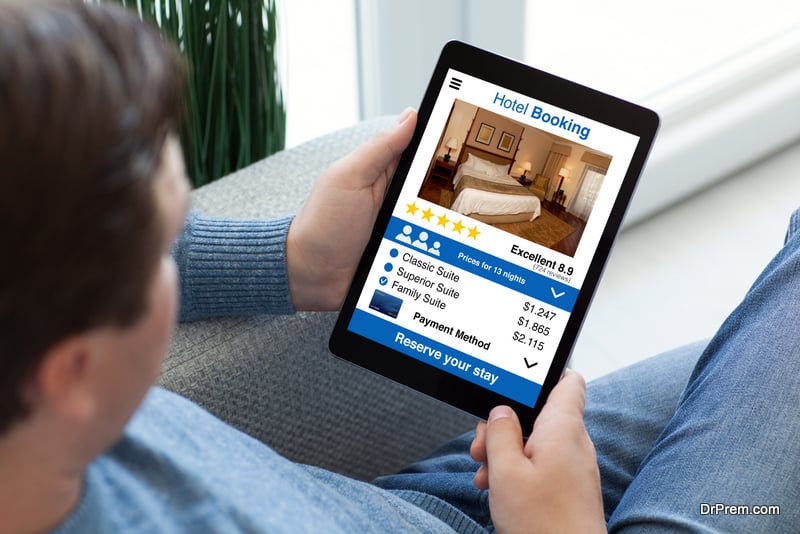 While booking your accommodation ensure that it isn't located in a desolate corner. It should not either be in places having a crime prone atmosphere with local wine shops and slums mushrooming around.
Always keep your hotel and local tour operator's contact numbers handy in case you are in danger, you can send your distress calls. Having the contact number of the local police station is very important for the same reason.
You should try to get a local map of your neighborhood from the tourism bureau and carry it while travelling. It roughly indicates your position at any point of time from your hotel and from the airport as well.
Important documents like air tickets, hotel receipts, travel agent's receipts and passports should be handled with care, and carry extra copies of these documents as they may help in case you lose the original.
If you are carrying expensive belongings such as jewelry, it is wise to secure them in a hotel safe while you both are out enjoying your trip.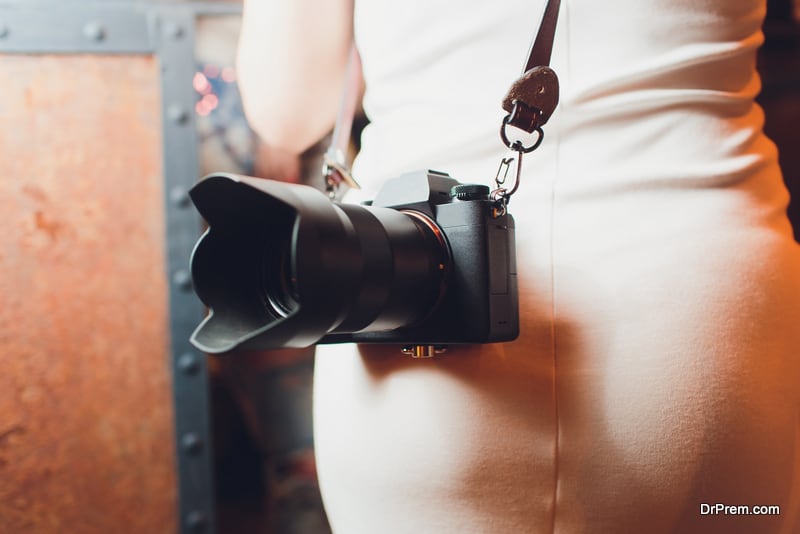 In case of expensive equipment like camera which you need to take out on trip handle it with extra alertness against theft. Take a stock of photo lenses and keep them enclosed in shock absorbing buffers against any chance of damage or scratch that might ensue from your movement.
Be careful when operating ATM booths. You must be conversant with its use and never seek help from a stranger if ATM throws an issue. In case of lost ATM or credit cards, passports etc unhesitatingly report to the nearest police station without further delay.
Avoid night time romantic stroll with your partner along the abandoned alleys and backstreets.
It is always wise to lock your expensive possessions away in the boot of your car and avoid leaving them exposed on car seats.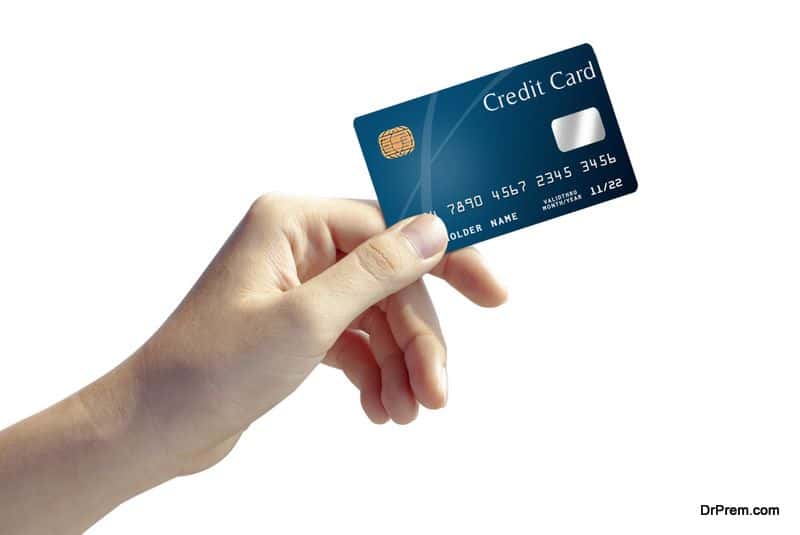 It is not at all safe to carry too much of liquid cash. Depend upon Bank debit and credit cards instead.  Be conversant with the local bank charges that would apply operating bank account abroad. This would certainly find a place in your tour budget.
When selecting guides, verify his credentials, and it is always advisable to hire one through an agency of repute.
It is important that you use packaged water for drinking purpose as contaminated drinking water may invite health disorders spoiling your trip.
Your stock of medicine would help you combat common ailments in case you are down with one on your trip, and this is a vital precautionary step.
In certain countries, vaccination is mandatory else visa is not issued. It is important to get a dose of required vaccine as a safety measure.
In case of landmarks of strategic importance like military bases and other important installations, photography is strictly prohibited. Rules should be abided by to avoid prosecution.
Travelling along with your lover on public bus or intercity trains may be less comfortable, but at times it may be safer than a cab ride.
Dos and don'ts in Romantic Tourism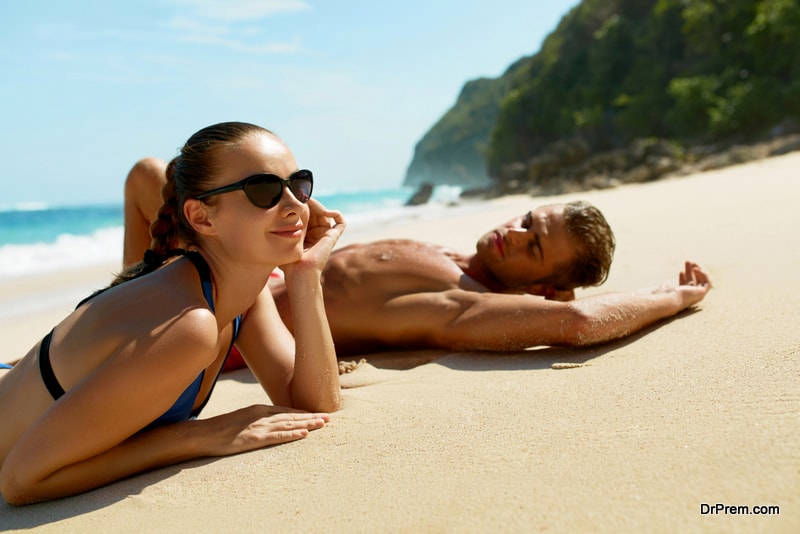 Certain dos and don'ts should stand as a guideline so as to make the trip for both of you a pleasant experience and not a harrowing ordeal. The following are a brief outline of certain things you should do and from which you should stay away.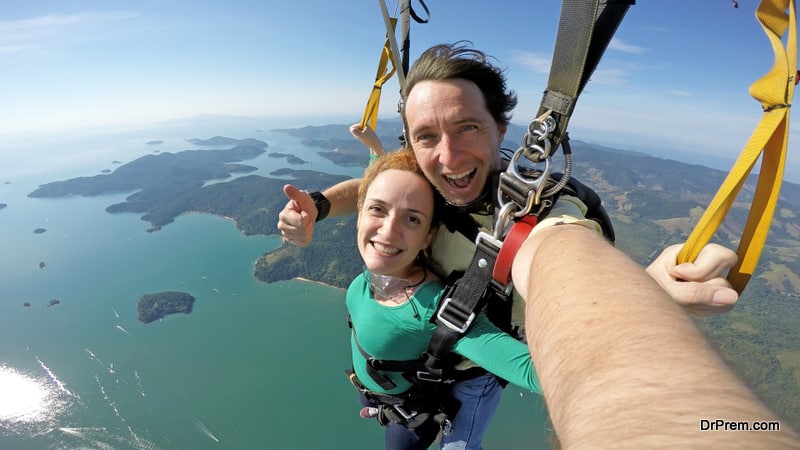 In romantic tourism, make sure you are not inflamed too much with passion to the point of obscenity, which the locals may resent.
The essence of romantic tourism is tranquility and solitude. The lovers like to stay far from the crowd. A serene and disturbance free environment is all what they look for. Too much of desolation is bad. For obvious reasons, there should people around when both of you really need help in distress.
The lovers should not wander around late night in empty streets and alleys.
The address of the hotel and its reception contacts should be kept at hand as is the contact detail of the local police station.
Love birds are advised not to put on a lot of expensive jewelry and other valuables on open display nor are they advised to go daringly care free.
Lovers are expected to show respect to the local beliefs, culture and customs. Blind by a fit of passion, an alien ritual or dress should not be ridiculed no matter how funny they may appear.
Over a drink or coffee, never discuss your itinerary in detail with strangers. Neither should you disclose your identity and other details to them.
Keep your valuable documents like passport, air tickets, bank cards etc under proper care. Keep photocopies of the essential documents.
It is always good to buy your sweetheart something very representative of the destination visited like a Swiss watch when you both are romancing out in Swiss Alps. Artifacts, gifts and mementos recall back the sweet moments spent together.
Never go extremely daring to prove a point to your partner. Dangerous sports like bungee jumping and sky diving are not recommended without an expert guide or if you are not comfortable at those sports. Keep your talents in reserve. Let not the fire of unleashed passion burns it. Remember you need to go for more romantic trips in the future it is wise to keep your romantic passion under control.
Clicking shots is a must do thing in romantic tourism. Strike your favorite poses together and let the lens capture the images. This will keep your passion sustained in the future whenever both of you take a glance.
Browsing local handicrafts and other works of art is a source of joy for both. But the price tag is often inflated. You can test your bargaining skills. Search for authentic craftsmanship or else you will land up buying trash. The search itself exposes you to joyful moments. It will be a mood refreshing endeavor.
Binging on local homemade chocolates is a great fun in Romantic tourism. This would elevate your passion. The authentic taste is retained. However, the hygiene of the place of manufacture is a factor to reckon.
If both of you are art inclined and you happen to be in Italy, don't forget to load your luggage with paint sets and gorgeously done oil canvases that the art vendors put on sale in Piazzas and along sidewalks.
Love destinations like Venice and Milan are crammed with master pickpockets. They have perfected this art taking it to amazing heights of expertise. Let not the height of romance put you off your feet. Keep an alert eye on your luggage else you may have to repent.
Certain tourist traps like overpriced restaurants serving ordinary food are to be avoided. The vibes inside these eateries are quite dreamy. Soft light and soft music keep you company. How unromantic would be the consequence when the waiter walks in with an enormous dinner bill!
In romantic tourism, cab rides are cozier than bus rides. The opportunity to get romantic is more due to the privacy of the rides. But cab parking is often very expensive and needs to be given a thought. Venice is a bright example. Leave your cab on the main road to save an enormous parking fee. Take a public transport to the Venetian lagoon and then onto the water buses.
When touring Paris with your lover you got to be wary selecting your menu for food and drink. A little tip on avoiding drainage on your purse is not to go for A la carte choice. Go for fixed priced menus for they will be economical as well as filling with great aroma and taste.
Things to do post Romantic Tourism
Just after you have done a passionate trip to an amazing destination with your paramour by your side you feel the gates to an exciting chapter in life opening up. The romantic exposure that both of you have acquired would drive you onward in the quest of more wonderful trips of the sort that will bring both of you even more close.
Create interesting Youtube Vlogs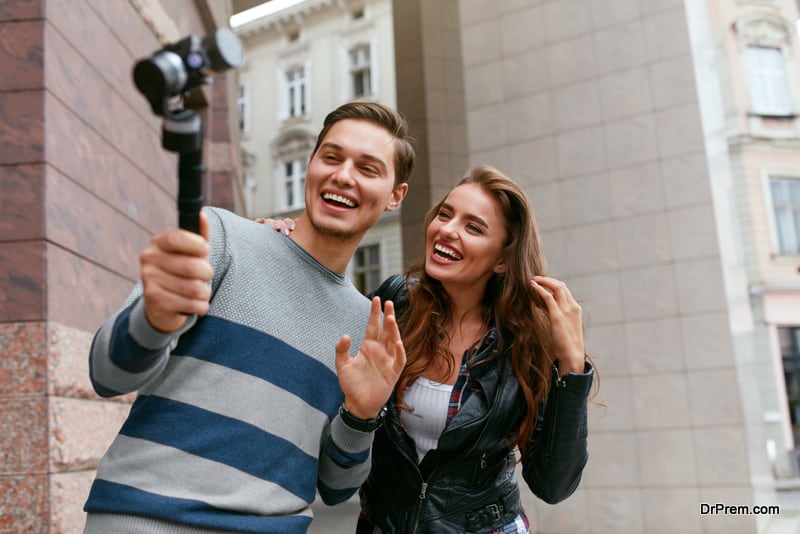 You can put all those amazing snippets on Youtube for drawing in further romance and passionate feeling as you view those lovely moments pass by. You can share these wonderful experiences with your relatives, friends and acquaintances and still there would be some private and intimate captures reserved specially for 'your eyes only' to draw the fun and color.
Be the unofficial guide
A romantic trip done widens your horizon. You turn more experienced and wiser. The hurdles of your current trip make you wary and you become more prepared to counter hassles. Unforeseen issues are handled with deft as the learning process sets in.
After the romantic venture done, you both now very well know the favorite cafes and bars where to spend a romantic evening together or the splendid garden by a lake where both of you can find the tranquility you were looking for to spend fervent moments.
Perhaps the particular cocktail that put both of you off your heels making you hell bent on making a repeat visit to the identified bar for the sake of the punch that just left both of you flat with mirth.
Post romantic tourism, you can practically become an unofficial guide to your future romantic trips and also to your friends and relatives willing to make a trip inspired by you. Your first trip has made you aware of the best hotels and apartments to book, the most cozyand hassle free mode of transportation to select, the most lip smacking cuisines to sample and the right eateries to order them.
Plan a better Romantic Tourism itinerary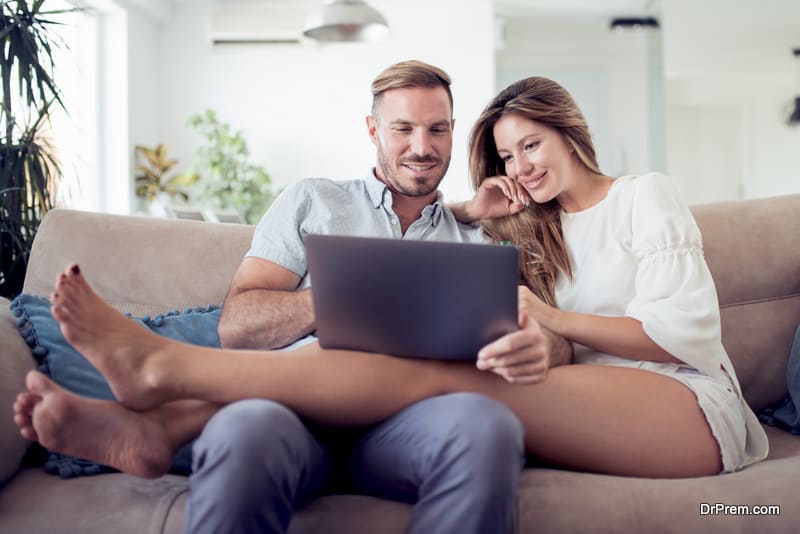 Post romantic tourism, the volume of your homework mounts and you got to do a bit of planning exercise for your future romantic trip armed with all the inputs and information that you collected from your just done tour. Photographs taken during your romantic tour and your tour blogs put online could keep both of you engrossed hanging on to the sweet memories counting moments for your next trip in pipeline.
Your internet blog would encourage the world to visit places you have described so wonderfully, the places thick with a passionate fragrance of romance. This media propagation would do tons of good to the tourism industry in general.
Recollect happy moments
Taking a movie camera to your romantic destination would work wonders. Running images and shots in motion would capture the happy moments shared between lovers. At your leisure, you both may sit cuddled in a sofa and rewind your camera to bring back flashes of fun moments captured.
This would be a very significant past time spent between lovers consolidating the bond of passion and romance sustaining a blissful relationship for many years to come. Preserving what all both of you have done while on tour, to recast a replay in the future would be a very worthwhile post tourism activity. With all what you both have learned in culinary tutorials on your romantic tour, you can fascinate your guests on the table.
Promote Romantic Tourism with personal travelogues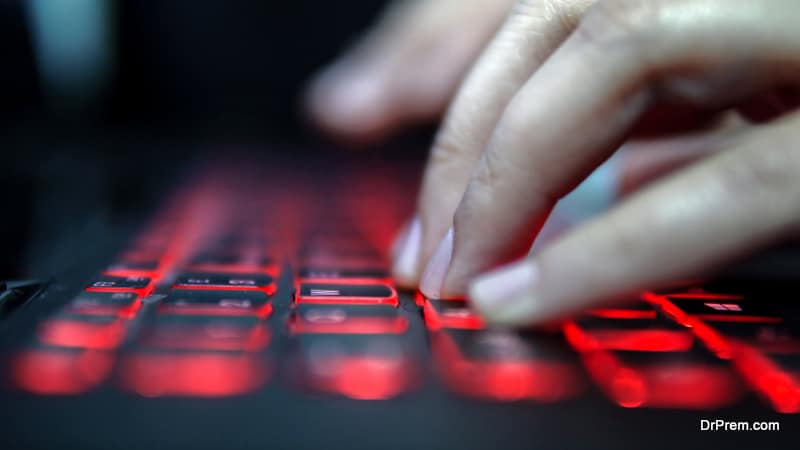 Post romantic tourism you also have certain responsibilities to deliver as you had the right to take in the pleasure for every dollar spent. If you both have really liked a destination, don't just stop at completing your trip.
Go ahead and do a little marketing exercise to let the world know about its romantic charm. Personal blogs, travelogues and descriptive essays can well put this place under limelight. By doing this you are in fact contributing to the economic benefit of the destination.
Your romantic activities post tourism is as important as all that you do on a trip charged with romance. It is your actions after the trip done keep the pulse of romantic tourism ticking with sustenance and the interest of prospective customers kept alive! Post romantic tourism, you have the opportunity of setting the ball of tourism rolling with a secured future cut out for the industry to survive stiff competition.
Create a Romantic Tourism group
After you have completed your romantic tourism, you may organize groups of couples and convince them about the charm of the destination visited. When you move in groups on your next trip, you have an added shield of security, which you may have missed venturing alone with your lover.
You all will be at vantage points as you will be able to handle issues better when acting in combination than you do while giving a solitary effort. Besides lot of expenses are shared among your fellow romantic couples and this is a significant factor turning in the tourists favor.
Countries promoting Romantic Tourism
With the prospect of romantic tourism gaining momentum and with the bucketful of dough pouring in from the consumers end, nations have put in a serious effort to market their potential inspiring romantic tourism. Multiple factors and an assortment of features can inspire romantic tourism.
It may be the culinary magic, the availability of some terrific wine and cheese combination, cultural surprises and artwork marvels, panoramic landscapes and breath-taking sea beaches, gothic architecture or the serenity of a lush green valley.
With the right mix of innovation, effort and investment the countries have felt they practically harvest money from romantic tourism with a little promotional effort. And these nations are exactly bent upon doing the same. Let us take a sojourn over some of the fascinating places of the world, marketing romantic tourism:
Greece
Greece is an unsurpassed archetypal destination for couples seeking hot and passionate romance. All the major cities of Greece have built up a brilliant infrastructure. Stylish luxury hotels, cozy apartments and a range of sumptuous refuge will inculcate a romantic atmosphere.
The ministry of tourism together with the support from building tycoons and landscape artists has made this incredible feat happen. The promotional effort is commendable and the results are astounding with a large number of couples visiting this Gothic paradise in quest of romance and amazing fables centering the theme of love.
The government has done much to restore the traditional monasteries and historic building. These legendary structures are absolute hits with romantic couples. A lot of modernization has been assembled in as well and the busy streets of Avero and Aneksartisias will hold the lovers spellbound with their hi- tech urban gimmicks and architecture.
The tourism promotion bureau has also made a laudable endeavor to preserve Grecian folk art, Byzantine and Vrellis Greek history wax museums and archeological exhibits putting the lovers under a spell of extreme enchantment. The country boasts of authentic Mediterranean cuisine and remarkable brands of wine to get the lovers stranded over fine dining with fervent hours spent on eating, drinking and putting honey coated words in each other's ears.
Italy
Italy and romance are inseparable, and the Italians are well aware of it. And they have put in their heart and soul to launch a massive marketing strategy to encourage lovers from all corners of the globe to select Italy as their romantic destination and literally believe that this place is the ultimate shelter so far love and romance are concerned.
Landscapes of incomparable beauty, the Alpine magic, astounding modernization and relics of rich history frozen in time have already set the background. The ministry of tourism and cultural affairs has given this promising background a glossy finish. Promotional efforts are unparalleled. Italy has done a great job promoting itself as the ideal wedding destination winning the hearts of tourists in a big way!
Statistical record stands an amazing testimony to celebration of over 6000 weddings in 2012 alone, and is sure a unique experience getting wedded in an alien location surrounded by an exotic environment with a different appeal. Italy has done its best to organize these romantic events in the most splendid fashion with state-of-the-art infrastructure and facilities delivered with precision, glamour and professional expertise.
Experienced Italian wedding planners give their guests priceless advice on making the events cut a lasting memory in one hand and handling administrative and legal issues on the other. Italy has also taken a step forward offering alluring rebates in romantic tourist packages to lure more and more couples, and offer them opportunities to spend an exciting vacation at a reduced price.
Other commercial benefits linked to tourism in general is the outright refund of value added tax paid at malls and supermarkets on purchases over a stipulate price range and on production of proper documents to vouch for the price paid.
Egypt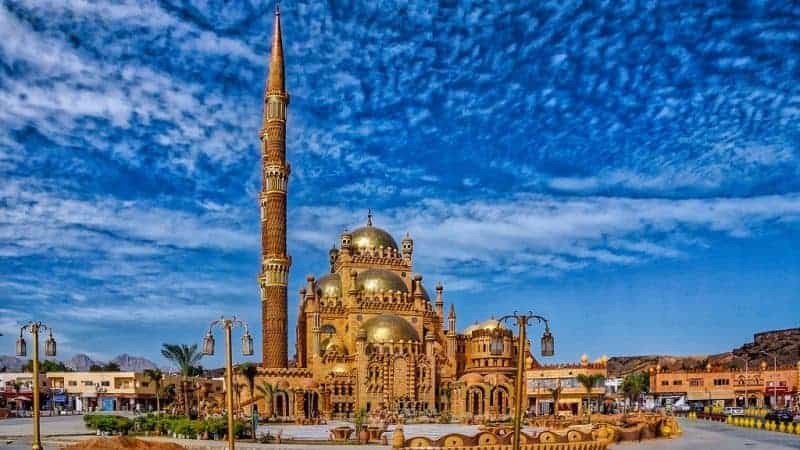 Image Source : photo.drprem.com/Egypt
The land of the Pharaohs has always fascinated the lovers with its rich cultural heritage, legendary architecture and unique offbeat religious practices and beliefs shrouded in enigma. The ministry of tourism and culture has upgraded the image of Egypt as a prime destination for lovers and married couples.
Egypt, in fact, is a museum in itself with the legendary pyramids, the sphinx, the mummified human beings and animals and mostly the exclusive cults and beliefs have a touch of weird mystery. The government has made serious efforts to preserve this ancient and rich Egyptian culture and make it an ultimate destination for romantic pairs.
For promoting romantic tourism, fabulous hotels and resorts have come up on the sparkling shores of the Red Sea and along the bank of river Nile that would captivate romantic couples. A romantic cruise along river Nile just at sundown would be a divine break and the cruise is well organized and equipped to give the lovers an excellent ride.
The Isles of Hawaii
This is an enchanting romantic tour destination. This place is magical and exhilarating. Much effort has been initiated by Hawaii tourism Bureau to bring this heaven under focus. There are experienced travel professionals who have set up online websites to provide the tourists with the latest information on Hawaii's huge potential as a romantic tour destination.
Amazing seafood and fruits are in abundance that would keep both of you bubbling with vigor, and good eateries are available taking local culinary skills to divine heights. Much hype has been launched by the tourist promotion board to bring to focus this island paradise endowed with pristine beaches, flower coated healthy spa baths, and breath-taking scenery that ignites the flame of romance among lovers.
Japan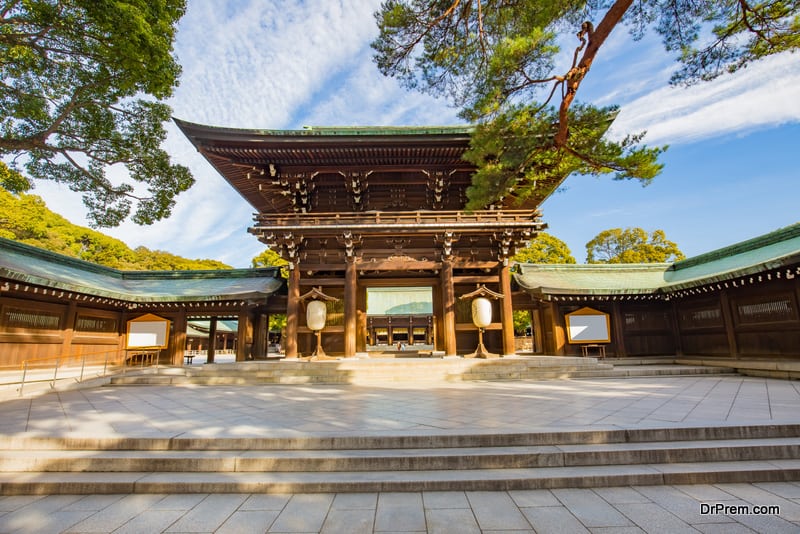 This awesomely beautiful island nation is a hot spot for lovers. The breathtaking gardens, the picturesque mix of rocks, springs, lakes and vegetation inspire a romantic mood. The pillar of strength of the Japanese is their traditional hospitality.
Despite the ravages of Tsunami, quakes and the nuclear debacle a couple of years back Japan has sprung back organizing a massive promotional exercise encouraging romantic couples to include a slice of Japan in their itinerary.
India
India's effort to promote romantic tourism is commendable with a strong focus on romantic attractions offered by the states of Goa, Rajasthan and Kerala. The tourism department of Goa has been striving with dedication and innovation combined for aggressive promotion of its potentiality so far as romantic tourism is concerned.
The state earned the award of being the 'best honeymoon and romantic tourism destination' declared by International Tourism Conclave and travel awards in October 2013. In fact, Goa's unique romantic tourism events like beach weddings and music carnivals organized with style and splendor has made Goa a hot spot for romantic tourism.
Rajasthan's tourism department has also made rapid strides in showcasing its romantic tourism attractions to the world. The majestic palaces of the Maharajas have been turned into star resorts and hotels and the infrastructural facilities elevated to new tempting heights for the romantic couples to pour in large numbers.
The fancy and expensive ride on Shahi Express (Palace on wheels) from Delhi to Jaipur is a dream ride on train enriched with class and luxury. The Kerala government has also been doing a lot of marketing exercises successfully to make the state a honeymooner's paradise.
Known as the 'Gods own country,' the ministry has made backwater tourism as attractive as possible for the romantic couples to relish their stay in the amazing house boats. The breathtaking beaches washed by the Arabian Sea have an international ambiance and sure are romantic tourists' dream destination.
Romantic destinations to visit with your loved one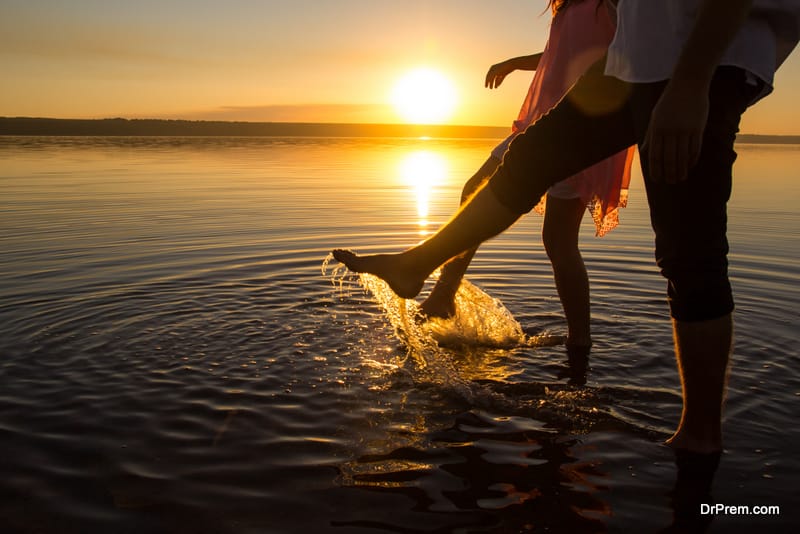 What could be a better way to have your trip than with your loved one visiting the sexiest travel spots around the world? The guide helps you with the most romantic honeymoon destinations including some overhyped ones so that you can make a wise judgment.
You get to visit the places you have only seen in your dreams whether it is a white sand beach or a nightlife hotspot city. Drawing a heady cocktail from a single glass, the lovers watch the sun setting slowly down beyond the horizon in a red and violet riot against the ocean backdrop picturing a romantic trip. Whether you look for yachting on high seas, hiking along rugged terrain or underwater snorkeling there is no dearth of romantic spots. Romantic destinations have that zing, which creates a lasting impression and rekindle your love life. Let us have a look at some great romantic destinations in different parts of the world.
Ischia beach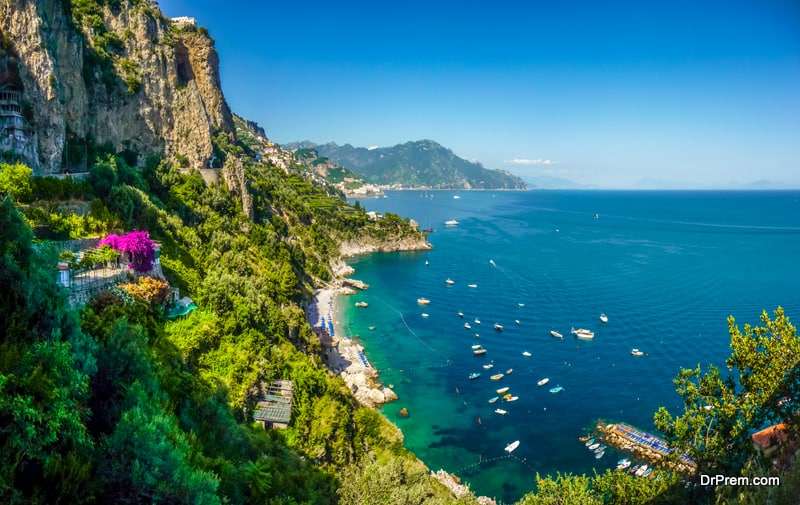 Want a romantic holiday on an island in Italy? Not a problem – Ischia is the perfect place for you. Just about 20 miles from Naples, Ischia is a beautiful island with resorts offering all you can ever wish from your vacation. You can enjoy quality spa treatments and lie peacefully in the natural warm springs or you can also rent a boat for your stay and set sail the sea. Romantic day on a boat over the waves is one of the best options for your stay in Ischia.
Mykonos beach
What about Mykonos, this is the place in the Mediterranean to be for a whole lot of partying and some quality passion time. Paradise beach is one of the best hotspots in the city where the party almost never sleeps. If you get tired of the sand, go and have a blast in any of the many nightclubs and "try to make it to your hotel room for breakfast".
Slopes of Aspen in Colorado, USA:
This place is a lover's delight and a great skiing locale. The landscape is dramatic, and the terrain ideal for adventurous treks. Cottages are cozy, and at the end of a busy and yet a romantic day you find a pulsating nightlife awaiting you. The mountains are gorgeous, and the air that you breathe in is rejuvenating and acts as a magic potion adding fuel to the flame of your romantic passion. Maroon Bells which is at a distance of around 35 kilometers down south of Aspen holds a beautiful lake and rolling alpine pastures. There is a ranch located reflecting romantic western vibes called T Lazy 7 Ranch with guides for horse rides and nature camps. You may huddle up within the peaceful confines of your cozy cottage, opt for a dreamy sleigh ride or cuddle up together in a horse drawn carriage down the amazing terrain. You may well choose to spend romantic evenings in countless western style pubs scattered all over the place just staring at each other's eyes draining the warmth.
Rio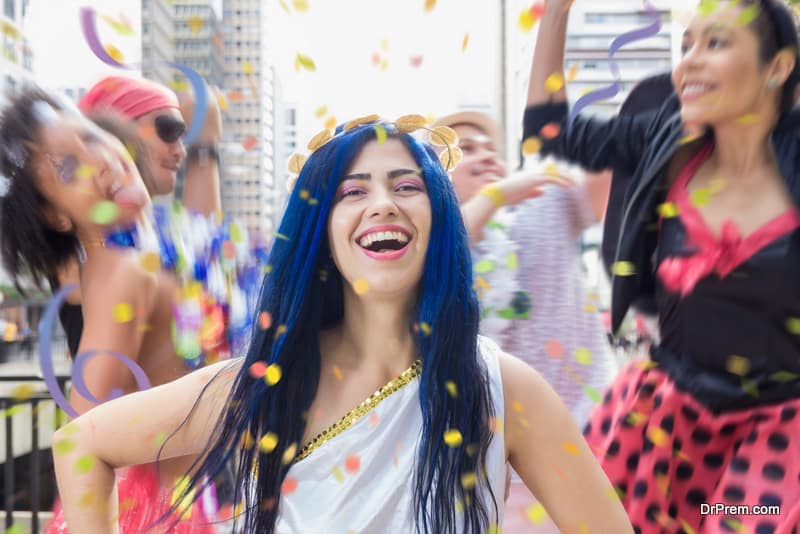 Want to party with one of the most gorgeous people in the world – then go to Rio, especially during the Carnival. Your whole trip will be filled with partying, dancing and exotic beaches with beautiful people. Let loose and dance, there is free flowing beer all around (at the Carnival). Apart from all the partying and beaches, you can always decide to do some sightseeing – after all the landscape is breathtaking and the energy is vibrant. There is nothing else to say except – Welcome to Paradise.
Museum of Eroticism
A bit of a cliché, Paris is still the City of Love. But it can also offer you a bit more like the Museum of Eroticism and its own Pigalle Place with all those strip clubs, sexy shops and cabarets. You can really spice things up there. Try and hit the nightclubs, they are a great place for meeting new people if single but also a great place to let loose with someone you love. For the romantics – grab a padlock and a sharpie and declare your love at Pont des Arts – write your names attach it to the bridge and throw away the key – love will never die.
Guangxi Province, China:
This exotic destination is located in the southern part of China nearing Vietnam border. The landscape is picturesque with jagged mountains and lush vegetation. The breathtaking regal complex in the capital city of Guilin, the enigmatic caves and temples all conjure up a romantic environment. You may have a leisurely boat ride with your fiancé along the river heading on towards Yagshuo, flanked on either side by rugged terrain. You may pamper yourselves feasting on delicious south Chinese cuisine engrossed on a vibrant and yet romantic conversation with your soul mate.
Oahu, Hawaii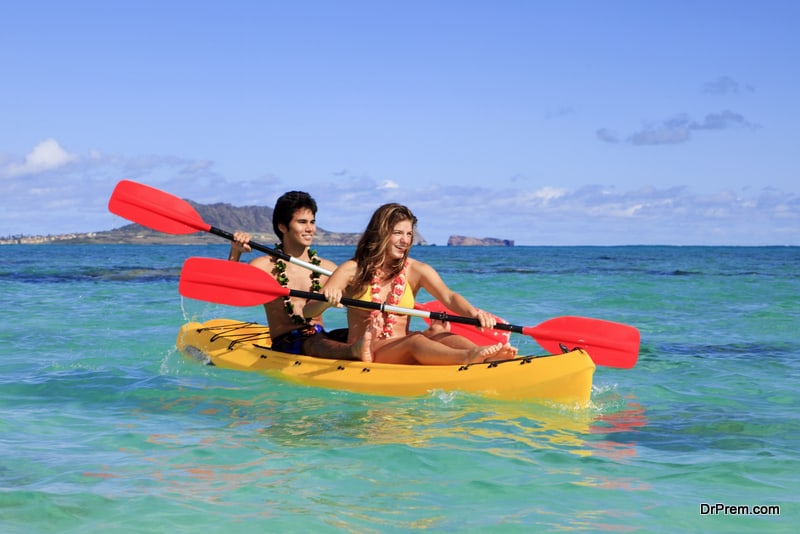 Nothing is finished without our good, old Hawaii. This time Oahu is the place to be. This is one of the most popular Hawaiian islands and an exotic locale. If you are up for sleepless party nights, then this is your place. Life is going on the fast lane in Oahu with many daytime activities though nights are extremely entertaining for most. Head over to the beach, make a bonfire and count the stars, lying on the sandy beaches with your ONE.
Corsica, France:
This place is legendary for being the place of birth of Napoleon and it is a strikingly passionate milieu ideally suited for lovers. There is an old thirteenth century fort called Calvi, and not far from this locale lies a quaint little rustic hamlet where you head on for a romantic candle light dinner, spend a great night, wake up the following morning and take a stroll with each other's hands clasped in an ardent grip and move further ahead towards the picturesque em Route de Bavella. You may ferry across to the village of Porto and enjoy the dazzling Calanques bays surrounded on all sides by walls with a sharp gradient. Distant rocky crags submerged over the sea offers a stunning setting. This beautiful French island stands midway off the French and Italian coastline and is too good to be true. Summing up in a single phrase it is a lovers' world.
Hayman Island, Australia:
This romantic destination is located off the North Eastern coast of Australia. The Great Barrier Reef is one unique natural feature ideally built for snorkeling. You may indulge with your fiancé in a romantic sailing and other exciting water sports. Here, you have a brilliant mix of sun, sand and surf and the atmosphere gives off a tender fragrance. The cuisine is great coming up from talented chefs, and the place boasts of high end sumptuous resorts. There are exquisite lagoons and great seascapes. Wine glasses held up to a toast against terrific sunsets mark a startling montage. With eyes locked in and communicating, the ultimate romantic mood is touched.
Kauai, Hawaii:
This is one of the main Hawaiian Islands. Wonderful Hawaiian beaches, amazing sunsets, species of brilliant flowers, stunning canyons and over hanging rocks would mesmerize the couple and inspire romance. The tourist has an opportunity to go on a helicopter trip and explore this appealing panorama. There is the stunning Kipu falls, which will keep you and your fiancé enthralled. An isolated waterhole inspiring a swim is an added feature.
Most romantic honeymoon destinations in India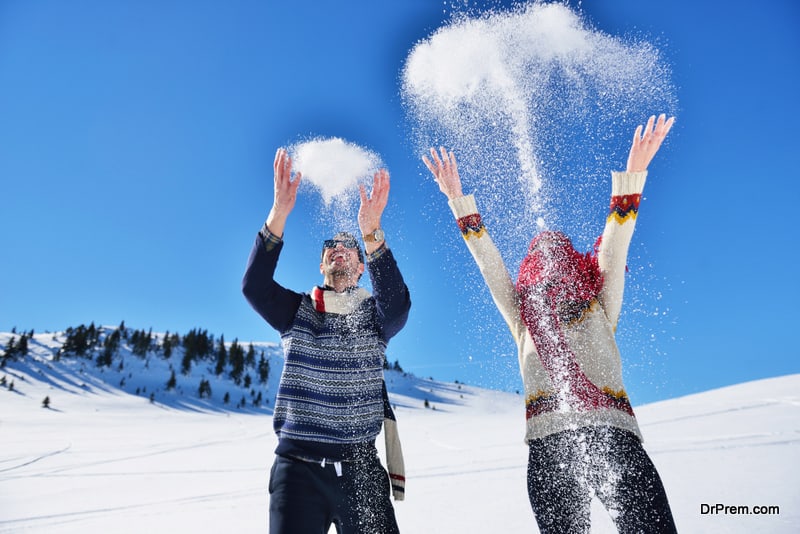 India is very popular among global honeymooners. If you are looking for a romantic destination for honeymoon, there is no need to hunt around for sundry locales when you can get everything in India itself. You may not know it but India is home to some of the most exotic locations in the world. And if you are looking for an extremely exotic locale for your honeymoon, here are some of the best choices you can opt for!
Shimla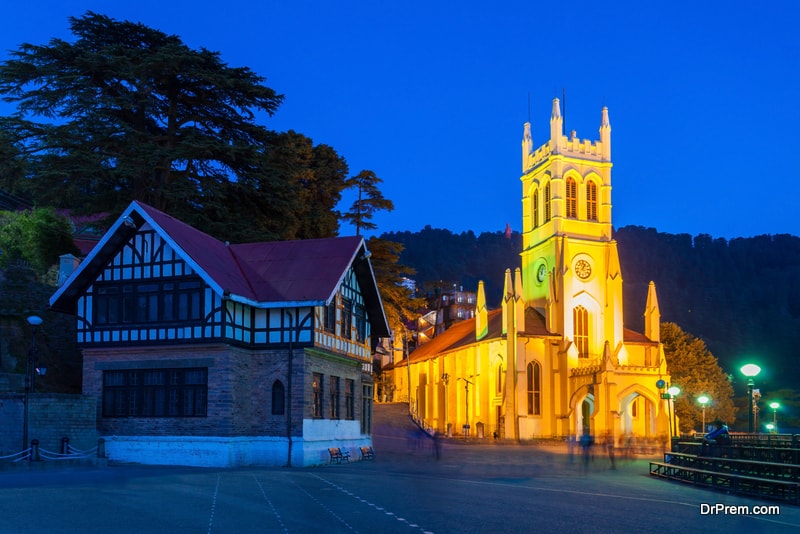 India's answer to the Swiss Alps, Shimla is one of the most popular tourist destinations in India, not to mention one of the best honeymoon destinations as well. The hill station will welcome you with lush green hills, snow covered mountain peaks, ancient temples, flowery meadows, rustic villages dense oak, pine and fir forests, and a wonderful climate to top it all off!
In addition to plenty of sightseeing opportunities in the form of scenic drives and hikes, Shimla offers plenty of adventurous activities for enthusiasts as well. These include mountain climbing, trekking, skiing and snowboarding. Not to forget mentioning all that fun in the snow!
Coorg
Coorg aka Kodagu is located in South India and is akin to Shimla in the North. Devoid of the pollution and chaos of city life, Coorg is one of the best destinations for a peace filled, relaxing and romantic honeymoon.
Filled with beautiful green meadows, bright orange orchards, spectacular waterfalls (don't miss the Dodoveearaja, Abbi Falls and the Bhagamandala, Irupu Falls), ancient forts (the Madikeri Fort is a must visit), and never ending coffee plantations, this beautiful hill station boasts of a pleasant climate throughout the year, making it all the more special for people who flock to the haven nestled between fluffy white clouds.
Kodaikanal
Another one of those places that has a pleasant cool, climate throughout the year, Kodaikanal is a very popular tourist destination among South Indians. The place is also a regular with honeymooning couples and houses plenty of lovely attractions to make your honeymoon all the more memorable.
Your trick to making the best of your visit to this beautiful hill station is to get a good guide who would show you the best spots in the area. These include the star studded attraction of the station; the Kodai Lake (opt for a romantic boat cruise), the Silver Cascade Falls, the Green Valley View, the Devil's Kitchen, Coaker's Walk, the Dolphin's Nose and the Berijam Lake etc.
Lakshadweep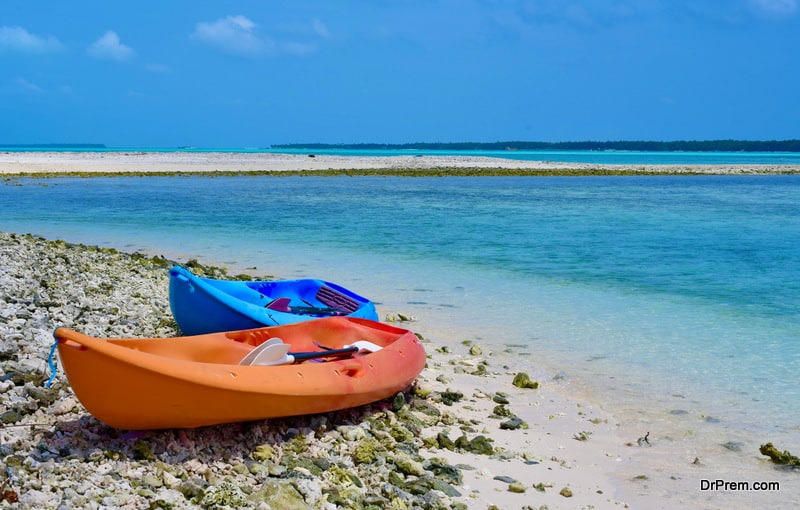 A group of about 36 islands in the Arabian Sea, Lakshadweep is considered to be the smallest Union Territory of the country and is located about 300 kilometers from the Kerala coast. Anything about an island is beautiful. And the islands of Lakshadweep are no different. The islands offer honeymooners the experience of a lifetime via a sunny climate for most part of the year, stunning beaches, crystalline blue waters, luxurious beach houses and cottages, exquisitely colorful marine life and plenty of adventure sports and activities. Wake up with the soothing sounds of the palm trees swaying in the wind and the waves beckoning you. Stay in the water all day long or venture inland to visit some scenic locales. Catch some sporting action on the beach or jump into the water to catch some mind-boggling underwater scenery. The options are limitless!
Agra
Of course! How can we ever forget the epitome of love, the TajMahal; and the city it belongs to, Agra? Considered as one of the foremost honeymoon destinations in India, Agra is home to this monument of love which also happens to be one of the eight wonders of the modern world.
Agra is also filled with plenty of historical monuments, ancient palaces, picturesque lakes and palatial gardens among other attractions. So kick start your married life by visiting the eternal symbol of love in Agra, Uttar Pradesh. And while you are at it, make it a point to visit the other attractions in the region too.
Andaman and Nicobar Islands
And last but not the least, the Andaman and Nicobar Islands which are till now largely known for that one particular island that featured in a Bond movie as the agent's hideout. Boasting of a pleasant climate the year around, the Andaman and Nicobar Islands are the perfect destinations for a beautiful, memorable honeymoon.
With loads of sparkling sandy beaches and luxurious resorts to choose from, the islands in this archipelago offer so much for honeymooners, including a unique opportunity to get a tent for hire and camp out on one of the beaches. Apart from this, individuals can opt for activities like scuba diving, surfing, boat cruising, snorkeling, deep sea fishing, sailing and scuba diving.
Goa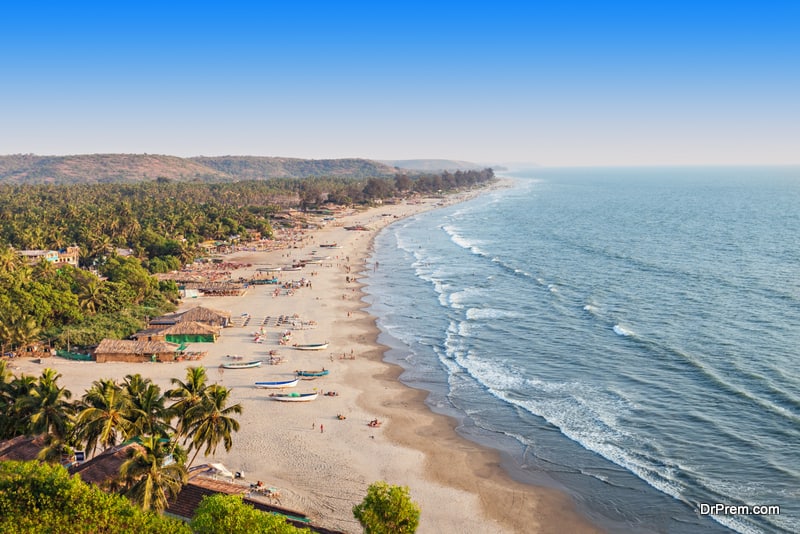 Rightfully called 'Heaven on Earth', Goa is the place to be if you want a fun filled honeymoon complete with beautiful sunsets, beach parties, discotheques and plenty of water sporting action. Thronged by tourists the year around, Goa is an excellent retreat for honeymooners who can do more than just walk hand in hand near the beach and watch the sunset together (which by the way happens to be one of the most romantic things you can do with your loved ones).
Spend your days soaking up some rays by the beach and enjoying a myriad of beach activities like parasailing, water scooter riding and scuba diving etc. Take a trip to the mainland to visit some of the more religious establishments in the region, including the Convent of Santa Monica, Church of the Three Magi Kings, the Mahalakshmi Temple, the Ganpati Temple and the Devaki-Kirshna Temple etc. And when the sun sets, get out your party gear and dance away into the night with your loved one.
World's most romantic islands
The words island and romance are synonymous. Islands form a desolate piece of marooned land surrounded on all sides by blue water. The location is exquisitely beautiful and inhabited by savages to add to the thrill that overwhelms you and your sweetheart who survive amid love and romance and a typical diet of sea food and coconuts. Islands are perhaps the most sought after destinations for lovers and honeymooners struck by the proverbial arrow of Cupid.
Here we take a virtual trip through some of the most exotic and romantic islands: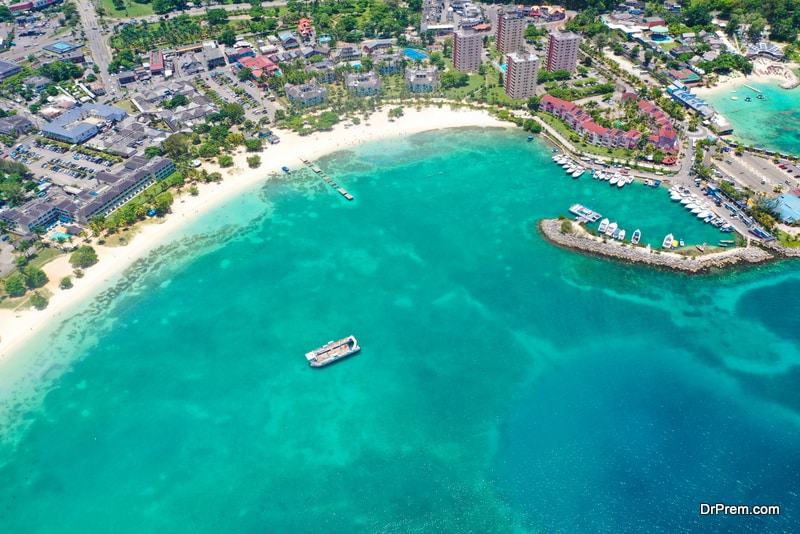 This Caribbean island is the lovers' hotspot. The land is dotted with countless exquisite love spots where lovers can spend their entire vacation nestled in each other's arms. In this island, the idea of tourist accommodation is conceived on wild adventurous lines where you will find Kanopi House luxury tree top accommodations with dense forests as the background just off port Antonio. In Negril, you will find a private cove where love birds serenade to each other. Both of you can enjoy your romantic vacation in cozy resorts and explore the Caribbean culture
Tahiti:
Both the main island and offshoots are as mesmerizing as freshly rekindled love and renewed heart throbs that bind lovers together against a magical backdrop. The main island can be used as a platform to explore the numerous tiny islands and get lost in each other's arms in this South Pacific Garden of Eden.
Bora Bora:
Bora Bora has beautiful lagoons and exquisite bungalows, amazing landscapes and pristine beaches, which are sure fire hits with romantic couples. This pacific island paradise has won the hearts of millions of lovers and they have unanimously opined that Bora Bora would beat any destination when it comes to defining a perfect romantic atmosphere.
Maldives: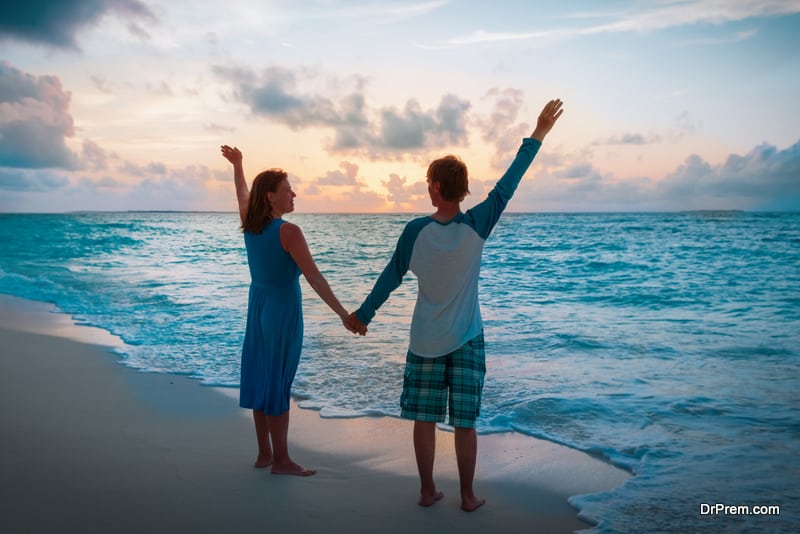 This is an archipelago shaped island in the Indian Ocean and spells pure magic to the enchantment of the lovers. Accommodations are wonderfully designed and artistically landscaped. In fact, they have given the concept of resort architecture a divine shape taking it to new heights where the principles of geometry and engineering fuse with an aesthetic beauty. Comprising of around 1200 amazing islands with a spread stretching over 35000 sq miles, this conservative Islamic island nation is a right place for the vacationing romantic pairs. Maldives is practically flooded with gorgeous resorts and mouthwatering cuisine all customized for an ideal holiday the lovers look for.
Fiji:
Fiji comprises of a cluster of over three hundred islands each being an epitome of romantic vibes. In Fiji, the lovers discover a new definition of love as they enjoy the delicious marinated fish termed locally as 'Kokoda' to the rhythm of traditional Kava festival. Early morning breeze drifts in Fijian melody, and the chorus from the rustic churches brings up pure heartwarming romanticism overwhelming the love birds.
St Barthelemy:
This romantic island is fondly called the 'Platinum card' island. The island forms a part of French West Indies and is supposed to be the most high end romantic couples' destination in the entire Caribbean. It has a plethora of deluxe accommodation, a pulsating night life and mouthwatering French cuisine alluring the lovers for repeat visits.
Few of the most overhyped romantic destinations
Let us also have a look at few of overhyped romantic destinations of the world. When we talk of a romantic destination, a picture pops up in mind featuring a tranquil and exotic ambience with breathtakingly wonderful scenery spread out and super cozy resort where both the lovers have all what they want at their beck and call.
Presence of art galleries and historical ruins with good food and finest of wines would be added bonus.Well, there are places having a bit of all the elements stated above but stronger is the marketing making these places look attractive to a level which they are actually not. Promotional hype plays a major role.
The end result is discouraging as obvious leading to lovers leaving these so-called romantic destinations with grumbles and displeasure written all over their faces.Here we go enlisting ten so called romantic destinations whose existence would have been lost into oblivion if not strategically hyped for tourist attraction.
Las Vegas: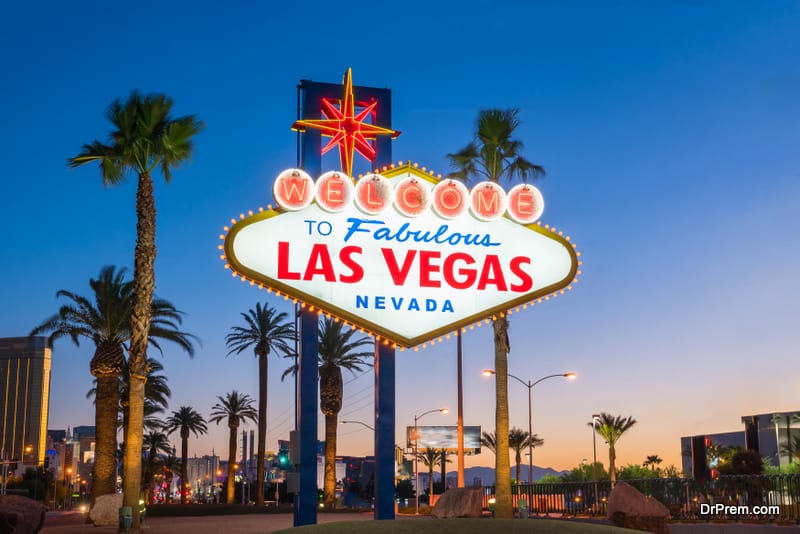 The initial impact of this destination is mind-blowing upon the visitors. The pulsating lights and boisterous vibes may stun you momentarily, but soon enough you and your paramour would realize this is not your cup of tea. Las Vegas is rather an unfamiliar world appealing more to the gambling crowd and those who have acquired enough wealth and have earned it rather fast. By no standards it could be rated as a decent romantic spot that the lovers look for visiting.
Namiseom Island, South Korea:
This island located at a distance of about 63 km from the capital Seoul is much advertised to be romantic, but one who spends a valentine here realizes it is simply a marketing ploy. There is nothing interesting that could specifically be appealing to the love birds. This place is however remembered as a shooting location for a famous Korean movie. Besides other areas of interest are wonderful tree lined avenues and theme parks. But to be fair, the essential elements that would stir the lovers' hearts are entirely missing.
Yungas road, the road to death, La Paz , Bolivia:
Hyped by the media, this road is thought to be the most dangerous and notorious ever achieving a worldwide fame. This road is supposed to give an intense thrill to the lovers in quest for a romantic sojourn. However, the fame is supported by more than a fair share of promotional efforts by the media in romantic circles. The road runs downhill and there hasn't been any report of high voltage thrill giving enough kick for your adrenaline to race. It is infamously called the death road without any justification of its naming.
Buenos Aires, Argentina:
Much hyped by the media as lovers' paradise, this South American city doesn't worth its fame to be an ideal romantic getaway as it is thought to be. This city is not at all visitor friendly. It is pricey with the locals pretending to be the biggest smart-asses in the world when they are actually not.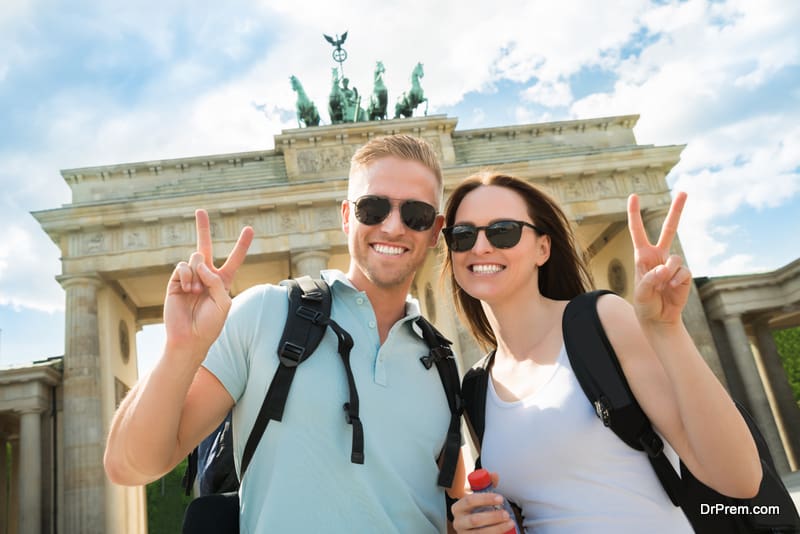 This city is also promoted too much to be a heaven for romantic pairs. To be true, besides being a very expensive city, the lifestyle is too much of a straight jacket with the environment devoid of openness. Moreover, lovers would never agree that this city promises a great weather profile.
Times Square, London:
Although this is a very popular destination for love birds, the bland English weather doesn't promise much of a romantic excitement to lovers. The place is overcrowded with street vendors and public entertainers going for your wallet.
The Little Mermaid, Copenhagen:
This is another of those much hyped works of art that is believed to inspire romance between lovers. But, to be honest, this statue is most ordinary and doesn't merit much praise. It is just one of those statues that don't draw much attention either from the angle of art or romance.
The Caribbean islands:
It is a fact that the Caribbean islands offer a murderous beauty and are sure to lure love birds in waves in search of romantic spots. The air in these islands is literally thick with romance intoxicating the visitors. The palm fringed sea beaches and an exquisite blend of the sun and the surf presents unparalleled bliss not to mention the ecstatic impact of the seafood and rum. Caribbean romance is however overrated. The destination is too expensive and not so tourist friendly. The calypso at times gives lovers a disgusting feeling.
The Pyramids of Egypt: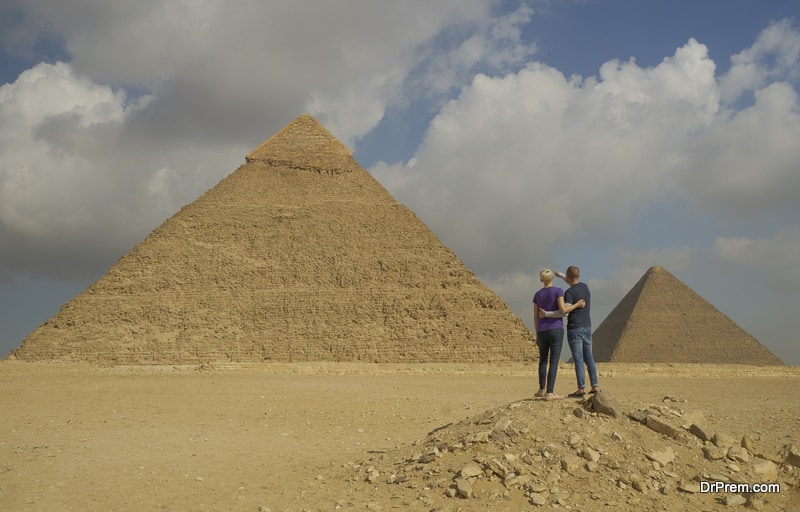 The land of the Pharaohs is an enigma till date and for sure is a major attraction for lovers seeking a quaint romantic corner far away from the maddening crowd. Egypt with its enchanting pyramids standing amid the whispering past is highly romantic but much hyped as well. The romantic spots are crowded with unscrupulous touts, and the local crowd isn't very civilized either.
Sydney Opera House:
Once this iconic landmark had been a lover's refuge amid a wonderful blend of solitude and scenic beauty, but its fame as a romantic site has been over hyped. The crowd grows in size every year bringing in more and more pollution and noise additions.