Hawaii Beautiful Beaches – Top 10 beaches in Hawaii for a lovely evening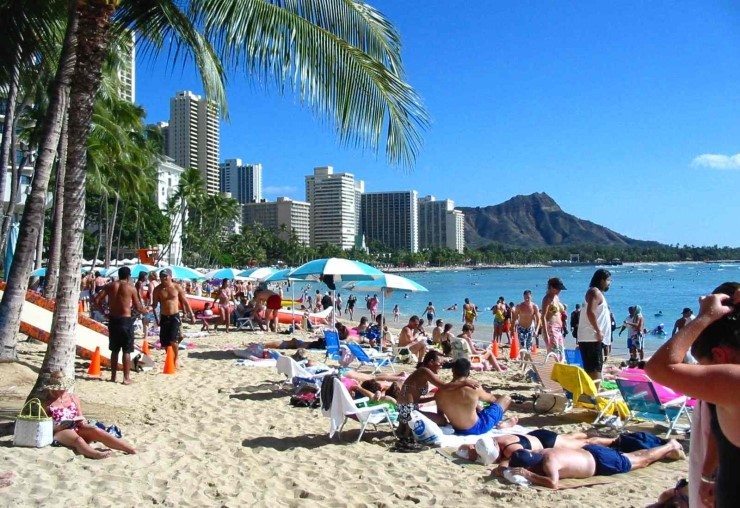 Hawaii is known to be a few of the best beaches in world and these beaches are known to be the major tourist destinations. If you are looking out for a place to spend the best time of your life or spend honeymoon, then this place could be the right choice for you. Below mentioned are the top 10 beaches in Hawaii, which are known to be the wonderful tourist attractions as well.
Lanikai Beach, Oahu – In the clear waters surrounded by coconut palms, a wonderful holiday in this location would indeed be a great thing. It is also the best place for sunbathing. You can have the best time swimming here as well. The various outdoor activities that can be enjoyed here include sailing, windsurfing, outrigger canoeing, kayaking, surfing and a lot more.
Hanalei Bay Beach, Kauai – This is known to be one of the very beautiful beaches of Hawaii. Behind the beach, you can view the stunning emerald mountain peaks and the splendid backdrop of waterfalls. You can also find huge coral reefs at the ends of the bay. Boating, windsurfing, kayaking and such other activities can be thoroughly enjoyed here.
Kaanapali beach, Maui – This is an amazing beach for various water sport activities. Scuba diving and snorkelling can be very well-enjoyed here. There is also a large lava rock here, which is called as the Black rock, which divides the beach. There are various shopping places and restaurants that you can find here.
Hanauma Bay, Oahu – In this place you can find the lovely fish life. This place is the best for swimming, scuba diving and snorkelling purpose. So, plan a trip to this wonderful beach and enjoy the various adventures.
Ke'e Beach Park, Kauai – The sunset of this beach is something that you should not miss. It is a best beach for snorkelling. Water of this beach is very clear with beautiful turtles and colourful reef fish. You can find very beautiful coconut palms and ironwood trees here.
Kapalua Bay Beach, Maui – This is a stunning beach that is featured with calm waters, swaying palms and golden sand. This is indeed a paradise on earth. This beach is also the best for children to be enjoyed with families. The beach is located between 2 lava points and is the best for adventurous swimmers.
Hapuna Beach State Park, Big Island – The clean water and the thundering waves of this beach is something that should be enjoyed by everybody. You can find a lot of fishes and coral reefs here. It can be a wonderful beach for sunbathing and frolicking here. You can enjoy swimming in this place and have an amazing time.
Hulopoe Beach, Lanai – This was initially known as Pineapple Island. It is known to be very ideal for swimming. You can enjoy looking at the huge variety of colourful fishes and the clear water here. This place is an ideal destination for honeymoon.
Poipu Beach, Kauai – This beach is the best for families to spend a lovely time. It is an amazing place for swimming, snorkelling and sunbathing. So the next time, if you plan for an adventurous vacation, make sure to choose this place.
Papohaku Beach, Molokai – Here you can have a sight of soaring sea birds and the skittering crabs. For various water sport activities like snorkelling, swimming, surfing and body boarding, this can be a remarkable place. It is known to be a very remote beach.
White sands, surfing, white sands and anything you are looking for in the beaches, are found in Hawaiian oases. Visit these beaches and experience exotic vacation.