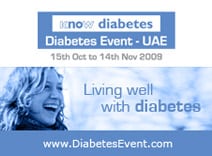 Know Diabetes 2010 is a major community health initiative from ExHealth designed to tackle the extremely high prevalence of diabetes in the UAE. The event is now in its third year and once again is being fully supported by the UAE Ministry of Health. Taking place from November 1-30, Know Diabetes 2010 runs either side of the International Diabetes Federation's World Diabetes Day, which is marked on November 14. This health observance date is the primary global focus for diabetes.
The UAE is in the unenviable position of having the second highest incidence of diabetes in the world. One of the facts related to this statistic that is both shocking and reassuring in equal measures is that for the most part, it is a condition that is entirely avoidable. The form of diabetes found here is predominantly Type II, which is strongly associated with obesity, a sedentary lifestyle and a high sugar and carbohydrate intake. In other words, the level of diabetes in the UAE could be drastically slashed if people at risk simply make some minor lifestyle changes.
The problem with fighting Type II diabetes is that in the short term, there are no real ill effects associated with it, so people do not necessarily feel that they need to address the issue as priority. Those with Type II diabetes often experience no immediate health problems – they may not even be aware that they have the condition. The real difficulties usually start years down the line, when a lifetime of stickier blood running through veins has cumulative damage to the lining of the body's vessels. These arteries can become blocked off and if located in the heart, eyes, kidneys or brain, can cause heart attacks, blindness, kidney failure and strokes. Arteries in the feet that become blocked can result in amputation.
Know Diabetes 2010 is participating in this global health awareness event with an extensive program of activities that has two main components. The first is a mall-based event that is taking place at Dubai Festival City, which aims to enlighten families and visitors about diabetes through entertainment and educational activities. The second component takes the form of a corporate wellness drive, which will visit workplaces and institutions around Dubai, taking health screening, advice and counseling directly to employees.
The important point to make about Know Diabetes 2010 is that it is an interactive event, with the key to its success being participation. Taking individual responsibility for wellbeing is a positive attitude that will help drive the levels of diabetes in the UAE down. This will ultimately make for a healthier, happier and more productive society. So what have you got to lose? Come and join with how you can make a difference.
https://drprem.com/wp-content/uploads/2013/06/de_web_icon.jpg
156
212
Dr Prem Jagyasi and Team (It)
https://drprem.com/wp-content/uploads/2021/06/Dr-Prem-White-Logo-Live-A-Great-Life-With-DrPrem.com_.png
Dr Prem Jagyasi and Team (It)
2020-06-09 16:24:18
2022-06-10 17:34:42
DIABETES EVENT | KNOW DIABETES