Crello is one of the best design tools online. It can be used by amateurs, freelancers and professionals to create effective graphic designs. The templates which are ready made in Crello enables designers to come up with unique designs in a matter of minutes. Crello also has videos and animations that can be customized and used for social media and other marketing needs.
What are the benefits of Crello?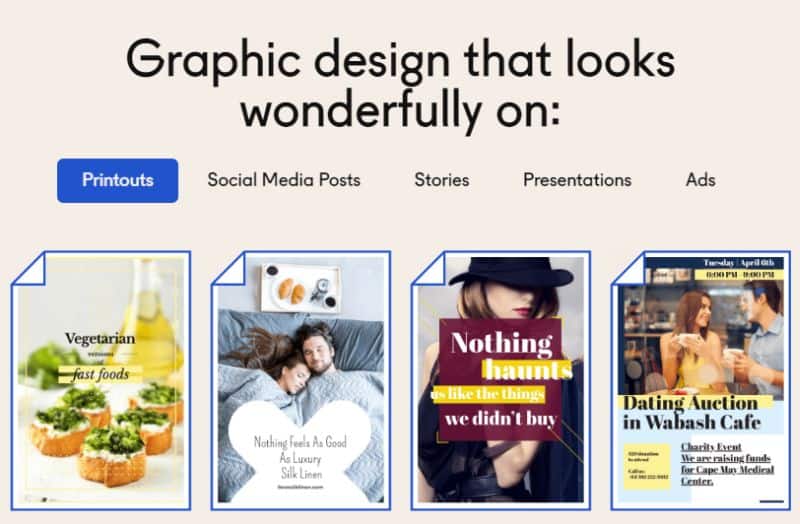 Image Source : crello.com
The online design tool supports 10 languages – English,German, Danish, French, Polish, Russian, Portuguese, Ukrainian and Spanish. WIth more than 25,000 graphic and animated templates, you can just modify the text and use or else make other design changes which are more extensive.
What sets it apart are the videos and animations which are premade, but the site claims these have not been used anywhere else earlier. So, you have access to original material which can be tweaked to personalize them. You can put your own stamp on the premade animations and videos, and with very little effort, create engaging content for your audience. 
Users of Crello have reported that appealing video content can be created in seconds, without having to use any other video editing software. This is a relief, as many of us, yours truly included, find it hard to properly use professional video editing software. With Crello, you don't have to have the knowledge of any professional
Works on both Android and iOS platforms
The best thing I liked about this online resource is that you can create wonderful designs from your smartphone, notepad or iPad. This makes it very convenient for creating awesome videos or animation or Instagram and Facebook posts and loading them instantly. Assuming your phone is with you at all times, just like the rest of us, you can churn out attractive designs whenever inspiration strikes you.
As it is meant for both Android and iOS phones, the two most common phone OS in the world, it means that there is no restriction as to working on the phone you own. 
User friendly design tool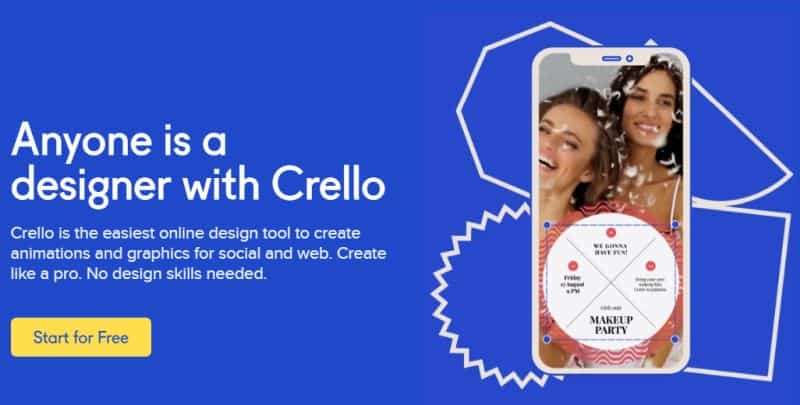 Image Source : crello.com
Another advantage of this design tool is that it is very user-friendly. Anyone can be a designer with Crello, whether it is making a new logo for a company, business cards, banners, headers and more. I found it easy to negotiate through the site due to the simple instructions.
I learnt what to do as I went along, and could make my first design quite easily. After that, it was plain sailing, as I could integrate videos, animations and graphics including clip art to make my content interesting.
At the time where content is king, you must have resources at hand to make your content stand out among the rest. This is where advanced design tools such as Crello play a role, in reducing the hassle of making videos, as well as the expense. For small businesses, cost is a factor and often you cannot churn out the designs you would like, due to the expense. 
Design impressive logos, business stationary, headers, posts
But with design tools like Crello, you can still ensure a good exposure of your brand across various media channels, at a fraction of the cost. To design your logo and establish your brand, usually it is a time consuming and money intensive process.
But with Crello, you can think about your positioning, select the brand colors and make your own logo and business stationery, in no time at all. You can try out as many permutations and combinations of color and design elements to create the logo that will describe you best. And this can be done for free too, if you want to just try it out.
If you want to send invites for an event or even online events, do it in style using the Crello design tools.Your present and future clients will be impressed that you have made an effort to make an effort to create an engaging communication.
You can present a cohesive communication with the help of materials derived from the same source, namely Crello. In one day, you can create and upload posters, headers, videos, animations, banners and brochures, all matching the same theme. This will carry a powerful message to your clients, as they can understand your product via several media. 
Helps to stay visible and relevant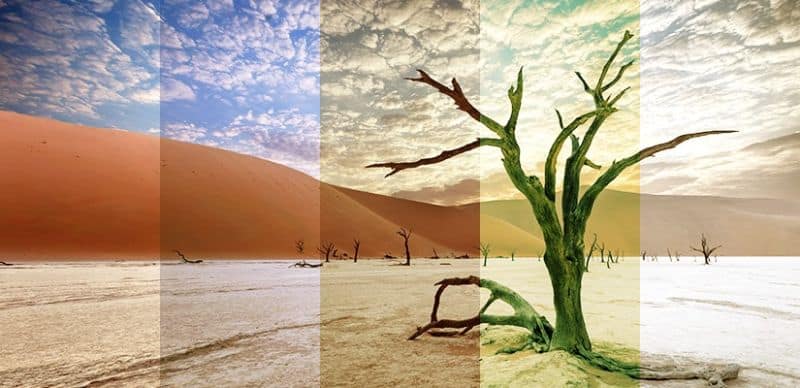 Image Source : crello.com
You and your team can work together and design strong communication aids that can be displayed on Facebook, Instagram and other major social media sites. You can create continuous, targeted email campaigns that can increase the number of customers.
You get limited images and templates for the free option, but even the monthly subscription is quite less.
It is easy to stay visible and relevant when you can publish an ad or other marketing material every day, and Crello can help you do that in a cost-effective manner.
For those interested in laying their hands on Crello, insert crellogift25 in the Discount Code section to avail 25% off your purchase.