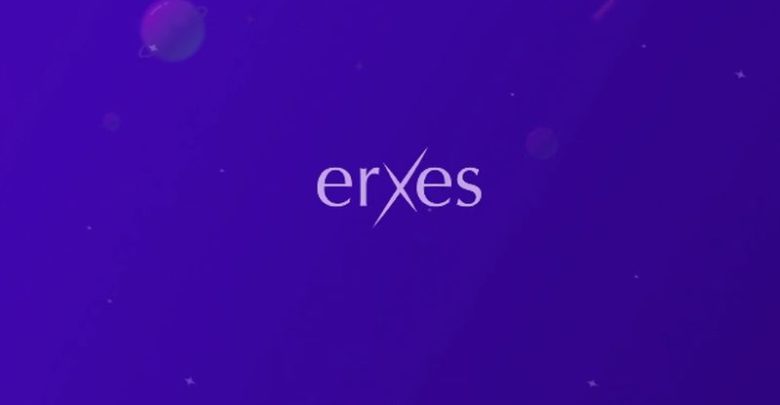 From Amazon to Netflix and Spotify, if you look at the strategies of almost every big customer-oriented firm out there, it makes one fact absolutely clear "It's very easy to get customers, but extremely hard to keep them." To acquire customers all you need is good offers, discounts, and proper advertisement. But how do you keep them? That's what client/customer management is all about.
What is Client Management?
Client Management is basically all the actions that you as a firm take to please your client base. By both direct and indirect interaction, you build a positive image of your brand leading your customers to choose your products or services. It could include everything from measuring customer satisfaction to establishing trust and offering transparency.
Guide to Improve Client Management Using Erxes Tools
1) Engagement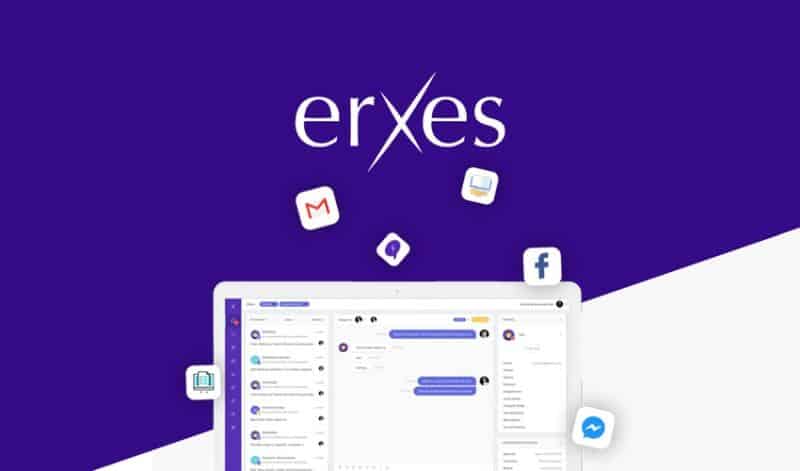 Customer Engagement is all about making your customer realize that you are there for them every time. Just one negative experience could make you lose the customer. So, it is important to watch out for any loophole that could land the customer in a problematic situation and to resolve it as soon as possible. Here's how you can use Erxes Tools for better customer engagement.
1. Go for Automated Engagement
Once you have a customer's info with you, the last thing you want for them is to forget about your firm. So, by categorizing the customers on the basis of their info, you should schedule automated messages that they receive on right days and at right time. This would help them in keeping connected to your firm and have knowledge about what's new. By scheduling automated messages, you can send messages or mails to customers, even on the days when you aren't there.
2. Take a Look at Engagement History
Customer engagement is necessary. But there's an upper and lower limit to it. By checking the engagement history in Erxes tools, you can check how your customers reacted to your previous campaign. This would help in knowing the results of your previous engagements, and thus in planning for the future ones.
3. Create Templates
Once you know the likes and dislikes of the customers, you simply have to create specific templates for the customers, and automated messages accordingly. This would complete the engagement cycle.
2) Contact Management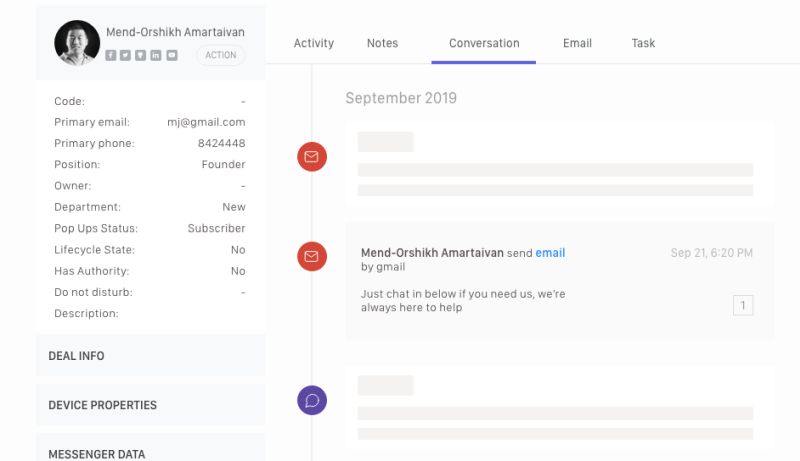 Acquiring your customer's contact is important. If your business doesn't automatically result in acquiring contacts, you should explicitly request for the same. However, getting contacts isn't all. Without proper contact management, it won't result to anything. This is where you can use Contact Management tools by Exres.
1. Add Contacts
On Exres, you can either manually add the customer contact info or simply import them. The user-friendly interface makes it very easy to add the info, and if you don't have enough info on the customer, you can simply add the name leaving the other columns blank. Furthermore, you can also export the contact info very easily.
2. Check Customer History
When you have added your customer's details to the contact list, Exres allows you to check any sorts of interaction you've had with the particular customer. This includes any mail or messages sent by the customer, or sent by the firm to the customer, or customer's responses. Simply growing through this would help know a lot.
3. Segment Your Customers
Using the info collected through history, you can put the customer in a specific segment, or simply add tags in front of their contact info. This would help in specifically targeting the customers during the campaigns, thus helping you in saving on both money and time.
3) Communication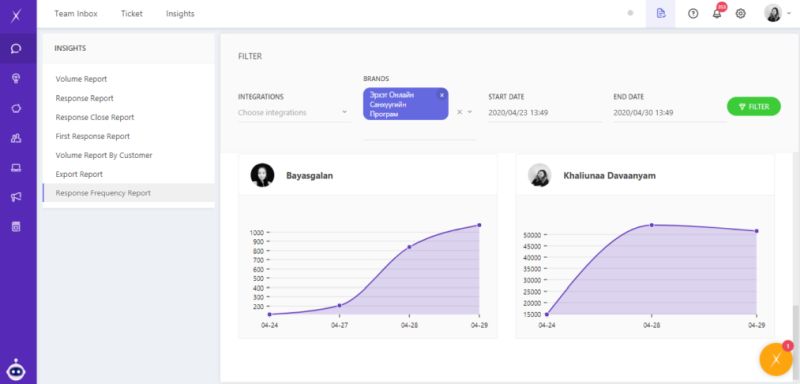 No matter whether it's a reply to a query, or troubleshooting regarding something, communication is one of the key ways of customer retention. Erxes provides a customized platform optimized to tackle all your customer's needs. Here's how to use it.
1. Check Inbox for All Customer Enquiries
Irrespective of whether you reach the customer's through live chat, in-app messaging, e-mail, phone call, all the contact specific information would end up on a single board. You can check it to be aware of the communication status with each customer.
2. Contact Your Customer Using Messenger
Exres messenger allows you to gather all the customer's enquiries from your website, and respond to them in real time. The messenger has a Shared Team Box function, which leaves no room for confusion.
3. Direct Your Customers to FAQs
Depending upon the types of enquiries that you get from your customers, creating FAQ would come in handy. You simply have to write the answers to the questions once, and rather than having a long conversation, you can simply forward them the answers from the FAQ. This would ultijmately help in promoting Customer Self-Service.
4. Monitor All the Cases
Exres allows you to categorize the conversations with your customers, and give tags like solved, unsolved, etc. to them. This would help in determining the status of the conversations and you can tackle them accordingly.
5. Use Automated Replies
Nothing is worse than having a customer wait for a reply. The next thing you know is they are ranting against your organization on social media or just giving of a bad review. To avoid that, simply set proper automated replies switch on the automated reply option to the contacts. This would keep the customer engaged even when nobody's there.
Final Words
If you have any problem with the Erxes, you can simply reach out to them on Help Center. For what's a customer management platform that doesn't manage its own customers? And in case you haven't registered for Erxes yet, you can do so on Erxes.io. As of now, the company is offering everything for free for up to 10 users. So, hurry up and grab this opportunity.