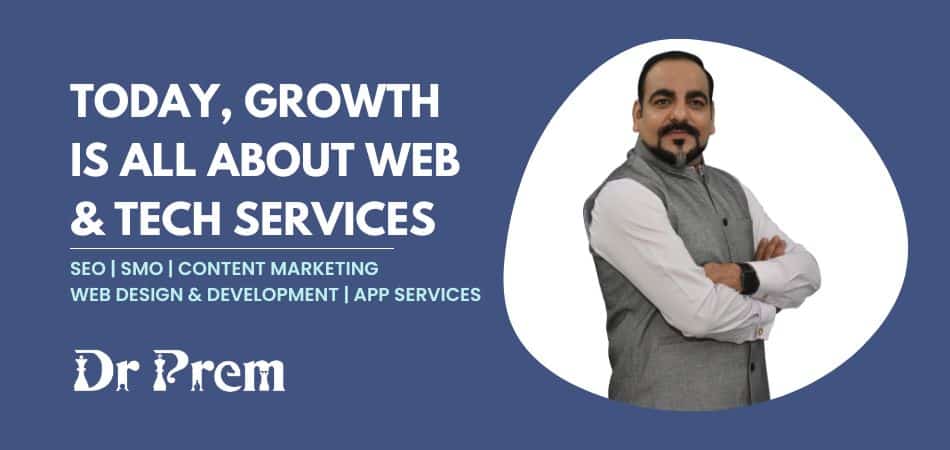 WPAstra has proved to be quite a popular theme for WordPress users. There are currently 1.5 million active users which indicates that the theme has been adopted and continuously used for its innovative solutions. If you are looking for a theme that would help to support your creative website designs, then read on to find out more about WPAstra.
Fast loading time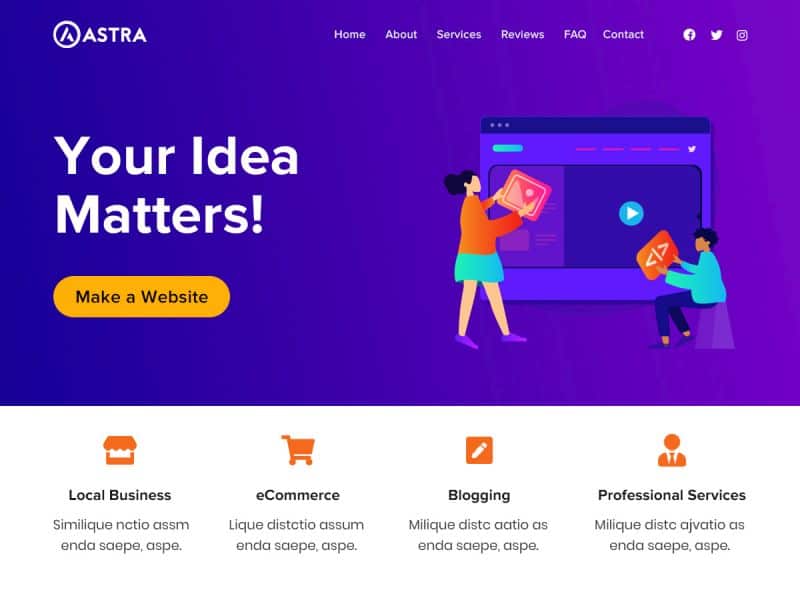 Image Source : wpastra.com
WPAstra is a plugin that allows you to create your own website. It is lightweight and takes hardly any time to load, 0.5 seconds only. In today's fast paced world, nobody has the time to wait for a page to load. If your site loads in less than a second, you would have an edge over your rivals. From NASA, Stanford University, Liquid Web, LearnDash to startups and small entrepreneurs, Astra has been an effective solution.
The performance is smooth as Astra uses Vanilla JavaScript instead of jQuery which blocks performance. Besides, as the theme is just 50 KB it leads to faster loading as well, and does not drain your resources either. 
Compatible with all major builders
Astra is compatible with all major page builders and integrates with all the popular solutions in WordPress such as Gutenberg, Woocommerce, LifterLMS, YoastSEO, LearnDash etc. The theme gives you the ability to turn off sidebar and page titles. This gives you complete freedom to design and churn out appealing sites one after the other, and getting more clients. 
Codeless customization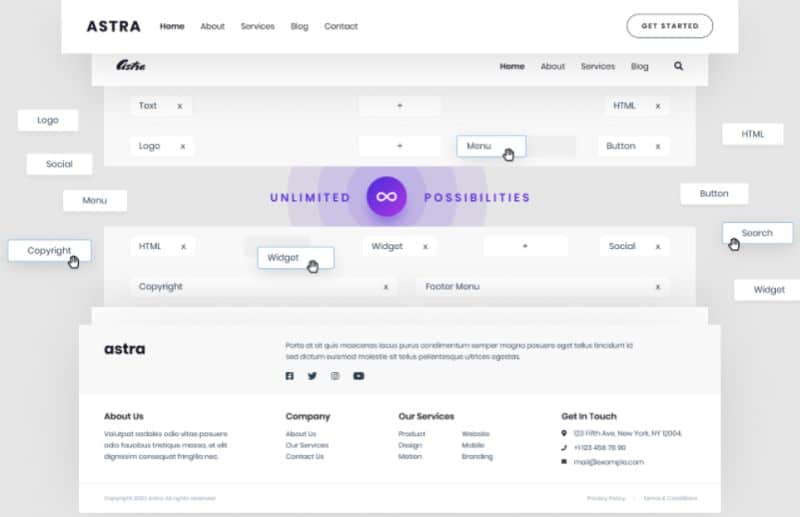 Image Source : wpastra.com
Not everyone has the resources to hire professional developers to build their websites. Astra helps anyone who has the basic knowledge of HTML and CSS build customized websites. There are pre-builder starter templates, Elementor, drag-and-drop header-footer builder, tons of editing and designing options to create the website you have in mind.
WPAstra has the largest library of websites which are made already, with Astra as well as other Page Builders. These can be imported easily with the Astra Sites plugin. This saves website builders a lot of time, and as mentioned before, there is no coding required. The design can be changed via the options in WordPress Customizer.
Build ecommerce sites or integrate with WOOcommerce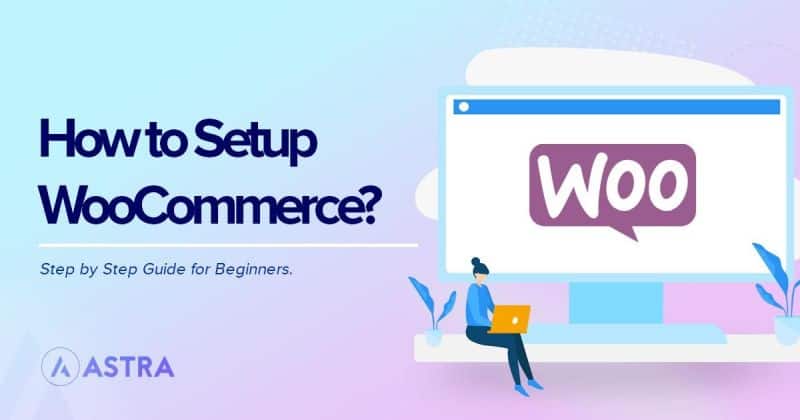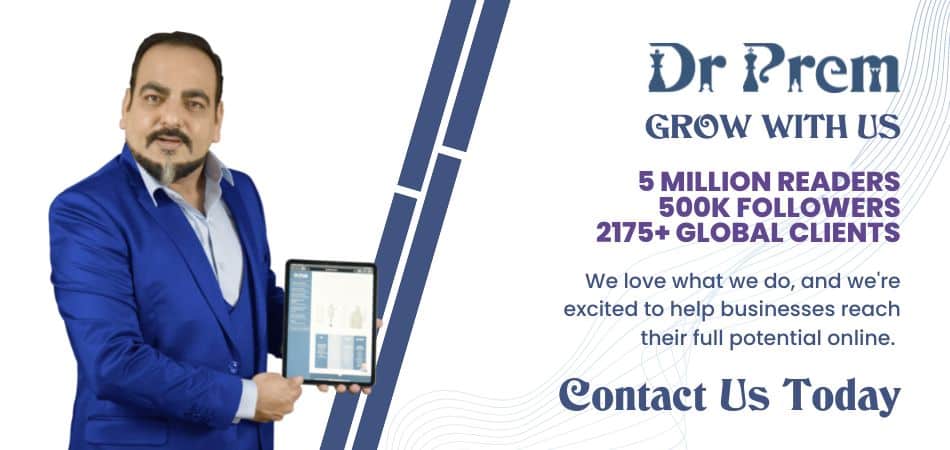 Image Source : wpastra.com
Due to the customizable factor of Astra, and the code free customization tools, the look of the product, catalog and checkout pages can be changed without the heavy edits required by others. You can build an attractive store for your products and meet your launch deadlines. If you're a developer, building an ecommerce site becomes hassle free with the customizer. 
Schema integrated
A well-designed website is of no use if it can't be found by your target audience. WPAstra is schema integrated so that search engines can understand your website better. This leads to better SEO results, which can be a gamechanger for your company or client. All you have to do is configure the schema markup once and then implement anywhere on your site.
Mobile friendly theme
The site you are making has got to be mobile friendly, as everyone checks everything on their mobiles these days. If a site has problems in loading on a mobile phone or the design is not user friendly, then you would lose out to your rivals. With Astra, you don't have to worry about this, as it is already fully-responsive, mobile-friendly, and 100% translation ready.
Easy integration with LearnDash
Image Source : wpastra.com
Education in the Covid times is majorly online with institutions being shut in many countries. People of all ages sitting at home are upskilling themselves with online courses.This theme can integrate seamlessly with LearnDash so you can build the best online course website for your client or for yourself. 
24/7 Support
WPAstra team offers good support. You just have to mail your concerns and they get back to you soon with the right solution.
Pricing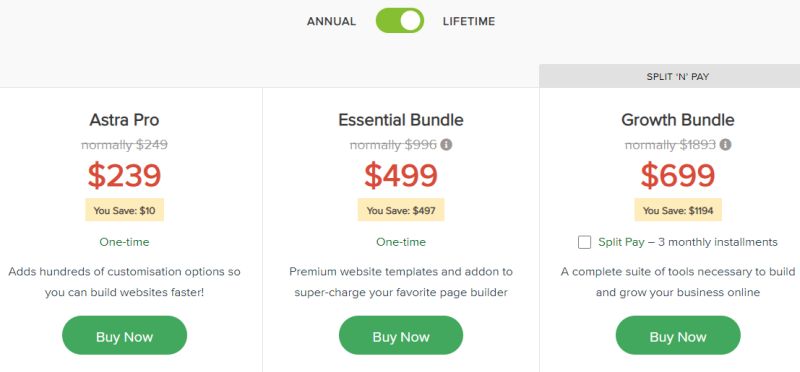 Image Source : wpastra.com
The pricing is affordable considering that you can use the theme on unlimited websites. For USD 47, you get the Astra Pro, with multiple customization options, USD 135 buys you the Essential Bundle that includes Astra Pro, 180+ Premium Starter Templates, Addons for Elementor, Beaver Builder, plug-ins, product updates, training and more. The most popular bundle for professionals is the Growth Bundle for 199 USD which includes everything in the Essential Bundle plus a set of tools to grow your online business.
Once you buy a license, you do not have to keep renewing the license every year, the websites you build will work even without the license. The renewal license only gives you updates, premium templates and customer support.
So, Astra seems to be a theme that can help anyone without knowledge of coding build a website that looks professional and works well.