What is the need to have great audio in your podcasts and videos? The answer is simple, more people will get attracted to your content and you can stand out among the crowd. Crystal clear sound allows your listeners/viewers to understand you on my media. All the avid vloggers, YouTubers, movie makers, music video makers and podcasters require some tool to produce professional quality audio. But, is ReMasterMedia one such tool? Let's see what this tool is and how to operate it.
 How to use ReMasterMedia?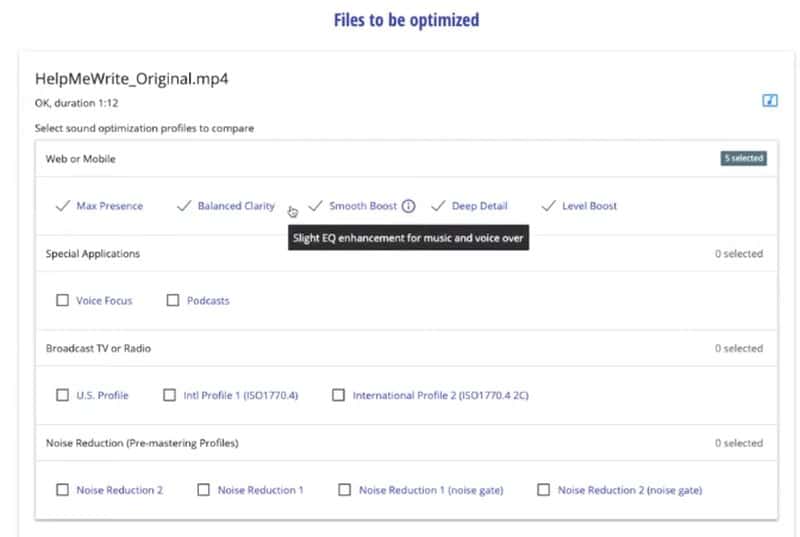 Image Source : remastermedia.com
To enhance the sound quality of your content, you have to upload your file or files on the site. It accepts all types of video and audio files, and upto 10 files can be uploaded at one go. There are several profiles to choose from.
These profiles have been crafted by ReMasterMedia's audio engineers so that your sound can be optimized for streaming. The level of sound is set for broadcasting as well as the internet. You can try out all the profiles, then select the one which is most suitable for your channel of broadcasting or the net.
If you have any specific needs, you can send your requirement, after which you would receive an estimate for it. 
Receive email notification of uploads
Small files are uploaded soon, most mp4 files which are less than 20MB might take just a few minutes. Larger files which are around 1 GB can take about 10 to 15 minutes to load. If you're uploading several files or one huge file, then you don't have to sit in front of your screen the whole time.
You will be sent a mail which you can access from your mobile device and track the upload. This feature frees you up, and allows you to continue with other work or just take a break.
The entire process is much faster than a professional studio to optimize the audio. If you select more profiles, it takes longer. Files which are around 20 MB and duration 30 seconds, takes only around a minute to process. 
Add ReMasterMedia on your own site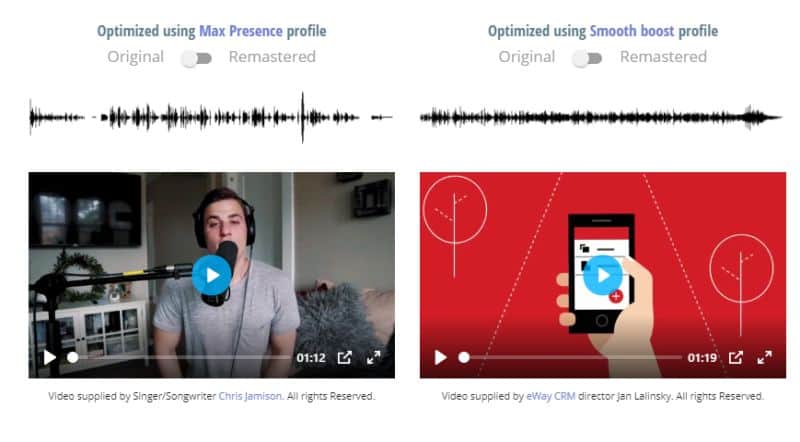 Image Source : remastermedia.com
ReMasterMedia provides a public API on request. This lets you integrate ReMasterMedia on your own website and offer your website users/visitors the option for remastering audio. This would add to your website popularity. For example, if you have a blog on music related things, you can offer your readers the option to upload their video/audio to be remastered on your site. 
Can ReMasterMedia remove all background noise?
With the Noise Reduction profiles, you can reduce most of the background noise in your audio. ReMasterMedia cannot remove all the weird and nasty sounds in the background, but your audio will be vastly improved.
If you need the sound in your audio to be perfect, you can contact ReMasterMedia and their team can restore or clean up your audio for a fee.
Even if your audio has been mastered in a studio, you can still avail of ReMasterMedia's online services to optimize your video/audio sound for broadcast as well as internet setting.
Sometimes, you might need a specific profile to play at certain venues or locations, such as elevators, planes, subway or cabs. For these requirements, ReMasterMedia can create dedicated profiles too. 
Pricing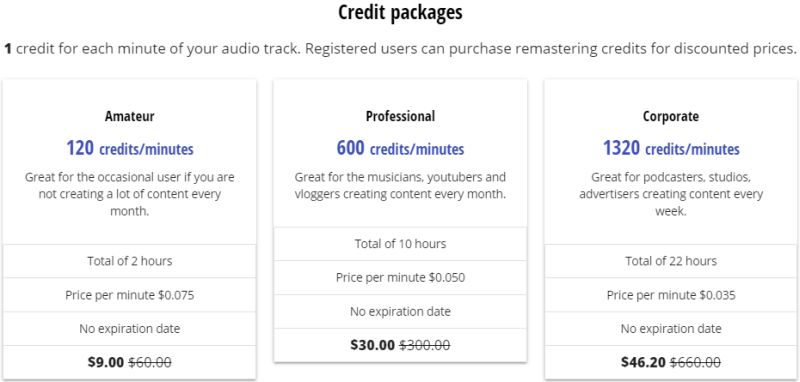 Image Source : remastermedia.com
The pricing is quite reasonable, much less than the cost of mastering audio in a professional studio. The charge is based on duration of the soundtrack and not on the file size or the number of files. It is $0.50 for each minute that is remastered.
That is, a 10 minute video will cost just 5 dollars for one profile used for remastering. If you choose two profiles, then the charge will be 10 dollars. This cost is quite affordable, especially if you take a package deal.
You can preview your file for free, and pay before you download the file.
For people or corporates, who record videos or audio on a regular basis, such as podcasters, YouTubers, vloggers, advertising agencies and other digital media marketers, the packages work out well.
The Amateur, Professional and Business plans are priced at $9, $30 and $46 which you can take according to your use. None of the plans have an expiration date, so once you pay for a plan, you can access the credits whenever you need to. All the plans are discounted packages, which is a great money saver. 
Mastering on the go
As it is an online tool, you can master your audio from your phone too. This makes it very convenient as you can even upload a file when you're on the go, and master it. Travel vloggers and podcasters can record and upload on the net or broadcast, and can post their content continuously.
ReMasterMedia seems to be an affordable solution to clean up your audio or make it suitable for internet or broadcast. Good audio is the key to getting your message across to your viewers/listeners which can maximize your listener and viewer base as well.