Video is the medium of the present and also the medium of the future. There's a great variation of literacy rate throughout the world and it's a known fact that people tend to prefer expressive video content over informative written content. Both these factors and many more have contributed to the ever-accelerating growth of the video content market, as video appeals to the most diverse audience out there.
Interestingly, all this has not only introduced many video influencers to the world, but also a range of software that help us to create as well as edit the videos as efficiently as possible.
What is BIGVU?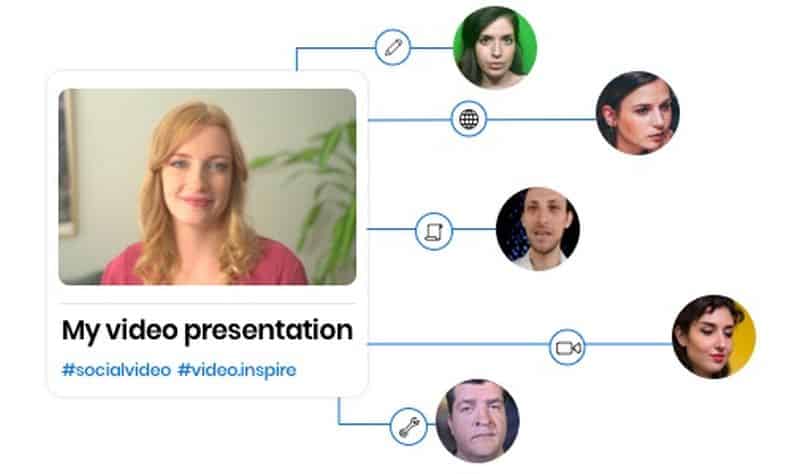 Image Source : bigvu.tv
BIGVU is a mobile and web app that helps you to write, record, export, and upload your video on all the major social media platforms. This includes everything from adding and mixing external audio, editing and styling the video; added to this is a superbly interactive and user-friendly app interface.
How to use BIGVU?
Creating and Uploading Scripts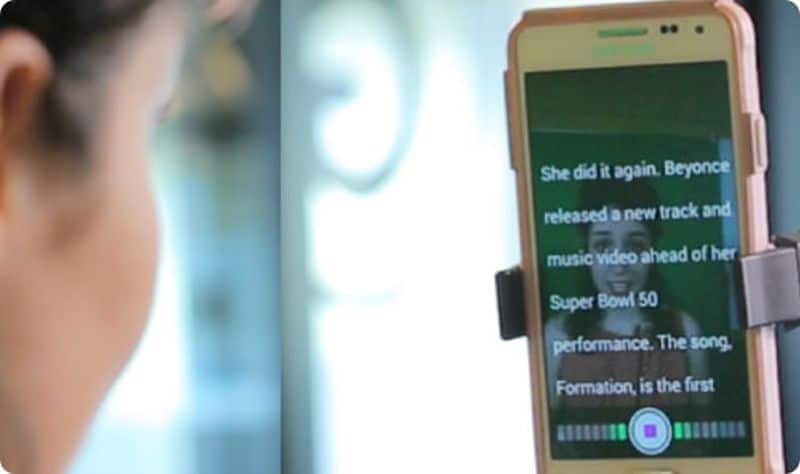 Image Source : bigvu.tv
First of all, login to the BIGVU Desk on their main website Desk.BIGVU.TV. After that, move the cursor of your mouse to the top write on the screen, where you'd see a 'create a new script' button. Now, you can either type your script in the text box or (if you are using some other application to write the script) you can simply copy and paste your script. After that, you just have to save the script by clicking and on the "Save Script" option and then click on "Send to App". That's all. Your script would now appear on your mobile app.
Editing and Styling the Videos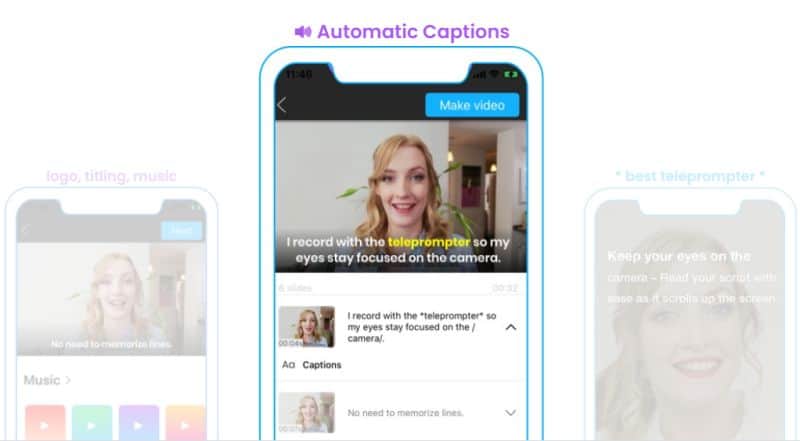 Image Source : bigvu.tv
When it comes to editing and styling your video on BIGVU, there are multiple things that you can do. Let's see what they are:
Changing Aspect Ratio/ Cropping the Video: Since same video aspect ratio doesn't work for everything, it is important that you change the aspect ratio of your video depending upon where you are sharing it. Along with the choice to select many default aspect ratios, BIGVU comes with the option to also manually crop the video. For that you simply move to the "Style Your Video" option, and you'll see the multiple aspect ratios that you can choose from along with the option to crop your video at the bottom.
Trimming the Video: BIGVU comes with a WordTrim option that allows you to trim the video as per your requirement. To use it, click on "Edit with WordTrim". It usually takes time to open this, but you get a notification when it does. With the help of the time-coded script below your video, you can easily trim it by using the slider and selecting the portion that you want.
Adding a Logo to your Video: Within the "Style your Video" screen locate and click the "Style" icon. Click on the "Logo" option. Now in the window that opens, locate the logo of your choice, resize it according to your needs, and use it.
Adding Titles to the Video: Once again, enter the "Style" tab. Here, in the theme option, you can add the line-1 and the line-2 titles.
Adding Captions to the Video: Once you have uploaded the video, from the web desk, open the composer, and re-open your story. Here, you'd see three dots, click on them and select "Open in Composer". After selecting the language of captions, you'd see the video in a segmented form along with the captions. Here you can add, edit or even apply a new theme to the captions.
How long does it take to create a video with BIGVU?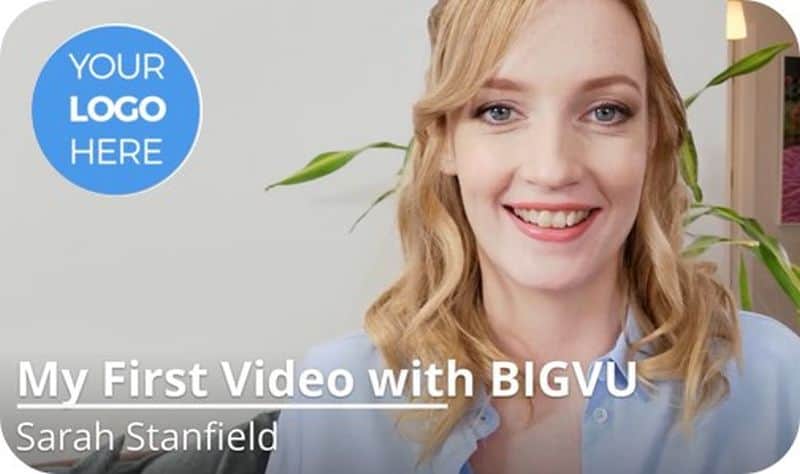 Image Source : bigvu.tv
Normally, if you have everything prepared in advance, it does not take any more than 10 minutes. This is because of the very simplified user-interface of the app. It makes it easier to upload videos regularly on your platform, even when you can't spare too much of extra time for it. So, this app is ideal for anyone who is wishing to become an influencer on Instagram or YouTube, as these two rank your profile based upon the frequency of the videos that you upload.
What are the different plans for BIGVU?
Image Source : bigvu.tv
BIGVU has four plans that you can choose from. You can go either for the "Starter", "Plus Plan" or "Workgroup Plan" or "Team Plan" depending upon your needs. Apart from that, there's also a free version.  If you are okay being limited to features like the Teleprompter feature and the WordTrim along with a watermark, we'd suggest you go for the "Free Plan". This should suffice for most of our personal needs.
The "Starter Plan" would cost you around $14.99 per month, and it allows you to produce videos that are up to 9 minutes long without the watermark. "Plus Plan" costs $35 per month. It allows you to edit videos that are up to 59 minutes long and you can also do customized branding on it.
If, however, you are looking to buy BIGVU for your small scale business with all the premium benefits like multiple users (maximum 5) and shared media library etc. then "Workgroup Plan" is what you should go for. It'd cost you around $149.99 per month.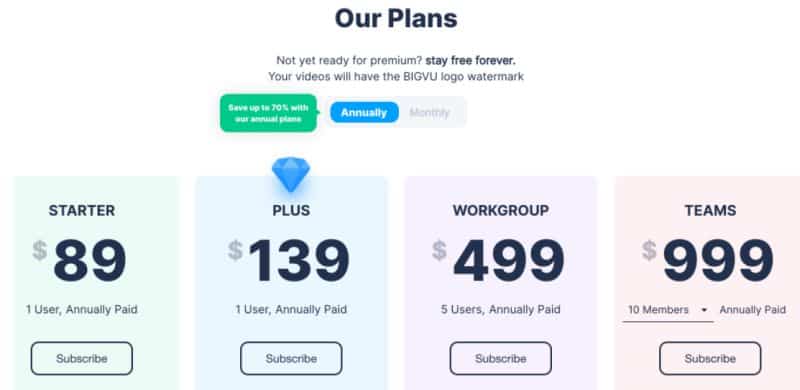 Image Source : bigvu.tv
For bigger business the "Team Plan" would be more ideal. It has everything that the "Workgroup Plan" has, and on top of it, this plan allows 10+ users and multiple desks (with different permissions). This plan starts from $300 per month. You can change it depending upon the numbers of users.
In case you want to use the app for a long-term but want to save some money, we'd suggest that you go for the yearly plans. The "Starter Plan" would cost you $79.99 yearly whereas the "Plus Plan", "Workgroup Plan", and "Team Plan" would cost $139.99 and $499.99, and $999 respectively.