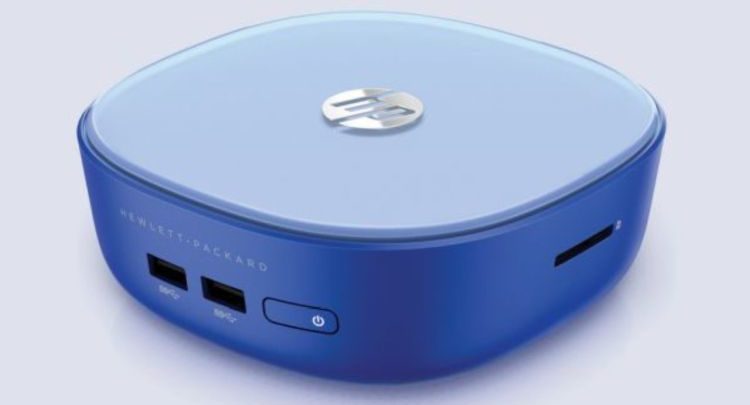 HP has recently revealed its super cool creation called Pavilion Mini desktop. It is part of the Mini Desktop line launched by the company. Check out what it has in store for you.
Appearance –

Pavilion Mini is a stylish, sleek and simple device that looks modern but is not flashy. It has nicely working basic features with no complication attached. If you are looking for a lightweight and compact PC for your living room, the Pavilion Mini can definitely be among your choices. This desktop is developed to serve the needs of a small family in an easy and comfortable manner. The device is available in blue color and looks quite appealing in its mini size. Even if you do not go for mini desktops, Pavilion Mini is something that can attract you with its bowl-shaped appearance.
Performance —
While Pavilion Mini looks small in size, it is a power-packed device that runs Windows 8.1 and has up to 1 TB storage space. It has 8 GB of expandable memory. The only down-point is its Intel Core i3 processor that may not allow a very high processing speed. Thus, you may not be able to perform heavy-duty tasks on this desktop. Otherwise, it is a wonderful option as far as data storage is concerned. This 2.06-inch device has a weight of 1.6 lbs. While Pavilion Mini supports the streaming of Quad HD resolution videos, it may not play 4K content. It supports SD, SDXC and SDHC through its 3-in-1 media card reader. There are two front-facing and two rear-facing USB 3.0 ports.
Ease of use —

Pavilion Mini is an easy-to-use desktop that comes with an optical mouse and a wireless Chiclet keyboard. It works efficiently and has simple features that help you in working faster. You can also receive easy connectivity, as it is Bluetooth 4.0 and 802.11b/g/n WiFi-enabled. Pavilion Mini is a decent device for performing all basic tasks that you may want to do on your desktop.
Quality —
With its white plastic chassis and silver-coated top, Pavilion Mini is a great gadget to keep in your office or home. It is not only superb in looks, but also offers great specs. Thus, you receive a decent compact device at a price cheaper than that of many other similarly performing devices. It is a good quality gadget for your basic requirements.
Value for money –

The starting price for Pavilion Mini is around $320, which is fair for such a quality gadget. However, you may not like to spend on expensive upgrades to improve its performance.