Linux has been gaining a lot of popularity and has evolved from being just a backend server. There are many more games that are compatible with Linux now. Unlike other OS, Linux has the biggest free repository of open-source games and has a host of free audio software as well. With Steam, Linux has now access to the AAA games too. So, load out your computer with cool graphic cards, update its RAM and check out the best Linux games to play in 2020.
18 Best Linux games to play in 2020
1. Widelands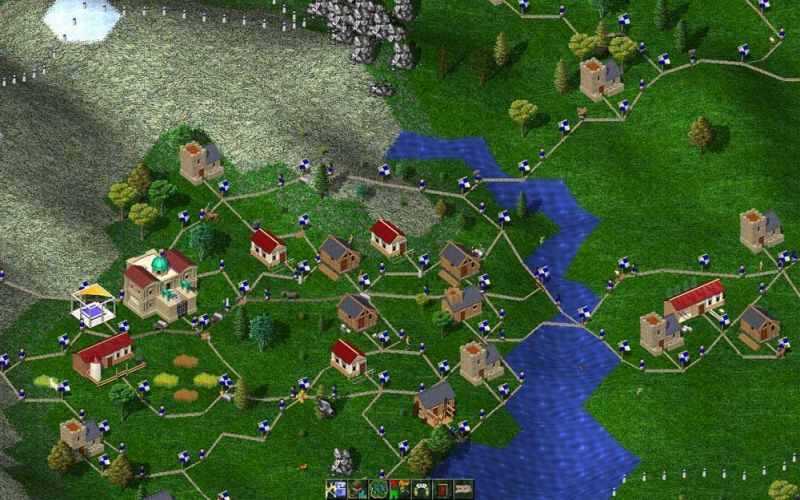 Image Source : cdn.freewarefiles.com
It is a free game which is a real-time strategy game. The game has both single and multiplayer modes. It was the 'HotPick' of the Linux format, and it is available in almost all the European languages. The map editor allows gamers to create maps of their own.
2. Counter Strike: Global Offensive
Image Source : gamingonlinux.com
This open source Linux game is great, especially as it has been developed for Linux. It's a multiplayer game has excellent graphics, and the controls work just fine too. The objective based shooter game has two opposing teams. Depending on your mode, you have to accomplish different goals, such as saving hostages or defusing bombs. There are multiple modes available and you can also play with AI controlled opponents.Since there are also many upsides of playing video games, you don't have to be guilty if you go all out.
3. Pingus
Image Source : community.linuxmint.com
This is another open source Linux game, that is favored by those who are not into shooting games. This is a free game as well and there are 55 levels in this game. Your objective is to escort your penguins from the point of entry and take them to the exit by creating paths, bridges etc. for them and crossing obstacles. Each level begins with several trap doors which release the penguins and they follow each other until they fall off when their paths are not cleared in time.
4. The Talos Principle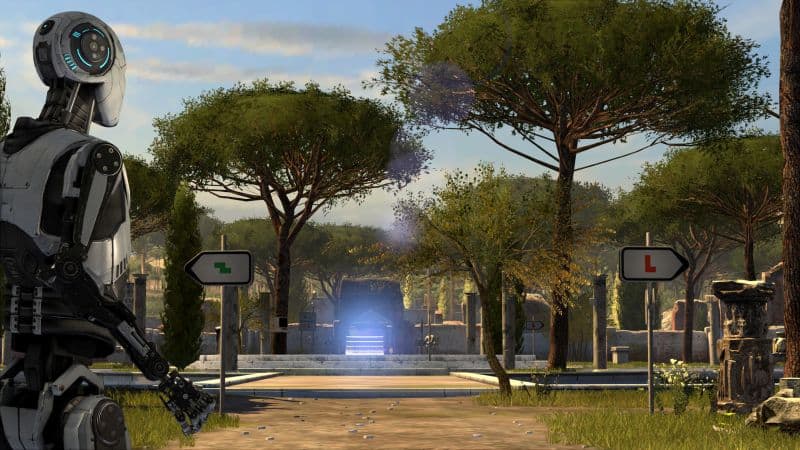 Image Source : lutris.net
The Talos Principle is for those who are into puzzle games. Inspired by Talos or Talon, a Greek mythology creature, the game creates puzzles which are more mindbending than ever, and a surreal world where you can completely lose yourself.
The players have to collect multiple 'sigils' by maneuvering mazes, crossing obstacles and so on. The game also presents philosophical conundrums about your identity in the game. The game is quite popular and well-respected in the gaming industry.
5. DOTA 2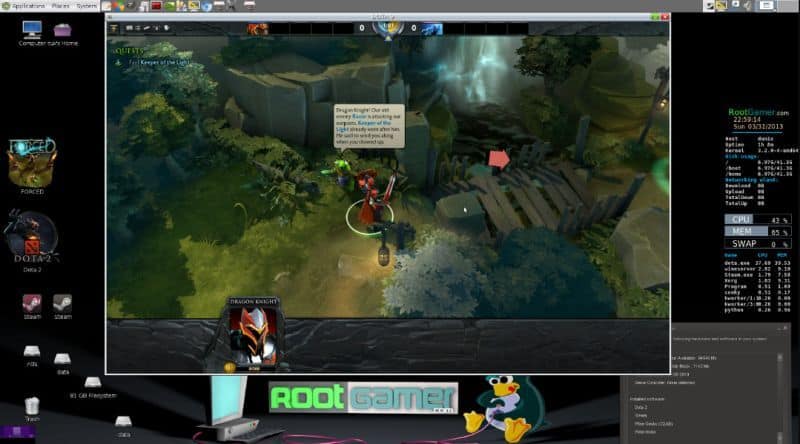 Image Source : rootgamer.com
This game is for Steam exclusively, and is a free Linux game. It runs amazingly well on Linux as it has been developed for Linux (as well as other systems). You don't have to install any driver or configure settings in any way. Though it has a higher learning curve, it is among the most popular games as 800,000 players play it daily.
The gameplay consists of 2 teams, 5 players each who try to destroy the other one's stronghold, and collect items to help in the quest. Each player has to select a 'hero' before starting, and every hero has a pros and cons.
6. Metro: Last Light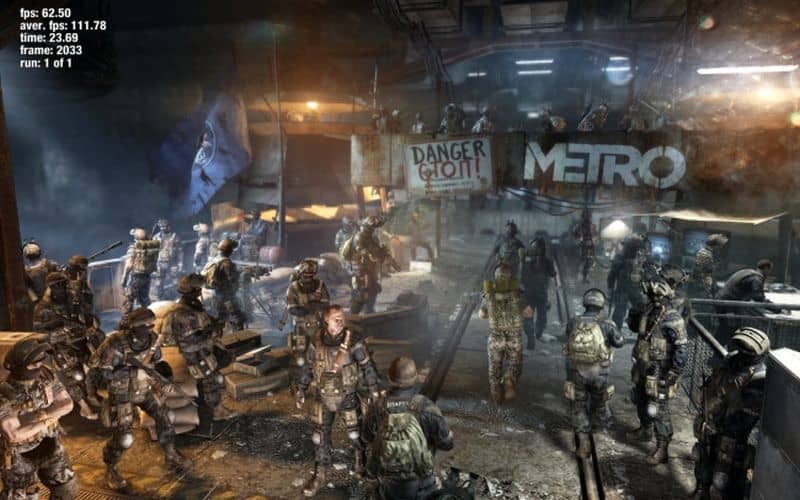 Image Source : phoronix.net
The storyline of the game revolves around Artyom, who is the main protagonist. You would be playing the game as Artyom and fight mutants and hostile humans. There is a good amount of freedom to use multiple tactics to engage enemies. You can go on several route explorations, as the map is larger than its predecessor 2033.
7. SuperTuxKart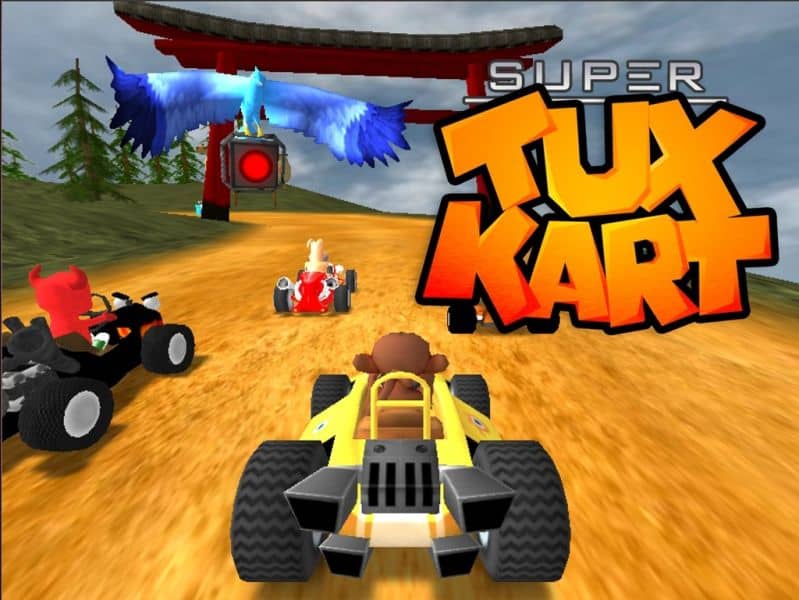 Image Source : ubuntufree.com
It's a free Linux game, which is open source as well. It is a kart racing game, similar to MArio Kart, but with some differences. The game is single and multiplayer, along with a story mode in which you have to complete the race within the given limit, in order to open tracks and karts.
To add to the fun, you can select the character from the mascots of open source games such as Beastie (BSD), Tux (Linux Kernel), ElePHPant (PHP) and so on.
8. Rocket League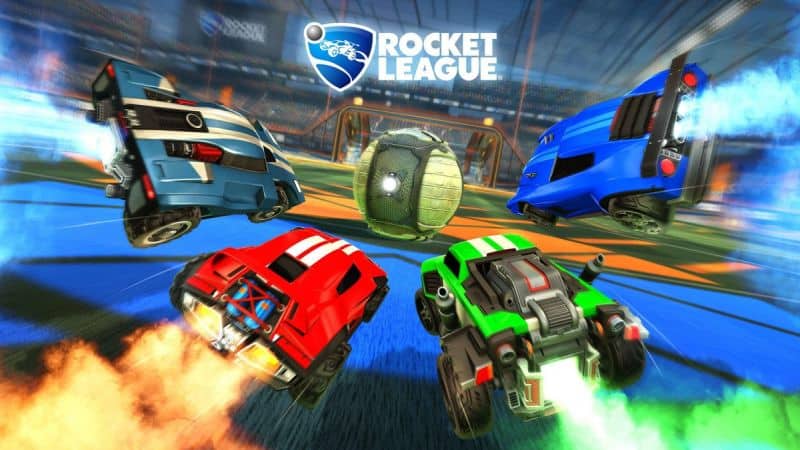 Image Source : cdnssl.ubergizmo.com
The game is available natively like DOTA 2 and CS:GO, so you get excellent performance. The interesting thing about the game is physics driven approach. To play it, you have to use your car as in a soccer game. It's quite unusual and that is what makes it extremely popular. The controls are easy and fluid, and you can compete with the online players. There are modes in which you can play basketball and hockey with the car as well. The action-packed games is one of the games for Linux which is one of the best.
9. Borderlands 2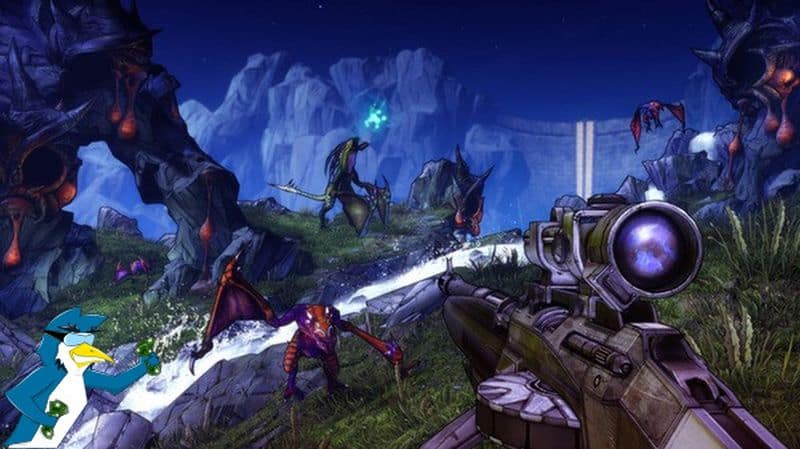 Image Source : gamingonlinux.com
The open world role playing fast paced action game which focuses on completion of missions and collecting loot, such as shields and weapons and so on. This second version borrowed all features from the predecessor, well, almost, but the additional 'Vault Hunter' bonus is what makes the game far more interesting.
10. Alien Arena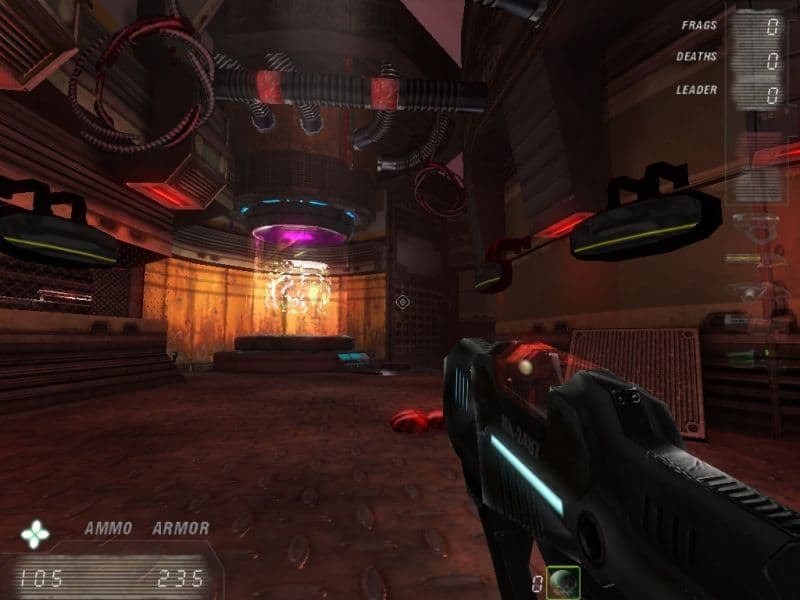 Image Source : securitronlinux.com
A traditional FPS game, it combines sci-fi concepts from a few years back with gameplay concepts of Unreal Tournament and Quake series. Even though it is a single player mode by default, where you play with bots, but the real fun is playing with others. This is one of games for Linux which is fun and engaging. The game's core feature is that it has an inbuilt internal browser/server that points out other players you can compete with. It also works as IRC client between online players.
11. The Witcher 3
Image Source : gamingonlinux.com
The Witcher 3 is very popular or perhaps the most popular desktop games on Google Stadia and Windows. Now, you can play Witcher 3 on your Linux machine too, with the aid of ProtonDB. This is a database which tracks Windows game compatibility on Linux, and has awarded Platinum status to the game, meaning that it can be played on Linux without many issues, though you may have to upgrade the graphics driver.
The game is all about a fantasy world where you have to find the prophesied child who would save the whole world.
12. Empire Total War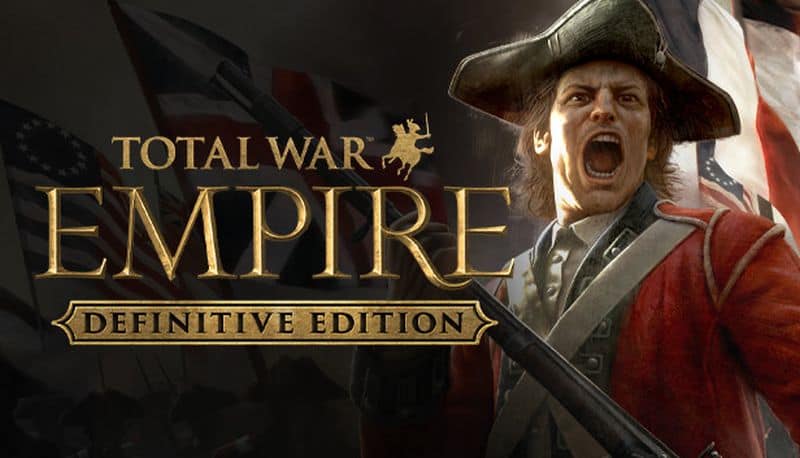 Image Source : steamcdn-a.akamaihd.net
The aim of this game is ultimate conquest of the world. The player, or you, has to lead the nation to greatness, by focusing on politics, economics, founding as well as colonizing them. The real-time strategy game focuses on the superpowers of the 18th century such as Great Britain, Russia, Prussia, France, Mughals and others.
13. Life is Strange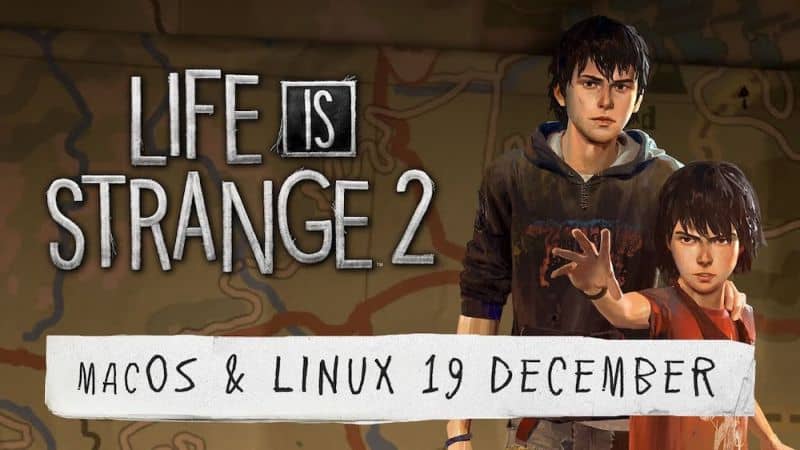 Image Source : omgubuntu.co.uk
If you like episodic games, then you would really like this one. This involves an 18 years old photographer, called Max Caulfield, who finds out about the supernatural power to travel in time. The game is played from the perspective of third-person, as it involves time travel, the player can undo his actions by pressing rewind. The non-playable objects and characters can be interacted with, and you can explore multiple locations. This helps to solve puzzles in form of sub-quests, making drastic changes to your environment.
14. 0 A.D.
Image Source : play0ad.com
Die-hard fans of strategy games in real time, such as Age of Empires but want it on Linux, will be happy with 6.0 A.D. This game gives you all the game elements you need such as building bases, creating army units, research and tech, military tactics and more.
The game challenges your war and economic strategy skills. With 12 civilizations to select from, and every one of them having special units as well as particularly designed buildings for each, you will be tested to the limit.
15. Fishing Plant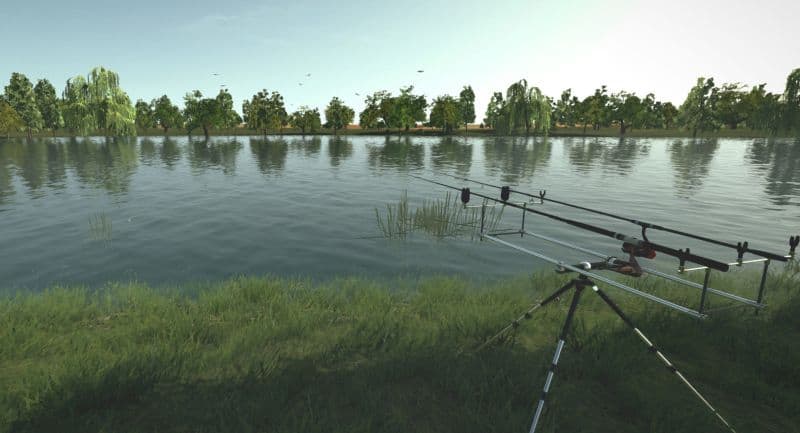 Image Source : mobygames.com
Fishing Plant is an online first-person fishing simulator. It is a multiplayer game offering the perfect fishing experience. For anglers who can't wait to fish till the next time, Fishing Plant is great for some relaxing virtual fishing. The game is pretty basic, with great graphics, to provide a very real experience.
16. Rimworld
Image Source : external-preview.redd.it/
Inspired by the legendary Dwarf Fortress, this game is a sci-fi colony simulation game about the colonists who are trying to build colonies on frontier of space, or the 'rim' of space. The game was released way back in 2013, but has made steady improvements. The colonists survive by fighting hostile machines, creatures of all kinds, build weapons as well as structure, train and tame pets, farm animals, trade with the passing caravans and ships.
The fate of the colony is in AI hands, in the form of the AI Storyteller, who analyzes your actions to create dramatic events, which provides the foundation of stories which are unique. The AI gives the RimWOrld an unending replayability. This is not a free game but you will at least get value for money.
17. Cities: Skylines Deluxe Edition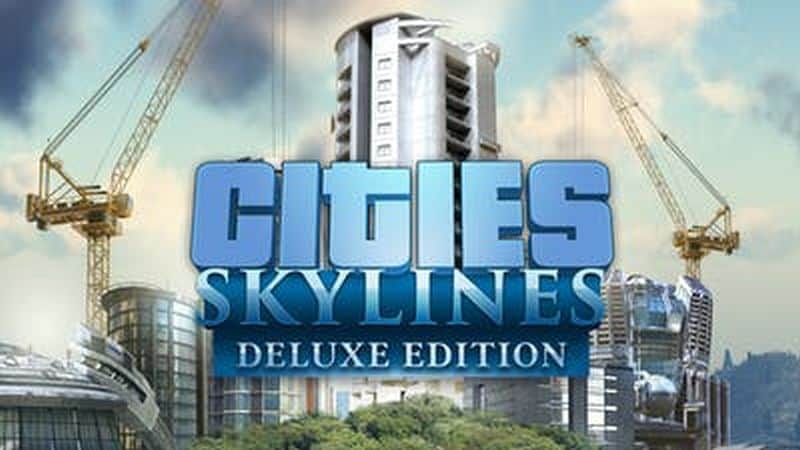 Image Source : fanatical.imgix.net
The detailed city building game has taken building cities to a whole new level, with a day-night cycle, new gameplay elements, affecting gameplay to a realistic simulation of the city's economy. It is a massive toy box for the gamers who love to pretend to be city planners.
The Deluxe Edition does not include extension packs, and comes with a number of in-game extracts which are not available in the game's base version.
18. Stardew Valley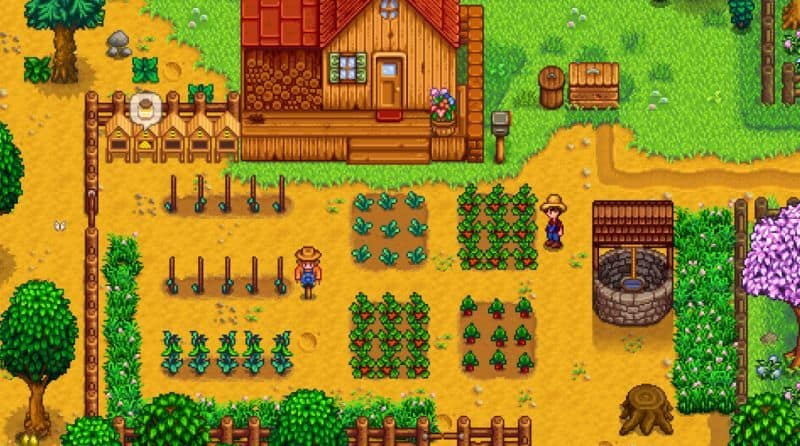 Image Source : media.npr.org
If you want to escape from the daily grind for some time, then this video game is just right. It is a virtual farm which allows you to grow crops and seeds, add items, befriend neighbors, look for treasures underground, and get married. The game looks simply but is actually quite addictive. It runs well on computers without graphics card too. Linux, Windows, macOS, iOS and Android are the operating systems.