The global healthcare needs a robust Health Record Exchange System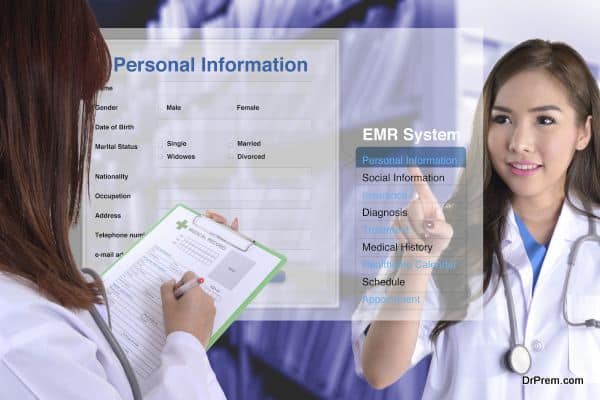 The continuous growth in the healthcare industry has spurred an increasing demand for a universal health record exchange system that would allow health information data to be accessed from any healthcare provider in the world. A growing number of patients and health providers have also started asking for a single point source for medical records that would be accessible by diverse EMRs (electronic medical record systems) from around the world.
The need for a Health Record Exchange System
Accurate medical history and medication information is required for proper diagnosis and treatment. In most cases, a patient remains the end point of this information and has to provide it to the doctor he visits. Unfortunately, not all patients are able to provide the exact details of their medical history and medication reports, thus making it very hard for the consulting doctor to diagnose their condition or treat them.
A health record exchange system would be of great help in such cases. All the doctor would need to do is gain access to the patient's medical records via an EMR system, thus gaining access to each and every detail about the patient's medical history and medications. This would help reduce the medical errors otherwise caused by poor exchange of information from patients to providers.
What would the health record exchange system contain?
A health record exchange system would contain all the details about the patient's medical history, including previous and current illnesses, medications, allergies, and so on. It would provide the attending doctor easy access to important information like the drugs the patient is currently consuming, their dosage and their frequency, etc.
In addition to this, the health record exchange system would also offer general features like online calendars and reminders for appointments and treatment schedules, access to community services, information related to medication reconciliation, personalized health education, access to general health plans as well as their costs, and online health communication services offered by healthcare providers.
Other services like organizing health information and records, registrations, immunizations and health plan information would also be available for patients, doctors and healthcare providers.
Existing barriers to implement a Health Record Exchange System
In spite of its myriad benefits, the health record exchange system still faces many barriers that obstruct its implementation and operation. These include:
Need for standardization across differing information systems
Information systems can vary greatly from one place to another. The use of a health record exchange system would therefore, create the need to standardize as well as modify existing information systems across different platforms. This tends to become an expensive process as the individual information systems would need to undergo rigorous technical and political processes to adapt to the standardized system, failing which the information in the latter would not be available for these systems.
A lot of questions have also been raised about the level of accessibility provided by the health record exchange system. Many are wary of exchanging personal information across a public domain which would be accessibly by doctors, healthcare providers and even other patients.
Many healthcare providers are also reluctant to provide confident information over a public domain like the health record exchange system. So while they are happy about sharing patient information and medical records, they are less than keen on sharing information related to health plans and costs.
The same can be said for certain medical facilities which are keen on sharing information related to the patient's medical history and medication details. However, they are not willing to come forward with their laboratory, imaging and medical test data.
Lack of Computer Knowledge
Finally, about 80% of patients do not use a computer on a regular basis. This would become difficult to implement a system wherein the patient would also need to log in from time to time to update his medical details.
The growing healthcare industry has spurred an interest in developing a universal health record exchange system that would allow for easy access of medical records across different platforms and from different locations.]]>