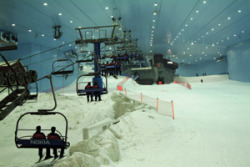 Ski Dubai's Ski Patrol ensures a rapid response for visitors who take a tumble at the popular winter sports centre
First Aid on the Slopes
Ski Dubai's Ski Patrol ensures a rapid response for visitors who take a tumble
Skiing and snowboarding are the most common forms of snow sports activity and these too can carry a high degree of risk and injury, particularly for amateurs and those who are new to the pastime. A lack of skills on the slippery medium of powder snow can translate into a difficulty in stopping once underway, meaning that all too often the final cessation of movement comes courtesy of an obstacle or a tumble, leading to bruising, broken bones, or worse.
Figures for injury rates among skiers are often expressed as Injuries Per Thousand Skier Days (IPTSD). IPTSD has been traditionally used to denote an overall injury rate and is derived by dividing the number of injuries seen by the total number of skier/boarder days. This figure is then multiplied by 1000. Alpine skiing and snowboarding carries an injury risk of around three to 10 injuries per 1000 skier days; in other words, for every 1000 people skiing on any particular day, up to ten will sustain an injury that requires medical attention.
Despite the potential for injury, skiing and snowboarding remain popular pastimes, even in this part of the world. Thanks to Ski Dubai, the region's first indoor snow sports centre, winter sports enthusiasts no longer have to travel to Alpine resorts and cooler climes to indulge in some downhill fun. The iconic leisure destination welcomes around 800,000 people a year to avail the artificial snow and sub-zero temperatures that enable them to practice their existing skills, or learn new ones, under the watchful eye of skilled instructors. The centre has also hosted international winter games events for more experienced practitioners, such as the Skiboard World Cup, which took place in May 2008.
Safety for its users was a prime consideration factored into Ski Dubai's construction, with the anticipation that it was likely to attract hordes of enthusiasts, both novices and aficionados, who would want to make the most of the only snow to be found in the region. "Ski Dubai is the largest indoor ski resort in the world. It was opened in December 2005 and has hosted almost 3.5 million visitors since then," says Lucas Marchand, Operations Manager at the centre. "Safety has been a primary focus since the very early stage of the project and specialists from indoor slopes, as well as outdoor ski resorts, have been involved to ensure Ski Dubai is designed and operated around the best existing safety standards and practices," he adds.
Even the safest skiing environment however, still holds an element of risk of accidents for users, particularly through falls and collisions with other skiers and boarders. It is for this reason that Ski Dubai trains its entire complement of staff in basic first aid, with selected personnel in the 'cold area' departments (the slope-side areas of Ski Dubai) having additional instruction in 'activity first aid.' Some of these highly trained responders man the piste in the form of the Ski Patrol team, which is trained and certified by the National Ski Patrol (NSP) body and is a part of the organisation's European division.
The Ski Patrol team has a permanent presence on the slope during opening hours at Ski Dubai. In the event of any incident, the response is immediate and once at the scene, the patroller will follow basic NSP guidelines. An initial assessment is made by the rescuer, which takes into account the precise location of the accident and its environment – an important consideration, as a skier may have fallen directly in the path of other slope users who could be rapidly bearing down. Once the area has been deemed safe, the patroller will perform a rapid examination to determine the mechanism of any injury; an assessment that will also include enquiring about any previous medical history to ascertain any possible complications.
Once stabilised, the patient will need to be transferred to the Ski Dubai clinic for a more formal assessment in a controlled 'warm area' medical setting; a facility that is staffed by personnel from an outside hospital. However, first they need to be transported from the slope safely and this movement is one area in particular that requires additional training, as ferrying an injured party necessitates the use of a specialist evacuation sled. To ensure a safe transfer for the patient, the Ski Patrol team receives vital toboggan skills instruction as a part of its extensive 'Outdoor Emergency Care' programme. The title of this training course recognises that Ski Dubai has achieved its aim in having its environment closely mimicking that of an open air Alpine setting, therefore requiring a high degree of expertise in rescue skills.
All of the advanced first aid techniques practiced by the Ski Patrol team are refreshed annually and assessed by a Ski Dubai qualified NSP instructor. Lucas Marchand states that the centre follows closely existing European laws designed to protect the public. "The health and safety management system is an essential part of the Ski Dubai operation. It has been developed based upon local and UK health and safety legislation and ensures that Ski Dubai operates to best practice standards. Accident prevention is of paramount importance within Ski Dubai," he says.
 As with all high-risk activities, prevention is infinitely better than cure. Horst Bruggraber, Executive Consultant of Premium Health Solutions in Austria, represents hospitals that have developed leading expertise in the treatment of skiing injuries and his homeland hosts some of the most popular pistes in the world. Serious accidents at Ski Dubai that require extensive treatment are rare; thanks to the safety measures in place and the instant response of the Ski Patrol team to any incident. But, as Horst points out, the situation in his home country is somewhat different. The outdoor terrain and often vertiginous slopes that have bred some of the best skiers in the world have also taken their toll in terms of injuries. Every year Austrian hospitals and rehabilitation centres have to deal with more than 40,000 severe injuries caused by skiing accidents; a situation that has led to Austria leading the way in the treatment of snow sports injuries. Horst has himself over 40 years of skiing experience without sustaining significant injury and his professional responsibilities, along with his personal enthusiasm for downhill sports, means that he is well placed to offer sound advice for anyone who is thinking of taking to the slopes, whether at Ski Dubai or a conventional resort. Among the recommendations he advocates are a pre-slope flexing routine, recognition of limitations and a careful selecting of equipment to minimise the risks of harm resulting from a tumble.
"A good set of warm-up exercises will make sure that any over-stretching that results from falls or uncontrolled movements will not lead to injuries of the muscles or ligaments," he says."It is also important to adjust the speed and the challenge level of the slope to your ability. Your equipment plays a very important role; don't wear short sleeves or use too long skis and always wear a helmet. Boots are extremely important. Make sure that your skiing footwear gives you firm support. They need to be the right size and be closed tightly when you are skiing — they can always be removed to offer relief when taking the ski lift up afterwards. Boot binding should be well adjusted to your weight and your skills level. The binding should not open during normal skiing, but has to be able to be released after a fall. If the binding does not work properly, serious injuries such as broken legs, ligament and ruptures may be the consequence," he continues.
Horst states that Austrian doctors have made the diagnosis and treatment of injuries that result from winter sports activities into an art, with the country becoming the first choice for those who have hurt themselves on the slopes; including Olympic champions and famous politicians and celebrities. But despite the potential for injury, he says that snow sports activities are a great way to keep fit, whether out on an Alpine piste — like the ones he frequents in Austria — or indoors at a specialist leisure centre, such as Ski Dubai.
"Skiing, snowboarding and other winter sports are exhilarating activities and if undertaken with a firm focus on safety, are wonderful ways to enjoy life to the full," he says. "Participating in these sports is a very social activity and opens up a whole new world that allows you to meet fellow enthusiasts at the same level as yourself. As long as you take care to follow the advice of your instructor and stay within your limits, you will improve on your skills, remain safe and enjoy years of trouble-free downhill fun ahead," he adds.