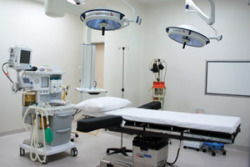 Two health industry leaders outline how the global economic downturn has affected their organisations
Weathering the Storm
How has the Global Recession Affected the UAE Healthcare Sector?
Two weeks ago, Thomson Reuters released its annual study identifying the 100 top U.S. hospitals based on their overall organisational performance. The Thomson Reuters 100 Top Hospital: National Benchmarks report revealed that even in the current tough economic times, the country's top hospitals are continuing to show a profit. So all is well and good for the strongest healthcare institutions in the world's largest economy, but how are their counterparts in the UAE faring?
We ask two of the UAE's healthcare leaders to answer the question… "What have been the implications of the global recession for you?"
David Hadley
Chief Executive Officer EHL Management Services
"On the negative side, the recession has affected us because the oversupply of patients has been reduced. Many supporting clinics, particularly within Dubai Healthcare City, have closed and these would have been users of our facilities.
Also, many of our staff who came to Dubai primarily because their spouses gained employment in the booming real estate and construction sector, have had to return to their home countries due to the fact that their partners have lost their jobs. This has left us with critical vacancies, particularly in nursing and physiotherapy, which we have had to fill. On the positive side, however, less competition has come into the market place and the barriers to entry are now greater for new entrants, thus creating additional opportunities for us. Added to this, accommodation prices have normalised, which has assisted us in being able to attract professionals to the region at a price that the consumer can afford.
Due to the fact the we opened The City Hospital; our total growth during this period of recession has been almost 100% within the group. We are less bullish about opening new facilities within Dubai, but are still planning on a few, including the current clinic in the IBN Battuta Mall, which is currently under construction. We are now more focused on growth and investment in other parts of the UAE and GCC and are presently looking at immediate opportunities in Abu Dhabi.
We are satisfied that our business model is what the residents of Dubai are looking for, as we are focused on ethical, professional and quality healthcare at an affordable price and we remain very positive that we will continue to grow. We are supportive of the country's overall healthcare ambitions and will partner these initiatives where possible. We believe that there will eventually be consolidation within the industry in many facets.
Firstly, the regulatory bodies of Dubai in the Dubai Health Authority and Dubai Healthcare City's Center for Healthcare Planning and Quality will hopefully partner with the federal Ministry of Health in delivering unified healthcare regulations that are applicable for the entire UAE. Secondly, we believe that there will be a consolidation in the healthcare insurance sector and that this sector will in turn, direct its attention to supporting proven quality initiatives, especially in terms of secondary and tertiary care.
Lastly, we think that there will be a more conservative approach by healthcare operators entering the UAE market."
Raza Siddiqui Executive Director,
ETA Star Healthcare and Dubai Lifestyle City
"The UAE population has grown substantially during the last five years, which has affected the supply and demand situation and has left a current gap for approximately 2,000 beds. There was substantial supply of hospital beds in the pipeline from various health providers globally, which are on hold due to various reasons.
We at ETA star health care also have 500 hospital beds in the pipeline temporarily on hold because banks are still not open to support construction activity, even for a hospital, meaning that some new projects are being delayed. This unavailability of finance has made things difficult in terms of working capital and short term loans, but health care is an essential service, which means that the industry is not as impacted by an economic down turn. We are quite optimistic, as our current health care businesses have not been affected. On the contrary, in 2009, we showed tremendous growth and we also see the revival of pending projects happening in the near future. It is estimated that the total GCC healthcare spending will reach more than $60 billion by 2025, up from $12 billion today.
Right now, the government shoulders more than 75 per cent of healthcare expenditure, which will change in the near future as private players becoming much more active in the market. There have already been impressive improvements seen because of the substantial investments made by GCC Governments in each and every aspect of healthcare. This investment is reflected in the overall improvement in basic health indicators, which are comparable to those of developed countries. Life expectancy in the region rose from 60.5 years in 1978 to 73 years by 2004 and in the same period, infant mortality fell from 69 deaths per 1,000 live births to 18. It is predicted that in next two decades, the population of GCC countries will double, with the number of people aged 65 and over increasing by more than sevenfold. Add to this other demographic changes and risk patterns for diseases and a substantial rise in demand for healthcare treatment in the region will be seen. By 2025, demand for hospital beds will have more than doubled and the region will require almost 162,000 beds in total. Saudi Arabia and UAE are expected to register the greatest percentage increases in demand."