Bridal diet: A bride's guide to healthy eating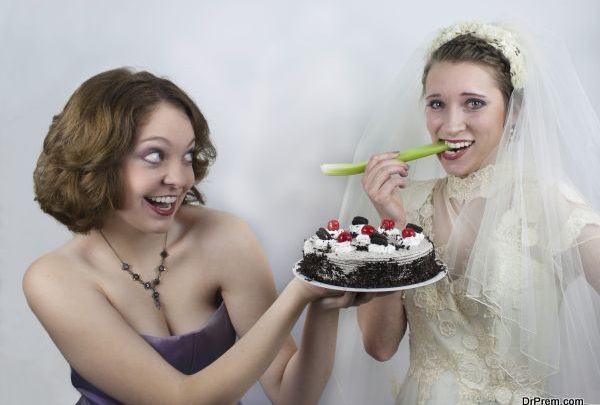 It is important for every bride to stay healthy and fit so that she can withstand pre-wedding stress. A bride who eats healthy before her wedding can maintain good energy levels without gaining weight. As every bride wants to look good and in shape on such a special occasion, healthy food is the way forward.
Below are some healthy diet tips for every bride to look good on their wedding.
Jot down the list of food you eat
Brides might want to fit in their wedding gowns on their wedding, but giving up on food completely will make you weak. Rather than starving yourself, you must follow a proper diet to fit into the wedding gown. Take a pen and a paper and start making the list of the food you eat. Religiously follow this tip and write every food that you eat. Even if it is not a healthy food, you must write it down. Do not skip the schedule if you really want to stay on a healthy diet. Consult your doctor or dietitian before making any diet plan to avoid any complications.
Consider eating food that keeps you full
Unwanted hunger and abdominal sounds can tease you occasionally. For brides who want to maintain a good health before marriage, just hop on the food that keeps you full for longer hours. Pick some healthy food from your kitchen like almonds, eggs, avocados, beans, and oatmeal. When you eat these healthy foods, you feel full for longer hours. When you feel full of longer hours, you do not have to eat repeatedly. When you are not eating repeatedly, there are chances that you will lose few pounds before wedding.
Do not skip breakfast
Skipping breakfast is one of the unhealthy habits that will just make you weaker. Eating healthy breakfast helps in boosting the metabolism of the body, which helps in reducing fats and get you in better shape. Follow a proper diet to ensure that you eat healthy and nutritious before your wedding. Breakfast sets the pace for the day making you feel full for longer hours. It will let you lose few pounds besides providing good health.
Avoid alcohol
Drinking alcohol just before wedding is a bad idea. Brides who are going to marry soon must avoid alcohol completely to avoid any damage to digestive system. Hoping on to alcohol can add tons of calories. Besides that, alcohol also adds puffiness to the eyes, which often won't look flattering in the wedding, or the wedding photographs.
Every girl dreams to look perfect on her wedding. It is important to follow a healthy diet plan before getting married, so that you get the desired shape and look you want at your wedding.