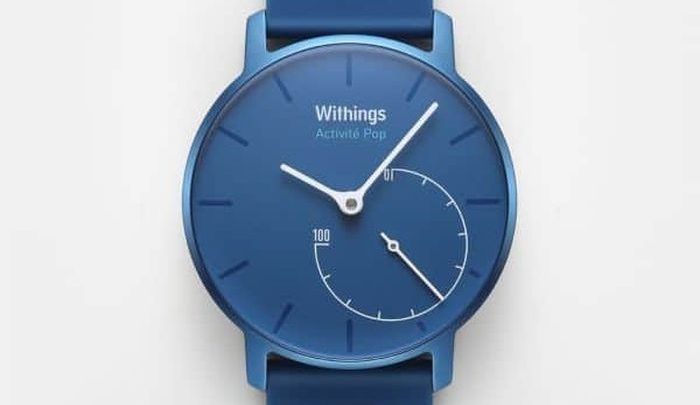 Withings is a French company that has come up with its cost-effective fitness tracking smartwatch. Activité Pop follows its pricier counterpart called Activité, which costs around $300 more than this tracker watch. Check out whether this cheaper version comes with matching quality or compromises.
Usefulness
The fitness hybrid called Activité Pop is highly functional with useful features. Thus, it is very effective in tracking your fitness and sleep once you connect via Bluetooth. Along with its HealthMate app, it can also be used for checking your heart rate, weight, and elevation during an activity. As soon as you reach your step goals, the gadget gives you a buzz and the hands spin vibrantly, before resetting the counter to zero and restarting tracking.
While the step goal of 10,000 is a bit overwhelming, the device is pretty accurate and consistent at tracking your steps. However, it is not very precise and helpful when you are tracking the distance covered through the running activity. You can even set a one-time alarm on this gadget. However, it will only vibrate on your wrist 12 times and you cannot stop it at will. Similarly, reminders can be set but these only pop-up on your screen and go off. Overall, Activité Pop is a decent gadget to track your fitness and health factors.
Value for money

At a price of $150, it can be a wise buy for any user who is not too concerned about owning a fashion smartwatch or fitness tracker.
Appearance

This fitness hybrid is made of metal that is coated with PVC. Its face features mineral glass, and it comes with a silicone strap. However, the watch does not appear cheap from any angle. While it does not shine too much, it still appears attractive and elegant. Activité Pop offers a good choice out of several bright-colored straps. Thus, you will surely get at least one of your favorite colors. You can also interchange its 18mm strap.
The face of this gadget has 1-100 markings to track your progress, and it also shows marks for each five-minute period. You can see a pair of analog hands on the dial. This fitness smartwatch appears to be compact and like a regular wristwatch, but is still stylish in its own sense. On the other hand, it may not appeal some fashion-conscious users who want excessive glamour and glitter in their gadgets.
Performance

Activité Pop is compatible with iPhone and iPod Touch. With an effective user interface, the device is also efficient at breaking down your fitness activities into day or week clusters and displaying the burst of different activities and their occurrence timings. With the use of Withings HealthMate app, this device also does the same with the tracked sleep data. It is highly effective in displaying the tracked information in appealing formats. Activité Pop runs on a replaceable, regularCR2025 coin battery whose life is expected to be around eight months. It is also cool that you can wear this 5ATM water-resistant gadget while swimming.
Ease of use

It is very easy and comfortable to wear this fitness smartwatch, as it uses soft and textured rubber that also has slight stretch ability. It also does not cause any irritation on the wearer's wrist. Although it is a digital watch, it powers components that are analog. Thus, you will need to calibrate it at an initial stage so its hands may move at the correct pace. Else, it easily pairs up with your smartphone and sets the phone timing on its face automatically. It can also change its time zone automatically when it is in normal operational mode. Even while sleeping, you will hardly face any issue with this gadget.

Activité Pop is a decent-looking usable device that can track your basic fitness and health pretty nicely. Considering its low price, it can easily become a choice of any non-techie user looking for a high-performance tracker hybrid.