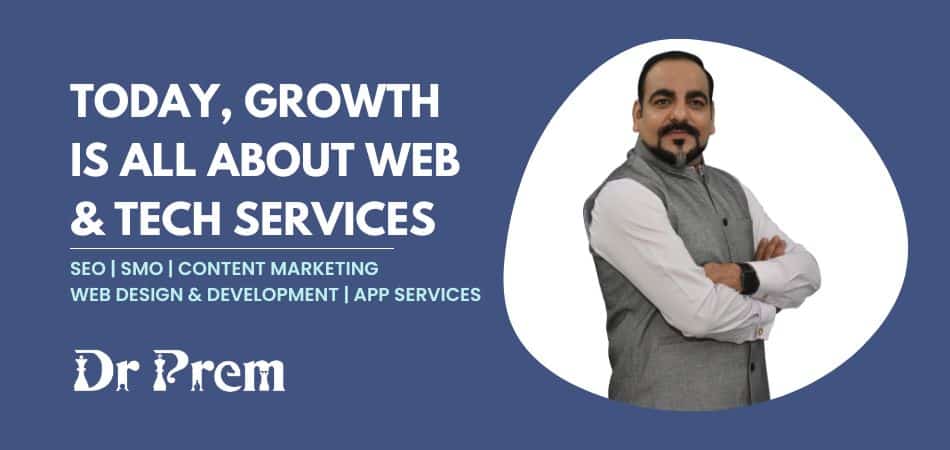 SuiteDash is one of the best cloud-based software for client dashboard which saves on money and time. The features of this software, which can also be used as an app on your tablet or mobile, are extremely versatile and designed keeping all your business needs. You don't need separate software for your e-commerce site, CRM and project management, bulk emails and so on. SuiteDash is a robust platform which is quite affordable as well.
I have compiled the features of SuiteDash, for you to see at a glance what it's all about. Take a look:
 Completely customized client portal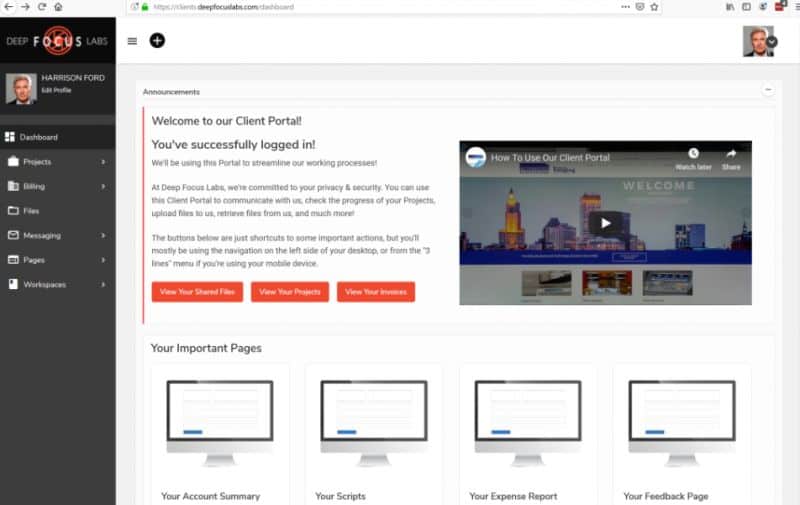 Image Source : suitedash.com
A flexible client portal can be created with SuiteDash, and it can be client-specific. Every client will have access to only their information, and you can design a website like structure for all the clients, which is a sure shot way to impress them. What I liked about the customized portal is that you can post the client-specific documents and files, which they can then download. Your clients will be able to view and pay their invoices online too, thus making it easier for you to track the payment status of each client.
As SuiteDash has pre-built dashboards and pages, you don't have to design these for your clients. The software also allows you to view the client's data and set a start page for them. The client portals via SuiteDash are fully responsive for phones and tablets too, making it highly accessible. YouTube, iFrames, Vimeo and other widgets can be embedded on the page too. 
Proofing and Approval Tool
This is another handy feature that allows you to receive immediate approvals/feedback from clients about the specific tasks/items within a project. The client only has to tick 'yes' or 'no' and mention his comments, when they login.
The admin receives the notification immediately and the project can be completed quickly and smoothly with the  client's approvals. It is easier to make changes step by step in this manner, instead of going back to the tasks and executing all the changes at the end of the project. 
'Company First' Mode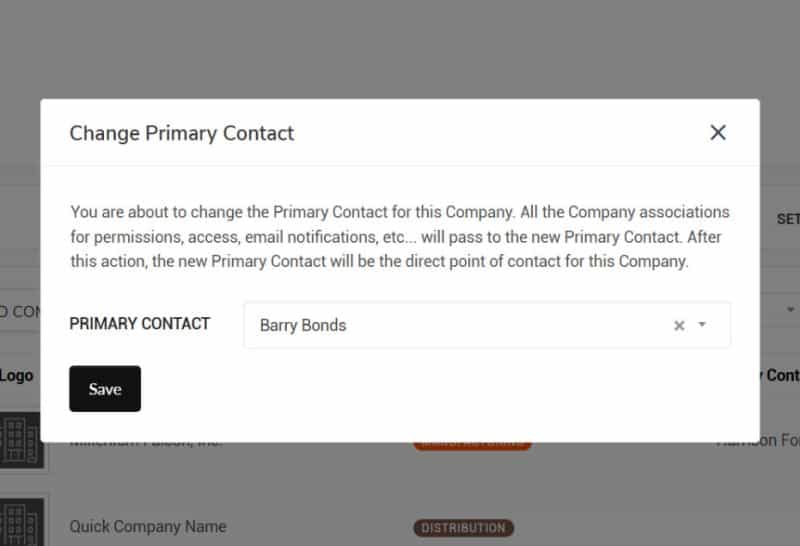 Image Source : suitedash.com
This is a unique feature of the software, which can be activated if your clients are primarily companies. When you activate this option, you can assign all the Projects, Portals and more, to your client company's Primary Contact. If the person ever leaves the company, you just have to assign the new contact, and the huge amount of data including files, invoices, and projects are already on the company's portal.
Any change of personnel does not require any handing over information and files, which is usually the case. Your client and you manage to save a lot of time if you choose the 'Companies First' option. 
White Label the client portal
SuiteDash allows you to customize your client portal with your brand's logo, colors and more. In my opinion, this is a big factor in establishing and maintaining the trust that your customer/clients have for your brand. Instead of being directed to a third party website, your clients will view your company's logo etc, thus feeling comfortable with using all of the new features. To the client, only your brand will be visible and not SuiteDash, which is a big advantage. You don't have to create another website for your brand at all.  
CRM and automation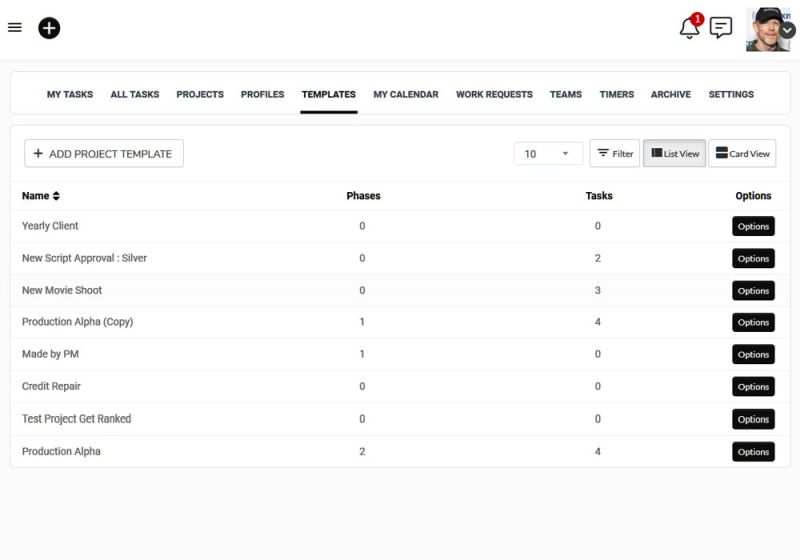 Image Source : suitedash.com
SuiteDash offers one-stop client management. I am sure you would not like all your staff members to be privy to all client information. Here, you have the option to make clients visible to only the people/staff you choose. Every client can be assigned a coordinator as point of contact, keep Shared/private notes of every client interaction, create/manage client related tasks, Auto-add contacts to in-built email marketing drip campaigns.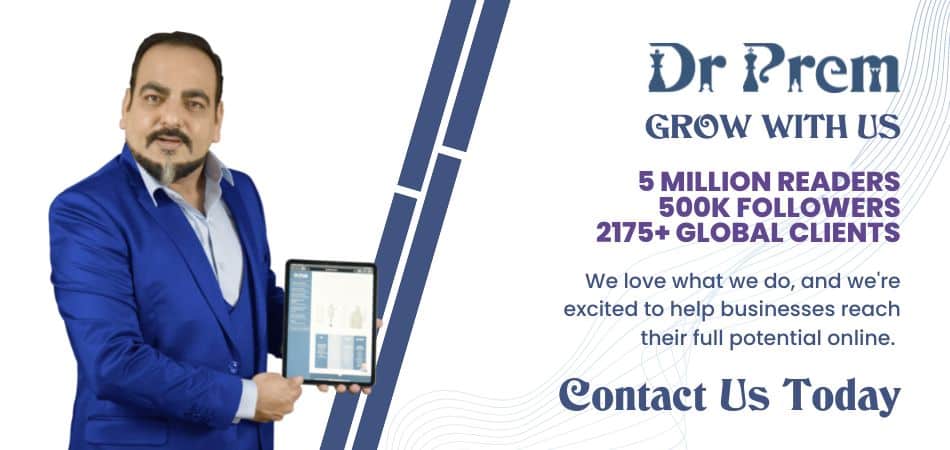 When CRM forms are submitted, you can customize actions which are triggered automatically. Event templates can be created to remind you about meetings, send follow up emails or to reach out to a potential client.
Automated edits of one client or bulk edit of information saves your precious time.
Event calendar can be synced with Google Calendar, which helps to keep you on track of things.
Magic Link Login
With this option, the client's can login super easily, without having to go through the process of setting a password, forgetting it and then resetting it!
Dynamic Data Placeholders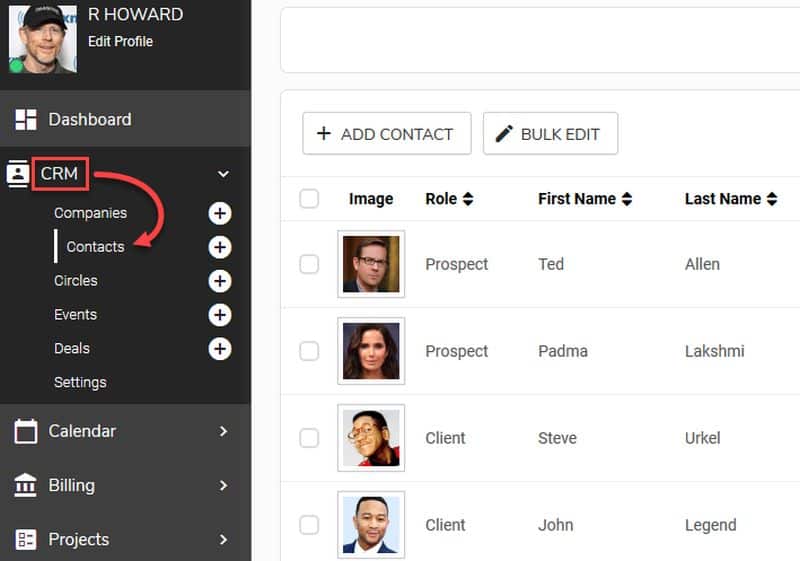 Image Source : suitedash.com
This is one of the best features of SuiteDash. The Dynamic Data Placeholders can be used anywhere in the platform – the same dashboard can be used for several clients, but the good thing is that the dashboard can be adapted to show every client only their data. So your work is vastly reduced, but you can still personalize the customer experience to display unique messages or updates for every client. 
Project and Task Management
Using this feature, you can have access to the status of your ongoing projects, and centrally manage your teams, with just a few clicks. You can view the entire workload for all your projects with the 'My Tasks' menu or drill down to the specific tasks, the little tasks which tend to be overlooked. This ensures that every single task is carried out to perfection.
Generate email notification for all actions in a project, thus ensuring that the client and your team is always in the loop, about tasks and responsibilities. 
Time is money, so as the head of your organization, you have to spend your time in developing business, and not fall into micromanagement. Check how the projects you have delegated to others are doing with the help of the easy Project Quick Switch option. 
File sharing is secure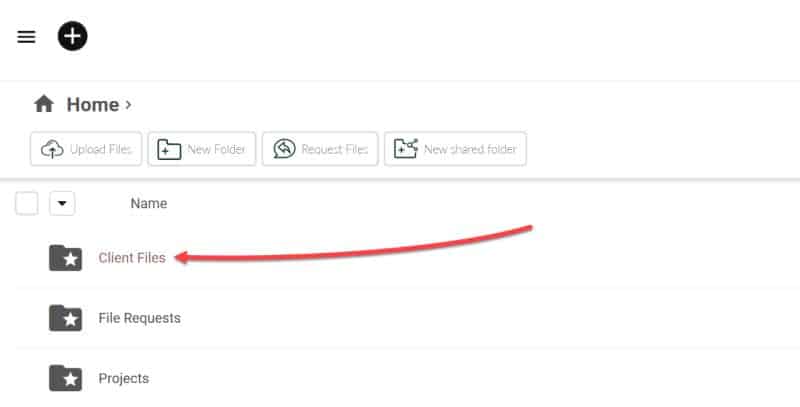 Image Source : suitedash.com
Share relevant files with each client with their dedicated folder, which they can download as zip files if they choose to. The client is automatically notified whenever you share any file or folder.
Smooth Onboarding Flows
The secret to retain new clients is to provide the best possible initial experience. SuiteDash automatically triggers an onboarding FLOW for new clients after which they can get access to the portal. Signing econtracts, filling out forms, uploading their files is made easy and smooth. You are the recipient of all the data you need, as well as the client's goodwill!
Proofing and Approving folder
This is a function which I found very useful, as it enables you to receive immediate approvals from clients, thus ensuring the completion of tasks at a much faster speed. The client can easily approve/reject by checking a box, and leaving his comments, whenever he/she logs in. You can easily usher tasks along, based on their status. 
Raise estimates, invoices and recurring billing and receive payment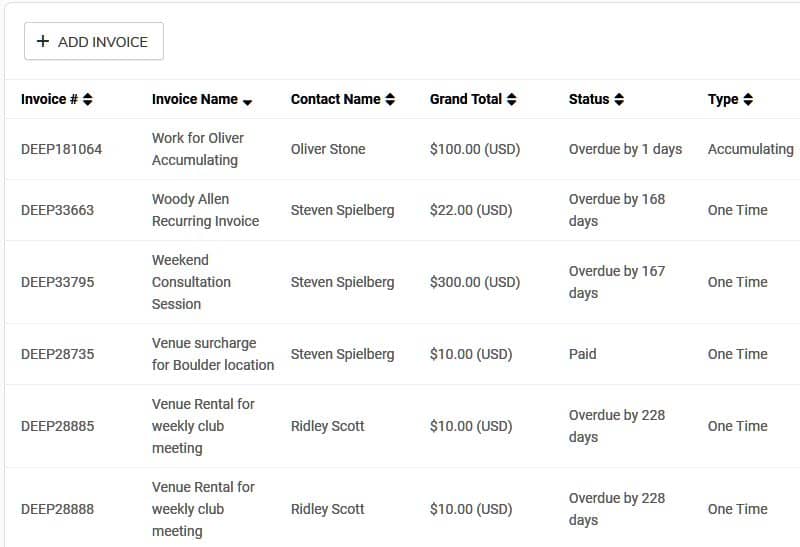 Image Source : suitedash.com
As SuiteDash is an all-in-one software, you can create estimates, invoices, recurring billing to various clients, without having to use any other dedicated software for this. As SuiteDash has inbuilt integration with Paypal, Authorize.net etc, your client can pay you via SuiteDash itself through any of these modes.
Time tracking, mass emails, project management, billing, tracking new leads and confirming them, receiving payments – all of the crucial tasks in a business can be done using just one software. SuiteDash is a one-stop business tool, with which your work becomes streamlined and you can deliver the best experience to your customers.