Design

The design of the all new Microsoft Surface Pro 3 makes it something more than a tablet and slightly less than a laptop. It is a perfect combination of power and portability.  Surface Pro 3 is bigger than the earlier two models with a 12-inch display, and is thinner with a 9.1 mm thickness and weighs around 1.8 pounds. It is the thinnest Intel Core product ever made. It is thinner, lighter, and has a big screen, which makes it stand among the hybrid laptop-tablet models of today. There's a new clickable Surface Pen also. Other features include 802.11a/b/g/n/ac Wi-Fi, two 5Mp cameras (front and rear) that can capture full-HD video, a USB 3.0 port, a Mini DisplayPort slot, a microSD card reader and 45 percent louder Dolby-enhanced stereo speakers.Performance
The Surface Pro 3 is a real performer. It is available in models with Intel Haswell (fourth gen) Core i3, i5 and i7 processors. Coming to its storage capacity, it has up to 8GB of RAM and 512GB of flash storage. This means the higher-spec models are as good as a laptop, but with a higher price. Microsoft claims that Surface Pro 3 is around ten times faster than Surface Pro 2. Battery life is good; there is an improvement in the battery life from Pro 2 to Pro 3. It has a full version of Windows 8.1, which means you can easily install any Windows app you like and can enjoy doing the Office work. The model that we tested had a 2.5GHz Intel Core i5-4300 processor, a 256GB SSD and 8GB of DDR3 RAM. The booting and the application loading were much faster than our laptops.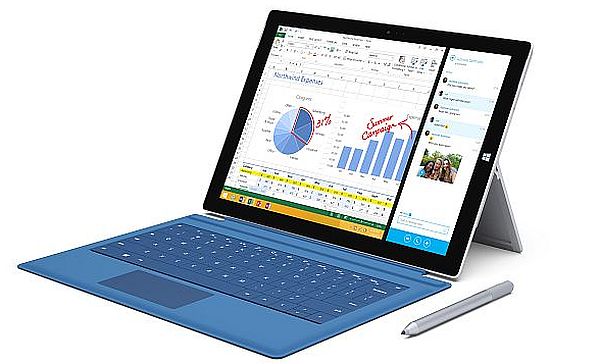 Price

The opening price of Intel Core i3 version is $799, with 64GB storage and 4GB RAM. Devices with i5 and i7 processors will also hit the shelves soon.
Usability
A change in design has increased the usability factor of Surface Pro 3. Now the kickstand can be secured at any angle, and the optional Type Cover has a double fold hinge with which you can lock it to the display and can easily work with the Pro 3 on your lap. The Type Cover comes in five fabulous colors, and it is thinner than the one in Pro 2, and has a larger trackpad and Palm Rest technology so that you can rest your hands while typing without making the cursor move. The tablet has usability as a PC with a detachable Type Cover, a hard keyboard attachment that attaches itself under the screen.