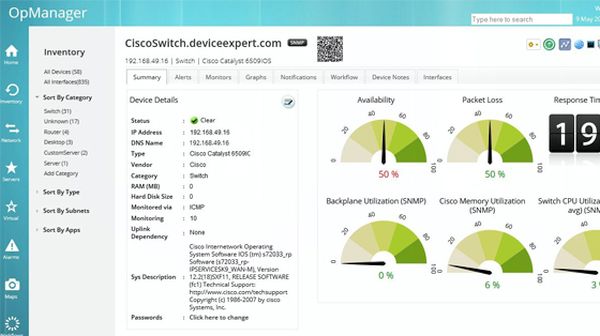 A unit of Zoho Corporation, ManageEngine has come up with a unique network management product called OpManager. The software monitors all SNMP-enabled devices in real time and reports for them. Check out its role inmanaging large, geographically distributed networks.
Usefulness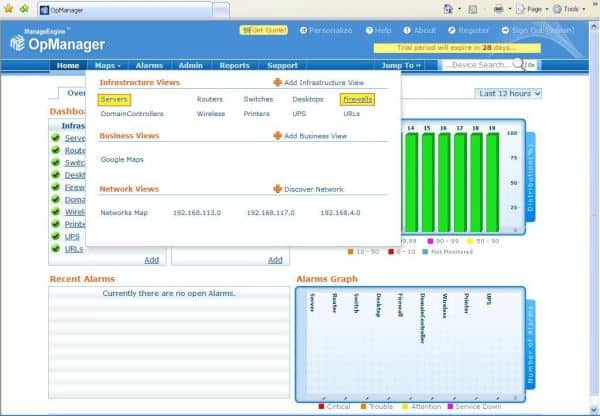 OpManager nicely manages infrastructure, as well as applications. However, it is not useful for managing Web-based infrastructure. Through its REST interface, you can connect to other applications, as well as get the data in and out of the product. The software is decent in monitoring networks, as well as creating a variety of reports based on monitored parameters.
OpManager is useful for scheduling and emailingyour reports in Excel or PDF formats. It helps nicely in performance and fault management across several devices, such as servers, WAN links, domain controllers, routers, firewalls, switches, and VoIP call paths.
Value for money

While it is of value to use its free edition for the basic monitoring of up to 10 devices, you will have to pay for monitoring more devices. It can cost you $1,995 for up to 50 devices and $16,495 for up to 500 devices. If your enterprise requires monitoring up to 1,000 devices, then the cost can go higher up to around $30,000. As there is additional cost for every add-on, the entire base productpackage may seem expensive, especially when you find some missing pieces that are only present in its Large Enterprise Edition.
Appearance

You will find OpManager with a customizable user interface. Written in Java, it gives a Web interface through Tomcat. All captured information is stored in a local database that also acts as a link between plug-ins and the OpManager application.Further, the productgives you a plug-in for application manager that can support various commercial applications, including Oracle and Microsoft.
It supports application servers, such as Tomcat, WebSphere, JBoss, and IBM.With OpManager, you caneven set alarms to know the status of monitored devices and to trigger notifications.
Ease of Setup
The product is not very complex to set up. Its installation needs to be done on the premises.Additionally, you will require a different product for cloud management. Still, you can install OpManager server portion on a physical or virtual Linux or Windows server.While it uses MySQL database by default, it can be customized if you havean SQL server. Apart from this, it is good to be having batch files to support hardware configuration. You can add service monitors for selected services or devices and act on the monitored items using automated workflows.
Ease of use

It is easy to navigate through the graphics on OpManager dashboard.However, it is a little problematic to view information without a horizontal scroll bar on the interface. Still, there are several widgets to make your everyday work smoother. You can also add or remove these widgets easily.Virtualization, as well as network monitoring is quick with OpManager. It allows you to automate the routine work and troubleshooting of performance issues.